We love fruity flavor combinations in the spring and summer months, and this scratch Coconut Lime Cake is a new favorite!
This cake consists of three moist vanilla buttermilk cake layers speckled with lime zest, filled with lime curd and coconut, and frosted in a flavorful coconut cream cheese frosting (with additional coconut flakes added.)
We hope that you enjoy this recipe as much as we have!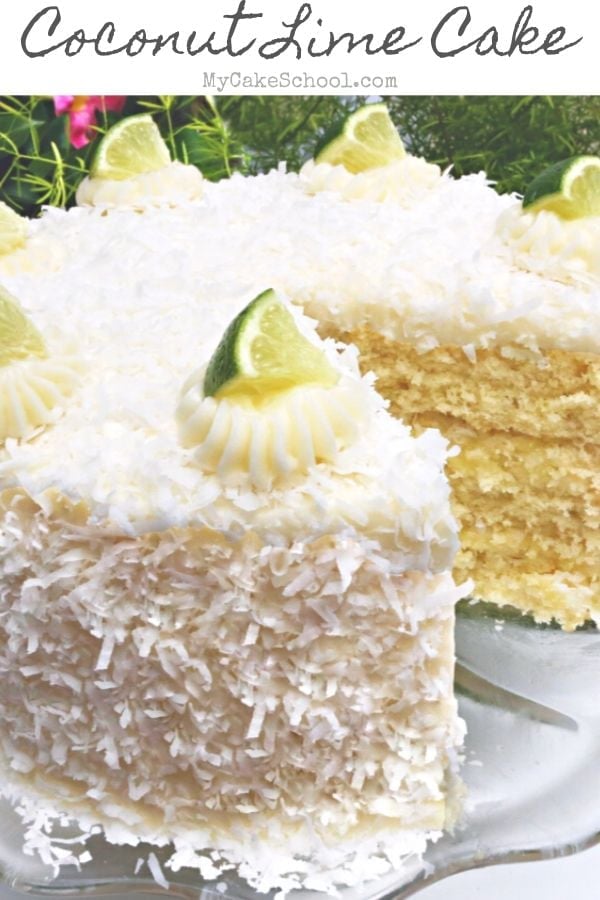 How to Make Coconut Lime Cake
This recipe makes a three layer, eight inch cake. When you're ready to assemble the cake, place the first layer on your cake base or pedestal. Then, brush over it with the Lime Simple Syrup.
As you can see, I used a silicone pastry brush. The lime simple syrup adds additional lime flavor to the cake.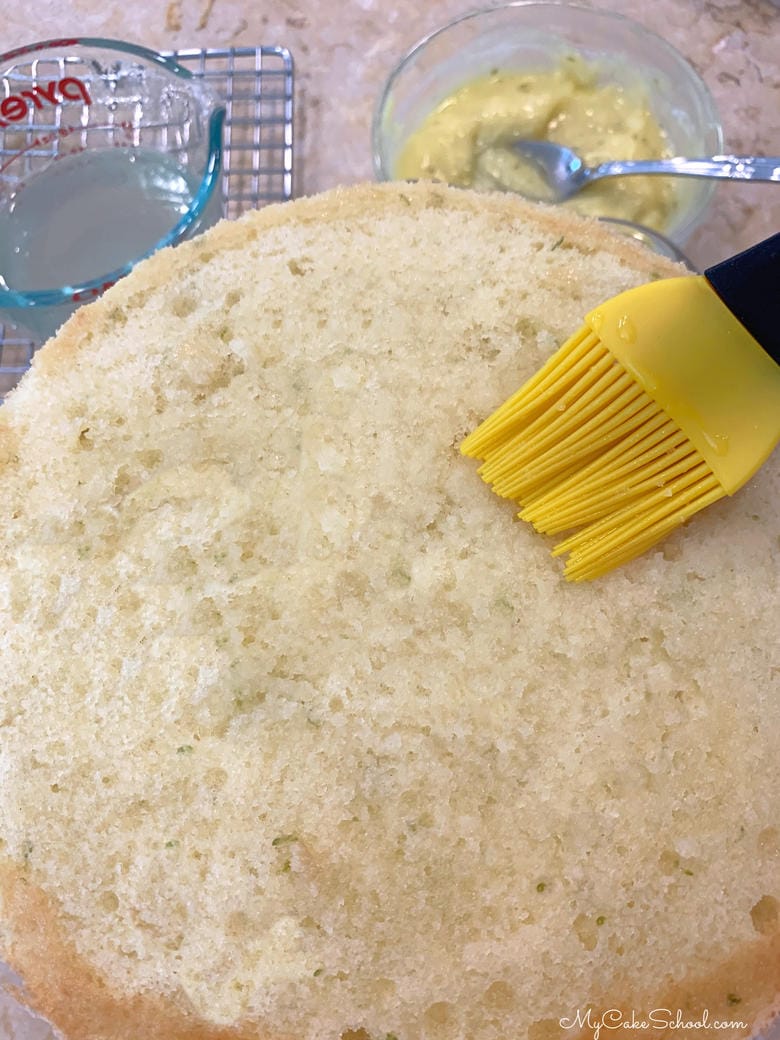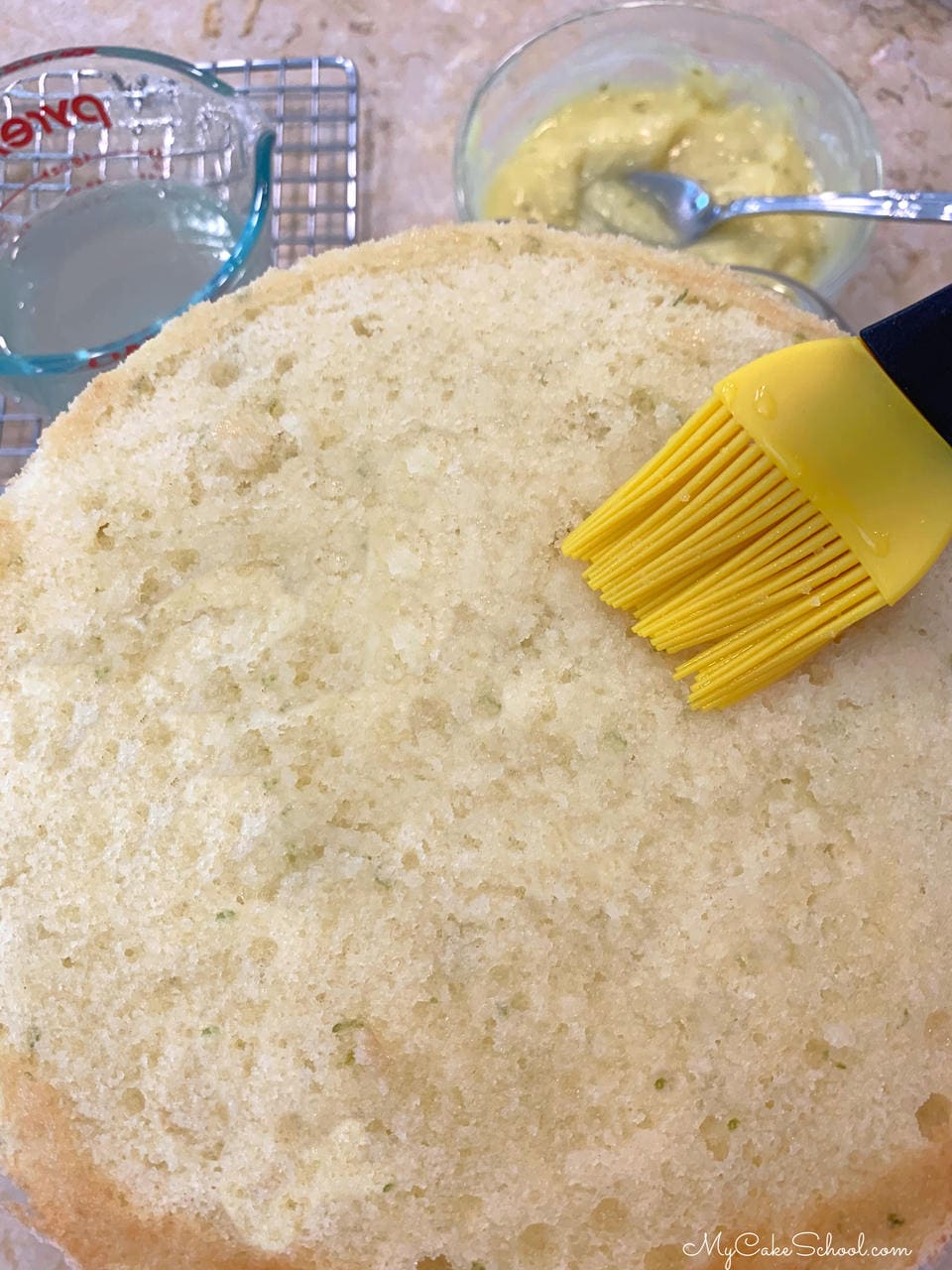 Next, I piped cream cheese frosting around the cake layer, about ¼ inch from the edge. This is known as a dam and I find this step to be helpful in keeping soft fillings contained.
Next, I spooned on and spread the luscious lime curd! This curd is a wonderfully creamy and flavorful filling- I love the flecks of lime zest in the recipe too!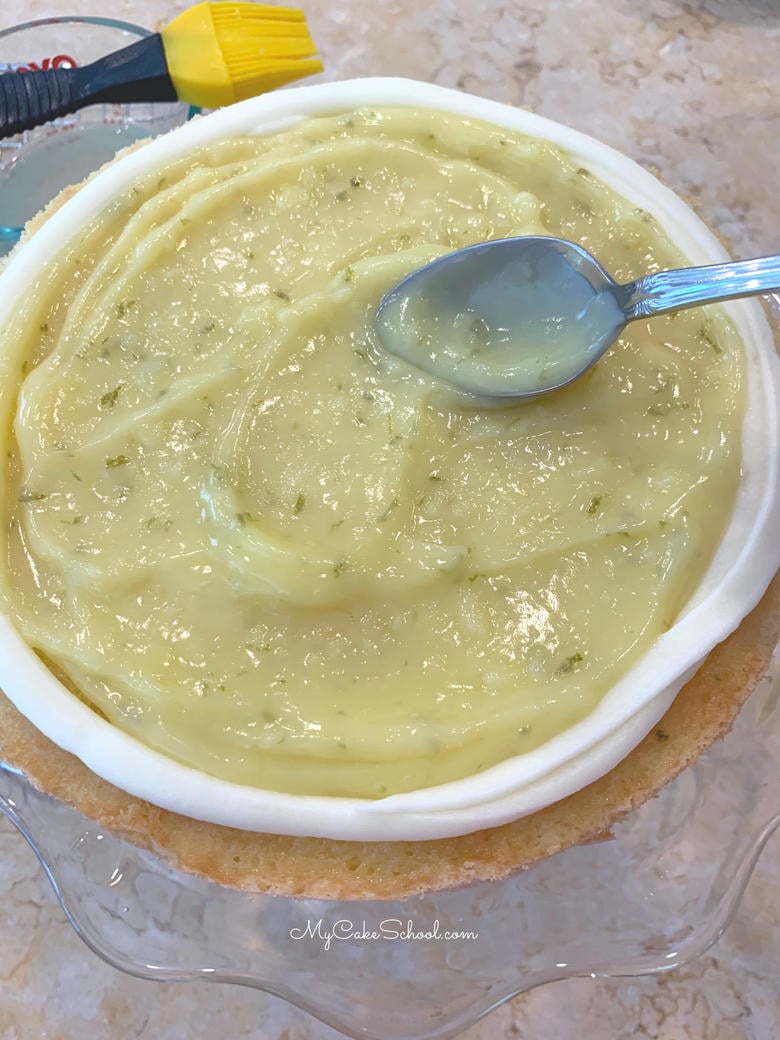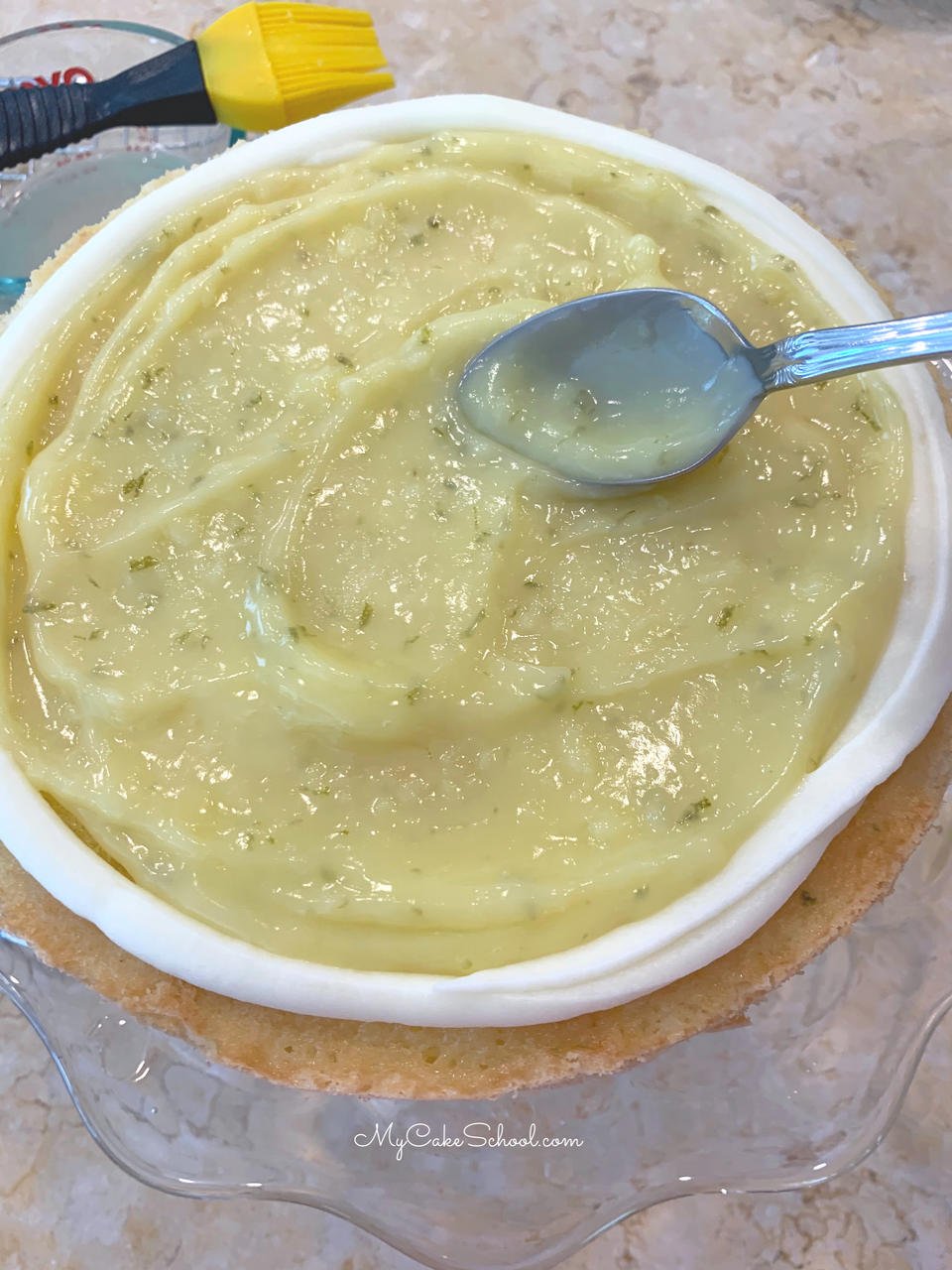 Next, I sprinkled a little coconut on top of the layer of lime curd filling. (You could combine the coconut with the curd if you would rather)!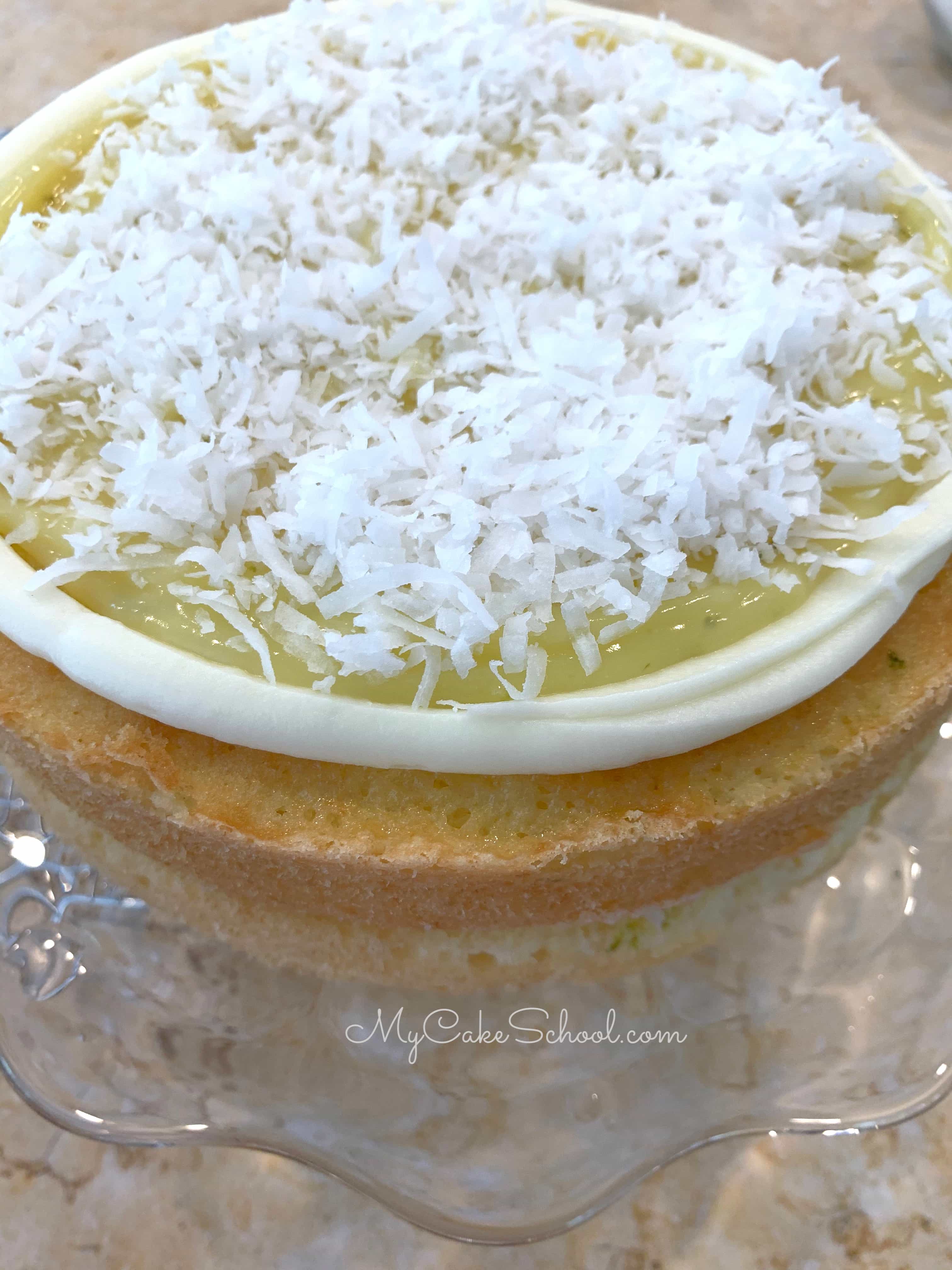 Repeat these steps of the second layer of cake, and then top with the third layer. Frost the entire cake in our delicious Coconut Cream Cheese Frosting! (You can reserve a little of the cream cheese frosting for the top of the cake- I piped several stars using a french tip).
.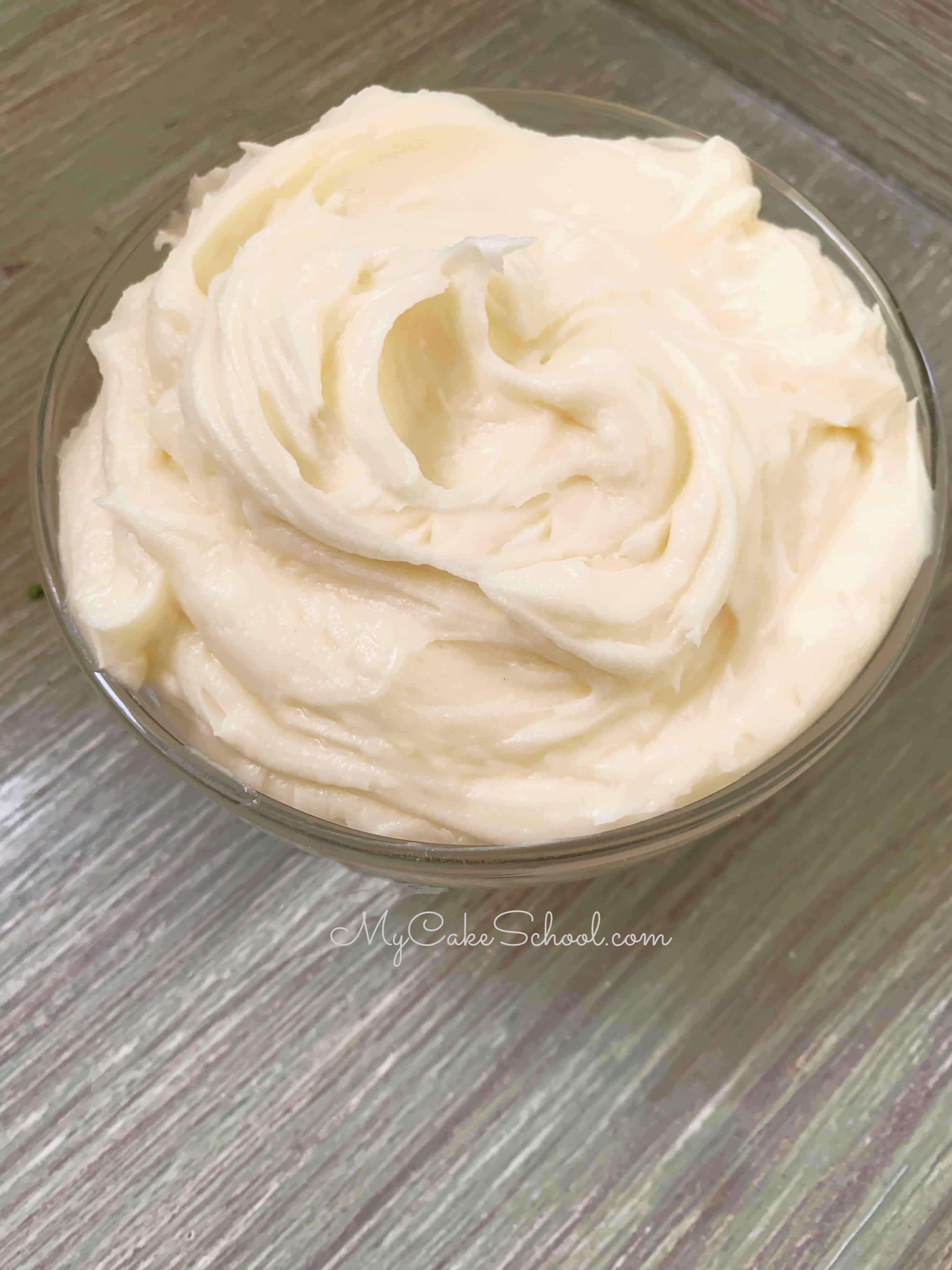 As a final step, I pressed more coconut into the coconut cream cheese frosting all over the cake and added little french tip stars and lime wedges as a finishing touch.
If you love Coconut Recipes, here are a few more Favorites!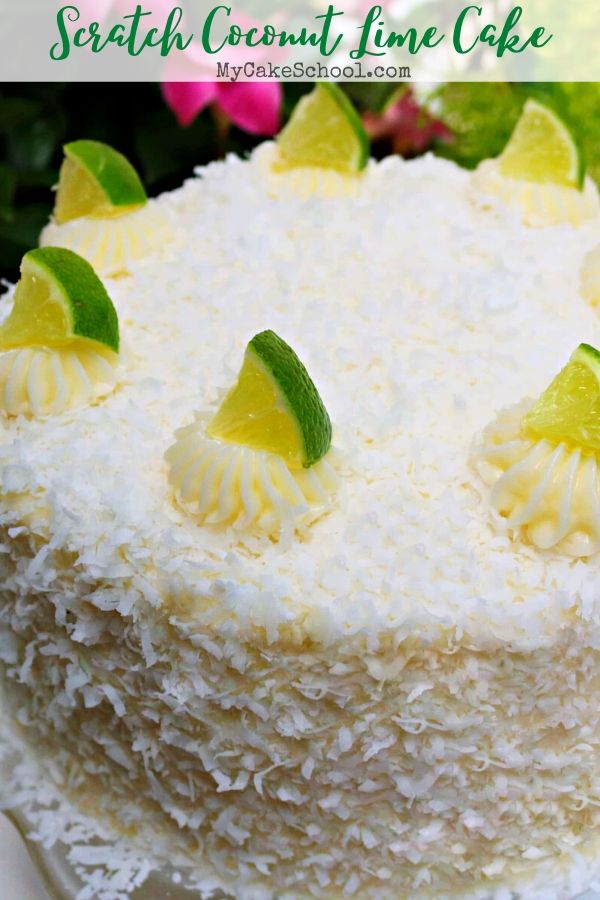 Lime Cake- Doctored Cake Mix Option
If you prefer to work with doctored cake mix recipes, we have an amazing cake mix option that starts with a simple white cake mix! You can easily substitute today's lime cake layers for the doctored mix version if you prefer! you can find the recipe here: Key Lime Cake (doctored cake mix)
My Cake School- Online Cake Tutorials, Cake Recipes, and More!
We'd love for you to scroll through our full collection of FAVORITE cakes and frostings in our Recipes Section. Whether you like to bake from scratch or from a doctored cake mix, we have the BEST recipes to share!
If you'd like to learn more about cake decorating, we have some great tutorials in our Free Tutorials Section, which also includes a Free Video Tutorials Section.
For access to our entire library of hundreds of cake decorating video tutorials, you should consider becoming a member of My Cake School! We would love to have you! You can find the details here: Joining Information for MyCakeSchool.com
Coconut Lime Cake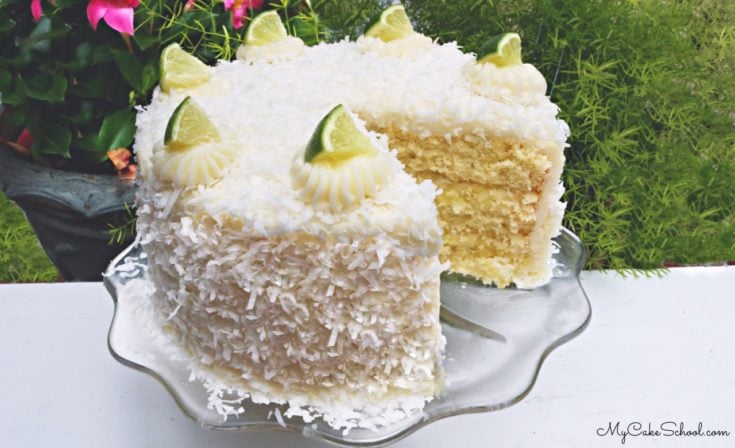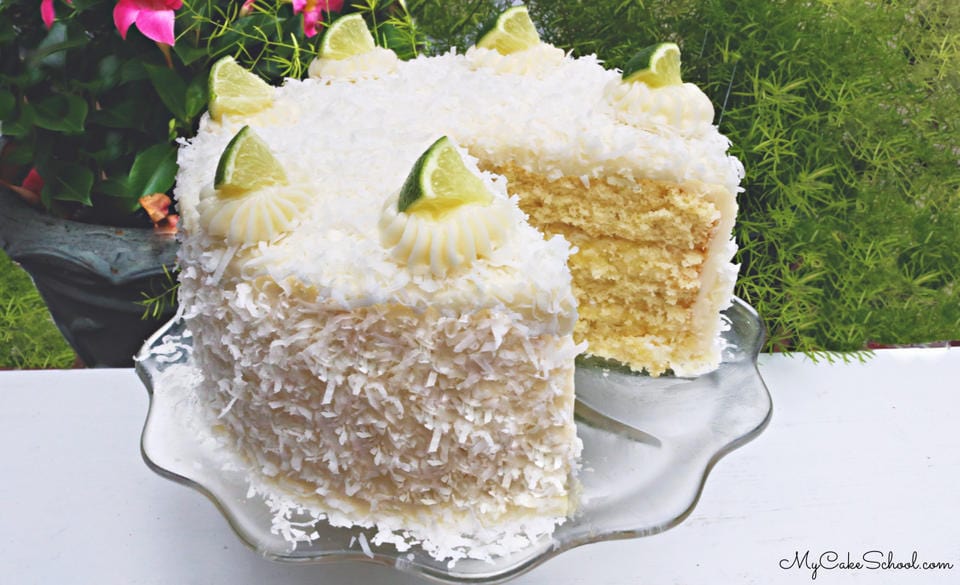 This Coconut Lime Layer Cake has the perfect combination of flavors!
Ingredients
For the Cake
1 ½ sticks (170g) unsalted butter, softened - do not microwave
2 cups (400g) sugar
4 large eggs
3 cups (342g) cake flour (spooned into measuring cup and leveled off)
2 teaspoons (8g) baking powder
½ teaspoon (3g) baking soda
½ teaspoon (3g) salt
1 ¼ cups (296g) buttermilk — if you do not have buttermilk, see substitution below
¼ cup (54g) vegetable oil
1 Tablespoon (12g) vanilla extract
Zest of 2 limes
For the Lime Simple Syrup
1 cup sugar
1 cup water
2 Tablespoons lime juice
For the Lime Curd Filling
½ cup (100g) sugar
2 Tablespoons (16g) cornstarch (cornflour in UK)
½ cup (118g) water
1 egg yolk, slightly beaten
zest of 1 lime
2 Tablespoons (28g) butter
2 Tablespoons (28g) lime juice - or you can use the juice of 1 lime for a more tart flavor, just give it a taste test
For the Coconut Cream Cheese Frosting
2 sticks (1 cup) (226g) unsalted butter, slightly softened - do not microwave
2 (8oz.) packages cream cheese (452g. is the total gram weight) use full fat cream cheese, slightly softened. Using reduced fat will cause the frosting to be too soft
1 ½ teaspoons (6g) coconut extract (adjust to your liking)
1 teaspoon (4g) vanilla extract
6 to 6 ½ cups ( 747g) powdered sugar
pinch salt
Outside of Cake+ a Sprinkling in the filling
1 bag (14oz (396g) of sweetened coconut
Instructions
For the Coconut Lime Cake

Preheat the oven to 350 degrees, grease and flour three 8×2 inch round pans.
In a medium bowl, whisk the flour, baking powder, baking soda, lime zest and salt for 30 seconds. Set aside
In another bowl, add the buttermilk, oil and vanilla. Set aside..
In the bowl of your mixer, add the butter and mix at medium speed until smooth. Gradually add the sugar and continue to mix on medium speed for 3 to 5 minutes or until lightened in color and fluffy. Add the eggs one at a time mixing until the yellow of the yolk disappears.
Alternately add the flour mixture and buttermilk mixture, beginning and ending with the dry ingredients (3 additions of dry ingredients and 2 of liquid).
Do not mix above medium speed or over mix the cake batter.
Bake at 350 degrees for 22 - 25 minutes or until a toothpick inserted in the center comes out clean or with just few crumbs attached. Let cool 5 to 10 minutes and turn out.
For the Lime Simple Syrup
In a saucepan over medium heat bring the water and sugar to a boil. Turn the heat to low and stir constantly until the sugar dissolves and the mixture is clear.
Remove from heat and stir in the lime juice. Cool. If you want the mixture to be a thicker consistency, cook longer over low heat.
Brush a small amount of the syrup onto your cake layers before you begin assembling your cake. Apply sparingly so that the cake does not become soggy. We apply while the cakes are still warm but you could also do this with the cakes at room temp just before assembling. We prefer to use a pastry brush. With lime juice added to the mixture it will last 3 to 4 days in the refrigerator. You will likely have leftover syrup.
For the Lime Curd Filling
Combine sugar and cornstarch in a small saucepan, pour in water. Over medium heat, stir the mixture constantly until it thickens and comes to a boil. Boil for 1 minute, remove the pan from the heat.
Spoon approximately ¼ cup of the hot mixture into a small bowl containing the egg yolk and stir quickly until combined.
Pour the egg mixture back into the saucepan. Return pan to medium heat and cook, stirring constantly, approximately 1 to 2 minutes. The mixture will thicken slightly.
Remove the pan from the heat and stir in the butter, lime juice and lime zest. Cool before using, the curd will become thicker as it cools in the refrigerator.
Can be covered and refrigerated for 5 days.
*Note that we sprinkled the top of the curd with some flaked coconut.
For the Coconut Cream Cheese Frosting
Add the butter to the mixing bowl and mix until smooth.
Add the cream cheese that has been cut into small to medium size pieces, beating with the butter until well blended and smooth.
Add the coconut and vanilla extracts
Slowly add the powdered sugar, beating until smooth. Do not beat above medium speed or for too long. The longer you beat the softer the frosting becomes. If it becomes too soft to pipe, just refrigerate for a short while.
Use the frosting while it is still chilled. If it becomes too soft, refrigerate until it firms up a bit or put in the freezer for 5 minutes or so to return it to a good piping consistency.
Assembly

Place the first layer on a cake base or pedestal.
Preferably using a pastry brush, brush the top of the cake with lime simple syrup.
Pipe a dam of coconut cream cheese frosting (using a piping bag with the tip snipped away). Pipe a ring of the frosting about ¼ inch from the edge of the cake. Fill inside of the dam with the lime curd filling and sprinkle with coconut.
Add the next layer and repeat. Then add the final layer, brush with the lime simple syrup, and frost the cake with coconut cream cheese frosting.
As a final step, press flaked coconut all over the cake, into the frosting to cover the cake.
I used a large french piping tip (8B) to pipe stars around the top edge of the cake. *Note that you may need to brush away coconut in the spots where you will pipe your stars as it is difficult to make it adhere otherwise.
Gently push tiny slices of lime into the frosting stars, or add lime accents to the center of the cake.
Notes
Substitute for Buttermilk:  To a measuring cup, add 1 Tablespoons plus 1 teaspoon vinegar or lemon juice. Add milk to the 1 ¼ mark.  Stir, wait 10 minutes and it is ready to use.
Makes 7 ½ cups batter
Works well for cupcakes.  For standard size cupcakes, Bake at 350 degrees for 18 to 20 minutes  
Thanks so much for stopping by! If you give this cake a try, we'd love for you to share a comment or photo below!
Check out our roundup of our favorite Spring & Summer Cake Recipes!
If you're looking for more fruity cake favorites for warm summer months (or just because), we'd love for you to scroll through our recipe collection of favorites! The BEST Cake Recipes for Spring and Summer