Coconut Lemon Cake from Scratch
I've always loved the light and refreshing flavor combination of lemon and coconut, and this ultra moist Coconut Lemon Cake from Scratch does not disappoint!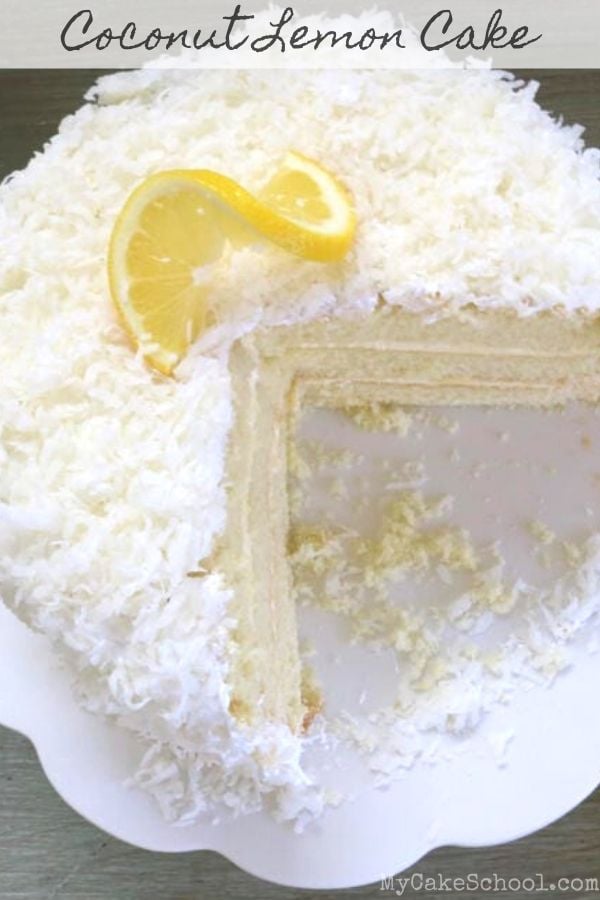 A Few Details about our Coconut Cake...
Our traditional Coconut Cake recipe from our Recipes Section uses homemade yellow cake layers with a coconut filling and frosting.
Today's recipe is different in that we are using coconut cake layers, which are flavored with coconut milk and coconut extract.
These flavorful coconut cake layers are much like the layers in our Piña Colada Cake, just without the rum and with a hint more coconut extract.
We've used the Reverse Creaming Method for this coconut cake recipe which yields an soft cake with a fine crumb.
Lemon Whipped Cream Filling
We wanted to add lemon to the recipe in a way that would perfectly complement the coconut without being overpowering. As much as I LOVE lemon cakes, our goal was to have a nice balance of flavors.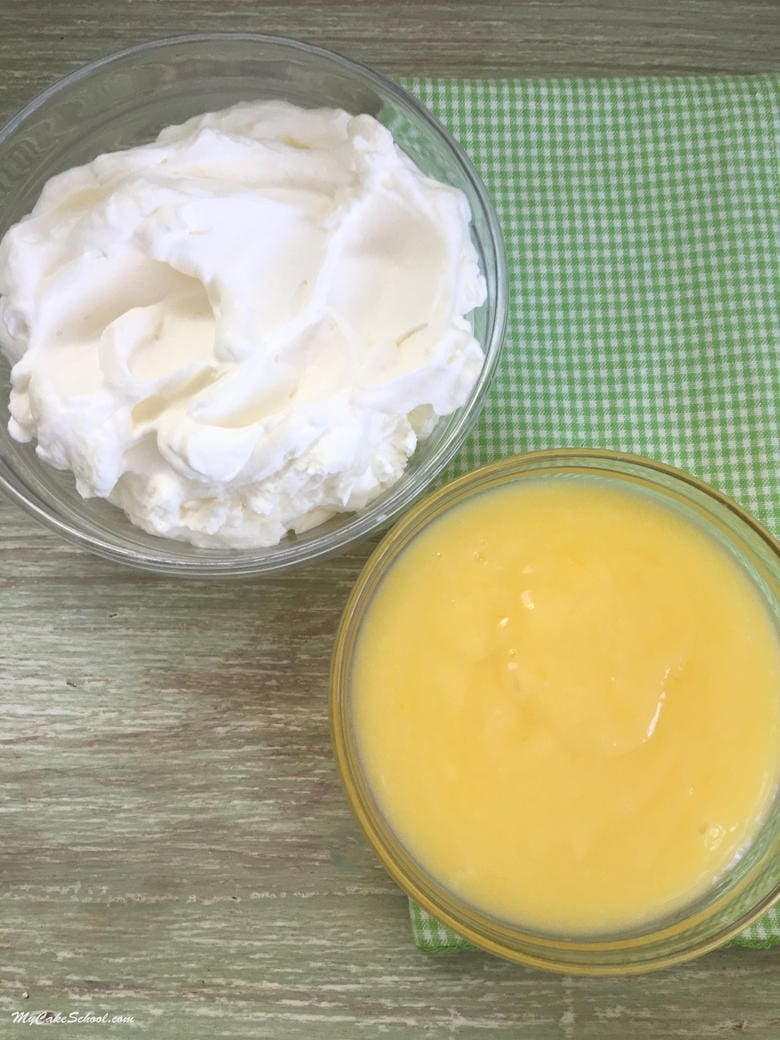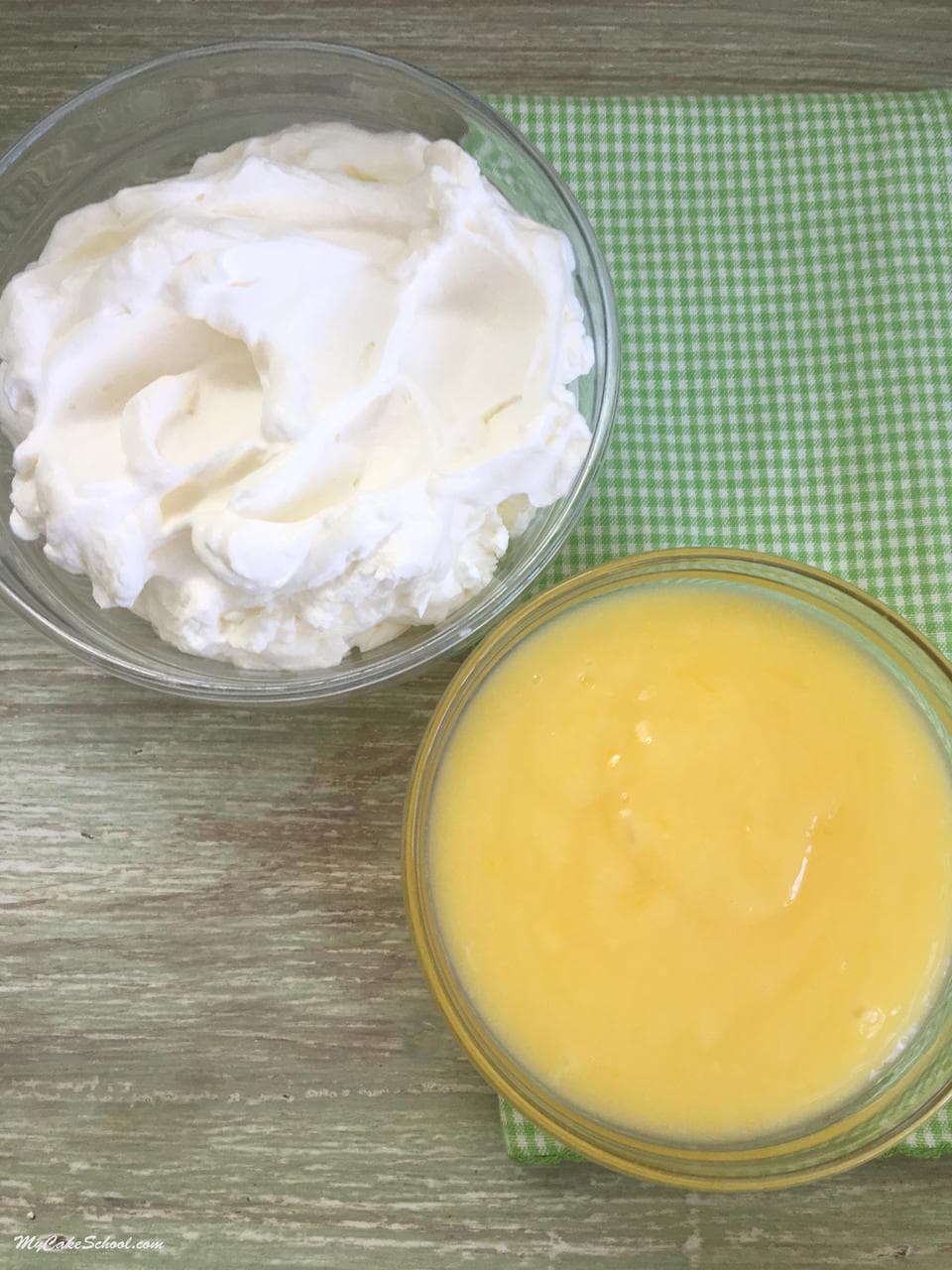 We chose to experiment with a Lemon Whipped Cream Filling, and the result is just heavenly! After whipping up a quick batch of sweetened whipped cream, we gently folded in a half cup of lemon curd for a light and luscious lemon cream.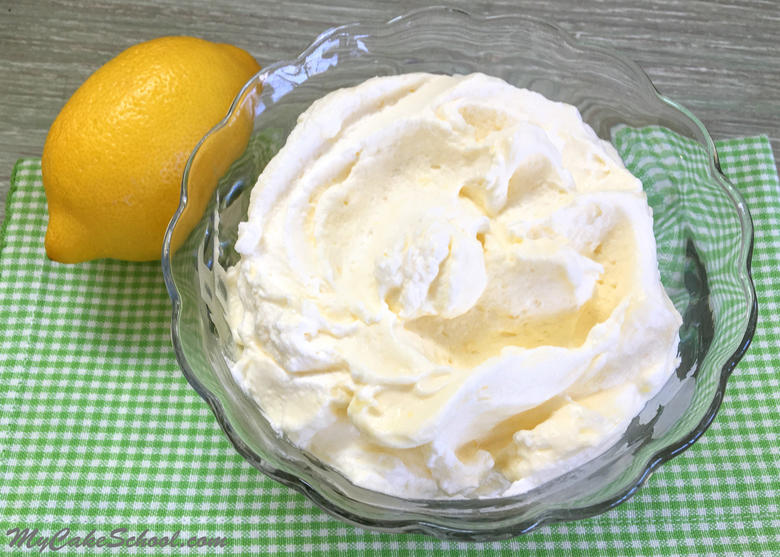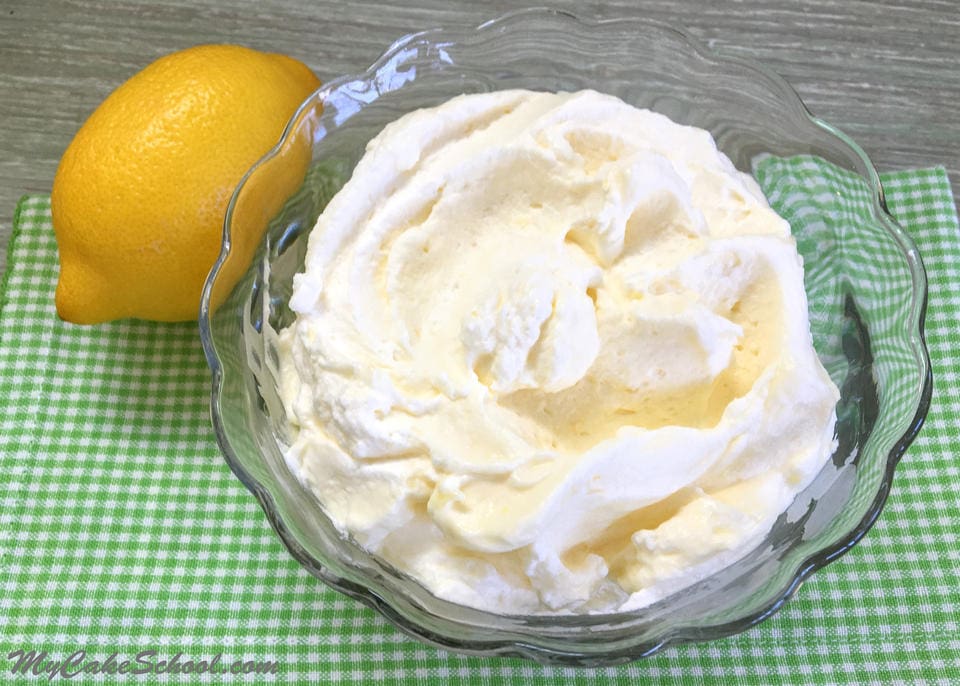 We also glazed our layers with lemon curd just before sandwiching the lemon cream filling between our coconut layers. We finished things off with a coating of coconut cream cheese frosting and covered the cake in fluffy flaked coconut.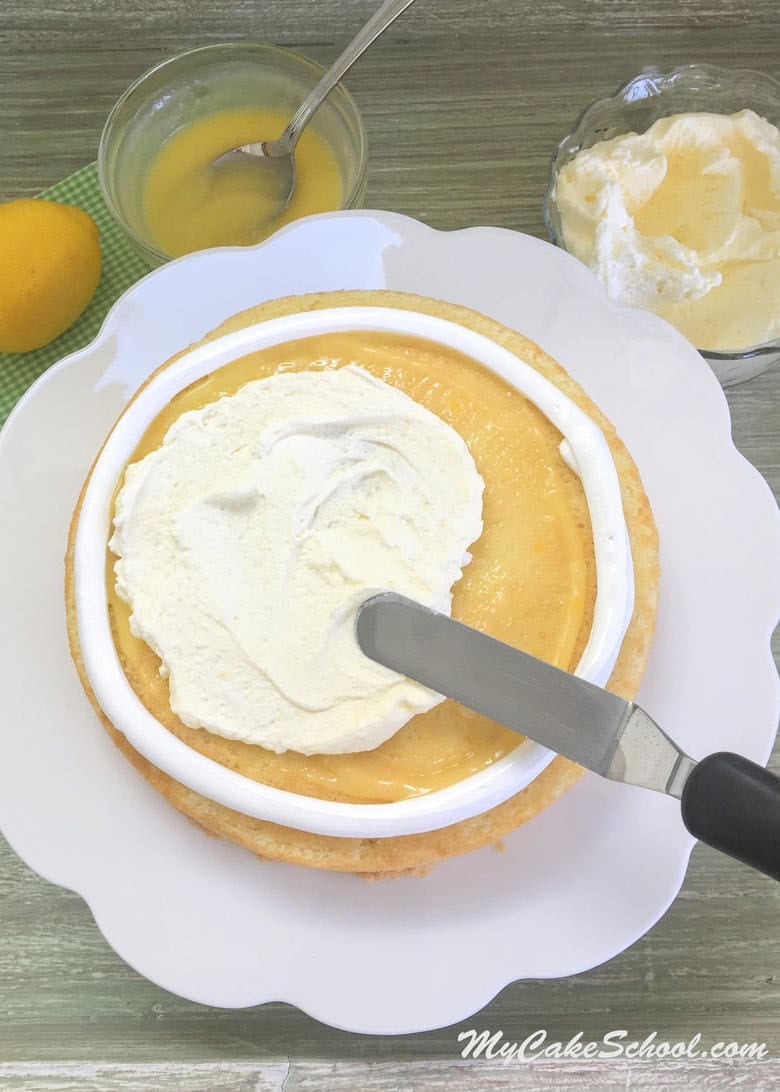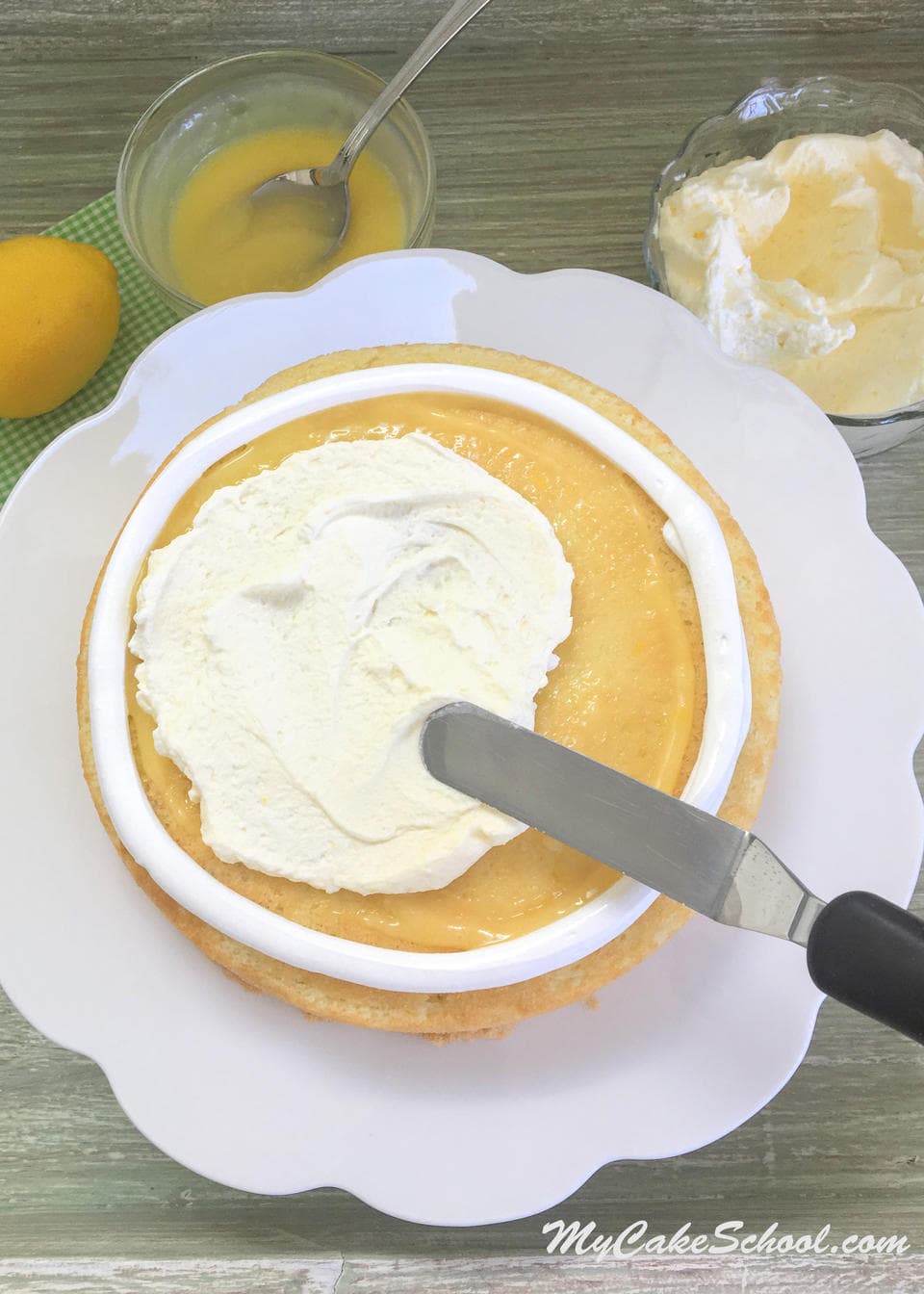 This cake has become an instant favorite for springtime gatherings, and we're looking forward to having it for our family Easter get-together!
You could also create a similar version in cupcake form by making coconut cupcakes with the lemon cream filling and coconut cream cheese frosting!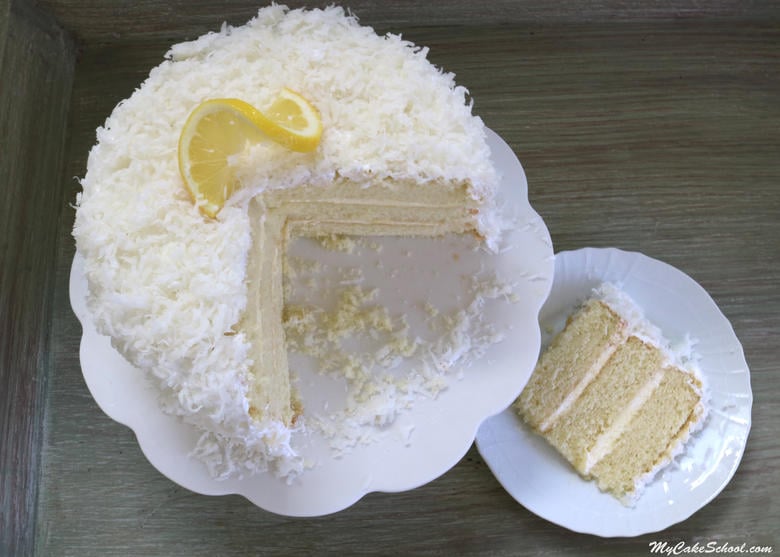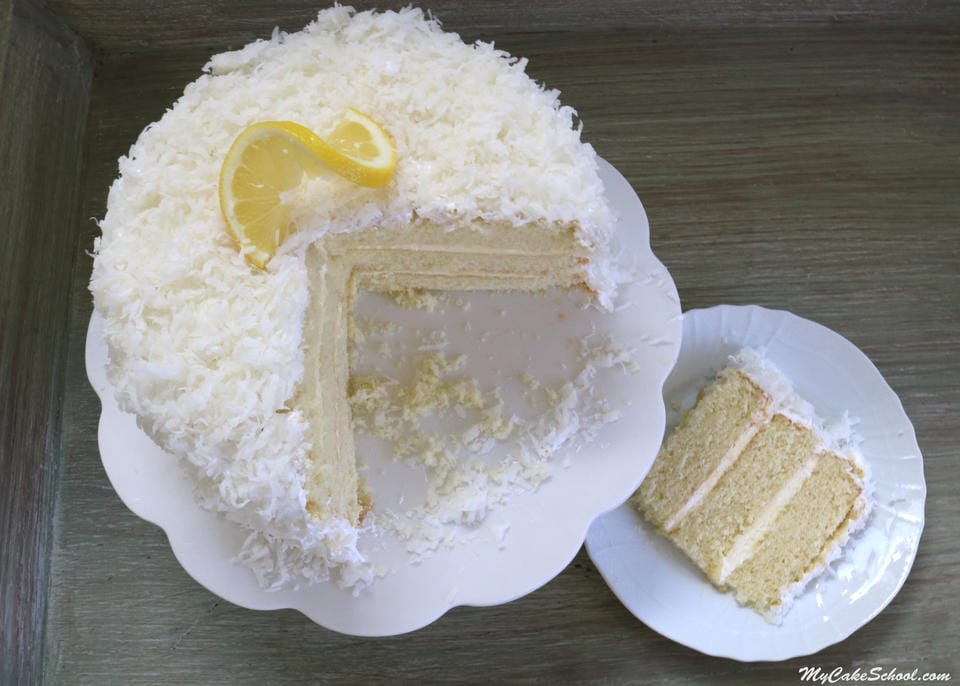 More Cakes with Coconut
For more fantastic cake and frosting recipes, make sure to check out our full collection of coconut cakes here: 25+ Favorite Coconut Cakes
Here are just a few of our favorites!
Italian Cream Cake and Italian Cream Bundt Cake (Cake Mix)
Lemon Coconut Cake (Similar to our Coconut Lemon Cake, only with Lemon Cake Layers!)

Enjoy the Recipe!
We hope that you enjoy this recipe as much as we have! If you give it a try, we would love for you to leave a comment and photo below!
For hundreds more cake recipes and free cake decorating tutorials, make sure to check out our Recipes & Tutorials Section!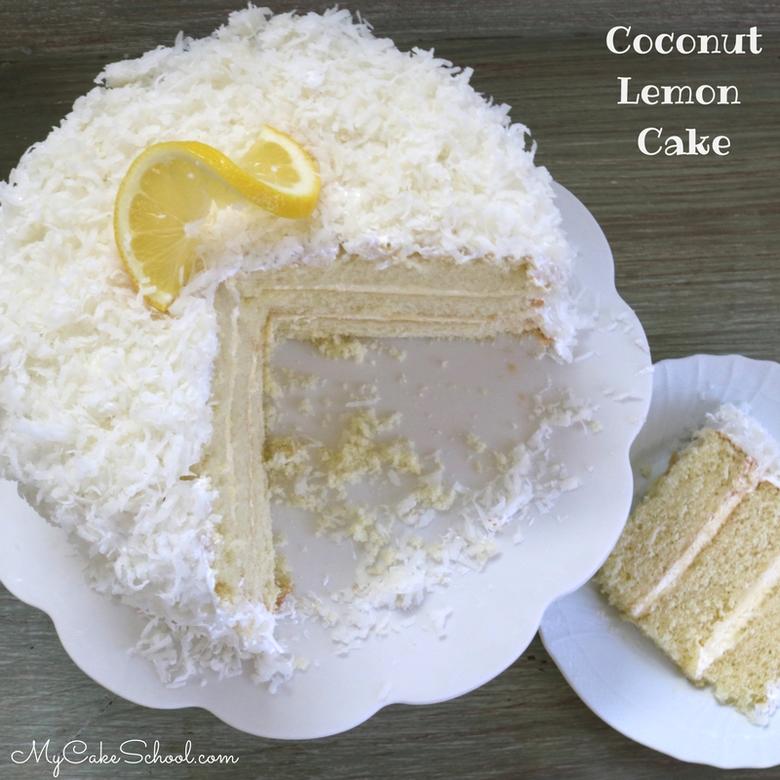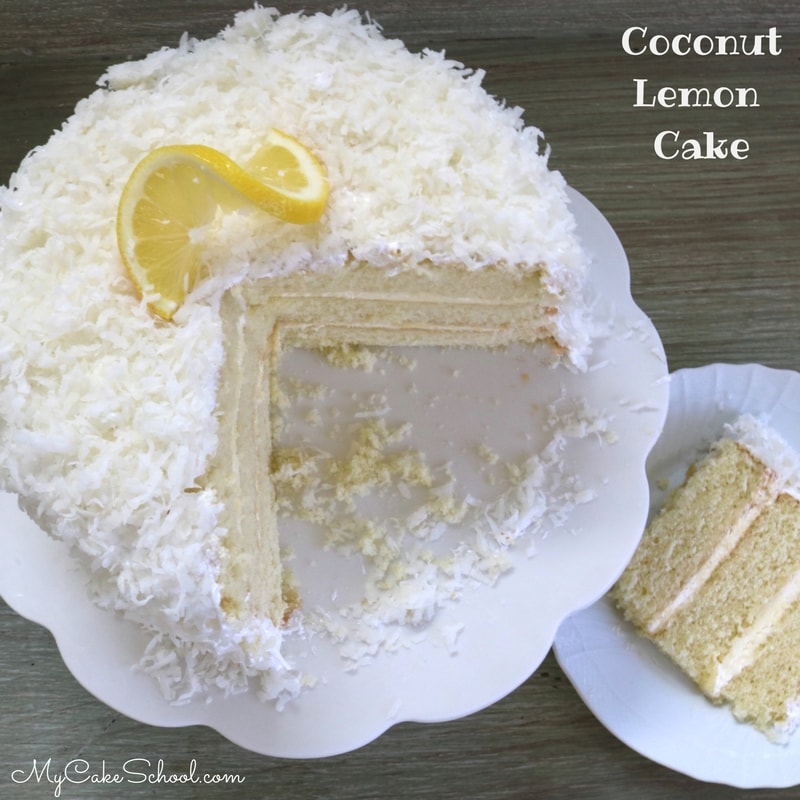 Coconut Lemon Cake from Scratch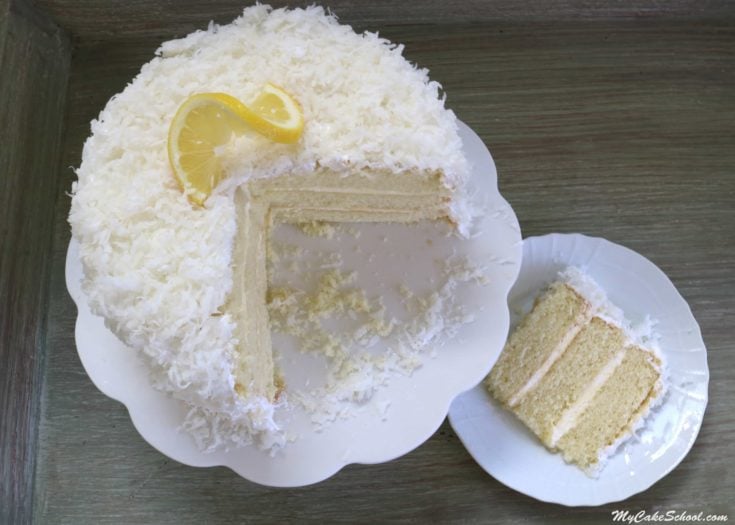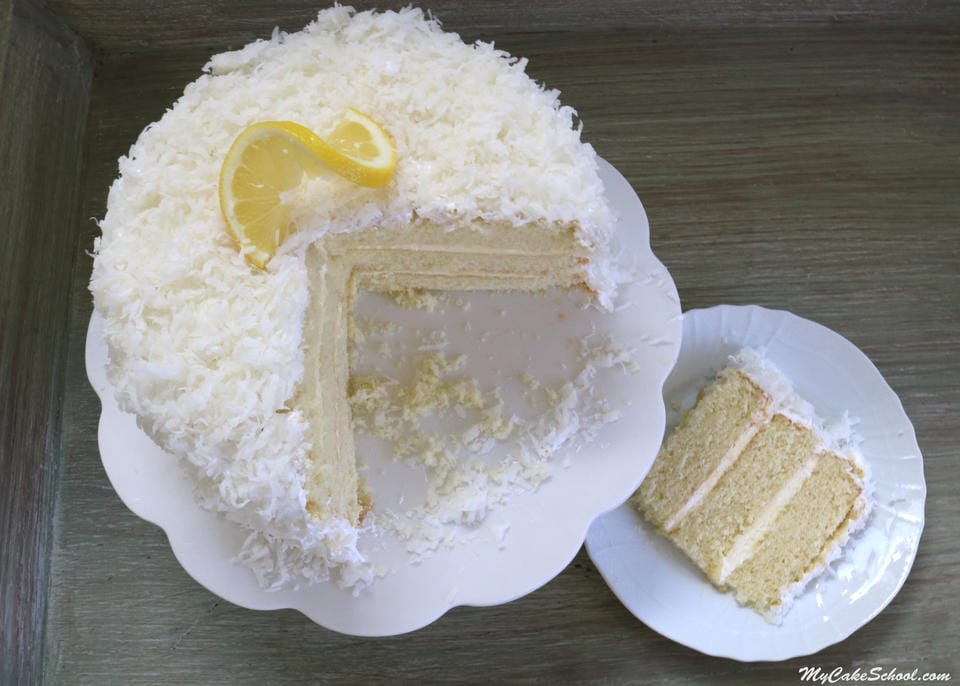 This Coconut Lemon Layer Cake has such an amazing combination of flavors- moist, fruity, and perfect for spring and summer!
Ingredients
For the Coconut Cake Layers
1 ½ sticks (12 T) ( 170g) unsalted butter, softened slightly, still cool to the touch (do not soften in microwave) you can cut into ½ inch slices onto waxed paper to soften more quickly
3 large eggs, at room temperature
1 cup (227g.) coconut milk (We buy ours canned from the baking aisle)
⅓ cup (70g) vegetable oil
2 teaspoons (8g) coconut extract
3 cups (342g) cake flour......*(see below if you do not have cake flour)
2 cups (400g) granulated sugar
1 Tablespoon (15g) baking powder
½ teaspoon (3g) salt
For the Lemon Curd Filling
¾ cup (150g) sugar
¼ cup (30g) cornstarch
1 cup (236g) water
2 large egg yolks, lightly beaten
2 Tablespoons (18g) butter
1 Tablespoon grated lemon zest
4 Tablespoons fresh lemon juice
Whipped Cream (for the Lemon Whipped Cream Filling)
1 cup (240g) heavy cream
¼ cup(29g) powdered sugar
1 teaspoon(4g) vanilla
For the Coconut Cream Cheese Frosting
2 sticks (1 cup) (226g) unsalted butter, slightly softened
2 (8oz.) (452g) cream cheese (use full fat cream cheese) straight from the refrigerator
1 ½ teaspoon (6g) coconut extract
6 to 6 ½ cups ( 747g) powdered sugar
For Decoration/Garnish
1 bag (14oz) (396g) Sweetened Flaked Coconut
Instructions
For the Coconut Cake
Preheat oven to 325 degrees. Grease and flour three 8 inch cake pans
In a small bowl , combine eggs, coconut milk, oil, & coconut extract. Blend with a fork and set aside.
Put the dry ingredients, cake flour, sugar, baking powder and salt into the bowl of your mixer and whisk for at least 30 seconds to blend the ingredients.
With the mixer on low speed gradually increasing to medium speed gradually add the slices of butter to the dry ingredients a few pieces of butter at a time. Beat until the dry ingredients are crumbly and moistened. Scrape the sides and bottom of the bowl, there should be no spots of dry flour in the bowl.
SLOWLY add approximately ½ of the egg mixture to the dry ingredients and beat for 1 ½ minutes. Scrape the bottom and sides of the bowl then add the remaining egg mixture in 2
pourings, scraping the bowl and beating for 20 seconds after each addition.
Bake at 325 degrees for 25 - 30 minutes or until a toothpick comes out clean or with just a few crumbs attached.
Makes about 6 ½ cups batter
For the Lemon Curd (for glaze & the Lemon Whipped Cream Filling)
Combine sugar, cornstarch and water in a saucepan over medium heat. Stir constantly, until mixture thickens and comes to a boil (3-4 minutes). Boil, stirring, for 1 minute more.. Remove the pan from the heat.
Spoon about ½ cup of the hot mixture into a small bowl with egg yolks and stir quickly until combined. Continue stirring, while pouring the egg mixture back into the saucepan.
Return pan to medium heat and cook, stirring, until the curd is thickened and lemon colored (1-2 min). Remove from heat and stir in the butter, lemon juice, and lemon zest.-- Let the lemon curd cool, then press plastic wrap onto the surface, this will prevent a skin from forming on the top. Refrigerate.
For the Whipped Cream (for the Lemon Whipped Cream Filling)
Chill the mixing bowl and beaters (for hand mixer) or whisk attachment (for stand mixer) in the freezer for 10 minutes. Pour the whipping cream, powdered sugar and vanilla into the chilled mixing bowl, begin beating on low speed gradually increasing to medium high speed.
Beat until the cream begins to thicken (after approx. 1 ½ minutes) and soft peaks form….peaks that slightly bend over. Watch closely as this happens quickly. Do not over beat or it will turn into butter.
To Prepare the Lemon Whipped Cream Filling
Gently fold ½ c. (134g) chilled lemon curd into the prepared whipped cream.
You will have leftover lemon curd which you can use to glaze your cake layers before spreading with lemon whipped cream filling.
For the Coconut Cream Cheese Frosting
Add the butter to the mixing bowl and beat until smooth.
Add the cream cheese that has been cut into small to medium size pieces, beating with the butter until well blended and smooth.
Add the coconut extract.
Slowly add the powdered sugar, beating until smooth. Don't beat too long or above medium speed. (The longer you beat, the softer this frosting becomes).
Use the frosting while it is still chilled. If it becomes too soft, refrigerate until it firms up a bit.
Assembly of the Cake
Pipe a dam of coconut cream cheese frosting on the bottom layer (about ¼ inch within the edge of the cake) before glazing the layer with a thin layer of lemon curd.
Spread the layer with lemon whipped cream filling.
Add the next layer and repeat.
After the three layers are filled and stacked, frost the cake with coconut cream cheese frosting.
Press the flaked coconut into the frosting, completely covering it.
Garnish with lemon slices.