Strawberry Buttercream Frosting
Strawberry season is in full swing and today I'm sharing a fantastic Strawberry Buttercream Frosting recipe! It is easy to make, pipes beautifully, and is bursting with fresh strawberry flavor!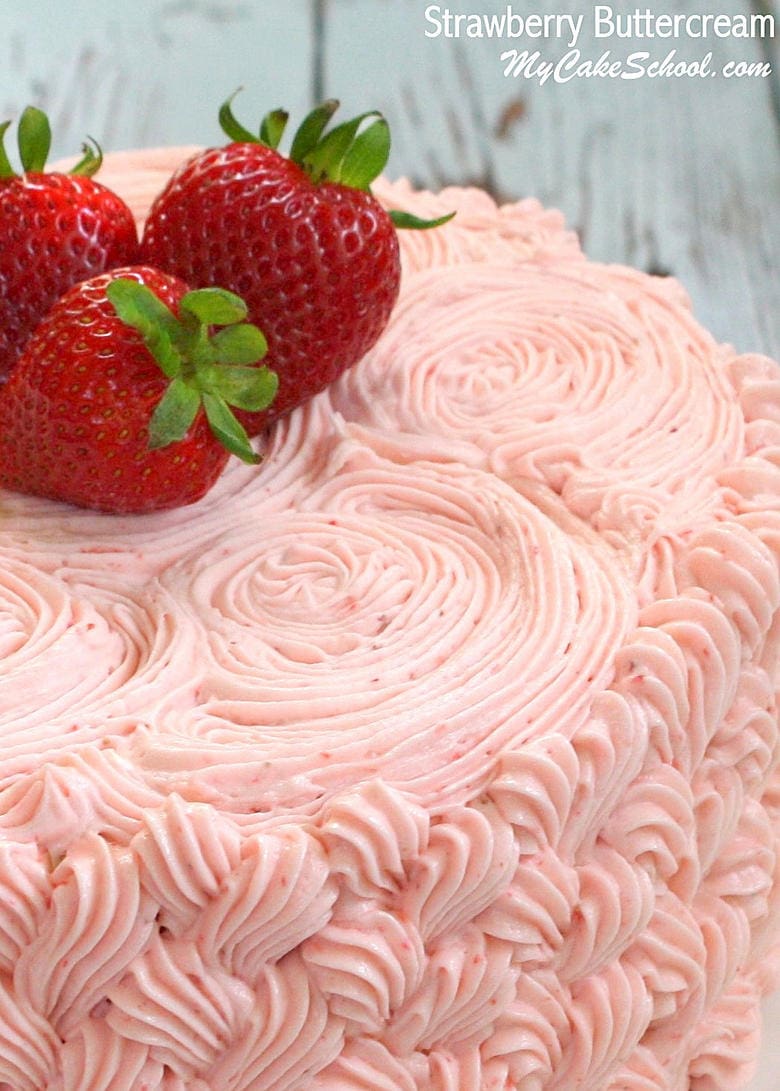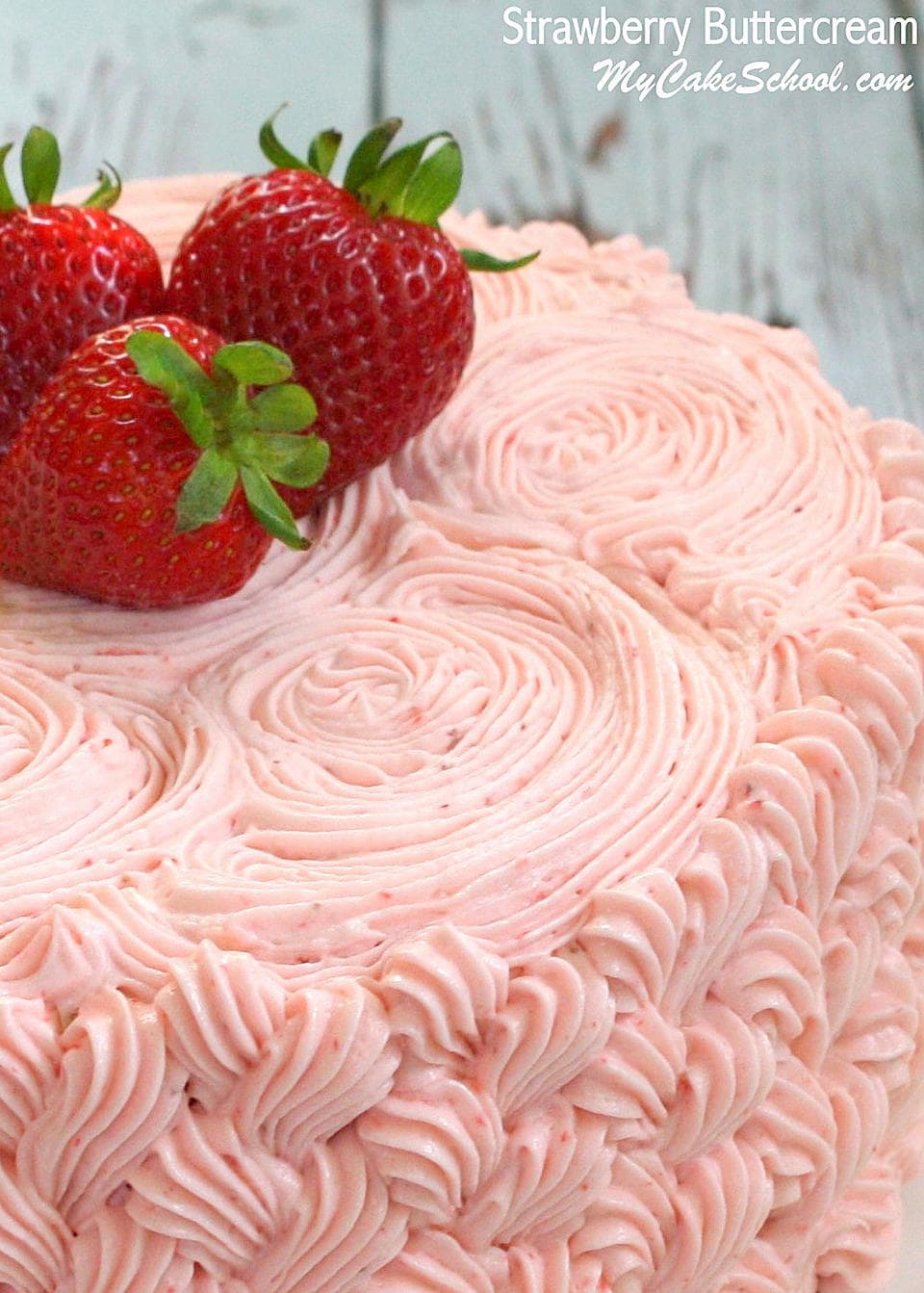 This versatile strawberry frosting recipe can be used as a filling or frosting, and tastes AMAZING with all sorts of cake and cupcake flavors.
It not only makes a wonderful strawberry frosting, but is delicious as a strawberry filling when sandwiched between cake layers. The real strawberries in the recipe give it great flavor.
**If you will be doing a lot of piping you will need to double the recipe
How to Make Strawberry Buttercream
This strawberry buttercream recipe is so delicious, you'll want to make it again and again for all of your favorite strawberry cake recipes!
The best part (aside from being such a good, pipeable frosting) is that it is such an easy recipe to whip up.
This is a basic American Buttercream recipe, which means it is a combination of these simple ingredients: softened butter, confectioners sugar, a pinch of salt, flavoring, and in this case, strawberries which lends a delicious natural strawberry flavor.
**You can find the full, printable recipe for Strawberry Buttercream below, but here is a quick rundown of the steps:
Soften the butter at room temperature, and puree the strawberries in the food processor. Using a paddle attachment, cream the softened unsalted butter in the bowl of a stand mixer until smooth. (If you don't have a stand mixer, a handheld mixer works well also!) Gradually add the powdered sugar and strawberry puree beating at medium speed until blended.
Continue mixing at medium speed another 3 to 4 minutes. Scrape the sides of the bowl. **If you'd like the frosting to be a bit more pink, just add a few drops of pink food coloring or coloring gel.
Next, turn the mixer to low speed (#2 on a KitchenAid) and continue mixing another 1 to 2 minutes to eliminate air pockets. The strawberry frosting will become very smooth.
The consistency is simple to change- If the buttercream is too thin add more powdered sugar, if too thick add more puree or a bit of milk.
Any extra strawberry puree can be spread between the cake layers.
This buttercream should be refrigerated in an airtight container until it's time to frost the cake! Due to the perishable nature of strawberries, I like to refrigerate cakes that have been frosted with this buttercream until within a couple of hours of the event.
Decorating the Cake
In the photo above, I filled a disposable piping bag with strawberry buttercream, and piped on top of our freshly crumb coated cake using a star tip 21.
I covered the top of the cake with piped spirals of buttercream. Then, I continued my buttercream piping around the sides with simple piped shells in a braided buttercream pattern.
This strawberry buttercream is perfect for all sorts of piping techniques, textured buttercream techniques, or a smooth finish.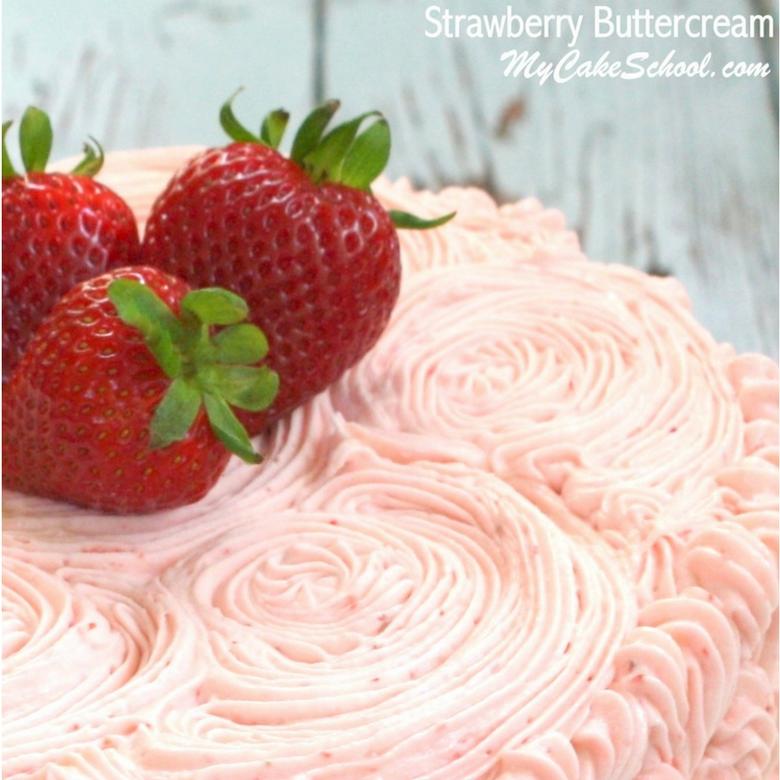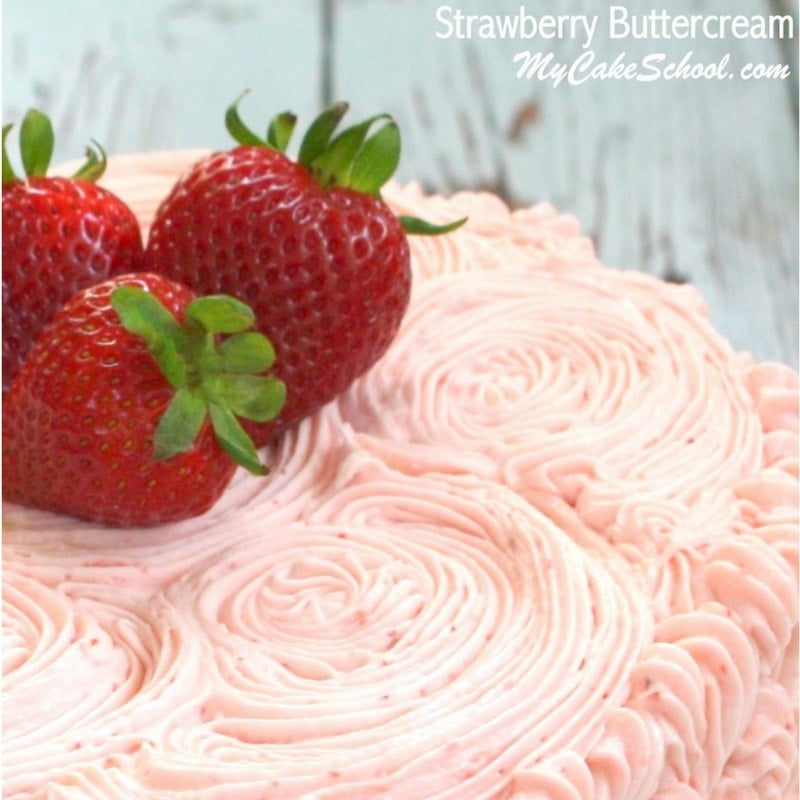 Pureed Strawberries vs. Strawberry Extract
Most of the strawberry flavor in this buttercream recipe comes from pureed fresh strawberries. However, if you'd like a bit of a strawberry flavor boost, you can incorporate a touch of strawberry flavoring.
This is such a flavorful frosting, and is a MUST for spring and summertime recipes! It pipes perfectly too!
**If you will be doing a lot of piping you will need to double the recipe
No More Grainy buttercream
Many people are surprised to learn that the type of powdered sugar used in an American Buttercream recipe like this one, can greatly the smoothness of your buttercream. Some brands/types of confectioners sugar just don't work well with frosting.
Over the years, we've run into a couple of brands of powdered sugar that gave us a beautiful looking buttercream which turned out to have a gritty, grainy consistency- ugh!
If a package doesn't say pure cane sugar, it contains beet sugar which is more likely to give you a grainy outcome.
However, we've noticed that even some brands that say "Pure Cane Sugar" will give a grainy consistency. One example is Dixie Crystals (although it used to work great for us several years ago.) Something has changed.
I've read that sometimes brands will use an anti-caking agent that causes grittiness, but it's hard to say what the true reason is. Your best bet is to do a little experimenting to find the brand that gives you the best results.
We've had great results with Domino's confectioner's sugar.

What Cakes Pair Well with Strawberry Buttercream?
This easy Strawberry Buttercream Frosting tastes great with so many cake flavors! Here are just a few of our favorites!
Strawberry Doctored Cake Mix Recipe
Lemon Cake Mix Recipe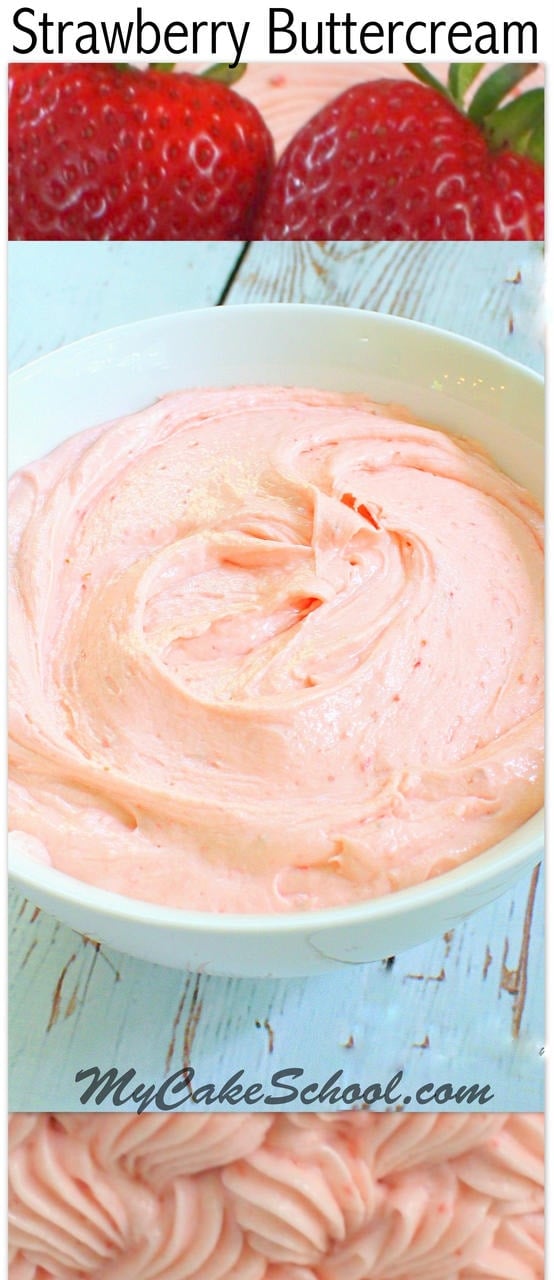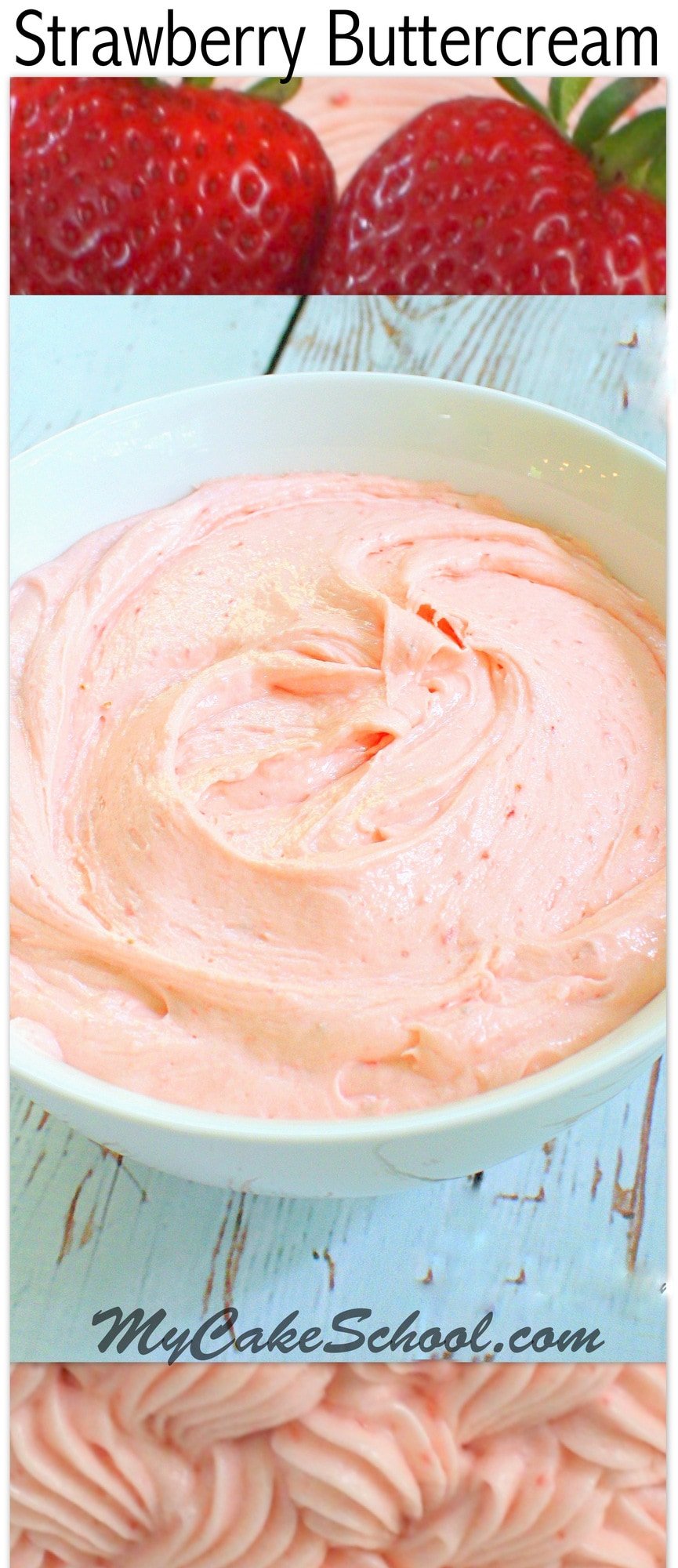 We have more Strawberry Fillings to Share!
If you love strawberry cakes, you'll want to keep these strawberry filling and frosting recipes nearby! So simple and delicious!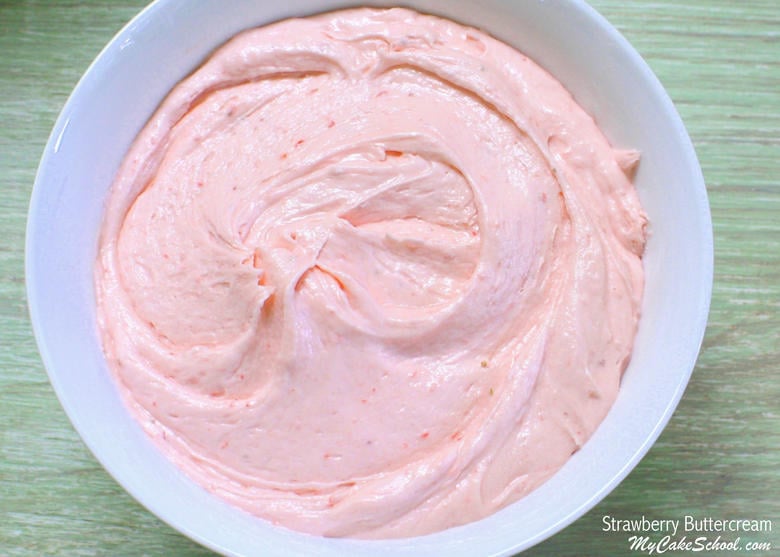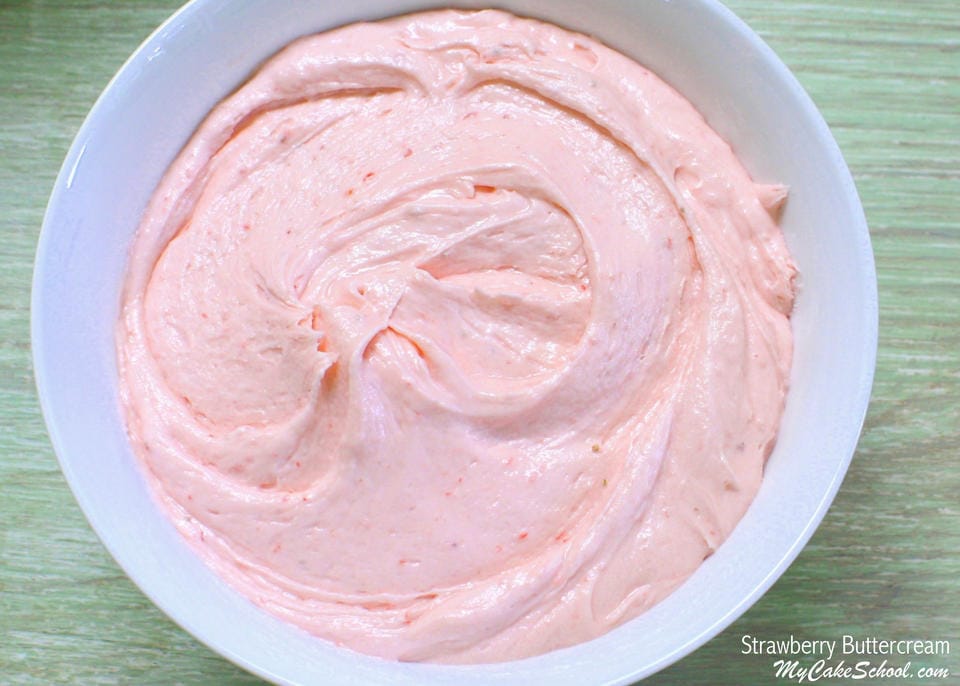 Enjoy the Recipe!
Thanks so much for stopping by! If you give this Strawberry Buttercream recipe a try, we would love for you to leave a comment and photo below.
Strawberry Buttercream Frosting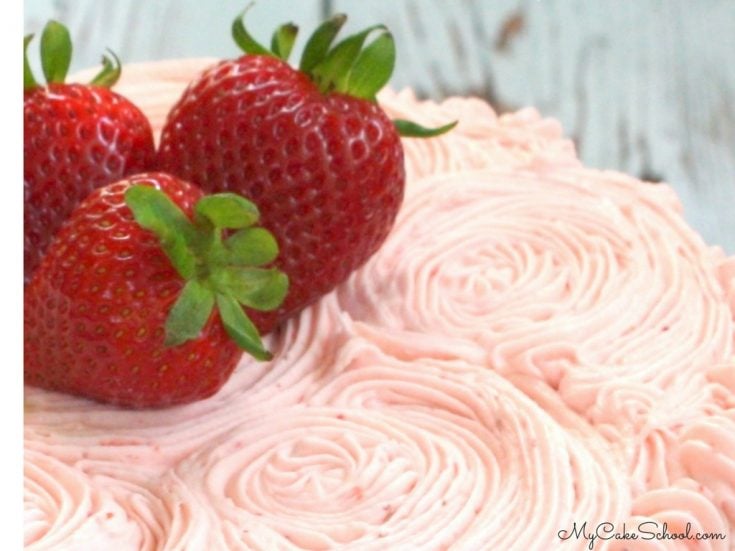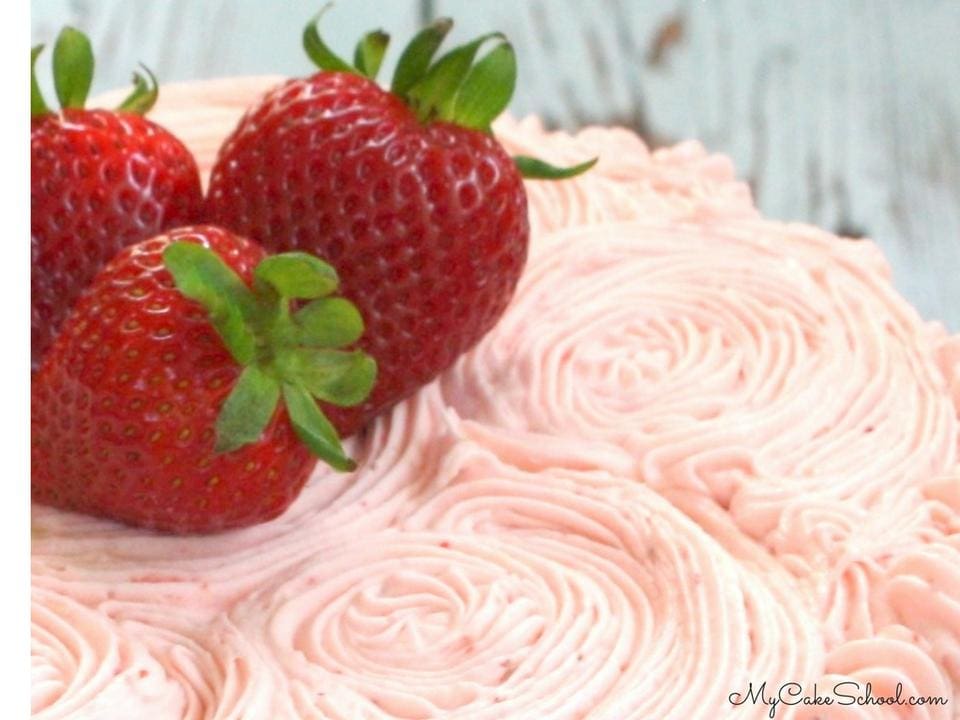 We love this delicious Strawberry Buttercream recipe!
Ingredients
2 sticks (1 cup) (226g) unsalted butter, slightly softened
6 cups (690g) powdered sugar
½ teaspoon (3g) salt (optional) this will cut the sweetness (popcorn salt will dissolve more quickly)
¼ cup plus 1 Tablespoon pureed strawberries, add more to reach your desired spreading consistency- This is approximately 3-5 strawberries depending on size.
1 teaspoon (4g) strawberry extract (optional) use if the buttercream needs more strawberry flavor
Instructions
Cream the softened butter until smooth.
Gradually add the powdered sugar and pureed strawberries beating at medium speed until blended.
Continue mixing on medium speed another 3 to 4 minutes, scraping the sides of the bowl occasionally
Slow down the mixer to very slow (#2 on a KitchenAid) and mixing another 1 to 2 minutes. This will eliminate air pockets. The buttercream will become very smooth.
If the buttercream is too thin add more powdered sugar, if too thick add more puree or a bit of milk.
Any extra strawberry puree can be spread between the cake layers
Makes 4 to 4 ½ cups