White Almond Sour Cream Cake
We LOVE this White Almond Sour Cream Cake! It is a delicious, moist, and it holds up perfectly to fondant.
This cake has been one of our most popular cake recipes from scratch over the years, and is definitely one of my favorites! We have a cake mix version (WASC Cake) as well!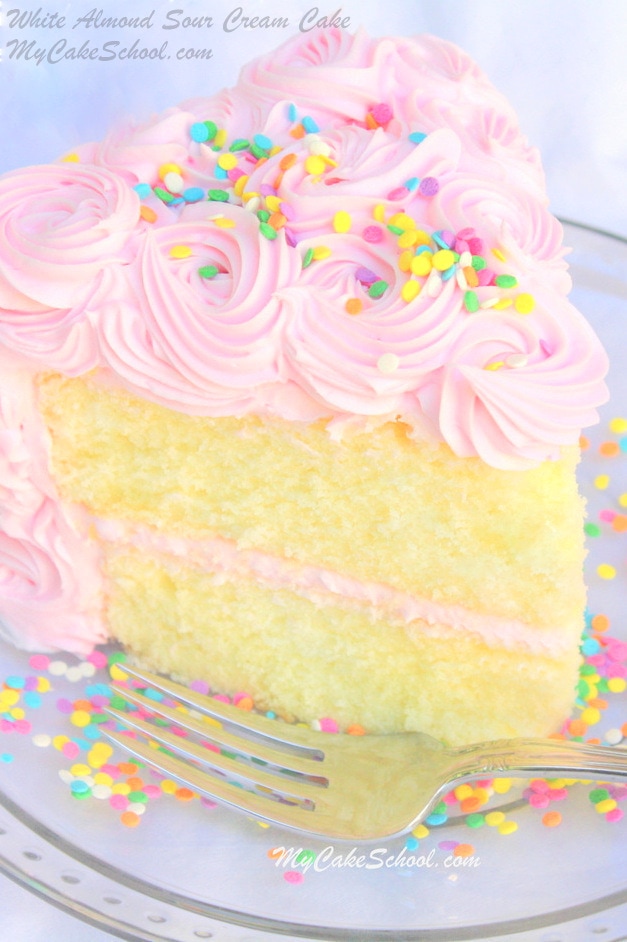 How to Make White Almond Sour Cream Cake
This delicious scratch White Almond Sour Cream Cake is a creamy and flavorful cake, with a melt-in-your-mouth texture.
This is thanks in part to the Reverse Creaming Method of Mixing, which calls ingredients to be added in a different order than the traditional creaming method. The result is a slightly dense, velvety soft cake!
You can find the full white almond sour cream cake recipe below, but here is a quick look at our steps!
First, preheat oven to 350 degrees F. Grease and flour two 8 x 2 inch pans.
In a small bowl, combine eggs, vanilla, almond extract, milk, & sour cream. Whisk until blended & set aside.
Mix the dry ingredients (cake flour, granulated sugar, baking powder, and salt) in the mixer for 30 seconds so the baking powder and salt will be well incorporated into the flour and sugar.
Slowly add the pieces of butter a few at a time while the mixer is on medium speed. Beat for approximately 1 minute or until the dry ingredients are crumbly and moistened by the butter, giving it the look of coarse sand. Scrape the sides and bottom of bowl.
Next, slowly add approx. half of the egg mixture with the mixer on very low speed then increasing to medium speed for 1½ minutes. The batter will be thick and fluffy. Scrape bottom and sides of bowl. Add the remaining egg mixture in two pourings, scraping the bowl and beating for 20 seconds after each addition.
Divide the cake batter between the prepared cake pans.
Finally, bake the cake layers at 350 degrees F for 35 minutes or until a toothpick inserted in the center comes out clean. Let the cake cool in the pans 10 minutes then turn out. Makes 7 cups batter
Recipe FAQs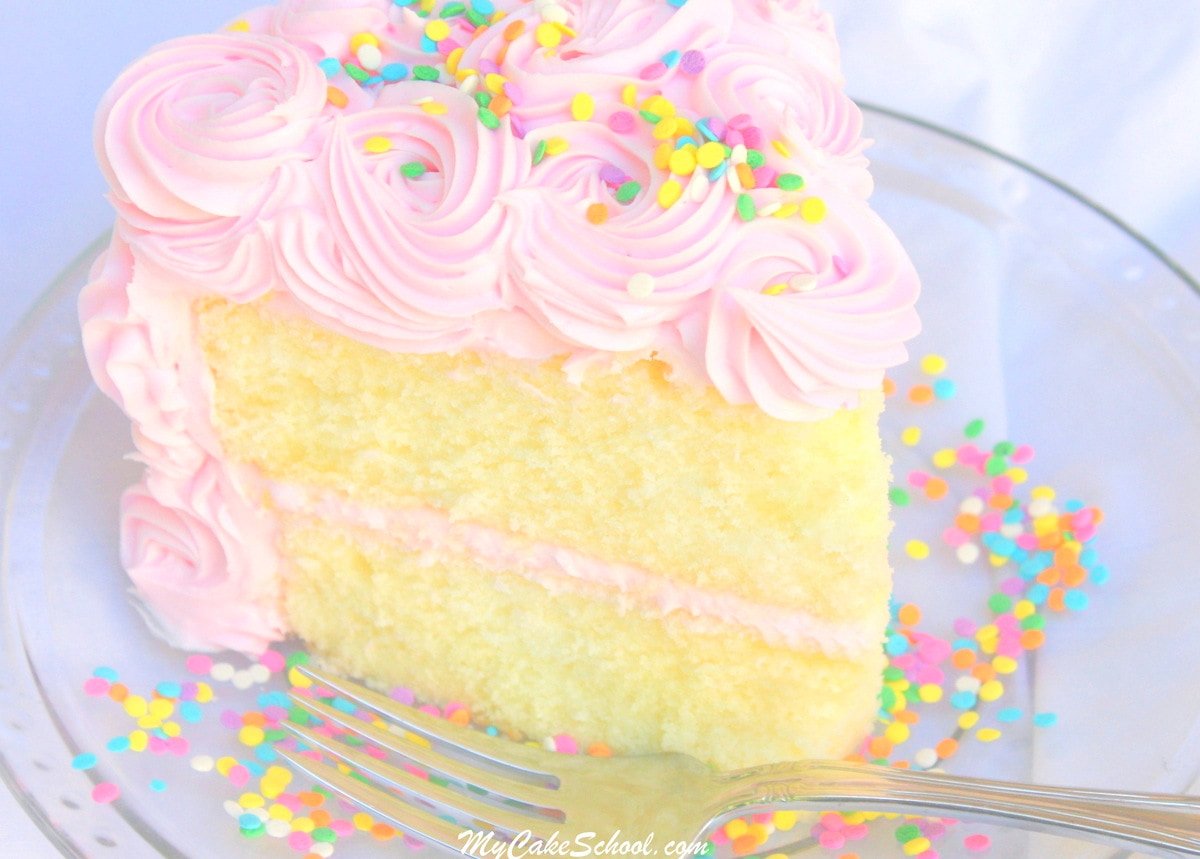 More Cakes with Almond Flavor
We've made several almond cakes over the years! While this White Almond Sour Cream Cake has a light almond flavor, others like our popular Almond Cake recipe have a richer almond flavor. We have something for everyone! ;0) Here are just a few more options for you:
Thanks so much for stopping by! We hope that you enjoy this recipe. Make sure to check out our full collection of Vanilla Cakes (which also includes yellow cakes and white cakes)! Our Vanilla Velvet Cake and Vanilla Buttermilk Cake are two more favorite options!
Have you made this Cake? We would LOVE for you to leave a ⭐️ rating as well as a comment and photo below! We really appreciate your feedback!
White Almond Sour Cream Cake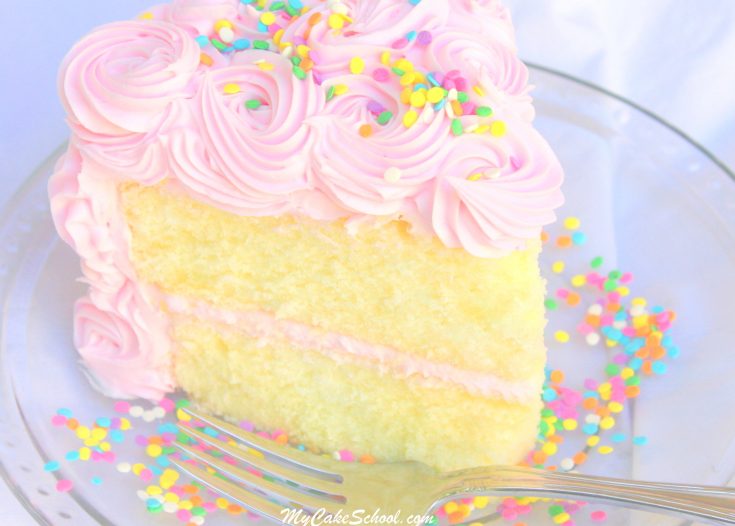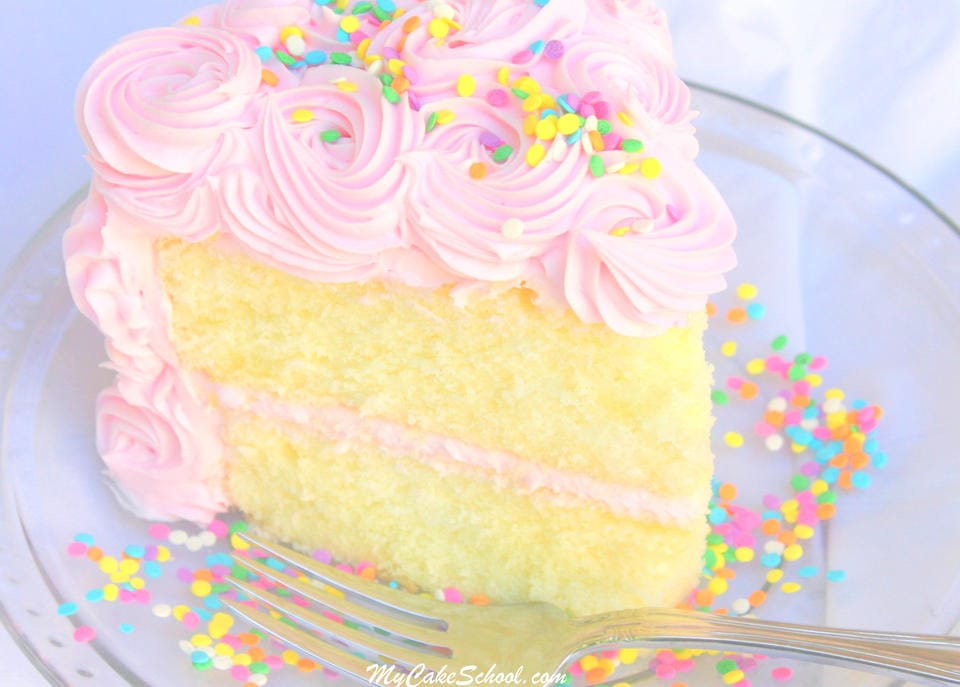 This super moist and delicious scratch White Almond Sour Cream Cake recipe is SO good!
Additional Time
30 minutes
Total Time
1 hour
20 minutes
Ingredients
3 Large eggs
2 tsp. (8g) vanilla extract
1 tsp. (4g) almond extract
⅓ c (73g) milk
1 cup (242g) sour cream
2 ½ c (285g) cake flour
1 ½ c (300g) granulated sugar
2 ½ teaspoons (12g) baking powder
½ teaspoon (3g) salt
1 ½ sticks (12 T) (170g) unsalted butter, slightly softened (Do not soften in microwave). I cut the butter into ½ inch slices onto waxed paper and leave on the countertop 8 to 10 minutes. It will be soft enough to make a fingerprint in the butter and added to the dry ingredients a few pieces at a time.
Instructions
Preheat oven to 350 degrees Grease and flour two 8 x 2 inch pans *I USE THE REVERSE CREAMING METHOD FOR THIS RECIPE
In a small bowl, combine eggs, vanilla, almond extract, milk, & sour cream. Whisk until blended & set aside.
Mix the dry ingredients (cake flour, granulated sugar, baking powder, and salt) in the mixer for 30 seconds so the baking powder and salt will be well incorporated into the flour and sugar.
Slowly add the pieces of butter a few at a time while the mixer is on medium speed. Beat for approximately 1 minute or until the dry ingredients are crumbly and moistened by the butter, giving it the look of coarse sand. Scrape the sides and bottom of bowl.
It is important to SLOWLY add approx. ½ of the egg mixture with the mixer on very low speed then increasing to medium speed for 1½ minutes -- the batter will be thick and fluffy. Scrape bottom and sides of bowl. Add the remaining egg mixture in 2 pourings, scraping the bowl and beating for 20 seconds after each addition. It is now ready to pour into pans.
Bake at 350 degrees for 35 minutes or until a toothpick inserted in the center comes out clean. Let the cake cool in the pans 10 minutes then turn out. Makes 7 cups batter