We LOVE this White Almond Sour Cream Cake recipe from scratch. It is delicious, moist, and it holds up perfectly to fondant.
This "WASC" cake has been one of our most popular scratch recipes on My Cake School over the years, and is definitely one of my favorites!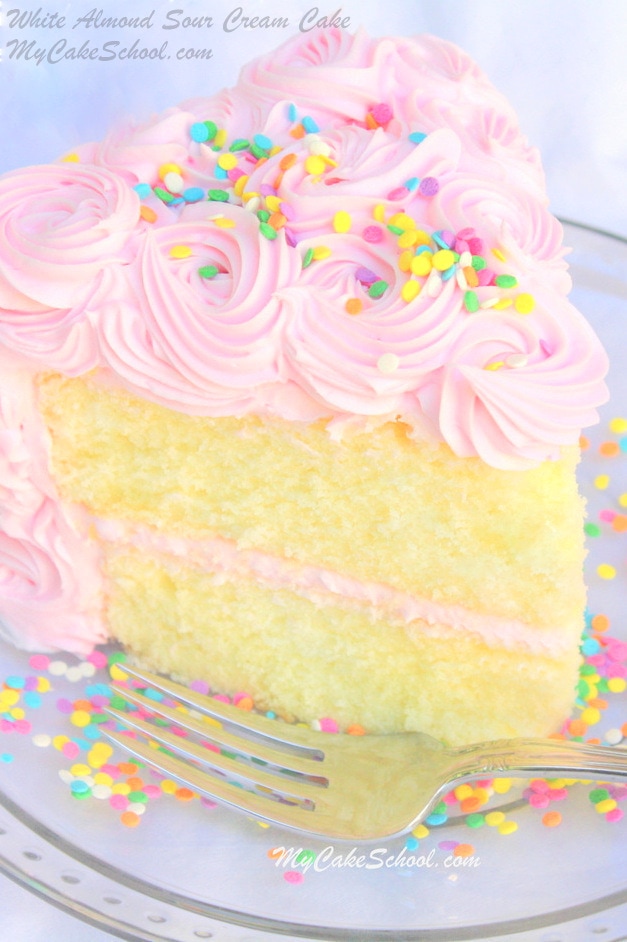 Not Quite White...
You will notice in the photo that the cake itself is not stark white, due to the fact that we use the whole eggs (rather than just the egg whites), and butter instead of shortening.
This gives us a soft yellow shade, but for me the additional flavor and richness from the whole eggs and butter is more important than having a truly white cake.
Not a Fan of Almond? Omit for a White Sour Cream Layer Cake
I just love the balance of vanilla with a hint of almond in this flavorful recipe. However, as subtle as the almond flavoring is, if you are truly not a fan of almond, you are going to notice it. No worries! Simply leave out the almond flavoring and you will have an amazingly moist and flavorful White Sour Cream Cake!
What Frostings Pair Well With White Almond Sour Cream Cake?
This White Almond Sour Cream Cake is amazing with so many different fillings and frostings. It is hard to pick a favorite! In the photo, we have frosted our cake with our Classic Vanilla Buttercream Frosting recipe.
You can find a listing of our favorite frostings in the Frostings category of our Recipes section, there are so many that would pair perfectly with this wonderful cake! Here are a few more ideas:
....and so many. more!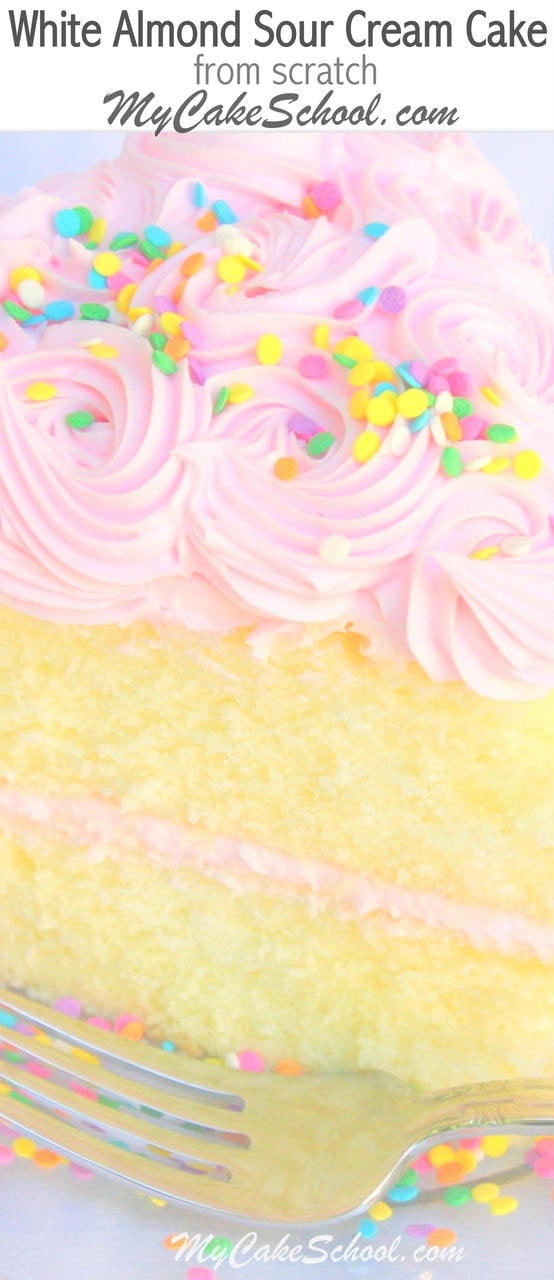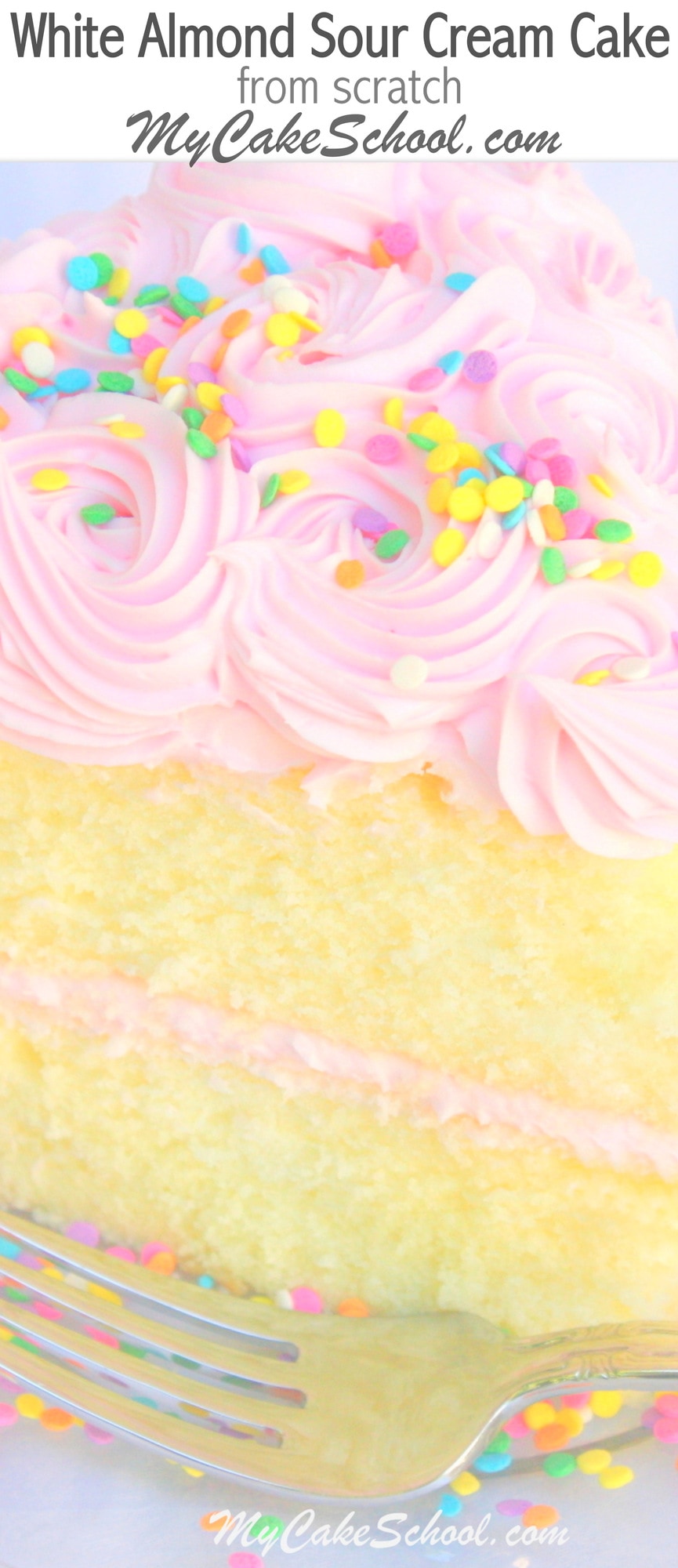 The Reverse Creaming Method of Mixing
The mixing method used in this cake recipe is known as the Reverse Creaming Method. You will notice that the order that the ingredients are added is different than the traditional method of mixing.
We have several cake recipes in our Recipes section that call for the Reverse Creaming Method.
(We first read about this method in Rose Levy-Beranbaum's The Cake Bible, and have been experimenting with incorporating it into many of our favorite cake recipes ever since).
This method results in cakes that are slightly denser and have a velvety texture.
For more information on the Reverse Creaming Method, you can find a link to our free cake video tutorial on the method at the bottom of this post!
*If you prefer a fluffier texture to your cakes, you can find this same delicious White Almond Sour Cream Cake Recipe using the conventional method of mixing.
This is also the recipe/mixing method that I use when making White Almond Sour Cream Cupcakes because they come out fluffier!: White Almond Sour Cream Cake Recipe (conventional method).
We hope that you enjoy this amazing recipe! Please let us know if you have any questions!
White Almond Sour Cream Cake~ A Scratch Recipe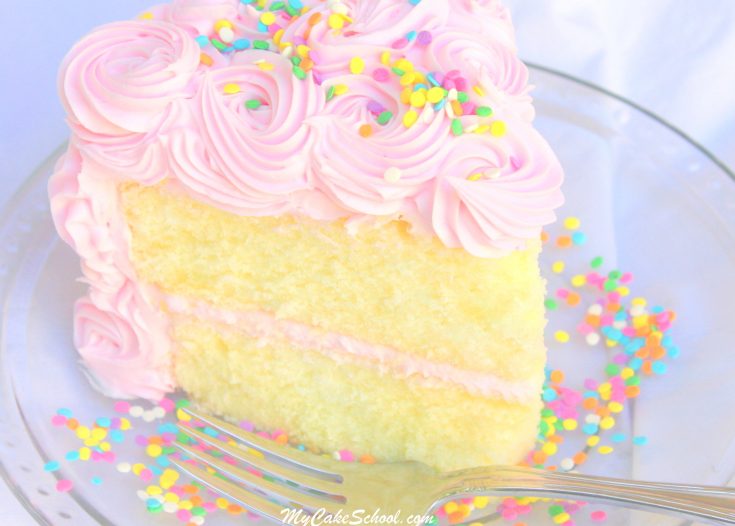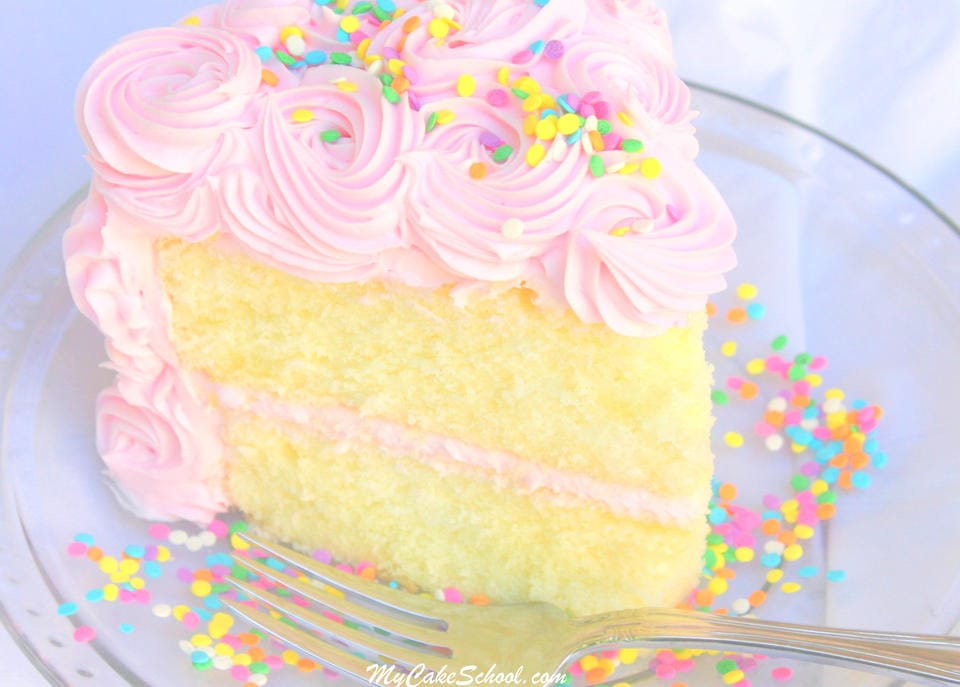 This super moist and delicious scratch White Almond Sour Cream Cake recipe is SO good!
Ingredients
3 Large eggs
2 tsp. (8g) vanilla extract
1 tsp. (4g) almond extract
⅓ c (73g) milk
1 cup (242g) sour cream
2 ½ c (285g) cake flour
1 ½ c (300g) granulated sugar
2 ½ teaspoons (12g) baking powder
½ teaspoon (3g) salt
1 ½ sticks (12 T) (170g) unsalted butter, slightly softened (Do not soften in microwave). I cut the butter into ½ inch slices onto waxed paper and leave on the countertop 8 to 10 minutes. It will be soft enough to make a fingerprint in the butter and added to the dry ingredients a few pieces at a time.
Instructions
Preheat oven to 350 degrees Grease and flour two 8 x 2 inch pans *I USE THE REVERSE CREAMING METHOD FOR THIS RECIPE
In a small bowl, combine eggs, vanilla, almond extract, milk, & sour cream. Whisk until blended & set aside.
Mix the dry ingredients (cake flour, granulated sugar, baking powder, and salt) in the mixer for 30 seconds so the baking powder and salt will be well incorporated into the flour and sugar.
Slowly add the pieces of butter a few at a time while the mixer is on medium speed. Beat for approximately 1 minute or until the dry ingredients are crumbly and moistened by the butter, giving it the look of coarse sand. Scrape the sides and bottom of bowl.
It is important to SLOWLY add approx. ½ of the egg mixture with the mixer on very low speed then increasing to medium speed for 1½ minutes -- the batter will be thick and fluffy. Scrape bottom and sides of bowl. Add the remaining egg mixture in 2 pourings, scraping the bowl and beating for 20 seconds after each addition. It is now ready to pour into pans.
Bake at 350 degrees for 35 minutes or until a toothpick inserted in the center comes out clean. Let the cake cool in the pans 10 minutes then turn out. Makes 7 cups batter
Here's the Chocolate Layer Cake Version!
Did you know that we also have a Chocolate Sour Cream Cake recipe?
It is decadent, ultra moist, and has a wonderfully soft texture. You can find it here!: Chocolate Sour Cream Cake Recipe from Scratch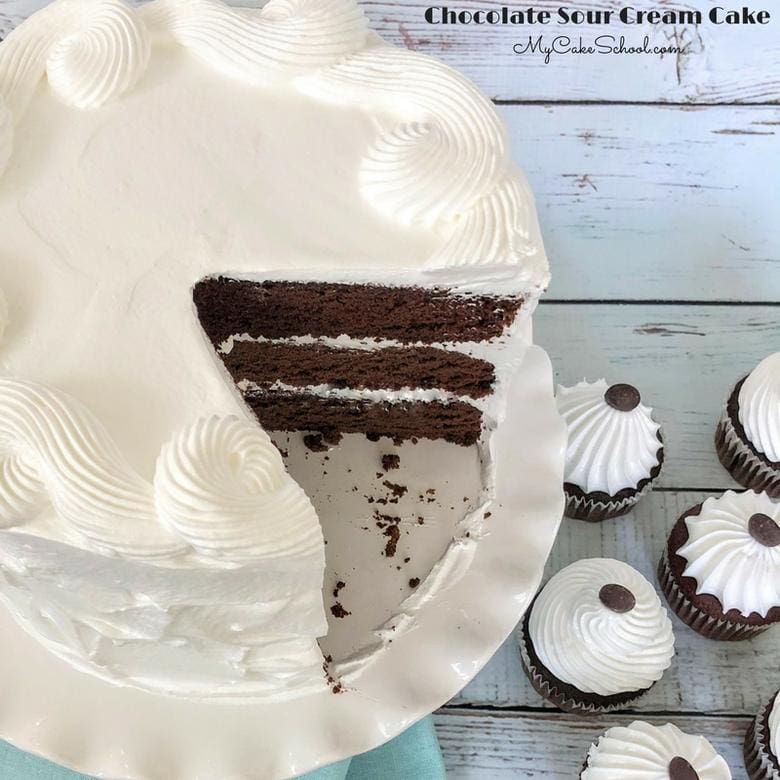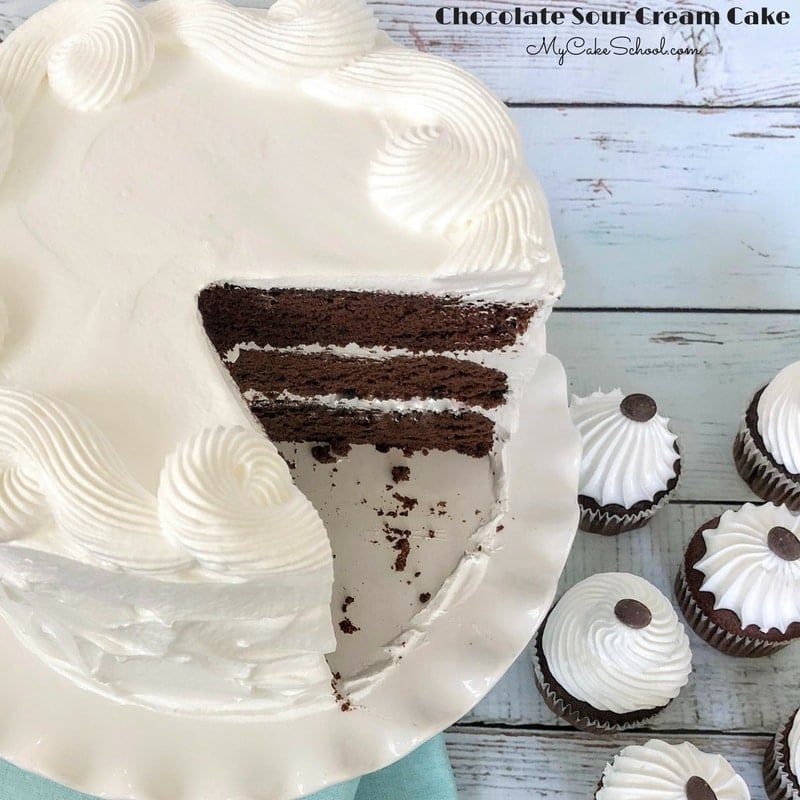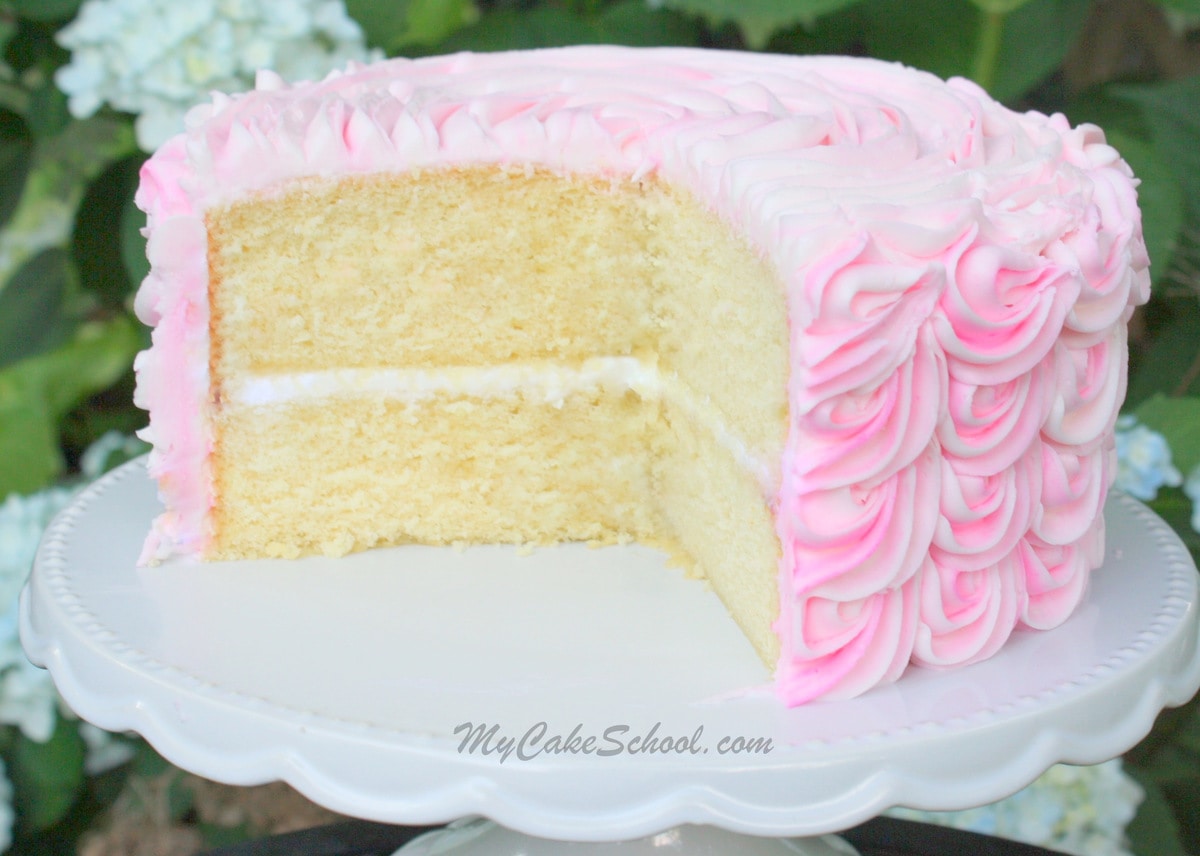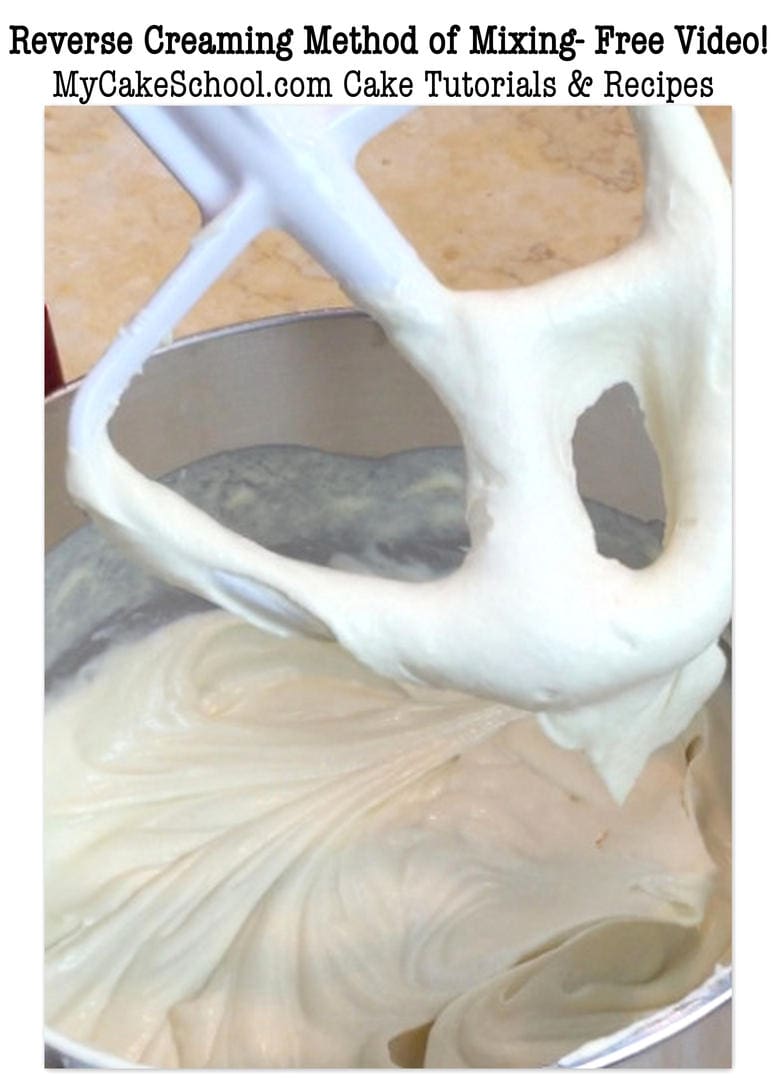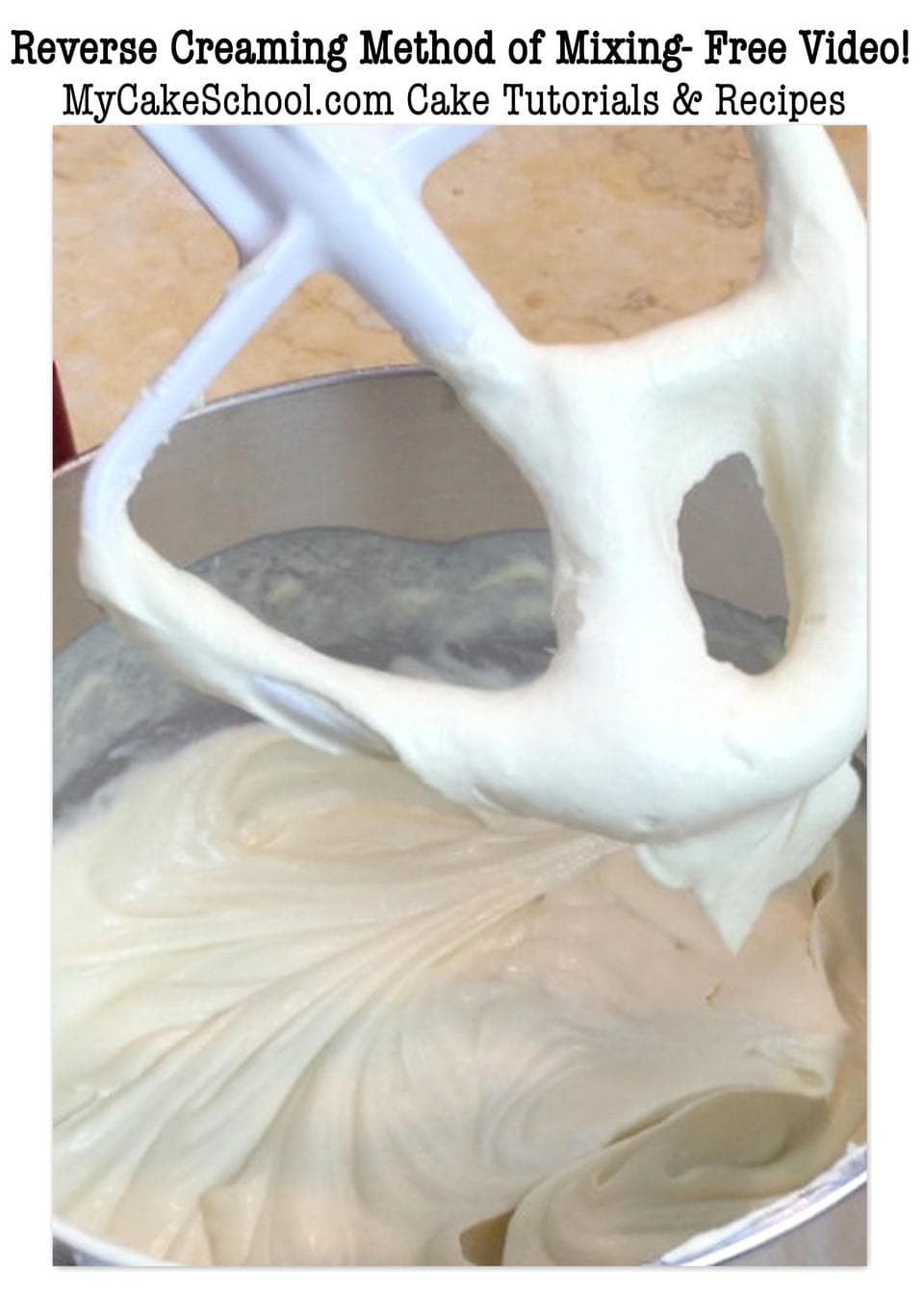 You may also like our White Cake Recipe from scratch! It's another popular choice from our Recipes section! Super moist and slightly lighter in color due to the egg whites in the recipe. We love them both!
Thanks for stopping by My Cake School! We hope you'll visit again soon.