Today we are sharing a fantastically billowy and flavorful Fluffy White Frosting recipe, which is a seven minute frosting with a twist. This dreamy frosting is light and airy, like marshmallow cream, and has a sweetness that is not overpowering...it is pure heaven!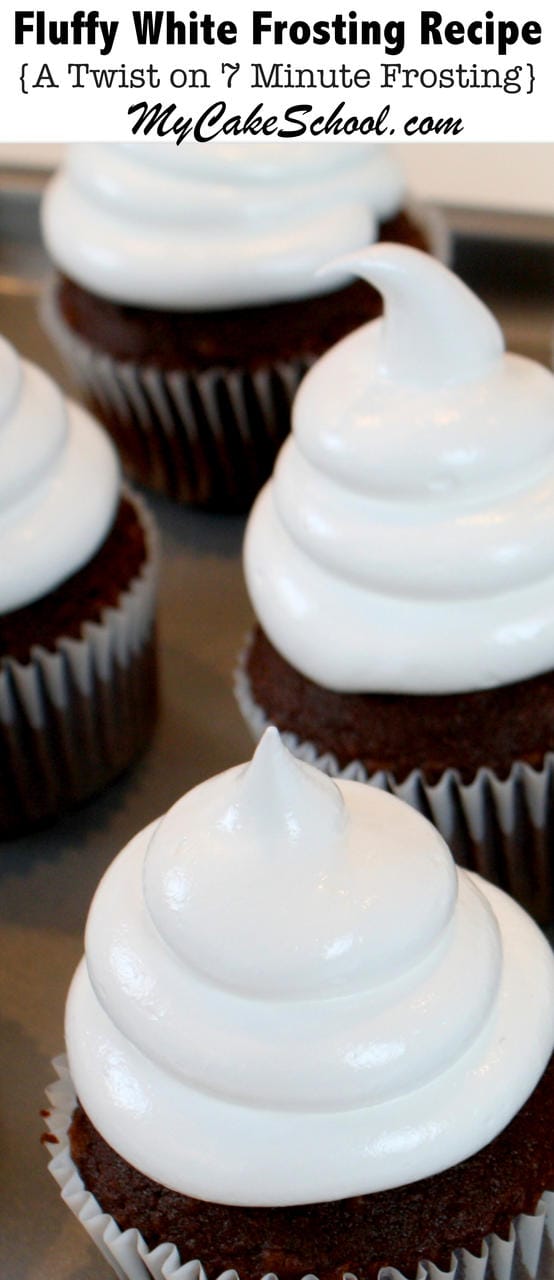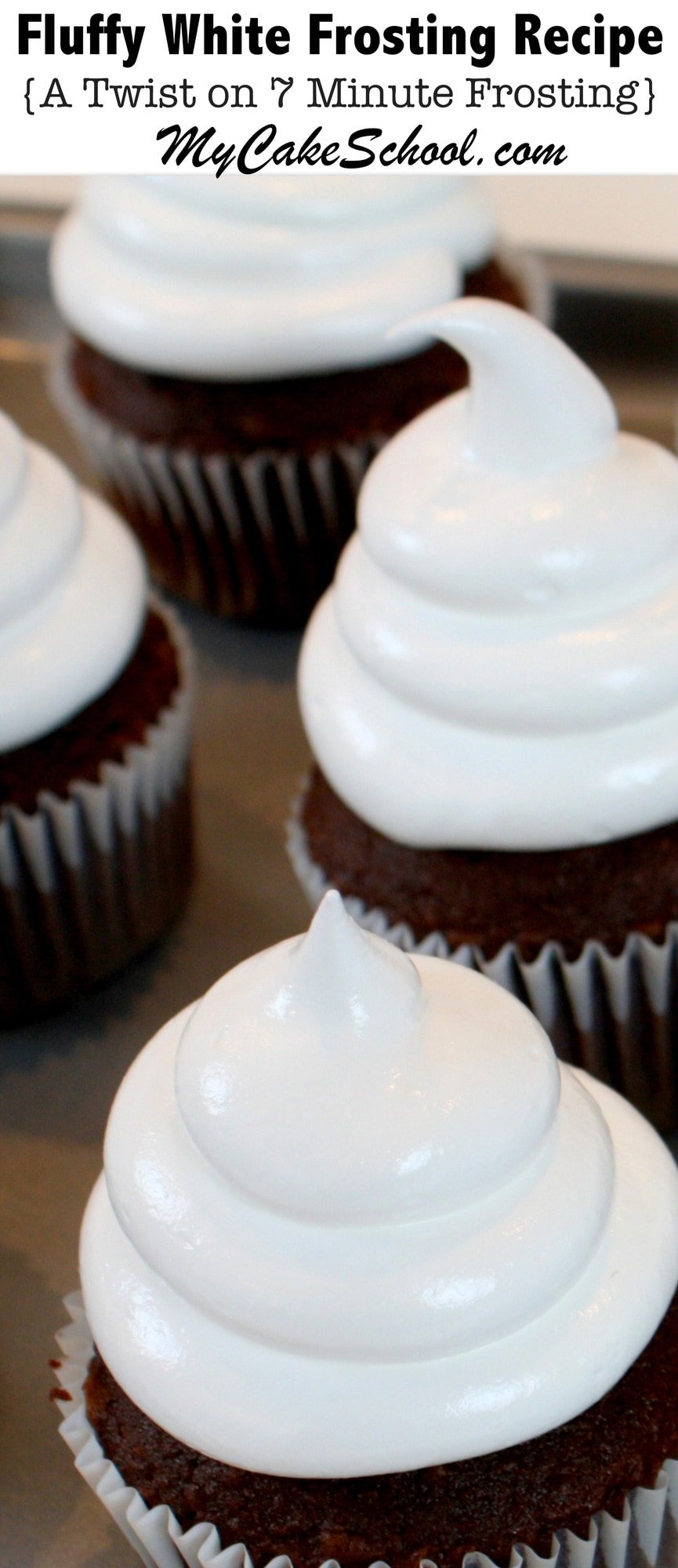 If you are familiar with 7 minute frosting, this fluffy white frosting tastes identical, however the method is a little different. The traditional way to make seven minute frosting is to heat the ingredients over a double boiler as you mix. This recipe throws that method right out the window (yay), making it much simpler to make.
When swirling my cupcakes with buttercream frosting, I usually keep the swirls low so that it isn't too sweet or heavy. With this light Fluffy White Frosting recipe, I pipe my swirls to the ceiling! I can't get enough of it, and it's just so pretty too!
This fluffy seven minute frosting is not only perfect for cakes, but it's also perfect for cupcakes and high hat cupcakes too!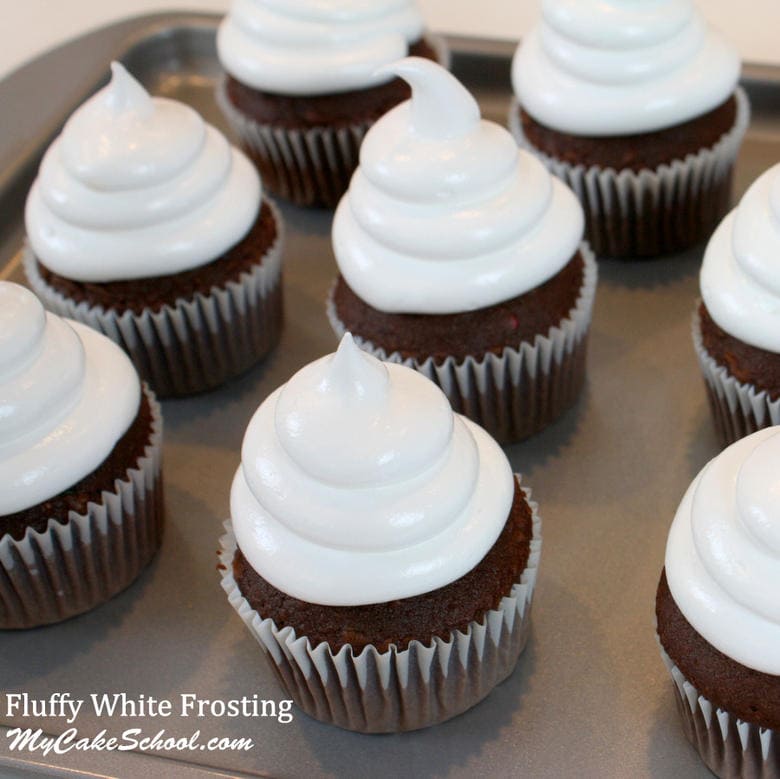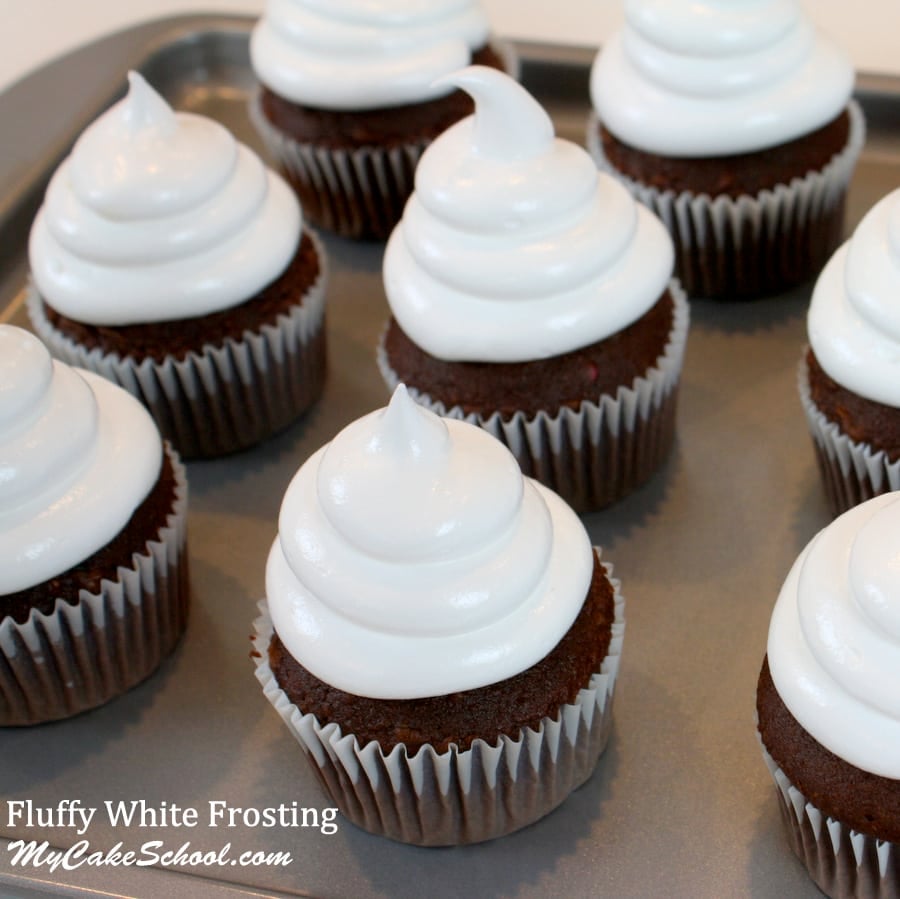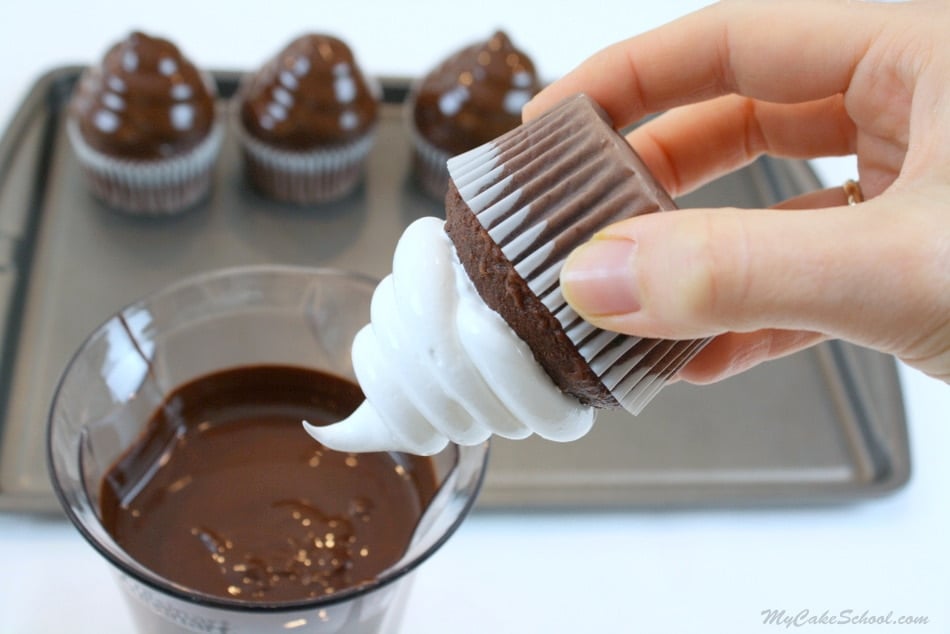 In the video below, I'm making high hat cupcakes-- you'll see how I mixed up this fluffy white seven minute frosting recipe, as well as how to dip the cupcakes into chocolate for a WOW dessert! For more details on high hat cupcakes, you can find the link beneath our recipe below.
Helpful Tips and notes for Fluffy White (Seven Minute) Frosting
Make sure that there is no trace of grease on your beaters or in your bowl before whipping your egg whites, or they will not whip up properly.
After whipping up a batch of this frosting, you'll want to use it soon as it will begin to set up. Do not apply to a warm cake as it may melt.
In this recipe, we used separated the whites from 4 large eggs (rather than using carton egg whites)
The frosting may slightly deflate over time.
To prepare this seven minute frosting, you can use a handheld mixer or a mixer with a whisk attachment.
This is a pipeable recipe. If you are making high hat cupcakes, you'll want to go ahead and quickly pipe your swirls before the frosting set up. Then, chill for 20 minutes in the freezer before dipping. (You can find all of the details in our Hi hat Cupcake tutorial linked beneath the recipe)
**This recipe makes about 5 cups of frosting, and can be easily doubled if you plan to do a lot of decorative piping or if you plan to swirl your cupcakes high!
Seven Minute Frosting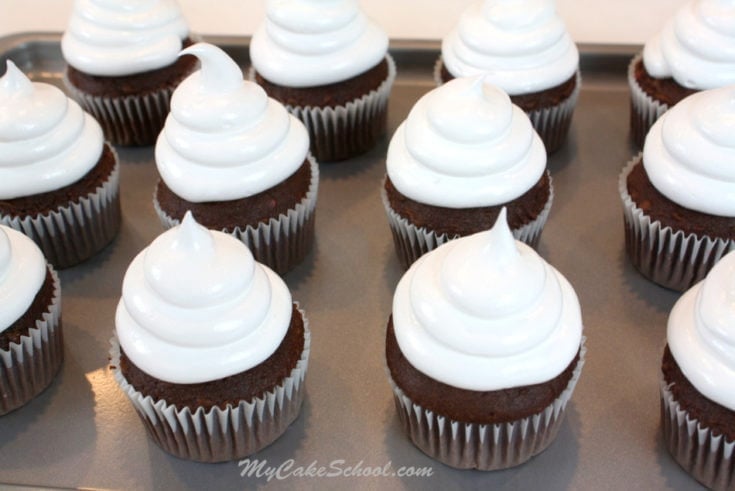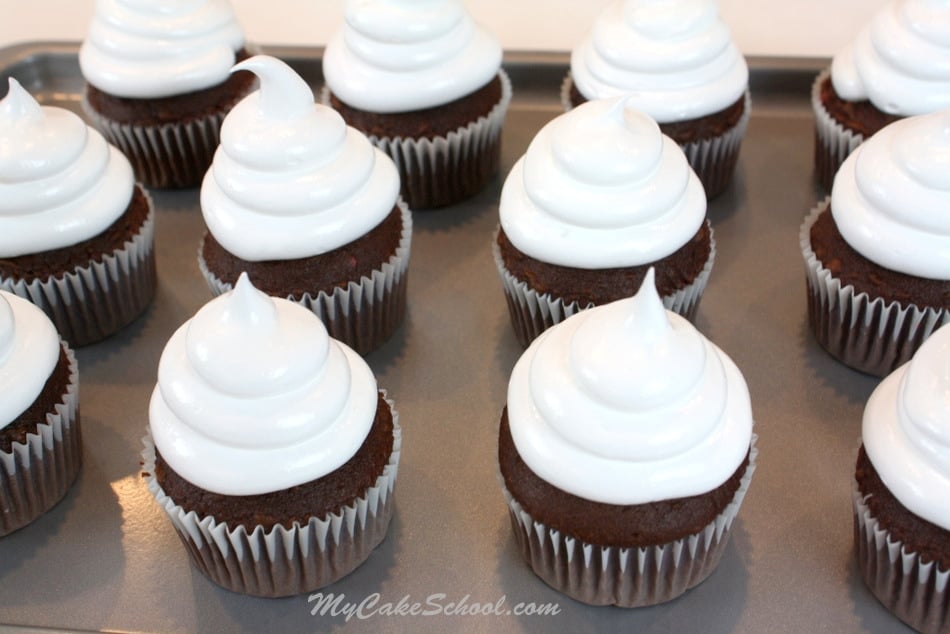 This light and billowy frosting has a wonderful marshmallow flavor. Perfect for frosting cakes and cupcakes!
Ingredients
⅔ cup (150g) water
2cup (400g) sugar
½ teaspoon Cream of Tartar or 1 Tablespoon white corn syrup
4 egg whites
2 teaspoon (8g) vanilla extract
Instructions
Make sure the mixing bowl and beaters are clean without a trace of grease. Any grease will keep the egg whites from increasing to full volume.
You will be using only the egg whites and if a yolk happens to break and gets mixed in, the recipe will NOT work. Place the egg whites into the bowl of your mixer and add the vanilla. Set aside until time to beat the whites.
In a saucepan, add the water, sugar, cream of tartar (or white corn syrup). Cook on medium/high heat. Do not stir, or stir just enough to distribute the sugar. You don't want sugar crystals sticking to the sides of the pan. The mixture will begin to boil and become clear. After it boils for a minute or so, remove from the heat, you will be able to see that the sugar has dissolved.
Beat the egg whites and vanilla to the soft peak stage. This happens rather quickly. At soft peak stage, the egg whites will not form peaks but will just fall over, cloud like. At this time, with the mixer beating on low speed slowly pour in a small stream of the hot sugar syrup into the egg whites. Avoid hitting the beaters as you pour because the hot syrup could splash onto you. Increase the mixer to high speed and beat approximately 7 minutes ( it could be longer if using a hand mixer) until stiff peaks form (stiff peaks stand straight up).
The frosting should be used right away as it set up rather quickly. The frosting does not become hard but does form a slight crust. The cake can be kept at room temperature or refrigerated. Leftover frosting can be stored in the refrigerator and remixed, it will still taste good but will be softer and will not hold a stiff peak.
Makes 5 cups frosting
Recipe can be doubled
Want to watch me whip up a batch of Fluffy White Frosting? In this quick Hi Hat Cupcake video tutorial, you can watch the entire process.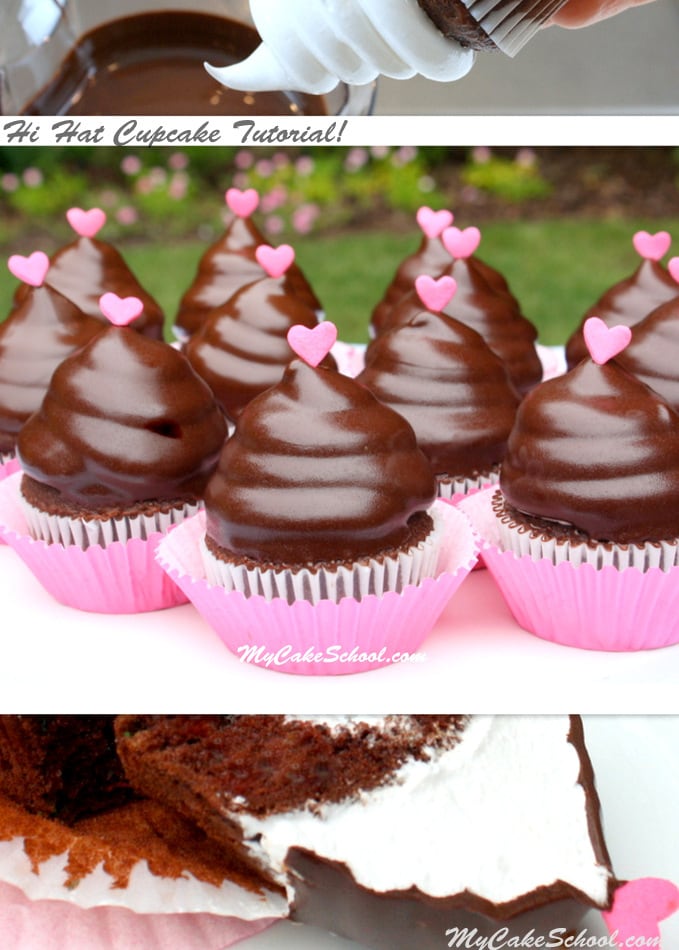 Thanks for stopping by! We hope that you love this fluffy white frosting is much as we do! Luscious seven minute frostings are always a crowd pleaser!
Don't miss our full collection of FAVORITE cake and frosting recipes as well as hundreds of free cake tutorials in our Cake Recipes & Tutorial Section!