Mint Chocolate Chip Cake is one of my FAVORITE cake recipes. There's just nothing like the decadent combination of rich chocolate cake with refreshing mint chocolate chip buttercream.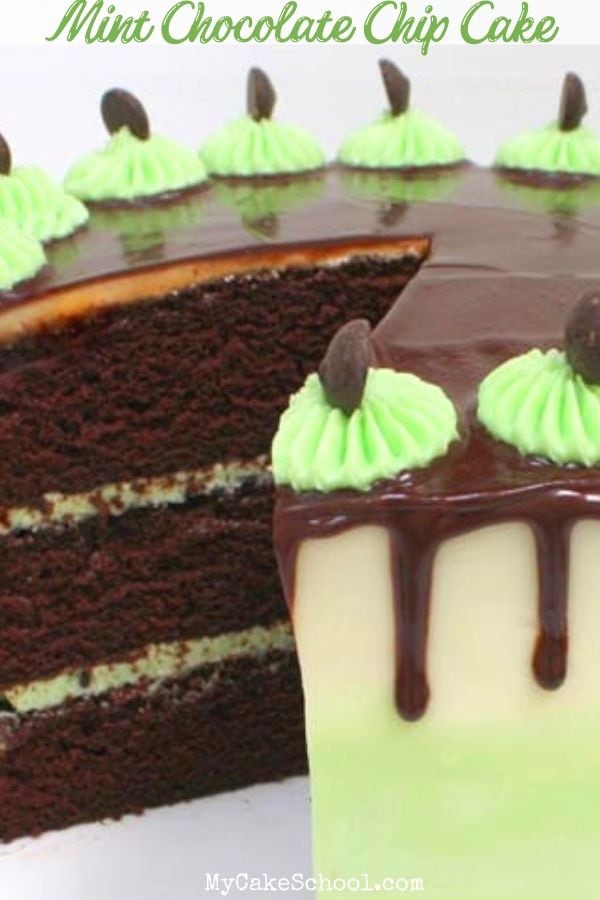 I'm so excited to share this amazing recipe with you all because if you love mint and chocolate together, there's just nothing better! It's like slicing into the cake version of a peppermint patty...YUM.
So if you're looking for a crowd pleasing, family and friend pleasing, all around delightful chocolate layer cake, I promise you won't be disappointed!
[fvplayer id="6"]
How to Make Mint Chocolate Chip Cake
*Find the full recipe and printable instructions below
After baking your three 8 inch chocolate cake layers, allow to cool ***Unless you are freezing (read below)
Place the first chocolate cake layer on your cake base or pedestal.
As an optional step (but it will make the cake even more decadent) spread a thin layer of your ganache on the cake. Follow with your mint chocolate chip buttercream. Add another cake layer and repeat the steps, then add the last cake layer and crumb coat.
Freezing the Cake Layers
I happen to be on Team Freeze ;0) - Not just for this cake, but for any cake, whether scratch or a cake mix.
When time allows, I freeze my freshly baked cake layers while they are still warm. I feel it makes them more moist--but only if they are wrapped & frozen while still warm (all of that good steam gets trapped inside).
So, if you'd like to try this method, bake your cake layers as usual. Remove the pans from the oven and allow them to cool- I cool mine still in the pans for about 5 minutes on a cooling rack.
Then, flip out and individually wrap with plastic wrap and foil. To make this step easier, you can flip each cake onto a wrapped cake board and then wrap with plastic wrap and foil. (I mention wrapping the cake board so that you can re-use them).
Freeze for at least a few hours but up to three months! Then, thaw on the countertop (still wrapped) until condensation begins to form on the foil, and then loosen the foil to finish thawing to the desired amount.
Some decorators like to work with partially frozen cake layers when assembling the cake so that they are less fragile.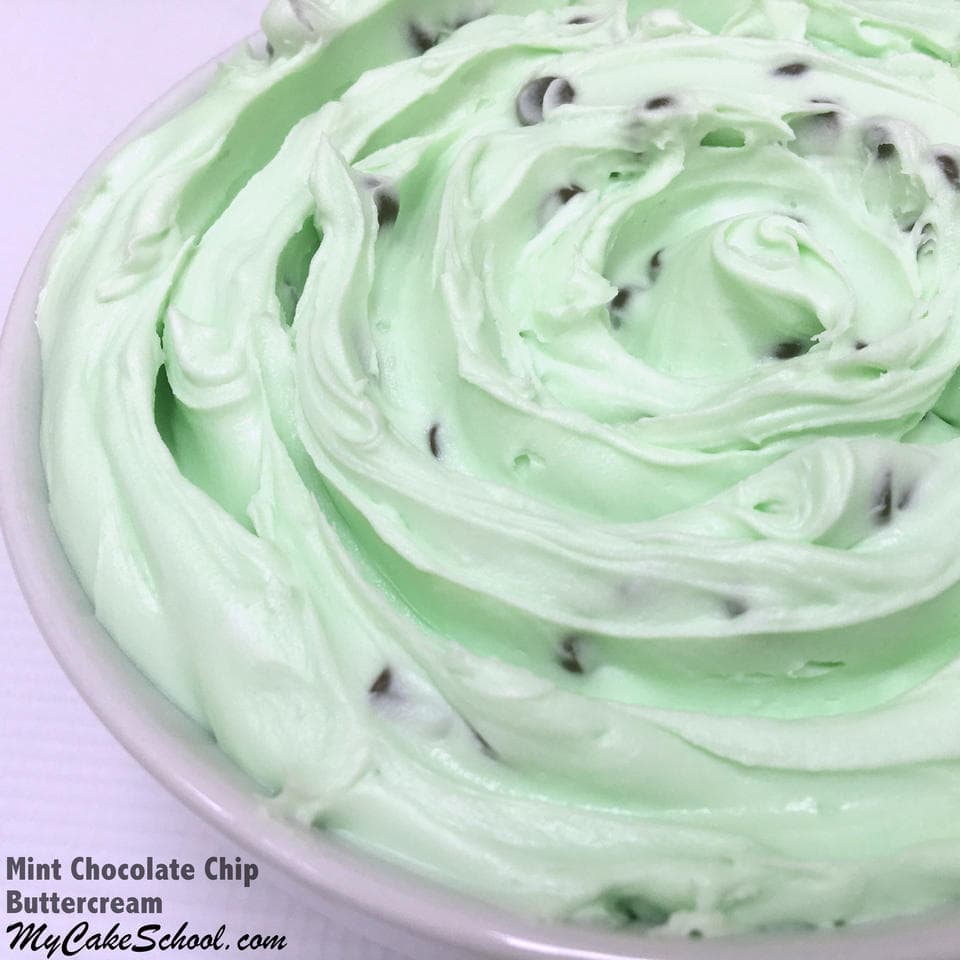 Decorating the Mint Chocolate Chip Cake
After crumb coating my filled cake layers, I filled disposable piping bags (ends snipped away) with white buttercream, light green buttercream, and dark green buttercream.
I spun the cake on the turntable as I piped the sections of tinted buttercream.
Then, I smoothed over the frosting with my trusty bench scraper. If you need to make some touch ups (like I did), you can chill the cake in the freezer for about 15 minutes to firm up the frosting and smooth over where necessary with a hot spatula or bench scraper.
Finally, apply the ganache drip around the top edge of the cake. Spoon additional ganache across the top of the cake.
Once set, pipe buttercream stars (I used a french tip) around the edge of the cake and add chocolate chips or accents as desired.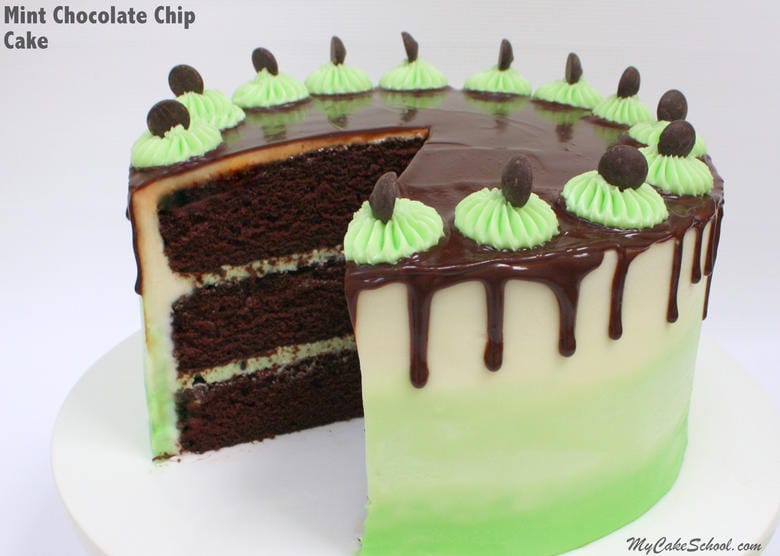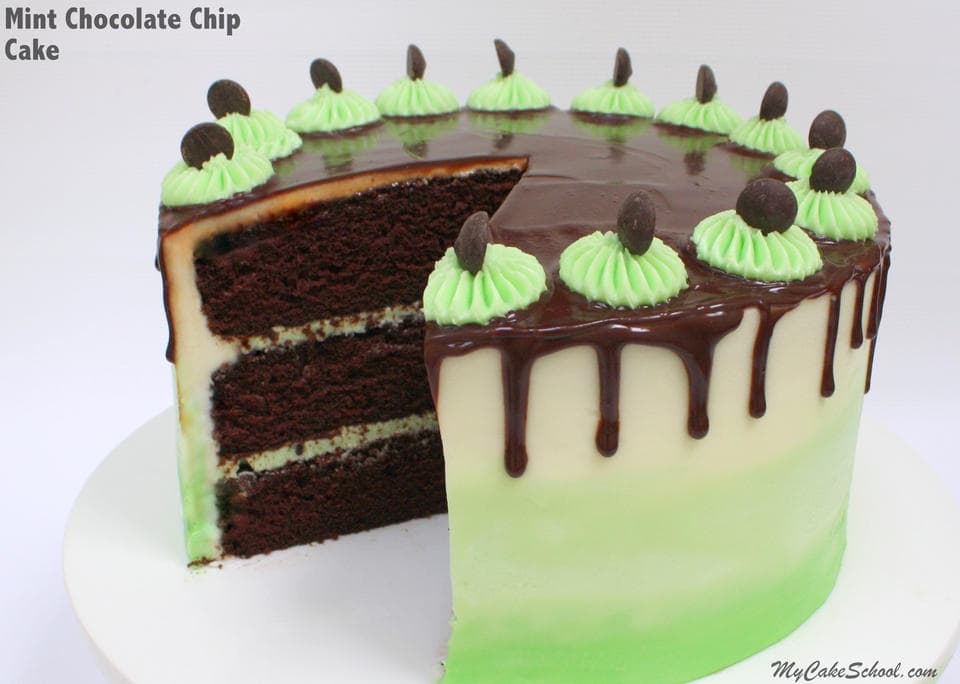 Oh my Ganache!
In this cake video tutorial, we also used a quick and easy microwaveable Ganache Drip recipe from our site.
This deliciously simple detail that never fails to bring oooohs and ahhhhhhhhs. Love the drama! Here is our easy two ingredient ganache recipe: Chocolate Ganache Drip.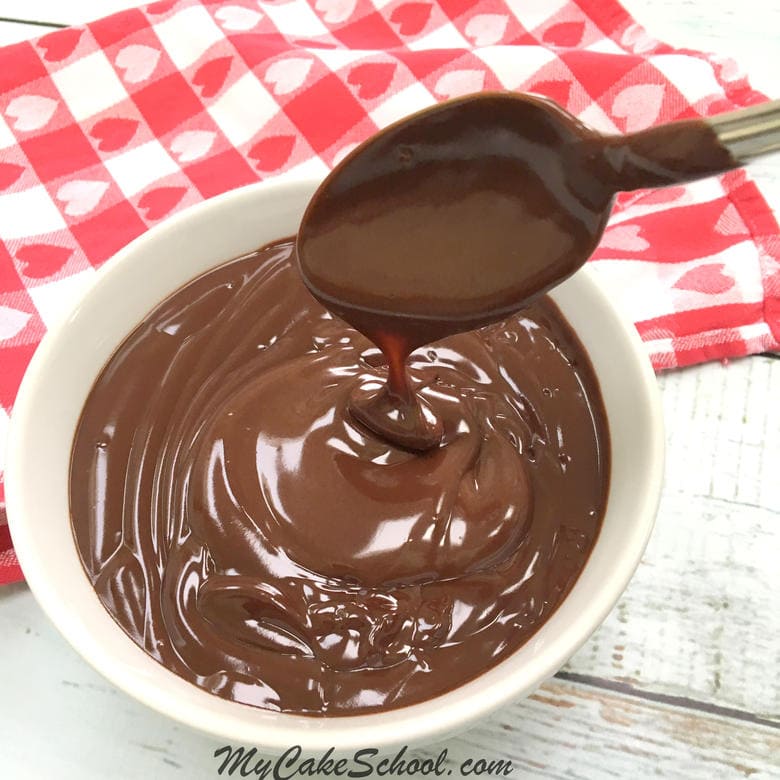 Alternatives for Mint Chocolate Cakes
If you'd rather use a Mint Chocolate Chip Cake design that incorporates chocolate frosting, you can just half the mint chocolate chip buttercream recipe and use it for the filling and top of the cake.
The sides of the cake could be frosted in our Classic Chocolate Buttercream!
You could also change things up and incorporate Andes mints, Junior Mints, or Peppermint Patties into your design, or even a little peppermint extract into the chocolate frosting or cake batter. So many options, and all of them are delicious!
Making Cupcakes? Mint Chocolate Chip Cupcakes are ALWAYS a good idea! Here's our Classic Chocolate Cupcake Recipe if you need it for light, fluffy chocolate cupcakes!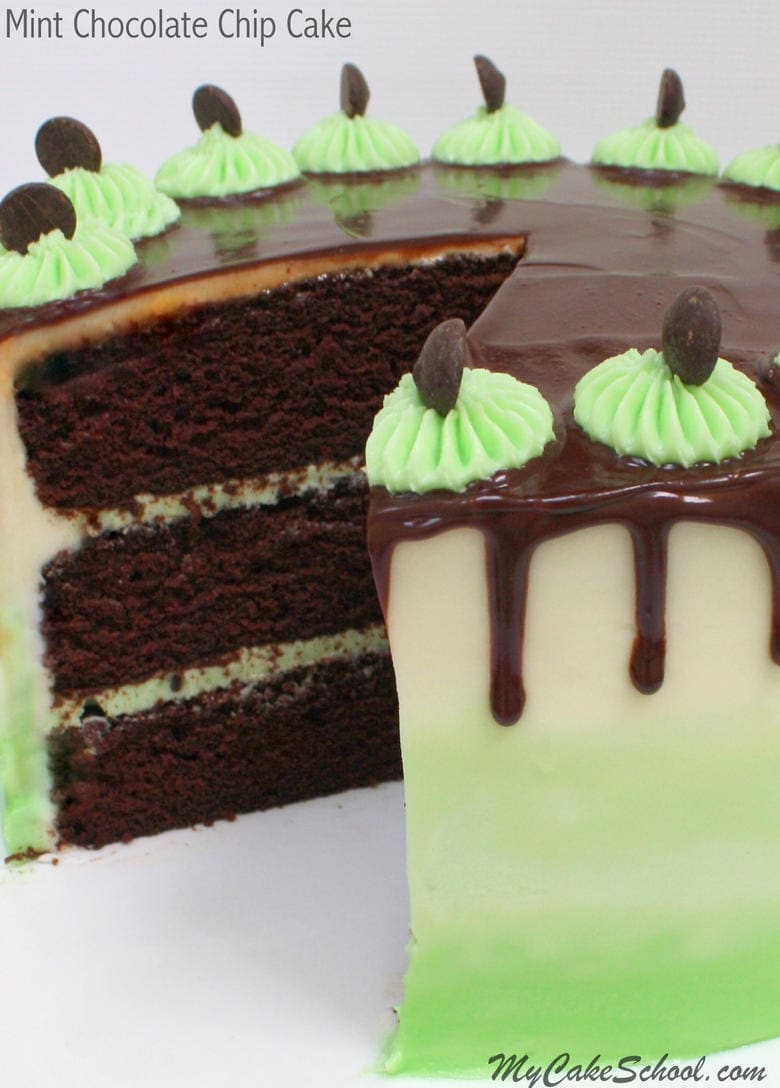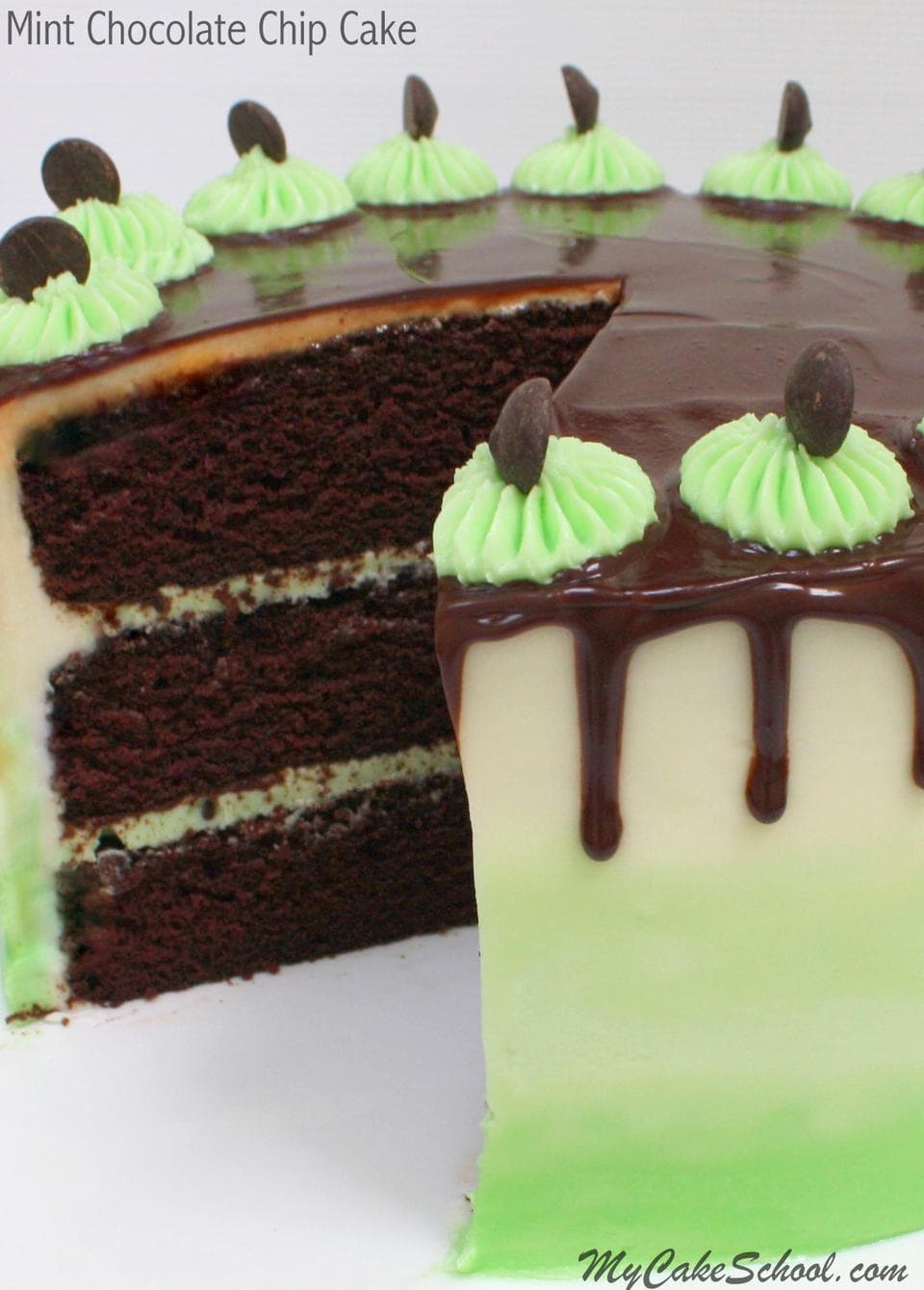 So Many Chocolate Cake Recipes!
In this recipe, we used our Classic Chocolate Cake, but any favorite chocolate cake recipe can easily substituted for this Mint Chocolate Chip Cake! Here are a few other favorites to keep in mind:
Chocolate Sour Cream Cake (doctored cake mix)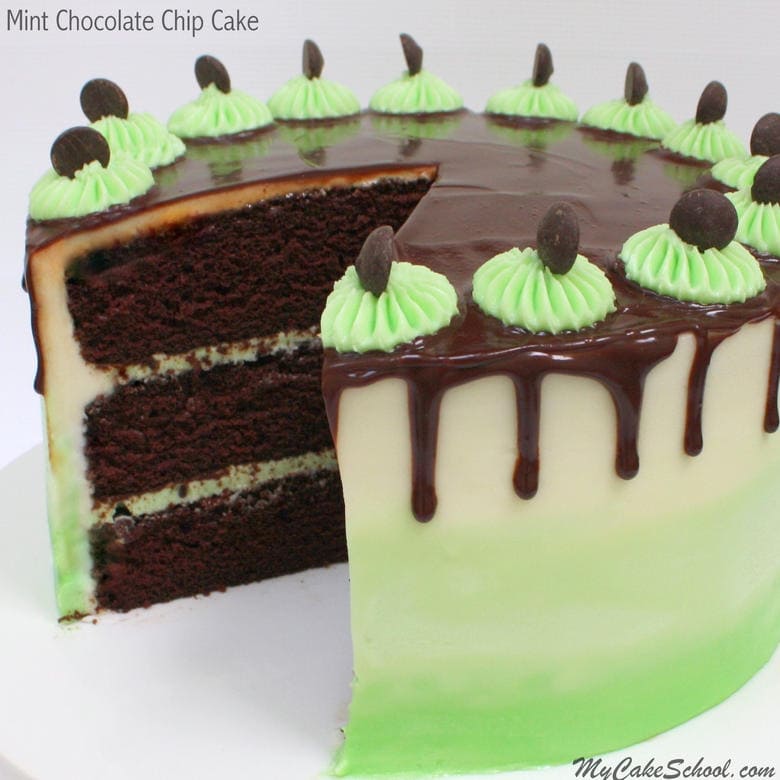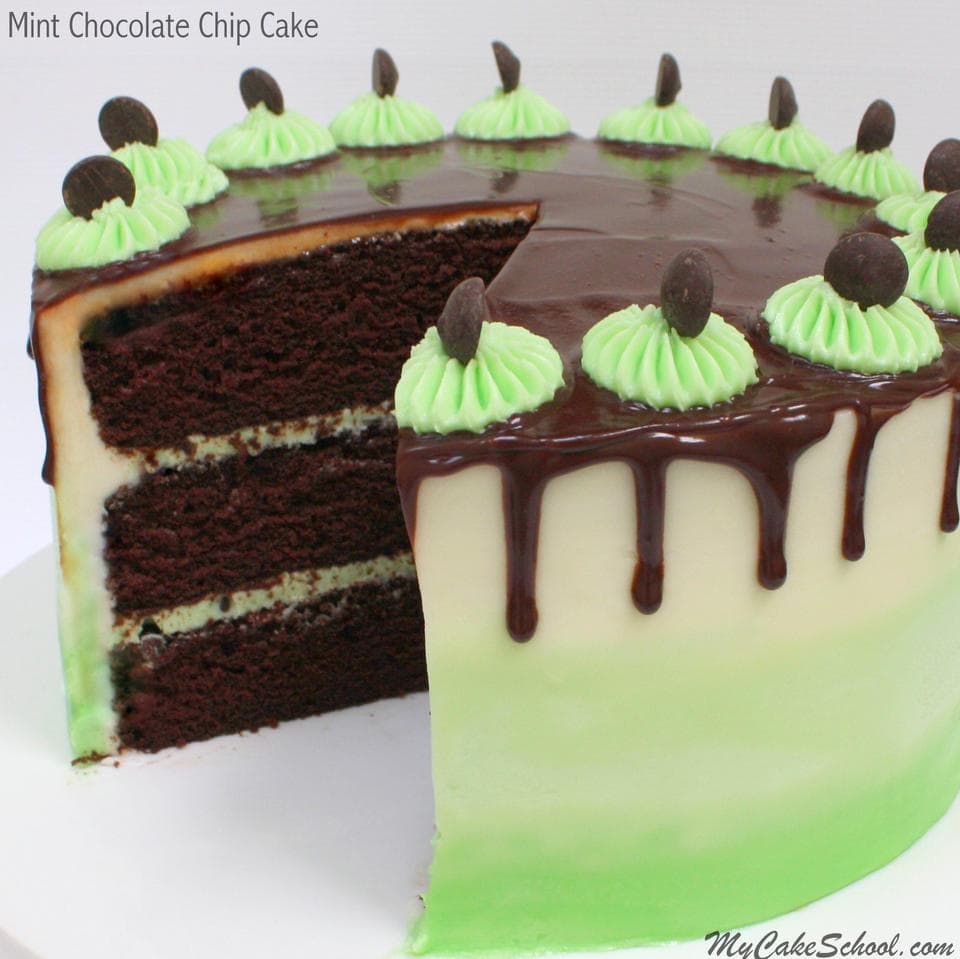 More Chocolate Cakes
As lovers of all things chocolate, we have many other amazing Chocolate Cake Recipes and flavor combinations that belong on your must-bake list! We have lots more Chocolate Chip Cake Recipes as well.
Here are just a few of our favorites!
Baileys Irish Cream Chocolate Cake
Peanut Butter & Chocolate Cake
Black Forest Cake from Scratch
*Or you can hop over for a Roundup of the Best Chocolate Cakes!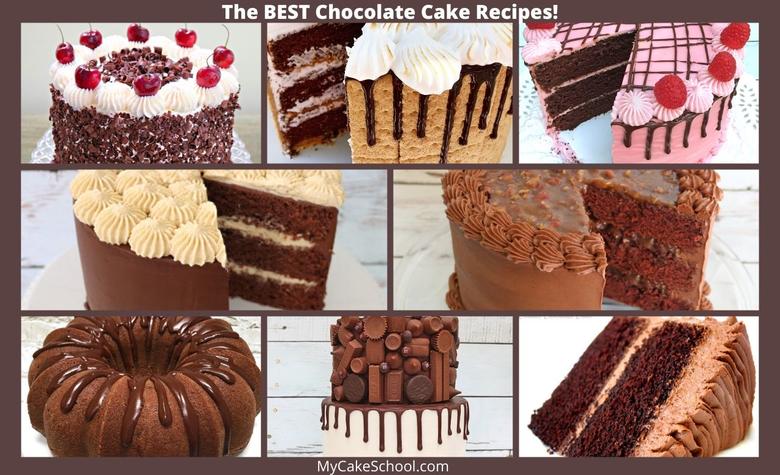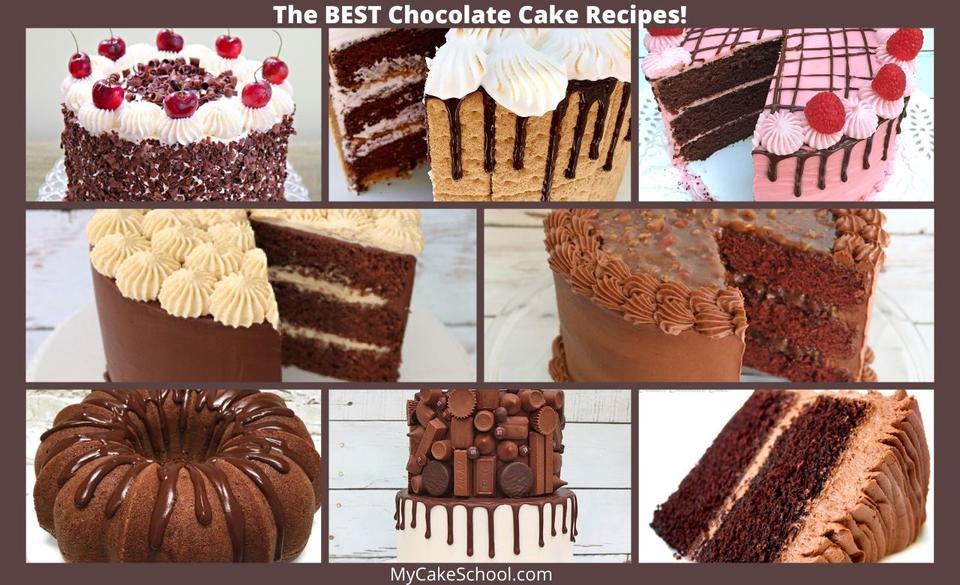 Enjoy the Recipe!
We hope that you enjoy this cake recipe! If you give it a try, we would love for you to leave a comment and photo below!
Mint Chocolate Chip Cake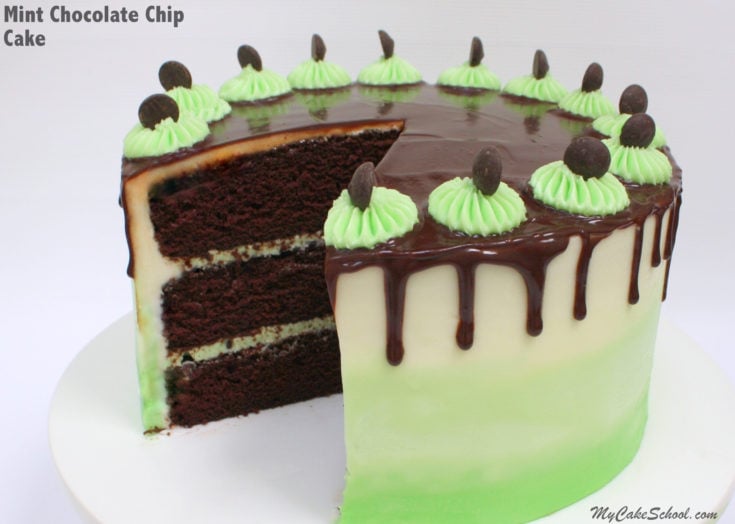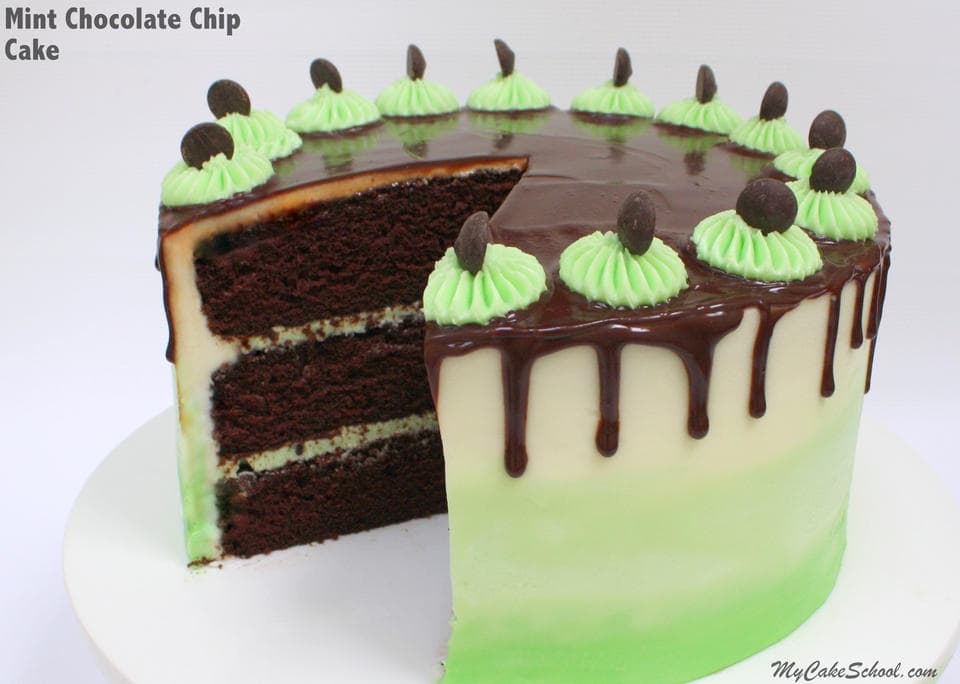 This decadent Mint Chocolate Chip Cake is so moist and is perfectly balanced with mint buttercream and filling!
Ingredients
For the Chocolate Cake
(I use the reverse creaming method with this recipe)
2 cups (400g) granulated sugar
2 ¾ cup (322g) all-purpose flour
1 cup (82g) unsweetened cocoa (lightly spoon into cup then sift)
2 teaspoons ((10g) baking soda
½ teaspoon (2g) baking powder
½ teaspoon (2g) salt
1 cup (2 sticks) (226g) unsalted butter, softened (do not soften in microwave) I cut the butter into 1 inch pieces onto waxed paper leaving on the countertop for 8 to 10 minutes it will still be quite cool when adding to the dry ingredients. If it becomes too soft, just refrigerate a few minutes
¼ cup (54g) vegetable oil
4 large eggs at room temperature
1cup (220g) milk
1 teaspoon (4g) vanilla extract
1 cup (220) hot coffee, it can be instant or brewed
For the Mint Buttercream
(If you are doing a lot of piping, increase recipe by half)
2 sticks (226g) unsalted butter, softened
6-7 cups (690-805g) powdered sugar depending on desired consistency (see our note beneath recipe about sugar)
1 teaspoon (4g) peppermint extract. Taste for desired flavor (will intensify slightly over time.)
¼ cup (60g) whole milk
Green Coloring Gel (optional. We used Americolor Mint Green)
½ teaspoon (3g) salt (optional to cut sweetness. preferably fine grain or white popcorn salt)
*Mini Chocolate Chips- Add desired amount to the mint buttercream filling in between layers-- I did not use chips to the outer mint frosting.
For the Ganache
10 oz. (283g) Chocolate (Semi-sweet or Dark) We used Ghirardelli
10 oz. (283g) Heavy Cream
Instructions
For the Chocolate Cake
Preheat oven to 350 degrees
Grease and flour THREE 8 inch cake pans
In a mixing bowl, add the dry ingredients: sugar, flour, cocoa, baking soda, baking powder, and salt. Whisk for 1 minute to blend.
Add softened butter a few pieces at a time while the mixer is on low speed. Mix until the dry ingredients look like coarse sand and the dry ingredients are moistened. Scrape the bottom and sides of the bowl.
In a separate bowl whisk the eggs, milk , oil and vanilla until blended.
Method is important when using the Reverse Creaming Method. With the mixer on low speed, SLOWLY add approximately ½ of the egg mixture to the dry ingredients. Increase the speed to medium and mix for 1 ½ minutes at medium speed. Don't mix above medium speed. Scrape the bottom and sides of bowl. Add the remaining egg mixture in 2 pourings, beating for 20 seconds after each pour. Scrape the sides and bottom of bowl.
Slowly add the cup of hot coffee and mix another 30 seconds until blended. The batter will be very runny. Don't worry!
Pour into 3 prepared 8" pans and bake at 350 degrees for 25 to 30 minutes or until the center of the cake springs back to the touch and a toothpick comes out clean.
Cool the cakes 10 minutes on a rack and then turn out of the pans.
*Yields approx 9 cups of batter.
For the Mint Buttercream Frosting
Cream the softened butter until smooth. Blend in the peppermint.
Add half of the powdered sugar and most of the milk. Beat at medium speed until the powdered sugar is incorporated.
Add remaining powdered sugar, milk, coloring gel, and mix at medium speed another 3 to 4 minutes scraping the sides of the bowl occasionally.
The texture will become very smooth.
For the Ganache
Place your chocolate into a microwave safe bowl.
Pour heavy cream over the chocolate and place in the microwave for 1 minute. (Times may vary, see our note below).
Remove and stir. Microwave for 30 seconds more and when the chocolate has melted almost completely, allow it to sit for 1 minute more before stirring. Stir until you've reached a silky smooth consistency.
*Microwave times may vary. If you are making a smaller amount of ganache, you will reduce the microwave time. If your chocolate hasn't melted after the 1 ½ minutes recommended in the instructions, simply microwave in small 10-15 second increments until it has nearly completely melted. Let sit one minute, then stir until smooth.
Assembly of Cake
As you assemble the cake, you can first spread with a thin layer of ganache (optional) and then top with Mint Chocolate Chip Buttercream. (You can either reserve the Mint Buttercream in a different bowl in stir in your mini chips, or sprinkle them onto the buttercream filling and incorporate the chips as you spread it.)
Next, add the second layer of chocolate cake and repeat.
Top with the final layer of cake, fill in any gaps with buttercream, crumb coat the cake (add a thin coat of buttercream), and follow with the final coat.
If you are frosting the cake just like I did, you will tint a portion of the buttercream a medium shade of green, a lighter shade of green, and leave the rest white. Apply the frosting in sections and then frost with a bench scraper for a smooth finish. (For an extra smooth finish, place the frosted cake in the freezer for 15 minutes before going back over it with a hot bench scraper.)
Load your ganache into a disposable piping bag with the tip snipped away. The ganache should flow easily from the bag but not so fast that it drips all the way down. Warm the bag for a few seconds if too thick, or allow to cool a few more minutes if thin.
Apply the drip around the top edge of the cake with thee piping bag. Spoon additional ganache on top of the cake and spread with a small offset spatula.
Once set, pipe french tip stars around the top edge of the cake and add chocolate chips or accents.
Notes
Making cupcakes? Check out our Classic Chocolate Cupcake Recipe (conventional method of mixing for fluffier cupcakes) Holds up well to fondant.
The Mint Buttercream can be frozen in air tight container for at least three months . Thaw on countertop.
CAKE TIP: To increase moistness of layers, cool another 10 minutes and while still very warm double wrap the individual layers in plastic wrap and freeze for up to a week. To freeze longer, use plastic wrap then put into a freezer bag or aluminum foil and freeze for up to 2 months. If you need the cake right away, even freezing for a couple of hours will increase the moistness.