Classic Chocolate Cupcake Recipe from Scratch
Today I'm sharing the BEST Chocolate Cupcake recipe with you from scratch!
We're talking ultra moist, fluffy, and perfectly chocolatey cupcakes! SO good. Make these once, and you'll come back to this recipe again and again.
Don't let the title of this post fool you, this decadent chocolate cupcake recipe can be used for chocolate layer cakes too!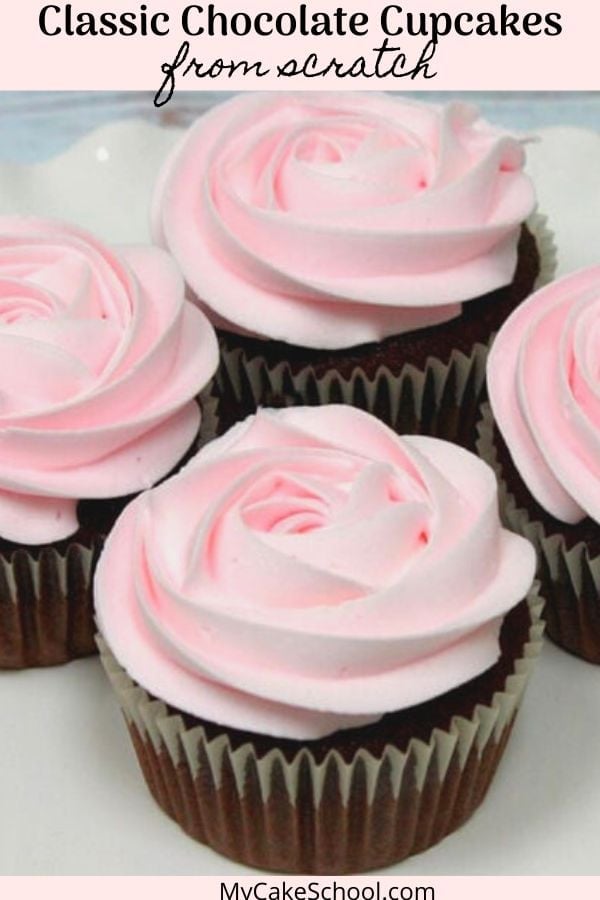 If you've explored our Cakes and Cupcakes Section, you may be familiar with our favorite classic Chocolate Cake recipe. This homemade chocolate cake has been one of our most popular cake recipes over the years, and is our go-to when we need a rich, decadent chocolate cake.
Today's featured classic chocolate cupcake recipe is based on our popular chocolate cake recipe, but the mixing method is different.
Instead of using the reverse creaming method of mixing as we do when making layers of classic chocolate cake, we use the conventional method of mixing for our cupcakes. This small change makes for fluffier cupcakes!
Frequently Asked Questions
Can these cupcakes be frozen? Yes they can! Our method of choice is to line them up onto a sheet cake board, lay a piece of plastic wrap on top, and then wrap in aluminum foil for up to three months. To thaw, leave the foil on the cupcakes but loosen each end so that it isn't so tightly sealed. Condensation will form on the foil rather than the cupcakes. You can remove the wrapping once they are nearly thawed.
Why is there coffee in this chocolate cake recipe? Can I leave it out? Coffee enhances the flavor of the chocolate in the recipe- but there is no coffee flavor. Yes, the coffee can be left out, and replaced with water instead.
How can I prevent my cupcake liners from separating from the cupcakes? This is a question that we hear often about cupcakes in general. There are several possible culprits to this frustrating issue.
First, do not store cupcakes in an airtight container. The trapped moisture can cause the liners to separate.
Next, remove the cupcakes from their cupcake pans soon after removing from the oven. If you wait too long, the trapped moisture within the wells of the cupcake pan can cause the liners to loosen.
Finally, some cake recipes seem more prone to this issue (likely due to excessive oil, etc.)...but this recipe is not one of those! We haven't experienced separating liners with this cupcake recipe.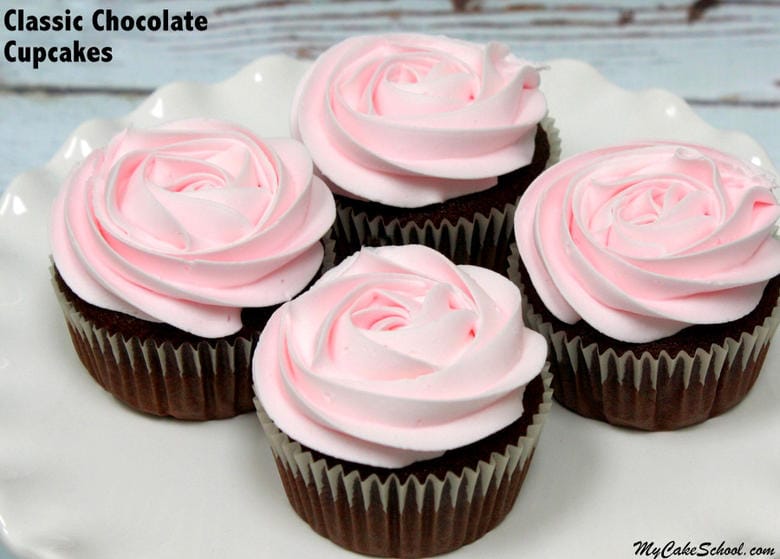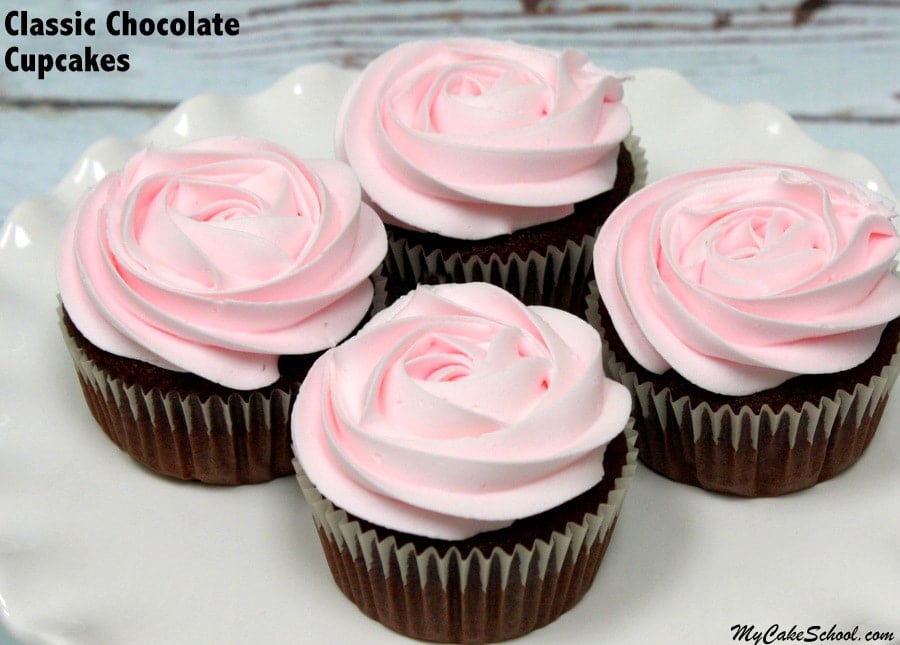 Our homemade chocolate cupcakes above were frosted with our classic Vanilla Buttercream recipe. Our Fluffy Vanilla Buttercream would work well too! (Fluffy Vanilla Buttercream contains shortening and butter while Classic Vanilla only contains butter)
We used our trusty 2D (large star) piping tip to create a rose swirls of frosting. (To make a rose swirl, simply start in the center of the cupcake, holding the bag vertically, and spiral out.)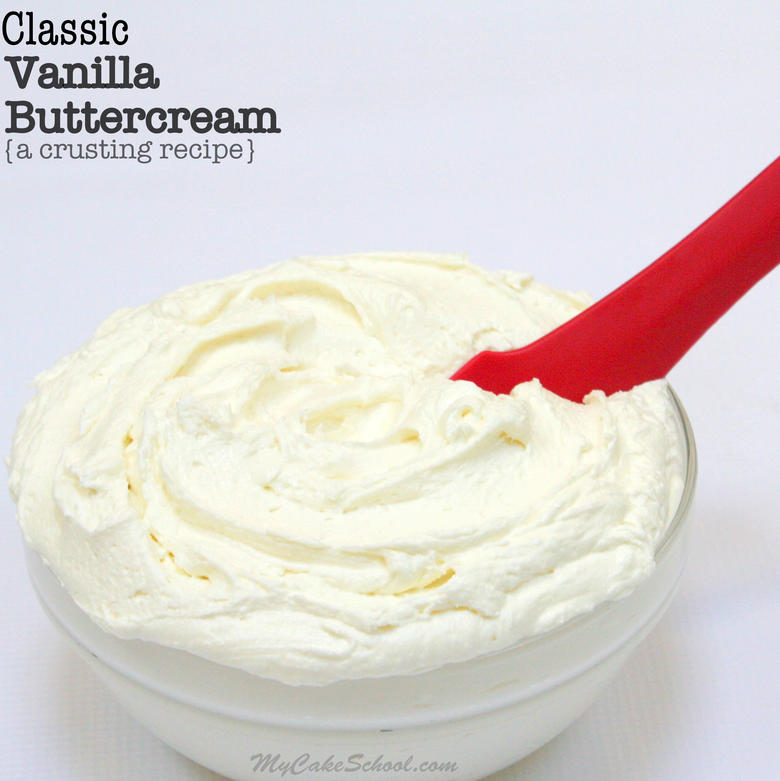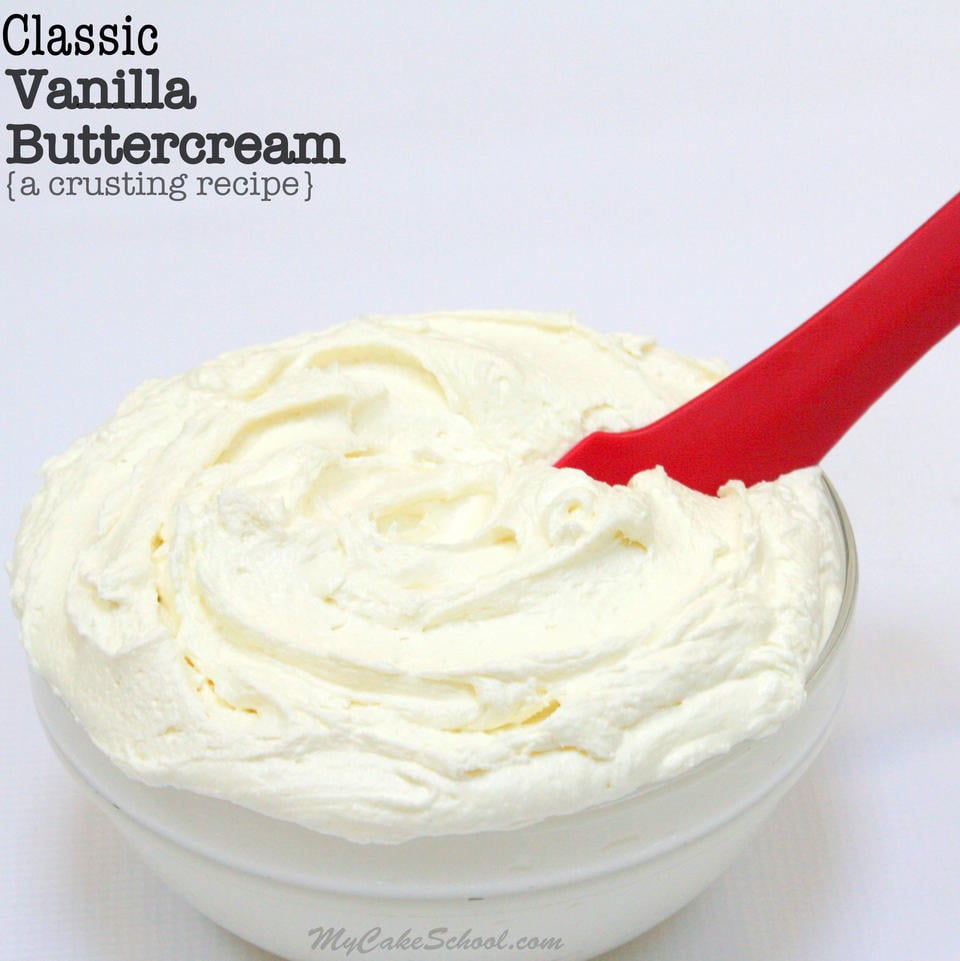 **If you are looking for a great Doctored Cake Mix recipe for Chocolate Cupcakes, we love this one!: Chocolate Cake (Doctored Cake Mix) Recipe .
What Frostings and Fillings taste great with chocolate cupcakes?
Chocolate cakes and cupcakes are great with so many flavors! Check out some of these favorite fillings and frostings!:
Classic Chocolate Buttercream,
Mint Chocolate Chip Buttercream Frosting
Thanks for stopping by, and enjoy the cupcakes! Wish I had some right now! ;0) xo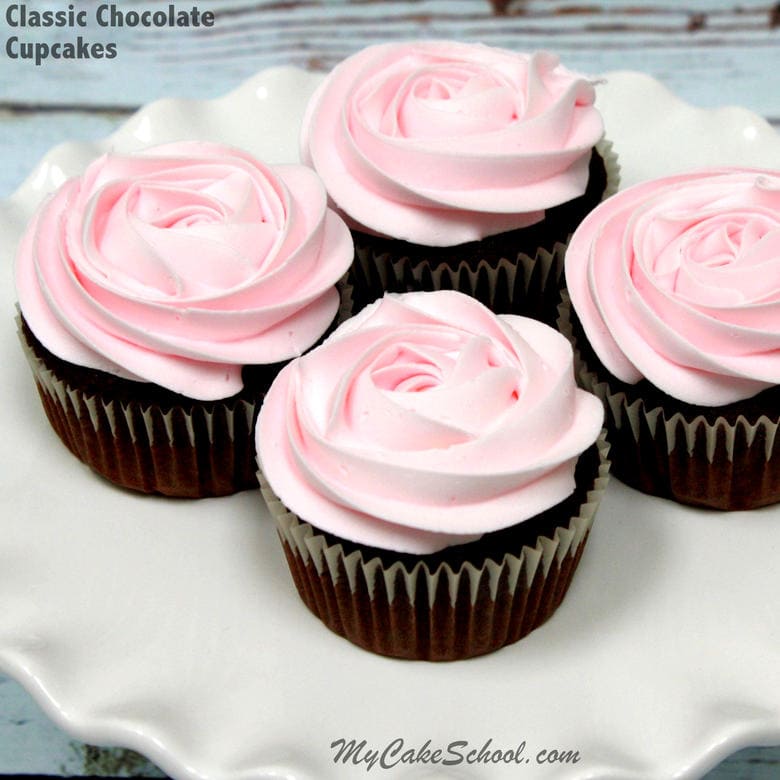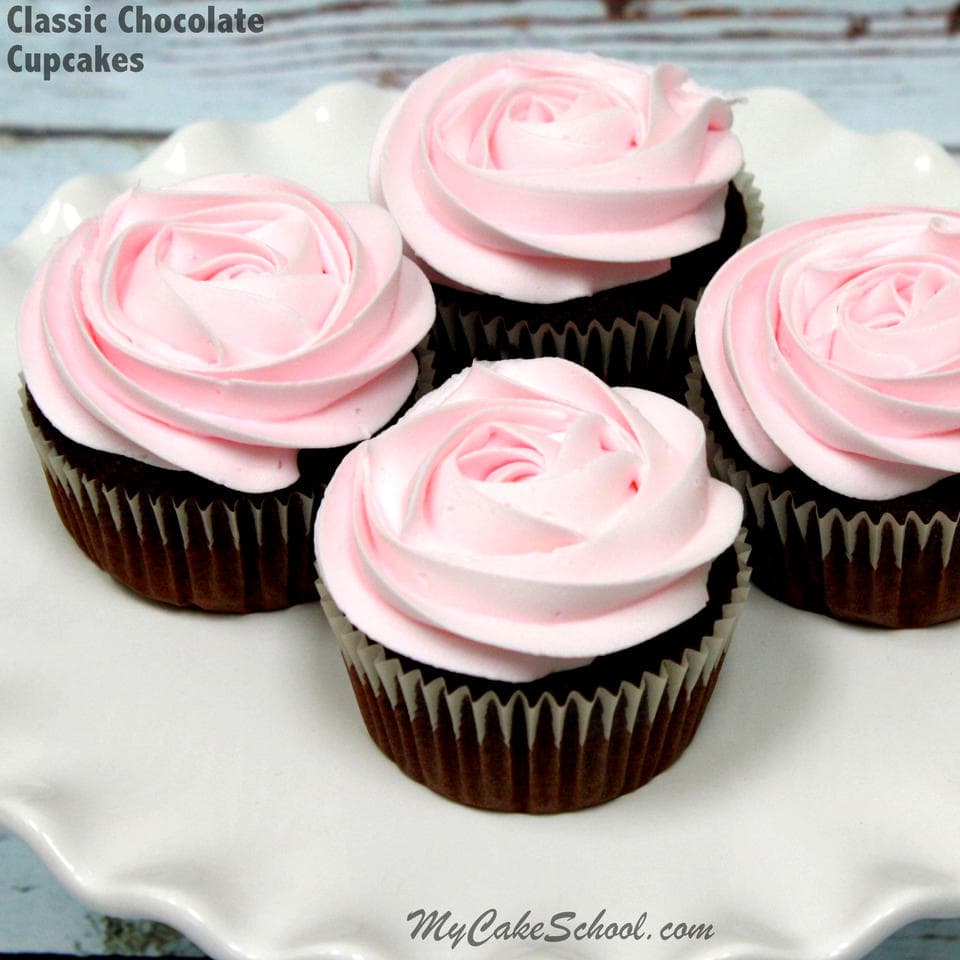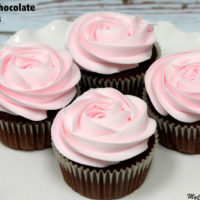 Classic Chocolate Cupcake Recipe from Scratch
These decadent scratch chocolate cupcakes are so moist and taste fantastic with all sorts of frostings from vanilla buttercream to mint chocolate chip, coconut, or chocolate!
Print Recipe
Pin Recipe
Ingredients
1

cup

2 sticks (226g) unsalted butter, softened

2

cups

400g sugar

4

large eggs

¼

cup

54g vegetable oil

2 ¾

cups

322g all purpose flour

1

cup

82g unsweetened cocoa powder, sifted (don't skip the sifting)

2

teaspoons

10g baking soda

½

teaspoon

2g baking powder

½

teaspoon

2g salt

1

cup

220g milk

1

teaspoon

4g vanilla extract

1

cup

220g hot coffee, it can be instant or brewed

cupcake liners
Instructions
Preheat oven to 350 degrees. (If making a cake rather than cupcakes, grease and flour three 8 inch cake pans). In a separate bowl, add the flour, sifted cocoa, baking soda, baking powder and salt. Whisk to blend and set aside.

In the bowl of your mixer, beat the softened butter on medium speed until light and creamy. Add the oil and vanilla. Gradually add the sugar and mix until light and fluffy, approximately 4 to 5 minutes. Add the eggs 1 at a time, mixing after each egg just until the yellow disappears. Scrape down the sides and bottom of the bowl as needed.

Mixing on medium speed, alternately add the flour mixture and milk to the sugar mixture, beginning and ending with the dry ingredients. (3 additions of dry ingredients and 2 additions of milk)

Add the cup of hot coffee at this time. The batter will be very thin. Don't worry this is how it should be.

Pour into 3 prepared 8 inch pans. Bake at 350 degrees for 30 to 35 minutes. Check for doneness at 30 min. by putting a toothpick in the center of the cake. If it comes out clean or with only a few drums attached, it is done.

Makes 9 cups of batter

FOR CUPCAKES: Bake at 350 degrees for 18 to 20 minutes. The recipe will make 2 dozen plus cupcakes