Today we are sharing an amazing Peppermint Mocha Cake, which is a heavenly flavor combination of peppermint, chocolate, and espresso.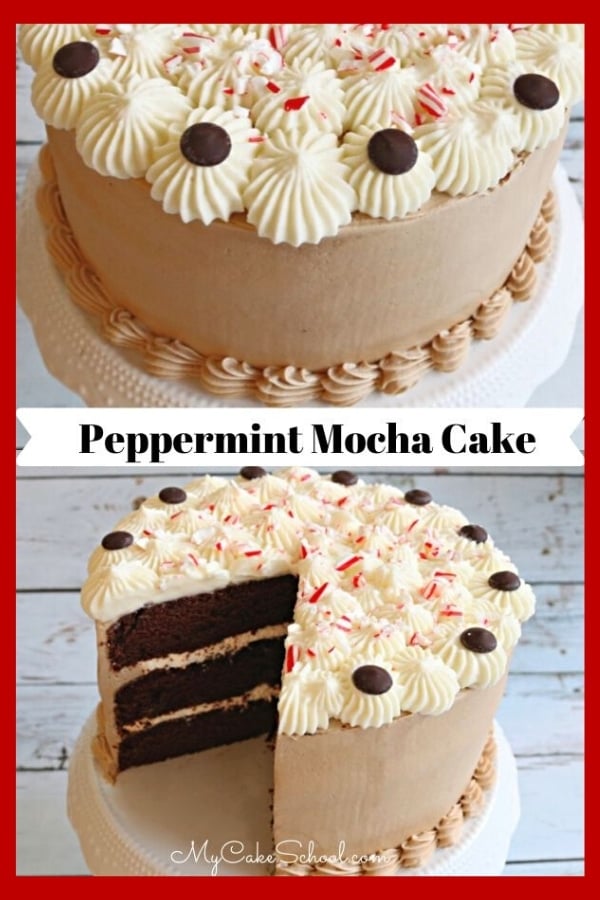 We love coffee-infused cakes, and this delicious dessert ranks right at the top of my list for winter and Christmas cake recipes!!
We chose our decadent scratch chocolate sour cream cake for the recipe (with peppermint extract added), but any favorite chocolate cake would work well (including our chocolate sour cream doctored cake mix recipe, our chocolate cake recipe from scratch, and more).
How to Make a Peppermint Mocha Cake
A word about Freezing Cake Layers for Moistness:
After baking our chocolate cake layers, we cooled them (still in their pans) on a cooling rack for about 5 minutes before flipping them out onto a foil-wrapped cake board.
We then wrapped each layer individually (while still warm) with plastic wrap and then foil and placed in the freezer. The layers can be frozen for up to a few months, but even when I am not baking in advance I try to freeze them for at least a few hours. I find the wrapping and freezing warm cake layers increases the moistness!
Mocha Buttercream Frosting
The Mocha Buttercream Frosting is an essential part of this dessert as it carries BIG espresso or coffee flavor, along with a hint of chocolate.
As with most traditional American buttercream recipes, it contains powdered sugar, butter, and a splash of milk--but is also flavored with hot coffee and cocoa. This frosting pipes beautifully and gives just the right amount of coffee flavor to our dessert.
Whipped Peppermint Filling and Assembly
Our filling is a luscious yet simple-to-make Whipped Peppermint Cream Cheese filling. It is prepared by combining the powdered sugar and softened cream cheese as well as peppermint flavoring and then whipping in the heavy whipping cream.
You will notice the consistency becomes light, fluffy, and silky smooth. You can adjust the amount of peppermint to your liking but we found two teaspoons to be just right.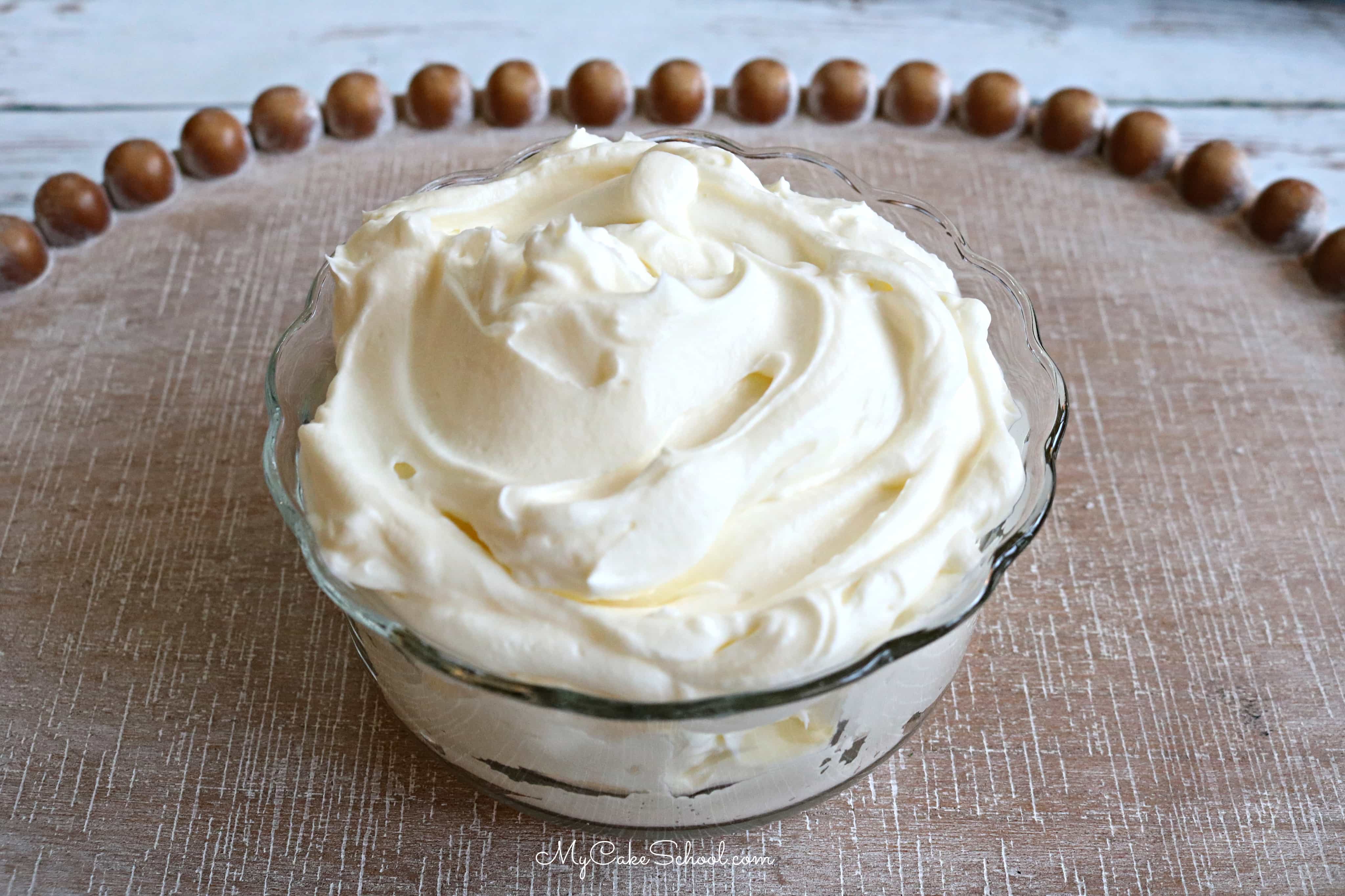 Espresso Simple Syrup
We decided to whip up some easy espresso simple syrup for brushing onto our cakes to add another layer of coffee flavor to the dessert. Although it is a strongly flavored syrup, it imparts only a mild coffee flavor as the chocolate cake is so rich.
Using a pastry brush, we lightly brushed on this combination of sugar, water, and espresso which had been heated in a saucepan until the sugar was dissolved.
Assembly of the Peppermint Mocha Cake
If your layers are frozen, thaw on the countertop, still wrapped, until condensation forms on the foil/plastic (about 15-20 minutes).
Then unwrap and continue to thaw until partially frozen or fully thawed. (Some prefer to assemble the cake while the layers are partially frozen because they are less fragile and easier to handle.)
Place the first layer on the pedestal or cake base. Pipe a dam/ring of Mocha Buttercream about ¼-1/2 inch from the edge of the cake and brush over top with espresso syrup using a pastry brush if possible.
If you don't have a pastry brush, you can lightly spoon it on. You will not need all of the syrup- we just want a light coating over the top.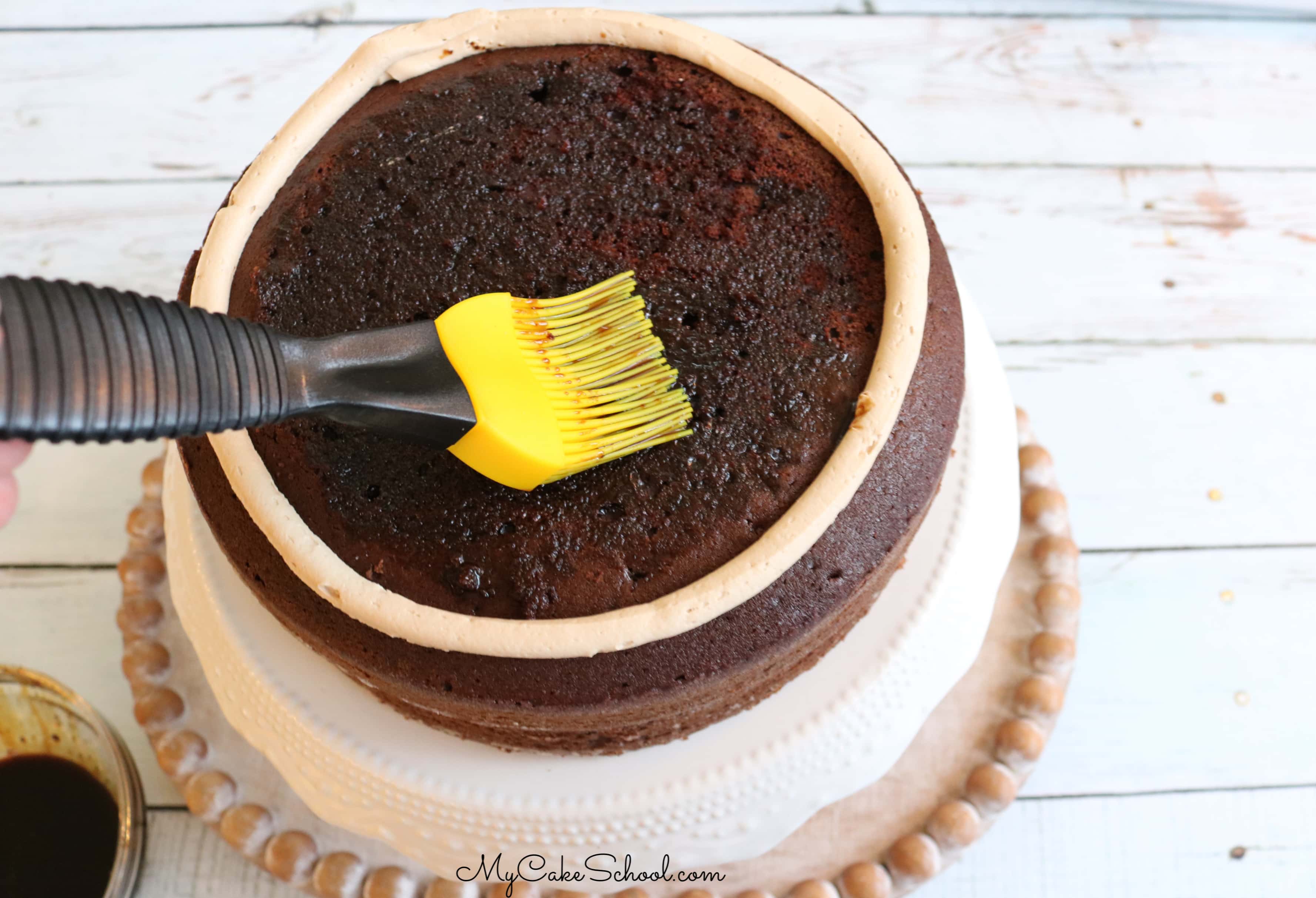 Next, fill inside of the dam with the whipped peppermint cream cheese filling. Then, stack the next layer and repeat.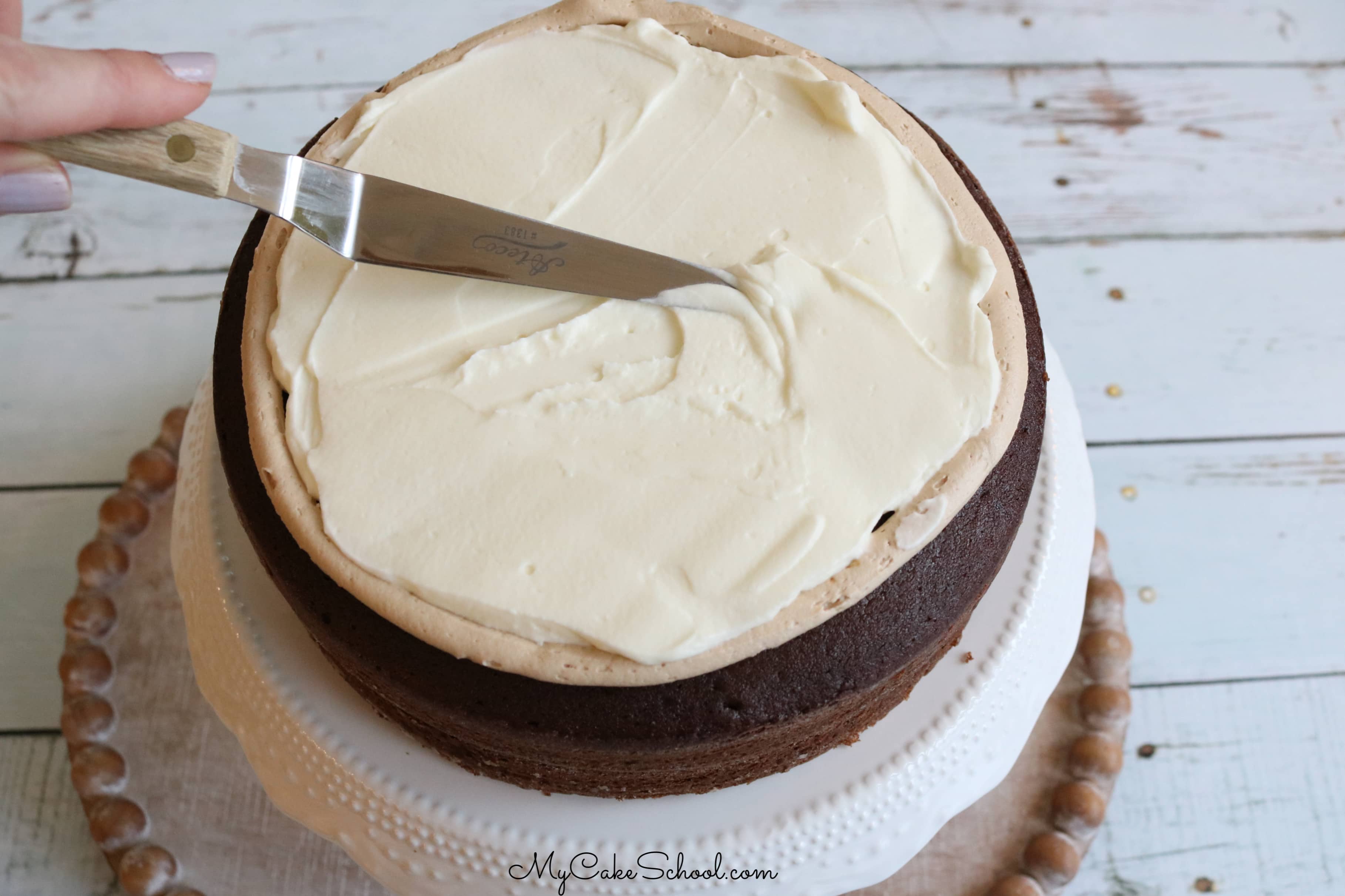 Settle the Cake Before Frosting
Settling cakes before frosting is an optional step but one that I always try to make time for. It greatly reduces the chance of bulging frosting/filling between your cake layers.
There's nothing more frustrating after you've spent two hours decorating a cake!
After filling my cake layers, I wrap the tier with plastic wrap and place a book (as wide as the cake) or a cake pan or two on top of the tier.
You want to add a light, steady pressure to the top of the cake--be careful not to make it too heavy- we don't want to crush the cake!
Allow it to sit for at least a few hours or overnight. (You can do this in the refrigerator when you have a perishable filling.)
Frosting and Decorating
Finally, unwrap, fill any gaps between the cake layers as needed (I snip the tip off of a disposable piping bag to fill in any gaps) and frost the cake as usual.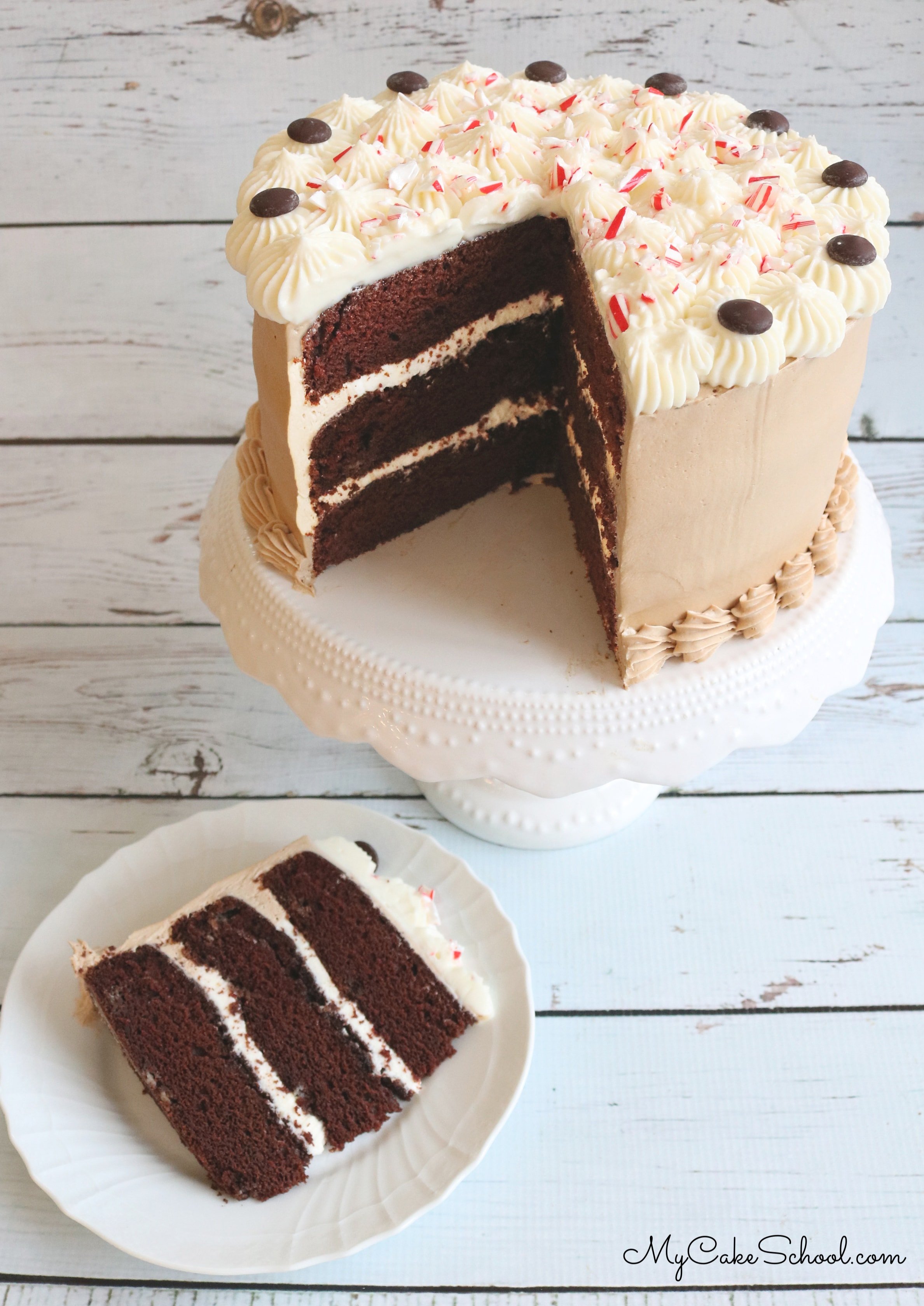 For this cake, I crumb coated the cake with Mocha Buttercream, chilled for 10 minutes in the freezer to firm it up, and applied my final coat of frosting (smoothed around the sides with a metal bench scraper that I heated with hot water).
Go ahead an frost the top of the cake with Mocha Buttercream if you have plenty.
Then, follow up with a layer of piped Whipped Peppermint Cream Cheese- I piped these with a french tip (6B or similar large star/french tip).
Isn't it beautiful? I love how it came out!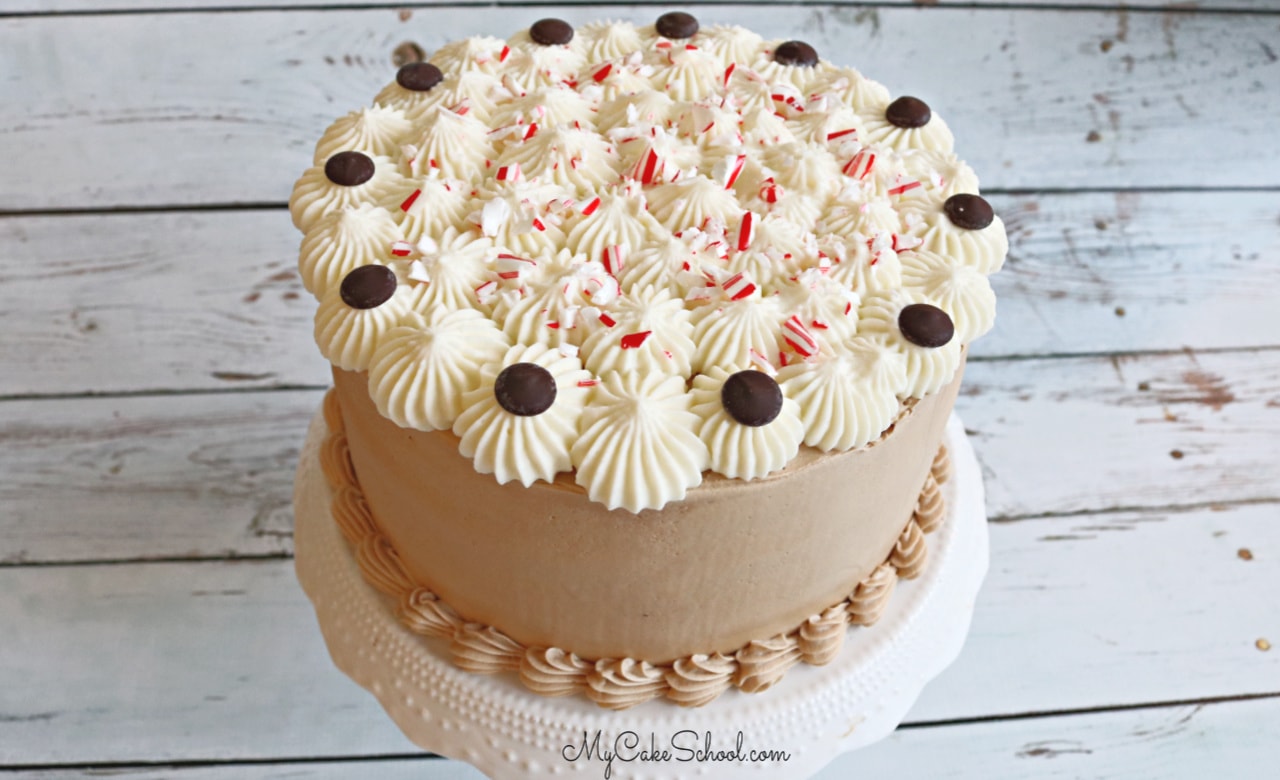 Other Favorite Christmas and Winter Cake Recipes to Try
We've made lots of Christmas and winter cake recipes over the years! I'm going to share a few favorites below, but make sure to hop over to check out this seasonal roundup!: 60+ Christmas Recipes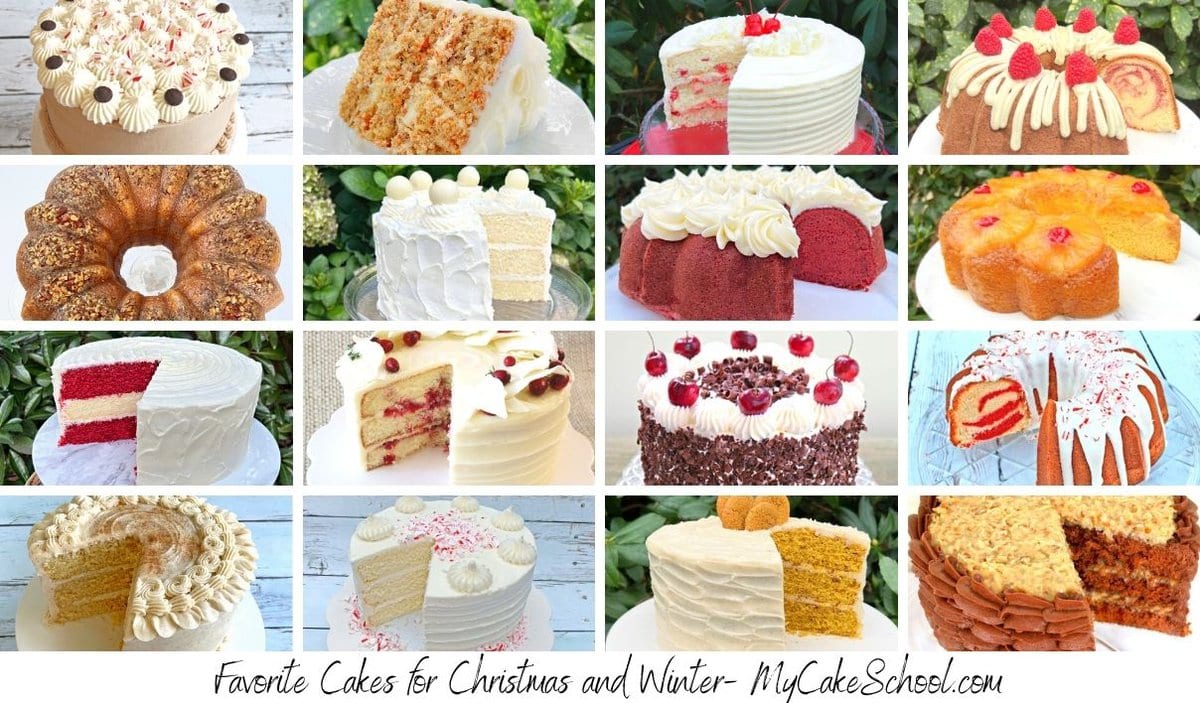 More Coffee-Infused Desserts!
If you love coffee flavor in your cakes, we have a few more for you to add to your list. Some of our most popular are our Mocha Toffee Crunch Cake, Pumpkin Spice Latte Cake, Gingerbread Latte Cake, and Caramel Vanilla Latte Cake!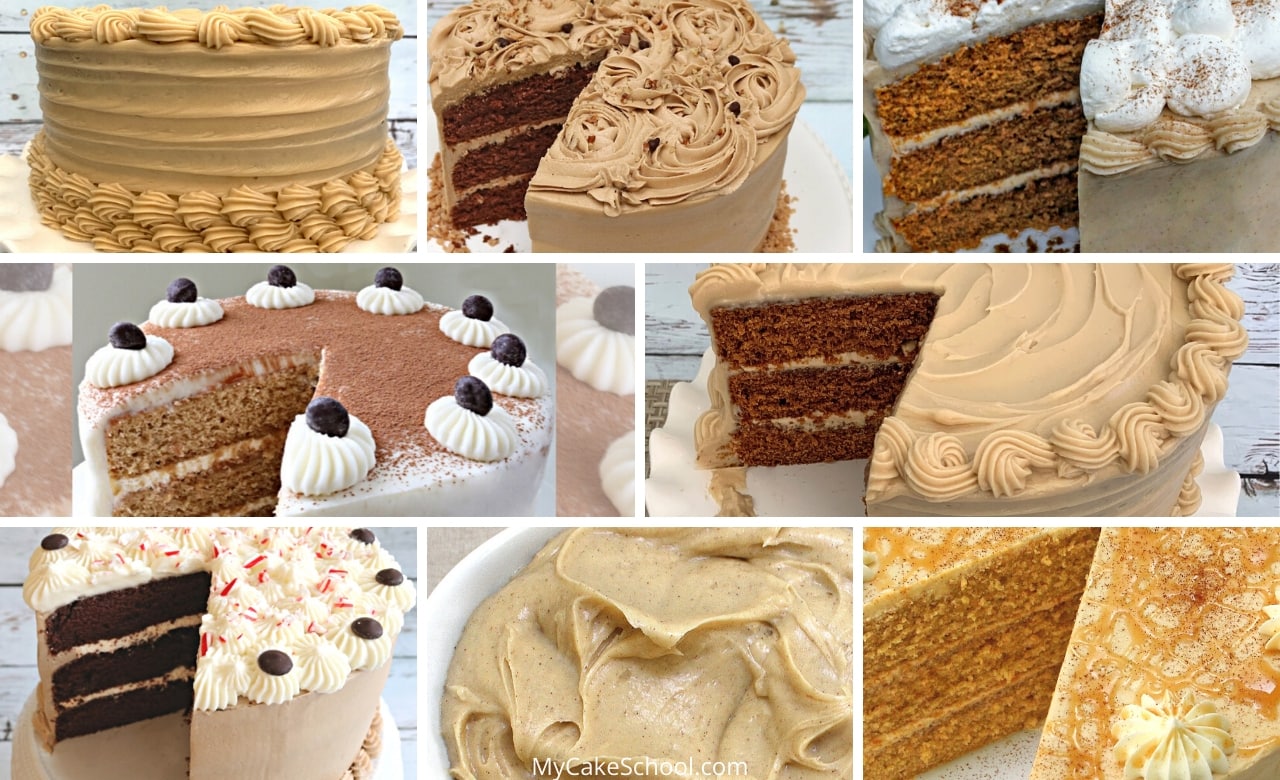 Thanks so much for stopping by! We hope that you enjoy the Peppermint Mocha Cake. If you give it a try, we would love for you to leave a comment and photo below.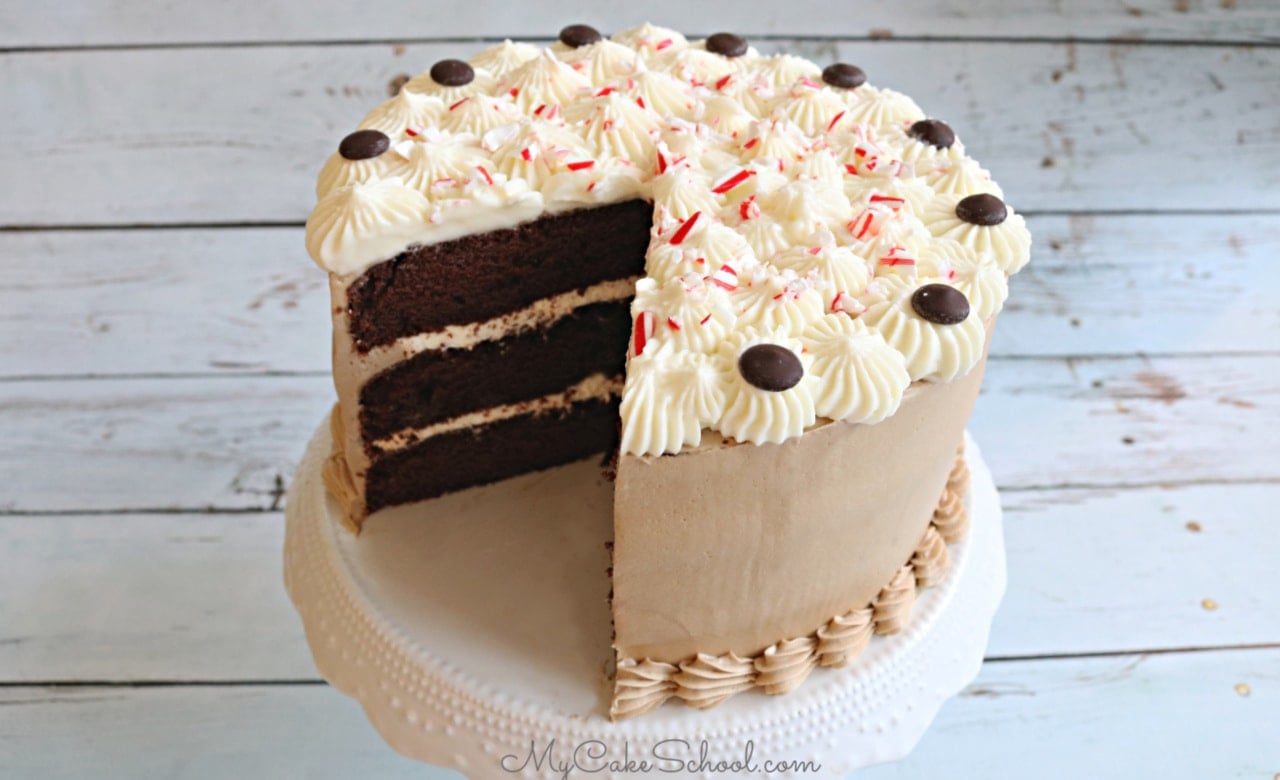 Have you made this Cake? We would LOVE for you to leave a ⭐️ rating as well as a comment and photo below! We really appreciate your feedback!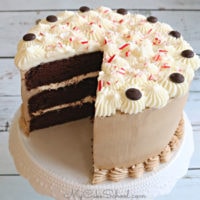 Peppermint Mocha Cake
This delicious Peppermint Mocha Cake is super moist and has the perfect balance of chocolate, peppermint, and espresso!
Print Recipe
Pin Recipe
Ingredients
Chocolate Peppermint Cake Layers
2

cups

(400g) granulated sugar

2 ¾

cups

(322g) All Purpose Flour

1

cup

(82g) unsweetened cocoa

2

teaspoons

(10g) Baking Soda

½

teaspoon

(2g) Baking Powder

½

teaspoon

(2g) Salt

185

grams

unsalted butter, slightly softened.

(This is the equivalent of one stick + 5 Tablespoons.)

1

cup

(242g) Sour Cream

(We do not use reduced fat.)

1

cup

(220g) Milk

4

eggs, room temperature

(If in a hurry, you can place the eggs in a bowl of warm water.)

1

teaspoon

(4g) vanilla extract.

2 ½

teaspoons

(10g) Peppermint Extract

1

cup

(220g) Hot Coffee (we used instant coffee)
Coffee Simple Syrup
1

Tablespoon

instant espresso or 1 Tablespoon plus 2 teaspoons instant coffee

¼

cup

(50g) sugar

¼

cup

(60g) boiling water
Mocha Buttercream Frosting
3

sticks

(339g) unsalted butter, slightly softened

9

cups

(1035g) powdered sugar (icing sugar in UK)

You can adjust the amount of confectioners sugar up or down to your preferences.

1

Tablespoon

(7g) unsweetened cocoa (sifted)

1

teaspoon

(3g) salt

½

teaspoon

(2g) vanilla extract

1

Tablespoon

+ 1 teaspoon (5g) Espresso Coffee

(or regular instant coffee)

¼

cup

(60g) hot water

*splash of milk as needed for desired consistency
Peppermint Whipped Cream Cheese Filling
8

oz

(226g) Full Fat Cream Cheese, softened (don't microwave)

1 ½

Cup

(156g) Sifted Powdered Sugar

1 ¼

cup

(290g) heavy cream

2

teaspoons

Peppermint Extract
Miscellaneous
Crushed Candy Canes for topping

French tip 6B or other similar large star tip for applying peppermint topping

Tip 21 for shell border- optional

Chocolate Chips for decoration around border-

optional I used Ghirardelli Dark Chocolate Chips because they are a little larger.
Instructions
For the Chocolate Peppermint Cake Layers
Preheat oven to 325 degrees. Grease and flour three 8 inch pans. I also like to line my pans with circles of parchment or waxed paper.

This recipe uses the Reverse Creaming Method of Mixing.

Add dry ingredients to the bowl of your mixer and mix for one minute to blend (sugar, flour, cocoa, baking soda, baking powder, and salt)

Add butter a few slices at a time and mix until it reaches a crumbly, sandy texture. Be careful not to over-mix beyond "sandy" consistency.

In another bowl, combine sour cream, eggs, milk, and vanilla, and peppermint extract. Using a fork, mix together. This is all of your wet ingredients except for the coffee, it will be added to the batter later.

Set a timer for 1 ½ minutes and SLOWLY add half of your egg mixture to your butter/flour mixture while mixing. Start mixer on low speed then increase to medium for the remainder of the 1 ½ minutes. Do Not Mix Above Medium Speed.

Stop mixer, scrape the sides and bottom of bowl, and add half of the remaining egg mixture. Mix on medium speed for 20 seconds.

Stop mixer, scrape down the sides if necessary, and add the last of the egg mixture. Mix for 20 more seconds on medium speed.

Slowly add HOT coffee and mixing for 30 seconds to blend. Batter will be runny but that is okay!

This recipe makes about 9 ½ cups of batter.Pour into 3 prepared 8 inch pans and bake at 325 degrees for 25 to 30 minutes or until the center of the cake springs back to the touch and a toothpick comes out clean.
For the Coffee Simple Syrup
In a small saucepan add the sugar and water. Bring to a boil and remove from the heat. Stir until sugar dissolves.

Let this cool before brushing onto the cake. You can store leftover syrup in the refrigerator for 2 weeks. Do not put too much on the cake layers or they will become soggy.

If you'd like to you can use a fork or toothpick to make holes in the top of the cake layers before brushing (preferably with a pastry brush) the simple syrup onto each layer.
For the Mocha Buttercream Frosting
Mix the instant coffee granules into the ¼ cup of hot water to dissolve, set aside to cool slightly.

Beat the butter on medium speed until smooth. Blend in the vanilla and cocoa powder and salt.

Add half of the powdered sugar and half of the coffee. Beat at medium speed until the powdered sugar is incorporated.

Add the remaining powdered sugar and coffee and mix at medium speed another 3 to 6 minutes scraping the sides of the bowl occasionally.

This recipe makes 6 cups of frosting.

If your consistency is too thin, add more powdered sugar. If too thick, add a bit more water or milk, a teaspoon at a time.
For the Peppermint Whipped Cream Cheese Filling
Chill the whisk attachment or beaters of a handheld mixer in the freezer for about 10 minutes.

In a medium sized bowl, add the cream cheese, powdered sugar, and peppermint extract. Mix until blended. Slowly add the heavy cream and beat until fluffy- it may take 2 minutes.

This is a soft filling and so you'll want to pipe a dam of frosting about ½ inch from the edge of the cake layers, then spread filling within the dam. Makes about 3 cups.
Assembly of Cake
Place first cake layer on cake base or pedestal.

Using a pastry brush, lightly brush the coffee simple syrup over the top.

Pipe a dam/ring of mocha buttercream about ¼ inch to ½ inch from the edge of the cake layer. Fill with Whipped Peppermint Cream Cheese Filling.

**If you would like to settle the cake (as explained in the post), wrap the tier with plastic wrap, place a "weight" on top (cake pan, book, etc.) to give a light, steady pressure. Sit for a few hours or overnight. Remember the filling is perishable and so refrigerate as needed.

Frost the cake with the Mocha Buttercream Frosting. Top it off with the remaining Whipped Peppermint Cream Cheese. (I used a 6B piping tip to cover the top of the cake)

As a final touch, I used Ghirardelli Dark Chocolate Chips around the border, I used a tip 21 to add a shell border around the bottom of the cake, and sprinkled crushed candy canes over the top.