Sledding Snowmen Cake Video!
In this CUTE free cake video tutorial, I'm going to show you how to make an adorable Sledding Snowmen Cake design that would be perfect for winter celebrations, Christmas parties, and more!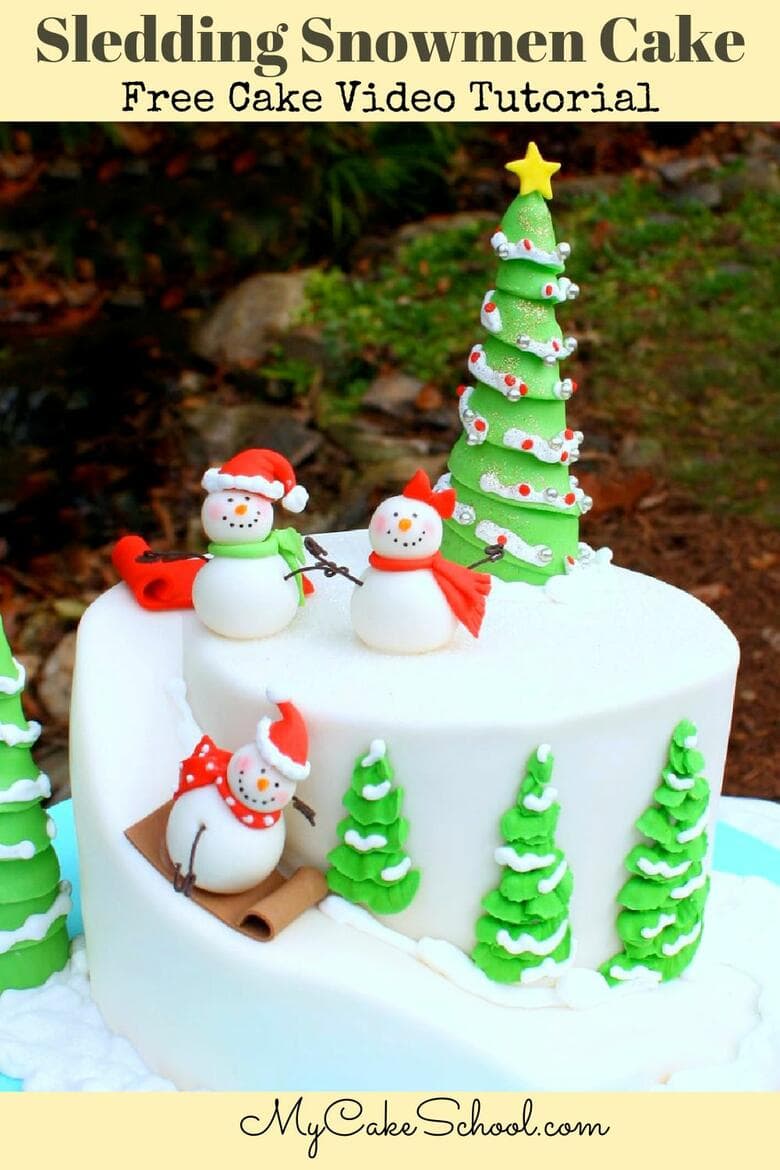 A Sledding Cake Theme
We just love snowmen, and we wanted to create a fun winter cake design that featured very simple, very cute snowmen, but also a sledding scene!
Last year, we turned a sheet cake into a snowy sledding hill, which featured Santa and his reindeer racing to the bottom. (Santa and Rudolph Sledding Cake Video Tutorial)
Spiral Cake Tier
For today's cake, we're going to create a sledding hill for our snowmen by simply carving a ledge from the front of a round tier- this is known as a Spiral Tier, and they are not only fun to create, but they add such great dimension to the cake!
Fondant Spiral Tier Cake vs. Buttercream Spiral Tier
Spiral tier cake designs can be created in fondant or buttercream- whatever you feel most comfortable with!
In our video tutorial, we covered our fondant tier in fondant. However, if you are interested in seeing examples of buttercream-frosted spiral tiers- we have two free cake videos to share: our Train Spiral Tier Cake, and our Snake Birthday Cake!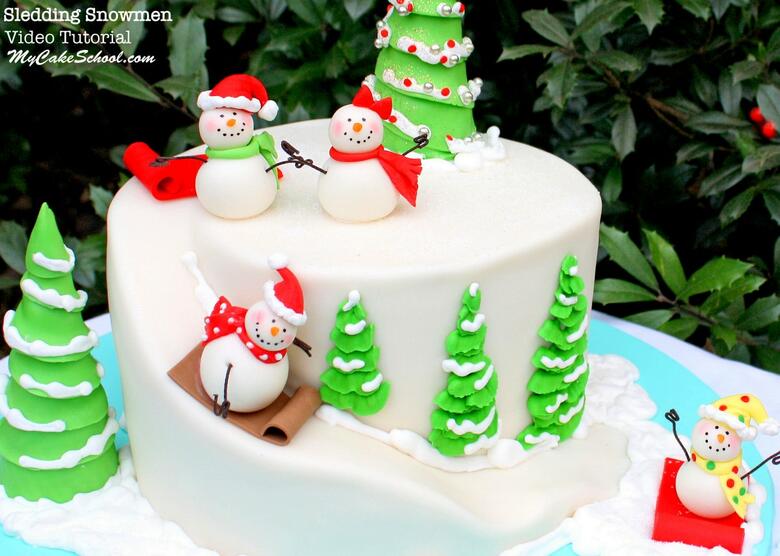 Sledding Snowmen Cake
In Part One of our video, I will demonstrate carving and covering the cake with ganache and then fondant. You will also see some of the prep work for our snowmen and trees.
In Part Two of our video, everything comes together. We complete our snowmen and add then to the cake, along with our royal icing details.
Materials for Sledding Snowmen Cake
Today we used an 8 inch, three layer white almond sour cream cake, which was filled with our fluffy vanilla buttercream recipe, frosted with white chocolate ganache, and covered with fondant (Liz Marek's recipe). The cake base was three 14" stacked and glued cardboard cake circles, covered in a plastic blue tablecloth.
White Chocolate Ganache: (3 to 1 ratio of chocolate to heavy cream) -- We used 39 oz (1117 g) Ghirardelli Classic White Baking Chips and 13 oz (372ml) heavy cream.
Fondant: 34 oz. (We used Elizabeth Marek's recipe). We had 18 oz leftover.
Royal Icing- A half batch of our royal icing recipe is more than enough.
Piping Tips: I used a Wilton 4 (round tip) and an Ateco 101 petal tip.
Floral Wire- I used brown, 22 gauge (for arms of snowmen)
2 sugar cones for our two trees (sugar cone is approx. 5 inches tall)
Coloring Gel: We used Wilton Leaf Green for our trees and other green accents, Chocolate Brown for the sled, Lemon Yellow for hat and scarf.
Food Coloring Pen in Black (ours is Americolor)- For details on snowmen's faces
FMM Multi Ribbon Cutter- Optional. We used this to cut the strips for our sugar cone trees.
Pink petal dust (for snowmen cheeks) -- I used a "Watermelon" shade of pink petal dust.
Confetti Sprinkles, silver dragees, silver and gold hologram twinkle dust (optional), small star cutter - Optional, used to decorate our Christmas tree.
Misc: Fondant smoothers, vegetable shortening, piping gel (for glue), small paint brushes, parchment paper
Additional Notes:
The strips of fondant for my trees were 22 inches long, 1 ¼ inch wide.
Sleds are 3 inches (7.5 cm.) long and 1 ½ inches (3.75 cm) wide.
More Fun Snowman Themed Cakes
We've made many cheerful Snowman Themed Cakes over the years!
I'm linking a few of our favorite snowman cakes below, but don't miss our full roundup of favorite Christmas and Winter Cakes: Favorite Christmas and Winter Cake Tutorials!
Sweet Snowman Cake- Free Video
Tiered Snowman Cake-Free Video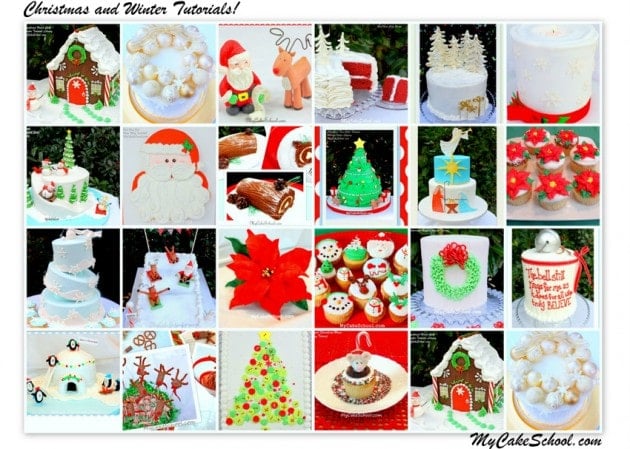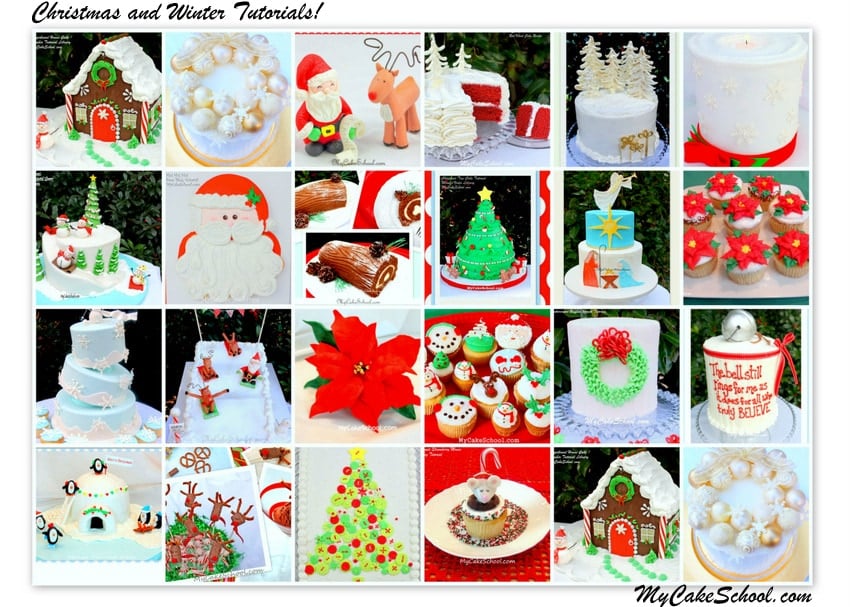 Enjoy the Video
We hope that you enjoy our Sledding Snowman Cake! If you give the cake design a try, we would love for you to leave a comment and photo below!
</script>