Sledding into Christmas Video- A Cake Video Tutorial
Learn how to make a sledding hill out of a sheet cakes as well as how to model sweet figures for Christmas!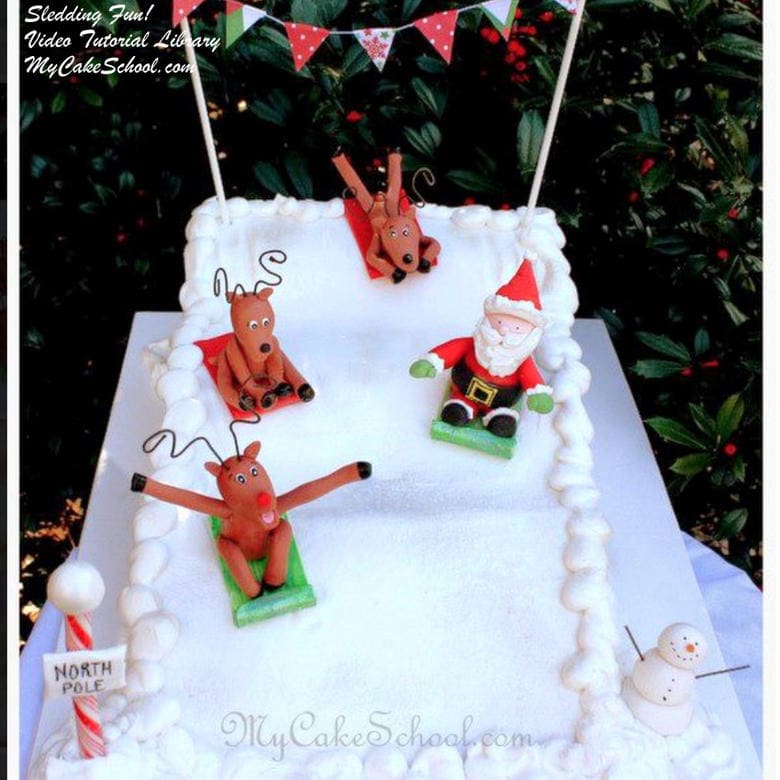 'Tis the season to have fun with cake ideas! We toyed with the idea of making a sledding Santa & reindeer cake topper, but I'm so glad that we expanded the tutorial to make an actual sledding hill out of cake!
The result is a design that will steal the show, and with minimal carving, waste or stress! Once you know how to carve a slope from a sheet cake, you can apply it to so many other themes. Skiing, dirt bike racing, sledding children, inflatable slides (with colorful balls at the bottom), and water slides are just a few options that I came up with. I'm sure that you all will come up with even more!
This is a two part video. In Part 1, I demonstrate how to carve the cake into a slope and how to make a sledding Rudolph. In Part 2, I demonstrate making Santa and the placement of the other reindeer, and all of the finishing details (borders, bunting, sign, etc.) -
Enjoy the video!
Materials (This list includes materials for both Part 1 and Part 2)
Sheet Cakes- Two layers of a 9x13 cake. Mine were made from a double batch of our white almond sour cream recipe.
Frosting and Filling- We used fluffy vanilla buttercream
White Gum Paste (or fondant with tylose)- For making the reindeer and Santas face, the sign, the snowman, etc. *We used Satin Ice gum paste.
Red fondant-We used Satin Ice pre-colored red fondant with tylose kneaded into it for Santa's body (and Rudolph's nose!)
Black fondant or tinted gum paste (pre colored or tinted by hand) for Santa's boots and other reindeer noses
Coloring Gels: Americolor Chocolate Brown (or similar shade) for tinting gum paste for reindeer, Americolor Super Red (if you don't have pre-colored Satin Ice red) for Santa,
Americolor Copper (or similar) for tinting Santa's gum paste face, Americolor Leaf Green (or preferred shade) for painting sled & tinting mittens, Americolor Super Black.
Brown Floral Wire- For Reindeer antlers and snowman arms. Ours was 22 gauge, but any pliable gauge is fine. (You can also paint white floral wire brown if needed.)
Royal Icing- Piping consistency. I used for eyes on reindeer, trim on Santa's suit, and texture on beard, etc. White fondant can be substituted for all of these things.
Black Food Coloring Pen- For eyes & Santa's belt buckle. (You could also make a black "paint" with vodka & black coloring and apply with small brush or toothpick.)
Piping Tips: Wilton tips 2 and 12 (or any small and medium sized round tips)
Miscellaneous Materials~
3 Cake Cardboards to create base (or any preferred material that is at least ½ inch thick.)
Plastic Table Cloth- We wrapped our board with this.
Viva brand paper towels (for smoothing crusting buttercream) or your preferred method. You could leave the frosting textured if you'd like!
Serrated Knife for carving
"Sugar glue"- Or your preferred glue. Sugar glue (aka tylose glue) is 2 tablespoons warm water combined with ¼ teaspoon tylose.
Toothpicks or dry pasta- Use small pieces for joining body parts together
Pink Petal Dust- Rosy Cheeks (optional)
Paint Brushes
Vodka or Everclear (if making a color paint as we did for the sleds and painting hooves)
White/Clear Sanding Sugar-Optional
Pearl Dust or Pearl Spray-- For adding shimmer (optional)
Candy Cane for North Pole Sign (You could also paint stripes onto a lollipop stick)
*Scrapbook paper, lollipop sticks, & floral wire if you'd like to make the bunting!
**I realized that I never mentioned adding a tiny bit of pink in Rudolph's mouth. This was just a tiny flat piece of fondant that I pressed into his mouth after allowing him to dry. I also gave some of the reindeer eyelashes or eyebrows with a food coloring pen just because I couldn't help myself :0)