Pastel Christmas Cake Tutorial
This sweet Pastel Christmas Tree Cake Tutorial is a new favorite of ours, with its shades of pink and green.
We'll show you how to create a striped buttercream cake, a pink drip, and whimsical and fun chocolate candy coating trees in this free video tutorial!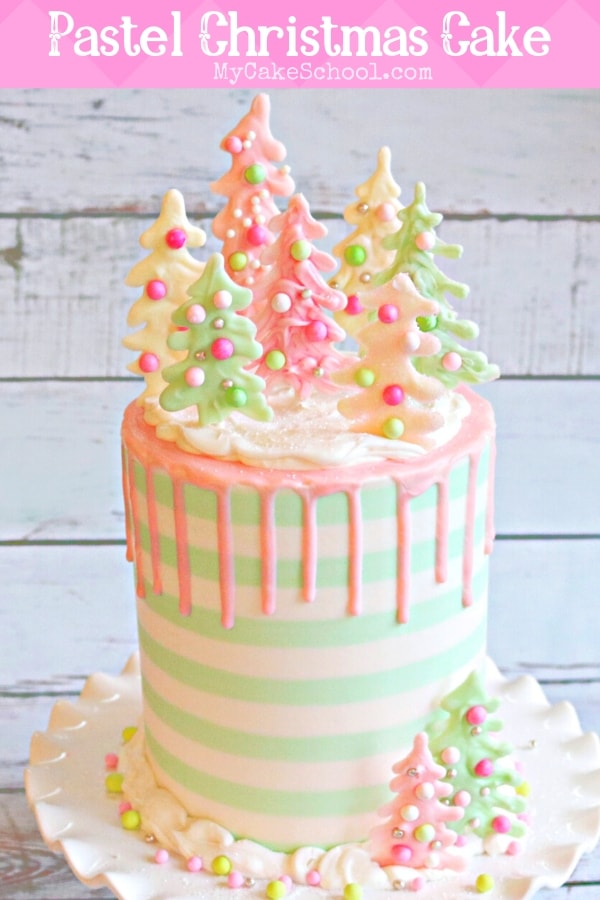 Materials:
This cake design would be beautiful on cakes of any size. We made a double barrel cake using four 6 inch cake layers, a cake board cut down to the size of the cake on the bottom, a cake board cut slightly smaller than the cake for the middle, and four bubble tea straws for support beneath the middle cake board (cut to the height of the first two filled cake layers). If you'd like to see a double barrel cake being constructed, our recent Hanging Ornaments Cake Video is a good example.
Our Classic Vanilla Buttercream or Fluffy Vanilla Buttercream recipes or your butter-based frosting of choice . (Fluffy is a bit whiter because it contains some shortening, while the all-butter Classic Vanilla recipe firms up more quickly in the freezer, which is helpful when making the striped buttercream.)
Coloring- We used Americolor Green and Pink candy colorings to tint our chocolate as well as the green buttercream.
Sprinkles of Choice- Our Pink, Green, and White sprinkles are Wilton. We also used silver dragees. We also used white/clear sanding sugar on top of the "snow".
Cake Comb- I prefer metal because I can heat it in hot water more easily before smoothing over the buttercream for a smooth finish, but it doesn't have to be. I'm using a comb by Evil Cake Genius.
Piping Tips- I used a tip 12 for piping on the stripes but you could also just snip the tip away from your piping bag to the desired size.
Miscellaneous: Wax or Parchment Paper, cookie sheet, turntable (helpful, optional)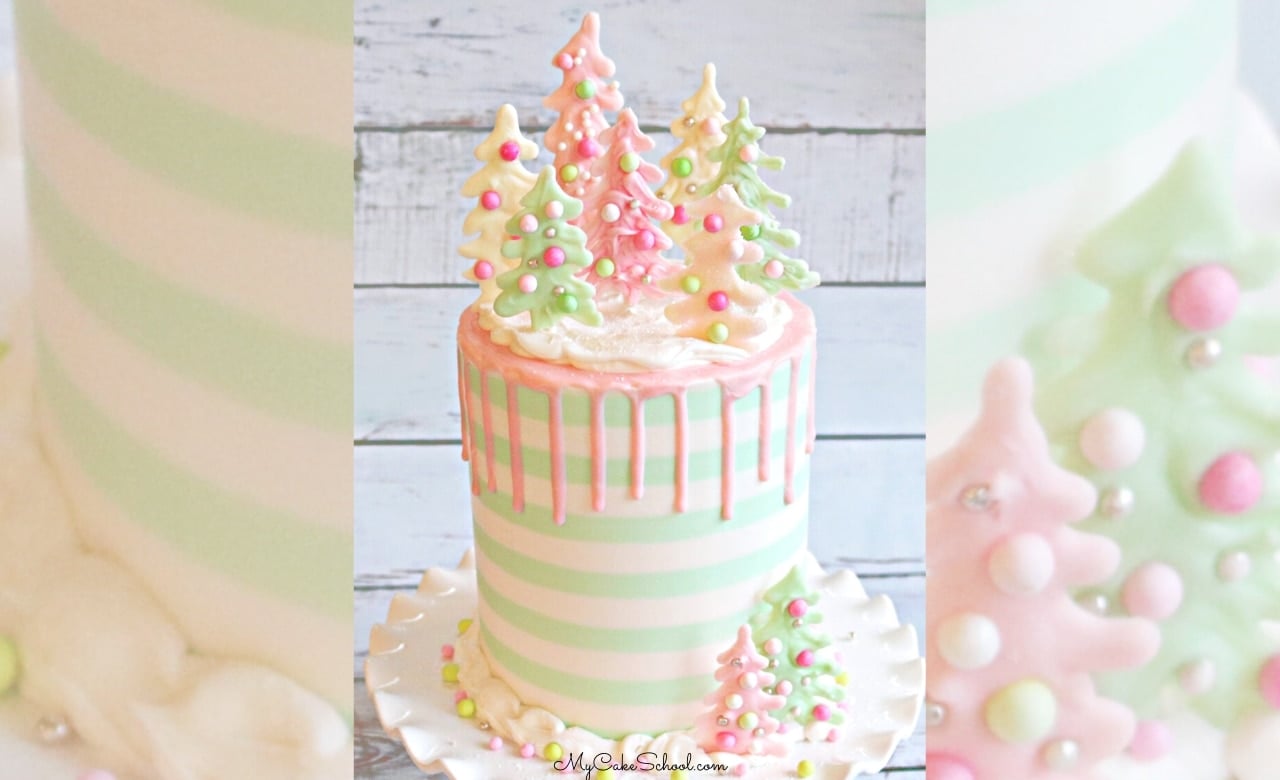 Cake Notes
Whenever working with candy coating decorations like our chocolate Christmas trees, chill them again just before handling/placing onto cake to firm them up. Also, always make a few extra in case of breakage!
For the Ganache Drip
For our Ganache, we used a 3:1 ratio of white chocolate to heavy cream. For convenience and because we were just doing a simple drip, we used white chocolate chips & used a microwave. We did 6 oz of white chocolate to 2 oz heavy cream-- we still had some leftover and so adjust to your liking.
Heating the Chocolate
We heated the chips and cream first for 30 seconds. Let it sit for two minutes to melt further (we stirred gently), then reheat for 10 more seconds. This was all that we needed but if you need more time, heat in small increments.
Tinting the Chocolate
When we tinted the white chocolate ganache with the pink candy coloring, it didn't match the trees because the ganache had a deeper yellow tint. This resulted in a peachy hue. To correct, I stirred in some white coloring gel (ours was Wilton).
*Test a small amount first before using regular coloring gels with your ganache to make sure it doesn't cause seizing or thickening. We had no problems and were happy with the color!
*I don't recommend adding regular coloring gel for tinting straight candy coating or chocolate...but our ganache was more forgiving.
Winter Cake Recipes!
There are so many winter cake recipes that would be perfect with this Christmas Tree cake design. A few of our favorites are our Peppermint Cake, Eggnog Cake, Gingerbread Cake, and Red Velvet Cake!
More Christmas and Winter Cakes!
We've made so many Christmas and winter cake tutorials over the years. I'll link to a few below, but make sure to check out our Roundup of Christmas Cake Designs as well as our Roundup of Christmas Cake Recipes for even more ideas!
Christmas Tree Cake in Chocolate- Free Cake Video
Loopy Christmas Bow Cake- Free Video Tutorial
Sweet Santa Cake- Free Video Tutorial
Hanging Ornaments Cake- Free Video

Enjoy the Video!
Thanks so much for stopping by! We hope that you enjoy this sweet pastel Christmas Cake tutorial! If you give this cake design (or your own variation) a try, we would love for you to leave a comment and photo below!