Loopy Christmas Bow -Cake Video Tutorial
Nothing dresses up a cake quite like a loopy bow, and as far as I'm concerned, the bigger, the better! In today's video tutorial, I'll show you how to make a bright Christmas bow with fun patterns and colors!
I've never made a loopy bow with several different patterns of loops before but I really love the look!
We loved making this cake. I hope you enjoy the tutorial, and keep this design in mind no matter what time of year-- with a color change or two, loopy bows will fit all sorts of themes and occasions!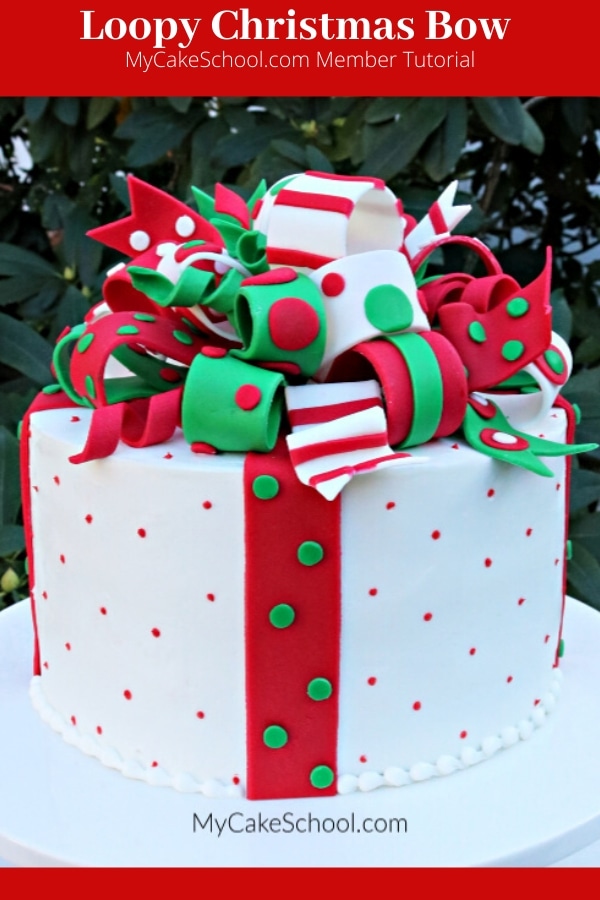 Materials:
Gum Paste- White, Red, Green (For the red and green, we used pre-colored fondant and added tylose powder to it until the consistency was more elastic and gum-paste-like.) I don't recommend straight fondant for the loops. They will take much longer to dry and will be more fragile.
Tylose Powder- (I used it for making a quick edible glue as well as for kneading into my green & red fondant)
Piping Tips- Tip 6 or similar round tip for border, Piping tip 3 for small dots, Tip 12 for cutting out polka dots.
FMM Multi Ribbon Cutter for cutting gum paste strips. Optional. My loops were approx 7 inches long and 1 inch wide. I made a couple for the top that were slightly shorter but that is optional. I needed about 15 loops. (Make a couple of extra in case of breakage.
Make a few tails and curls as well
Buttercream- We used classic vanilla but our fluffy vanilla buttercream is a good optional also.
Coloring Gels- We used Americolor Super Red for the small dots.
Cake base or pedestal of choice.
Miscellaneous- I like to use a cake turntable when frosting the cake. I applied the frosting with a small tapered spatula, and smoothed around the sides with my bench scraper.
Notes
**As you'll see in the video, I recommend using gum paste for loopy bows rather than fondant.
Gum paste bows dry much firmer and so they are less fragile. However, for our red and green loops, we used pre-colored fondant for convenience (I do this when possible when I need deep shades).
When using fondant for loopy bows, you must knead in tylose powder to give it more gum-paste-like characteristics.
Allow your gum paste pieces to dry 2-3 days to be on the safe side. In the video, I mention that mine had dried for about 1 ½ days.
They were firm but depending on your brand of gum paste or fondant as well as weather/humidity conditions, etc, dry times can really vary! Play it safe and give your pieces plenty of time to dry firm!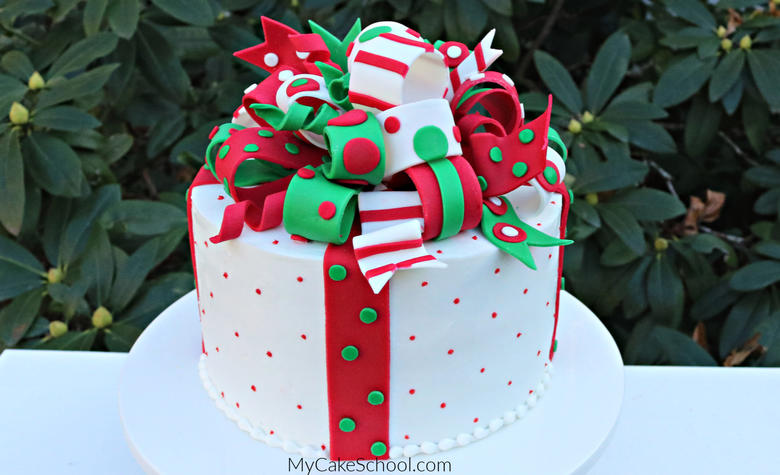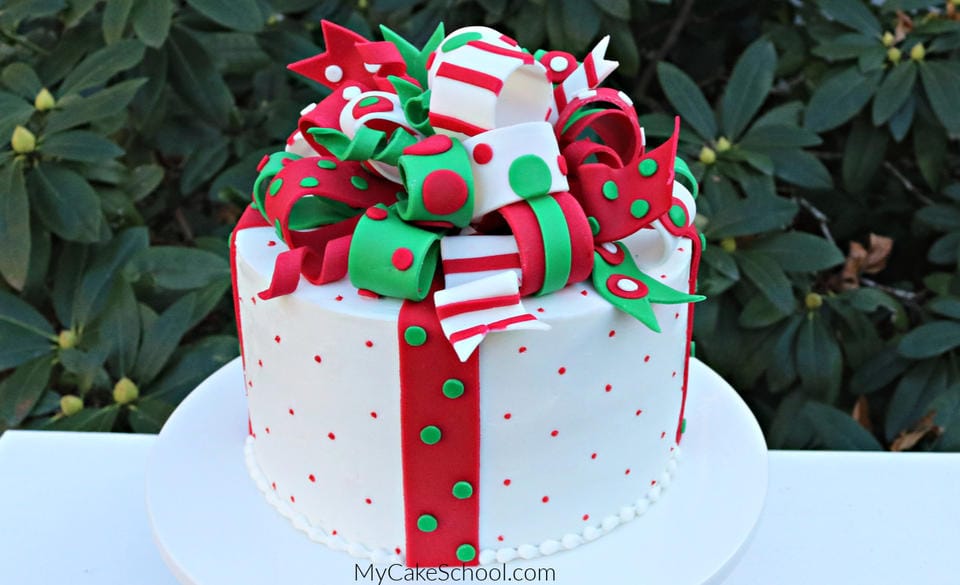 nbsp;