Today I'm going to show you how to make an adorable Snow Globe Cake! This is a new favorite of ours for Christmas, and is such a fun and unexpected addition to any dessert table.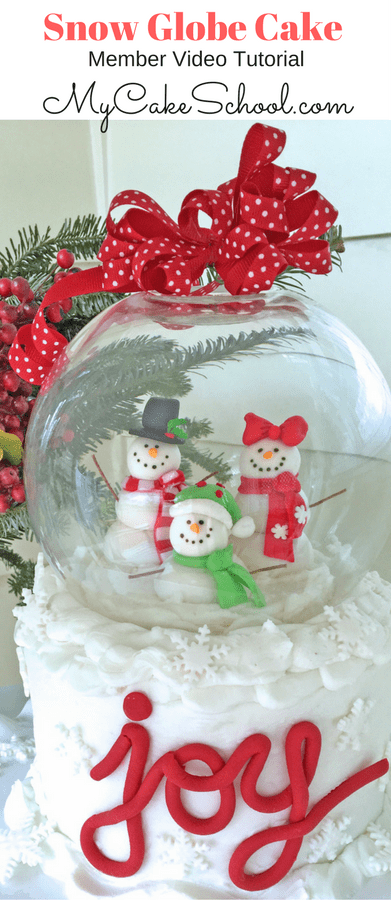 Snowman Snow Globe Cake Design
We created a cute and easy fondant snowman family inside of our snow globe but the design options are endless! Whether your snow globe features snowmen, Christmas trees, gingerbread men, or even toy figurines, the cake is sure to be a hit.
We hope that you enjoy the tutorial! Don't miss our materials list and additional notes beneath the video.
Materials for Cake:
For this cake, we used two 6 inch cake layers, frosted in our Fluffy Vanilla Buttercream frosting. Our Classic Vanilla Buttercream is a great choice also.
The glass globe has a 4 inch opening. It is resting on a cardboard cake circle cut down to size, and supported from beneath by 3 bubble tea straws cut to the height of the cake.
The cake is also resting on it's own cardboard cake circle cut down to size (so that it can be easily moved to the cake pedestal/base).
Buttercream (We used our Fluffy Vanilla Buttercream Recipe but use whatever you like)
Fondant with tylose kneaded into it (You could also use gum paste.)
Paper covered floral wire for snowman arms (We brushed ours with brown coloring gel mixed with a little vodka for faster drying.)
Black Food Coloring Pen
Coloring Gels: We used Americolor Super Red, Orange, Mint Green, Black, Brown
Vodka (optional- we used a little to mix with our brown coloring gel to paint the floral wire for arms
Glass Globe- I bought mine at a craft store for a few dollars- it has a 4 inch opening.
Piping Bags (we used disposable)
Snowflake Plunger Cutters (optional)
Christmas Sprinkles (optional- we used holly leaves, red sprinkles, and snowflakes for little details)
Piping Gel (or your edible glue of choice)
Clay extruder is helpful for "Joy" (We use Makin's Ultimate Clay Extruder)-
Miscellaneous: Small paintbrushes, turntable, vegetable shortening is helpful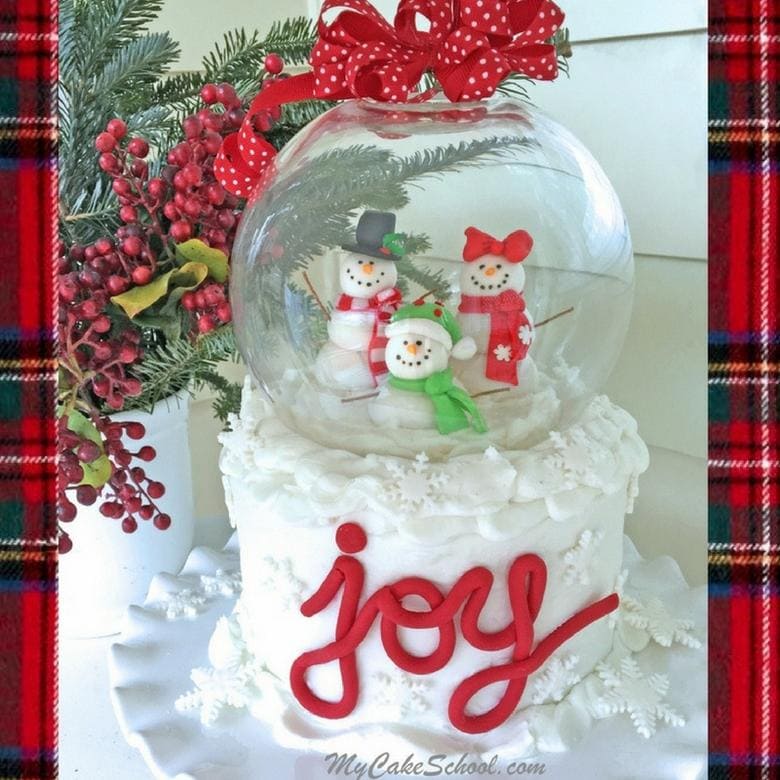 Notes:
You can see in the photo that we swapped out our bow for a loopy one! Of course, anything goes with the bow- or you could skip it altogether!
You may want to consider adding the globe to the cake close to the time of the party so that you don't have to worry about transporting. My frosting was deep enough that it was fairly secure, but just to be on the safe side...
Also, be so careful when handling the globe...I of course dropped it on the countertop just before we started filming ;0) - But amazingly it did not break.
You could easily use the snow globe design with a tiered cake, or even on a larger tier to suit the servings needed.
More Snowman Cakes
We love snowman themes! We are linking just a few more snowman cake designs for you to try below. You should also check out our full roundup of Favorite Christmas and Winter Cakes!