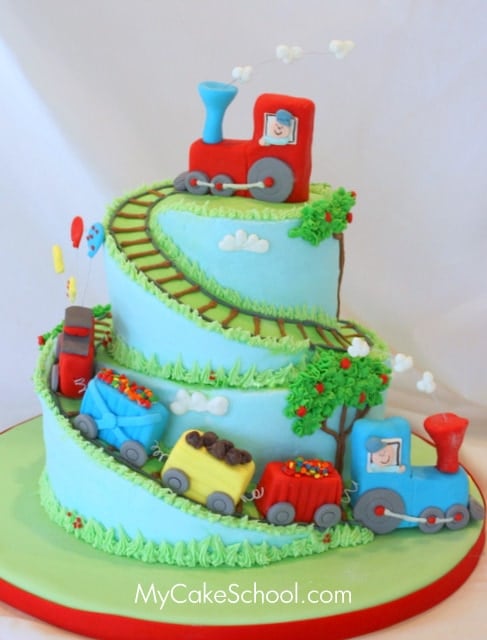 I love the look of spiral tiers! In today's tutorial I'm going to incorporate an adorable train theme into a spiral cake design. There are so many different styles of cakes that work well with spiral tiers-- We have a sweet Sledding Snowman video with a spiral tier design which also demonstrates covering the tiers in fondant.
There are a couple of points that I wanted to emphasize. In the video, I am using 9" and 6" stacked tiers. The 3" size difference works well for me because it allows me a difference of 1 ½" to work with all the way around, and therefore I am able to make a ledge that is 1 ½" wide.
If there is a 4" difference between your tiers, you could even bump up the width of your ledge to 2", if you would like to have room next to the track for more grass, flowers, etc., or you stick to the 1 ½" ledge if you would like to have a little more cake :0) ---
A 2" difference between your tiers would be more difficult to work with, because you would only have 1" of space around the base of the top tier to work with in order to create your track. A track this narrow would of course require a train that is smaller and more narrow than the one in my video. For this reason, I recommend a difference of at least 3" between tiers.
Let me know if you have any questions! Enjoy the video!