These CUTE and easy Reindeer Cupcakes are so simple and fun for the holidays!
We're combining mini candy bars, sprinkles, and pretzels into the most adorable reindeer candy bar cupcake toppers (if we do say so ourselves)!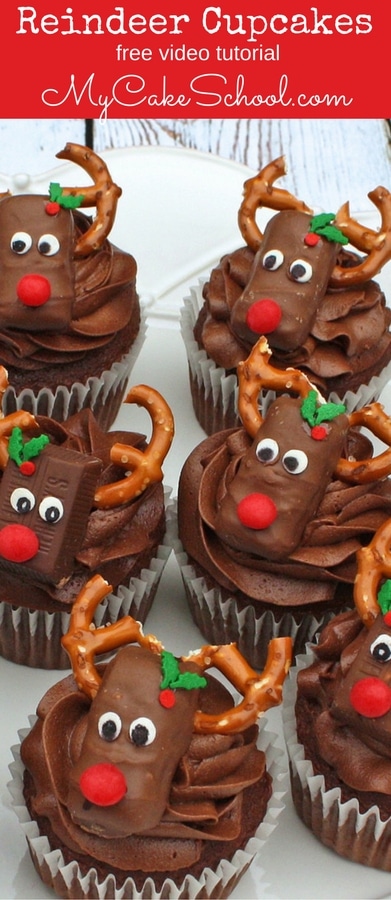 These sweet reindeer cupcakes are simple enough for beginner cake decorators, and kids would love to help assemble them too!
Whether you recreate our entire platter of reindeer cupcakes, or just need a few for an assorted platter of Christmas goodies, they are sure to bring smiles.
We hope that you enjoy the video!
Reindeer Cupcakes- Free Video Tutorial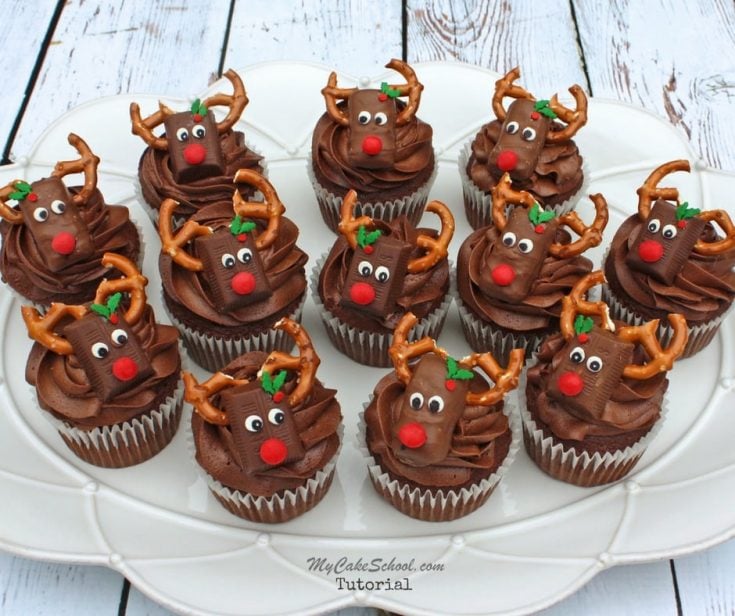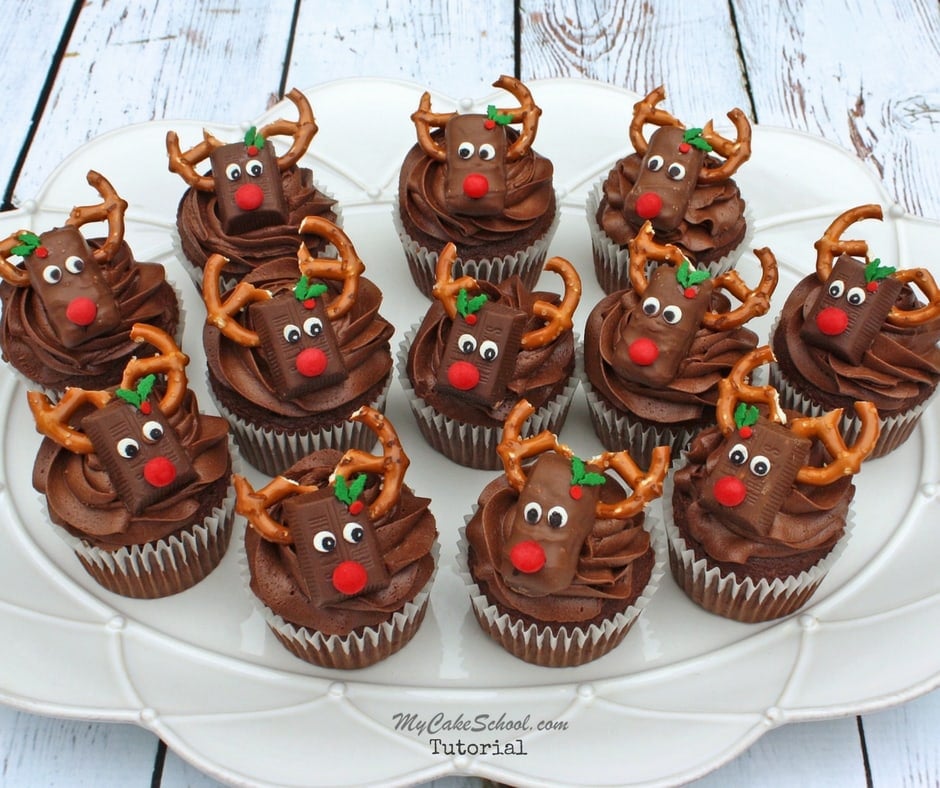 These CUTE reindeer cupcakes are so easy to make!
Materials
Chocolate Cupcakes
Chocolate Buttercream (We used our Classic Chocolate Recipe)
Mini Candy Bars (We used Mini Twix and Hershey's Nuggets)
Mini Pretzels
Piping Tips 1M (or your tip of choice for buttercream swirls)
Sprinkles of Choice for eyes and nose. We also used holly sprinkles
Food Coloring Pen in black (if using white sprinkles or candy for eyes)
Brown/Chocolate Candy Melts or Bark Coating for "glue"
Piping Gel or Corn Syrup to glue holly (buttercream works too)
Miscellaneous: Parchment or waxed paper lined cookie sheet, disposable piping bags
Instructions
Attach eyes to unwrapped chocolate bars with buttercream or piping gel. (We used
buttercream.)
On a parchment lined cookie sheet, arrange two broken pretzel antlers side by side,
pipe a bit of melted chocolate, and attach the chocolate bar heads. Add red
sprinkle/candy noses with melted chocolate. Chill tray of reindeer for 10-15
minutes in freezer until melted chocolate is firm.

Optional: Attach holly sprinkle decorations to reindeer with piping gel or corn syrup (we
used corn syrup) applied with a small brush.
Swirl chocolate buttercream onto chocolate cupcakes with a 1M piping tip.
Place the candy bar reindeer heads onto the cupcakes to complete the design.


Notes:
As we mentioned in the video, you can use a number of alternatives for eyes. We went with sprinkles mainly because we were not working with vanilla buttercream and did not want to make a recipe just for the eyes. You could also use fondant eyes, pre-made google eyes, or simply draw on eyes as I did in the photo below from a previous tutorial.
Favorite Chocolate Cake and Chocolate Buttercream Recipes for this Project!
In the video we are using our Classic Chocolate Buttercream from our Recipes section. (We love this recipe!)
For the chocolate cupcakes, we highly recommend our Homemade Chocolate Cupcake Recipe, or if you prefer to work with cake mixes, this Doctored Chocolate Cake Mix Recipe is a great choice!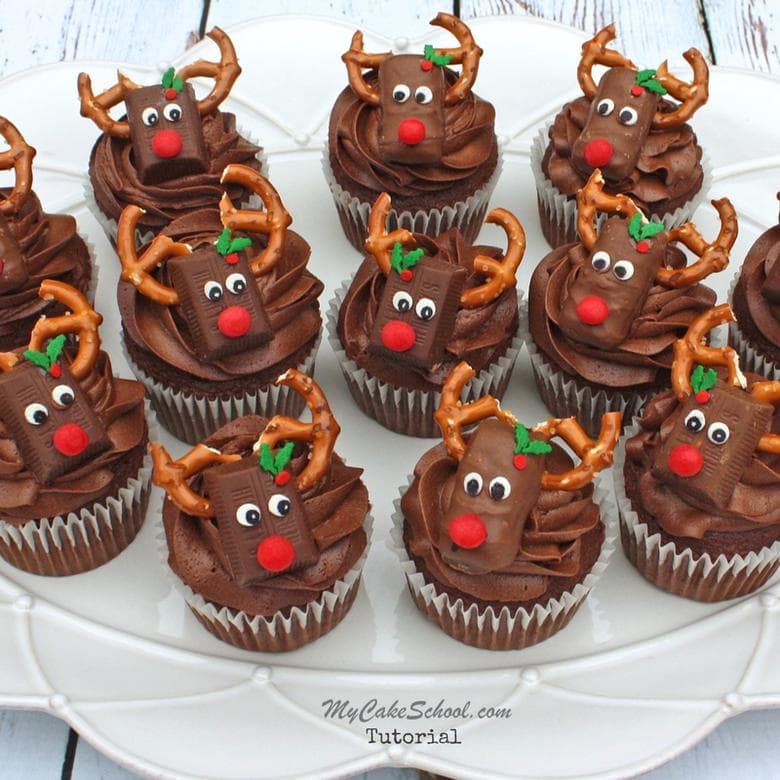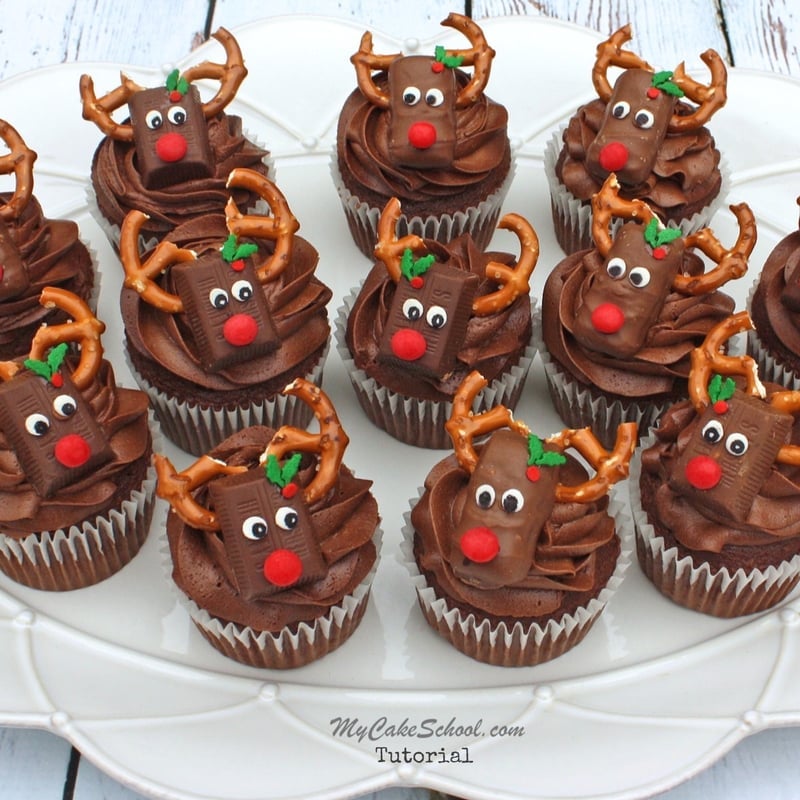 Another fun Reindeer Dessert Idea to Try!
Years ago, we created a very similar candy bar reindeer design for a step by step Christmas blog tutorial, but our design involved adding them to lollipop sticks (rather than cupcakes) for a cute Christmas party dessert display.
We still LOVE this idea, and they are perfect for those times when you just need a little something sweet (and cute) for a Christmas party. In the same tutorial, we also added a reindeer face to a scoop of chocolate ice cream for another fun & festive alternative!
You can check out the tutorial here: Reindeer Candy Bar Tutorial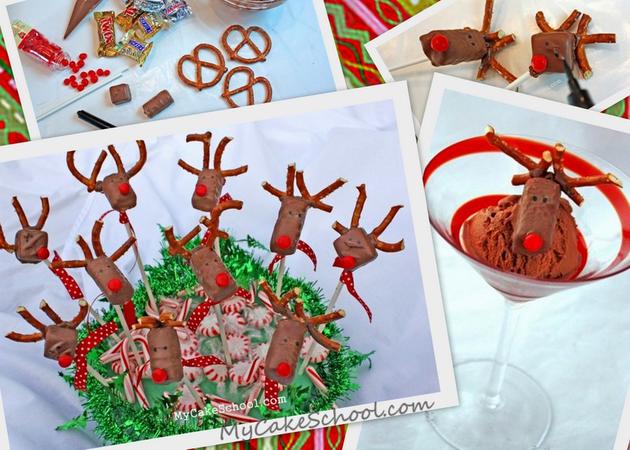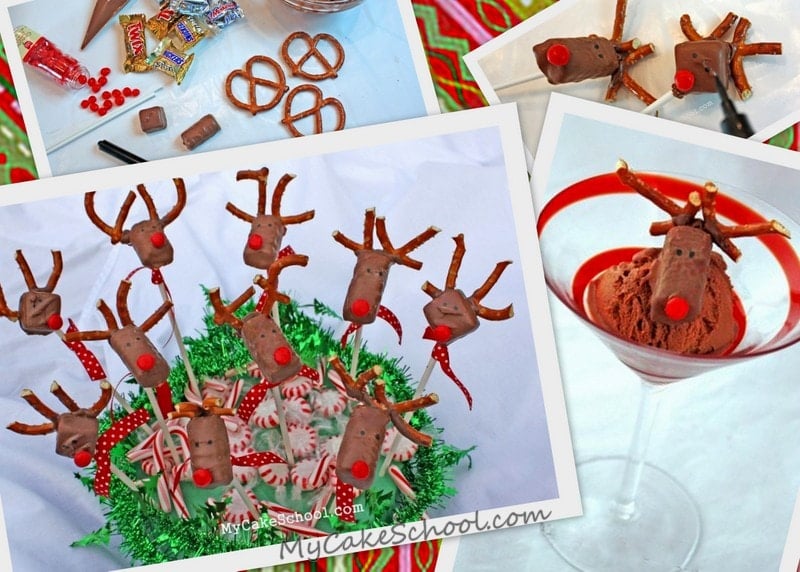 Need Christmas Cake and Cupcake Ideas? We have Lots!
For more Christmas cake, cupcake, and recipe ideas, make sure to check out our Christmas Roundup! There are so many fun cake and cupcake designs to try!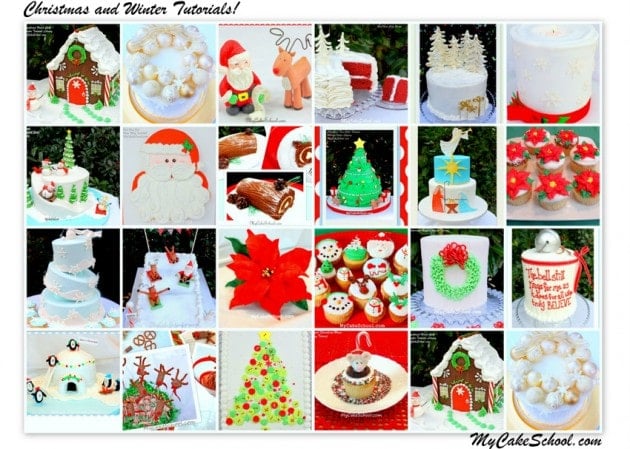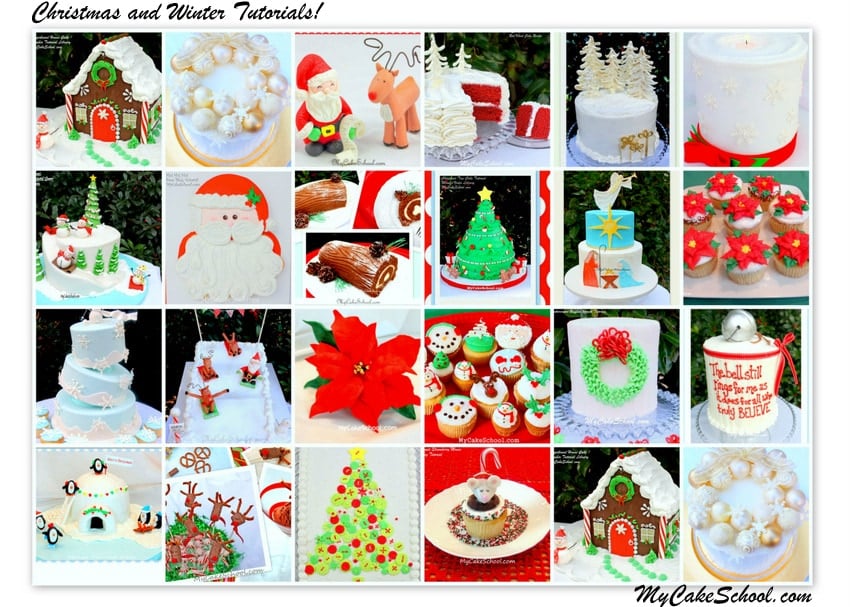 Also, for even more reindeer cake fun, we also have an adorable Rudolph Buttercream Cake that we created as a free tutorial last year! You can find it here: Rudolph Buttercream Transfer Cake-Free Video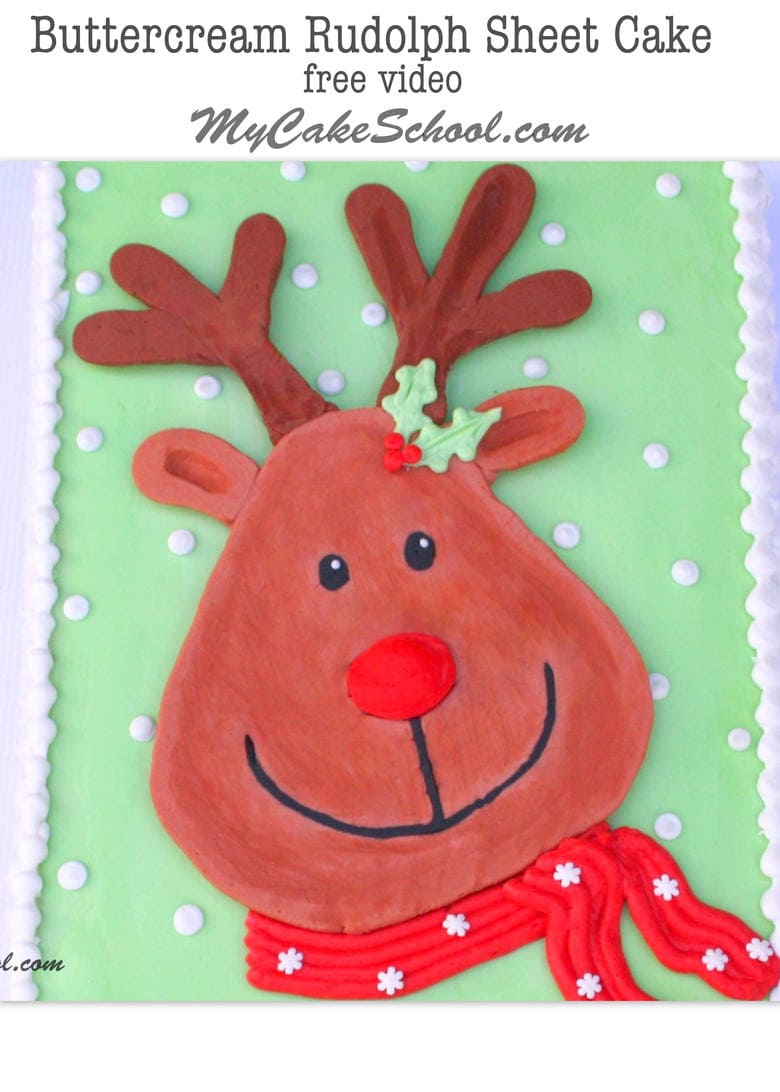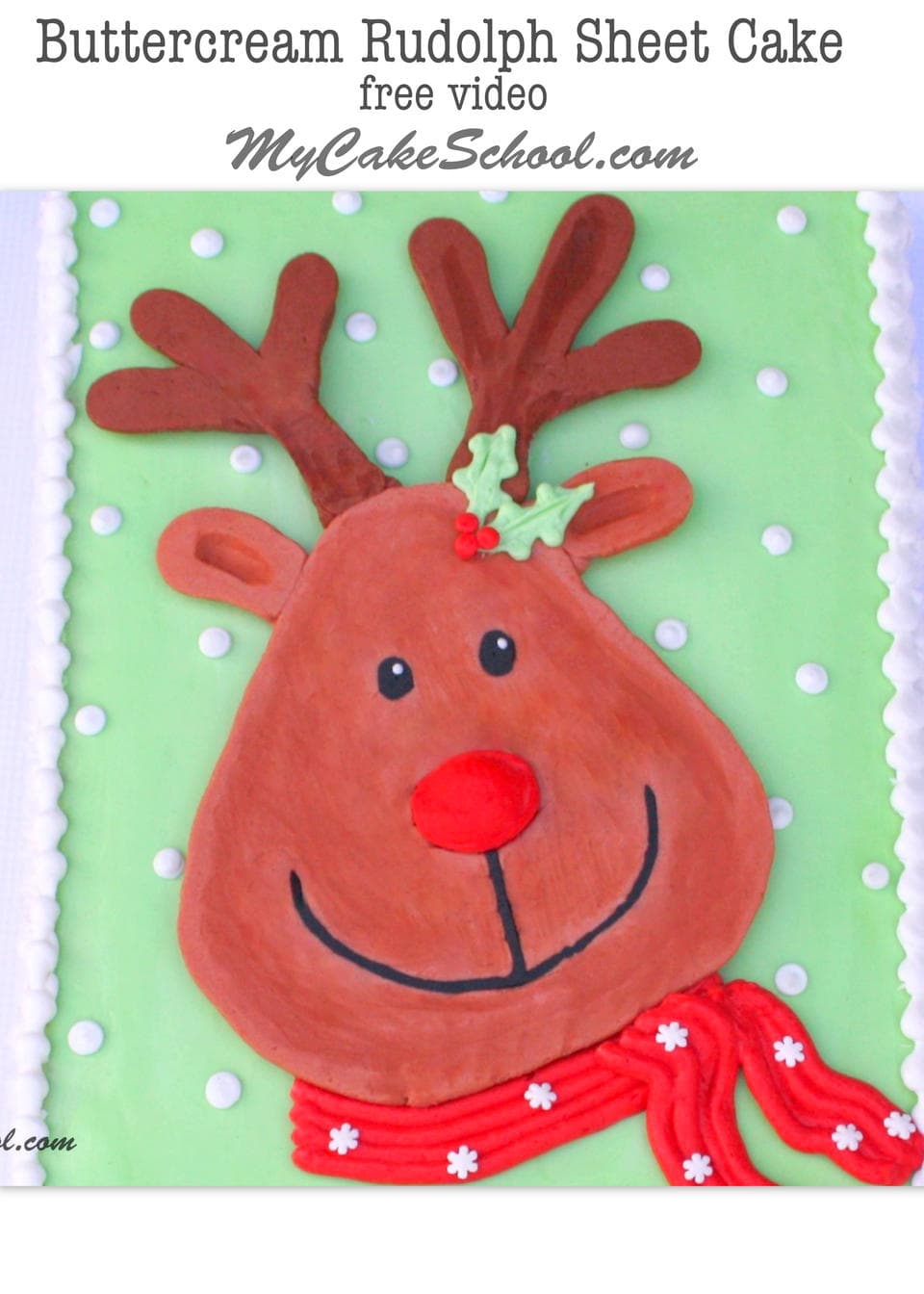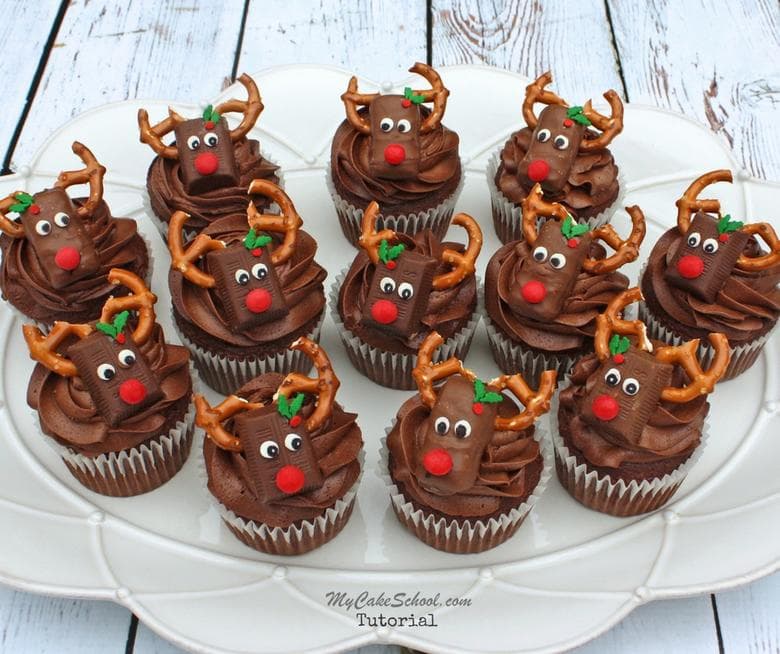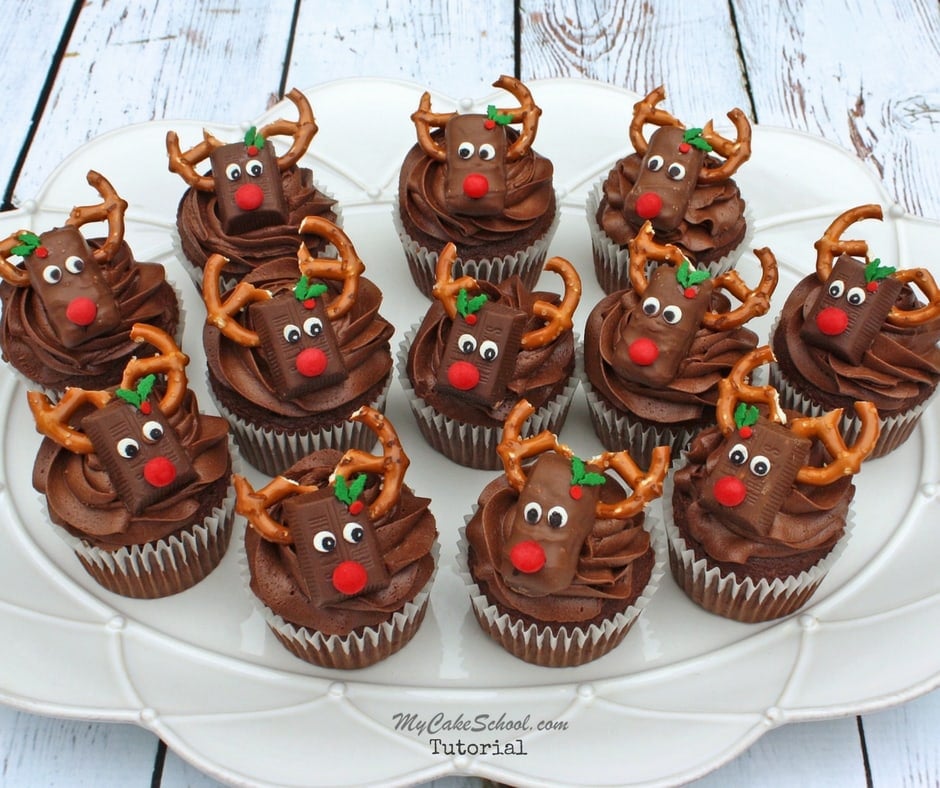 nbsp;