There are some days when only a BIG slice of buttery homemade Yellow Cake will do. Preferably, slathered in a generous coat of rich chocolate buttercream, but I'm not picky!
If you've been searching for the perfect scratch Yellow Cake recipe, look no further. Today we're excited to share a perfectly fluffy, moist and flavor-packed scratch Yellow Cake recipe with you.
Just look at this beautiful Yellow Cake!! Ahhhhh….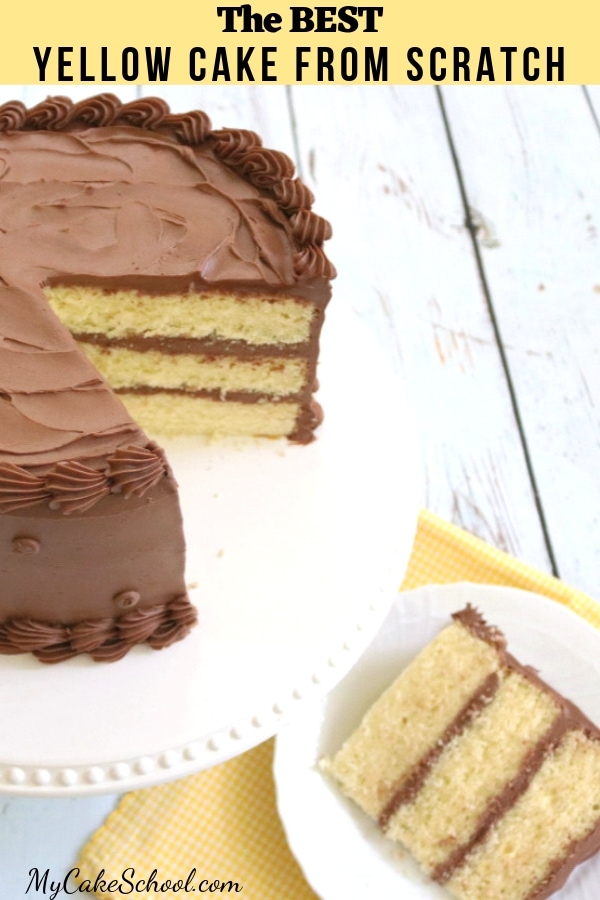 The BEST Yellow Layer Cake- So versatile!
Everyone needs a go-to homemade yellow layer cake recipe, and this one deserves a place in your recipe file of favorites. It's our go-to. This recipe is not only delicious, but it's so versatile!
This moist scratch yellow cake recipe also works perfectly for yellow cupcakes! The cake layers are very moist and soft, but sturdy enough for fondant, and it makes a great base cake recipe for adding extracts and flavorings.
We use this yellow cake recipe in a couple of our favorite cake recipes, including our homemade Marble Cake , our Pineapple Cake, and our scratch Coconut Cake!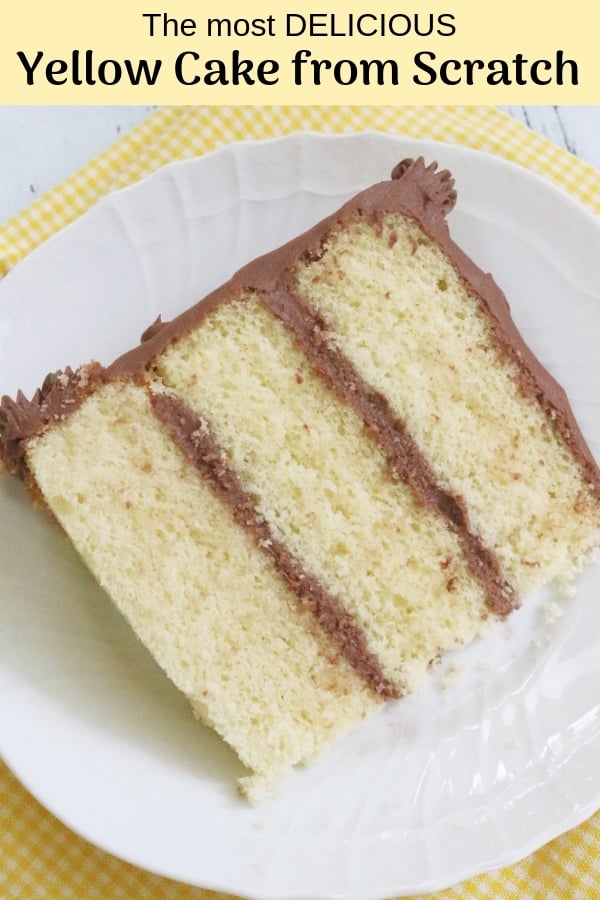 The Mixing Method for this Yellow Cake
The mixing method for this recipe is somewhat of a cross between the reverse creaming method of mixing and the traditional method. As with our other reverse creaming method recipes, the dry ingredients are combined in the beginning, followed by butter until the mixture resembles coarse sand.
The difference is that the eggs are then added one by one, as with the traditional method. Then, the wet ingredients are added at the end.
The final result is an ultra moist cake with tons of flavor and a finer crumb.
What Gives a Yellow Cake it's Yellow Color?
Yellow layer cakes like this recipe have a lovely light shade of yellow thanks to the eggs and butter. Not only do these ingredients add richness and flavor, they add color as well!
There can be some color variation when comparing some yellow cakes to others– depending on the amount of eggs & butter used, as well as the brand. Some brands of butter have a brighter yellow shade, and some egg yolks are brighter than others also.
However, no matter what brand/variety of eggs or butter, your yellow cake is going to have a deeper color than most white cakes (which often omit the egg yolks), as well as recipes that call for oil or shortening rather than butter.
This yellow cake is wonderful- definitely a keeper!
*5/9/2019: We updated our old Yellow Layer Cake in favor of this new version which incorporates even more butter, as well as buttermilk for a softer crumb and extra boost of moistness! As an added bonus, this new yellow cake yields more batter (about 8 cups vs. 6.5). The final cake stands just over 4 inches. If you are attached to our OLDER Version of Yellow Cake from Scratch- you still can find it here!
What Frostings Pair Well with Yellow Cake?
Now that you have the BEST scratch Yellow Cake, you're going to some frosting options! The good news is that everything goes with yellow cake, which makes this a great go-to recipe for all sorts of occasions.
There's really no wrong answer here, whether you're craving chocolate or something fruity! Here are a few favorites to keep in mind.
Chocolate Buttercream (of course!)
Chocolate Cream Cheese Frosting
Strawberry Buttercream Frosting
Yellow Cake from Scratch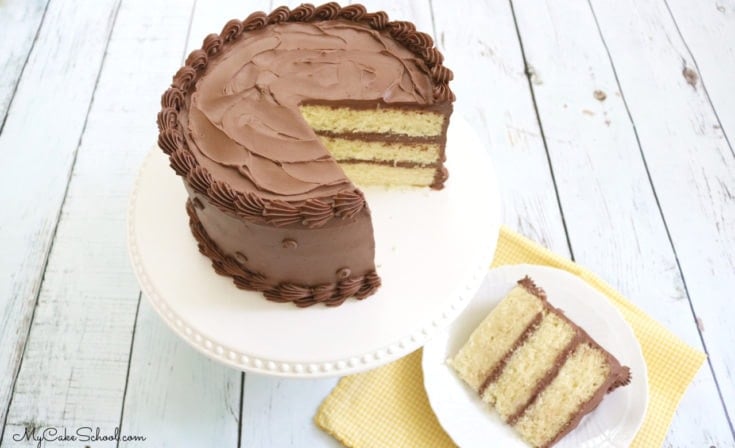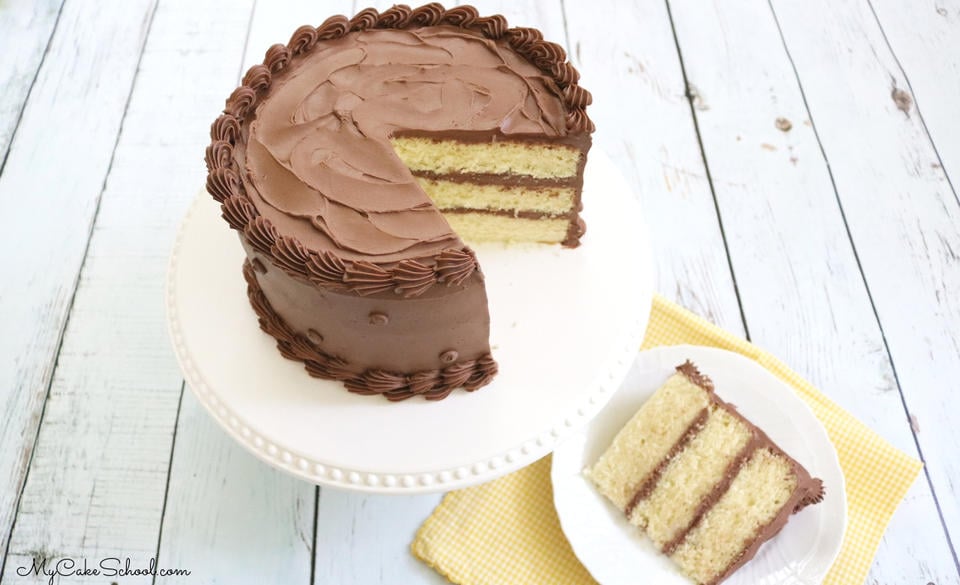 This buttery scratch Yellow Cake recipe tastes SO good. It is soft, moist, and oh so delicious!
Ingredients
3 cups (342g) cake flour
2 cups (400g) sugar
2 teaspoons (8g) baking powder
1/2 teaspoon (3g) baking soda
1/2 teaspoon (3g) salt
2 sticks (226g) unsalted butter, softened
4 large eggs
1 cup (239g) buttermilk — **if you do not have buttermilk see note below
1 Tablespoon (12g) vanilla extract
Instructions
Preheat the oven to 325 degrees. Grease and flour three 8x2 inch round cake pans. Place a piece of parchment in the bottom of each pan.
Put the first 5 ingredients into the bowl of your mixer. Mix on low speed for at least 30 seconds to combine.
Add the softened butter (cut into pieces) mix on low speed just until it looks like coarse sand. The dry ingredients will be moistened/coated by the butter and will stick to together if you press some between two fingers. Don't over-mix or it will turn into a large dough-like ball.
Add the eggs 1 at a time, mixing until blended.
Add the vanilla to the 1 cup buttermilk. With the mixer on lowest speed gradually pour into the mixer. Increase the speed to #2 or # 3 (on a KitchenAid mixer). Mix for 2 minutes. Batter will be fluffy and smooth. If you are using a hand mixer rather than a stand mixer, you will need to mix a bit longer.
Divide batter evenly between your three prepared (8 inch) pans.
Bake at 325 degrees for 25 to 30 minutes. Cool for 5 minutes and turn out of pans.
Notes
** Buttermilk Substitute: In a 1 cup measuring cup add 1 Tablespoons vinegar or lemon juice. Fill the cup with milk, stir and let sit for 5 minutes.
As mentioned above, we are also sharing our FAVORITE Classic Chocolate Buttercream Frosting Recipe! Don't even think about canned chocolate frosting. I promise, this creamy chocolate buttercream tastes a million times better and is SO easy to make!
Here's a link to this chocolatey, flavorful, pipeable frosting: Classic Chocolate Buttercream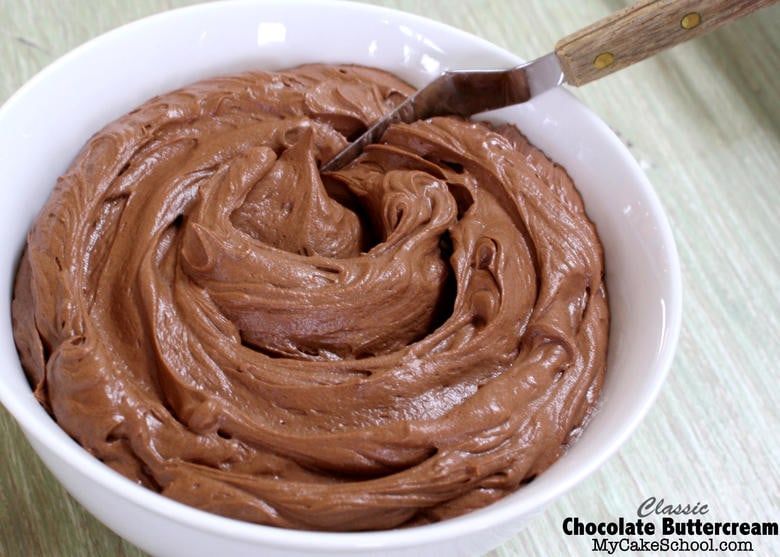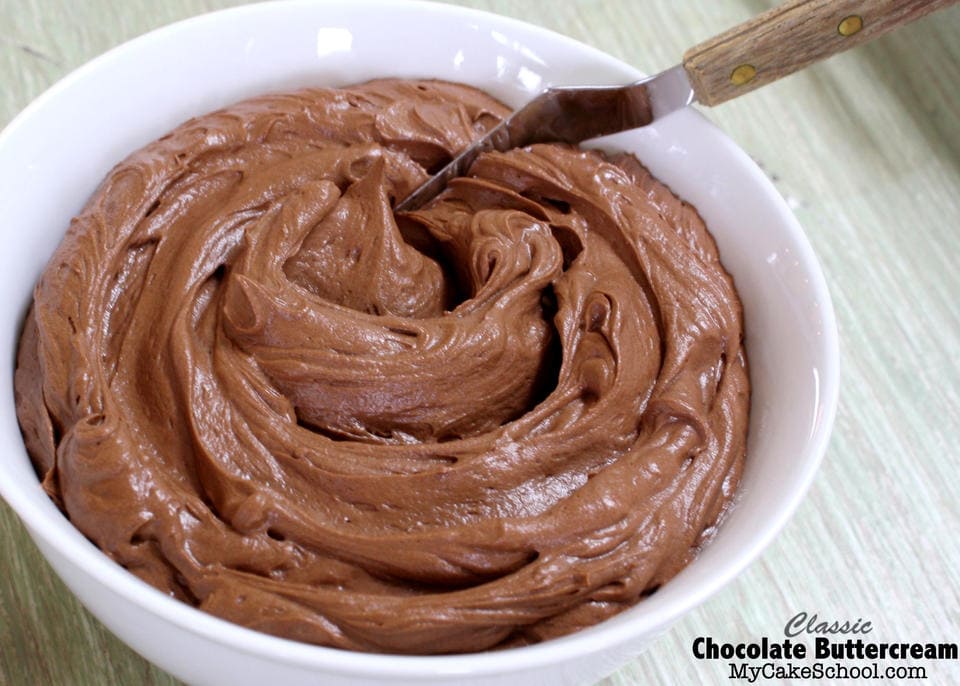 Don't miss our full collection of favorite cake, filling, and frosting recipes in our Recipes Section, and tons of free step by step cake and video tutorials in our Free Cake Tutorials section!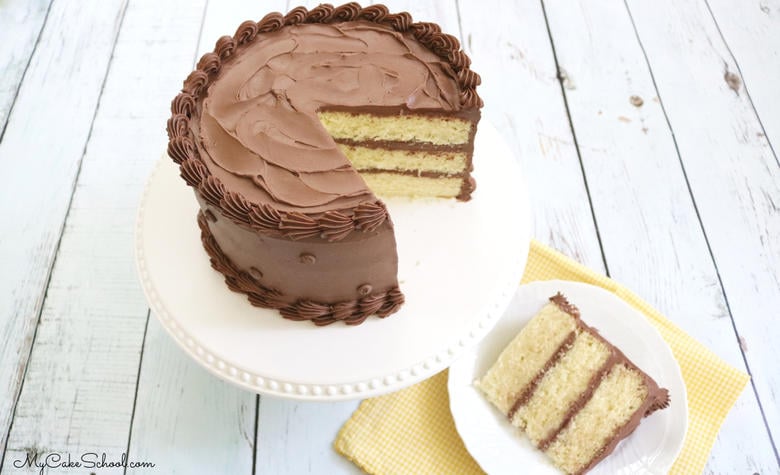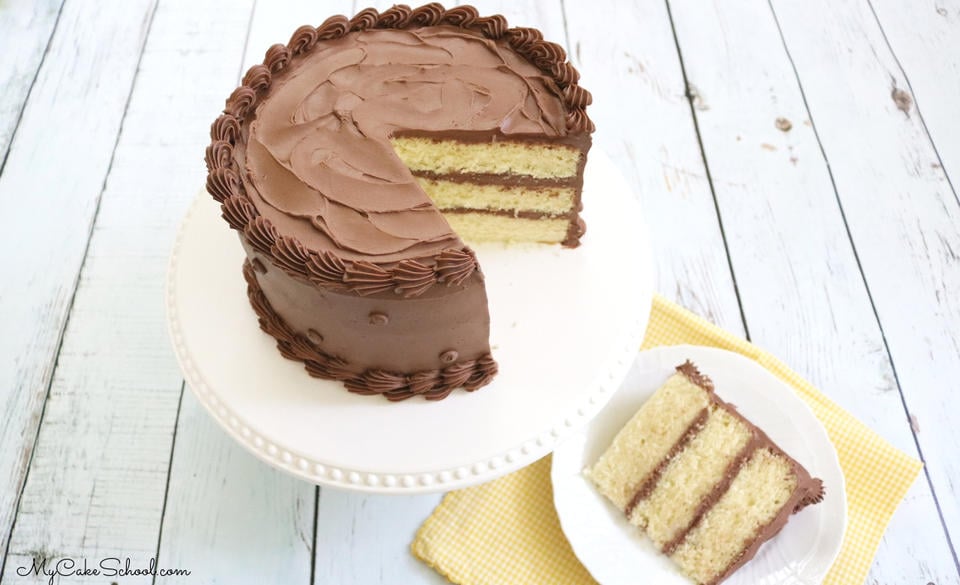 Finally, if you would like to become a member of MyCakeSchool.com, we would love to have you!! Members have access to our entire cake video tutorial library, which includes hundreds of cake video tutorials!
No matter what your cake decorating skill level, there is always something exciting and new to learn! You can find all of the information here: Join MyCakeSchool.com!
Happy Baking!