Leopard Print Cake Tutorial (Pattern Inside)
We are so excited about our leopard print cake.
Not only does it have a sweet baby shower theme with cute leopard print baby shoes, but we also carried the leopard print to the inside of the cake! Eek! So much fun!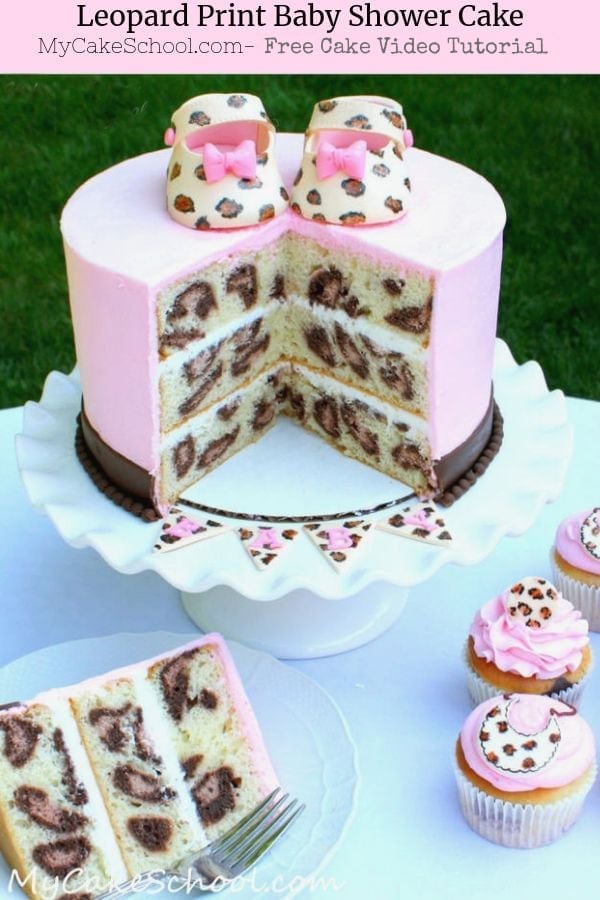 I posted a photo of our cake on our Facebook page a couple of days ago and the response has been unbelievable! So, I can tell you with certainty that if you make this cake for someone, it will be a hit.
There is more than one way to make a leopard print cake. In fact, in our leopard print cupcake video, I demonstrate another way.
However, for cake layers, I find that the technique demonstrated in this video works best for me. I've listed some supplies and additional notes beneath the video---I hope that you enjoy it!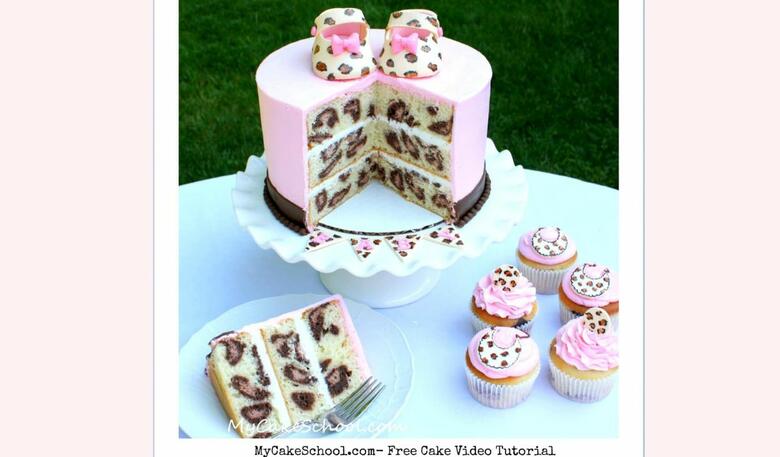 How to Make a Leopard Print Cake on the Inside
Make sure to watch the video tutorial further down in this post, as well as our printable how-to card. Here is just a quick rundown of our steps:
Three Shades of Batter:
For our leopard print cake, we are working with vanilla cake batter- we divided it into three colors: plain, light brown, and darker brown (almost black). See measurements in the card below.
Fill three piping bags with the different colors.
Filling the pans:
Start by putting a thin layer of white batter–approximately 1 ¼ cups- into each of the three pans.
Time to Pipe the Lines (which will become our spots)! Pipe elongated lines of the dark batter on top of the white batter. You don't want the bands of dark batter to be very thick, but pipe them wide enough for the lighter shade of brown batter in the next step.
Light Brown Lines: Next, pipe thicker (but narrow) lines of light brown batter on top of the dark brown lines (these light lines are not as wide).
Go back in with the piping bag of dark brown batter, piping an outline around the light brown batter and on top. Enclosing the light brown batter in this way will give us the look of leopard spots later.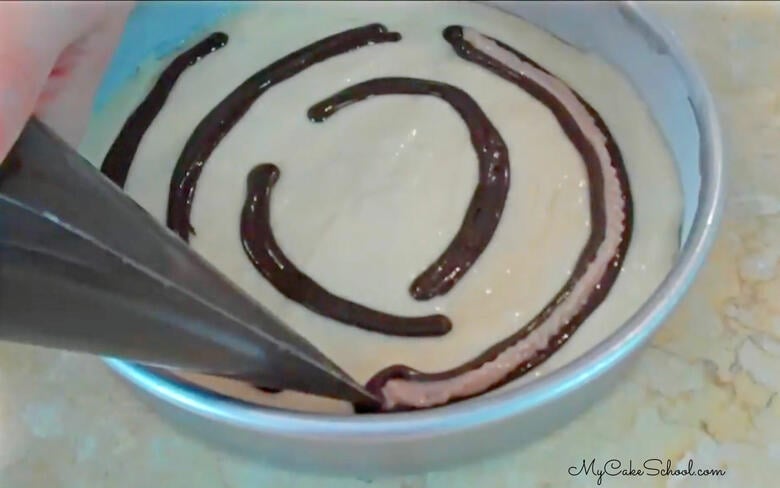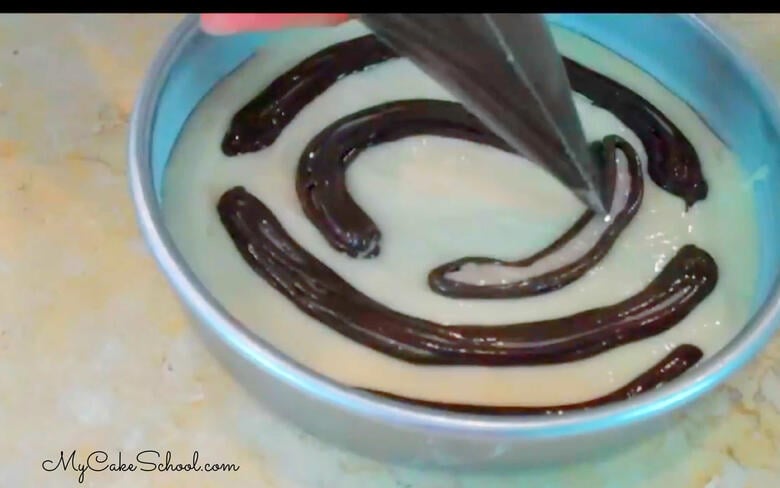 Using a piping bag with the tip snipped away, pipe on a layer of the white batter to cover the dark lines.
Optional: Another Layer of "Spots":
Next, still working on the same pan of batter, repeat the above steps, making one more layer of leopard print batter. (This is going to give us two layers of leopard spots in each cake layer).
If you would prefer to just have one layer of leopard spots per cake layer, that is fine also! We just wanted extra spots ;0)
Follow the above steps for the next cake layer(s) also. Then bake the leopard print cake according to recipe instructions.
And here is our sliced cake!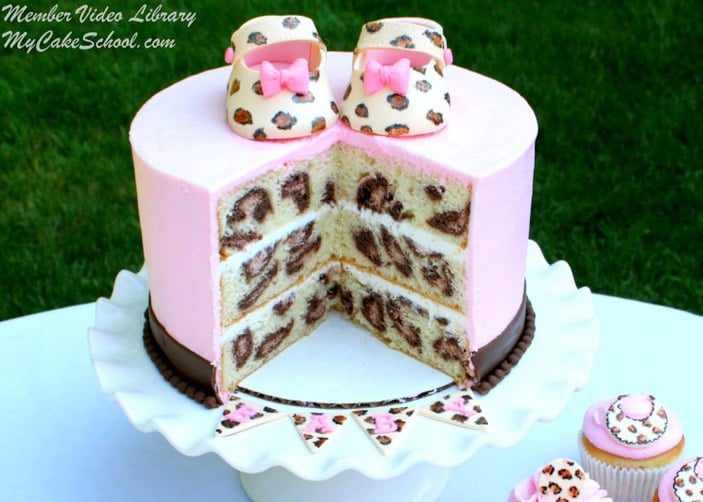 Thanks so much for stopping by. We hope that you enjoy this leopard cake and leopard cupcake design tutorial!
We have many more free cake decorating tutorials for you! Here are a few more animal theme designs for you! You should also check out our baby shower cakes for more ideas!
Leopard Print Cake Video
Leopard Print Cupcakes
If you loved our leopard print cake tutorial, make sure to check out our leopard print cupcake tutorial as well!
You will love this simple technique for creating leopard spots in cupcakes- they match our cake perfectly ;0)
A Different Method-Leopard Print Cupcakes
In my leopard cupcake video, I layer dots of dark batter, light batter, and dark batter here and there rather than making the elongated layered lines.
The "layered lines" of batter that I use in this cake video allow me to make lots of dots at once. For me, it is easier and ensures that every slice will have at least a couple of dots, while the "layered dot" method gives a more sporadic arrangement.
The layered dot method does work well with cupcakes though, since they are so small! I'll post our cupcake video and so you can decide for yourself what works best for you!
Leopard Print Cupcakes Video