Christmas Tree Cake in Chocolate
Christmas is almost here and we're happy to share our latest Christmas Tree Cake design which is not only beautiful, but it's easy to make too!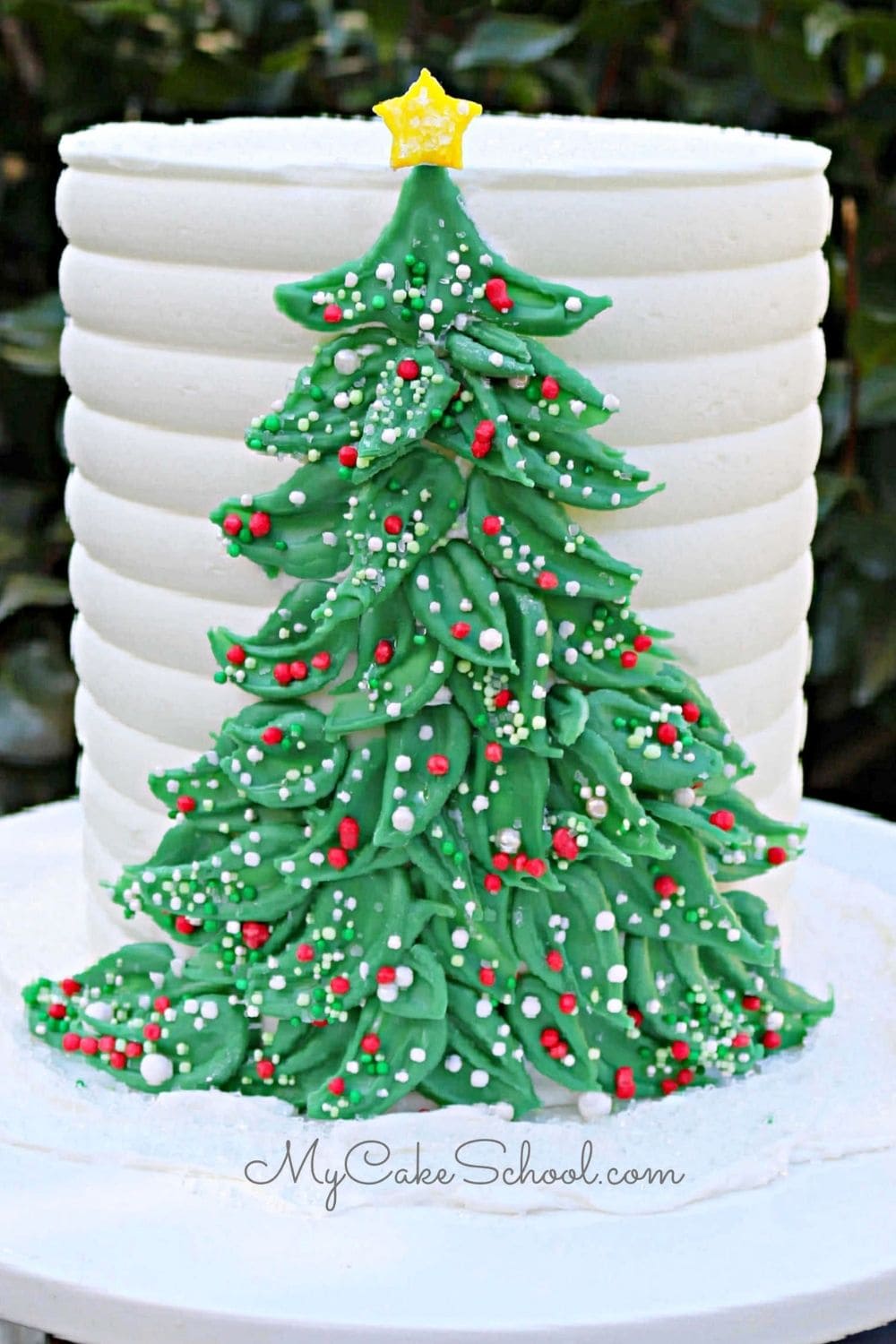 We love to work with candy coating and today's design is a new favorite of ours for the holidays.
You can change it up to fit any size of cake, or change up the tree colors to create a pretty white tree, pastel tree, or whatever fits your theme! We hope that you enjoy the video!
Materials for our Christmas Tree Cake
Today we decorated a 6 inch double barrel cake that was frosted with our Vanilla Buttercream frosting.
A double barrel cake is an extra tall cake- ours consisted of four 6 inch cake layers filled and stacked, with a cake cardboard halfway up and 5 bubble tea straws beneath it. This design can be adapted to any size of cake or sheet cake, you'll just adjust the number of chocolate branches as needed.
I used about 1 cup of candy melt disks- I used Sweet Tooth Fairy Brand green melts with a few white candy melts thrown in as well to lighten the color slightly.
You can use whatever brand you like, or you can tint your own candy coating/white chocolate bark.
If you tint your candy coating rather than using pre-colored, you'll want to use candy coloring gel rather than regular coloring gel. Candy color gels are oil based and won't cause the melted candy coating to seize.
Classic Vanilla Buttercream (or your vanilla buttercream of choice)
Candy Coating- We melted about one cup of candy melts (I used Sweet Tooth Fairy Brand) for our branches. Melt in a microwave safe bowl for 30 seconds, then adjust to smaller increments until the melts are almost completely melted. Then gently stir to finish the melting. Be careful not to overheat!
Sprinkles- I used assorted Christmas Sprinkles (Sweet Tooth Fairy) for the tree and White Sparkling Sugar (Wilton) over the snowy border. Use whatever sprinkles you like!
Wax Paper or Parchment-Lined Cookie Sheet
Piping Bags - We used disposable piping bags with the tip snipped away to apply the snow and to attach the chocolate branches/leaves to the cake.
Piping Tips- optional- I used a small round piping tip 1 to apply small dots of white buttercream here and there to the cake. This was just to fill in blank spaces that weren't covered with sprinkles already.
Star for the top of the cake- optional- I made a fondant star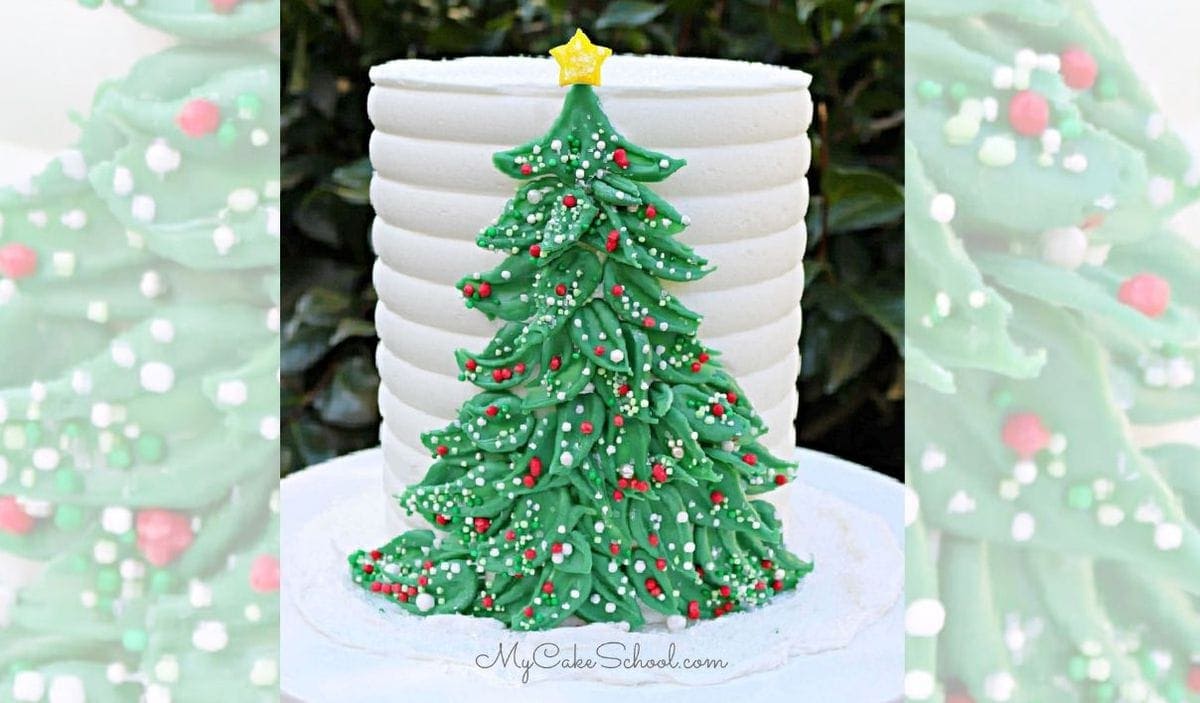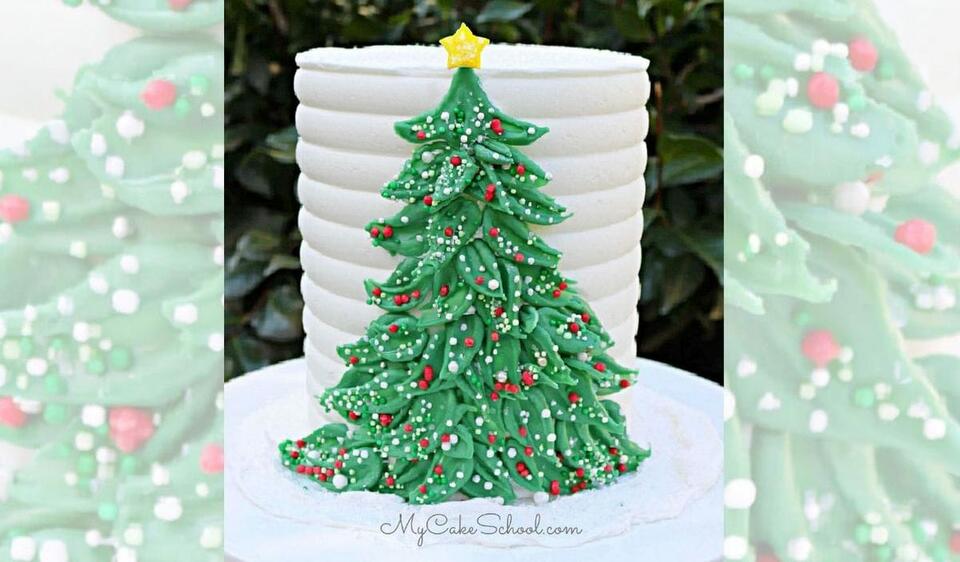 Additional Notes
After piping the chocolate tree branches, I immediately sprinkled them while the chocolate was still soft.
If the chocolate leaves harden too quickly, you can lightly brush them with piping gel or light corn syrup and then sprinkle.
The leaves are fine at room temperature, but chill them in the freezer for 5-10 minutes just before decorating the cake to firm them up so that they will be less fragile when handling them.
Reasons to Love Candy Coating
Candy coating is one of my favorite mediums for cake decorating. We use it all the time for quick decorations that add great dimension.
The advantage of candy coating (also known as candy melts, bark coating, or compound chocolate) is that unlike "real chocolate" it can be melted without tempering.
You can quickly and easily melt the candy coating in the microwave (no tempering required), and then chill to firm up.
As you see in today's video tutorial, we piped our Christmas tree leaves and branches fairly quickly, chilled them for a few minutes, and they were ready to place on the cake!
We've used candy coating for accents in so many of our cake tutorials, including Elegant Chocolate Flowers Cake, Painted Buttercream & Chocolate Spheres, Custom Chocolate Accents Cake, Hanging Christmas Ornaments Cake, and many more.
Winter Cake Recipes
This Christmas Tree themed cake could be made with all sorts of cake recipes! Some o our favorite cake recipes for the holidays are our Peppermint Cake, Eggnog Cake, Gingerbread Cake, and Red Velvet Cake!
More Christmas Cake Tutorials
We've made lots of free Christmas cake tutorials over the years. You can find the full roundup here: Favorite Christmas and Winter Cake Tutorials
More Christmas Tree Cakes:
We've made many Christmas tree themed cakes over the years! Some of of our favorites are our easy Christmas Tree Sheet Cake, Pastel Christmas Trees Cake, and White Chocolate Ganache cake design.
Enjoy the Video
Thanks so much for stopping by! We hope that you enjoy the tutorial. Make sure to check out our full collection of free cake decorating videos as well as hundreds of delicious cake recipes!
Have you made this Cake? We would LOVE for you to leave a ⭐️ rating as well as a comment and photo below! We really appreciate your feedback!