White Chocolate Ganache Christmas Tree Cake- A Video Tutorial
In this cake video tutorial, you will learn to create a gorgeous White Chocolate Ganache Christmas Tree Cake using surprisingly simple techniques!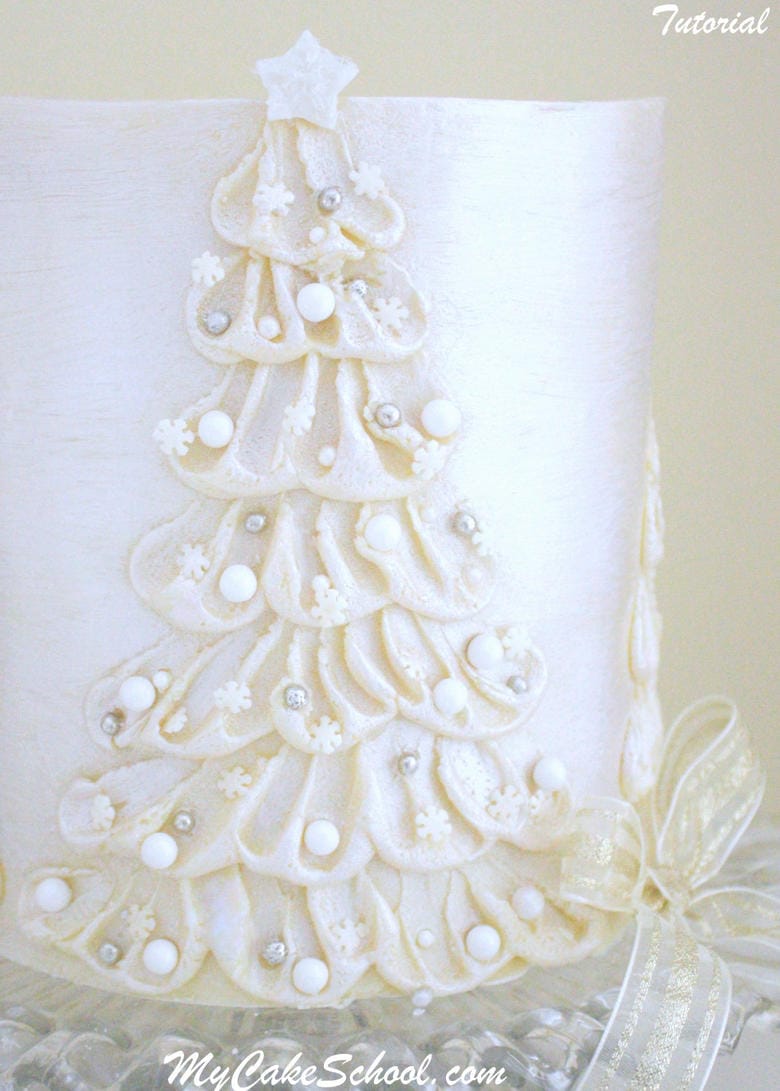 Materials:
We are using a double barrel construction for our 4 layer cake. This means that we have a cake cardboard halfway up with supports (bubble tea straws) beneath. If you have any questions about double barrel cakes, see our double barrel cake tutorial for more detailed information!
White Chocolate Ganache (See our Simple Spreadable Ganache in the Recipes section) This is a 3:1 ratio of white chocolate to cream.
Small tapered spatula
Piping tips: Wilton 12 (or similar medium round tip. You can also snip the tip from your piping bag.)
Super Pearl Dust
Vegetable Shortening (optional. Helps the pearl dust to adhere)
Soft brushes for dust application (We used large and small)
Dragees or sugar pearls of choice
Piping gel
Misc.: We used 2 cardboard cake circles and 4 bubble tea straws for the double barrel structure of this cake.
Notes
Creating the Christmas tree was very quick and easy! This is something that could also be done with buttercream.
Pearlizing: We found that the dust covered a little more consistently when a very light coating of shortening was applied to the chilled ganache first. However, I would still encourage you to do a little experimenting on your own to find your preferred method. Even when pearl dust is applied to a dry cake with dry dust, you will achieve a pearl finish.
*Without the pearl dust, the cake has a slightly yellow tint (just as white chocolate does). However, if using this technique on a white buttercream frosted cake, you may find that you don't need to pearlize.
Thanks for watching our tutorial, we hope that you enjoy this method!