Oh how we love a big slice of strawberry cake, and today's moist & delicious easy strawberry cake recipe all starts with a cake mix!
We have an amazing scratch strawberry cake recipe that we love, but sometimes you need a tried and true doctored cake mix recipe that you can whip up in a flash & that is guaranteed to please a crowd. THIS is that recipe!
Cake Mix Recipes Vs. Scratch Baked...
Have you ever stumbled into the message boards section of a cake decorating site only to find a heated discussion between cake mix bakers and scratch bakers about whether or not cake mix cakes count as homemade?
It can be pretty entertaining, and did I mention heated? Well, I happen to love both scratch recipes and doctored cake mix recipes. If the cake tastes amazing, just bring me a fork, I'm not complaining!
We have tons of favorite scratch cake recipes in our Recipes section, and we have tons of fantastic doctored cake mix recipes too.
The plus of doctored cake mix recipes like today's easy strawberry cake is that they can be whipped up in no time, and the addition of extra ingredients and flavorings really takes the cake texture and flavor to another level!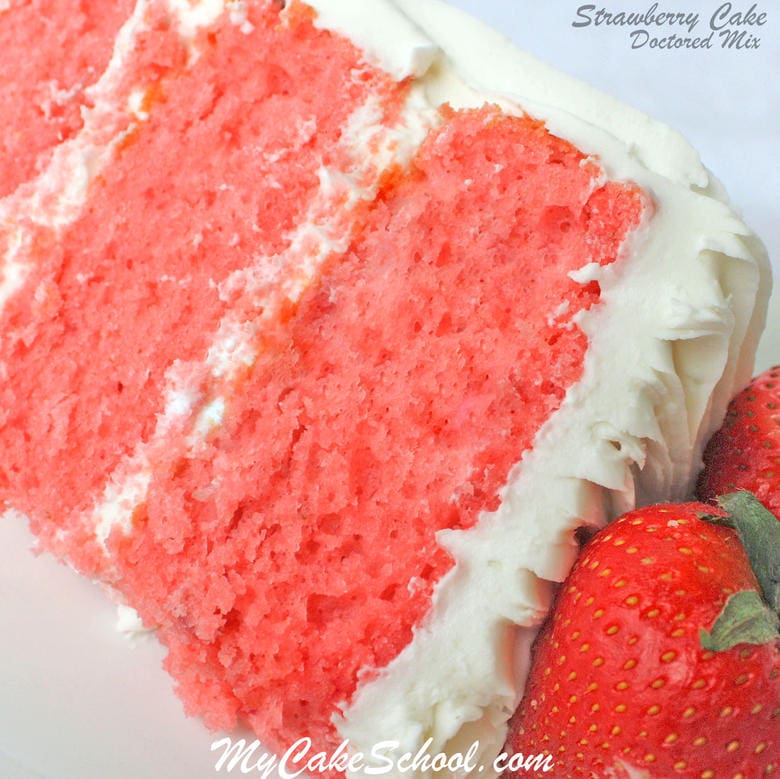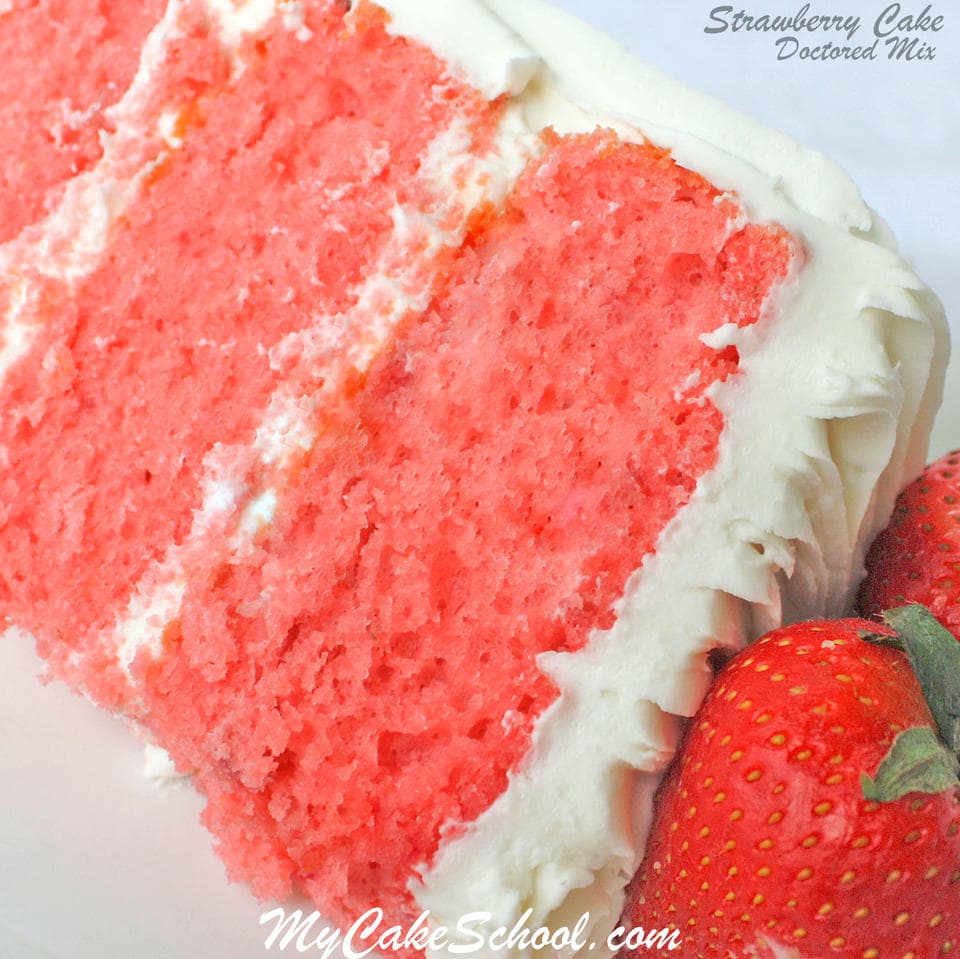 How to make a Strawberry Doctored Cake Mix Recipe
Although you can easily find strawberry cake mixes at most grocery stores, we prefer to use white cake mix and then add a nice flavor boost from both pureed strawberries as well as strawberry jello.
This cake has received rave reviews over the years and we hope that you enjoy it too!
To make this recipe, prepare three 8 inch round pans.
Next, add all of the ingredients including the white cake mix, strawberry jello, flour, eggs, vegetable oil, milk, and mashed strawberries.
(By the way, I love that this recipe calls for real strawberries rather than just the jello. It really does make a difference in the strawberry flavor)!
Then, it's just a matter of dividing the batter between the pans and baking!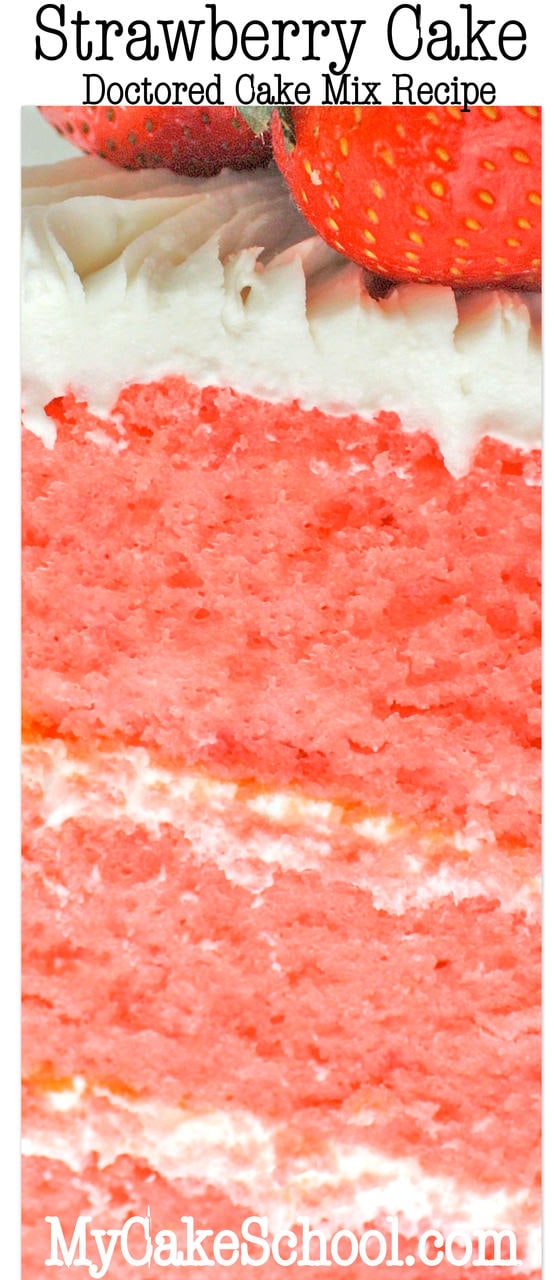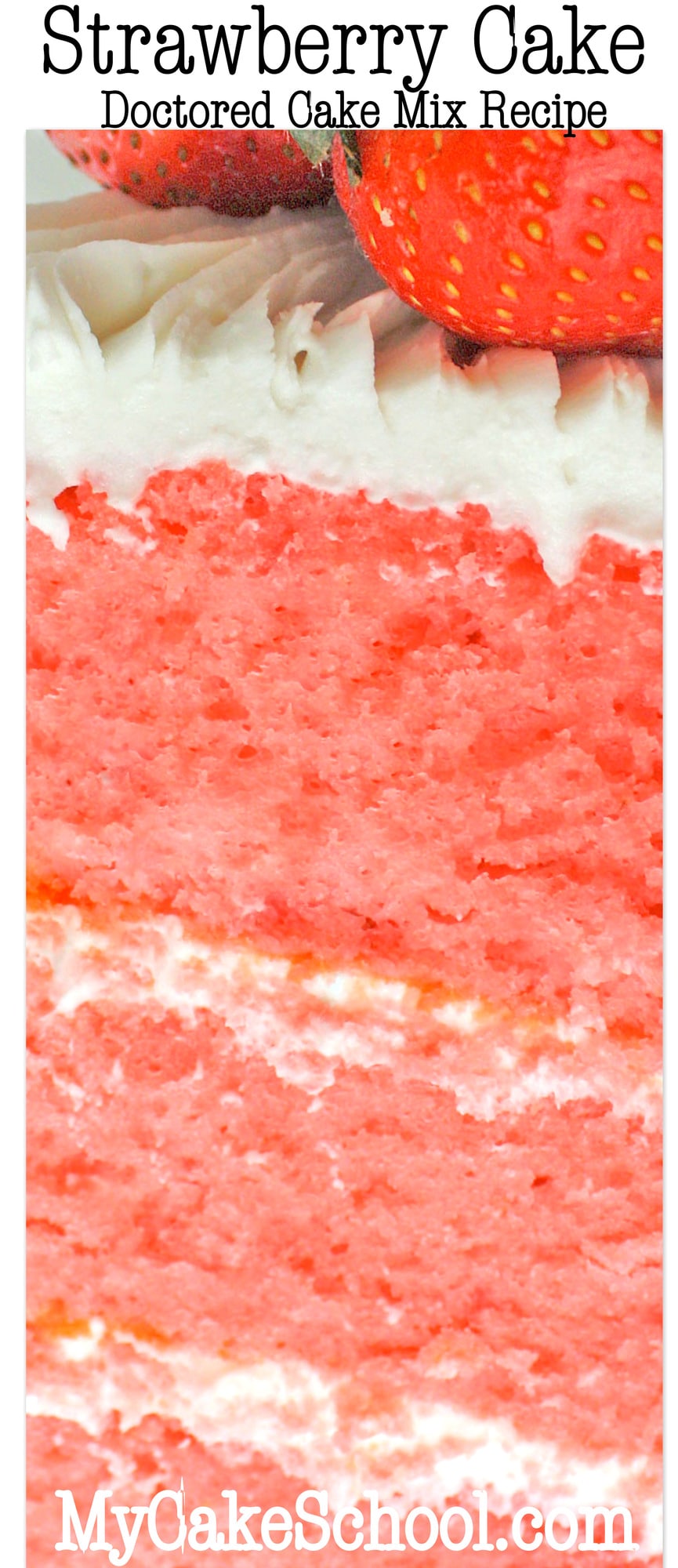 How to make your cake extra moist
Once my cake layers have baked, whether I'm working with cake mix or scratch cake layers, I remove them from the oven, allow to cool (in the pans) on cooling racks for about 10 minutes, and then flip them out, wrap with plastic wrap, and then with foil.
Next, off to the freezer they go! Freezing the layers while they are still warm adds a noticeable boost in moisture. It's a myth that freezing cake layers somehow results in a less flavorful or moist cake.
We've been doing this for 15 years now! It really does make such a difference. We've frozen cake layers for up to 2-3 months and they still taste as fresh as the day they were made. I've even popped freshly baked, wrapped layers in the freezer for just a few hours when I'm in a time crunch!
When the cake layers are ready to thaw, simply place the layers, still wrapped, on the countertop and allow them to come to room temperature (or at least partially thawed if you prefer to assemble while the layers are firm). Keeping the layers wrapped will ensure that the condensation forms on the foil rather than the cake itself.
What Frostings & Fillings Taste Great with A Strawberry Layer Cake?
Well, this is a trick question, because there are so many options! I love strawberry cake with:
Cream Cheese Frosting (our Classic and Pipeable Cream Cheese Recipes are perfect)
Strawberry Whipped Cream Cheese Filling
We hope that you enjoy this wonderful recipe! We especially love strawberry cakes in spring and summer months, although I would never turn down a slice in the middle of winter ;0)
It's safe to say that strawberry cake is always a good idea, is sure to please any crowd!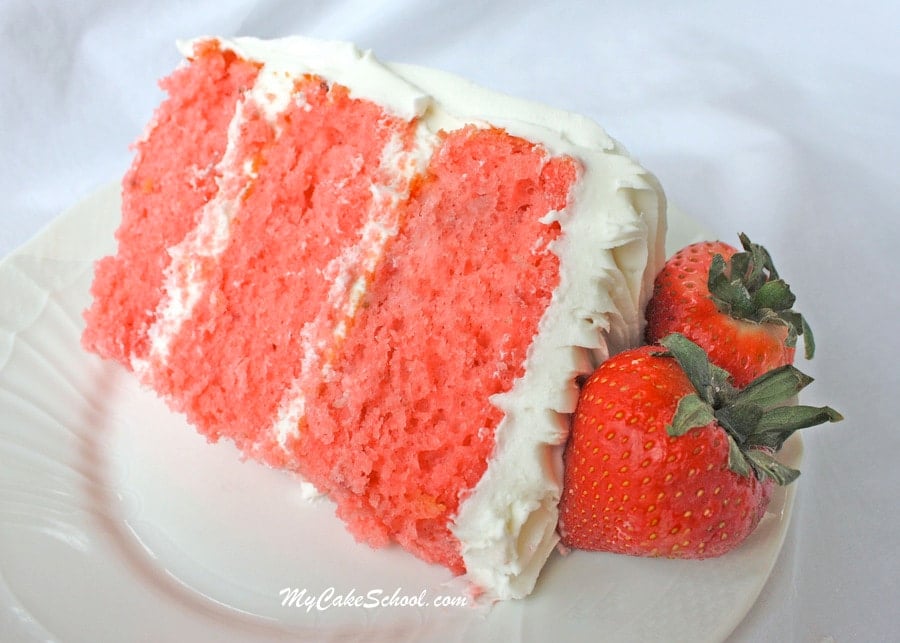 We Have More Favorite Strawberry Cake Recipes to Share!
If you're looking for more delicious Strawberry Cakes, don't miss these recipes! Also, keep in mind that this versatile strawberry box mix recipe works well for strawberry cupcakes too!
Strawberry Cake- Doctored Cake Mix Recipe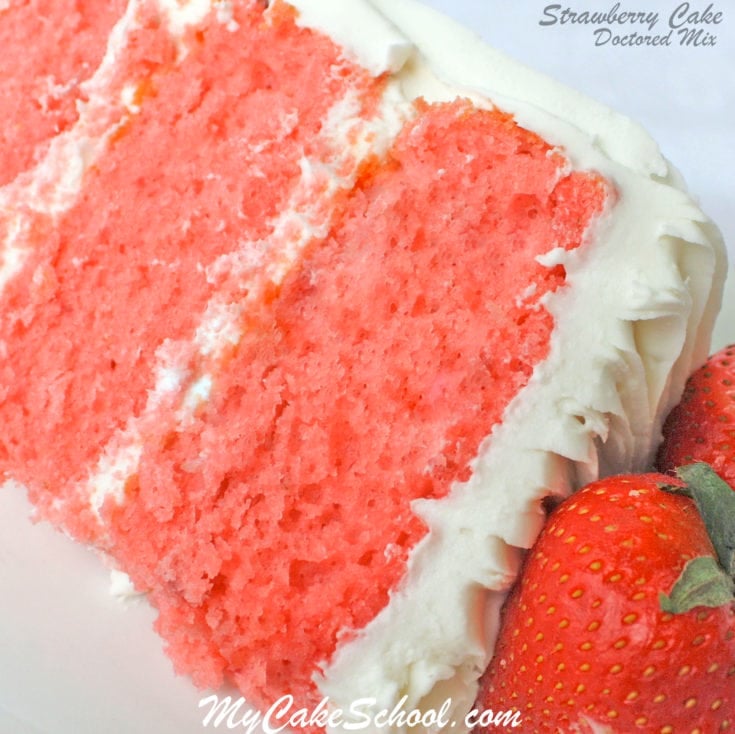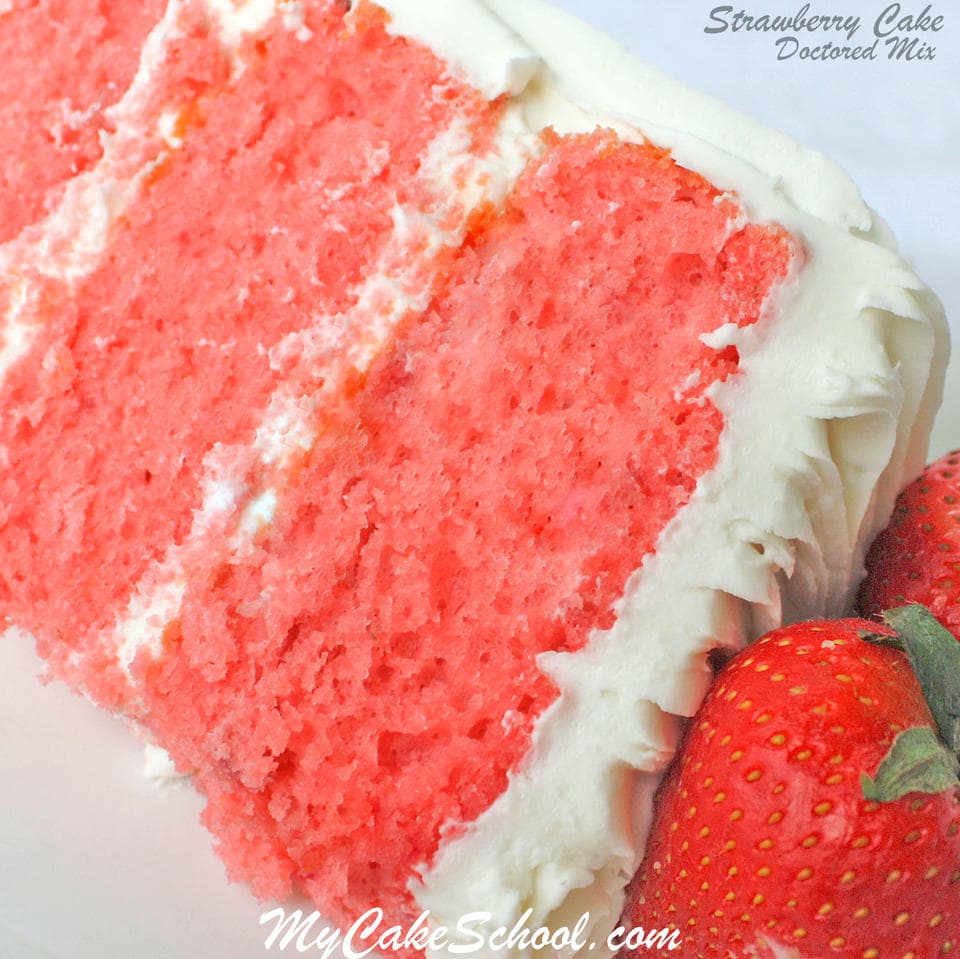 This easy Strawberry Cake all starts with a simple cake mix! So flavorful!
Ingredients
1 box white cake mix ( 15.25 oz) (432g)
1 small box ( 3 ounce) (85g) strawberry Jello
3 Tablespoons all purpose flour
4 eggs
¾ cup vegetable oil ( I used canola oil)
½ cup milk
¾ cup pureed ripe strawberries
Instructions
Preheat oven to 325 degrees, grease and flour three 8 inch round pans or two 9 inch round pans
Put all ingredients into your mixing bowl and mix on low speed until the ingredients are blended. Then increase speed to medium and mix for approximately 2 minutes, scraping down sides of bowl mid way through.
The mashed strawberries should be well blended into the batter.
Bake for 30 min. or until tooth pick comes out clean.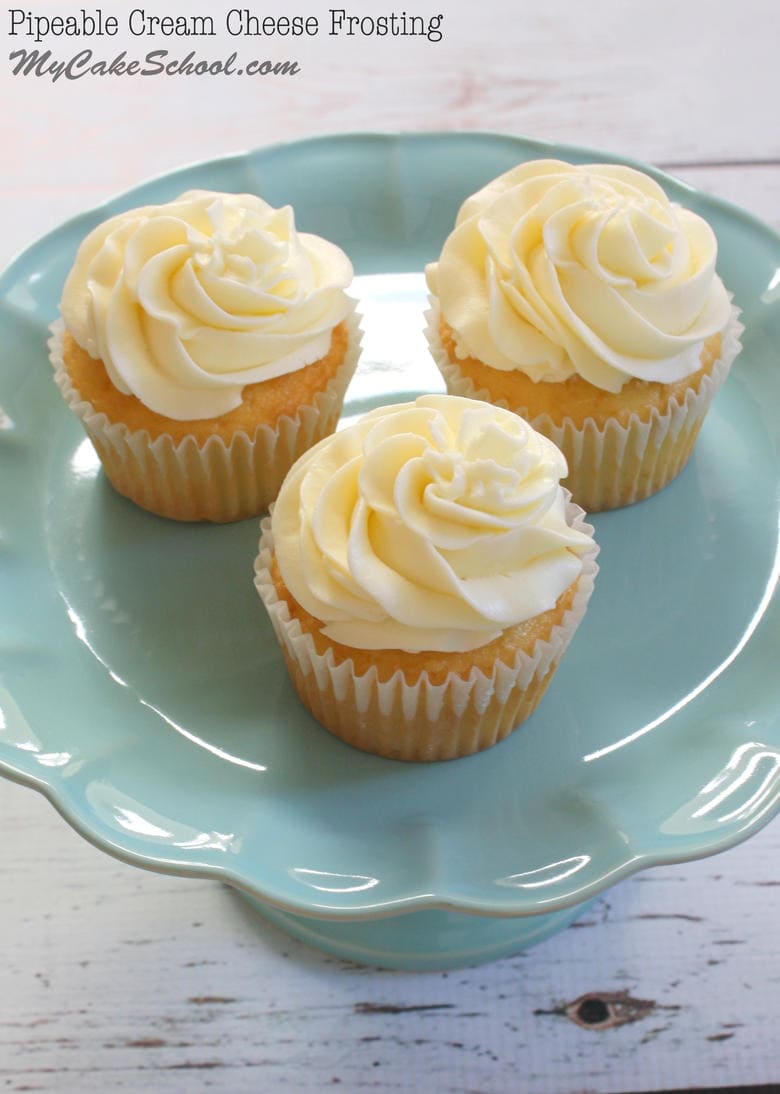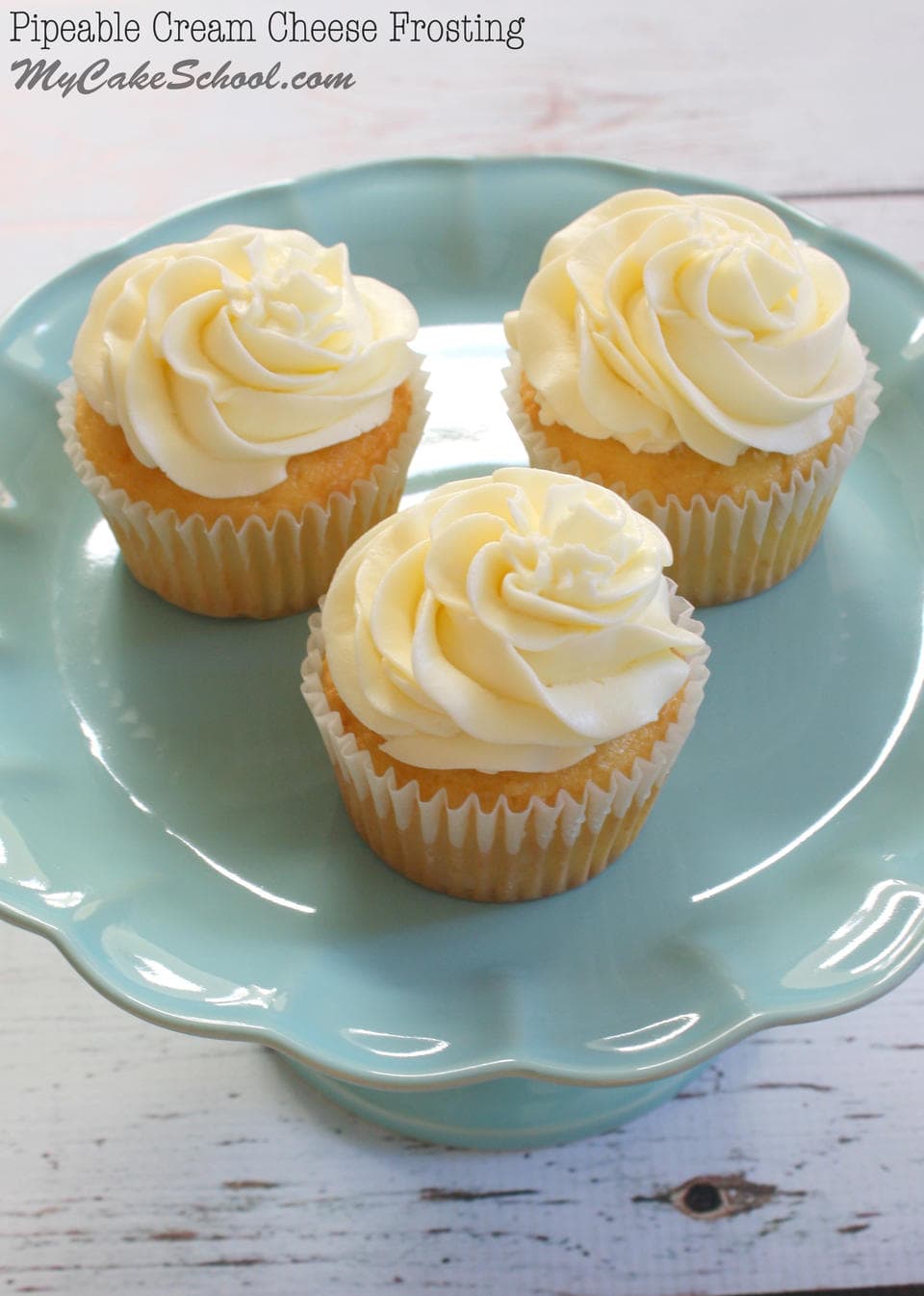 In addition to this doctored cake mix Strawberry Cake Recipe, we also have a scratch Strawberry Cake Recipe that we know you'll love! Make sure to hop over and print or save a copy here!: Strawberry Cake from Scratch!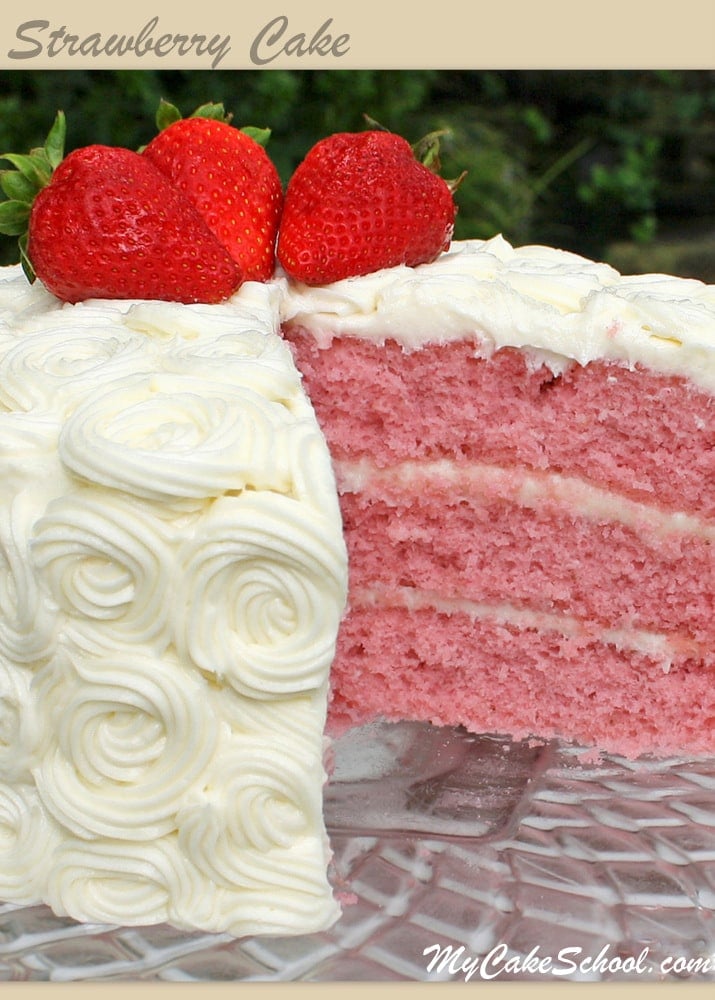 Thanks for stopping by! Make sure to check out our full collection of favorite Cake Recipes and Tutorials. We have hundreds to share with you that we have created over the past 10+ years! We hope that you will find something that you'd like to try!