As someone who loves both banana pudding & banana cake, I couldn't be more excited about this delicious Banana Pudding Cake recipe!
Ultra moist banana cake layers are filled with a light (instant pudding-based) vanilla cream filling, layered with thinly sliced bananas and crushed Vanilla Wafers.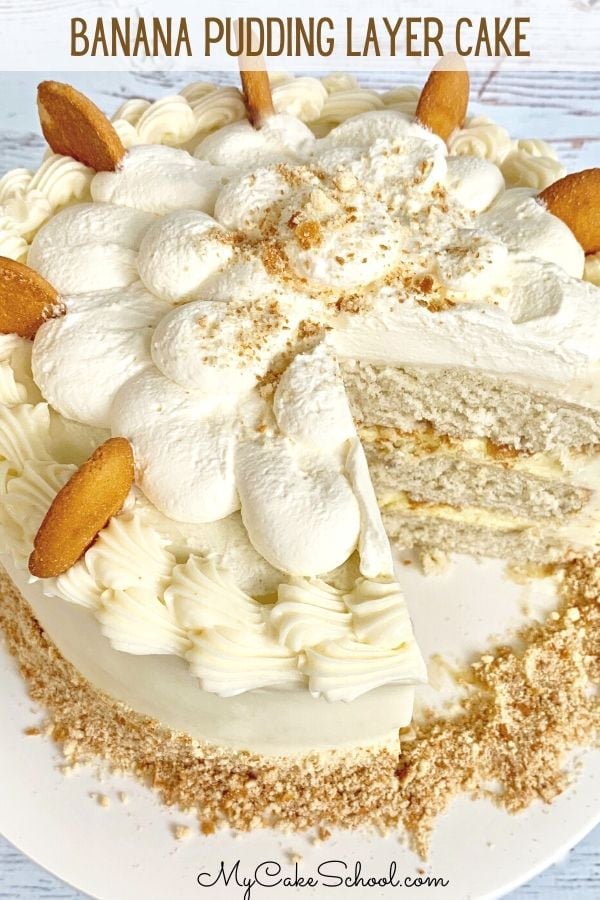 Banana Pudding…in Cake Form
This cake does not disappoint- it tastes just like banana pudding, but with the impressive height and presentation of a layer cake! Whether you are celebrating birthdays, family gatherings, potlucks, or anytime you just need a good ol' slice of cake, this banana pudding cake does not disappoint!
We decided that we wanted big banana flavor in our banana pudding cake, and so unlike some banana pudding cake recipes that call for a yellow cake, we decided to go with our favorite homemade banana cake recipe instead.
Our vanilla cream filling is based on a "mock mousse" recipe that we love, and it couldn't be easier– instant vanilla pudding plus heavy cream whipped into a delightfully light and creamy filling.
This vanilla cream filling recipe is so easy to make and PERFECT for this recipe, as it really brings in the flavor and luscious consistency of banana pudding that we love so much!

How to Make a Banana Pudding Cake
First, we baked our banana cake layers in three 8 inch pans. Once baked, I like to leave the cake layers in their cake pans for 5 to 10 minutes on a cooling rack before flipping out.
Tip for Extra Moist Cakes
For all of our cakes, whether we're making a scratch cake or doctored cake mix, we like to double wrap the layers individually in plastic wrap while they are still warm and place in the freezer.
(If you are baking a week or more in advance, add an additional layer of aluminum foil before freezing.) Doing this step makes them extra moist!
Allow to thaw for a few hours before assembling.
When it's time to assemble the banana pudding cake, prepare your vanilla cream, cream cheese frosting, crushed Nilla Wafers, and banana slices.
Pipe a dam of cream cheese frosting about 1/4-1/2 inch from the edge of the cake layer and fill with the vanilla cream.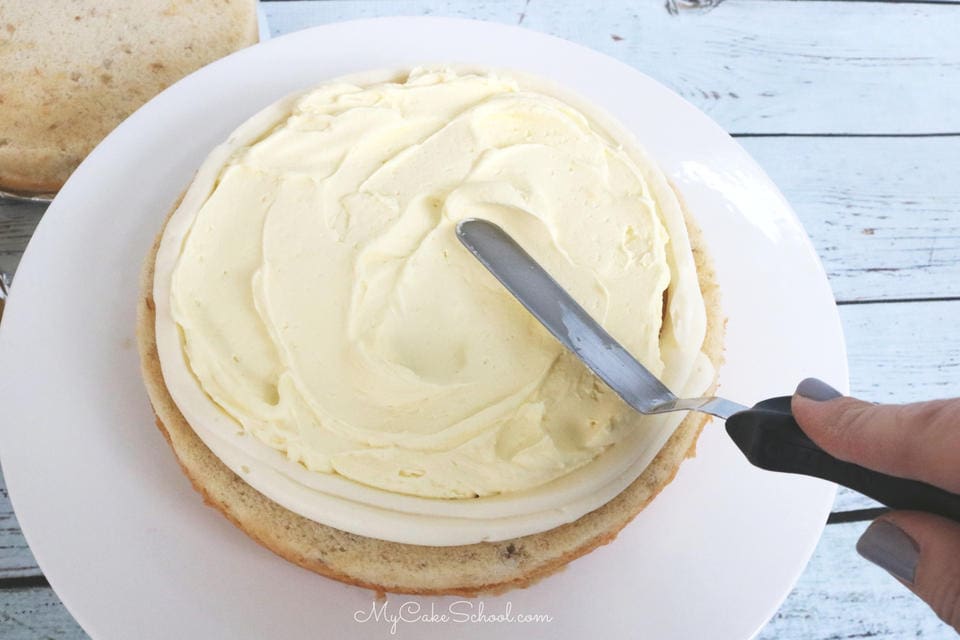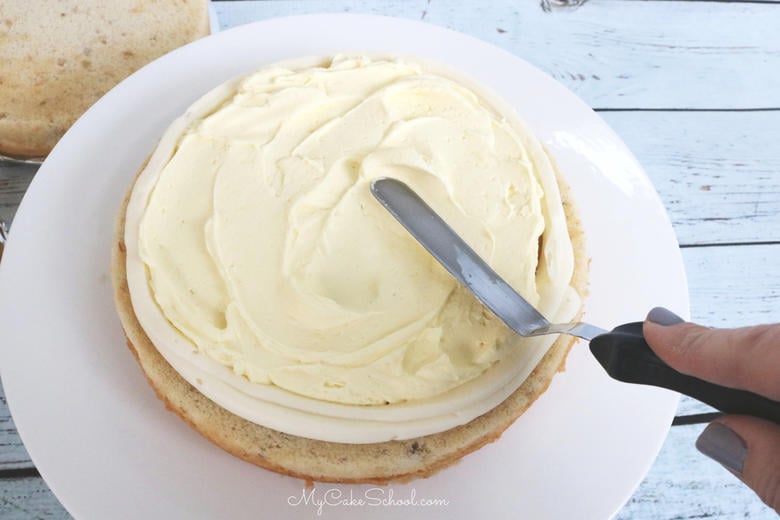 Next, we layered on crushed Vanilla Wafers followed by thinly sliced ripe bananas. Just as with banana pudding, the crushed cookies will absorb moisture from the creamy pudding and soften.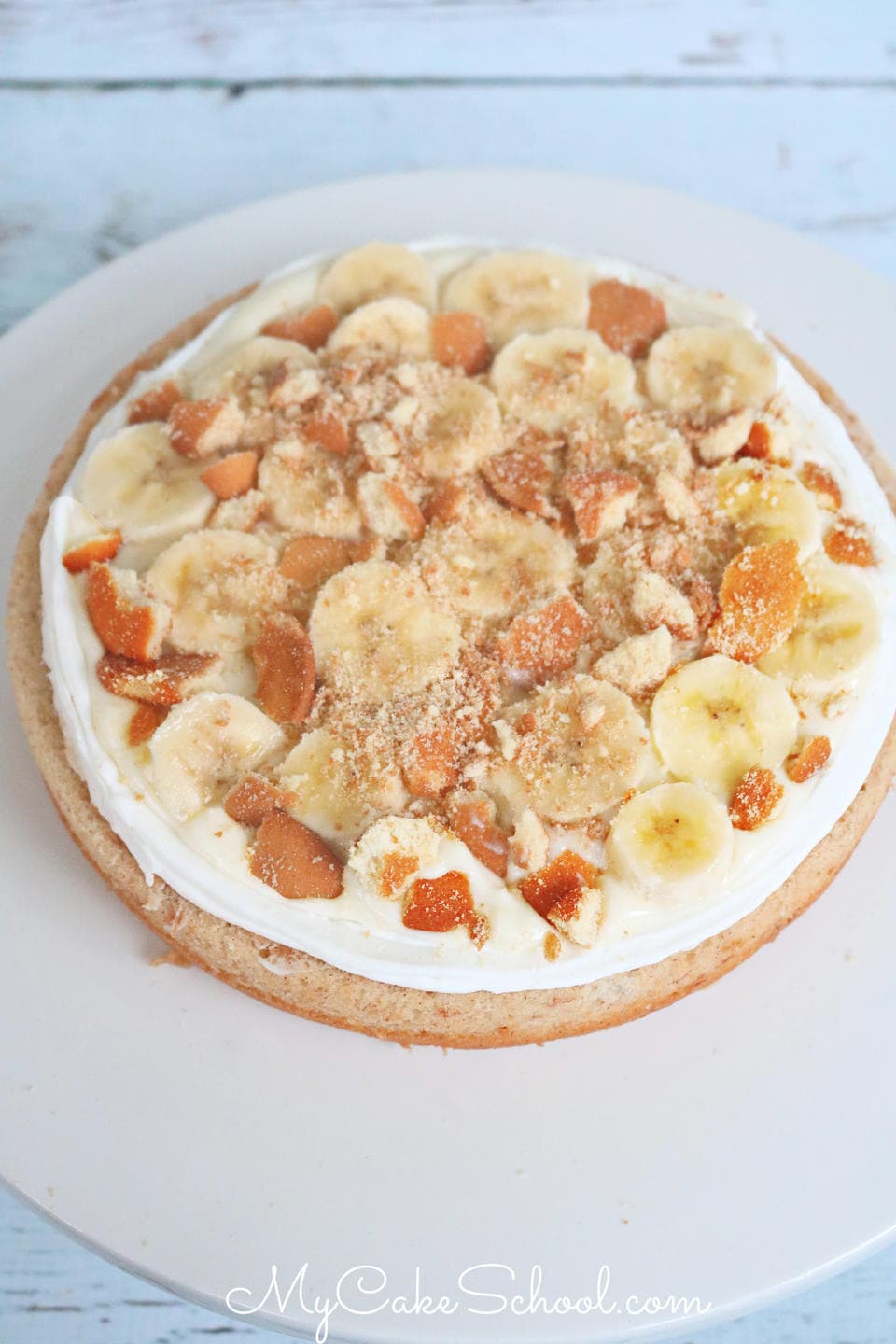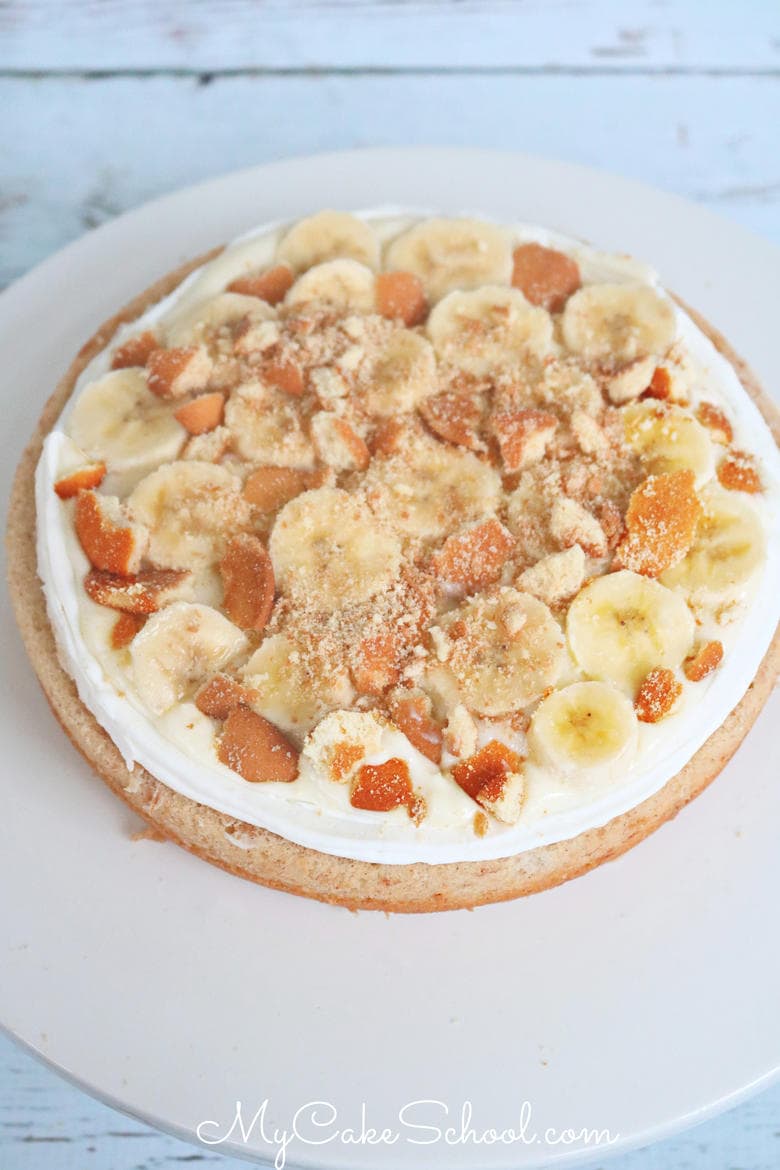 Repeat the step above for the second layer, then add the third banana cake layer and fill any remaining gaps with cream cheese frosting.
Settling Cake Layers
Whenever time allows, I like to wrap the filled, unfrosted cake with plastic wrap and settle it under the weight of a small book, cake pan, or something that will add light, consistent pressure across the top of the cake for a few hours.
What is the purpose of settling cakes?
All cakes are prone to settling over time, which can cause bulging between the layers. While this isn't harmful to the cake, it can be frustrating.
Adding the weight to the cake as we discussed above will minimize the chances of bulging. A gentle press-down on the cake doesn't hurt either just before frosting ;0) -Since this cake has a perishable filling, you would settle it in the refrigerator.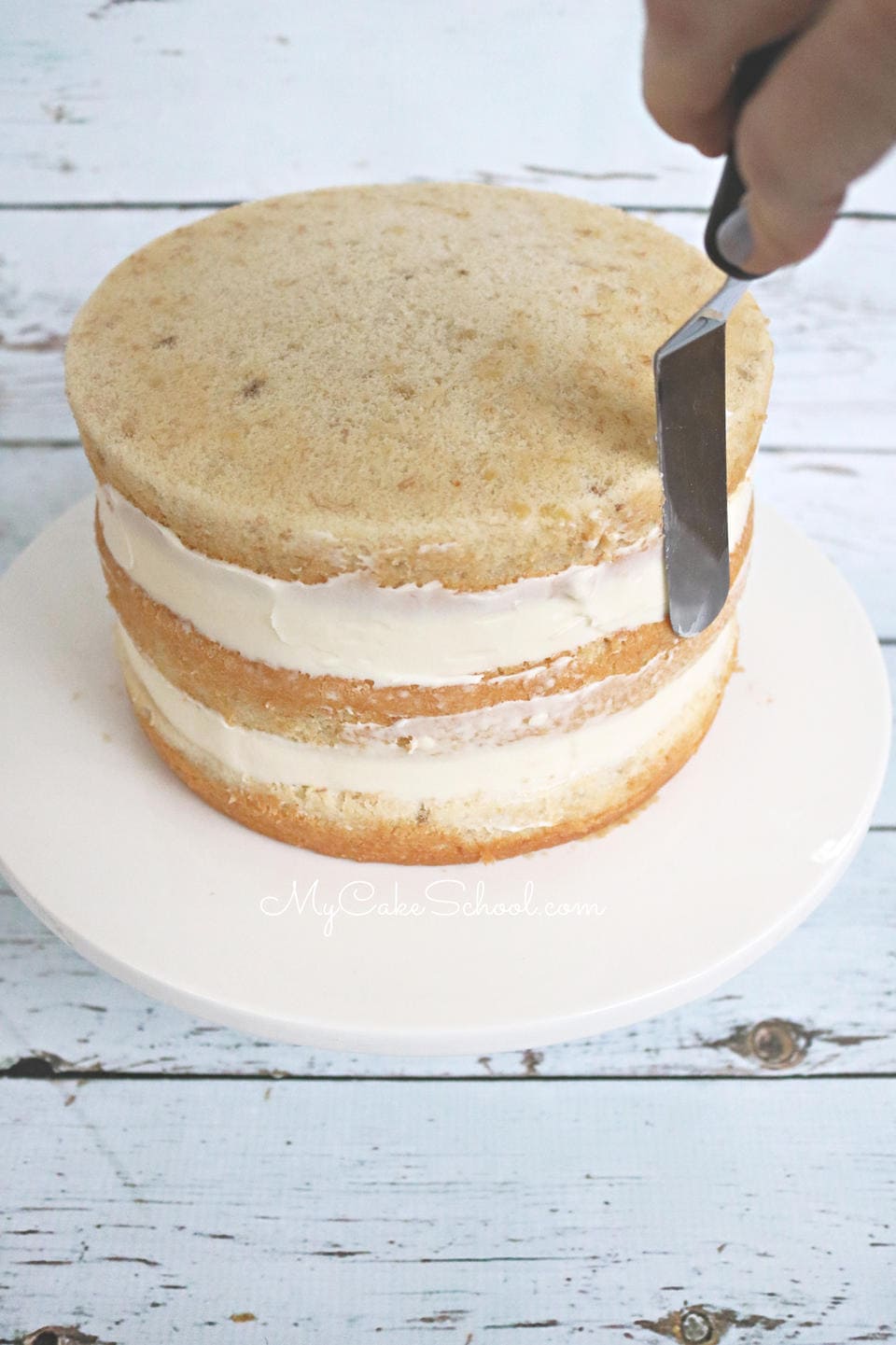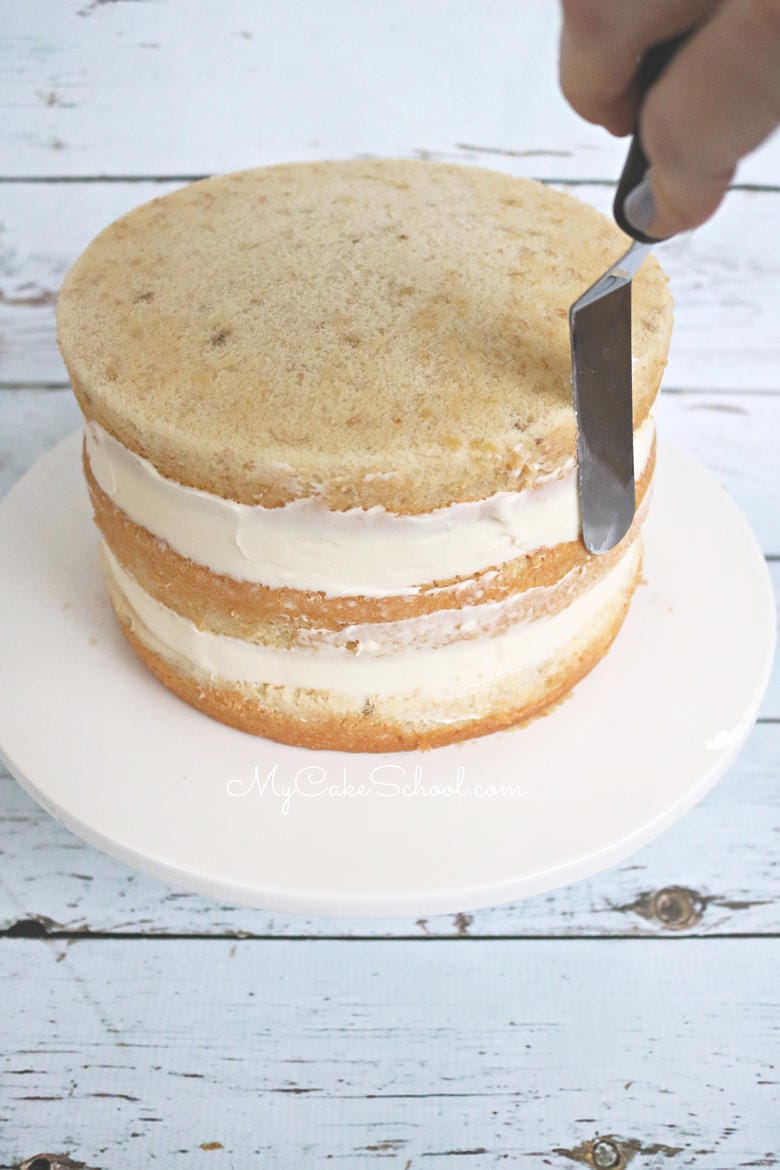 Decorating our Banana Pudding Cake
After frosting the cake tier with cream cheese frosting, I piped a double shell border using a piping tip 21. Instead of a traditional bottom border, I used crushed vanilla wafers.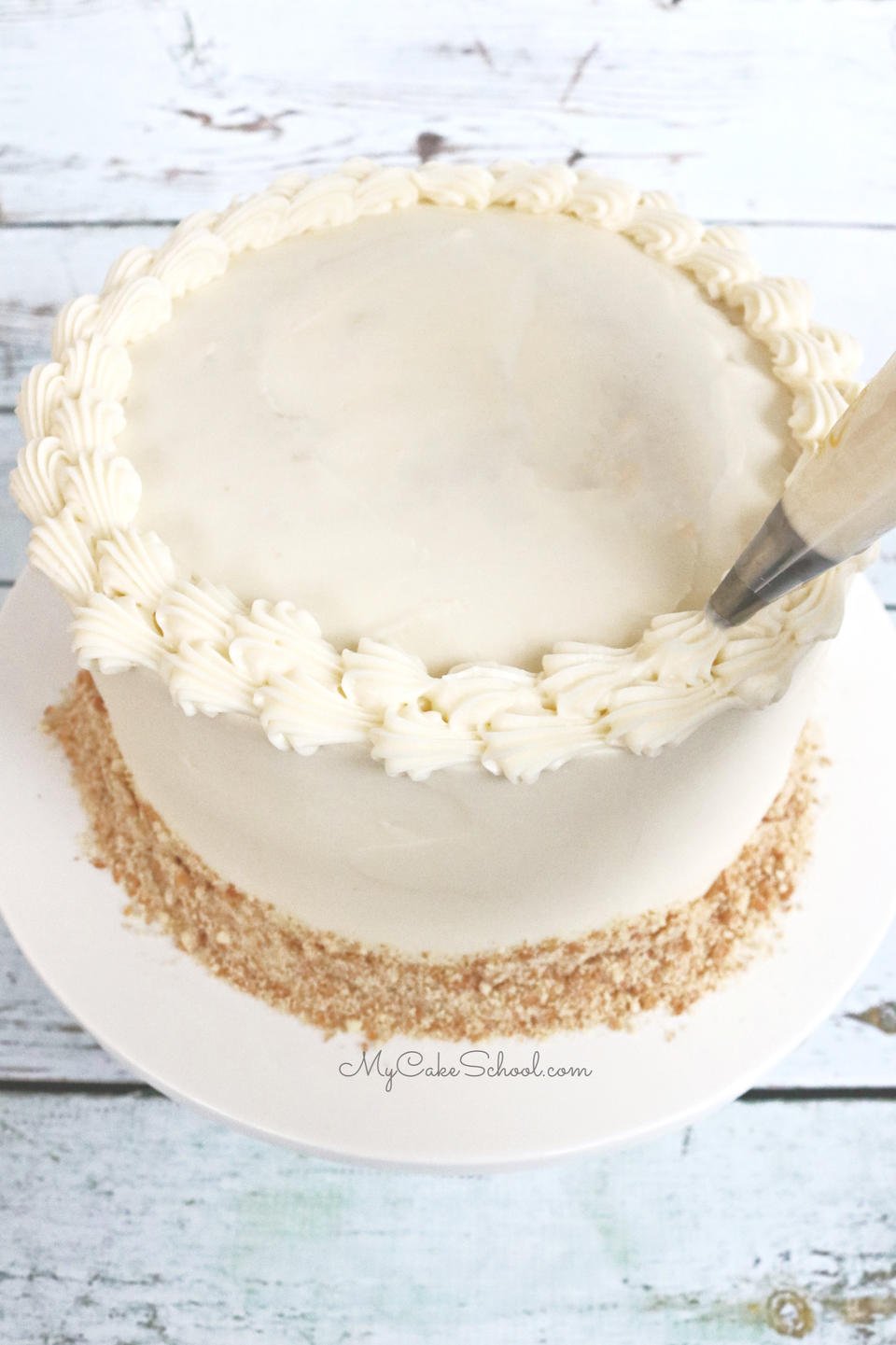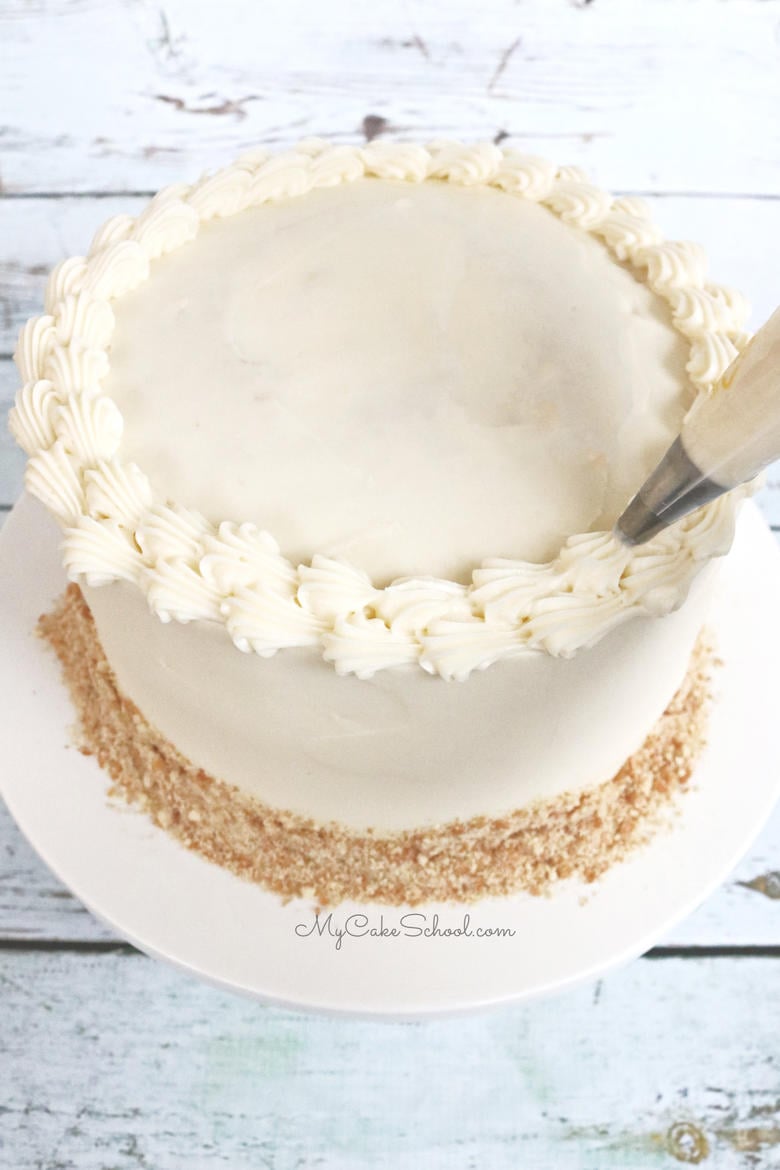 Next, I whipped up some sweetened whipped cream and piped it onto the top of the cake, using a disposable piping bag with the tip snipped away. (In a pinch you could use a whipped topping like Cool Whip, but I love the homemade whipped cream- plus it is super easy!)
We added a sprinkling of vanilla wafer crumbs to the top, and pushed cookies into the top border.
That's all there is to it! I'm telling you, this banana pudding cake is legendary. This entire cake will disappear in no time at all!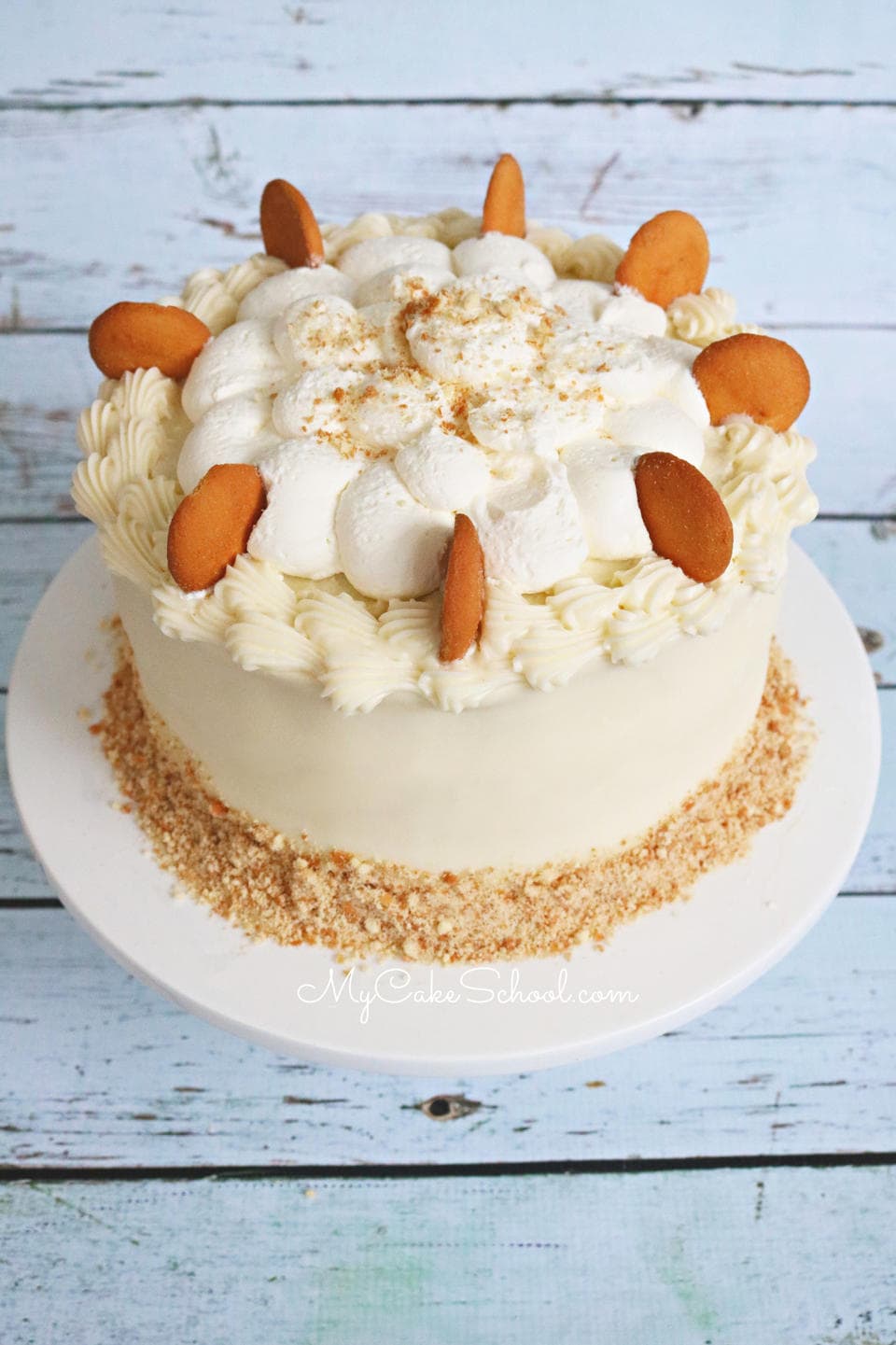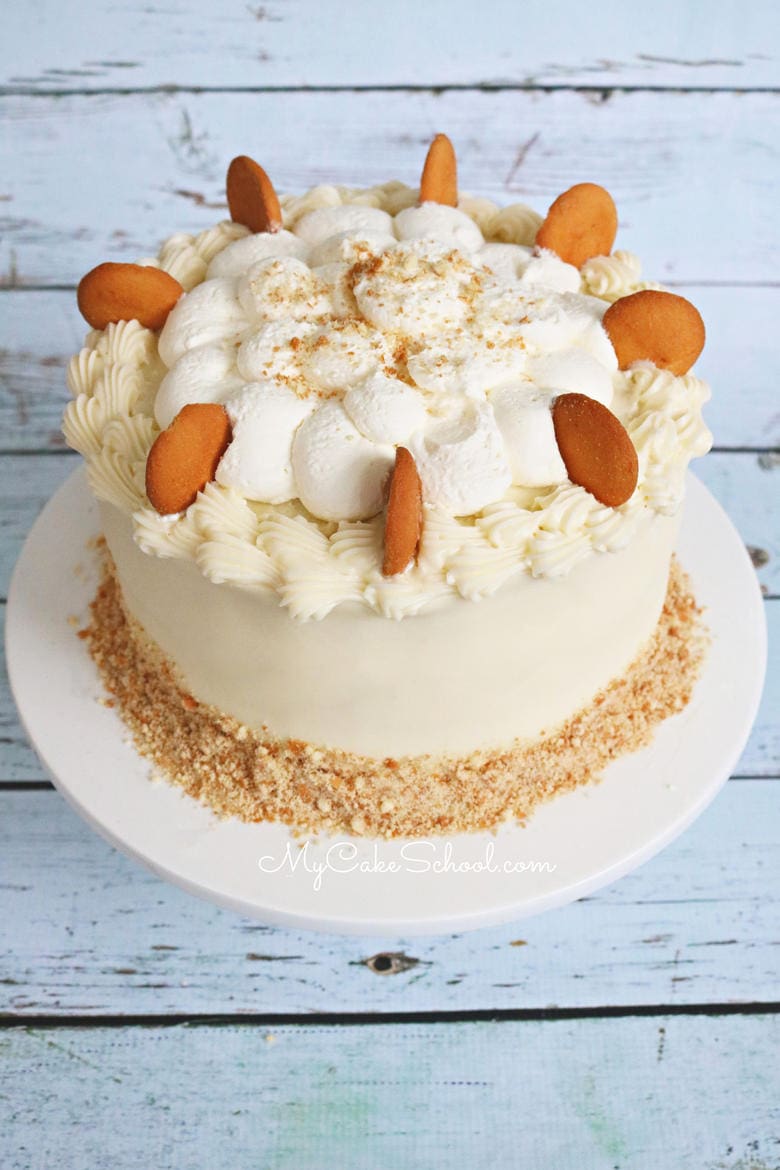 Should Banana Pudding Cake be Refrigerated?
Here's a peek inside. Because of the perishable filling, fresh bananas, frosting, and whipped cream, you will want to keep this cake refrigerated until a couple of hours before serving.
Cakes and frostings do firm up a bit when chilled and so it's a good idea to remove it from the refrigerator a couple of hours before serving so that it can soften and the flavors can really come out!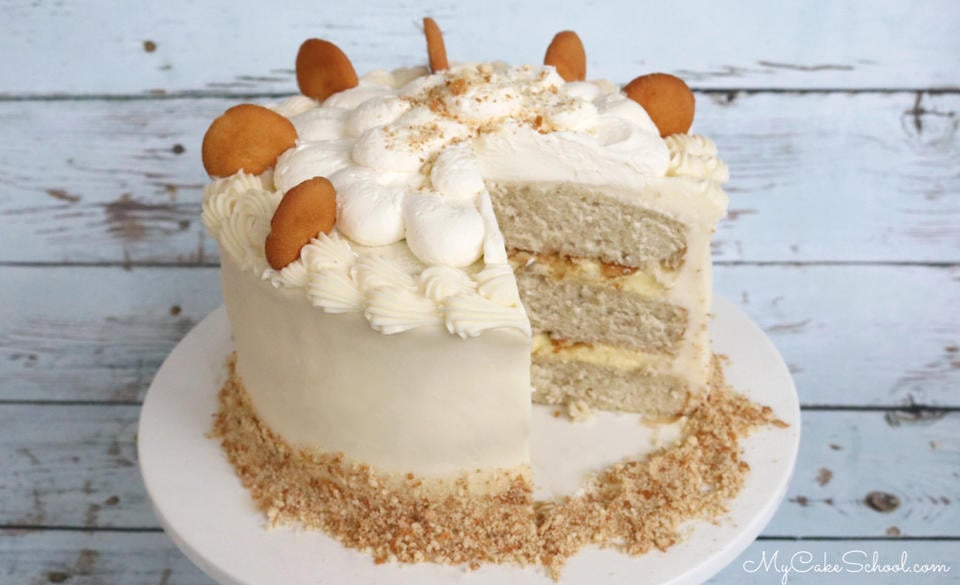 Looking for more banana cake recipes? we love these too!
If you just can't get enough banana deliciousness in your file of dessert recipes, you MUST try these other favorites from our site:
Hummingbird Cake: This southern favorite is divine! A fantastic combination of bananas, crushed pineapple, pecans, and a hint of cinnamon.
Banana Cake with Butter Pecan Cream Cheese Filling: It's every bit as amazing as the name suggests! The banana cake used in this recipe is very similar to today's recipe, but with an added hint of cinnamon. A filling of buttered pecans and cream cheese frosting is the perfect complement! Definitely add this recipe to your must-try list!
Banana Split Layer Cake is the perfect summer birthday cake, with banana cake layers, strawberry slices, crushed pineapple, whipped cream cheese frosting, and a drizzle of chocolate! So gooood!
And finally, at my house, when we have a hankering for actual Banana Pudding, this EASY recipe is the one that we've always used! SO delicious! Find it on my daughter's site here: Easy Banana Pudding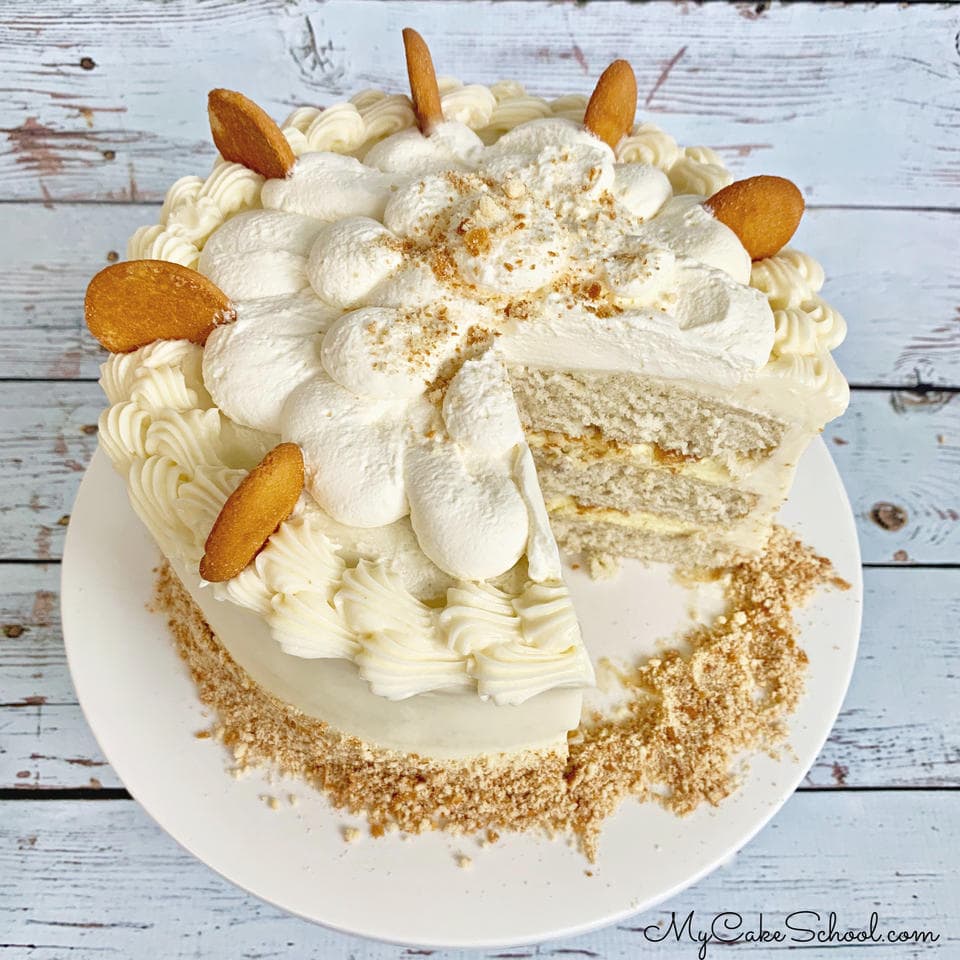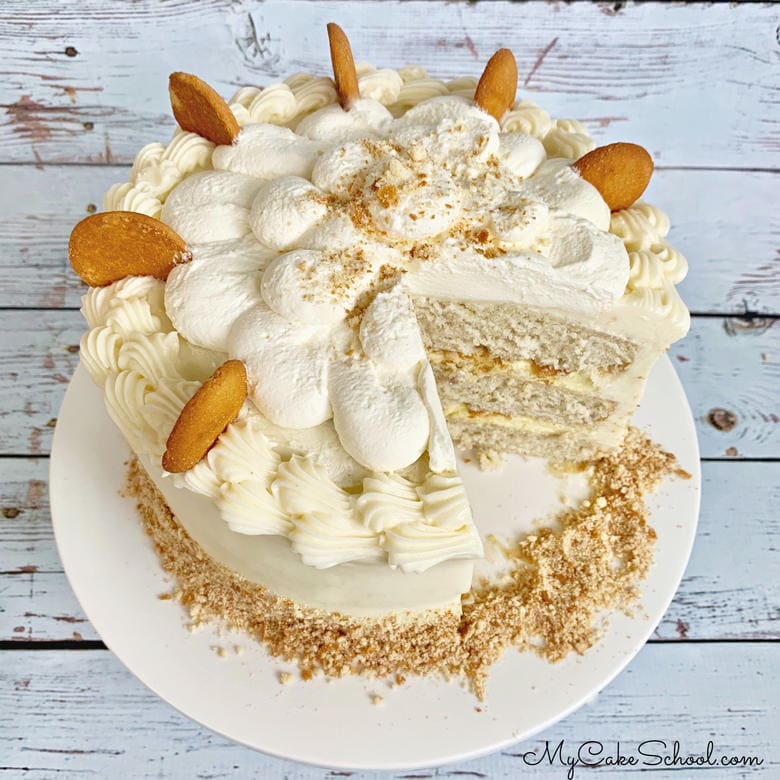 My Cake School Online Cake Classes, Favorite Cake Recipes, and More!
Thanks so much for stopping by! If you give our Banana Pudding Cake a try, we would love to hear what you think in the comments below- share your photos too!
Don't forget to scroll through our full collection of FAVORITE cakes and frostings in our Recipes Section. Whether you like to bake from scratch or from a doctored cake mix, we have so many recipes that we'd love to share with you!
If you would like to learn more about cake decorating, we have some great tutorials in our Free Tutorials Section, which also includes a Free Video Tutorials Section.
For access to our entire library of hundreds of cake decorating video tutorials, you should consider becoming a member of our site! We would love to have you! you can find the details here: Joining Information for MyCakeSchool.com
Banana Pudding Cake Recipe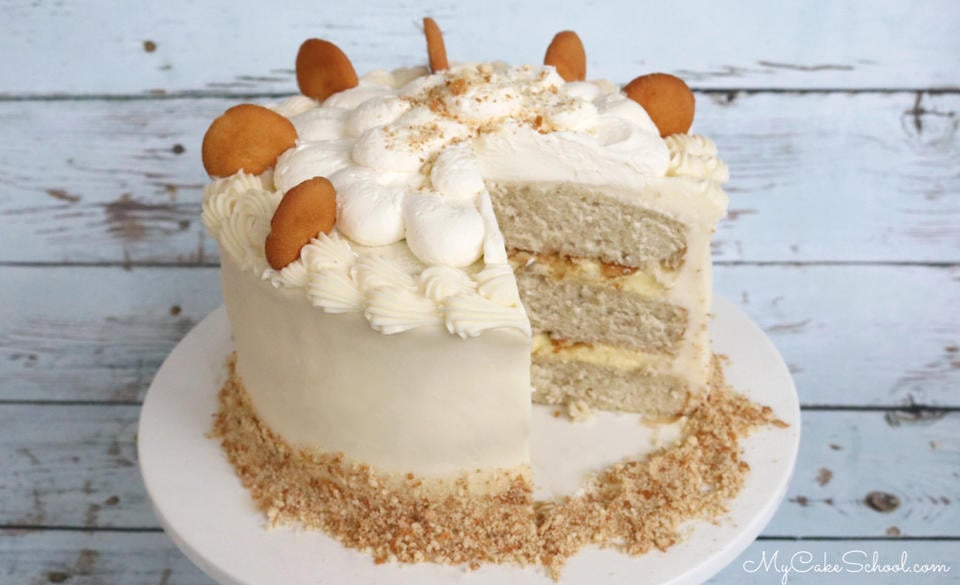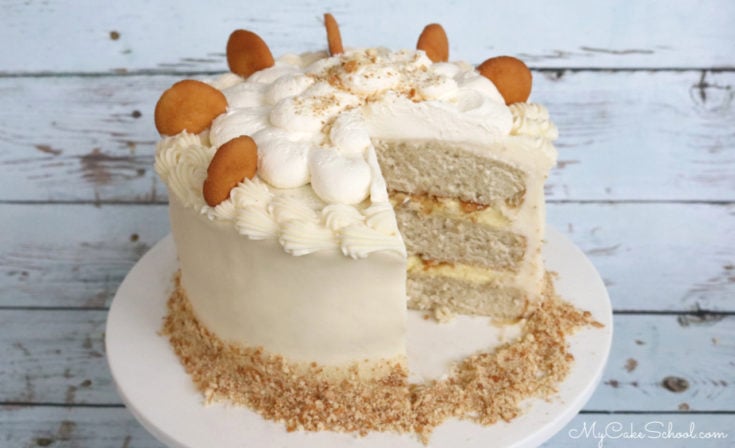 All the wonderful flavor of banana pudding in cake form! We love this amazing recipe!
Ingredients
For the Banana Cake
2 cups (400g) granulated sugar
3 cups (342g) cake flour
1 tablespoon baking powder (12g)
1/2 tsp baking soda (3g)
1/2 teaspoon (3g) salt
12 tablespoons (170g) unsalted butter, softened
1 1 /2 cup mashed bananas (about 3 bananas)
2 teaspoons lemon juice
2 teaspoons (8g) vanilla extract
3 large eggs
1 1/2 cups (363g) buttermilk
For the Cream Cheese Frosting
2 sticks ,1 cup, (226g) unsalted butter, slightly softened
2 (8oz) packages cream cheese (total weight 452g) I use full fat cream cheese. Using reduced fat or the spreadable cream cheese will cause the frosting to be too soft. Soften very slightly.
1/2 teaspoon salt (2g) optional - it will cut the sweetness, popcorn salt is best to use because it is fine and dissolves faster
2 teaspoons (8 g) vanilla extract
6 to 6 1/2 cups (690g to 747g) powdered sugar
For the Vanilla Cream Filling
1 small box instant Vanilla pudding (3.9 oz/96g) We used Jello- Brand
2 c. (464g) heavy cream or whipping cream (stir in a little more if recipe is too thick)
For the Sweetened Whipped Cream (top of cake)
1 cup (240g) heavy cream
1/4 (29g) cup powdered sugar
1 (4g) teaspoon vanilla
Vanilla Wafers and Sliced Bananas for Filling
1 box Vanilla Wafers (we used about 20 coarsely crushed cookies in filling, plus additional for crumb border and cookies around the top. Adjust to your liking)
Thinly sliced bananas (we used two in the filling- adjust to your liking)
Instructions
For the Banana Cake (Makes 8 cups of batter)
Preheat the oven to 350 degrees, Grease/spray & flour three 8 inch pans and line with parchment circles
In the mixing bowl, add the dry ingredients, sugar, flour, baking soda, baking powder, & salt. Turn on the mixer and blend for 30 seconds to incorporate ingredients
Add the softened butter to the dry ingredients and mix on low speed until the dry ingredients are moistened. Scrape the bottom and sides of the bowl
In a separate bowl, slice and mash the bananas, add lemon juice, eggs, 2 teaspoons vanilla and buttermilk. Lightly mix these ingredients with a fork to blend
Slowly add the banana/buttermilk mixture to the dry ingredients beating on medium speed for 1 minute, scrape the bottom and sides of the bowl and beat another minute.
Pour batter into the prepared pans and bake at 350 degrees for 25-30 minutes or until the cake springs back to the touch and a toothpick comes out clean.
Cool the cakes 10 minutes on the rack and then turn out.


For the Vanilla Cream Filling
Combine the pudding mix and heavy cream in a mixing bowl. I prefer to mix with a hand held mixer, but a whisk is just fine too. If using a mixer, start on low speed until well combined. Then, switch to high speed and whip the pudding until thick and fluffy. If mousse is too thick, mix in small amounts of heavy cream to reach desired consistency.
If mixing by hand, simply whisk rapidly for a couple of minutes or until mixture is nice and thick.
Refrigerate until ready to use. Cakes with this filling should be chilled until close to serving time.
For the Cream Cheese Frosting
Cut the butter into slices and add to the bowl of your mixer. Beat on low to medium speed until the butter is softened and smooth.
Cut the cold cream cheese into pieces and add to the butter, beating at low to medium speed until incorporated. If you are using a hand mixer you may need to soften the cream cheese a bit more.
Add the vanilla. Gradually add the powdered sugar beating on low speed until blended. Cover the bowl with a towel to keep down the cloud of powdered sugar.
Increase mixing speed and beat until fluffy. Don't over beat or it will become too soft. If it becomes too soft, just refrigerate a short while to firm it up a bit.
This frosting will pipe best if used while still chilled. You can make it in advance, refrigerate and when ready to use let it soften slightly (do not microwave) and remix.
For the Sweetened Whipped Cream
Chill the mixing bowl and beaters/ whisk attachment in the freezer for 10 minutes. Pour the whipping cream, powdered sugar and vanilla into the chilled mixing bowl, begin beating on low speed gradually increasing to medium high speed. The cream begins to thicken (approx. 1 1/2 minutes) and soft peaks form….peaks that slightly bend over. Watch closely as this happens quickly. Do not over beat or it will turn into butter.
Assembly of Cake
Pipe a dam of cream cheese frosting about 1/2 inch from the edge of the cake layers. Fill in with vanilla cream. Layer on crushed vanilla wafer cookies and thinly sliced bananas. Repeat for next layer, then top with remaining layer. Frost cake with cream cheese frosting. Add border (We did a double shell border with a tip 21), add dollops of whipped cream (we piped on with a large round tip), and top with a sprinkling of crushed vanilla wafers.


Recommended Products
As an Amazon Associate and member of other affiliate programs, I earn from qualifying purchases.