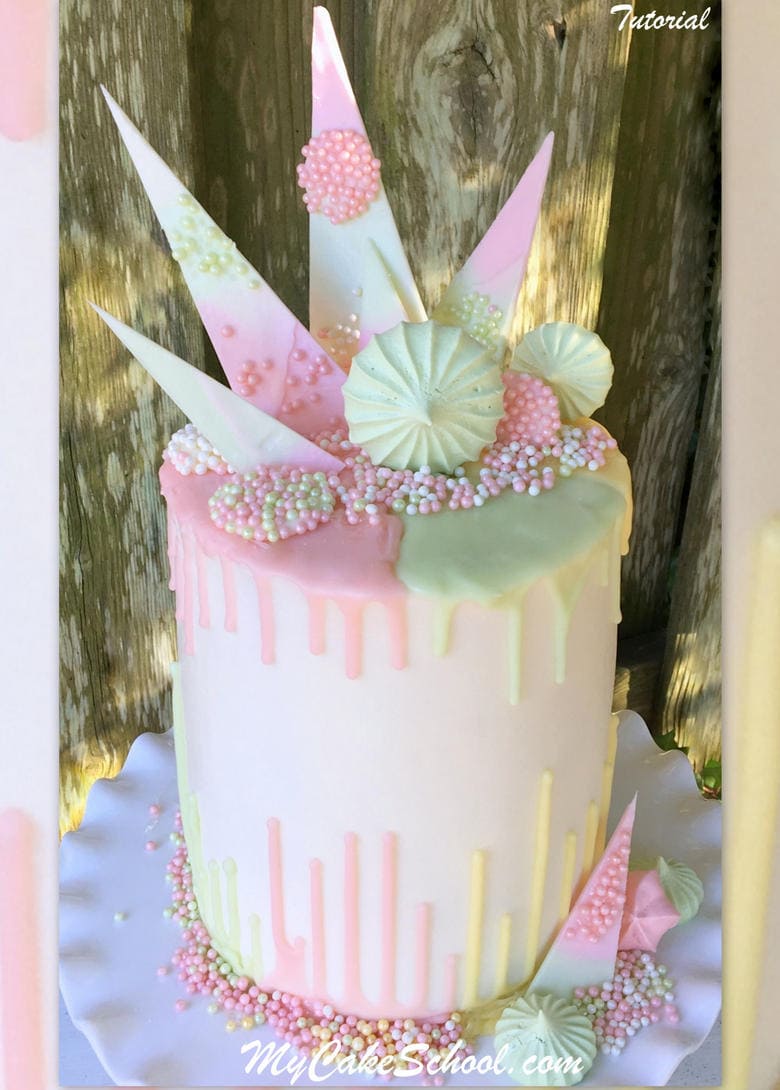 In this cake decorating video tutorial, you will not only learn to make the colorful drip cakes that are so popular right now, but also a reverse drip technique! This colorful pastel cake with it's whimsical chocolate and meringue accents is sure to be a crowd pleaser (and nobody would guess how simple it is to create!)
Materials:
*In this video, we are decorating a frosted double barrel cake. The cake was our white almond sour cream recipe (4 fat layers), and it was frosted with our Classic Vanilla Buttercream recipe (from the Recipes section). The cake is sitting on it's own cake board cut down to size, and has another cake board halfway up with bubble tea straws beneath. (We did things a little differently in this video because we flipped the cake. We used 8 straws total, but removed 4 of them from the top after flipping the cake.)
White Chocolate Ganache - 3:1 ratio of chocolate to cream. We measured by weight: 12 oz white chocolate chips to 4 oz heavy cream. (fyi: 4 oz heavy cream is approx ½ cup liquid measure.)
Oil Based Candy Coloring Gels (We used Americolor brand)~ Pink, yellow, & green.
Candy Coating/Bark - We used this for our chocolate shards and accents for the top of the cake
Coloring Gels (for the meringues) I tinted the bright white meringue with a little ivory coloring gel to get closer to the color of white chocolate before tinting so that the meringues would be a closer match to the ganache colors. We tinted the meringues with Deep Pink and Electric Green.
Piping Bags
Parchment or waxed paper lined cookie sheet or board (for creating chards)
Sugar Pearls or your sprinkles of choice.
Piping Gel