Today, we're going to show you how to make a 3D monster truck cake!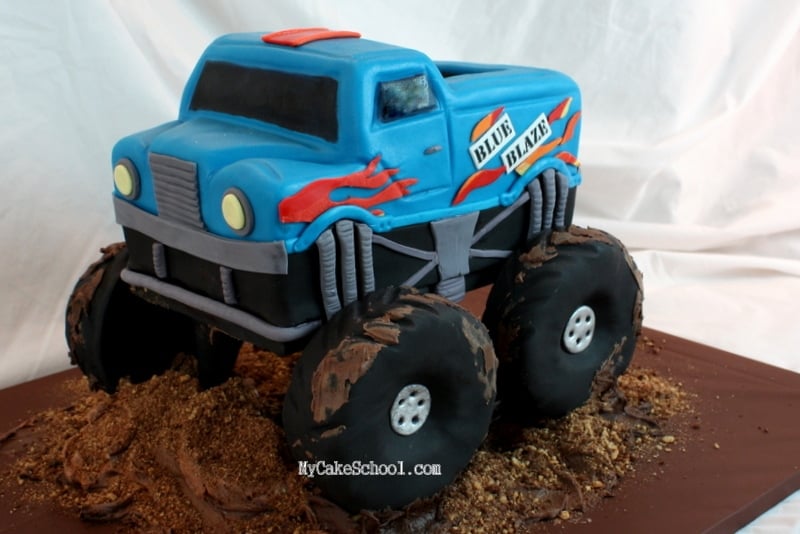 VROOOOM~ We have had A LOT of requests for car cakes, truck cakes, and MONSTER truck cakes. I am so happy that we finally have a video for this!
This is a two part video tutorial.
In Part 1, you will learn to make the platform for the truck, as well as how to carve the cake and cover with fondant. Please see supply list and main points below the video---I hope that you enjoy it!

******This video starts with Mom building the platform. Don't let this step scare you from making this cake---:0) --An easy alternative would be to cover a block of styrofoam with black fondant (or black plastic tablecloth) to give the illusion of space beneath the cake. I would use melted candy melts to glue the styrofoam to the cake base (or even "real" glue).
MONSTER TRUCK CAKE-Materials
9x13 cake layer
Loaf cake -Ours is 8 ⅜" x 4 ⅜" (use whatever you have)
cake cardboard or foam core (which you'll later cut to the size of the cake)
Ganache (We used a 2:1 ratio of chocolate to cream--simple spreadable ganache)
Fondant- I used Duff's pre-colored blue fondant to cover the truck. Black pre-colored Satin Ice fondant for strip around base of cake. Grey fondant for bumper, grill and misc accents. Pale
yellow fondant for lights. Yellow, Orange and Red for flames.
Rice Cereal Treats- You could make your own Rice Krispies Treats but we used premade for our tires. We used 6 of the 22 gram RKTs per tire! Then at the end of the video we used 4 more pieces to
boost our tires a little higher.
Chocolate Royal Icing & crushed chocolate and/or honey graham cookies--*Optional--this is what I used for MUD and dirt.
Frosting Sheet/Edible image printer--OPTIONAL-- I printed off the truck's name.
FMM Multi Ribbon Cutter- Optional -- I use this for easily cutting uniform strips of fondant.
Misc~Tylose (optional, I like to knead a little into decorative fondant pieces), Sugar Glue (aka tylose glue) or your "glue" of choice, X-acto or other sharp knife, "The Mat"-optional--I
demonstrate laying my fondant using this method, vodka (or lemon extract) for painting, misc paintbrushes (optional), toothpicks, coloring gels of your choice for fondant accents or any
"painting" that you may do with vodka. I painted our windows with a black coloring gel/vodka paint. Silver Highlighter-
WOODEN PLATFORM Materials:
We made a sturdy wooden platform to create the space beneath the cake. An easier alternative would be to cover a styrofoam block with black fondant or a black plastic tablecloth to create the illusion of space.
18"x20" wooden board that is ½ inch thick (Covered the top with a brown plastic tablecloth)
6"x8" wooden board
hand drill
4 6x1" screws
Wooden dowel (½ inch thick) cut into four 4" sections. They will cut for you at home improvement store. (*later we wished these were 3 ½" to better fit the size of our tires. Ideally, the top of the tires will be slightly taller than your platform.
Basic Cake Notes/Details
Single 9x13 cake layer and a loaf pan (White Almond Sour Cream recipe)
Split the 9x13 in half, dam & fill with buttercream and stack. (It's on it's own cake board)
Trim down loaf cake to form the cab of the truck.
Carve away pieces of cake to form the hood.
Add scrap pieces of the loaf cake to form the bed of the truck (*optional--you could just keep it flat)
Ganache over everything
Cover with blue fondant