Hi everyone! Today's car and truck themed cake is perfect for young birthday parties, and the carved spiral tier technique can be used for all sorts of themes!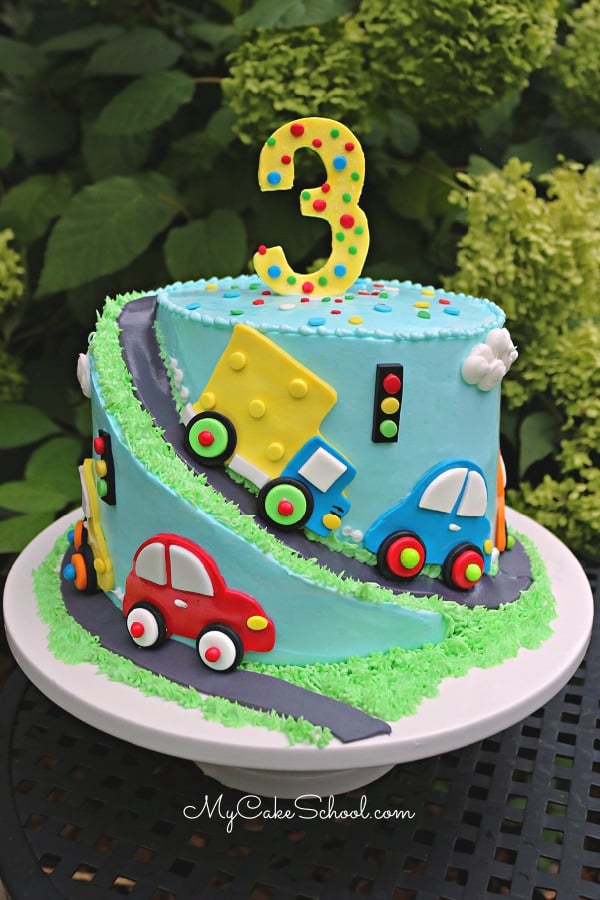 We had so much fun making this cute cake, and the car and truck templates make this design very easy to achieve.
If you've never carved a spiral tier, it's a great way to add a little more fun and dimension to your design- we've used it in the past for our train cake, sledding snowman cake , and snake cake also!
However, if you would prefer to skip the carving step, you could easily create this car & truck design on a standard tier!
Materials:
For this cake, we used a four layer 8 inch tier, frosted in classic vanilla buttercream. The cake is resting on it's own cake cardboard cut down to size. I like to carve my cake when they are partially frozen.
Fondant (I kneaded a little tylose powder in it but that is optional since the cars are fully supported from behind by the cake.)
Gum Paste: For the number topper. I always dry my gum paste toppers 2-3 days in advance. If you would like to see more details on number toppers, view this video tutorial: Number & Letter Toppers
Coloring Gel: Adjust brands, colors to your liking. Americolor Lemon Yellow, Super Red, Orange, Black, Wilton Sky Blue, Wilton Leaf Green
Piping Tips: Tip 3 for bead border & car handles, Grass Tip, Tip 12 for polka dots & traffic lights as well as puffy white clouds. Any large tip (2D for example) for cutting out tires. Any regular tip for cutting smaller circles on tires.
Fondant Ribbon Cutter-Optional. We used it (spaced at 1 inch) for our fondant road.
Sprinkles- Optional. I used to decorate the 3, as well as on top and the can also be used for headlights or center of tires. (You can also used fondant for these accents)
Lollipop Stick- The "3" topper is anchored in back with a lollipop stick attached with melted candy melts. You can also secure with a strip of gum paste lightly spread with tylose glue or candy melts.
Small circle cutter- Optional. Mine was 1.5 inches in diameter and was used to make the car windows.
Cake base or pedestal.
Sharp knife for carving.
Miscellaneous: I always frost my cakes on a turntable. I frosted with an offset spatula, and used a bench scraper to help me smooth over the frosting & remove the excess.
Food writer pen for marking cake as well as knife.
Notes on the Cars & Trucks Cake
My spiral was 1.5 inches wide, so I marked my knife at 1.5 inches from the point, with a food writer pen. I also measured on top of the cake and marked at the 1.5 inch mark for the front of the cake.
The road was represented with a ribbon of grey fondant, 1 inch wide.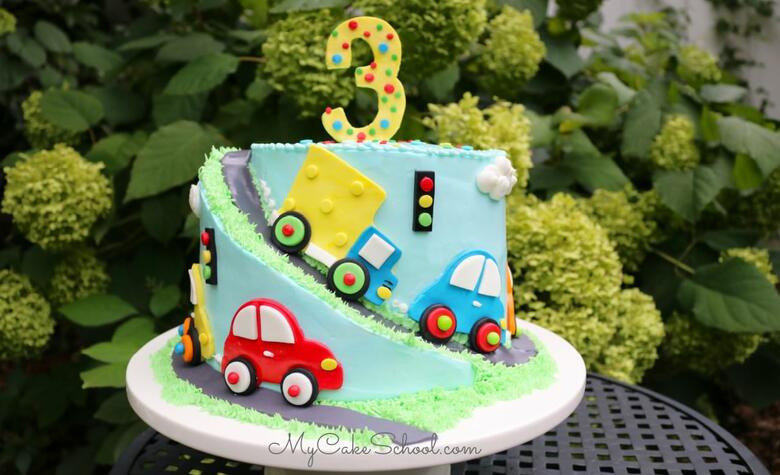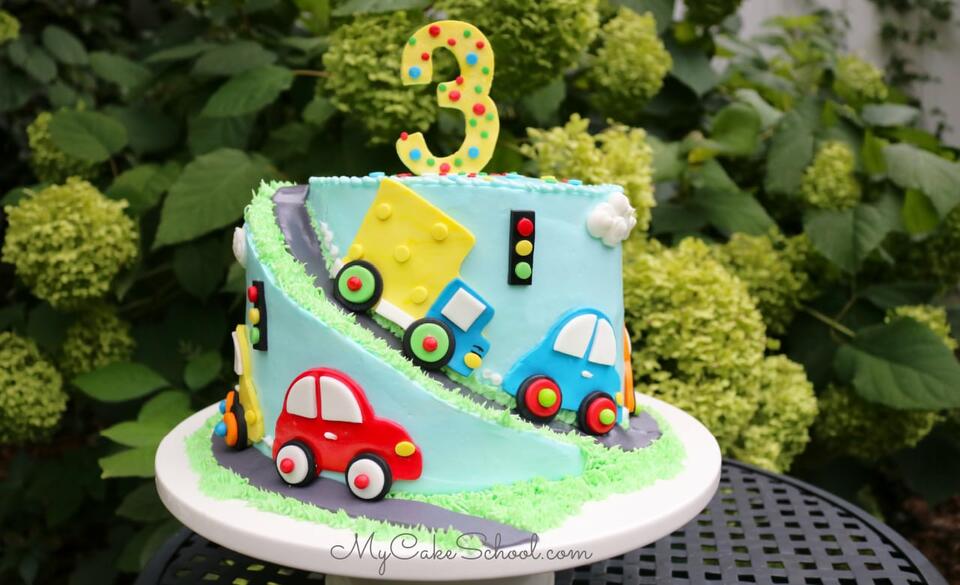 More Birthday Cakes
We have so many more Birthday Cake Ideas to share with you! Some of our most popular are our Jungle Cake, Farm Cake, Monster Truck Cake, Dinosaur Birthday Cake, and Snake Cake!