I just love sweet baby shower cakes, and today's Elephant Clothesline Cake design is a new favorite of ours!
In this video tutorial, we will show you to create adorable elephants, a clothesline filled with baby clothes, and a sweet cake topper. You can use these techniques for other themes and occasions as well! We hope that you enjoy it!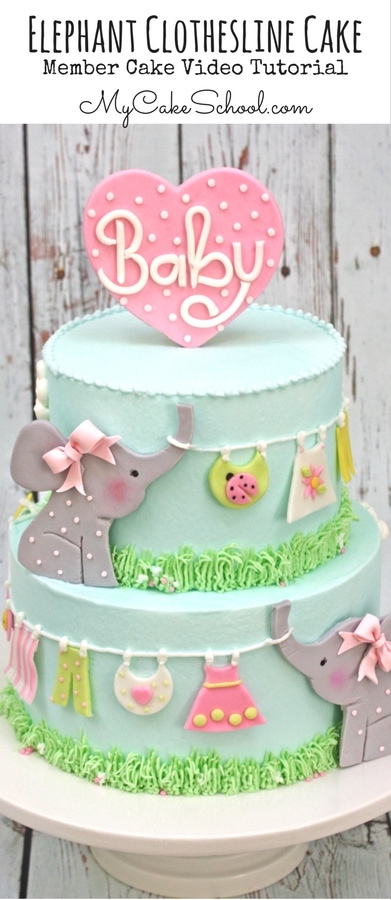 Materials:
(For this cake, we used two stacked 8″ and 6″ tiers, frosted with our fluffy vanilla buttercream recipe. Each tier is on it's own cardboard cake circle cut down to size, and the top tier is resting on 4 bubble tea straws, cut down to the height of the cake as usual. For more info, check out our tier stacking video.)
Buttercream of choice (We used our Fluffy Vanilla Buttercream from our Recipes section)
Templates (for Elephants and Cake Topper)
Piping Gels: Americolor Deep Pink, Mint Green + Avocado Green combination for grass, Super Black, Electric Green
Piping Tips: Tip 3 & 6 (for polka dots), Tip 3 for piping, 233 grass tip
We used a Makin's Ultimate Clay Extruder (affiliate) for extruding the "Baby" lettering.
Black Food Coloring Pen for eyes
Pink Petal Dust (optional) for rosy cheeks
Gum paste for elephants and cake topper- You could also use fondant with tylose powder kneaded into it.
Fondant for clothes (I like to knead a little tylose into it.)
Miscellaneous: Sharp knife or xacto, parchment paper, small paint brushes, piping gel
Lollipop Stick