The Basics of Tier Stacking~Video
In this tutorial, I will show you how to easily stack frosted cake tiers.
This popular, simple stacked construction is perfect for everything from birthday cake designs to baby shower cakes, bridal shower cakes, and more!
Whether you are going to adorn your cake with sweet accents for a child's party or add elegant sugar flowers for a wedding, you need to start with a foundation that is secure.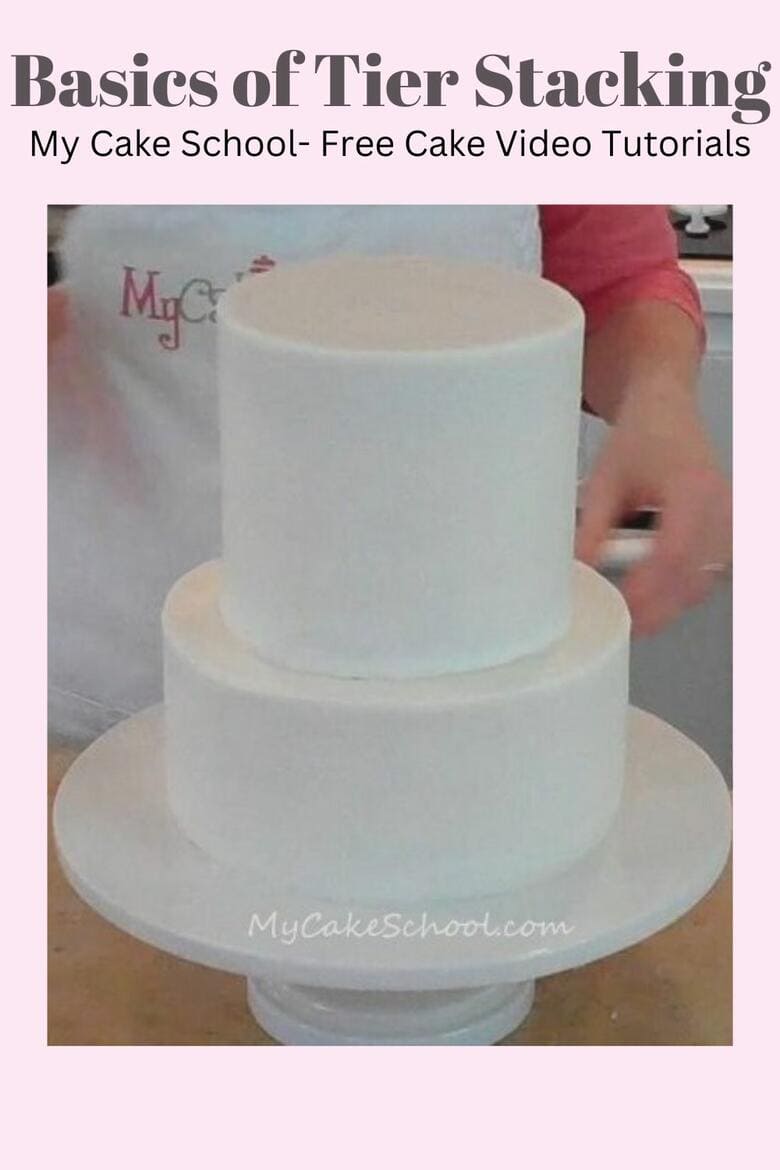 Stacking cake tiers can be a little intimidating at first, but it is not as difficult as you think. In this tutorial, I am going to demonstrate stacking two tiers (8 and 6 inch), and how to stabilize the structure with dowels/supports and cardboard cake circles.
*There are many ways to stack tiers, and there are all sorts of stacking structures available online. This is the simplest way for me!
Materials for Stacking Cake Tiers
I'm using a three layer 8 inch tier and a 3 layer 6" tier. (The layers of the 6" tier are thicker and therefore this is a taller tier.) These layers happen to be White Almond Sour Cream (doctored mix from our Recipes section)
Buttercream Frosting- I'm using our High Ratio recipe
2 Cardboard Cake Circles (or foam core cake circles) for support
4 bubble tea straws (or your supports of choice)
Spatula(s) of choice.
Sharp knife (used to run beneath the cake and the turntable)
Turntable (Not essential for stacking tiers but very helpful for frosting and decorating)
Long (thin) wooden skewer or lollipop stick, etc.- Used to measure the height of our bottom tier
Food coloring Pen- (Mine was americolor) to mark the height of our tier onto the wooden skewer and also onto our straws
Wilton Tip 3 or other small round tip of choice for filling in and correcting any imperfections in the icing
Viva paper towel (for smoothing over any rough spots--optional) --Hot knife method works well for this also.
Cake base or pedestal
Notes for Tier Stacking
The 8 inch tier used in this video is the same tier that you can watch me trim, fill, and crumb coat in our Crumb Coating video tutorial.
It is also the cake from our Viva Paper Towel Method of Smoothing video, if you'd like to see how we frosted it & smoothed with nice, sharp corners.
*Make sure to chill your buttercream-frosted tiers before stacking. I tend to pop mine in the freezer for about 15 minutes (or until frosting is just firm). Just don't forget to remove from the freezer or your cake will develop condensation.
Chilling the tiers before stacking will allow you to more easily move the top tier onto the bottom, and to reposition if necessary.
*As I mentioned in the tutorial, the bubble tea straws are great for stacking 2 tiered cakes. I've only used bubble tea straws with 3 tiered cakes a few times, as I prefer to use something more substantial for heavy cakes.
Decorating Stacked Tiered Cakes
We've decorated many tiered cakes over the years in our free cake videos. Here are just a few examples!