Today, we're going to show you how to make an adorable Teddy Bear Airplane Cake!
You will learn to create an airplane from fondant using a simple template, as well as the teddy bear, flags, clouds, and other fun details.
We created our design on a double barrel cake (tall cake with supports and cake board halfway up).
However, with a few small adjustments this design could be used on sheet cakes, tiered cakes, and other tier sizes as well.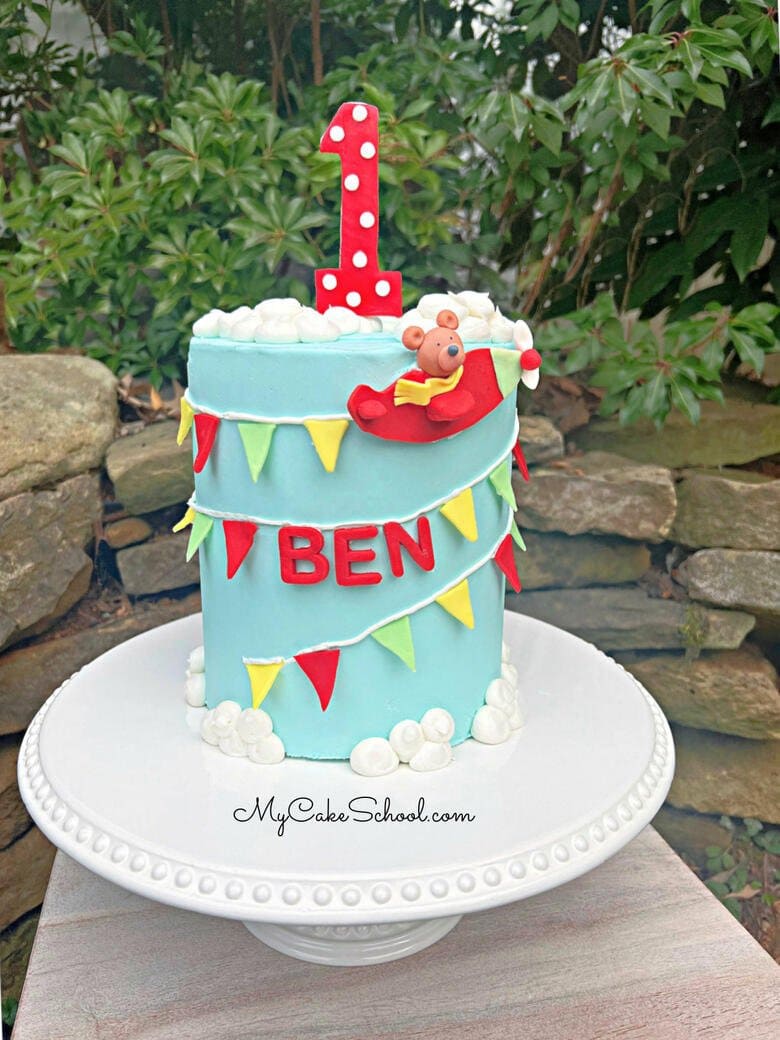 Materials for Teddy Airplane Cake
For this cake, we used a 6 inch double barrel cake. This is 4 six inch cake layers with a cake cardboard halfway up, and 5 bubble tea straw supports beneath. The design would be great for cakes of any size. We frosted the cake in our classic vanilla buttercream frosting.
Fondant with Tylose Powder Kneaded into it (or gum paste) for the plane- If adding tylose powder to fondant, just add until the fondant seems to change consistency a bit. It will dry more quickly and firmer.
Fondant for the flags
Gum Paste (or fondant with tylose powder kneaded into it) if making a number cake topper
Piping tips: Tip 3 for the piped white line around the cake, Tip 10 or 12 for Clouds and cutting out polka dots for cake topper
Coloring gels: I used Wilton Leaf Green, Americolor Lemon Yellow, Super Red (I actually used pre-tinted Red Satin Ice Fondant)
Teddy Bear Airplane Cake Design Notes
Dry Time: Our airplane dried for about an hour or two before we applied it to the cake. That was plenty of time since it was supported almost entirely in back by the cake. We used pre-colored Red Satin Ice fondant with tylose powder kneaded into it. Tylose powder is optional but it sets up more quickly.
Fondant Thickness: I rolled the red fondant to about ⅛ inch thickness before cutting it out with the template and allowing to dry on parchment paper.
Tylose Glue I often use "tylose glue" as my edible adhesive when working when attaching fondant or gum paste pieces together.
It is just a mixture of tylose powder with a small amount of warm water. If you don't have tylose powder, you can also use piping gel as glue or even just lightly dampening fondant will make it tacky enough to bond.
You can do this by eyeballing it- but we do have an actual recipe post if you'd like to see! Tylose Glue Recipe: Edible Sugar Glue
Alternate: Plane Cake Topper- If your plane was a cake topper instead (and wouldn't have the support of the cake behind it) you would need to dry make it a couple of days in advance to be on the safe side, and you would want to use gum paste or or knead enough tylose powder into the fondant to feel a change in consistency so that the fondant takes on the properties of gum paste (dries more quickly and much firmer)
We used a teddy bear, but all sorts of animals would be cute driving the plane ;0) Or you could even make a simple little boy or girl's face.
Making a Number Cake Topper for the Cake
I had this on hand already. I like to make number toppers with either gum paste or if using fondant, it needs to have a good amount kneaded into it so that it is strong.
Since the "1" that I had on hand was white, but I needed red for today's cake, I just applied a thin layer of red fondant on top of it. If you do a lot of number toppers, keep this tip in mind ;0) - It's nice to have a stockpile of commonly used numbers dried and ready.
We have a free video tutorial on creating number cake toppers if you would like to see! How to Make Number and Letter Cake Toppers
More Teddy Bear Cake Videos
We love teddy bear cakes and have made several video tutorials featuring them over the years! Here are a few of of our favorite free teddy bear tutorials!
These designs would all be so cute for young birthdays, baby showers, and more!
Teddy Bear and Rainbow Baby Shower Cake
Classic Bow & Teddy Bear Cake Video
Sweet Teddy Bear (in a dress) Cake
More Cake Recipes
This cake design would be adorable on cakes of any size, and with any recipe! Some of our favorite recipes are our orange cake recipe, strawberry cake, almond cake, and lemon velvet cake.