In this free cake video tutorial, I'm going to show you how to create an adorable Teddy Bear Gift Cake! This sweet cake design would be perfect for young birthdays and baby showers.
I'll show you how to create the gift box lid, curled fondant bow, and the sweet fondant teddy bears inside.
You can use these techniques to recreate this cake design, or to create new gift cake designs of your own! Have fun experimenting- we hope that you enjoy the video!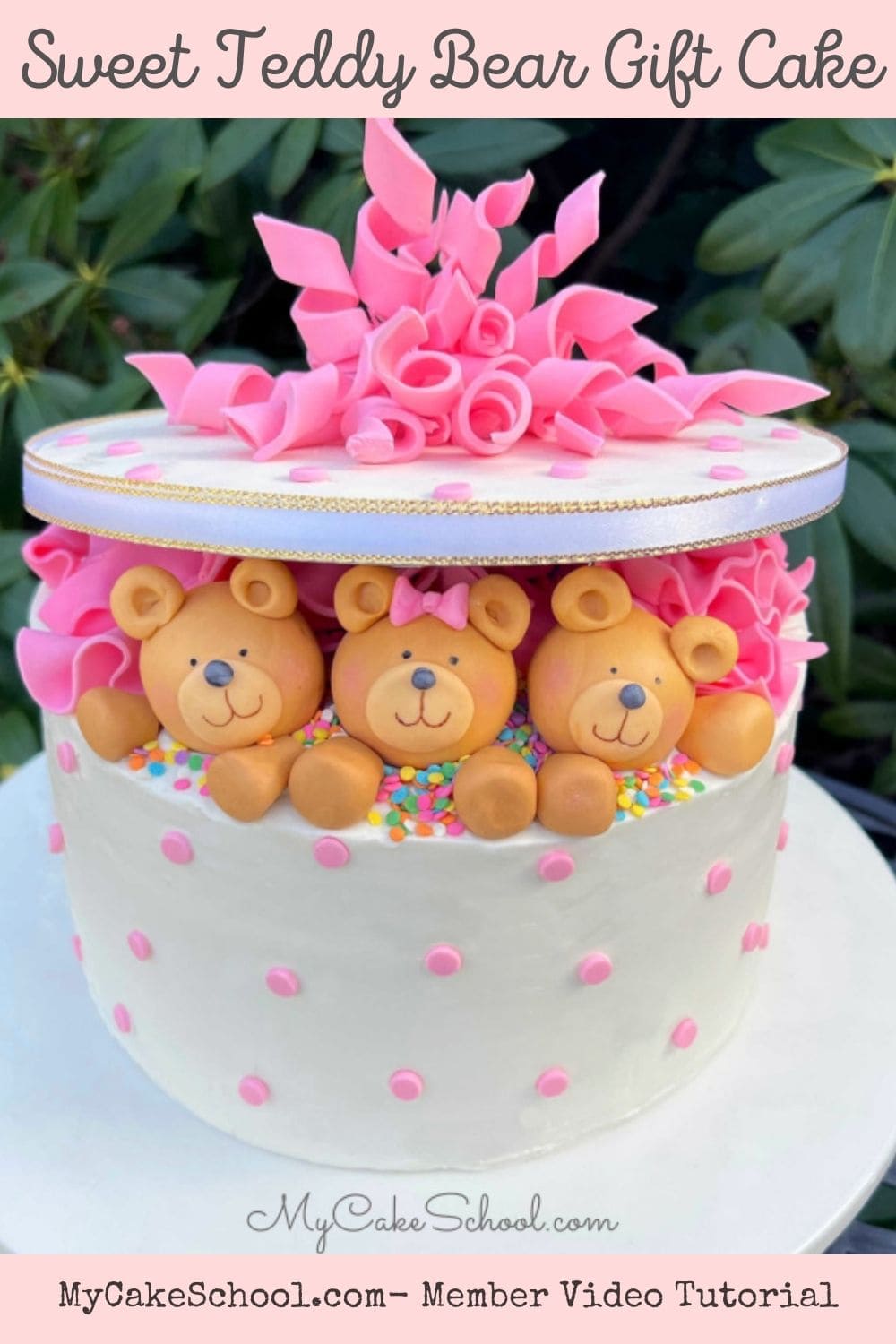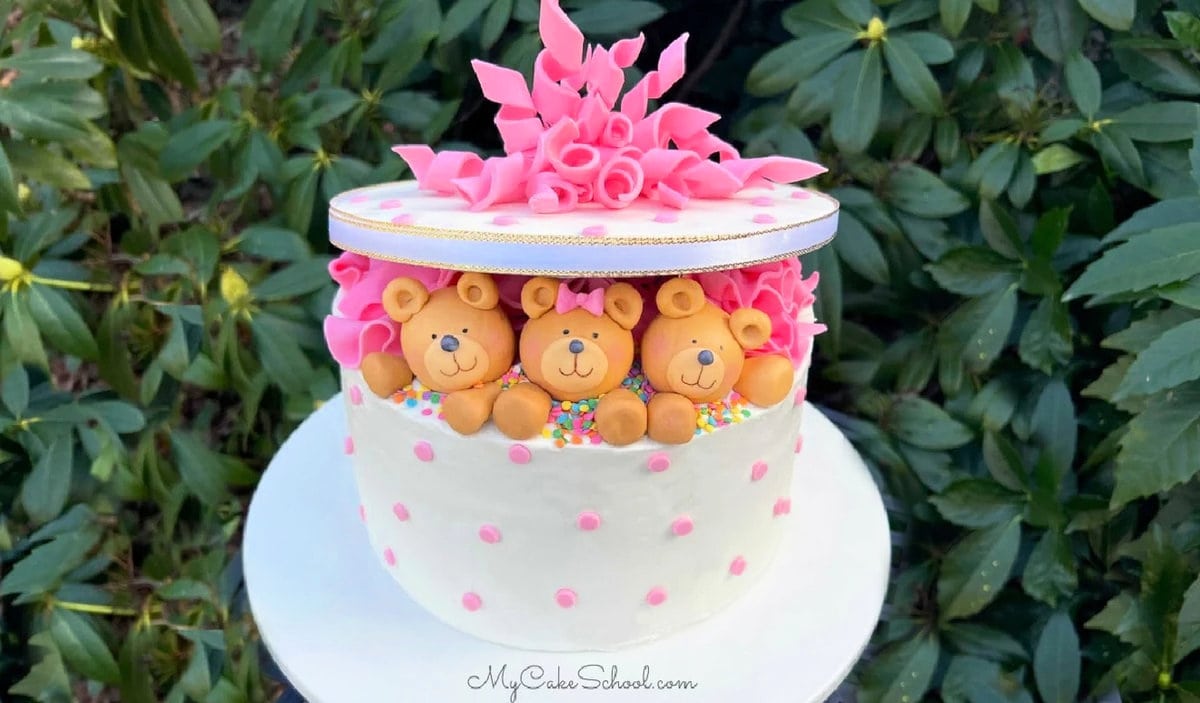 Materials:
For this cake, we decorated a three layer 8 inch cake.
Classic Vanilla Buttercream Frosting
Cake is resting on it's own cake board cut down to the size of the cake.
Three 8 inch cake boards were glued together for the lid
Ribbon to wrap around the lid
White Fondant for covering the top of the cake board
Gum paste (or fondant with tylose powder kneaded into it) for bow- We tinted with Americolor Deep Pink
Tip 12- for cutting out small polka dots
Piping gel or "tylose glue" (tylose glue is made from combining a bit of tylose powder with a small amount of warm water to create a clear gel/food safe glue) Used for applying polka dots, etc.
Coloring Gels: I used Americolor Ivory plus a touch of chocolate Brown for the bears. Americolor Deep Pink for the bows and dots.
Food coloring pen- I sued black for the eyes and brown for their mouths.
Supports: We used 3 drinking straws trimmed down beneath the bears. We used two long lollipop sticks behind the bears to hold up the lid (trimmed down a bit to the appropriate height). We used two fat bubble tea straws in back of the cake in the place where the angled lid would rest.
Candy Coating: In addition to using small mounds of moistened/sticky gum paste (or fondant/tylose) at the ends of our supports just before placing on the lid, we also spread the tops with melted candy coating. We considered partially driving a sharpened skewer into the lid from beneath for an extra bit of insurance but in the end our fondant and chocolate."glue" kept things nice and stable.
More Teddy Bear Cakes!
We've made several sweet teddy bear cakes over the years! Here are just a few of our favorites!
Sailboat and Teddy Bears Cake- Free Video
Sweet Teddy Bear Cake- Free Video
Teddy Bear and Airplane Cake- Free Video
Teddy Bear and Rainbow Baby Shower Cake- Free Video
Inspired By...
There are many gift box cakes floating around with a bear peeking out or even a baby peeking out, this particular idea for three little bears was inspired by a baby shower instagram post that I saw on Lisa Vanderpump's page (any "Housewives" fans out there?) But unfortunately there was no bakery listed for me to credit. We had so much fun creating a girly pink version of this sweet cake and hope that you enjoyed it too!
​