Buttercream Bassinet Cake
In this cake video, I'll show you how to make a sweet buttercream bassinet cake which would be perfect for baby showers!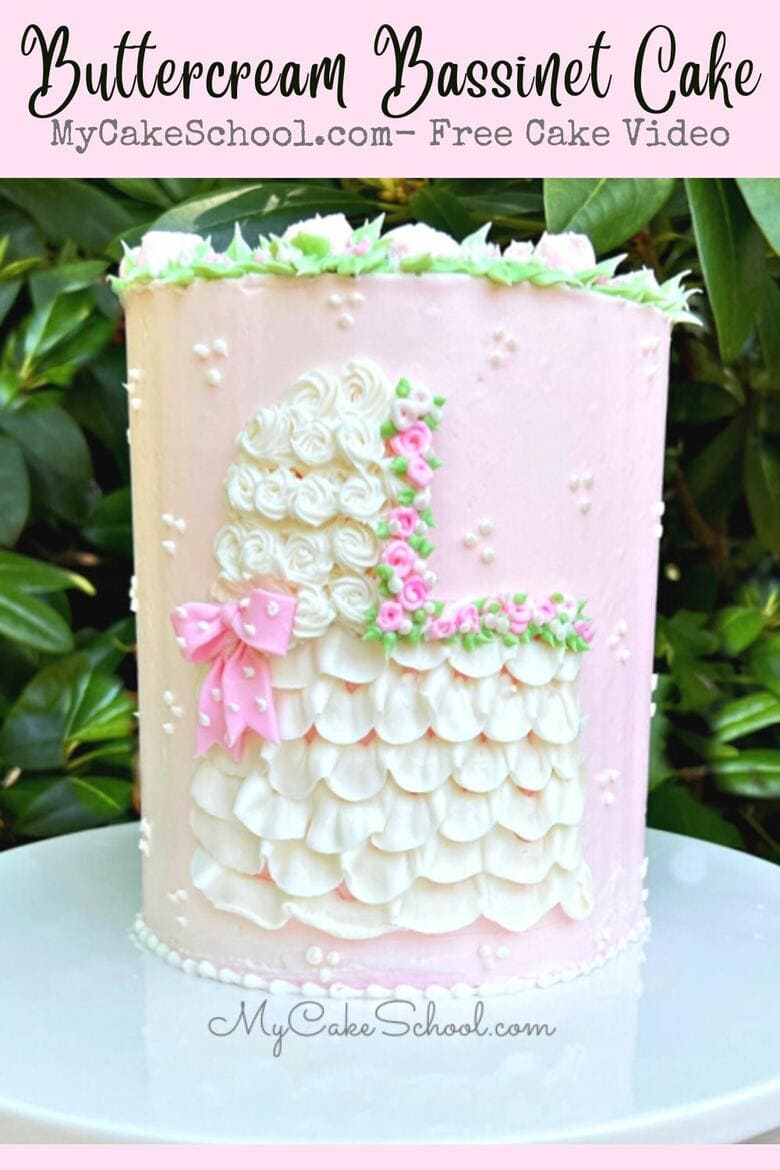 How to Make an easy Buttercream Bassinet Cake
This elegant, simple baby shower cake design couldn't be easier to make! We love any excuse to add buttercream ruffles to a cake ;0)
You can find our free cake video below, as well as our printable instruction. Here is a quick rundown of our steps!:
First we frosted a 6 inch double barrel cake with our classic buttercream frosting.
Double Barrel: A double barrel cake is a tall cake that has a cake cardboard and supports halfway up. For our double barrel cake, we used four 6 inch cake layers. We stacked and filled the first two layers, added a cake cardboard and bubble tea straw supports beneath, and then added the next two cake layers.
Chill the Tier: Next, we chilled the cake to firm up the buttercream. You can pop it in the freezer for about 15 minutes, or longer in the refrigerator. Doing this allows us to hold our template against the cake without messing up the frosting.
Decorating: After outlining the template, we used the markings as a guide to fill in the rows of buttercream ruffles and rosettes.
We then added little accents of flowers, dots, and leaves around the sides of the cake with a small round piping tip. We also added a border of roses and leaves around the top!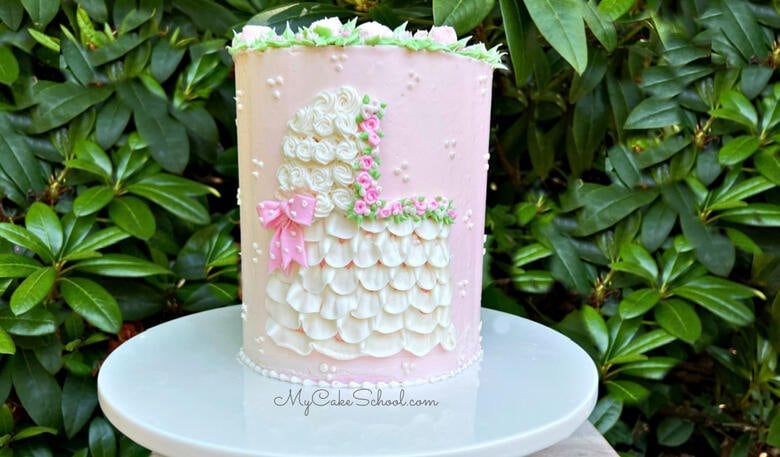 More Baby Shower Cakes to Share
We have more baby shower cakes to share with you! We've created so many over the years- baby shower cakes some of my favorites to make- I love an excuse to make a sweet little design!
You can find a full collection of favorites in our Roundup of Favorite Baby Shower Cakes and Tutorials!
Variations of the Easy Bassinet Cake
We just love this sweet and simple bassinet cake and it is perfect for any skill level of cake decorating.
If you are decorating a shorter cake tier, you could easily move the bassinet cake design to the top of a cake or sheet cake instead!
The colors can easily be changed from pink to blue or a gender neutral color scheme as well. There are so many sweet design options when it comes to this bassinet cake!
Cake Recipes to Try
If you are looking for cake recipes, we have so many in our Cake Recipes section! Some of our favorites for baby showers are: Lemon Buttermilk Cake, Almond Cake, White Velvet Cake, and Vanilla Cupcakes!
How to Make a Buttercream Bassinet Cake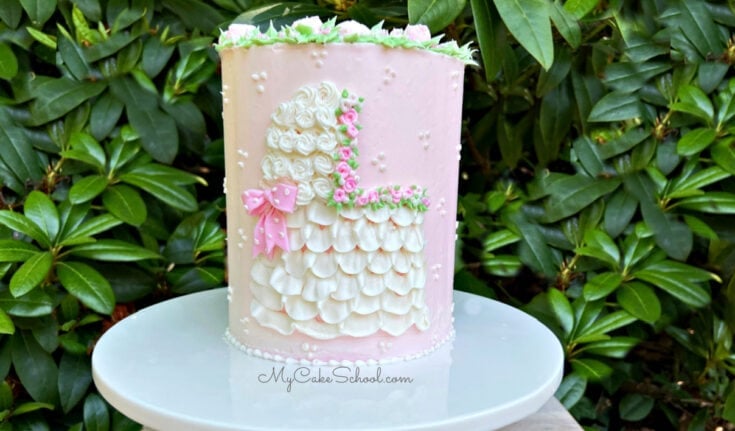 This sweet Buttercream Bassinet Cake is super cute, easy to make, and would be perfect for baby showers!
Materials
We decorated a 6 inch double barrel cake- this was 4 layers tall with a cake cardboard halfway up and and 5 bubble tea straws beneath for support. Cake rested on a cake cardboard as well cut to the size of cake.
Bassinet Template
Classic Buttercream Frosting
Fondant- Small amount of pink fondant for bow
Tylose Powder- Optional, I kneaded a bit into the fondant so that it would dry more quickly.
Piping Tips: Petal Tip 104 (Ruffles and Ribbon Roses), Round tip 2, 3, Tip 352- leaf tip, Star tip 16 for rosettes on bassinet
2 cake cardboards cut to the size of the cake- one that the cake is resting on, and another halfway up.
Bench Scraper or Spatula- I like to frost my cakes with a small offset spatula and then smooth over it with a metal bench scraper as I rotate it on a turntable.
Coloring Gels: Wilton Rose, Leaf Green
Wax Paper (cut into squares for rose nail)
Rose Nail
Instructions
Use any size of cake you like. Since we did a double barrel cake, mine consisted of four 6 inch cake layers. I filled the first two layers, placed 5 bubble tea straws into the cake, cut to the height of the first two filled layers- 1 straw in the middle, and then 4 around it. Top with a cake cardboard cut to size of the cake. I then placed the other two cake layers (filled) on top of that and frosted the cake.
I like to frost my cakes with a thin layer (crumb coat) of buttercream and freeze for about 15 minutes or so to firm up before adding the second layer of frosting with an offset spatula. Then smooth over with a bench scraper (heating it under hot water helps to smooth it).
Chill the tier to firm up the buttercream before moving to a pedestal or cake plate. I cut out and applied a template to the chilled (firm) buttercream and outlined with a toothpick. Chilling is important for this step so that the template won't mess up the smooth frosting.
Remove template and pipe the ruffled bassinet skirt with a tip 104 (smaller tip opening should be down). Pipe rosettes for the top of the bassinet with a star tip 16.
Add flowers and leaves around the bassinet using small round piping tips 2 or 3
Make fondant bow and add to the cake. I kneaded a bit of tylose powder into the pink fondant before rolling it to about ⅛ inch thickness or so. I cut 4 strips that measured approx. 1 ½ inch by ½ inch.
Add bow to the bassinet once the loops have set up enough to hold their shape.
Make Ribbon Roses- Place a wax paper square on the rose nail (glued with a bit of buttercream) and rotate the nail as you pipe using a tip 104 (small end of the piping tip should be up.) Apply stead pressure to the piping bag as you rotate the nail until the rose is as large as you like.
Place the roses on wax paper on cookie sheet and chill for about 15 minutes or until they are very firm. Peel away the roses from the wax paper and place on the cake, along with a border of green buttercream leaves piped with a tip 352. I added small dots of buttercream as well to our top border.
I piped a small bead border around the base of the cake using a piping tip 2, as well as small dots of white buttercream all over the cake.
Notes
Keep this design in mind for sheet cakes as well! You could make an even larger version.