In this two part cake decorating video, you will learn to create an adorable cake topper of an elephant in a wagon, along with a fabulous ruffled buttercream technique!
Whether you're interested in learning how to create the perfect topper for baby showers and young birthdays, OR how to pipe a unique vintage style buttercream ruffle, this video has something for everyone!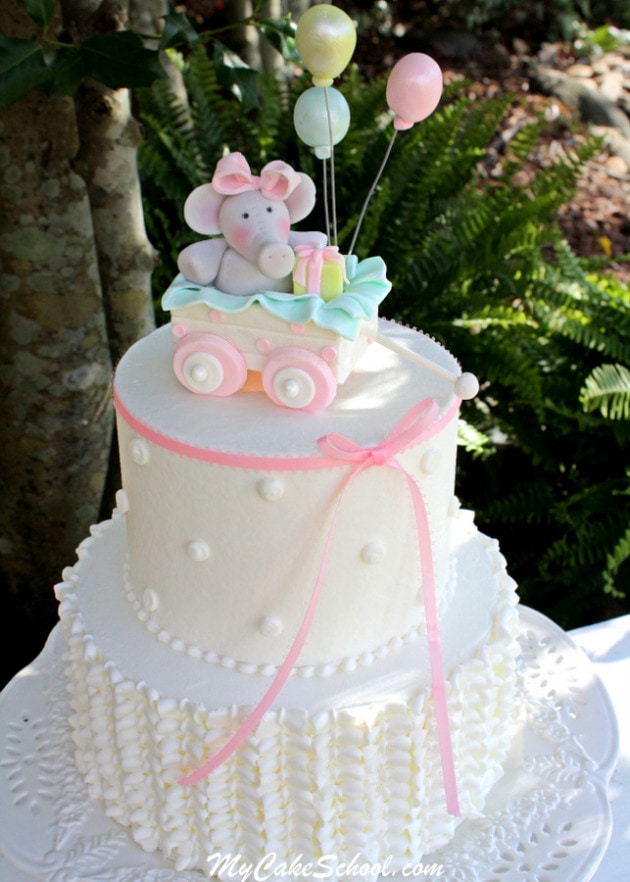 Part One: Learn to create our cake topper!
Part One:

Part Two: Learn to pipe a wonderfully unique ruffled buttercream cake & see how our cake comes together!

Materials:
For the topper:
Rice cereal treat- we used a 22g. size
Fondant with tylose powder kneaded into it (or gum paste)
Templates for the sides of the wagon (optional)
Small circle cutter for wheels (we used a large piping tip)
Coloring Gel: We used Americolor super black, Teal, Deep Pink, Electric Green
Pink Petal Dust (optional) - Watermelon is the shade that we used
Pearl Dust (ours was ultra super pearl)
Americolor Black Coloring Pen (optional) for eyes
Floral wire for balloons in a sturdy gage (20 gauge for example)
Misc.: Sharp knife,
Part Two: Buttercream Effects
Medium consistency buttercream/frosting
Piping tip 70 (this is a leaf tip)
Cake boards to boost the cake while piping (I used 4 stacked and wrapped 8" cardboards). Optional, but I find that it helps to get a good angle as you make your way to the bottom of the tier.