Camping Cake- Video Tutorial
We're happy to share our latest free cake video tutorial with you for a fun Camping Cake!
This cute cake features bears toasting marshmallows and fishing as a camper sleeps in his tent ;0) It was such a fun cake to make, we hope that you enjoy it!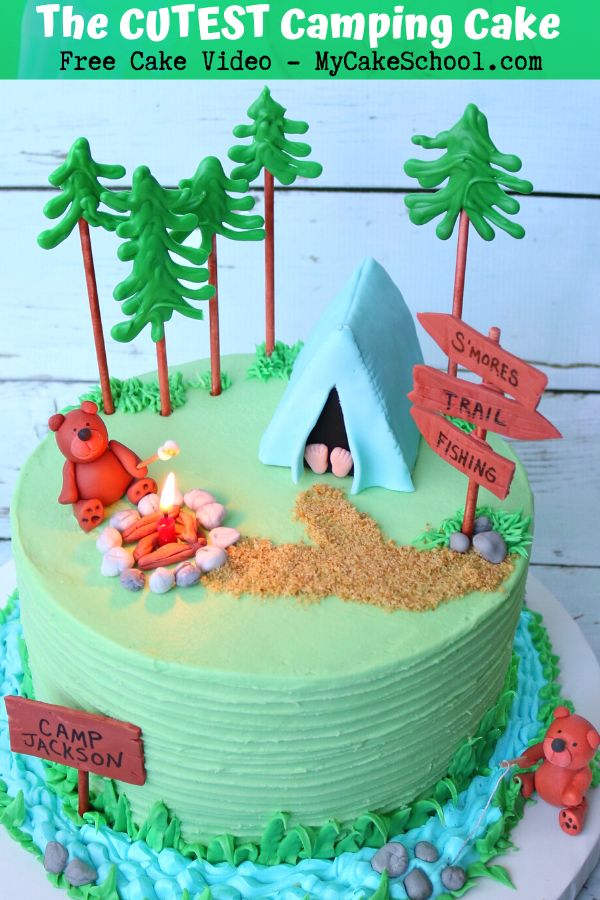 Materials for the Camping Cake:
This theme would work well for cakes of any size, but we chose an 8 inch tier frosted in our Fluffy vanilla buttercream frosting but our Classic Vanilla Buttercream is a great choice also. For the base, we use three cardboard cake circles wrapped in a plastic tablecloth, and secured beneath with staples.
Buttercream Frosting of choice (we used our fluffy vanilla buttercream recipe)
Rice Cereal Treats- We used 3 Rice Krispies Treats in the 22g size (pre-made)
Gum Paste (fondant with tylose kneaded in would be fine too!)
Fondant or gum paste for the tent and campfire
Black fondant or tinted for opening of tent
Coloring Gels: AmeriColor Mint Green, Sky Blue, Warm Brown, black, and also Green Candy Coloring
Food Coloring Pen in black
Green Candy Coating (either pre-tinted candy melts or white coating mixed with green candy color)
Disposable Piping Bags
Piping Tips: Ateco 133 or Wilton 233 grass tip, Wilton 352 leaf tip
Candle
Floral wire- Flexible gage (to wrap around toothpick for lower bear's fishing rod)
Graham Cracker Crumbs for path
Miscellaneous: Waxed or parchment paper, piping gel, small paint brush(es), toothpicks or gum paste tool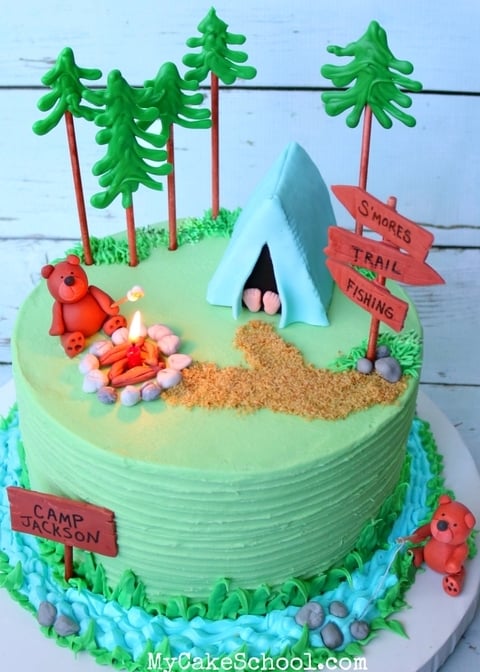 Note about the camping cake
I took lots of photos of this cake and as I worked on this camping cake. The flame of the candle grew until it finally burned my bear's fondant marshmallow, haha ;0). You can angle the bear so his arm isn't so close to the flame if you're worried!
I didn't show creating the fishing line for my lower bear, but he was exactly like the upper bear...same arm with toothpick stick in hand...I just wrapped a little white floral wire around the tip of the stick to create a fishing rod. You can add a little fish to the end if you'd like!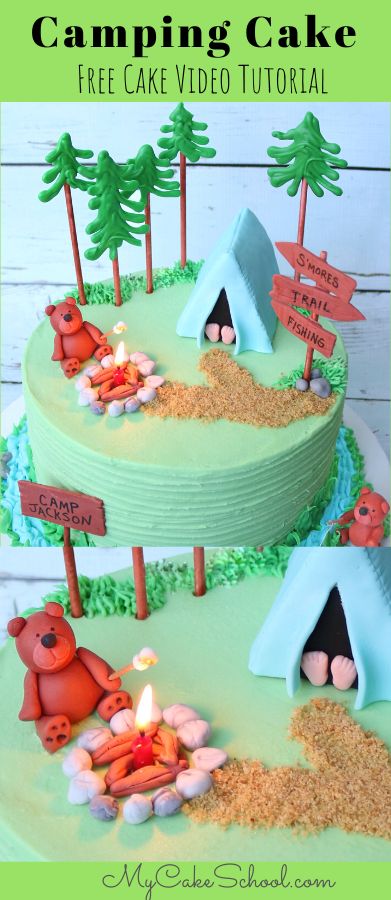 Woodland Themed Cakes
This is the only camping cake that we have at the moment, but we do have couple of other cakes that would work for a woodland themed birthday!
Our Woodland Cake in Buttercream is a birch tree stump cake that we made several years ago in our free blog tutorial section. (It features a carved heart and initials but you can change it up however you like!)
We also have a Sweet Woodland Owls Cake- Free Video Tutorial that features two owls huddled in a tree stump.
Finally, we have a fun, easy Owl Cake (free video tutorial)!
Enjoy the Video!
We hope that you enjoy the video! If you give our camping cake a try, we would love for you to leave a comment and photo below!