Red Velvet Marble Pound Cake
This Red Velvet Marble Pound Cake with Peppermint Glaze is a new favorite of ours for the holidays!
It has all of the tenderness and buttery flavor of our classic pound cake recipe, but with the added hint of cocoa from delicious swirls of red velvet.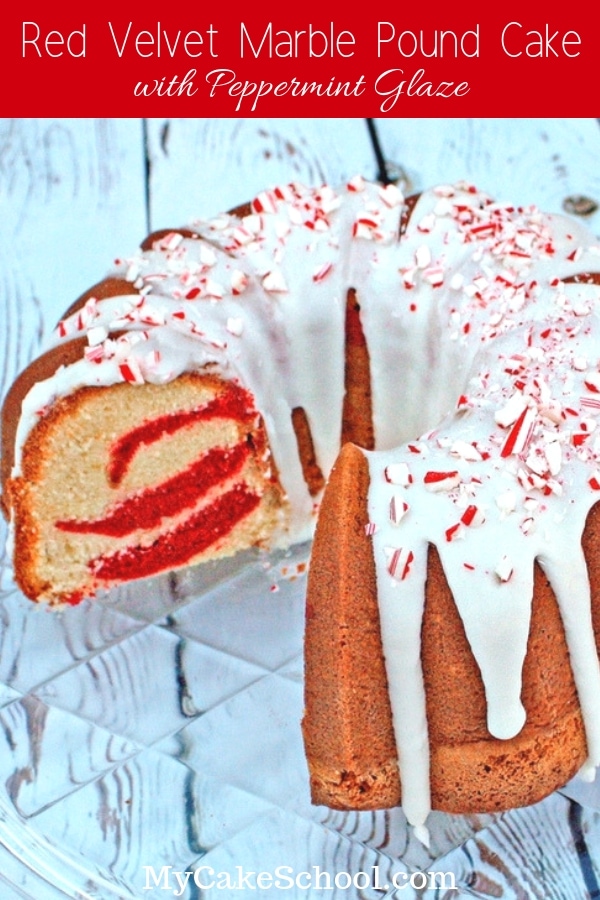 We LOVE this flavorful red velvet marble pound cake no matter what the occasion or season, but at Christmastime, the addition of a peppermint glaze is perfection!
How to Make a Red Velvet Marble Pound Cake
You can find the full, printable recipe card for our Red Velvet Marble Pound Cake further down in this post. Here is a quick look at our process!
After mixing up the pound cake batter, we reserved a portion of it to create our red velvet marbling. This simply involves stirring in red coloring and cocoa until the color is uniform.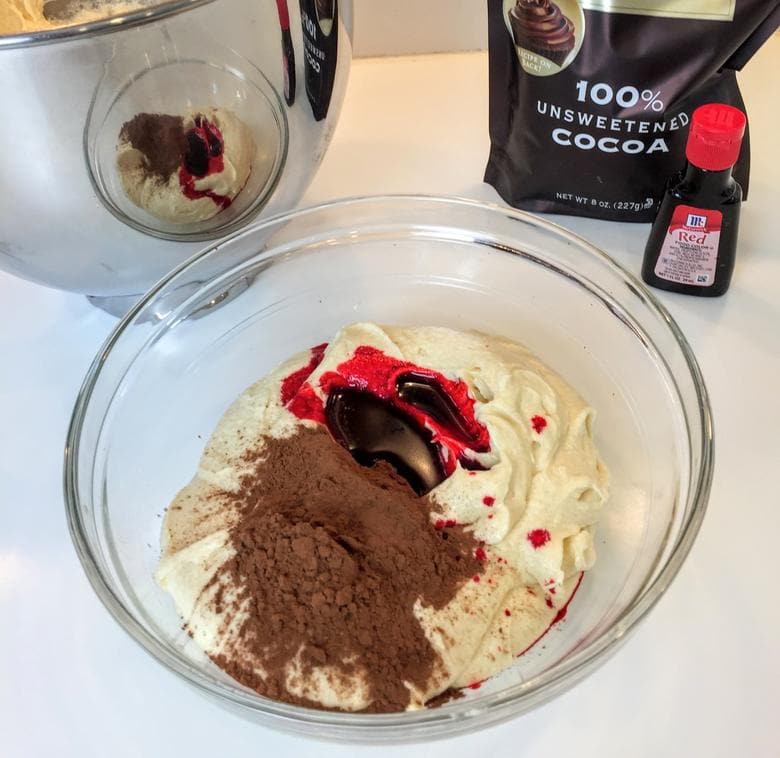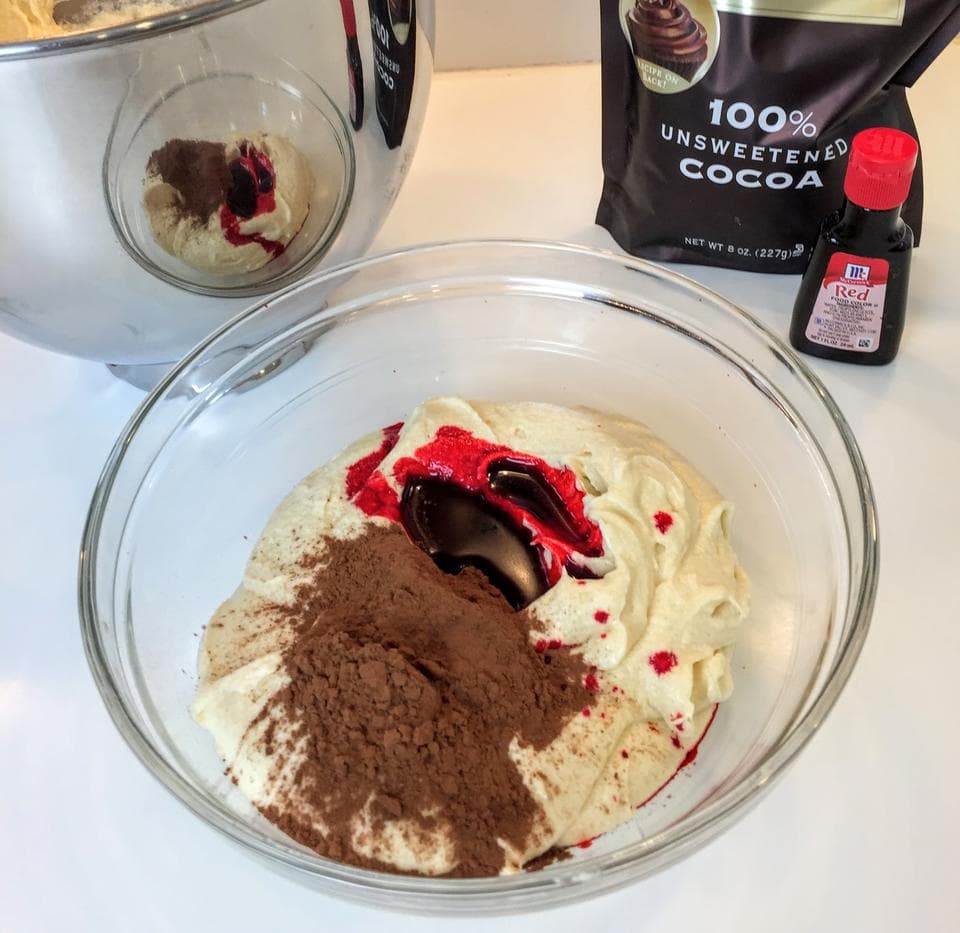 After preparing our bundt pan with vegetable shortening and flour, we alternated between layering our plain pound cake batter and the red velvet.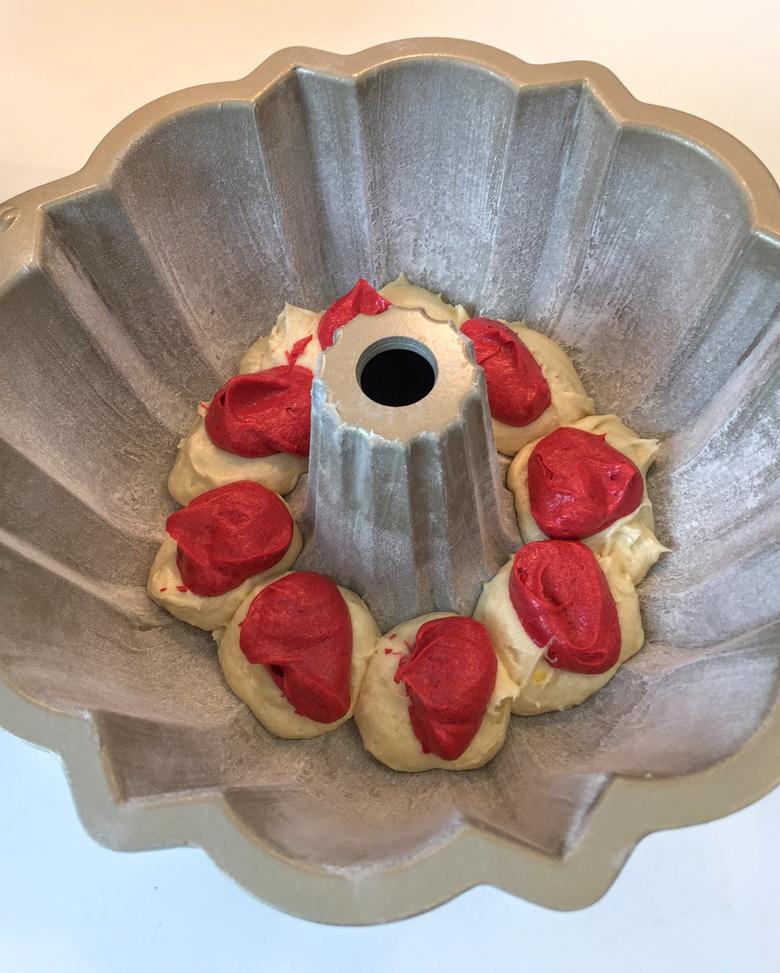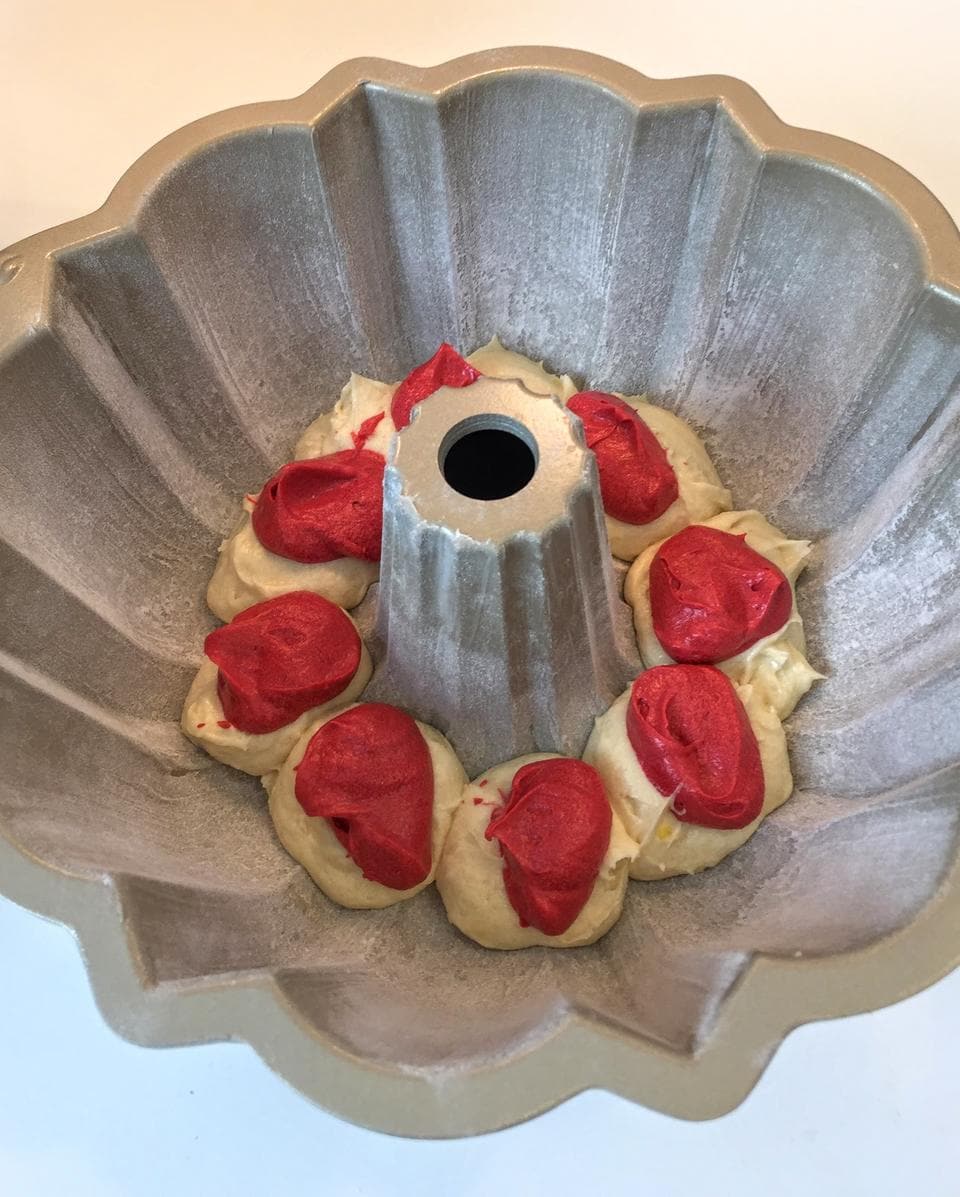 Repeat the layering of batter until finished, and tap the pan on the countertop several times to even things out.
Into the oven it goes!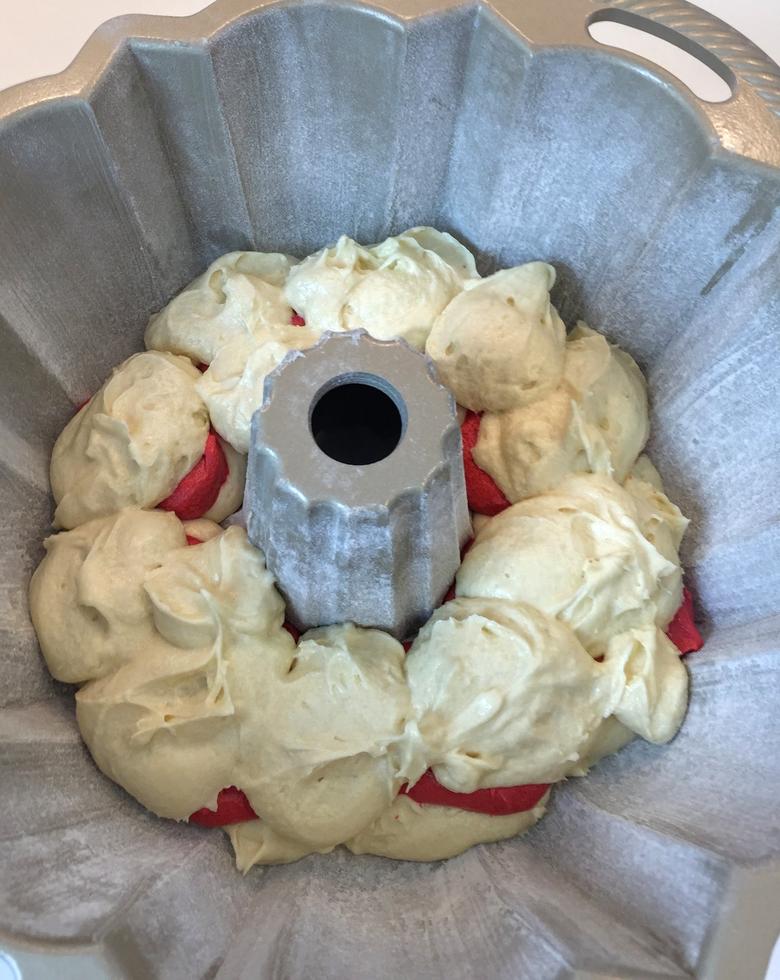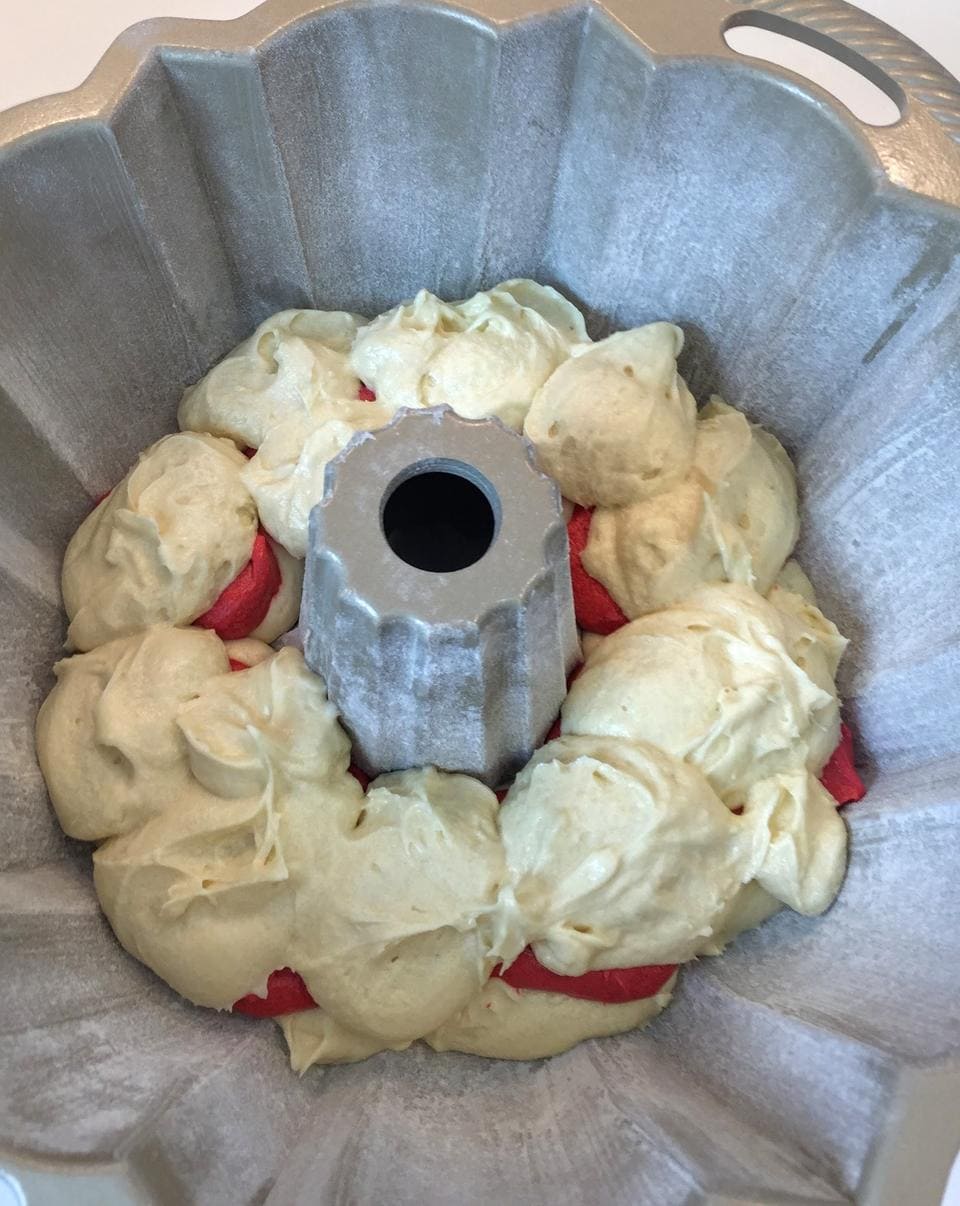 All done! Allow the pound cake to cool in the bunt cake pan on a wire rack for about 10 minutes before turning out.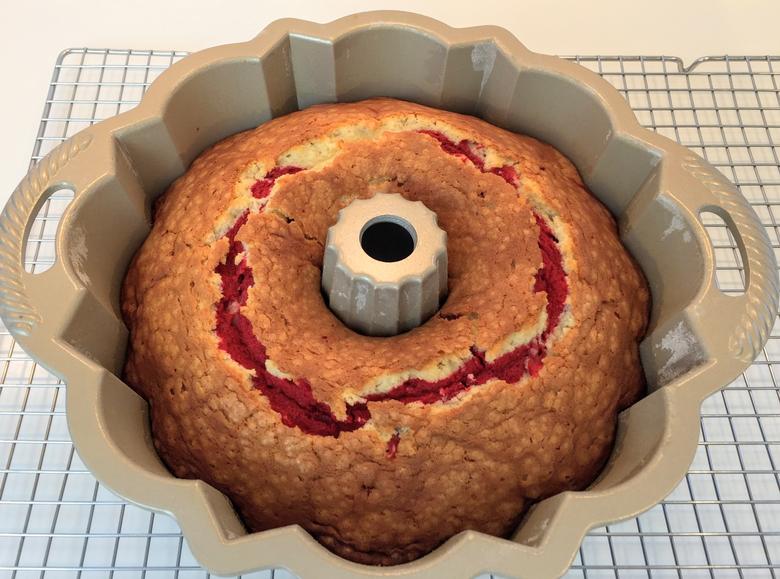 Peppermint Glaze
After turning out the red velvet marble pound cake, we allowed it to cool. Then, we added the simple peppermint glaze for a final touch.
We love the flavor combination of the peppermint with the red velvet marble pound cake. The glaze lends just the right of amount of flavor without being overpowering.
However, if you are not a fan of peppermint, simply omit the peppermint flavoring from the glaze recipe!
We hope that you enjoy this holiday recipe as much as we have! This is such a simple recipe, but the moist and velvety slices are sure to bring rave reviews (and they are pretty, too!).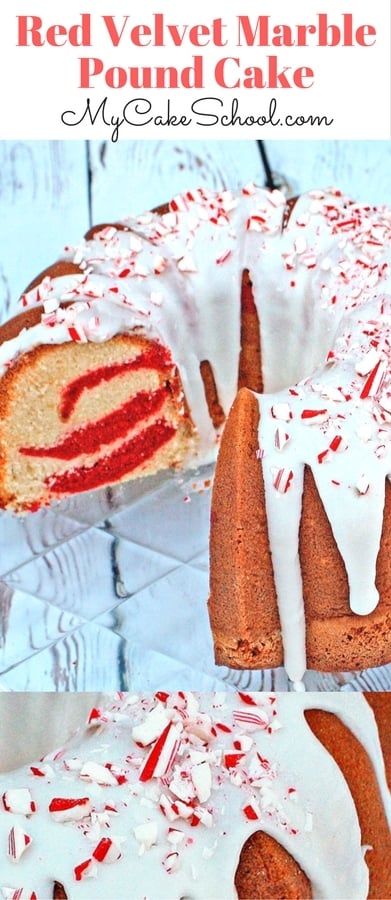 More Christmas Cakes!
In addition to today's Red Velvet Marble Pound Cakes, we have many more holiday cakes for you to enjoy! Here are just a few of our favorites!
White Chocolate Peppermint Cake- An amazing combination of flavors!
Chocolate Candy Cane Cake- So delicious and you'll also learn to make a striped candy cane filling!
Gingerbread Cake- We love gingerbread at the holidays!
Gingerbread Latte Cake- The combination of gingerbread and espresso in this cake is out of this world!
Red Velvet Cake- Ahhhh...a year-round classic, but especially at the holidays!
Eggnog Cake- If you love eggnog, you are going to flip for this flavorful cake recipe!
If you're looking for even more holiday inspiration, make sure to check out our Roundup of FAVORITE Christmas and Winter Cakes, Tutorials, and Recipes!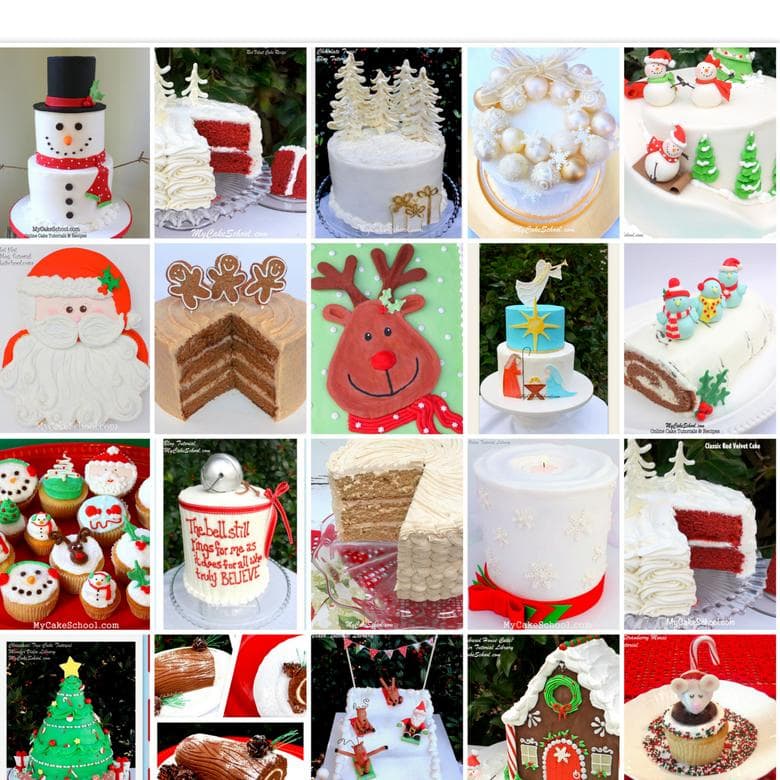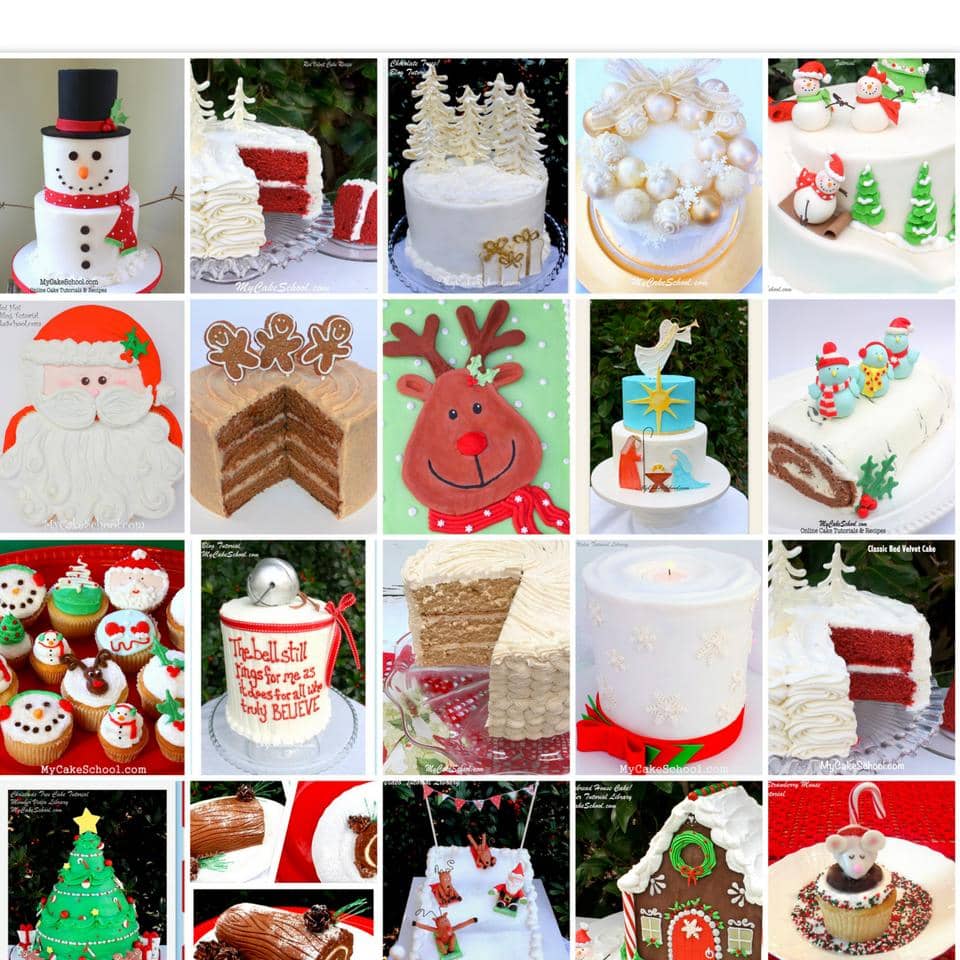 Here are a few more favorite Pound cake recipes!
My Cake School Online Cake Tutorials and Recipes
We hope that you enjoy this delicious Red Velvet Marble Cake recipe! If you give it a try, we would love for you to leave a comment and photo below.
Don't miss our full collection of tried and true cake recipes in our Cakes and Cupcakes section!
Red Velvet Marble Pound Cake with Peppermint Glaze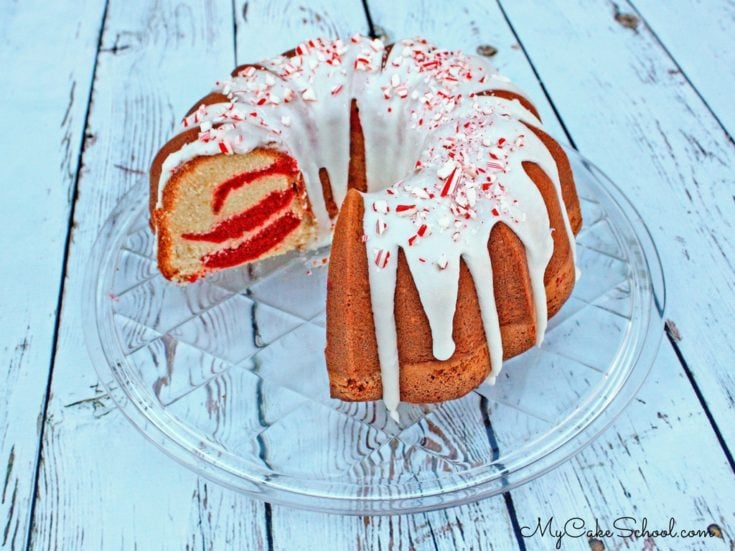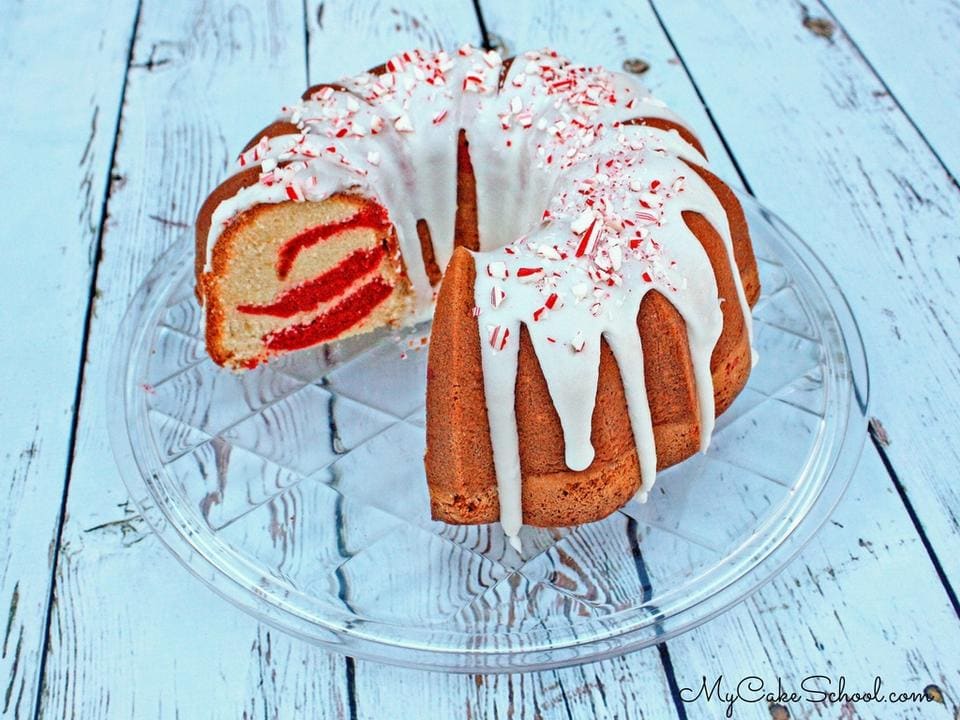 The most flavorful Red Velvet Marble Pound Cake with Peppermint Glaze! We love this cake year round, but adding the peppermint glaze makes it the perfect Christmas on winter cake!
Ingredients
For the Pound Cake
3 sticks (339g) unsalted butter, softened slightly
3 cups (600g) sugar
5 large eggs, room temperature (can be warmed by placing in bowl of very warm water for a few minutes)
3 cups (375g) all purpose flour (plain flour in the UK)
½ teaspoon (2g) baking powder
1 cup (235g) milk ( I use whole milk)
2 teaspoons (8g) vanilla
1 Tablespoon (5g) unsweetened cocoa
1 Tablespoon (11g) red liquid food coloring
For the Peppermint Glaze
2 ½ cups 230g) sifted powdered sugar
¼ cup ( 60g) milk (more if needed, add a teaspoon at a time)
1 teaspoon (4g) vanilla
¼ teaspoon (1g) peppermint extract
Crushed Candy Canes for topping (optional)
Instructions
For the Cake
Grease and flour a 10 inch (16 cup) bundt cake pan
Lower the oven rack to the next to lowest position. Preheat the oven to 325 degrees.
In a separate bowl whisk the flour and baking powder to combine, set aside.
Beat the butter until smooth and creamy. Gradually add the sugar and beat on medium speed for 3 to 5 minutes until it is light and fluffy, may take longer if using a hand mixer.
Add the vanilla. Add the eggs one at a time beating after each until the yolk is blended in.
Add the flour mixture alternately with the milk, beginning and ending with the flour mixture (3 additions of dry ingredients and 2 additions of milk). Mix just until combined, scraping the sides and bottom of bowl.
At this point, you will remove 2 ½ cups of the cake batter and put into another bowl. Add the cocoa and red food coloring and stir to combine.
Using a small cookie scoop (1 ½") or a Tablespoon, place scoops of the plain batter into the prepared pan, top this with the red batter, alternating each row until the batter is used. You could use a table knife to swirl slightly, or just leave in layers of color.
Bake at 325 degrees for 1 hour to 1 hour and 5 minutes. If using an aluminum tube pan, the baking time will be longer. A toothpick or thin skewer inserted in the cake should come out clean or with just a few crumbs attached. Let cool in the pan 10 minutes. Turn out.
For the Peppermint Glaze
Whisk together until smooth.
Makes approximately 1 cup
We find it easier to apply to the cake if put into a piping bag. No need to use a coupler, just snip the end of a disposable piping bag to create a small opening.
Garnish the top of the cake with crushed candy canes.