Mmmmmmmm….Gingerbread Cake! Now that fall has arrived, my cravings for all things cozy and spiced are in full swing! Are you having those cozy cravings too?
I think you're going to LOVE today's scratch recipe for Gingerbread Cake with Spiced Cream Cheese Frosting!!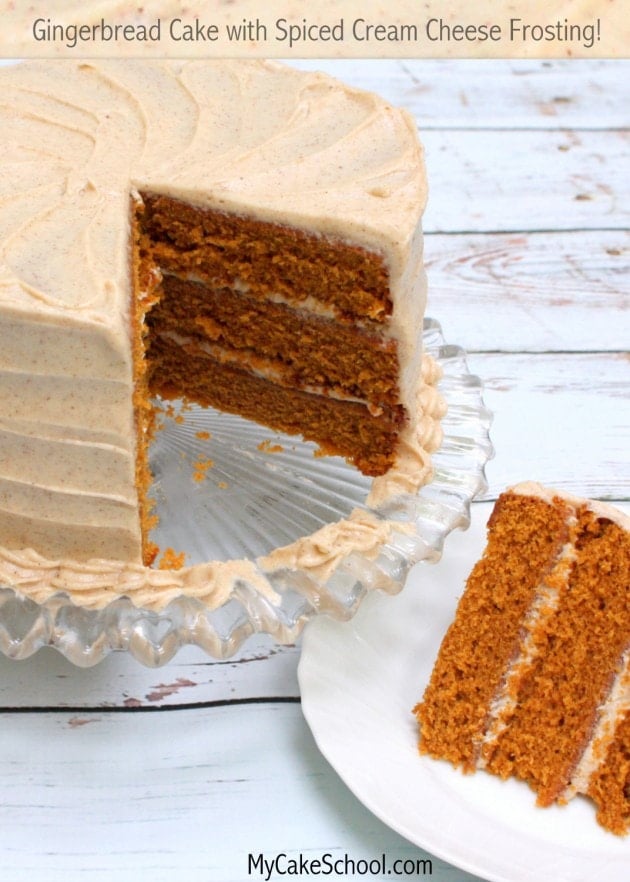 This homemade cake recipe is amazingly moist, flavorful and delicious. The spiced aroma alone is almost reason enough to bake the cake! Ahhhhh.
Before we made this recipe, I had always associated gingerbread with cookies or a holiday treat, but not an actual cake. I didn't realize what I was missing!
What I love about this dessert is that it incorporates all of the flavors of gingerbread into fluffy cake layers. The Spiced Cream Cheese filling and frosting pair beautifully with the gingerbread cake layers. It's a match made in heaven.
This is a welcome dessert at my house year-round, but I especially love it for Thanksgiving and Christmas, when our cravings for spiced deliciousness are at their highest! YUM!
We hope that you enjoy this fabulous scratch recipe!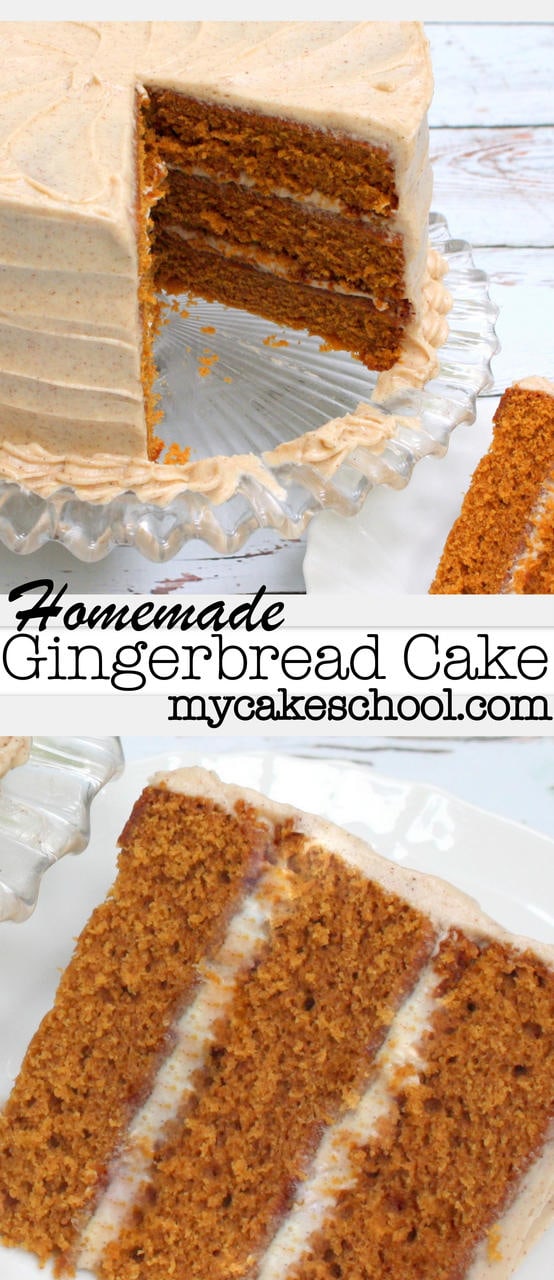 Gingerbread Cake with Spiced Cream Cheese Frosting
Ingredients
1 1/2 sticks (12 T) (170 g)

unsalted butter, slightly softened

1 cup (217 g)

firmly packed brown sugar (I used light brown sugar)

1 cup (200g)

white sugar

3

large eggs

3 cups (363 g)

all purpose flour

1 Tablespoon (12 g)

baking powder

1/2 teaspoon (3g)

salt

1 tablespoon (5g)

ground ginger

2 teaspoons (4g)

ground cinnamon

1/2 teaspoon (1g)

nutmeg

1 cup (322g)

molasses

1 cup (236 g)

water

1/3 cup (69g)

vegetable oil
FOR THE FROSTING
1 1/2

cups (3 sticks) (339g) unsalted butter, softened

1 1/2

packages (339 g) cream cheese (no need to soften to room temp)

2 teaspoons

(4g) cinnamon

1/2 teaspoon

(1g) nutmeg

1 teaspoon

ground ginger (2g) *sift if clumpy

6 to 6 1/2 cups (690g - 748g) more if needed

confectioners' sugar, sifted
Directions
Preheat the oven to 350 degrees.
Grease and flour three 8 inch cake pans
In a separate bowl, combine flour, ginger, cinnamon, nutmeg, baking powder and salt. Whisk for at least 30 seconds, set aside.
In another bowl, blend the molasses, oil, and boiling water, set aside.
In the bowl of the mixer, beat the butter until fluffy and then gradually add the sugar, beating for about 2 minutes until lightened and fluffy. Add the eggs one at a time, beating after each addition until the yolk is blended in.
Add the flour mixture to the butter mixture alternately with the wet ingredients, beginning and ending with the flour mixture. Beat until combined after each addition, scraping the bottom of the bowl a couple of times.
Pour into greased and floured 8 inch cake pans. Bake at 350 for 30 minutes, or until a toothpick inserted in the center comes out clean (or with just a few crumbs attached.) 8 cups cake batter
FOR THE FROSTING: Using your mixer beat the butter and cream cheese until well blended. Add the and spices. With the mixer on low speed gradually add the confectioners' sugar and mix until it is a good piping consistency.
This cake bakes flat with no dome. It will hold up to fondant. This recipe will work for cupcakes (which also bake with no dome.)
Do you prefer to work with doctored cake mixes? If so, you are in luck. We have an amazing Gingerbread Cake (Doctored Cake Mix) Recipe also! Moist, fluffy, and DELICIOUS cake layers with the perfect blend of spices! This recipe works wonderfully with cupcakes too!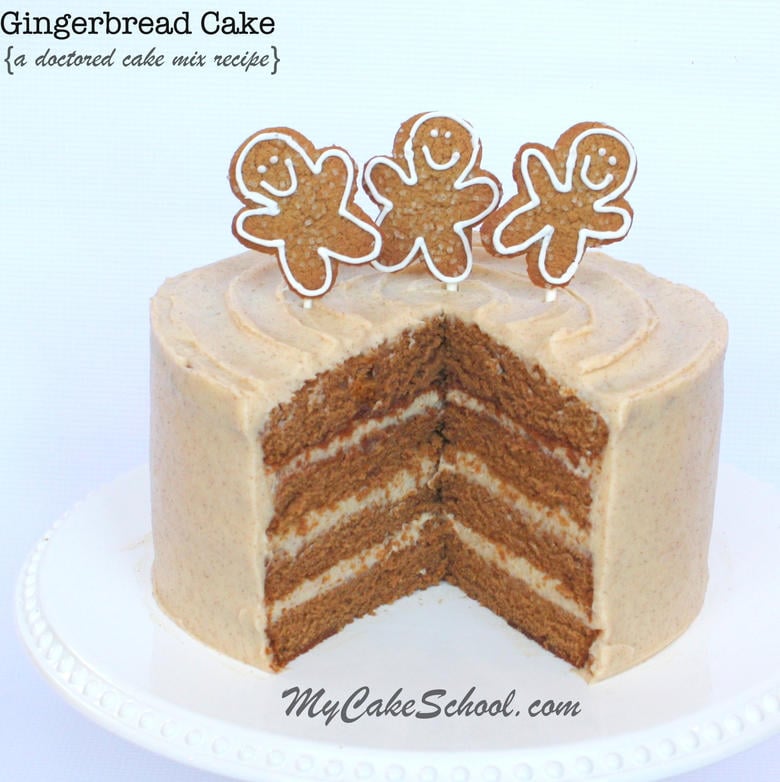 For members of our site, you may be interested in our 3-D Gingerbread House Cake Video Tutorial!: