Mermaid cakes are still going strong as a popular choice for birthday parties, and somehow we've never done a mermaid tail cake!
Today we are fixing that problem with a super cute mermaid & beach themed cake that would perfect for summertime birthday parties, pool parties, luaus, and more!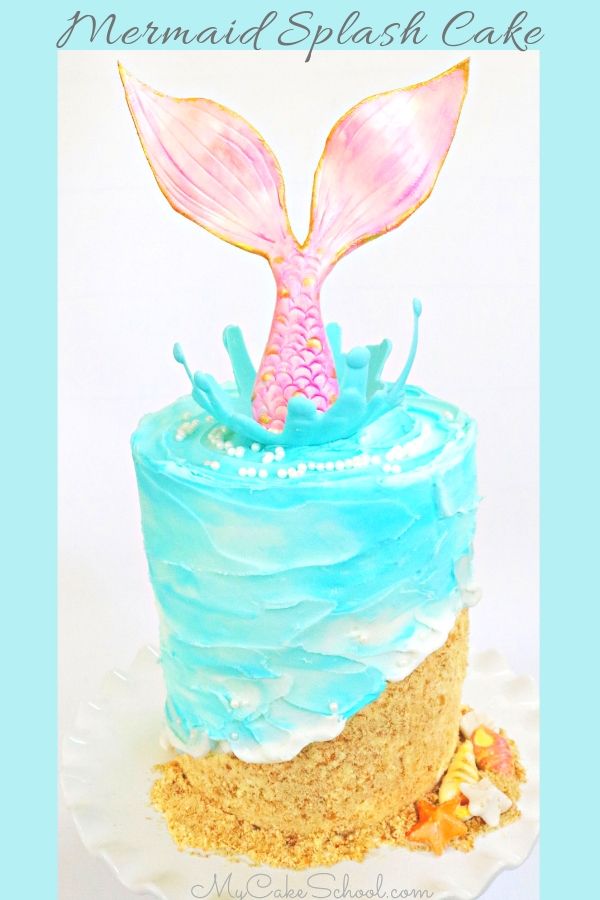 I'm going to show you how to create a lovely (and simple) mermaid tail from gum paste. Although you can make mermaid tails with a silicone mold, I like the size of this one, and the movement that you can create by rolling the fins nice and thin.
In addition to making a beautiful mermaid tail, I loved creating the beach scene around the sides! We used crushed vanilla wafers for sand, and shades of blue buttercream can be swirled around the sides to create simple ocean waves. I love the look!
Keep this beachy sand & water design in mind whether you are creating a mermaid topper, a sailboat, shark, or any number of ocean decorations. Enjoy the video!
Materials:
This design would work for all sorts of cake sizes, but we used a 6 inch double barrel cake design. (We used 4 cake layers total. There was a cake cardboard halfway up with 4 bubble tea straws beneath it for support.) If you've never made a double barrel cake, you can see the whole process in Part 1 of our Carousel Horse Cake Topper Tutorial.
Template (You may not need this, but it's helpful for making sure the fins are equal in size)
Buttercream- I used our Fluffy Vanilla Buttercream recipe, but our Classic Vanilla Buttercream (or any recipe you like) is fine!
Vanilla Wafers- 1 box- (we didn't use the entire box)
Coloring Gels: I used Americolor Sky Blue (for creating dark and light blue), Deep Pink, various shades for our shells at the bottom (orange, warm brown, white)
Lollipop Stick for anchor
Piping Tips: I used a tip 10 for creating the scale impressions. (I didn't use any piping tips for actual piping) ;0)
Shell Silicone Mold (optional)- I got mine from Michaels.
Candy Melts for the splash- I used light blue mixed with a few white candy melts. You could also tint white candy coating with oil based candy color.
Cooking Spray
Balloon for the chocolate splash--Make sure to oil it well with cooking spray. Mine in the video was greased with shortening and either I didn't grease it enough or shortening isn't the best route because a few of my little drips stuck!
vodka or everclear (for painting the mermaid tail)
gold luster dust (optional)
pearl dust- optional- (I used CK Super Pearl). I dry dusted over the tail after the color dried for a little extra shimmer.
Miscellaneous: Disposable piping bags, bench scraper, small spatula, fondant rolling pin