Beach Cake Video Tutorial
Hi everyone! I'm happy to share our new video tutorial for a fun Beach Cake!
We had so much fun creating this cake design- it is perfect for beach parties, summer parties, pool parties, and more!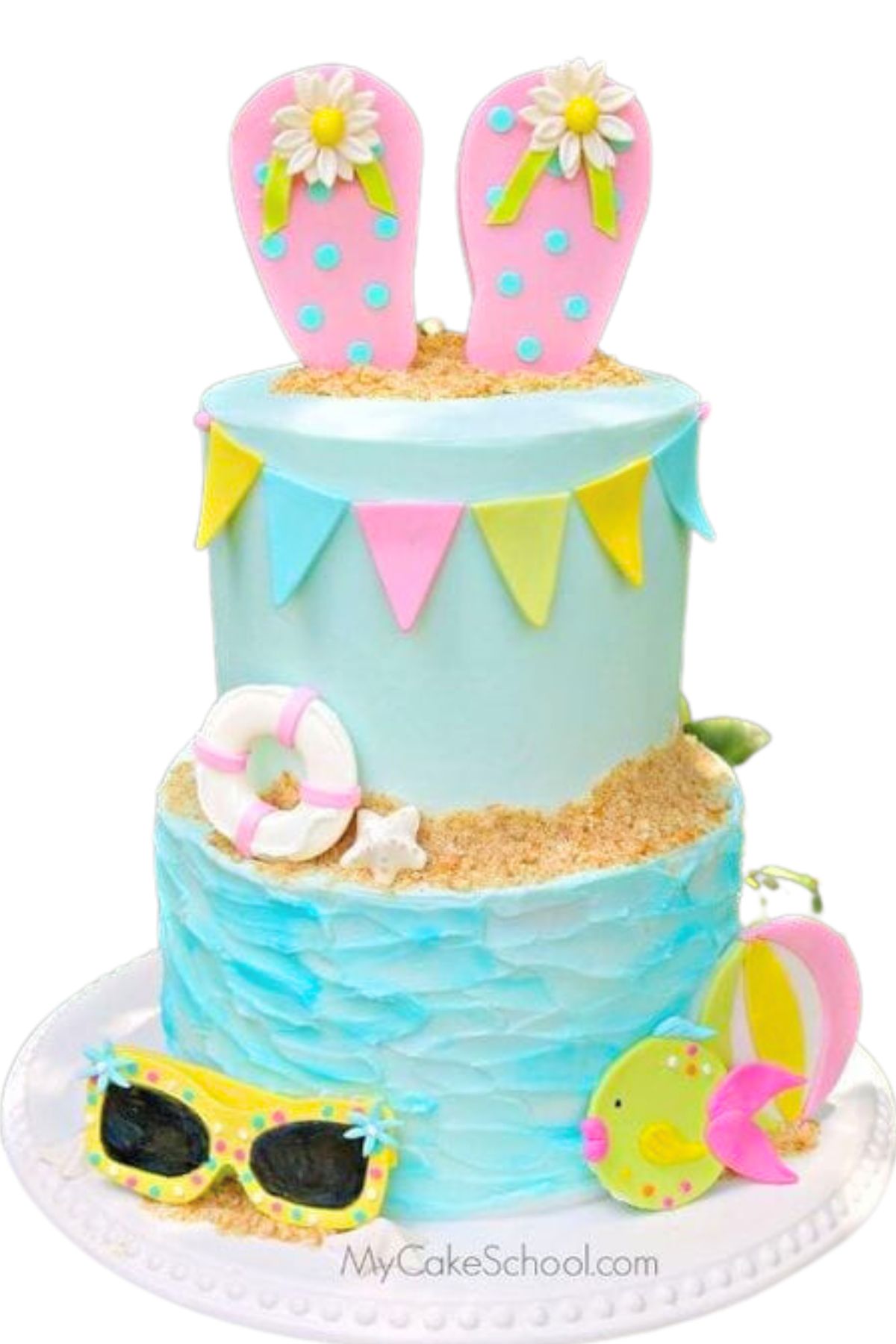 Why we Love It
There are so many reasons to love this CUTE Beach Cake! Here are just a few:
Super simple beachy decorations (pick and choose from your favorites!)
Design can easily be adapted to cakes from any size (single tier, sheet cakes, and more)!
We used several fun decorations for this cake--and you can find the simple templates for these below.
Perfect summer cake design, birthday cake idea, and more!
Materials for Beach Cake:
For this tutorial, we stacked an 8 inch and 6 inch tier. Each tier is on it's own cardboard cake circle cut down to size as usual. I used 4 bubble tea straws cut to the height of the bottom tier to support the upper 6 inch tier.
We used our Fluffy Vanilla Buttercream frosting recipe for this tutorial but our Classic Vanilla recipe would work well too..
Templates for Sunglasses and Flip Flops
Gum Paste and/or fondant with tylose powder kneaded into it
Coloring Gels: Sky Blue (for both light and dark blue), Deep Pink, Electric Green, Lemon Yellow
Confetti Sprinkles: optional, I used little ones for dots on the sunglasses
Lollipop sticks or skewers for anchors to the flip flops
Tylose Powder: a little can be kneaded into your fondant for your flags to make them a little firmer. I also used tylose powder mixed with a little warm water to create a glue for attaching the anchors to our flip flops. (You could also use melted chocolate candy melts).
Piping Gel- Makes a good glue for lightweight pieces- for instance, attaching sprinkles to the glasses. (You could also use the tylose glue above for everything).
Food writer pen- Used for eye of fish
Piping tip 10 or 12 for punching out dots for flip flops
Vanilla wafers or your vanilla cookies of choice for "sand"-- We crushed about 15 cookies for our cake.
Circle cutter for fish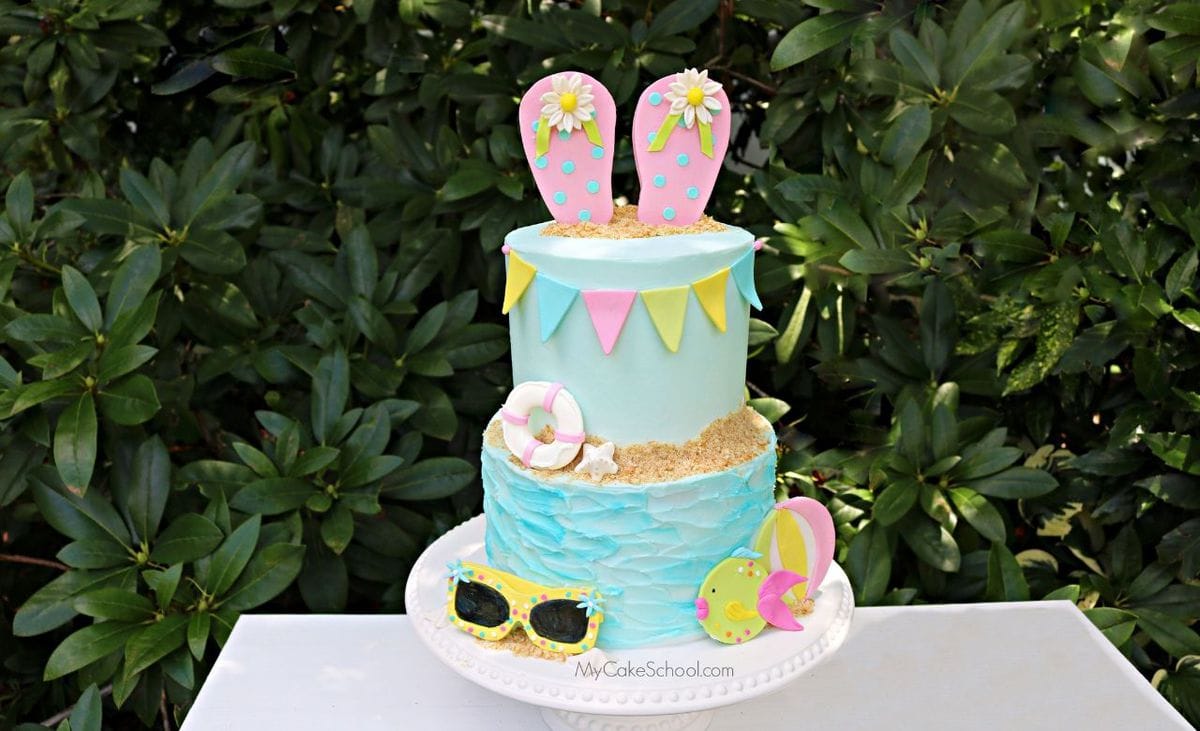 Notes for the Beach Cake:
For the gum paste flip flops, start working on them a few days in advance to be on the safe side so that they will have plenty of time to dry and become very firm.
If you live in a humid location, it may take longer (it may also take closer to 1-2 days but it's best to play it safe, especially since the topper has to stand on it's own.)
More Birthday Cakes
We have so many birthday cake ideas to share with you! You can find our full collection in our Cake Decorating Tutorials section, but here are just a few of our fun favorites: Flamingo Cake, Fish Cupcake Cake, Mermaid Cake, and Cartoon Cake!
Cake Recipes
You can use all sorts of cake recipes for this cake design! Some of our favorites are our Lemon Cake Recipe, Marble Cake, Strawberry Cake, Orange Cake, and Vanilla Velvet Cake!
You can find these recipes and so many more in our Cake Recipes section!
Enjoy the Video!