Today's decadent Chocolate Kahlua Cake consists of moist chocolate cake layers brushed with Kahlua, and filled and frosted with a creamy Kahlua espresso buttercream frosting.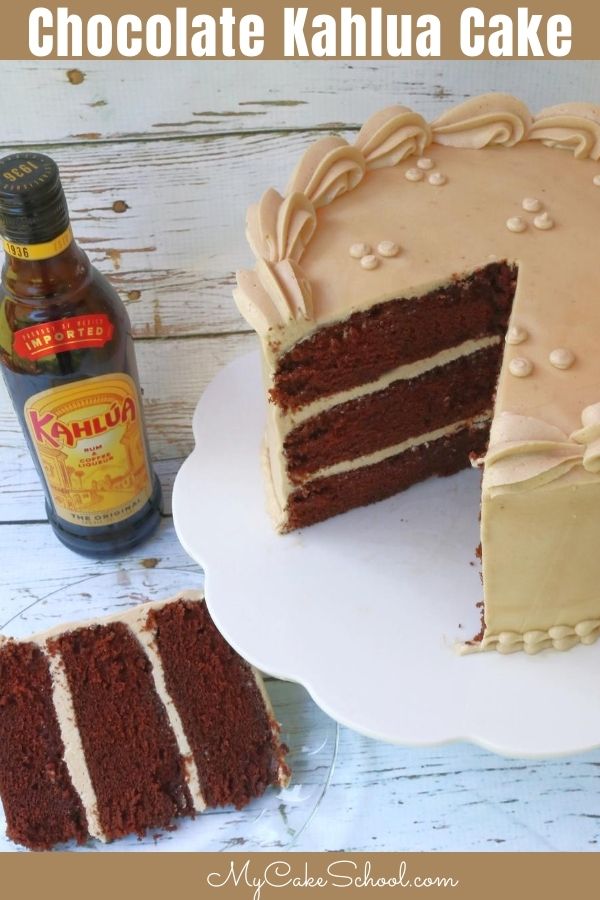 Details about our Kahlua Cake Recipe
Kahlua is a popular liqueur that contains rum, sugar, and coffee. When paired with our rich chocolate cake layers, the combination of flavors is perfection.
We've also used Kahlua in another favorite cake recipe- Our Tiramisu Cake! It's a great way to add just a little something extra to your coffee or chocolate recipes.
The recipe for our Chocolate Kahlua cake layers is based on our Classic Chocolate Cake recipe (yummm) with the addition of Kahlua.
We brushed the cake layers with a Kahlua Espresso Syrup and frosted with our Kahlua Espressso Buttercream, lending just the right amount of Kahlua flavor to this dessert.
The Kahlua flavor in this recipe is subtle yet unmistakable- and of course, you can adjust amounts to your liking! This "grown up" chocolate cake is sure to make any special occasion feel even more special. We hope that you enjoy it!

How to Make a Chocolate Kahlua Cake
You are going to love this amazing cake! You can find the full recipe card further down in this post.
Freezing the Cake Layers (optional)
This is a step that I do with all of my cakes whenever time allows because wrapping and freezing the freshly baked cake layers while still warm makes them extra moist.
After baking the chocolate cake layers, I allowed them to cool (still in the pans) on a cooling rack for about five minutes before flipping them onto individually foil-wrapped cake boards.
I then wrapped each cake layer with plastic wrap and foil and placed in the freezer.
Go ahead and wrap and freeze the cake layers while they are still a bit warm. You can leave them in the freezer for at least 3 hours (or up to three months)!
The Kahlua Espresso Frosting
The Kahlua Buttercream is an American Buttercream frosting that combines butter, confectioners sugar, and in this case a little espresso and Kahlua as well!
It is smooth and creamy, super easy to make, and it pipes perfectly. In other words, it's everything that you need in a buttercream frosting.
(Just as a little side note, we prefer to use Dominos Confectioners sugar in our buttercream frosting recipes. There are other brands that don't yield such a smooth result.)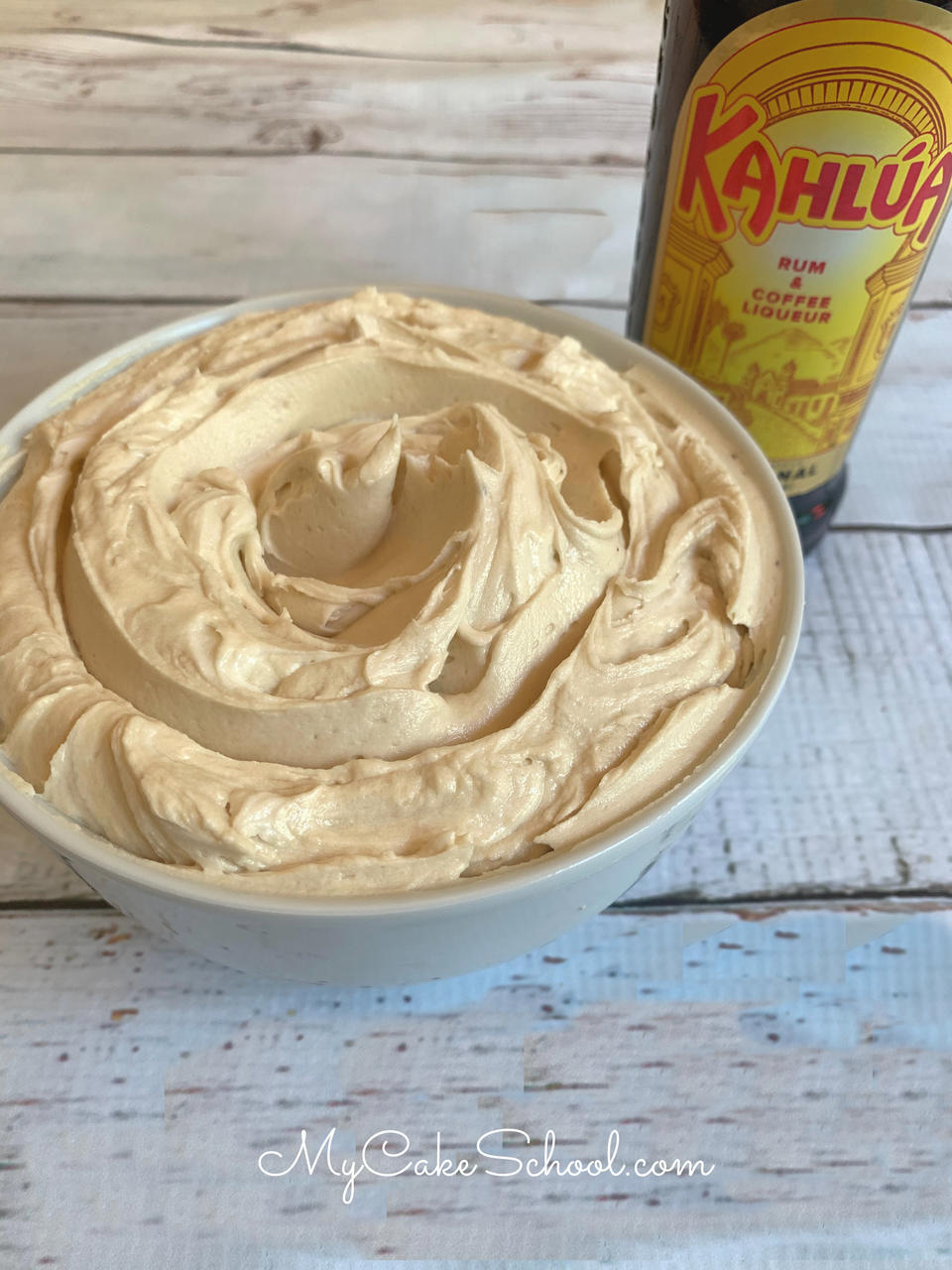 The Kahlua Espresso Syrup: This syrup or glaze is a combination of Kahlua, espresso granules, and a touch of confectioners sugar.
Once dissolved, simply brush over your cake layers to give the cake an added layer of Kahlua flavor.
Assembling the Chocolate Kahlua Cake
When you are ready to begin to assemble the cake, place the first (thawed) cake layer on your cake base or pedestal. Brush the Kahlua Syrup over the layer (you can poke small holes into the cake layer with a wooden skewer to help it seep in).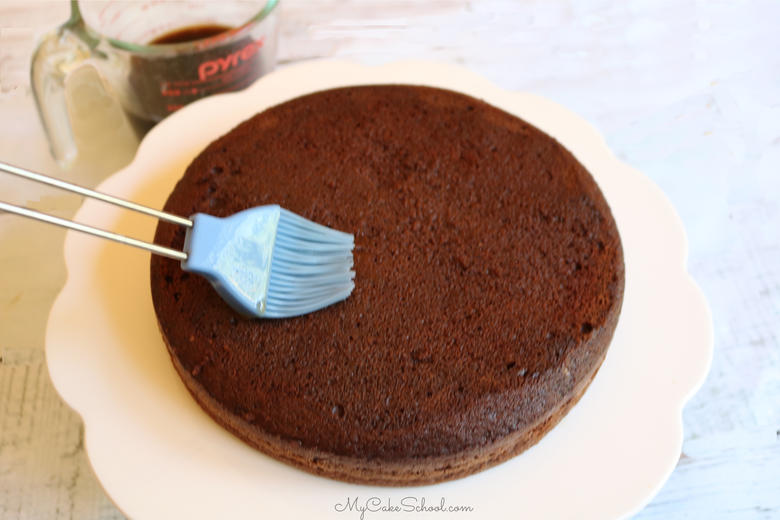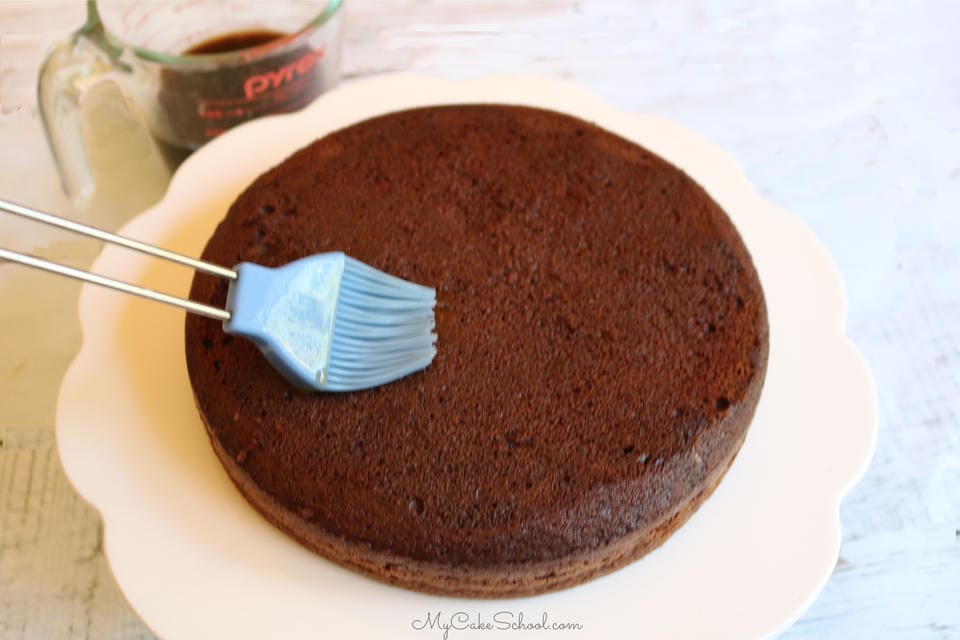 Spread with a layer of the Kahlua Espresso Buttercream, and repeat these steps for the next two cake layers.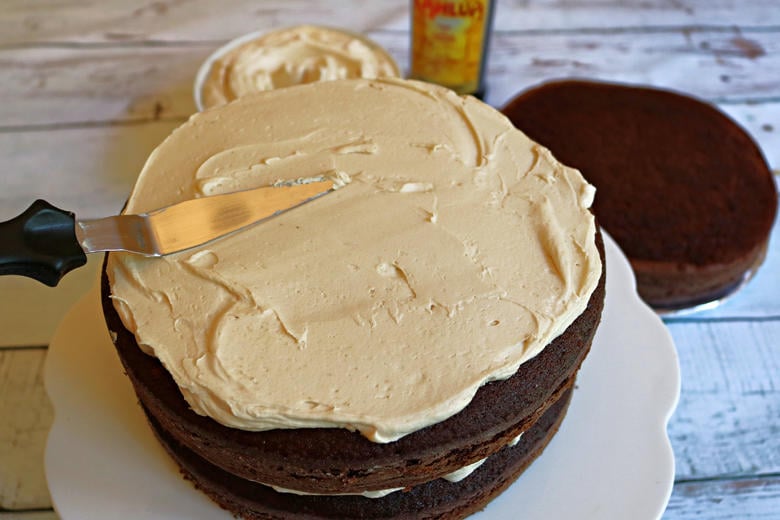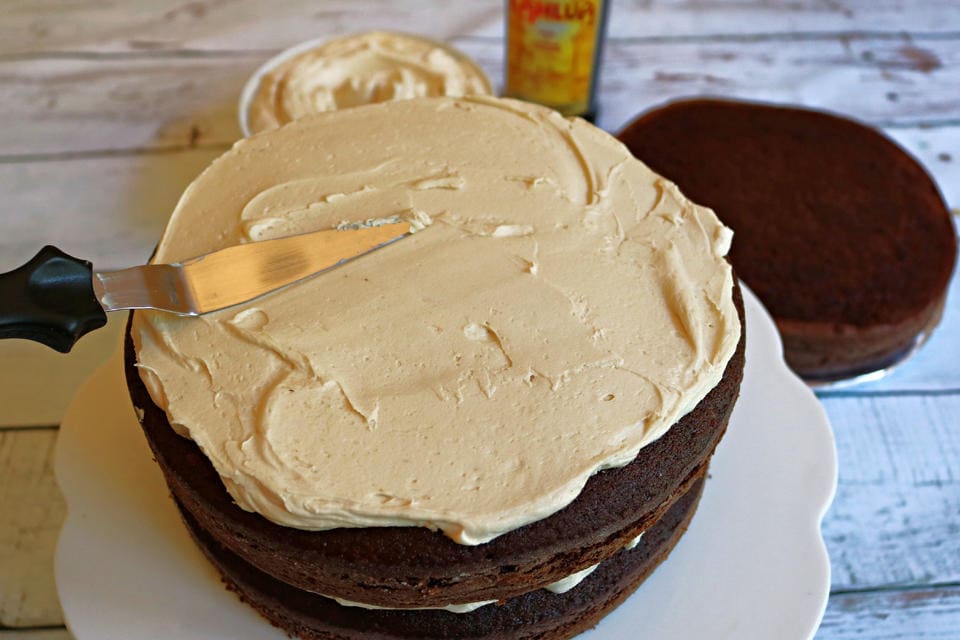 Settling the Kahlua Cake
The next step is optional but one that I always try to make time for- especially when the cake will be frosted & decorated with a smooth rather than textured finish. All cakes settle a little bit, becoming slightly shorter over time.
This is bad news if it happens after you've applied a final, smooth coat of frosting to the cake as it causes bulges around the sides.
Luckily, there's a fix for this- settle the cake in advance. After filling your cake layers (but before frosting), wrap the assembled, unfrosted cake with plastic wrap and place a "weight" on top.
The weight could be a couple of stacked cake pans, or thin book, etc. You want something that will add a light, steady pressure to the top of the cake- Be careful not to add too much weight, you don't want to crush your cake. After at least a few hours or overnight, unwrap and proceed as usual!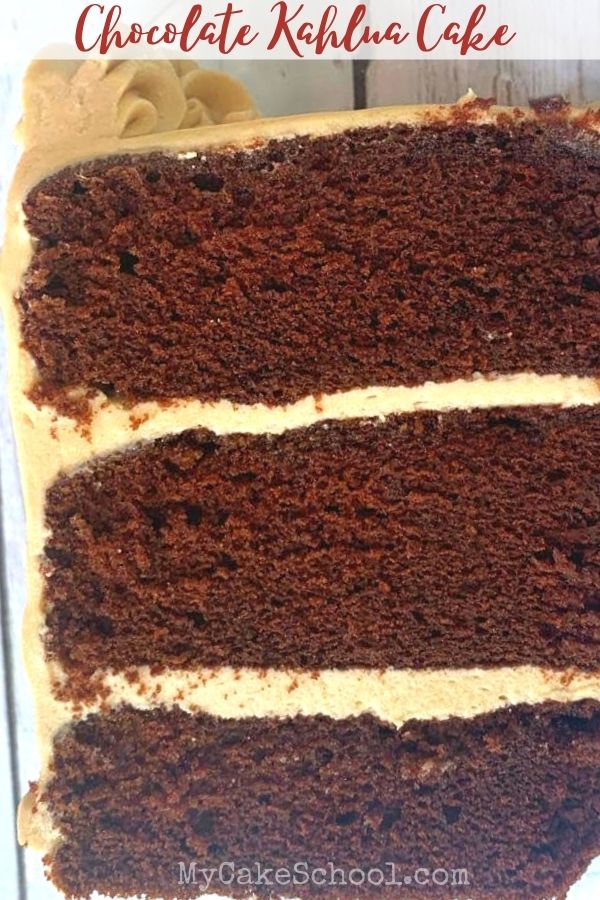 Frosting and Decorating the Cake
Feel free to frost this delicious Chocolate Kahlua Cake however you like! This batch of Kahlua frosting is enough to fill, frost, an add decorative borders, etc. I kept things pretty simple!
Hot Knife Method of Smoothing
I frosted my cake as usual, first with a thin crumb coat of buttercream. Then I froze the cake to firm it up for about 15 minutes before following with my second coat of frosting.
I smoothed over the frosting with my bench scraper, getting it as smooth as possible and placed in the freezer again for about 15-20 minutes. This step is optional, but useful if you want a super smooth finish around the sides.
Remove from the freezer, heat your metal bench scraper or spatula under very hot water, dry, and glide over any imperfections. You may need to add a little fresh buttercream here and there in problem areas and glide over with the hot bench scraper. The heat softens and smooths the buttercream as you go.
(*We have a free cake video on the Hot Knife Method of Smoothing if you'd like to see a demonstration!)
Piping the Borders
For the top border, I used a 2D piping tip to pipe a chunky shell border. For the bottom border, I piped a bead border using a small round tip 3. Then I created another bead border just above it. Finally, using my tip 3, I added dots over the top of the cake.
We have cake decorating videos on Star Tip Buttercream Piping and Round Piping Tips!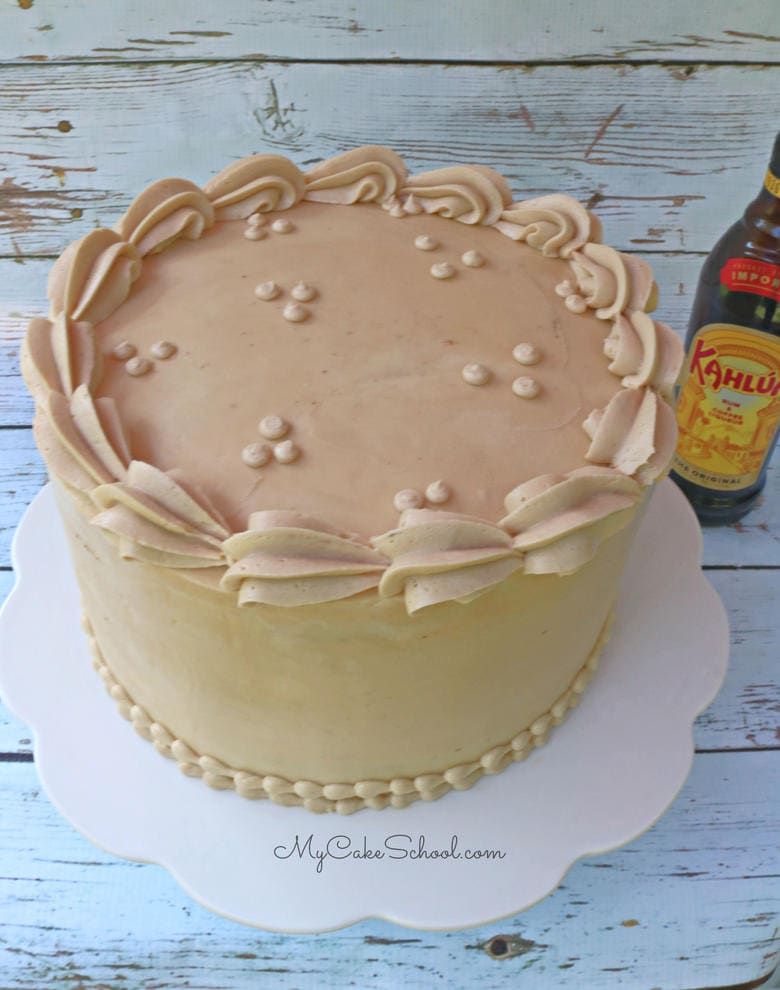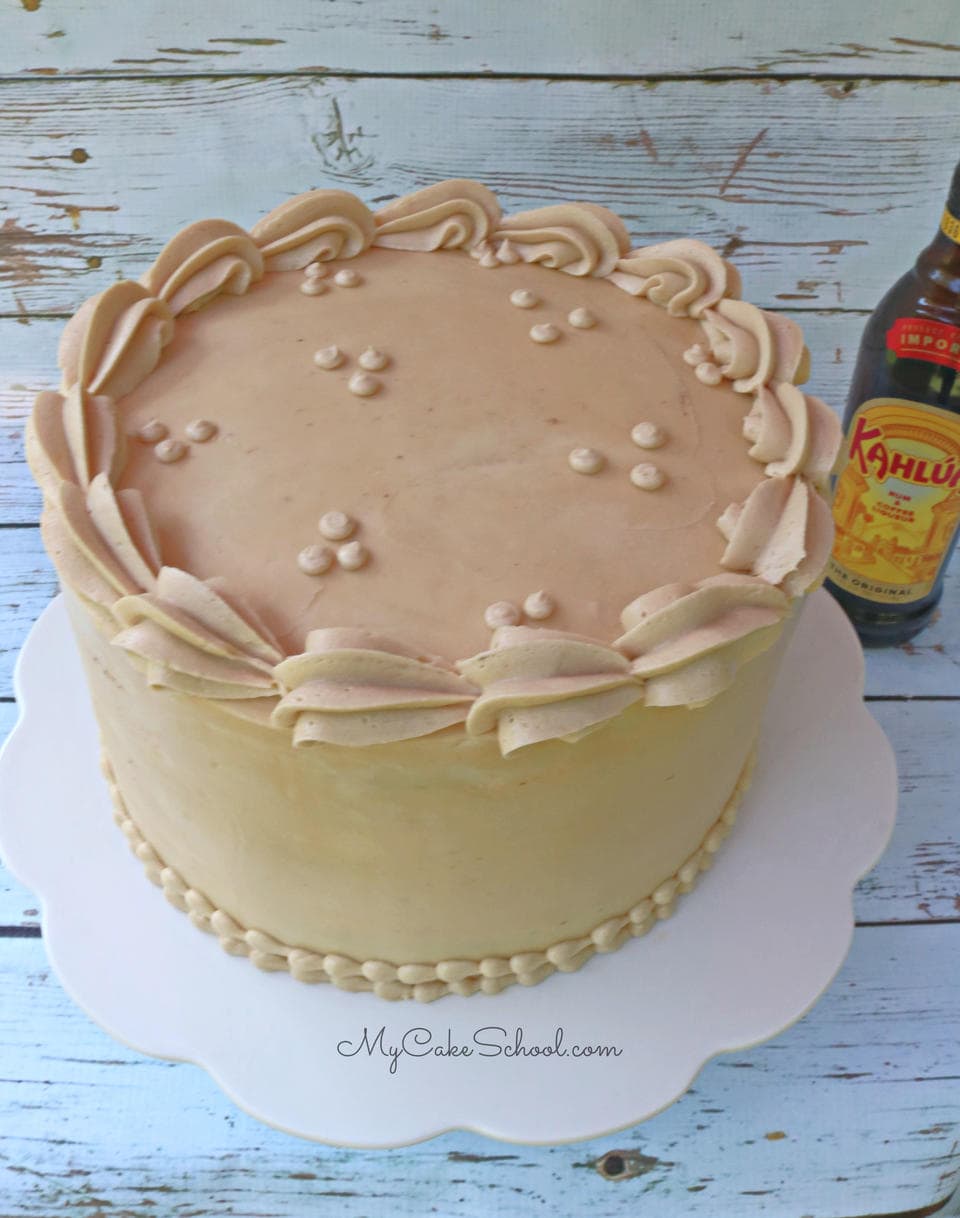 Looking for more Boozy Cakes?
If you're looking for more boozy cake recipe options, we've made many over the years! You can find the full roundup of our favorites, from elegant champagne-infused cakes to cocktail inspired recipes in this post: Favorite Boozy Cake Recipes.
We're sharing a few favorites below. Some of our most popular are our Black Forest Cake, Pina Colada Cake, Limoncello Cake, and Pink Champagne Cake!
More Chocolate Cakes
In addition to this rich Chocolate Kahlua Cake recipe, we have so many more fabulous chocolate cake recipes for you to try!
If you love all things chocolate, make sure to hop over to our roundup of The Best Chocolate Cake Recipes! Also, don't miss our full collection of Cake Recipes, including favorite cake recipes from scratch as well as cake mix recipes!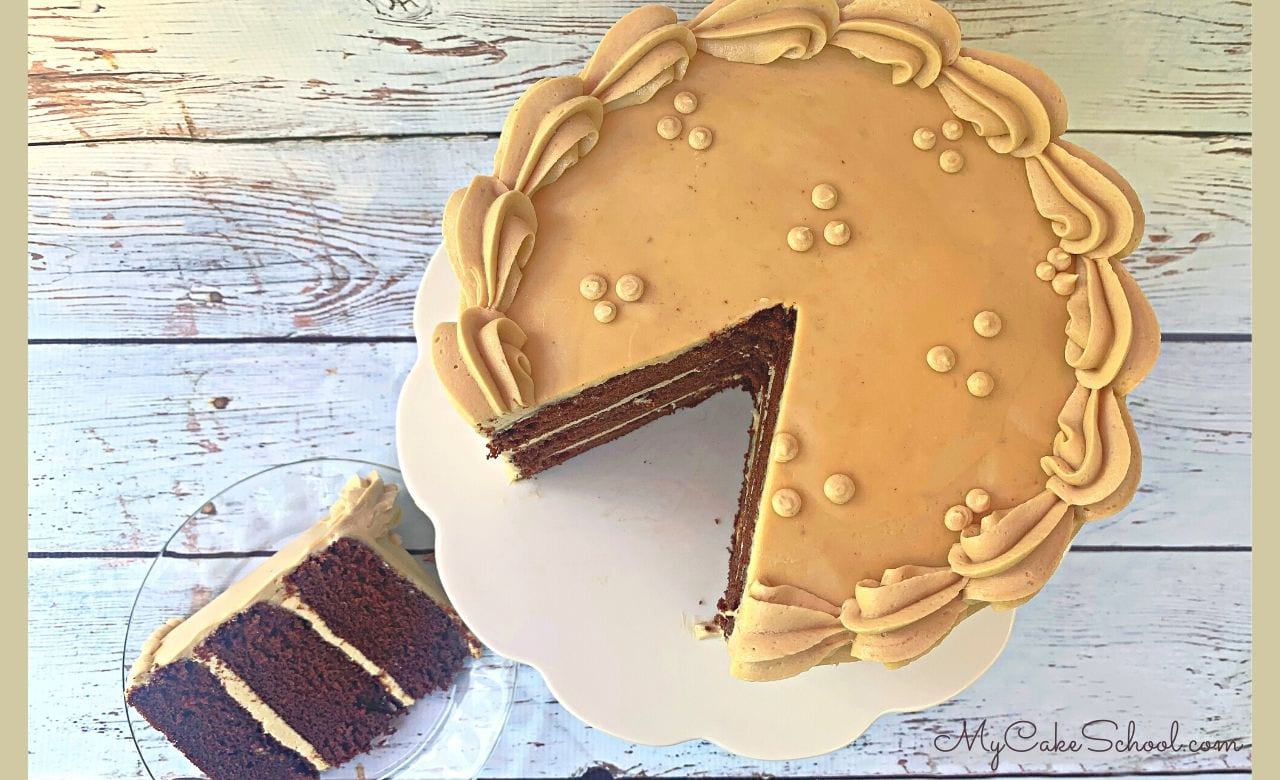 Have you made this Cake? We would LOVE for you to leave a ⭐️ rating as well as a comment and photo below! We really appreciate your feedback!
Yield: 15 servings
Chocolate Kahlua Cake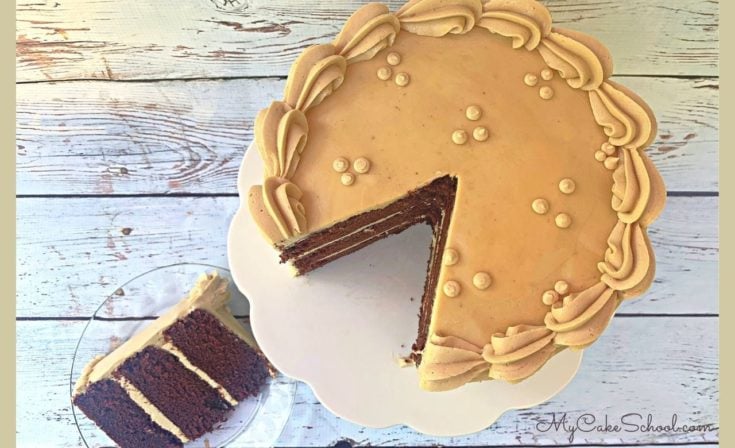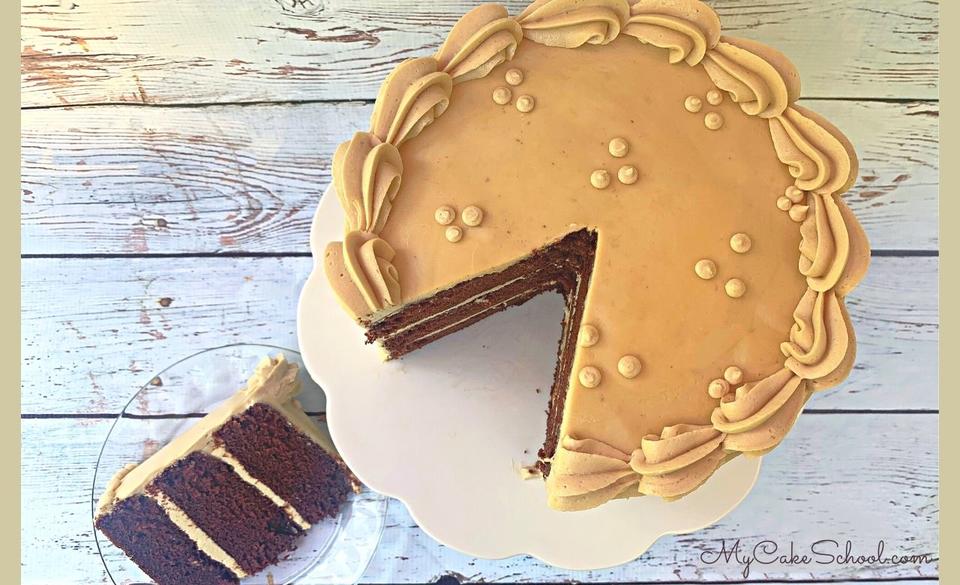 This decadent Chocolate Kahlua cake is sure to please a crowd!
Additional Time
45 minutes
Total Time
1 hour
30 minutes
Ingredients
For the Cake
I use the reverse creaming method with this recipe
2 cups (400g) granulated sugar
2 ¾ cup (322g) all-purpose flour
1 cup (82g) unsweetened cocoa (lightly spoon into cup then sift)
2 teaspoons ((10g) baking soda
½ teaspoon (2g) baking powder
½ teaspoon (2g) salt
1 cup (2 sticks) (226g) unsalted butter, softened (do not soften in microwave) I cut the butter into 1 inch pieces onto waxed paper leaving on the countertop for 8 to 10 minutes it will still be quite cool when adding to the dry ingredients. If it becomes too soft, just refrigerate a few minutes
¼ cup (54g) vegetable oil
4 large eggs at room temperature
½ cup (110g) milk
½ cup (110g) Kahlua
1 teaspoon (4g) vanilla extract
1 cup (220g) hot coffee, it can be instant or brewed
For the Kahlua Syrup
¾ cup (165g) hot espresso coffee or strong coffee (brewed or instant)
¼ cup (55g) Kahlua
2 Tablespoons powdered sugar
For the Kahlua Espresso Buttercream
3 sticks (339g) unsalted butter, slightly softened
8 cups (920g) powdered sugar
½ cup (110g) Kahlua
3 teaspoons espresso granules dissolved in 1 teaspoon hot water
Instructions
For the Chocolate Kahlua Cake Layers
Preheat oven to 350 degrees
Grease and flour THREE 8 inch cake pans
In a mixing bowl, add the dry ingredients: sugar, flour, cocoa, baking soda, baking powder, and salt. Whisk for 1 minute to blend.
Add softened butter a few pieces at a time while the mixer is on low speed. Mix until the dry ingredients look like coarse sand and the dry ingredients are moistened. Scrape the bottom and sides of the bowl.
In a separate bowl whisk the eggs, milk , Kahlua, oil and vanilla until blended.
Method is important when using the Reverse Creaming Method. With the mixer on low speed, SLOWLY add approximately ½ of the egg and milk mixture to the dry ingredients. Increase the speed to medium and mix for 1 ½ minutes at medium speed. Don't mix above medium speed. Scrape the bottom and sides of bowl. Add the remaining egg mixture in 2 pourings, beating for 20 seconds after each pour. Scrape the sides and bottom of bowl.
Slowly add the cup of hot coffee and mix another 30 seconds until blended. The batter will be very runny. Don't worry!
Pour into 3 prepared 8" pans and bake at 350 degrees for 25 to 30 minutes or until the center of the cake springs back to the touch and a toothpick comes out clean.
Cool the cakes 10 minutes on a rack and then turn out of the pans.
*Yields approx 9 cups of batter.
For the Kahlua Espresso Syrup
Mix coffee, Kahlua and powdered sugar and set aside to cool.

For the Kahlua Espresso Buttercream
Beat the butter on medium speed until smooth. Dissolve espresso granules into 1 teaspoon hot water.
Add half of the powdered sugar, espresso, and half of the Kahlua. Beat at medium speed until the powdered sugar is incorporated.
Add the remaining powdered sugar and Kahlua and mix at medium speed another 3 to 6 minutes scraping the sides of the bowl occasionally.
This recipe makes 6 cups of frosting, enough to fill and frost a three layer 8 inch cake with borders.
If your consistency is too thin, add more powdered sugar. If too thick, add a bit more water or milk, a teaspoon at a time.
Assembly of Chocolate Kahlua Cake
Place the first layer on the cake base or pedestal. Brush over the top with Kahlua Espresso Syrup. Follow with a layer of the Kahlua Espresso Buttercream, and repeat for the next two layers.
(I frosted the cake and added top border with a 2D piping tip, and bead borders around the base with a small round 3 tip.)