In this video tutorial, you will learn how to create a simple, beautiful "painted" buttercream technique as well as how to create matching pastel chocolate spheres.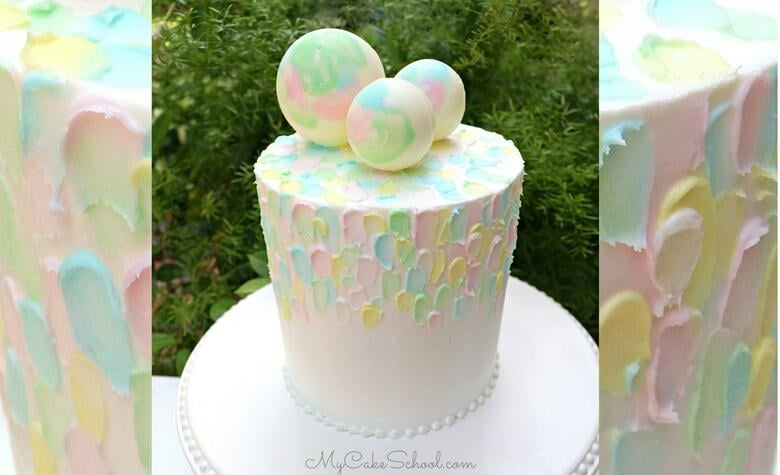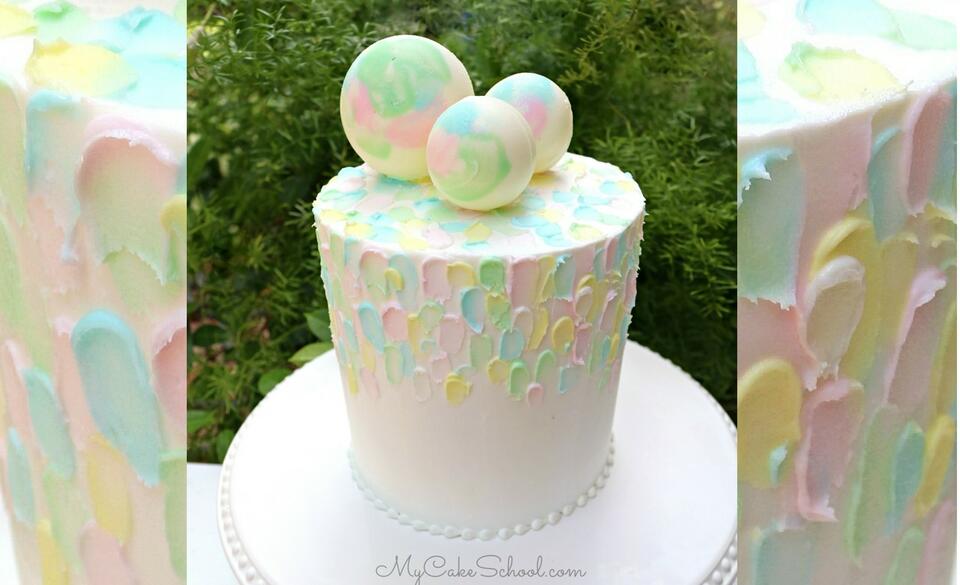 I love buttercream techniques and especially techniques that have lots of color and texture! Today's cake design is a combination of a couple of cake trends that I've seen lately, which are very simple to create (hooray)! This cake has a Katherine Sabbath feel to it with it's use of chocolate spheres and fun textures.
As you'll see in the video, I used a silicone mold to create the spheres. However, if you'd like to avoid having to order the molds, you could create something similar by covering balls of styrofoam (or rice cereal treat) spheres with marbled or painted fondant.
We hope that you enjoy the video!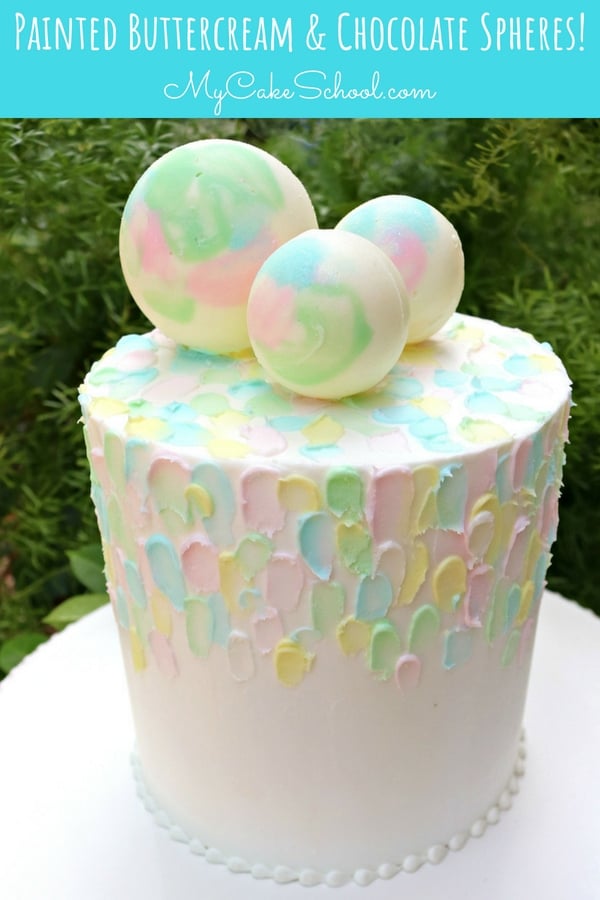 Materials:
In this video, we decorated a four layer double barrel cake. As usual, the bottom two layers are on their own cake cardboard cut down to size, with four bubble tea straws inserted and cut to the height of the bottom two layers. Then the next two (filled) cake layers are on their own cardboard cake circle cut to size, and placed on top of the bottom tier. Cake is frosted as one.) We frosted this cake with our fluffy vanilla buttercream frosting.
Silicone Spheres. We used spheres that were about 1 ¾ and 2 ½ inches diameter. Here is an affiliate link to the exact mold that we used, but this is a set of four which may be more than you need. You can find lots of options on Amazon.
Candy Coating - Use your candy coating of choice. We used Candiquick bark coating
Coloring Gels- We used Americolor Candy Color Gels in Pink and Green to tint both our white chocolate coating and our buttercream (so the shades of buttercream and chocolate would be a close match). We used Americolor Sky Blue -regular gel color instead of Blue Candy Color since we liked the shade of blue better. However, it does make for a slightly thicker texture when mixed with the candy coating. Candy coloring gels don't alter the texture of the chocolate coating.
Offset Spatula- I used a small rounded offset spatula but a small tapered one would work well also.
Piping Tips: I used a Tip 4 for the bead border
Disposable Piping Bags
Misc: I applied my colorful chocolate accents to the spheres with a medium sized flat (small) paintbrush with fairly stiff bristles. Of course you can improvise with the brushes you have on hand or with a small spatula.
When frosting the double barrel cake, I applied my frosting as usual with a spatula, then smoothed with a bench scraper. Smooth with your method of choice, I used the hot knife method and so I chilled the cake in the freezer, then smoothed out remaining imperfections with a heated spatula.
Notes:
It's easiest to do the buttercream technique when your base coat of frosting has been chilled and is firm. This helps to protect your smooth layer of frosting when spreading the colorful frosting dots.
I only used one large sphere and two small ones. It's a good idea to make one or two extra though just in case!
Make sure to brush your base layers of chocolate all the way to the top of the mold so that the spheres will fit together easily. Remember to do two coats (chilling in between) so that your spheres will be a good thickness. Clean up the areas around the molds before chilling so that the edges will be smooth.
Adhere both completed, chilled halves with melted candy melts.
I kept my contrasting colors away from the edges of the mold so that the seam joined with white chocolate wouldn't be as noticeable.
Smooth over any rough areas on your finished sphere with a little vegetable shortening. The heat of your fingertips with minimize imperfections.
Attach your spheres to the cake with a little buttercream. If your spheres seem too heavy, you can cut a bubble tea straw to the height of the cake beneath the sphere for support. Mine were lightweight enough that I didn't need to do this.