Knife-Textured Buttercream Technique- Cake Video Tutorial
Hi everyone! Today I'm sharing an elegant knife-textured buttercream technique that is surprisingly simple to create!
I love working with buttercream, and experimenting with different methods of texturing. In today's tutorial, I'm combining two fun techniques.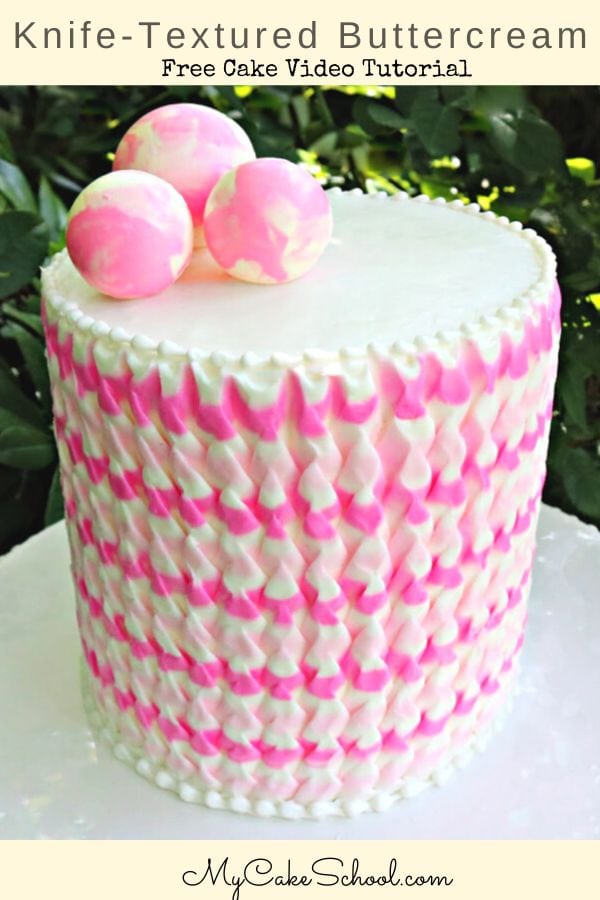 First, I'm going to create buttercream stripes on the cake tier, which you've seen us do in our "how to" tutorial on striped buttercream.
Next, I'll follow up with creating a textured pattern in the buttercream with a simple knife! (You could also experiment with a palette knife). This is actually a super short video tutorial because the technique is just the repetition of the same zig zag motion over and over again.
I love the look of this design, and the technique is so versatile! This is a technique that looks beautiful without the striping step as well. So, if you are not a fan of buttercream stripes or if you are in a hurry, the knife texturing is beautiful on a solid shade of buttercream as well!
Starting with a watercolor buttercream or ombre buttercream design before texturing is another option for introducing more color! We hope that you enjoy the video!
Materials:
*This technique would be beautiful on any size cake, including sheet cakes. However, for this tutorial, we are decorating a 6 inch double barrel cake (which stands about 7 inches tall).
This double barrel cake is 4 six inch cake layers and has a cake cardboard halfway up with 4 bubble tea straws cut to the height of the bottom two (stacked) layers beneath it. We frosted it with our classic vanilla buttercream although our fluffy vanilla buttercream recipe would work well too!
Classic Buttercream Frosting- This is our favorite because the butter in the recipe causes it to firm up more quickly when chilled (in preparation for the texturing).
Coloring Gels: Americolor Deep Pink
Sharp Knife
Wilton Cake Comb (for stripes)
Piping Tips: 3 for border, 10 for stripes
Mold for Spheres (optional)
Candy coating/candy melts in white
Oil Based Candy Coloring Gel- Pink (you can also use pre-colored candy melts)
Miscellaneous: Turntable, Bench Scraper, Disposable piping bags
Additional Notes:
Take some time to experiment just with a solid color of buttercream to get the hang of the technique before creating your buttercream stripes.
I applied my frosting slightly thicker than usual to get a little more dimension.
I applied my texturing when the cake was still slightly chilled, and I like to dip my knife in a glass of hot water before texturing. If your pattern isn't quite as clean as you'd like, it may be that the frosting is a bit too soft. Try chilling for just a few minutes longer in the freezer.
Have fun & experiment with other designs as well! The options are endless with this type of texturing with knives & palette knives!. ;0)