In today's cake decorating video, I'm going to demonstrate how to create a beautiful ruffled buttercream cake with a striped gum paste bow!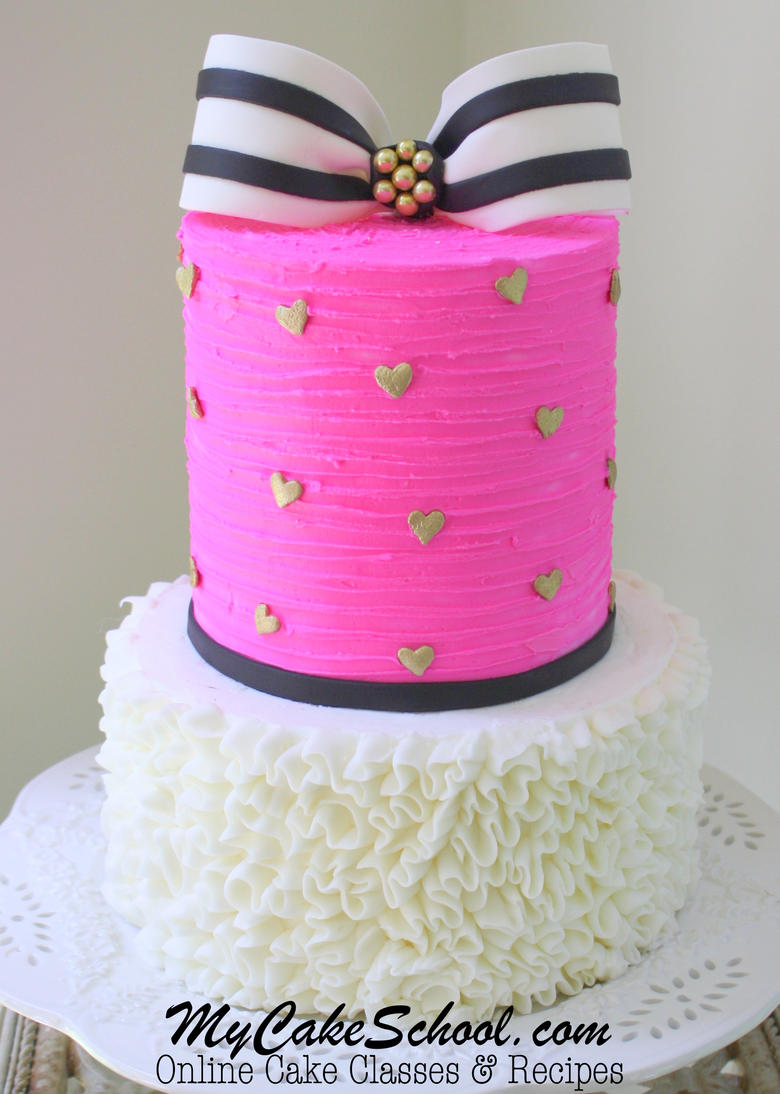 These techniques are so versatile, and can be applied to cakes for all sorts of occasions (from weddings, to baby showers, to birthdays)!
I think that you will love how quickly the buttercream ruffles take shape. Enjoy the video!
Materials:
The cake in this video is an 8 inch tier with a 6 inch double barrel tier on top. Double Barrel cakes are tall cakes with a cake board (and supports beneath) about halfway up.
Each of our tiers is on its own cardboard cake circle cut down to size. The 8 inch (bottom tier) has 5 bubble tea straw supports to hold the weight of the 6 inch tier.
The cakes are frosted in our Fluffy Vanilla Buttercream Recipe. Our Classic Vanilla Buttercream is perfect for this also!
Buttercream
Gum Paste for the bow (or fondant with tylose kneaded into it)
Pre Colored Black Fondant for the stripes & center of bow
Gold Dragees or your decoration of choice for the center of bow
Wilton Heart Sprinkles, painted gold
Gold Luster Dust (we used Rolkem Super Gold)
Vodka (for creating the "paint")
Piping Tips: Wilton 104 (petal tip/ruffles)
Coloring Gel: We used Wilton Rose
Piping Gel (for "glue")
Spatula- I used a small tapered spatula for the ridged buttercream
FMM Multi Ribbon Cutter (Optional, but I used this for cutting my stripes.)
Supports of your choice (I used bubble tea straws for my supports. 5 beneath the top tier, and 4 within the double barrel.)
Cardboard cake circles- 3 total. I used one beneath each tier, and one within the double barrel (halfway up)
Miscellaneous: Small paint brushes (only use with cakes), plate or palette for mixing gold and painting sprinkles,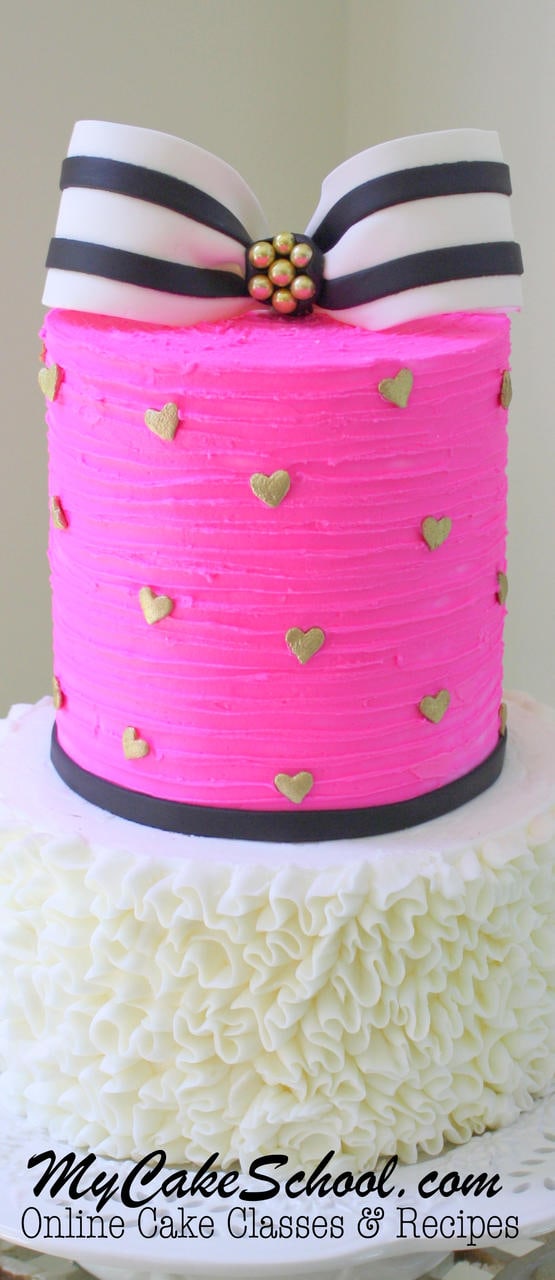 Notes:
My strips of gum paste for the loops were 7 inches long by 2.5 inches wide.
The black stripes and black band around the bottom tier were just over ¼ inch wide.
For the ruffle technique, I like to pipe my ruffles onto a freshly crumb coated cake. There is a chance that if the crumb coat is very dry and crusted, the ruffles may not adhere quite as easily.