We're SO happy to share this moist scratch Peanut Butter Cake recipe with you. If you love peanut butter desserts, you are going to want to save this one!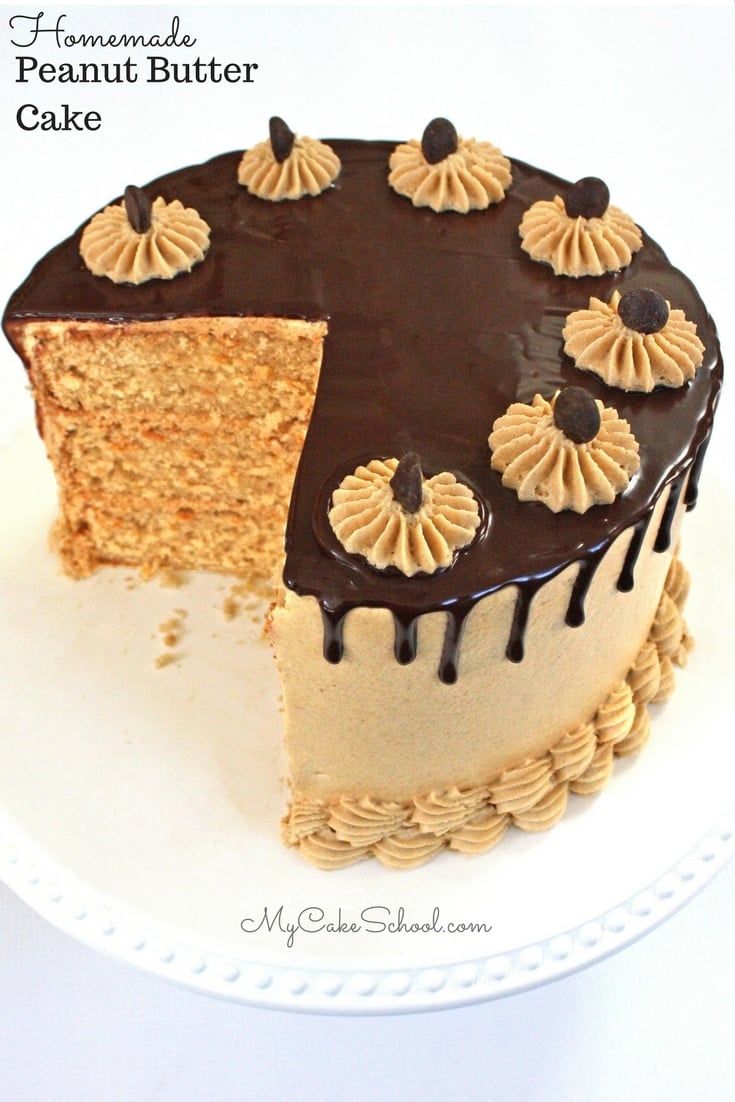 We've had a Peanut Butter & Chocolate Cake on our site for years, but for the true Peanut Butter fans, we needed a layer cake with even more Peanut Butter goodness. One with peanut butter cake layers rather than chocolate, but with just enough chocolate to create that flavorful combination that we love so much!
My family has thoroughly enjoyed Mom's quest for creating the ultimate Peanut Butter Cake. Whenever a new recipe is in the works, there is sure to be a lot of trial and error, which means "reject" cake layers galore! (Even the rejects were delicious!)
The BEST Peanut Butter Cake
After at least five or six peanut butter cake recipe variations in the past week, countless blind taste tests and a fantastic amount of leftover peanut butter cake layers (yay!) we can honestly say that our search for the BEST Peanut Butter Cake is finished! This is the one that belongs in your recipe box. It's just SO good.
Of course, every Peanut Butter Cake should be slathered in an equally flavorful Peanut Butter Buttercream frosting! With this recipe, we actually had a bit of a breakthrough with our frosting.
hooray for a spreadable, pipeable peanut butter frosting
Our
Peanut Butter Buttercream
has always been one of my favorites for chocolate cakes and cupcakes. I've sung it's praises for years. However, we had always used it as a cake filling or for swirling onto cupcakes. We hadn't used it to frost an entire cake.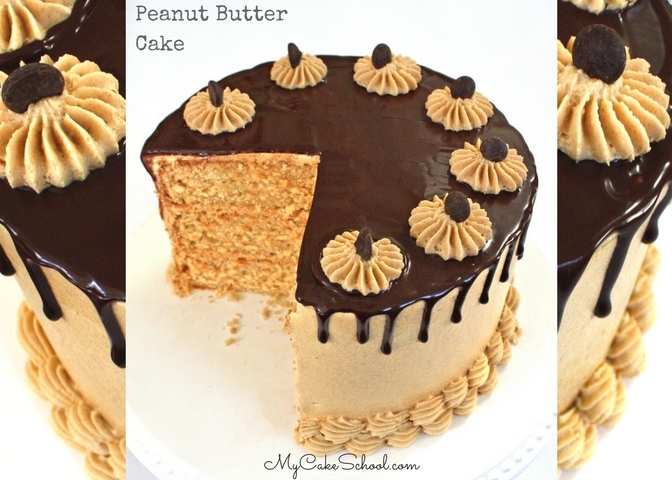 As I began to frost our peanut butter cake, I noticed that the frosting didn't glide on as it should. The consistency was a little too peanut-buttery for that...and no amount of additional milk or mixing would fix it. Don't get me wrong, I would eat it by the spoonful all day long if I could, but for frosting the whole cake it just wasn't behaving.
After more experimenting and more taste tests (yay), I'm happy to report that we've improved the Peanut Butter Buttercream Frosting, making it perfect for piping and spreading over cakes and cupcakes!
We think you're going to love the lighter, creamier consistency of this updated Peanut Butter frosting recipe, and it pipes like a dream!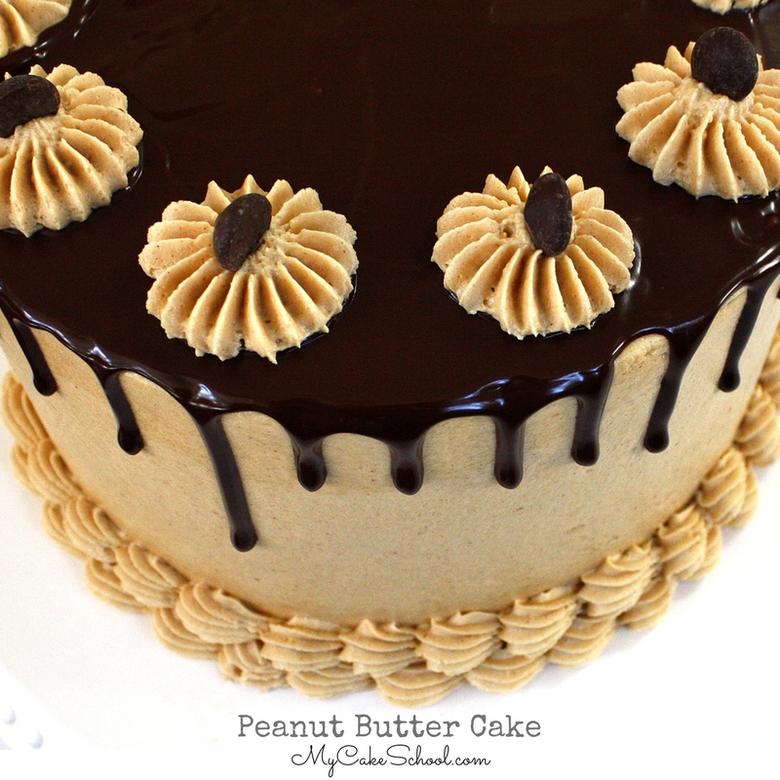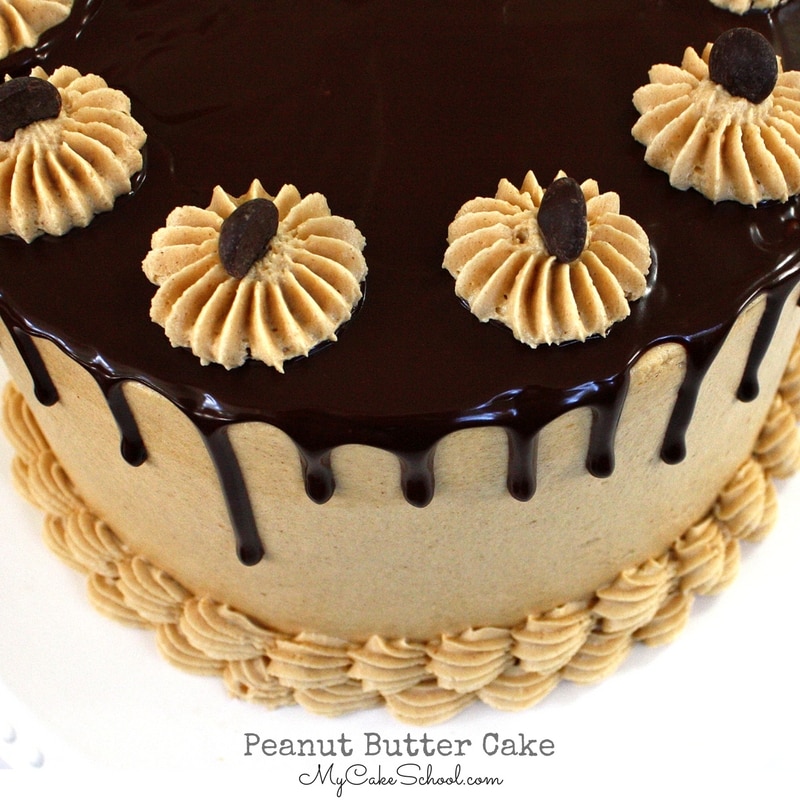 How to Make a Peanut Butter Layer Cake
This cake uses the traditional method of mixing (rather than reverse creaming)- it is so delightfully moist, soft, and has a slightly dense consistency which we love! Each bite has an amazing peanut butter flavor.
Unlike most of our cake recipes, this cake pulls slightly away from the edges of the pan BEFORE the cake is completely finished baking. So, the best way to know when it's ready is to either insert a toothpick in the center to check for doneness (it should come out clean when ready or with just a few crumbs attached), or to lightly touch it in the center to see if it springs back.
A Quick Tip about freezing cakes for extra moistness!
After baking the layers, I always like to cool them in the pans (on a cooling rack) for about 5-10 minutes before flipping out and wrapping them with plastic wrap while still warm, then foil. Then, I place in the freezer for at least a few hours (but they would be fine for up to a few months)!
This step will make cakes even more moist, and I do this with all of my cakes! Thaw them on the countertop while still wrapped so that the condensation will form on the wrapping rather than the cake itself.
Once it was time to frost the cake, I filled the layers with our Peanut Butter Buttercream, frosted the outside of the cake with the help of a bench scraper while rotating it on the turntable, used a medium sized star tip (21) to create stacked shell borders around the base. Next I chilled the cake just until the frosting was firm (about 15 minutes or so) and applied the ganache drip.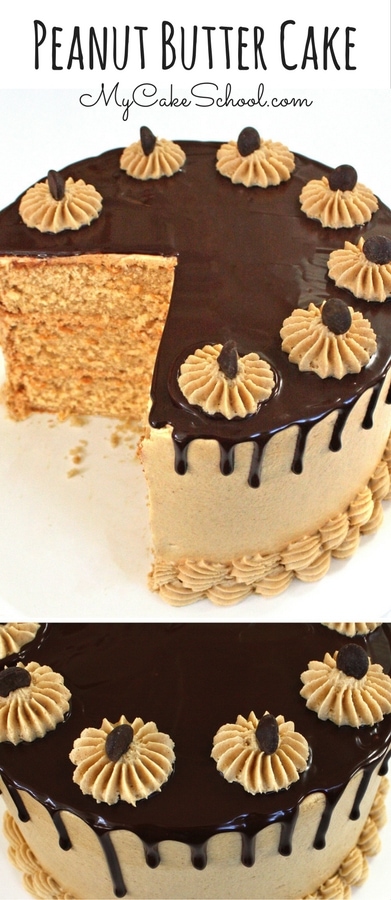 How to Apply a Ganache Drip:
Our ganache drip consists of a 1:1 ratio of chocolate to heavy cream.
Once prepared according to our instructions below, we loaded the ganache into a disposable piping bag, snipped the tip away, and applied the ganache around the edge of our chilled peanut butter cake.
We then spread the remaining ganache over the top of the cake, connecting the border of drips that we just created. This seems like a backwards way of applying a drip, but actually piping the drip in this way gives us the most control.
If you'd rather, you could also just spread ganache over the top of a chilled cake and allow the ganache to spill over the edge in some places. It won't be as symmetrical, but is still a great look!
Finally, we added stars around the top of the cake using a french tip (any large star tip is good- we used a Wilton 6B). Then we added oversized chocolate chips in the center of each star. I love the look!
Consistency of the Ganache drip
This 1:1 consistency chocolate to cream will give your ganache a fluid quality although it will still thicken as it sits out. It's best to have the cake ready to go before making the drip.
If your ganache sets up too much, you can microwave it for just a few seconds at a time until ready. It should flow easily from your piping bag, but it should not be very warm when applying to the cake.
If you'd like to sneak even more chocolate into your cake, you can also use this ganache in the filling, along with the peanut butter buttercream!
*For a quick and helpful tutorial on creating and applying a Ganache Drip, don't miss our free tutorial!: How to Make a Ganache Drip.
More Peanut Butter Cakes to Try!
Peanut Butter Cake with Ganache Drip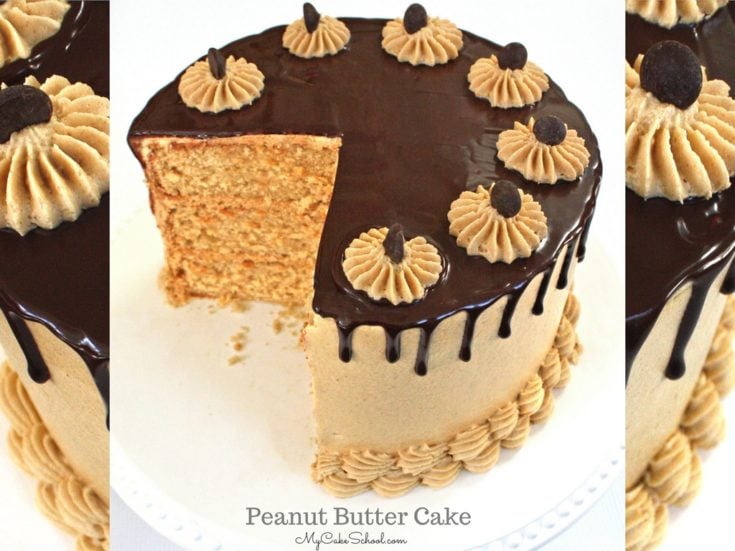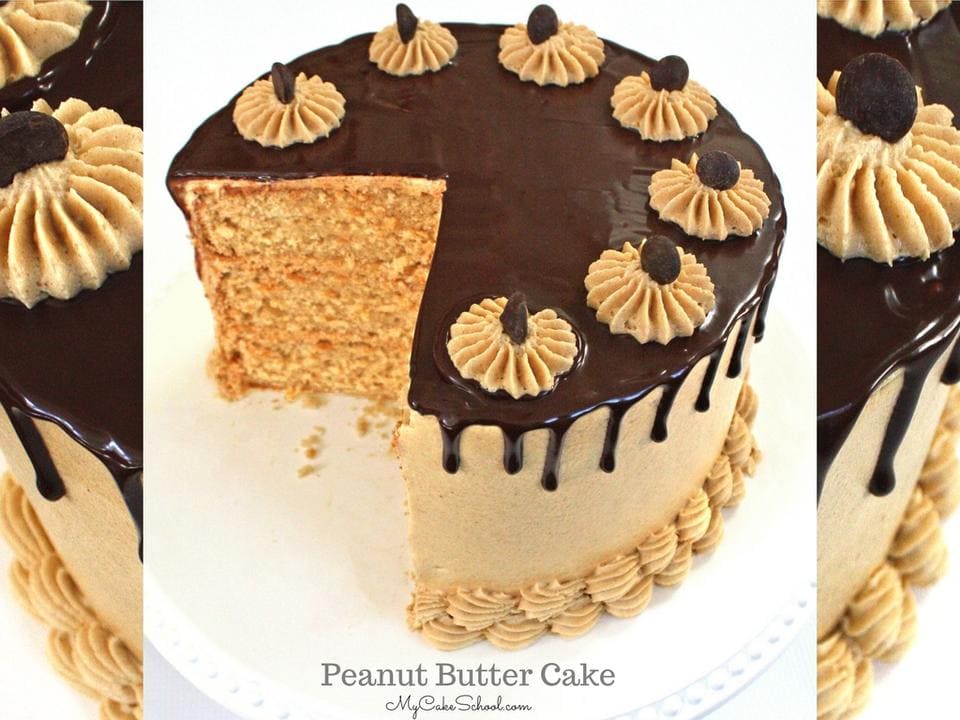 You will love this moist peanut butter layer cake recipe! Frosted with our creamy peanut butter buttercream and a decadent ganache drip, this cake is sure to please any crowd!
Ingredients
For the Peanut Butter Cake Layers
1 ½ sticks (170g) unsalted butter, slightly softened
1 ½ cups (300g) white sugar
1 cup packed (217g) light brown sugar
1 cup (255g) creamy peanut butter (Do not use all natural or reduced fat)
2 teaspoons (15g) vegetable oil
2 teaspoons (8g) vanilla extract
3 large eggs (if cold, the eggs can be placed in a bowl with very warm water for a few minutes)
3 cups (342g) cake flour **(if you do not have cake flour see substitution below)
3 teaspoons (12g) baking powder
½ teaspoon (3g) baking soda
½ teaspoon (3g) salt
1 cup (242g) sour cream
1 cup (242g) milk
** You can make your own cake flour: For each cup of flour in a recipe, remove 2 Tablespoons of all purpose flour (plain in the UK) and replace with 2 Tablespoons of cornstarch. For this recipe, measure out 3 cups all purpose flour, remove 6 Tablespoons flour and replace with 6 Tablespoons cornstarch. Whisk to blend.
For the Peanut Butter Buttercream
2 sticks (226g) unsalted butter, slightly softened
1 cup (255g) creamy peanut butter ( do not use natural or reduced fat or it will not have the right consistency for spreading)
4 cups (460g) powdered sugar
¼ cup (60g) milk plus 2 Tablespoon - more if needed to reach the consistency you like
2 teaspoon (8g) vanilla extract
Ganache Drip
6 oz (171g) Chocolate (Semi-sweet or Dark) We used Ghirardelli
6 oz (171g) Heavy Cream
Instructions
For the Peanut Butter Cake Layers
Preheat the oven to 350 degrees. Grease and flour three 8 inch round cake pans. Place a circle of parchment paper or wax paper in the bottom of each pan.
In a medium bowl add the cake flour, baking powder, baking soda and salt. Whisk at least 30 second to blend.
In a medium bowl add the milk and sour cream, whisk to blend the sour cream into the milk. Set aside.
In the bowl of your mixer, beat the butter on medium speed until softened and smooth. Slowly add the white and brown sugar and beat at medium speed for 3-5 minutes. It will lighten in color and be fluffy.
Add the peanut butter, oil and vanilla extract and mix until blended into the butter sugar mixture.
Add the eggs one at a time, mixing after each until the yellow of the yolk is blended in.
Add the dry ingredients alternately with the wet ingredients, beginning and ending with the dry ingredients (3 additions of dry and 2 of wet). Mix at medium speed until just blended in. Do not over mix or mix above medium speed.
Bake at 350 degrees for 25 to 30 minutes. Be sure to check for doneness with a toothpick inserted in the center of the cake. It is done when the toothpick comes out clean or with just a few crumbs attached. Let cool in the pan 10 minutes then turn out. Makes 8 cups batter
Works well for cupcakes, the cupcakes will have a very slight dome
For The Peanut Butter Buttercream Frosting
In the bowl of your mixer add the butter and mix on medium speed until the butter is softened and smooth. Add the peanut butter and mix until blended.
Gradually add the powdered sugar alternately with the milk. Add vanilla. Mix on medium speed 4 to 5 minutes until smooth.
For the Ganache Drip
Place your chocolate into a microwave safe bowl.
Pour heavy cream over the chocolate and place in the microwave for 1 minute.
Remove and let sit for 1 minute to soften. Stir, then microwave in 10 second intervals until the chips are nearly melted. Then allow to sit for 1 minute more, stir until it takes on a silky smooth consistency.
*Microwave times may vary. If you are making a smaller amount of ganache, you will reduce the microwave time. If your chocolate hasn't melted after time recommended in the instructions, simply microwave in small 5-10 second increments until it has nearly completely melted. Let sit one minute, then stir until smooth.
Recommended Products
As an Amazon Associate and member of other affiliate programs, I earn from qualifying purchases.
My Cake School- Online Cake Tutorials and Recipes!
Thanks for stopping by! Make sure to check out our full collection of FAVORITE recipes in our
Recipes Section
! Or, if you're interested in Free Cake Tutorials, you can find them here!
Free Cake Tutorials