Today, I'm going to show you how to create beautiful fondant appliques for your cakes.
There are all sorts of options available to cake decorators for embellished appliqués, including lace molds.
However, our tutorial will demonstrate how you can achieve elegance with the simplest of tools. Change up the colors for a more whimsical feel, or use my design for an elegant wedding cake.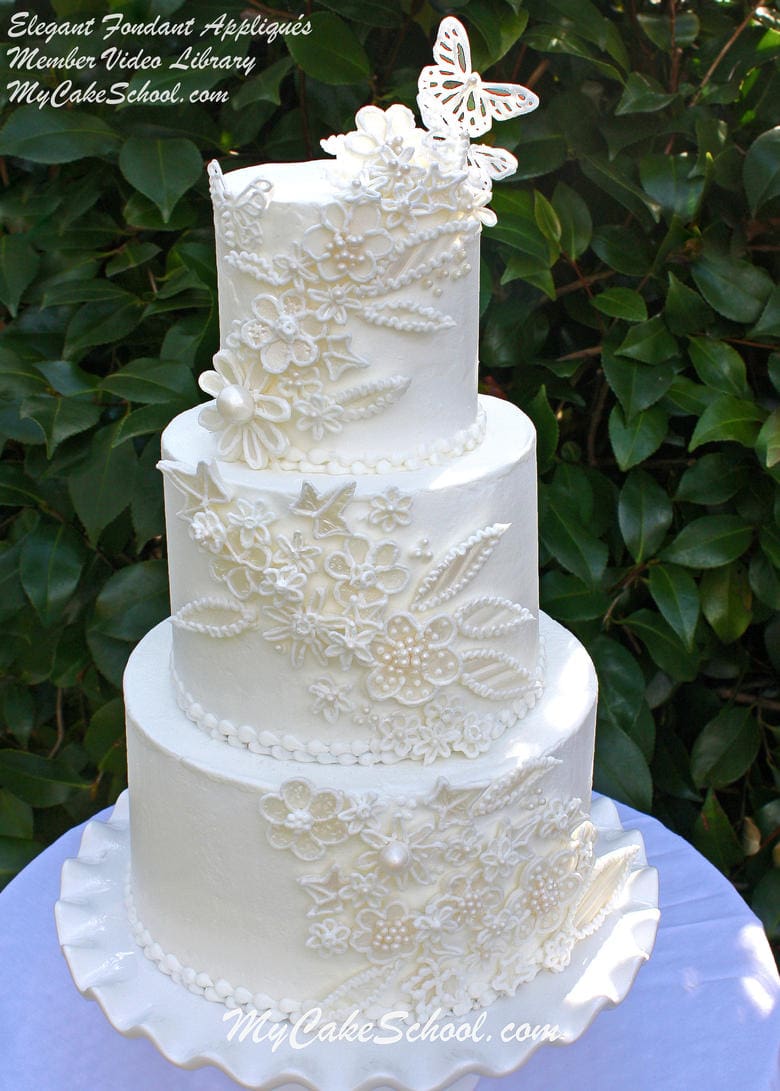 I hope that you enjoy this cake as much as I did, please scroll beneath the video for a few extra tips and notes!
Materials
The cakes in our tutorial are dummies frosted with High Ratio Frosting. Sizes: 8/6/4 inch. (I've only used this method on cakes frosted in crusting buttercreams or covered with fondant)
Liz Marek Fondant: This is my fondant of choice and so this is what I used for my flowers. You can use whatever you'd like with good results. If you are using a very soft fondant, you may wish to knead in a little gum paste or tylose powder to help the cut outs set more quickly and also so you can roll them more thinly.
Crusting Buttercream: I used High Ratio frosting (from our Recipes section) to frost the cake as well as to outline the fondant flowers and attach to the cake.
Misc. blossom/daisy cutters (Mine were from a PME blossom plunger set, Wilton Daisy set, and a few misc. metal cutters.)
Sugar Pearls: I used Wilton Sugar Pearls for my centers as well as marble-sized balls of fondant which I brushed with pearl dust.
Pearl Dust/Pearl Spray-- I sprayed my accents with Wilton Pearl Spray before placing onto the cake. I also used a little Super Pearl dust here and there on other accents. You can use one, both, or none...I just like a little shimmer!
"Glue" of choice: I used piping gel to glue the fondant centers to my flowers.
Wafer Paper & Butterfly Punch: This is optional but a nice touch. My butterflies were created with a punch that I bought from my local Michaels.
Floral Wire (I used 32 gauge) & Cocktail Straw: to anchor your "flying" butterfly.
Misc: Cake Boards beneath each tier cut to size, supports/dowels of choice, sturdy cake base/pedestal.
Fondant Appliques: Additional Notes
*As I mentioned in the video, you may find it easier to outline your flowers while they are still on the parchment paper, especially if you are not used to piping on the front side of your cakes (kind of a funny angle to get used to!).
If you go this route, you would want to do your piping in advance with either royal icing or crusting buttercream with plenty of time for it to set firm for easier handling & placement.
Although our cake is frosted with buttercream, this technique would work beautifully on fondant covered cakes as well!