How to Make Rice Paper Sails- A Cake Video Tutorial
Today I'm going to show you how to make rice paper sails for your cakes!
I love cake decorations that add height and drama to cakes, and when those decorations are actually easy to make, I love them even more.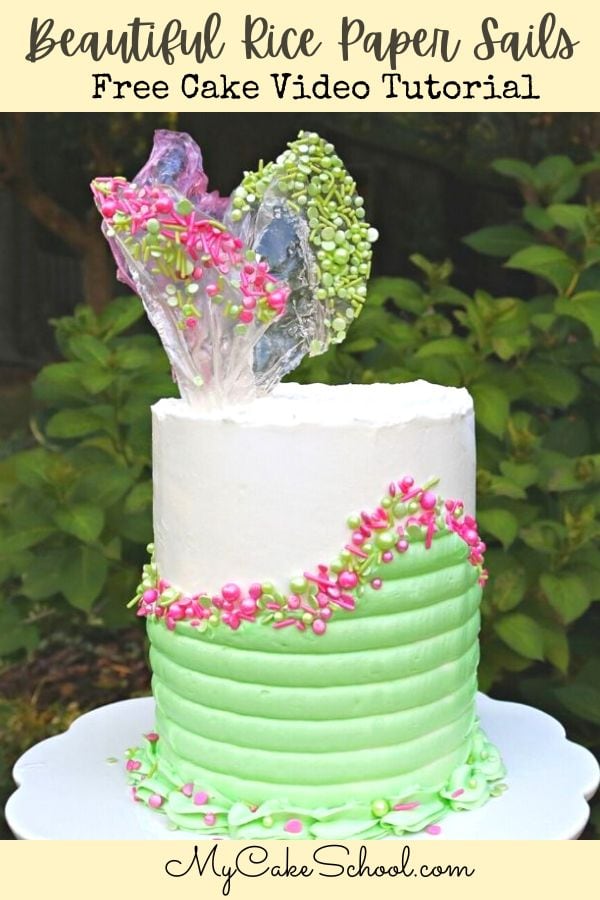 I'm happy to report that elegant rice paper sails couldn't be simpler to make- they are so uniquely beautiful with limitless design options.
We've made glossy clear sails, colorful sprinkled sails, painted sails, pearlized sails, and more.
Materials:
(*Use whatever size cake you like! The cake that we decorated was a double barrel cake design- four 6 inch cake layers with a cake cardboard halfway up and 4 bubble tea straw supports beneath. The cake is also resting on it's own cake cardboard cut to the size of the cake.)
We frosted our cake with our Fluffy Vanilla Buttercream- Our Classic Vanilla Buttercream is a good option also.
We used a Wilton comb for the green buttercream.
Rice Paper *(I used Blue Dragon Brand Spring Roll Wrappers which I found at the grocery store)
Coloring Gels: Wilton Rose, Wilton Leaf Green (or your coloring gels of choice)
Assorted Sprinkles of Choice (Mine were Wilton)
Light Corn Syrup (For attaching sprinkles to the sails as well as giving a glossy/transparent look if desired!)
Lollipop sticks for anchors- Optional, but your sails can be taller if you don't have to push the sails down into the cake.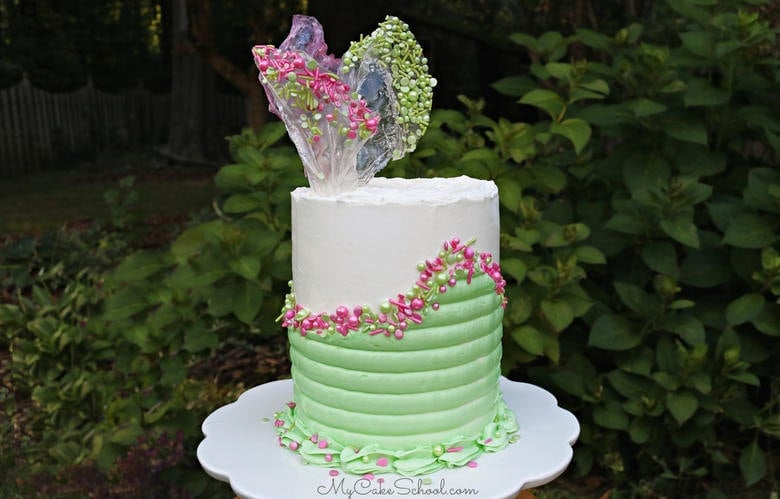 Notes for Rice Paper Sails:
I placed my rice paper sails across a parchment lined cookie sheet-- the parchment was wrinkled to add additional movement.
Baking is optional as the sails will dry at room temperature-- but the process goes much more quickly when baked.
Baking the Rice Paper Sails
I baked my wet rice paper sails at 175 degrees F for about 30 minutes before checking-- sometimes the sails were finished...but often the sails were still soft at this point and needed additional baking. In this case, I flipped them and baked more-- check on them frequently after the 30 minute mark... every 5-10 minutes or so.
How to Attach Sprinkles to Rice Paper Sails
I used light corn syrup to attach my sprinkles and during this process realized that the corn syrup makes the finished rice paper sails much more transparent (yay) - I love this look. If you decide to try this, keep in mind that the corn syrup needs time to dry.
My glossy sails were dry the next day. -- I also tried brushing them with the common recipe for edible shine which is a 2:1 ratio of corn syrup to vodka but straight corn syrup was still my favorite method as it was thick enough to really grab the sprinkles and I feel it gives a glossier look to the rice paper.
How to Paint Rice Paper Sails
You can paint the finished sails with vodka mixed with a touch of coloring gel or pearl dust. Petal dust is another good option. As I demonstrated in the video, you can also tint the warm water with coloring gel before dipping the rice paper.
Once completely dry, the finished sails are very firm but they are thin, so you still want to handle carefully.
For the Layered Buttercream Cake Design
If you are creating the buttercream cake design from our tutorial, here our the steps:
First, frost the tier in vanilla buttercream and then chill in the freezer for 20 minutes or until firm. Make it nice and smooth (a heated bench scraper is helpful for this).
Next, apply a thicker layer of green frosting around the bottom half of the tier (or however high you would like to take it).
Building out the green frosting with a thicker layer makes it easier to comb without touching the white frosting.
Finally, comb the green frosting with a cake comb- be careful not to touch the first layer of white frosting.
You can leave the buttercream design as it is, or you can apply sprinkles where the green frosting meets the white frosting.
(You may find it helpful to chill the frosted tier to firm things up before adding the sprinkles). We have another free cake tutorial on the Layered Buttercream Technique if you would like to see!
Interested in Chocolate Sails Also?
If you'd like to learn to make chocolate sails as well, you can find a tutorial here!: (Red Velvet Cake with Chocolate Sail , Chocolate Splash)
Enjoy the Video!
We hope that you enjoy this easy technique for creating rice paper sails!
There are so many options when it comes to decorating the sails as well as the types of themes that you can use them with! Have fun experimenting, and let us know if you have any questions!