Sunflower Sheet Cake Tutorial
Today I'm going to show you how to create a beautiful yet simple sunflower sheet cake design in buttercream!
Sunflowers are my favorite type of flower because they are so bright and cheerful! This cake design is sure to make anyone's day. ;0)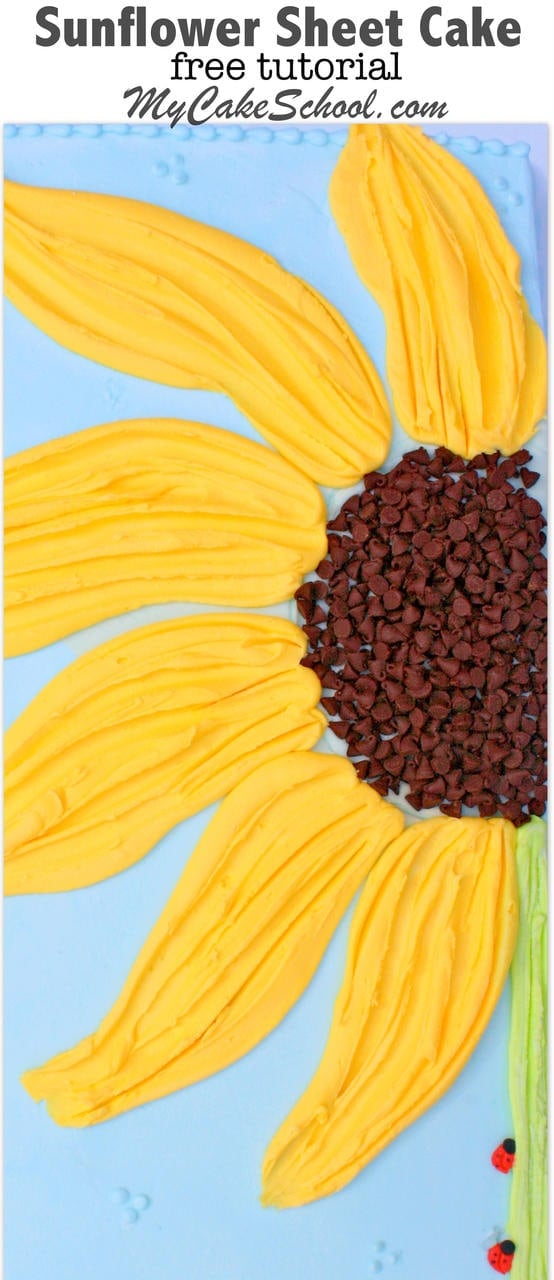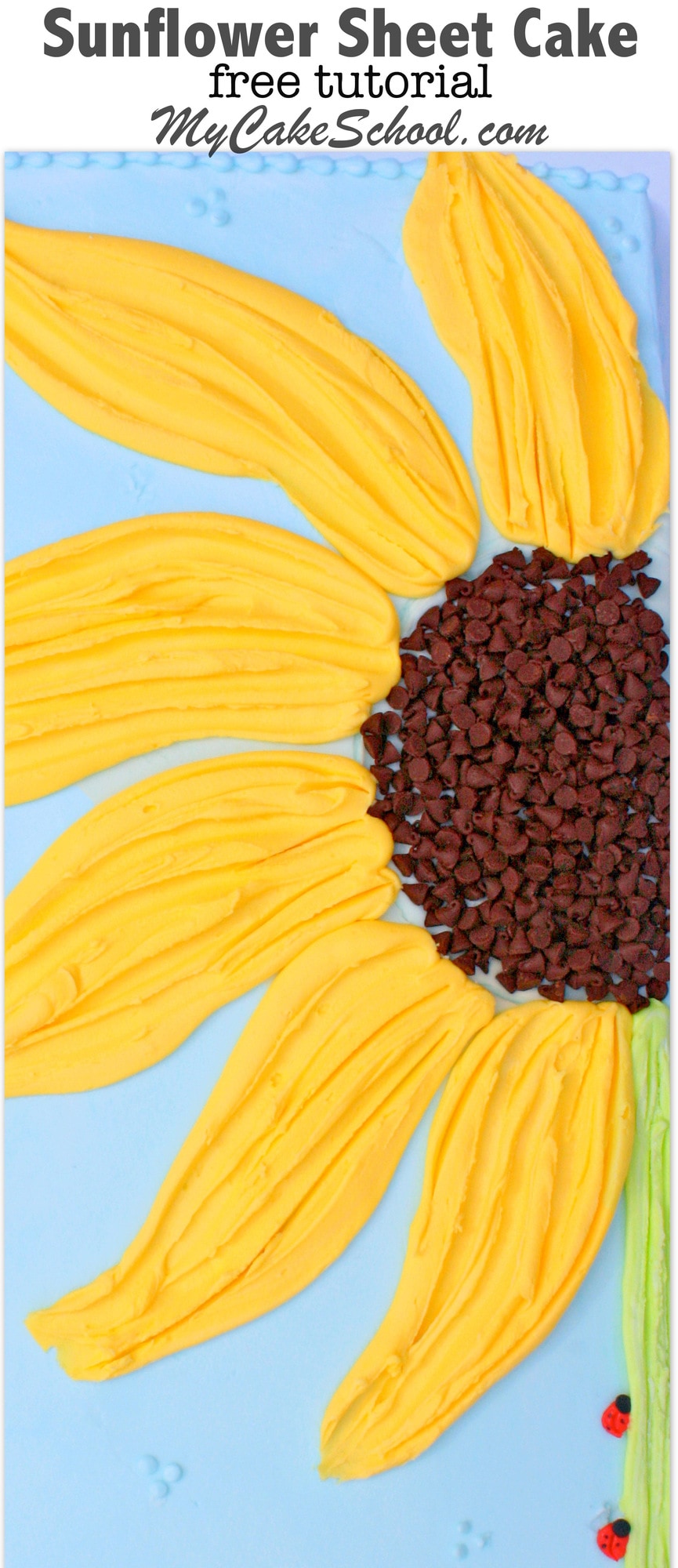 How to Make a Sunflower Sheet Cake
Here's how I made it....
First, I started with an 11x15 sheet cake, frosted with a crusting vanilla buttercream (like our Classic Vanilla Buttercream Frosting) tinted Americolor Sky Blue.
Smooth however you'd like...I used the Viva paper towel method of smoothing. (I almost went with a stucco textured look, which you could quickly do with your spatula-- so that's an option too!) ;0)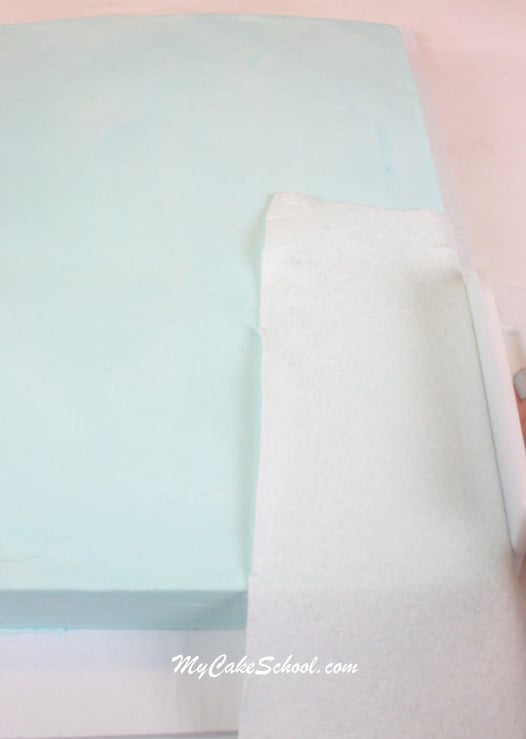 Here, I'm using a circle cutter to mark where my sunflower center will be on the cake. My Sunflower will only be partially on the cake, so I only need the left side of my cutter. (If you don't have a circle cutter, you can use the rim of a glass, or small bowl as your guide.)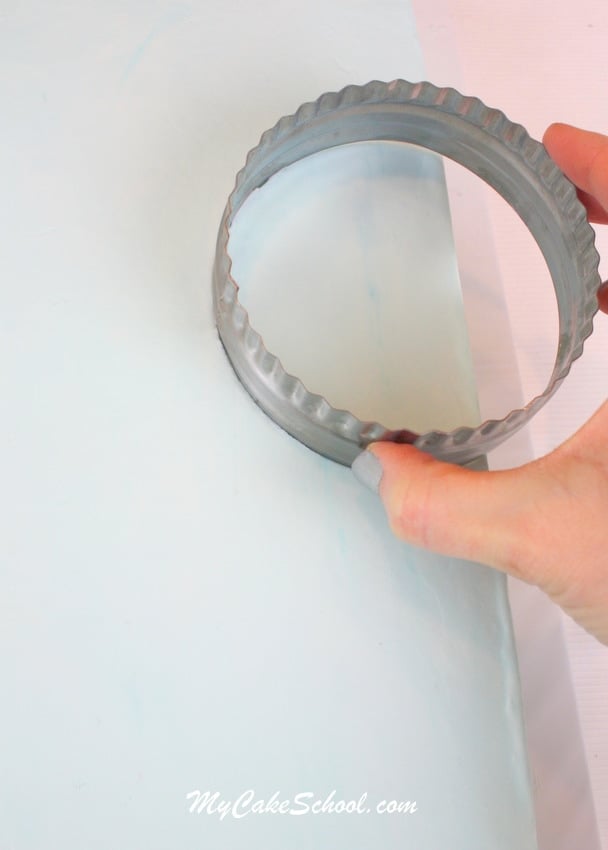 I pressed (and mounded) mini chocolate chips into the semi-circle that I created on the cake. This will be our center! If you prefer a frosting center, a star or grass tip would give nice texture.
I also created a thick green stem, using a disposable piping bag (with tip snipped off), which was filled with (Americolor Electric) green buttercream.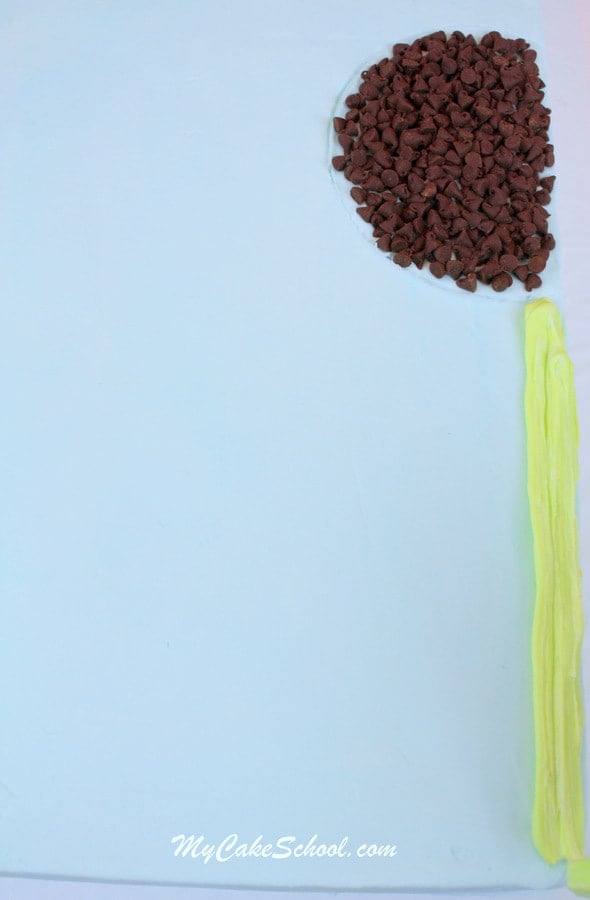 Next, I filled a piping bag with a gold-yellow buttercream and used a Wilton round tip 10 to outline and fill in my petals. I didn't use a template, just eyeballed it.
Each petal is going to be a little different, but they are all fairly wide and become more tapered at the end. I'm not worried about smoothing the petals, I'm going for a textured look which will become more exaggerated in just a minute ;0) --
(To achieve the golden color of our petals, I combined Americolor Egg Yellow with Americolor Lemon yellow. Just go with whatever you have---Yellow with a touch of Orange will give you a similar shade.)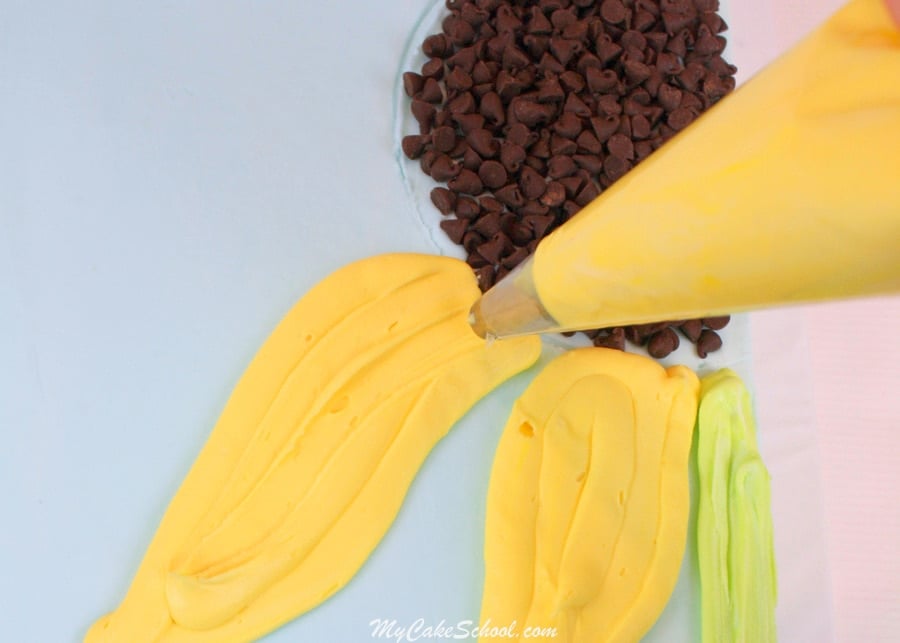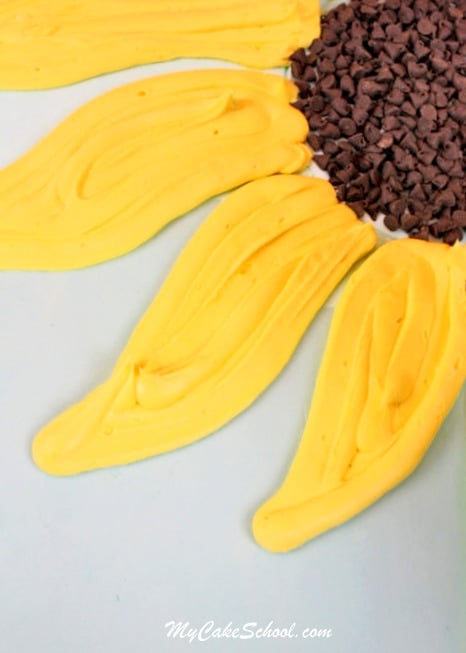 Here, I'm adding more texture and definition to my petals by dragging my small tapered spatula through the freshly piped petals. (If you don't have a tapered spatula, you can use a table knife.)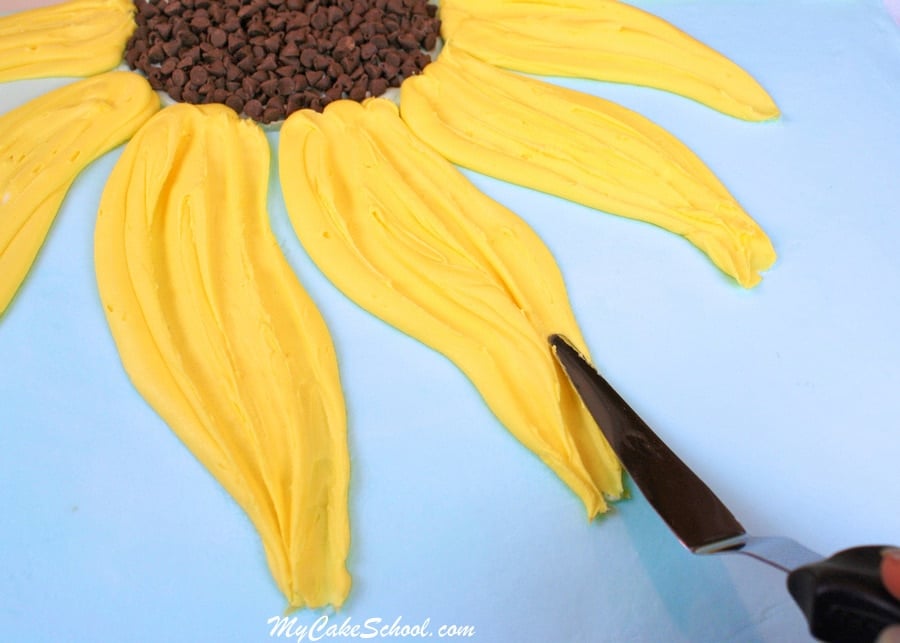 Using my same green piping bag, I piped a large leaf at the bottom of my cake. I also added a few ladybugs! The ladybugs are red buttercream piped from a small round Wilton tip 3.
Their heads are black confetti sprinkles (from a shaker of assorted Halloween sprinkles), but you can also use black buttercream.
After the frosting crusted, I used a black food coloring pen to add dots, but that is optional ;0)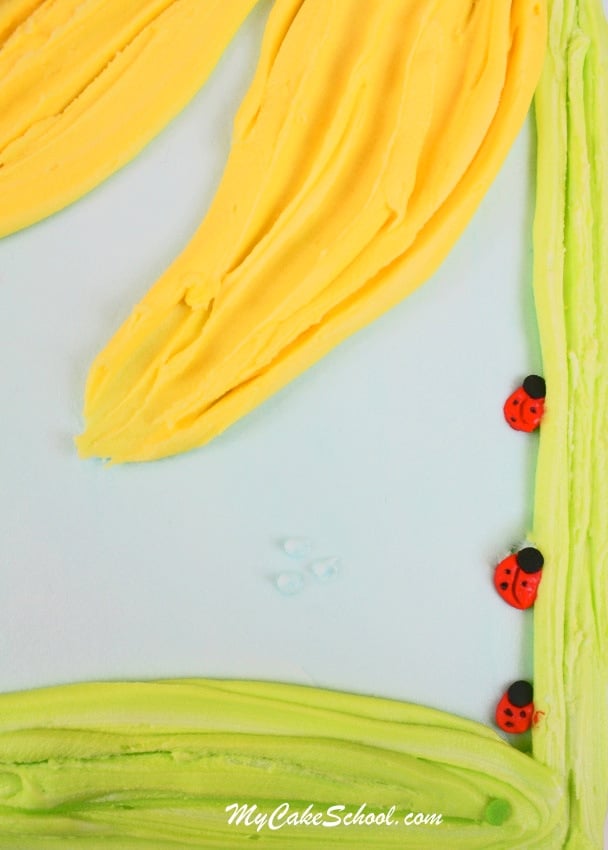 I also used a Wilton tip 3 to pipe dots here and there over the top of the cake, and finished with a small bead border.
That's all there is to it!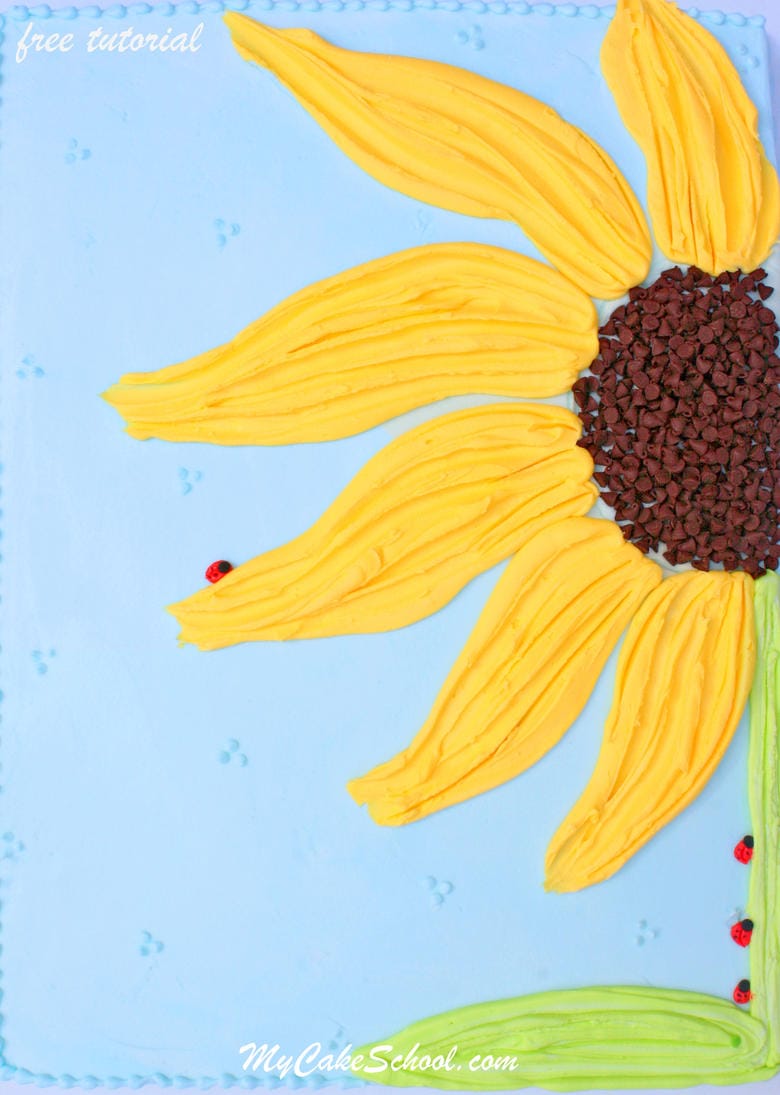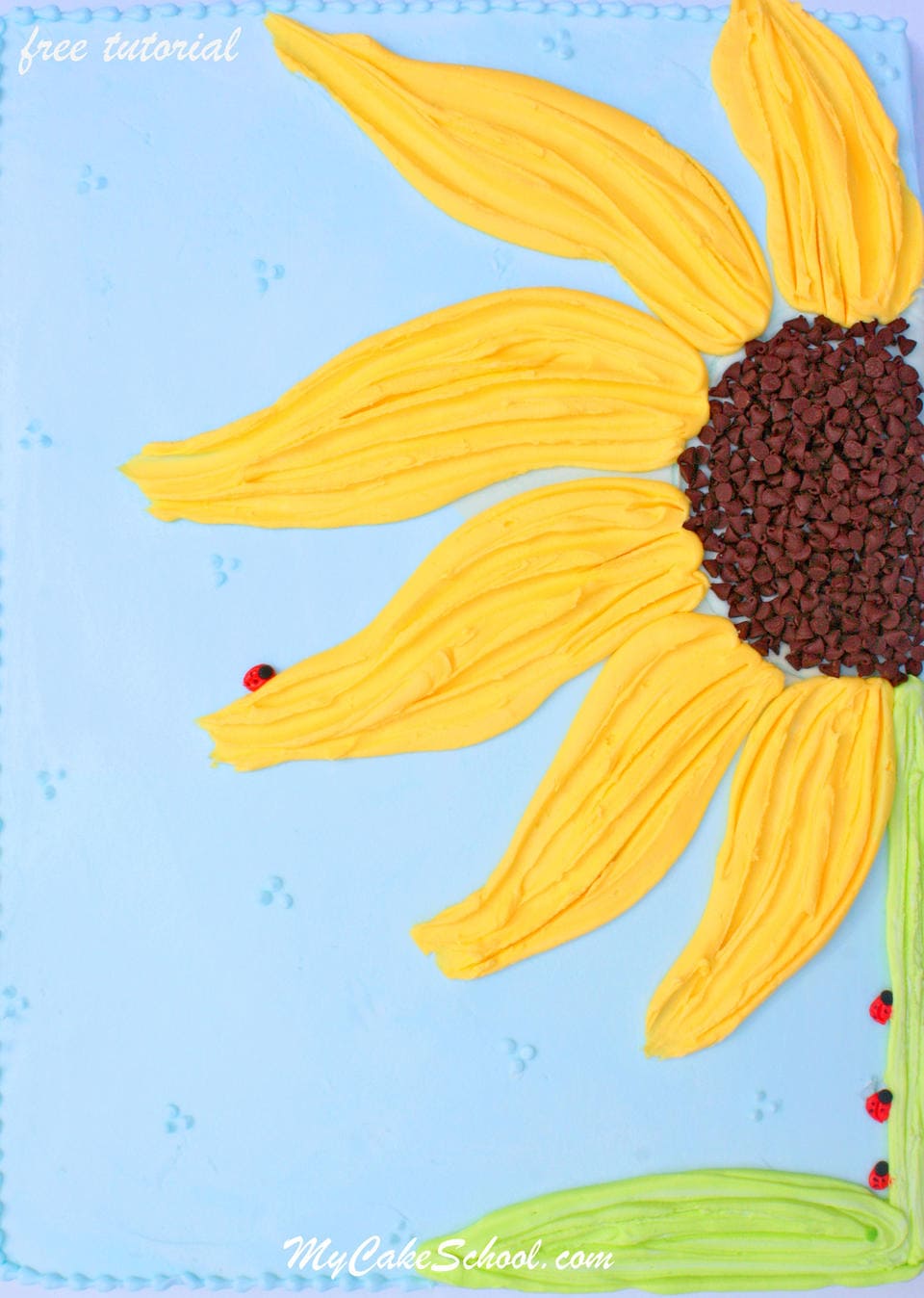 I hope that you enjoyed the tutorial! The same techniques could be applied to round cakes or even cupcakes. If you try it, I would love to see!
For our full collection of favorite recipes for cakes, frostings, and fillings, make sure to check out our Recipes Section! We also have a collection of hundreds of free step by step cake tutorials and free cake video tutorials in our Free Tutorials Section! Enjoy!