Baileys Irish Cream Chocolate Cake
St. Patrick's Day is almost here, and this AMAZING Baileys Irish Cream Cake is just the recipe that you need to celebrate with!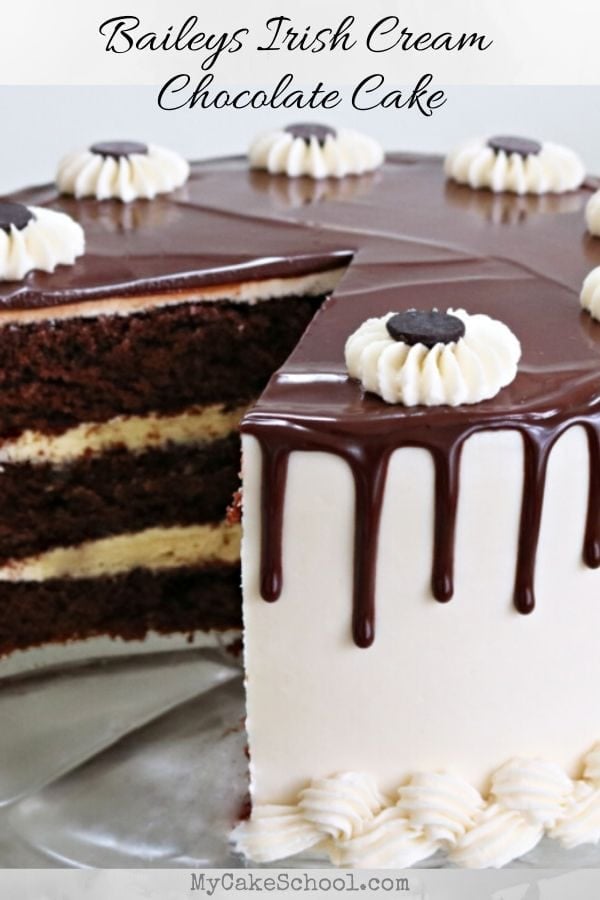 This new scratch chocolate Irish cream layer cake recipe is ultra moist, soft, and flavorful. Paired with Bailey's Irish Cream mousse filling and Baileys buttercream frosting, it is out of this world!
We hope that you love this cake as much as we have. It's great for St. Patrick's Day, but you are going to want to make it year round. It's just that goooood.
What is Baileys Irish Cream?
If you've never tried Baileys Irish Cream, it is a delicious Irish cream liqueur which consists of cream, cocoa, and Irish whiskey.
Baileys is considered the original Irish Cream, and has been produced in Ireland since the early 1970s. It is often combined with coffee or chocolate, but the options are endless!
How to Make Baileys Irish Cream Chocolate Cake
Wrapping and Freezing for Moistness
After making the three chocolate Irish cream cake layers, we like to wrap them individually in plastic wrap *while still warm* and then in foil.
Then, we place them in the freezer for at least a few hours (they can be frozen for up to three months)! This freezing step is optional, but we do it for all of our cakes when time allows because it makes them even more moist. Then just thaw to room temperature or until just partially frozen before decorating.
Baileys Mousse Filling
Our flavorful Irish Cream filling is what we call a mock mousse, as it is really just a super quick and easy combination of vanilla pudding, heavy cream, and Irish cream, but the texture and flavor are fantastic!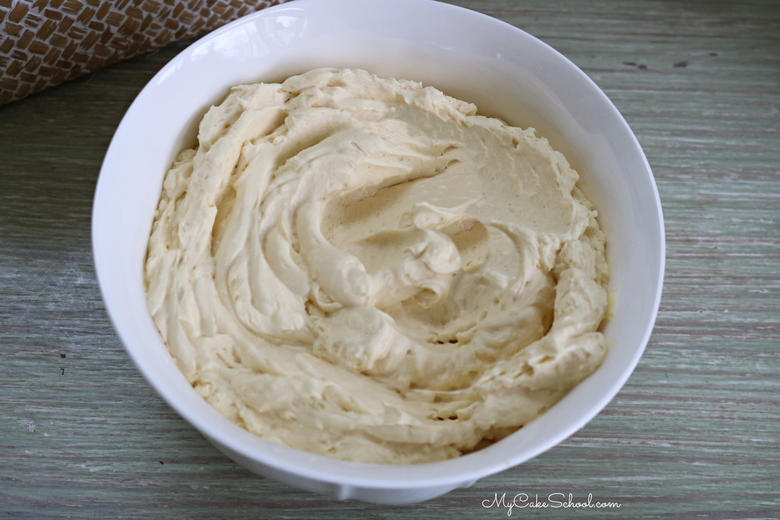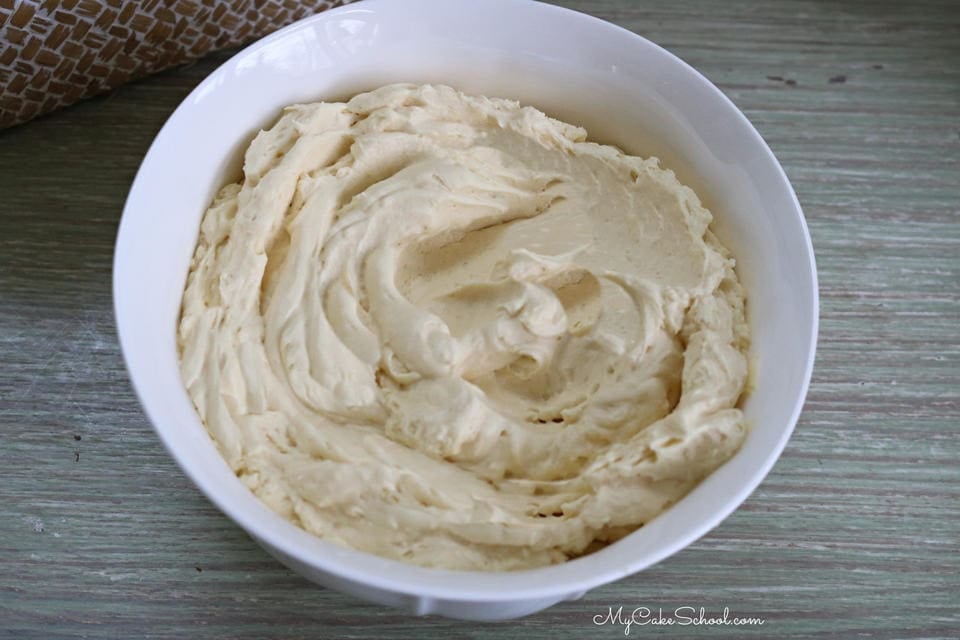 Once it's time to assemble the cake layers, place the first layer on the cake base or pedestal. I like to pipe a dam of buttercream about ¼ inch from the edge of the cake layers whenever I'm working with soft fillings.
After doing this, I filled in with our Irish cream mousse. Then I placed the next layer on and so on.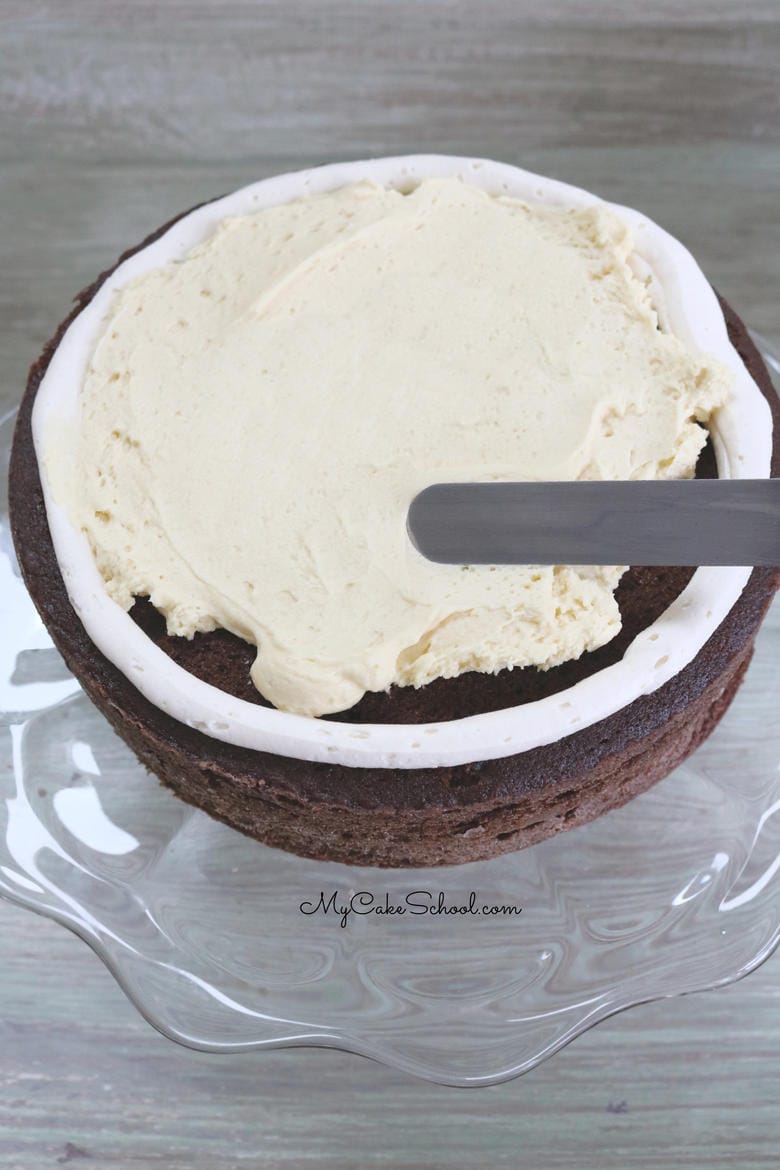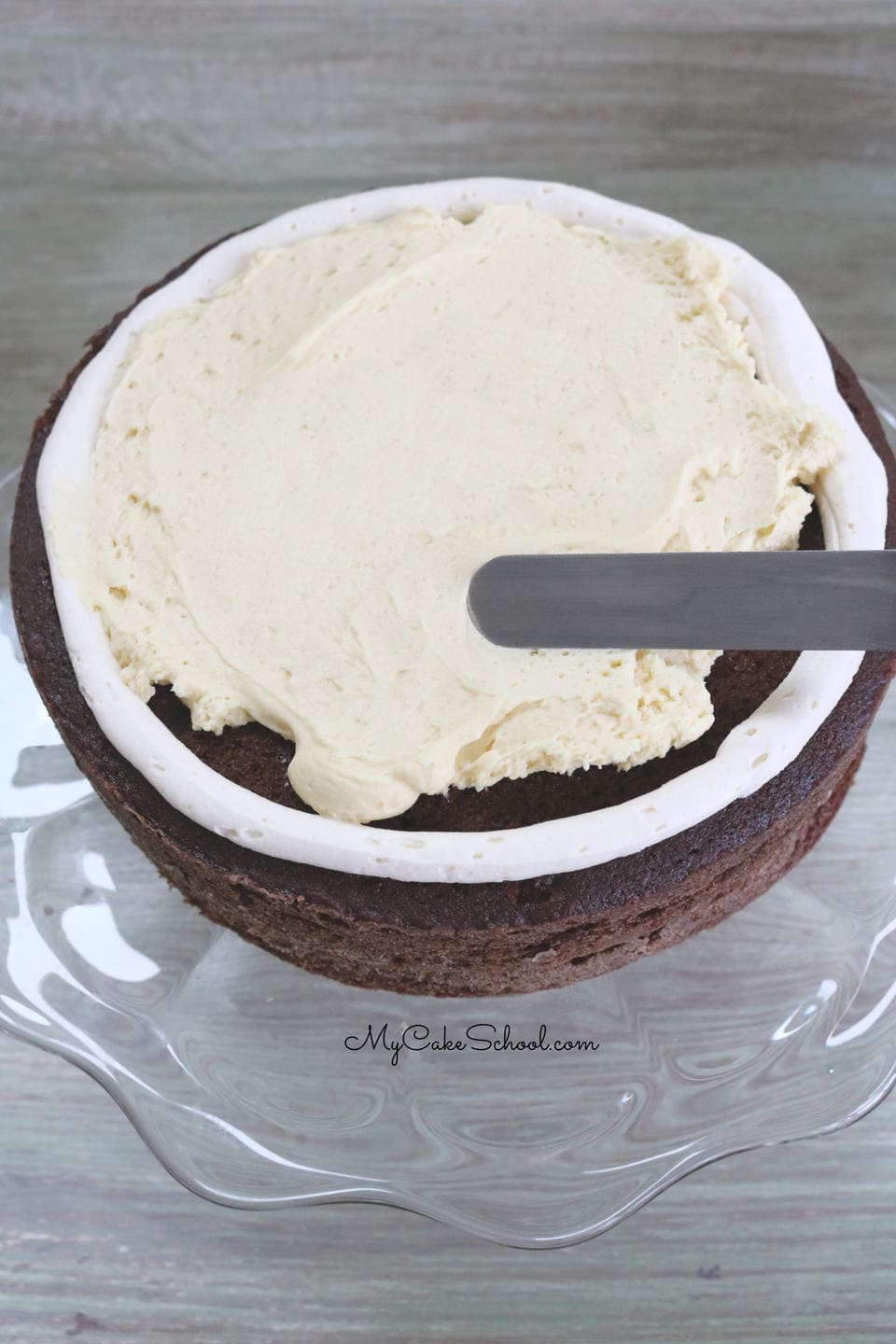 Settling the Cake to Prevent Bulging
Settling is another step that we like to do but it is optional. Settling the cake in advance helps to prevent bulges in the frosting around the sides of the cake later.
After filling the cake layers (but before frosting), I wrap the tier in plastic wrap and add a weight on top-- this could be a book, or cake pan (or two)-- something that will add light, steady pressure.
Since our filling is perishable, settle it in the refrigerator for at least a few hours or overnight.
Frosting the Baileys Cake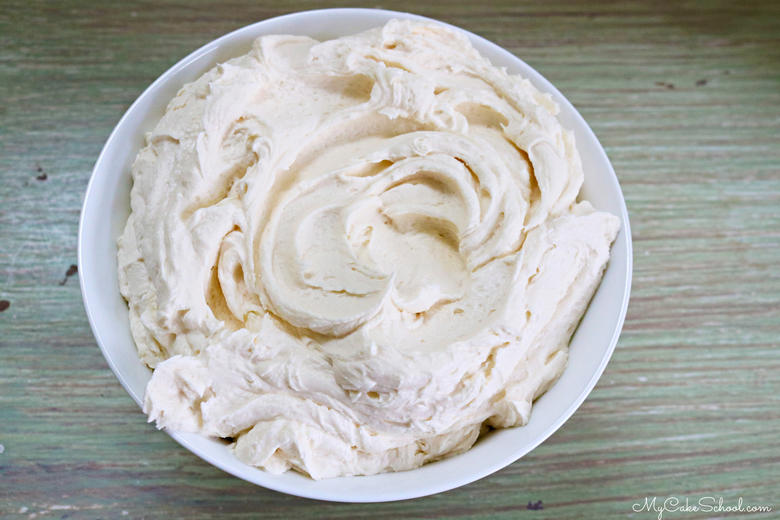 For this cake, we used Baileys Irish Cream Buttercream, which is a take on our usual vanilla buttercream recipe but with a little Irish cream added in.
I can't believe the amount of flavor just 2 tablespoons added! Of course, if you'd like it stronger, adjust to your liking. ;0)
Crumb Coat: After settling the tier, I filled in any gaps between layers with buttercream and then applied a crumb coat. (A crumb coat is a very thinly applied layer of frosting.)
Chilling: Next, I chilled the tier in the freezer for about 15 minutes to firm things up before going back in with a second layer of frosting. I used a hot bench scraper to smooth out the frosting for a clean finish.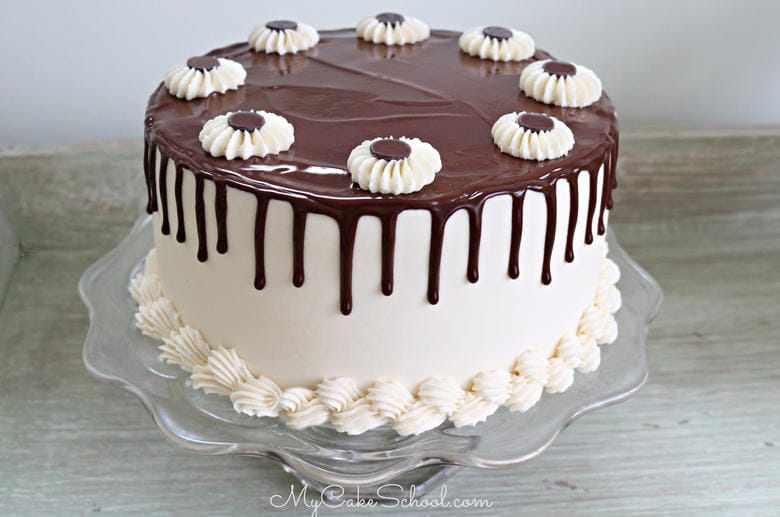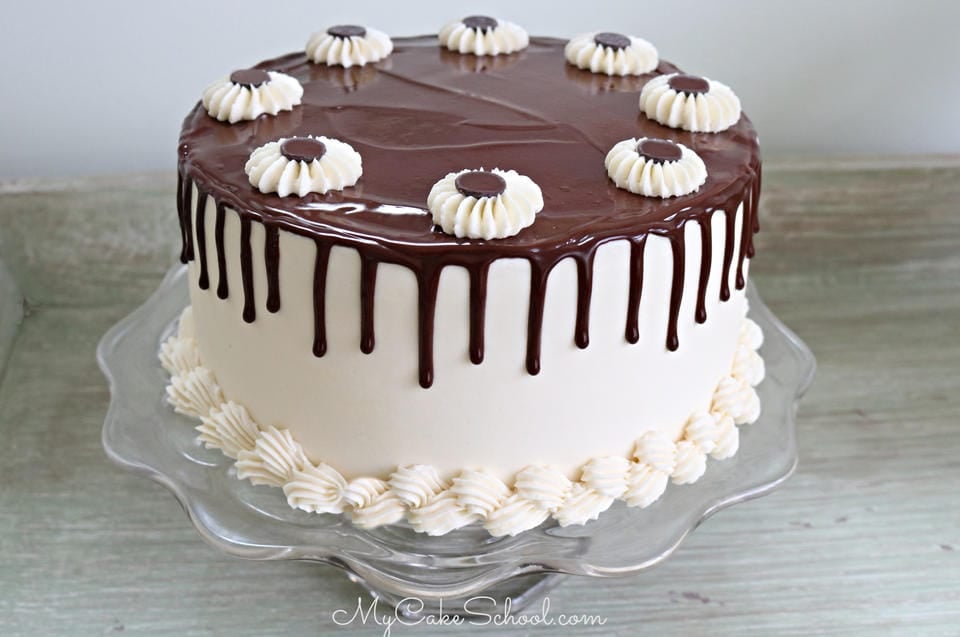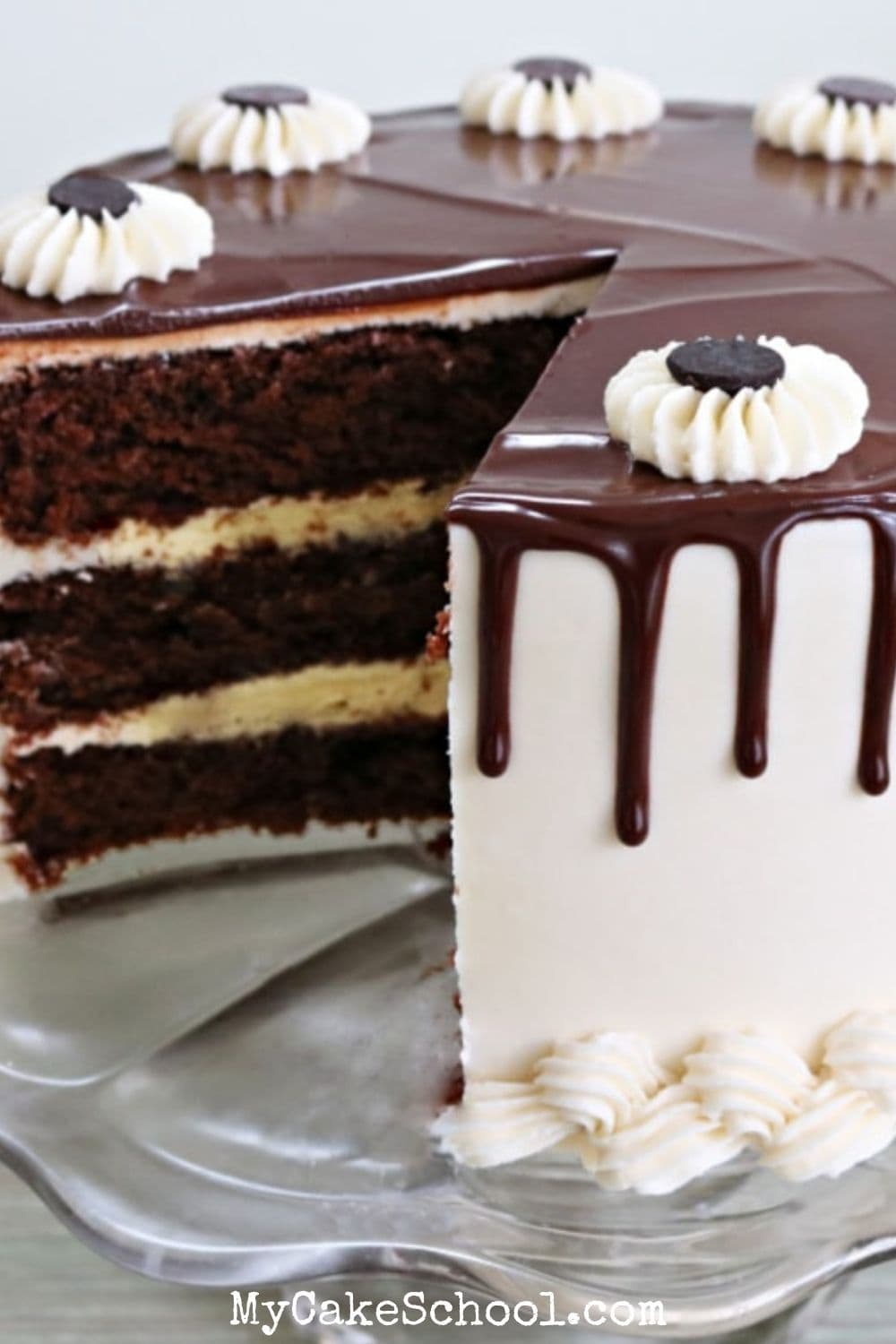 Ganache Drip
There's nothing like a ganache drip to add a little drama to a cake, not to mention an extra layer of deliciousness!
We made our ganache the quick and easy way- in the microwave! We used 1:1 ratio of chocolate to cream. Just be careful not to overheat.
Applying the Ganache Drip
Once it had cooled to a good dripping consistency, we loaded the ganache into a bag with the tip snipped away and applied it around the edge of the cake.
Then, we added additional ganache to the top of the cake to cover the top. I love the look!
**I demonstrate applying a ganache drip in a quick video which you can find here: Ganache Drip Recipe
I chilled the cake briefly in the refrigerator before piping buttercream stars around the top with a Wilton 8B tip, and then added dark chocolate chips into each one.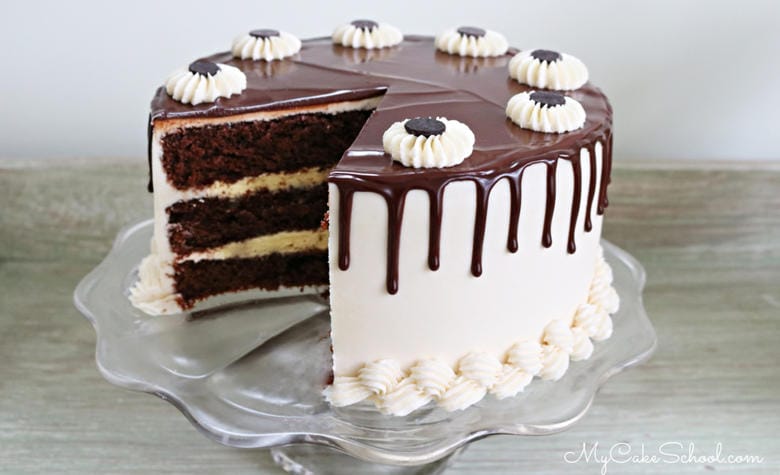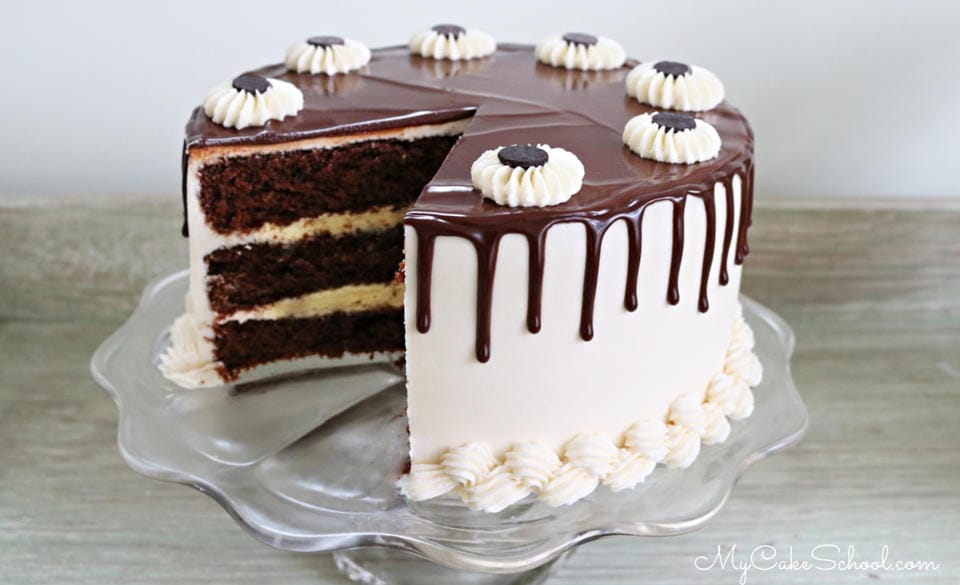 Looking for more "boozy" cake recipes?
If you love cakes with a little extra cheer, we have more delicious alcohol-infused recipes to share with you!
Don't miss our roundup of Favorite Boozy Cakes, but here is a quick rundown of our most popular!:
Margarita Cake with Tequila Lime Buttercream
Pink Champagne Cake (we have both scratch and doctored cake mix recipes)
Champagne and Strawberries Cake
You can also find a roundup of our FAVORITE Chocolate Cake Recipes here! : The BEST Chocolate Cake Recipes!
You may also be interested in our Roundup of the Best Cakes for St. Patrick's Day!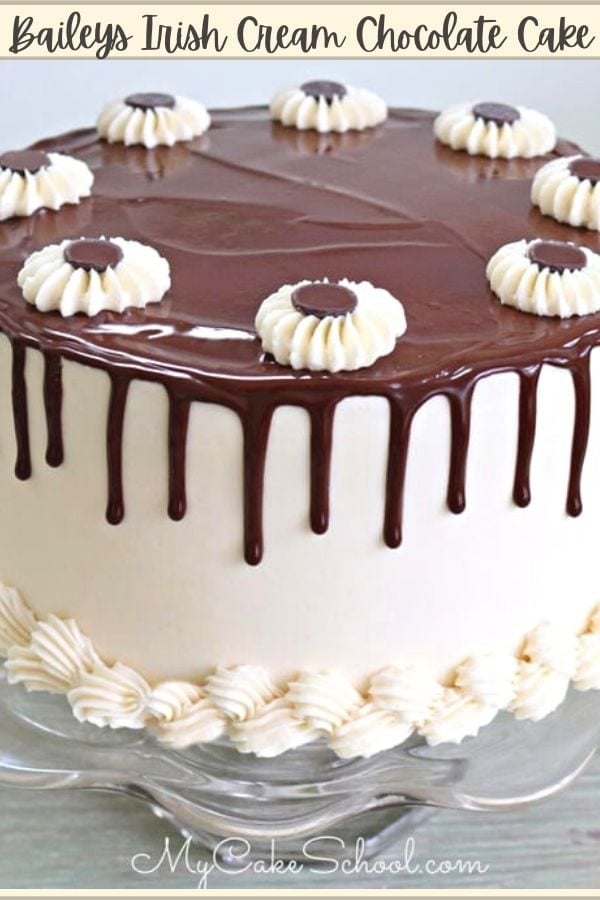 Cake Recipes, Tutorials, and More!
Thanks so much for stopping by! If you try our Chocolate Irish Cream Cake recipe make sure to leave a comment or photo below! Also, make sure to check out our full collection of favorite cake and frosting recipes in our Recipes Section!
Also, if you are interested in learning more about cake decorating, don't miss our Free Cake Video section as well as our Free Cake Blog Tutorials! We have so many cakes to share with you!
Baileys Irish Cream Chocolate Cake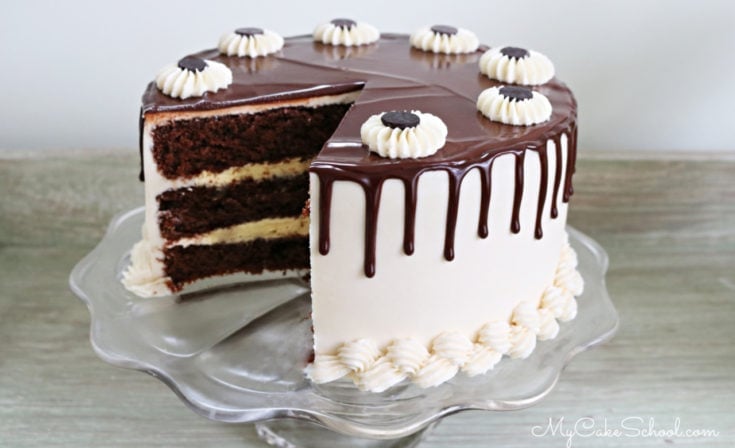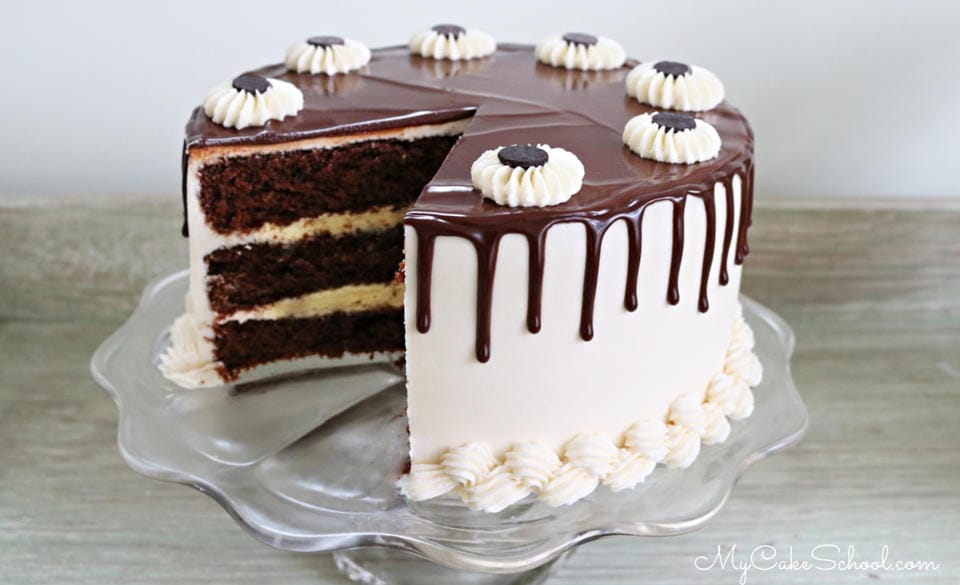 This scratch Baileys Irish Cream Chocolate Cake has amazing flavor!
Ingredients
For the Cake Layers
1 ½ sticks (170g) unsalted butter, softened ( do not microwave)
2 cups (400g) sugar
3 large eggs, room temperature - putting cold eggs in a bowl of very warm water will warm them quickly
2 cups (242g) all purpose flour
¾ cups (69g) unsweetened cocoa powder (measure the sift)
1 ½ teaspoons (7g) baking powder
1 teaspoon (6g) baking soda
1 ¼ cups (303g) buttermilk ( if you do not have buttermilk, see Note below)
2 teaspoons (8 g) vanilla
¼ cup (52g) Baileys Irish Cream
½ cup (104g) vegetable oil (I use canola oil)
For the Irish Cream Filling
1 small box instant Vanilla pudding (3.4 oz) (96g) we used Jello Brand pudding (we like to sift pudding)
1 ¾ (406g) heavy cream or whipping cream
¼ cup Baileys Irish Cream
Irish Cream Buttercream
3 sticks (339g) unsalted butter, softened
9 cups (1035g) powdered sugar (sift then measure)
1 teaspoon (6g) salt (preferably popcorn salt or fine grain salt)
2 Tablespoons (30g) Baileys Irish Cream (more if you like a stronger flavor)
¼ cup (60g) milk
For the Ganache Drip
6 oz (171g) Chocolate (Semi-sweet or Dark) We used Ghirardelli Dark Chocolate
6 oz (171g) Heavy Cream
Instructions
For the Cake Layers
Preheat the oven to 350 degrees, grease and flour three 8x2 inch round pans
In a medium bowl, whisk the flour, cocoa, baking powder, and baking soda. Set aside
In another bowl, add the buttermilk, Baileys Irish Cream, oil and vanilla. Set aside
In the bowl of your mixer, add the softened butter and mix at medium speed until smooth. Gradually add the sugar and continue to mix on medium speed 3 to 5 minutes until lightened in color and fluffy.
Add the eggs one at a time, mixing until the yellow of the yolk disappears.
Alternately, add the flour mixture and buttermilk mixture, beginning and ending with the dry ingredients (3 additions of dry and 2 of wet).
Do not mix above medium speed or over mix the batter.
Bake at 350 degrees for 25 to 30 minutes or until a toothpick inserted in the center comes out clean or with just a few crumbs attached. Let cool 5 to 10 minutes and turn out of pan.
For the Irish Cream Filling
Chilling the bowl and beaters will shorten the mixing time. Use a hand mixer a stand mixer with whisk attachment, or you can whisk by hand.
Combine the dry pudding mix, heavy cream and Baileys Irish Cream in a mixing bowl.
Begin on low speed until everything is well combined. Increase speed and mix until the mixture is thick.If mixing by hand, simply whisk rapidly for a couple of minutes or until mixture is thick.
Refrigerate until ready to use. Cakes with this filling should be refrigerated until 1 to 2 hours before serving.If you are making the filling in advance, I think it would be fine refrigerated 5 days.
For the Irish Cream Buttercream
Cream the softened butter until smooth. Add approximately half of the powdered sugar, most of the milk and Irish Cream.
Mix at medium speed until the powdered sugar is incorporated. Add remaining powdered sugar and milk. Mix at medium speed another 3 to 5 minutes, or longer.
Scrape the sides and bottom of the bowl occasionally. The mixture will become very smooth. Lower the mixing speed near the end of mixing, this will reduce air bubbles in the buttercream.
For the Ganache Drip
Place your chocolate into a microwave safe bowl.
Pour heavy cream over the chocolate and place in the microwave for 1 minute. (Times may vary, see our note below).
Remove and stir. Microwave for 30 seconds more and when the chocolate has melted almost completely, allow it to sit for 1 minute more before stirring. Stir until you've reached a silky smooth consistency.
*Microwave times may vary. If you are making a smaller amount of ganache, you will reduce the microwave time. If your chocolate hasn't melted after the 1 ½ minutes recommended in the instructions, simply microwave in small 10-15 second increments until it has nearly completely melted. Let sit one minute, then stir until smooth.
Allow finished ganache to cool until it is a good consistency for dripping. (You can test this on the inside of your bowl. If it moves too quickly down, let it thicken a little more.
Assembly of Cake
When it is time to assemble your cake, place the first layer on the pedestal or cake base. Pipe a ring/dam around the edge of the layer (about ¼ inch from the edge). You could apply the dam using a piping bag with the tip snipped away, or you can use a tip 12. Then, apply your mousse filling within the dam and repeat the steps.
Frost the cake with a crumb coat, chill if necessary to firm things up, then follow with final coat of frosting. I use a heated bench scraper to smooth everything out.
To apply the ganache drip, load the ganache into the piping bag (it shouldn't be hot). Snip the tip of the piping bag, add apply the drip to your *chilled* tier. Chilling the tier first helps the drips not to go all the way down. I like to add the drip around the edge of the cake first, then spread additional ganache on top.
I piped stars of Irish cream buttercream around the top edge of the cake using a 6B tip, and placed a chocolate chip into each one. I also used a tip 21 to create a piped border with a braided look around the base. Decorate however you like! ;0)
Notes
Notes on the Cake Layers
Buttermilk substitution - To a 1 cup measuring cup add 1 Tablespoon vinegar, then add milk to the 1 cup mark. Stir and let sit 5 minutes, This recipe calls for 1 ½ cups so using a 2 cup measuring cup add 1 Tablespoon + 1 teaspoon vinegar, then add milk to the 1 ½ cup mark. Let sit 5 minutes to thicken.
Cake Recipe Makes 7 cups batter
Works well for cupcakes - Bake cupcakes 350 degrees for 18 to 20 minutes
Notes for the Buttercream
Makes 6 ½ cups frosting.
Cover the mixer to keep down the cloud of powdered sugar
Can be made in advance and kept refrigerated a week. Let warm to room temp. and remix. (do not microwave)
Can be frozen for 3 months. Thaw on countertop and remix (do not microwave to thaw)
Recommended Products
As an Amazon Associate and member of other affiliate programs, I earn from qualifying purchases.