Cookie Jar Cake with Cookie Monster Cupcakes~ Blog Tutorial
Hey there--today, I am going to show you how to make a CUTE Cookie Jar Cake with quick and easy Cookie Monster Cupcakes!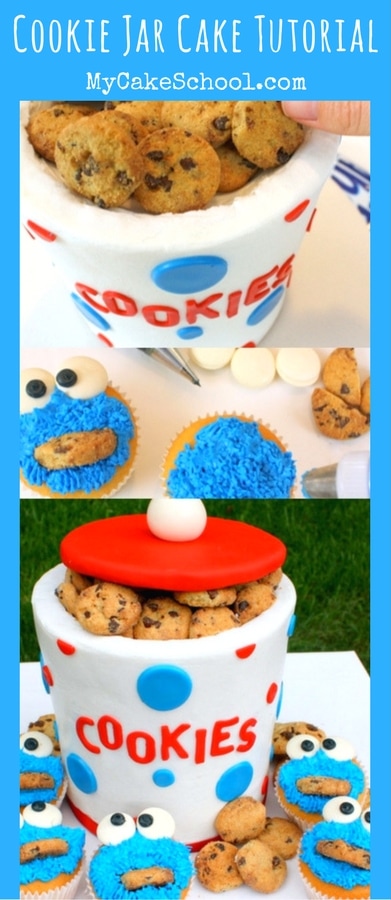 This cake is quick, cute, & perfect for the cookie lovers...the cookie jar collectors...and of course, all of the Cookie Monster fans!
How to Make a CUTE Cookie Jar Cake
We'll start with the cookie jar, and then make some Cookie Monster cupcakes to go with it--
Let's get started!
Step one-- Cookie jars come in all shapes and sizes. I decided to go with a cookie jar that is shaped a whole lot like a cake...since that makes things nice and easy. Of course, you could go with a rounded cake if you'd rather!
How to Make a Double Barrel Cake (TALL Cake)
As I often do, I used a double barrel cake construction so that I could have a taller cake. I used 4 fairly fat 6 inch cake layers.
I filled and settled the first two layers, and inserted 4 bubble tea straws cut to the size of those two layers. These straws will support the weight of my next two layers, as you'll see in a minute.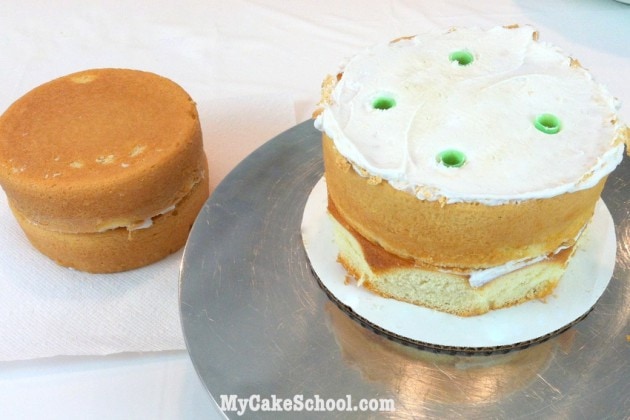 Here, you can see the cardboard cake circle that I trimmed slightly smaller than the 6 inch cake layers. Then, I added the next two cake layers and frosted the entire cake as one tall cake.
You do not need to have a tall cookie jar--I just like the look!
When you have a tall cake like this one, the internal supports and cake board not only keep the cake stable, they also keep your servings a reasonable size. (Otherwise, that would be a TALL slice of cake!)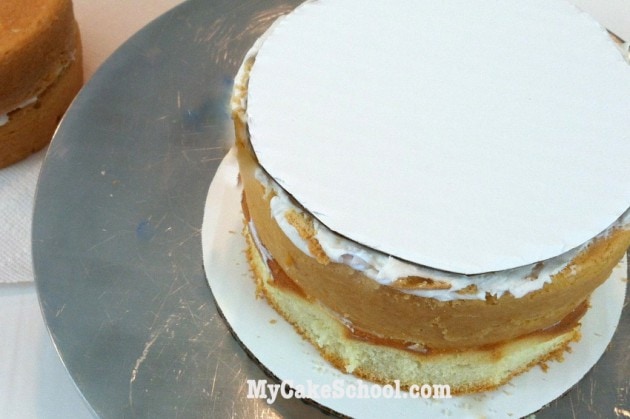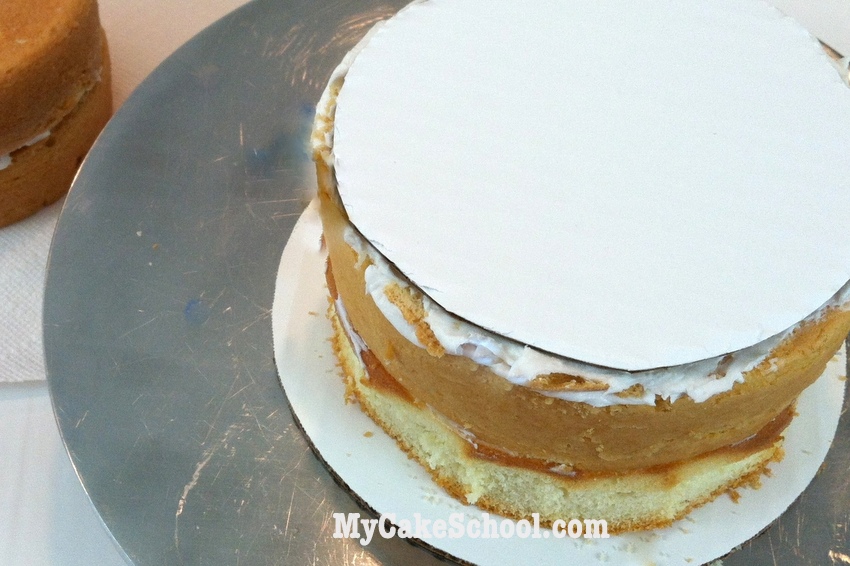 Smoothing the Buttercream Frosting (Using Viva Paper Towel Method)
Next, I frosted my cake with a crusting vanilla buttercream, like our Fluffy Vanilla Buttercream Recipe or our butter based Classic Vanilla Recipe. Once crusted, I smoothed over it with the help of a Viva paper towel.
If you'd rather not use the Viva Paper Towel method of smoothing, another popular method is to chill the cake in the freezer for about 20 minutes until the frosting is firm.
Then, glide over it with a heated bench scraper or spatula. You may need to add a little fresh buttercream to stubborn places to that it can melt as you glide over it.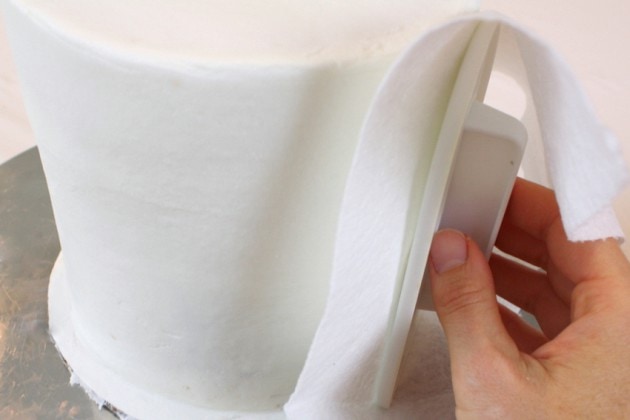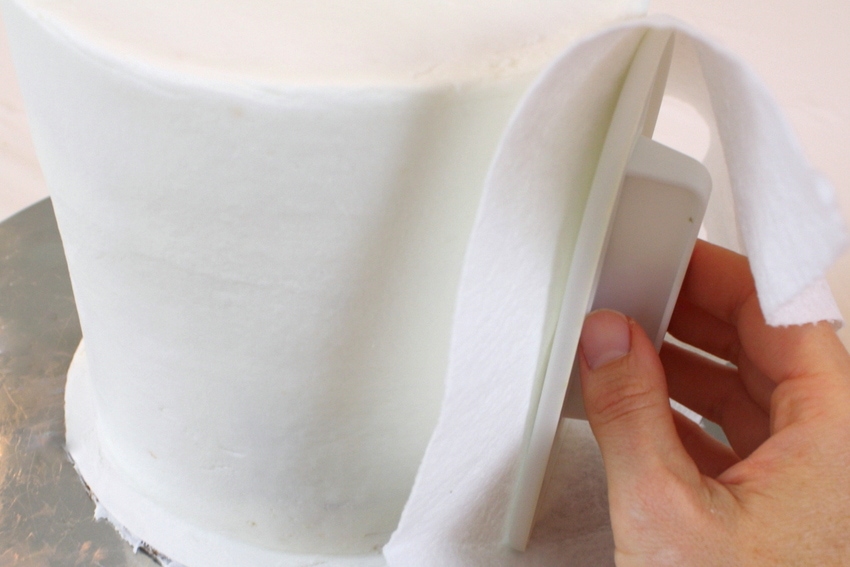 Carving the Cookie Jar Cake
Next, I used a sharp (non serrated) knife to make a shallow cut into the top of the cake.
I wanted to remove a small amount of cake so that the cookie jar would look more realistic. It's much easier to cut your circle if you have a cookie cutter or round template to mark where you will be cutting.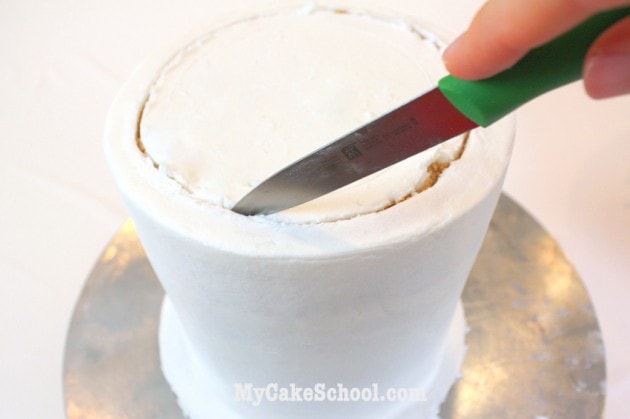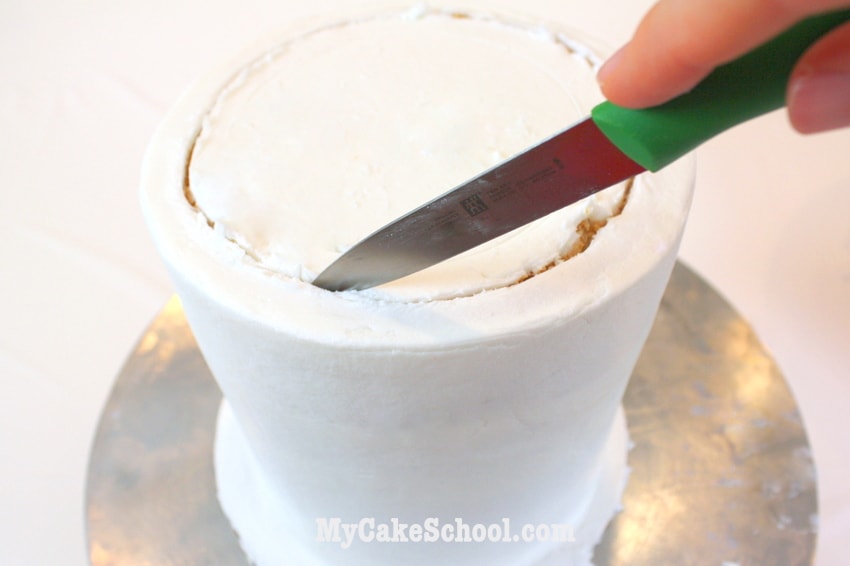 Next, I removed the excess cake. You can see from the photo that the amount removed was thin, but it will give us just enough depth for our cookies.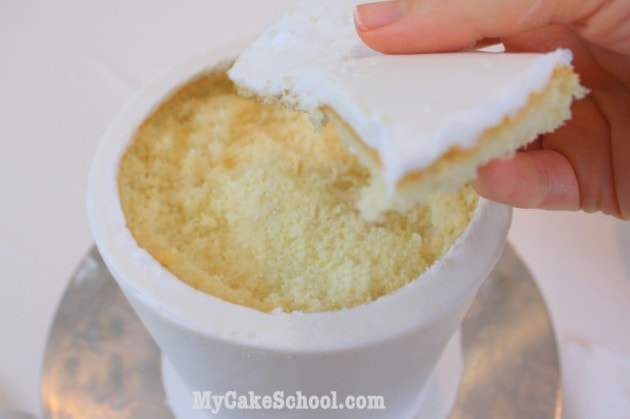 I applied a thin layer of buttercream to the newly exposed cake, and then began working on the other accents.
Creating the Lid for the Cookie Jar Cake
My cookie jar lid is two cardboard cake circles, taped together, coated with a thin layer of vegetable shortening, and then a layer of red fondant. (I used pre-colored red Satin Ice fondant.).
I used my cookie cutter as a template for cutting out the cardboard cake circles, so that they would be approximately the same size as the opening that we cut into the top of the cake.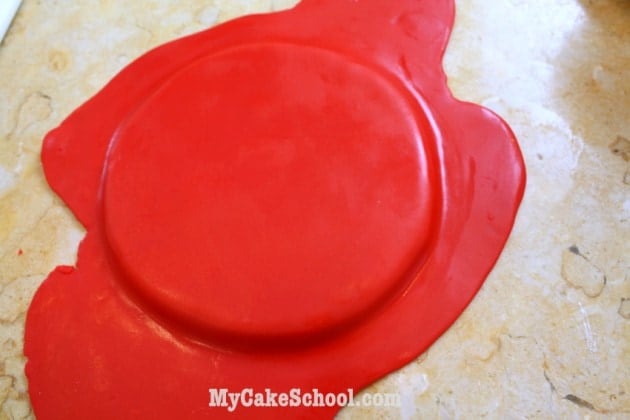 I added a little white fondant knob on top of the lid, securing with a little sugar glue.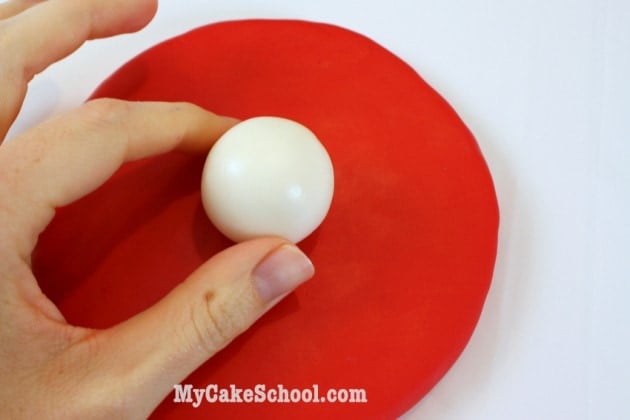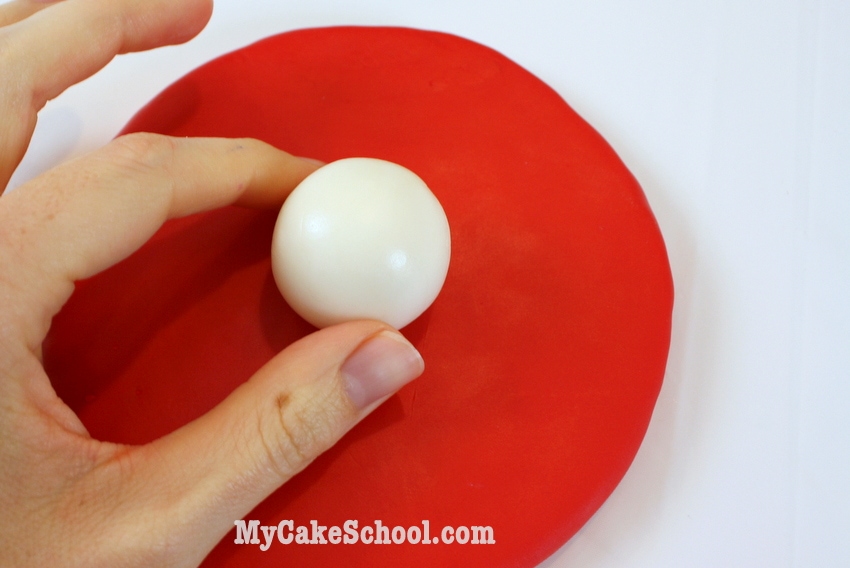 I used red and blue fondant for accents to give our cookie jar some personality! Polka dots are cut from large and small piping tips. I used an alphabet cutter set to cut out the word "cookies" in red fondant.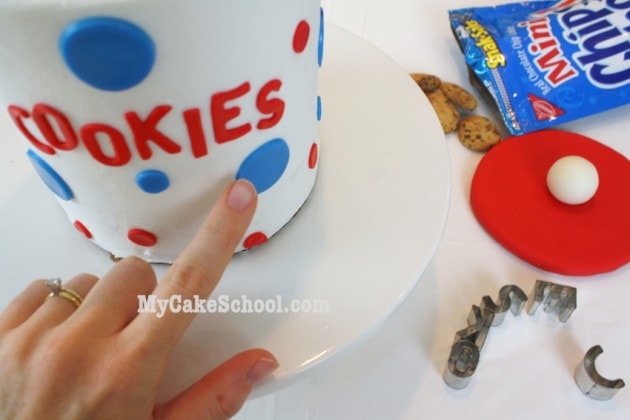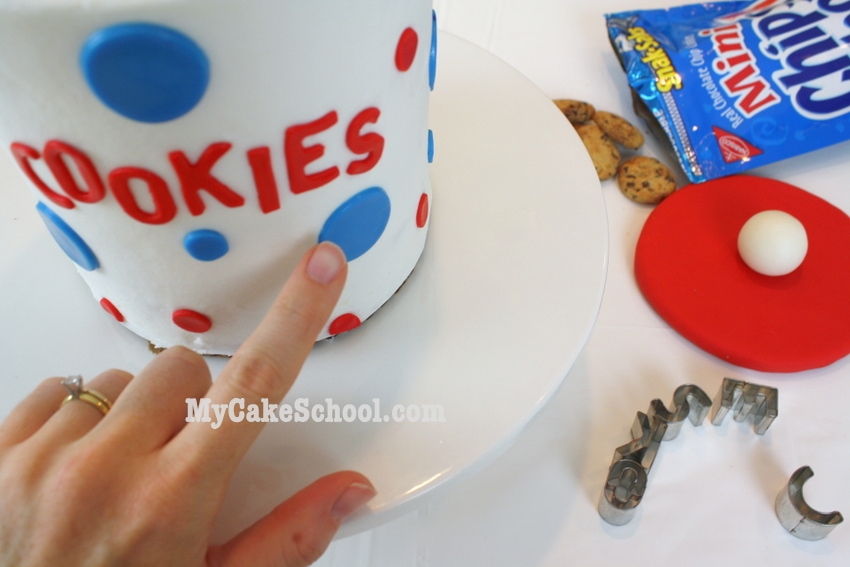 Adding the Cookies to the Cookie Jar Cake
Adding the cookies was my favorite part! Suddenly, our cake turned into a cookie jar!
You can slice the cookies in half if you'd like for them to go even further (and give the illusion that they are pushed more deeply into the jar). My cookie of choice today was Chips Ahoy Minis.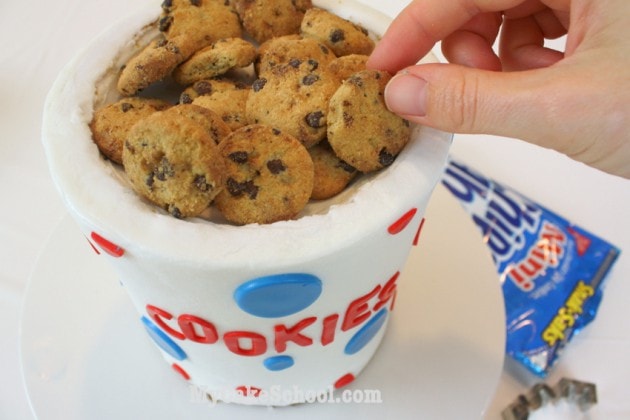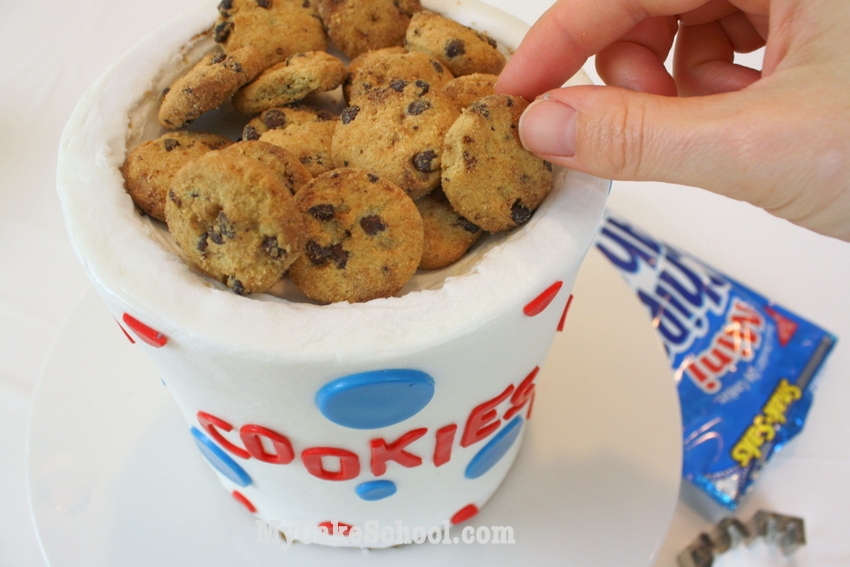 Small Ribbon Border
Next, I greased a red ribbon with a little vegetable shortening and wrapped it around the bottom of the cake for a border.
Greasing the ribbon is an important step for whenever you make a ribbon border because it discolors the ribbon in a uniform way.
If you did not do this, the buttercream would causes splotches on the ribbon.
We'll show you the cookie jar very soon...but for right now, let's make some Cookie Monsters!!!
How to Make EASY Cookie Monster Cupcakes
Have you ever made Cookie Monster cupcakes? SO easy and so cute!
All that you need is buttercream tinted Royal Blue (somewhere between medium & stiff consistency), some white candy melts for the eyes, black buttercream, and some cookie halves.
Cookie Monster's fur is piped with a Wilton grass/hair tip (233), and I used a round piping tip 4 for the pupils of the eyes.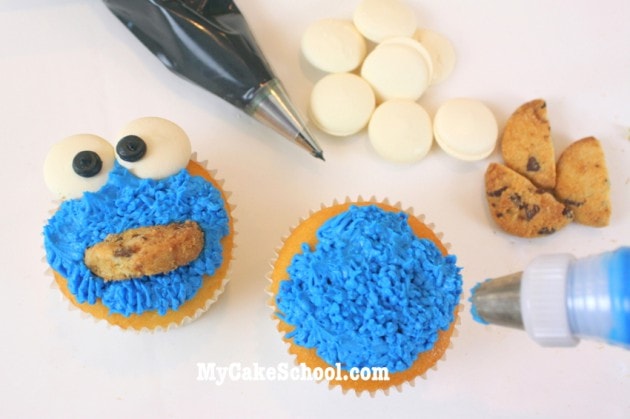 Next, I pushed a cookie half into the icing...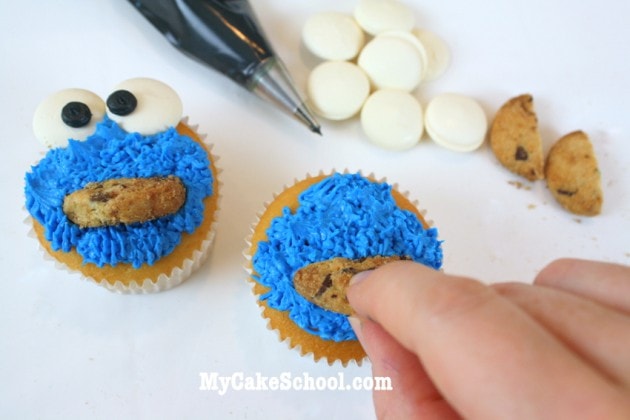 Then, I added our white candy melts (rounded side up) and piped on the pupils with black buttercream. Of course, you can improvise with icing eyes, fondant eyes, marshmallow eyes, etc.
That's it! Now, let's huddle them around the cookie jar where they belong!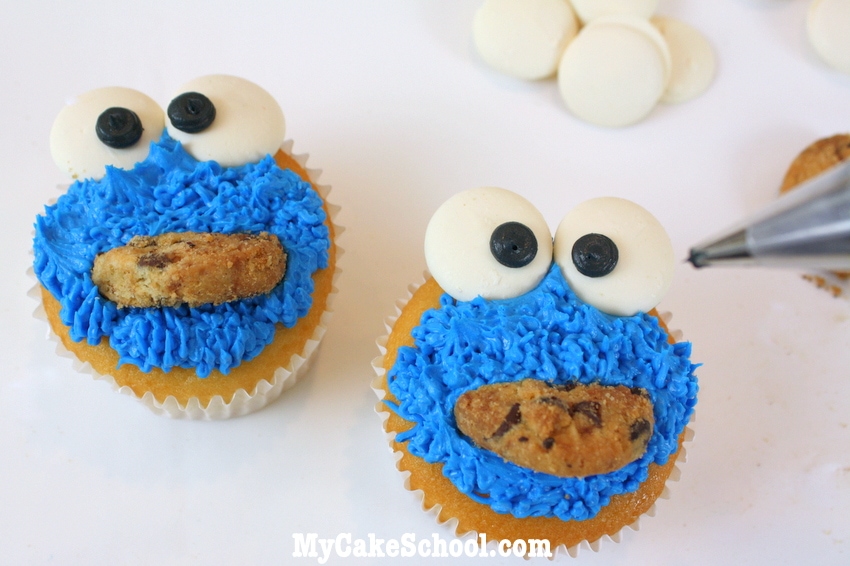 Aren't these the cutest?! Whether you make only the jar, only the Cookie Monsters, or both as we did, I hope that you'll give this idea a try!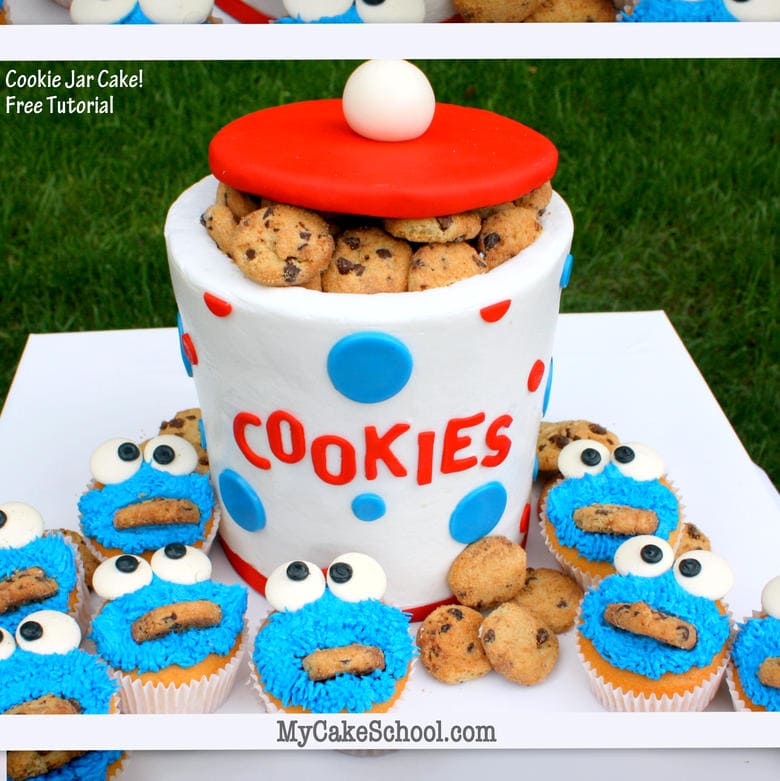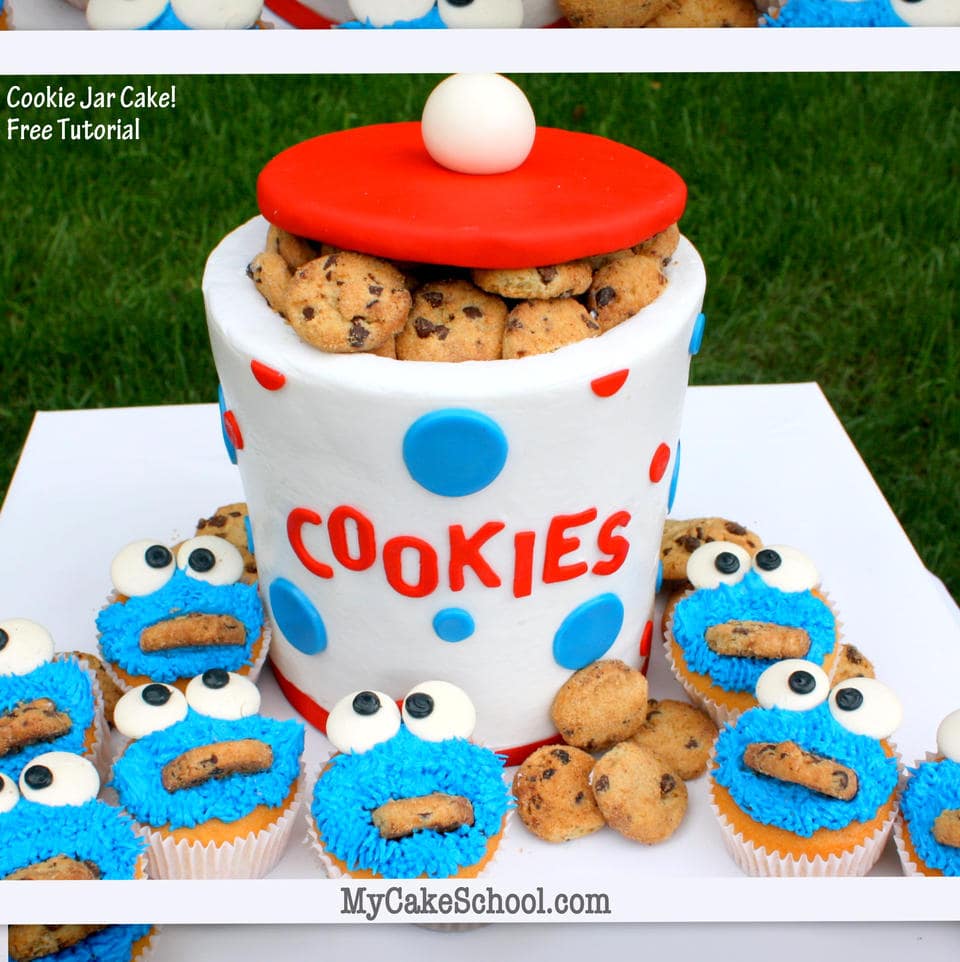 The crusting buttercream frosting used for our Cookie Jar Cake
For this recipe, we used Fluffy Vanilla Buttercream which is a crusting vanilla buttercream. This works perfectly with the Viva paper towel method demonstrated above:Fluffy Vanilla Buttercream Recipe .
This is a shortening and butter based frosting. If you prefer an completely butter-based frosting, check out our Classic Vanilla Recipe!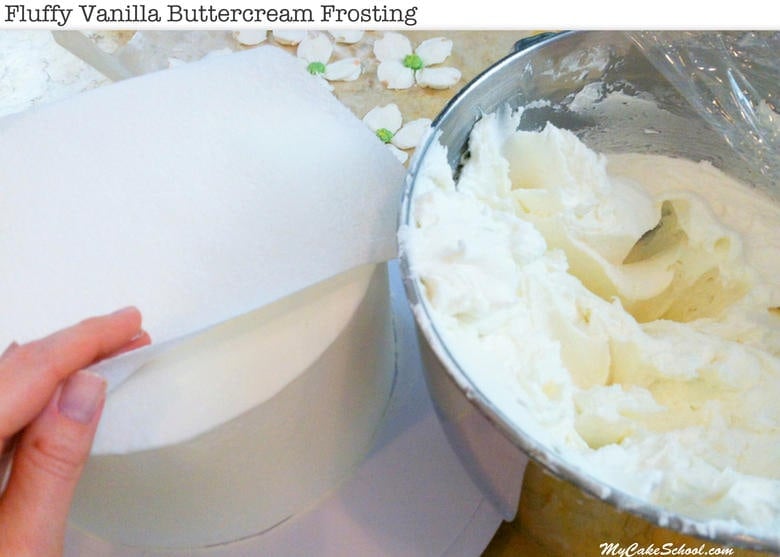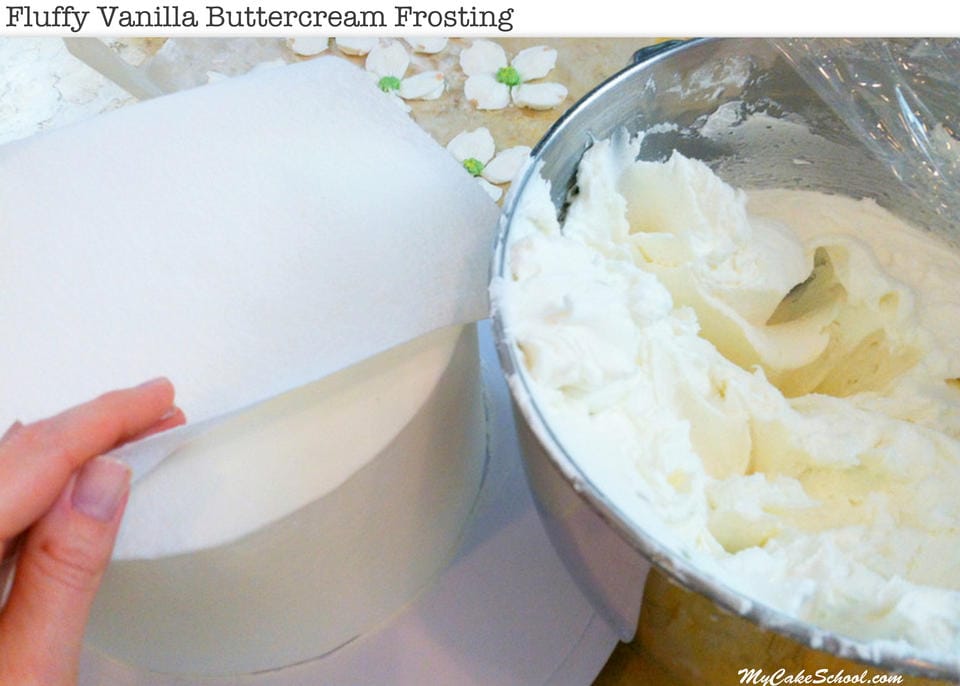 My Cake School Online Cake Tutorials, Recipes, and More!
Thanks for stopping by, I hope that you enjoyed the tutorial! Don't forget to check out our full collection of Free Cake Tutorials and Favorite Cake and Frosting Recipes for more delicious ideas and inspiration!
Now, it's time for cookies and cake!