Today we are sharing a moist, Cinnamon Roll Layer cake that has the perfect balance of cinnamon and brown sugar flavor along with an amazing cinnamon cream cheese frosting!
If you love cinnamon rolls, or all things cinnamon, you cannot go wrong with this layer cake- it is SO good.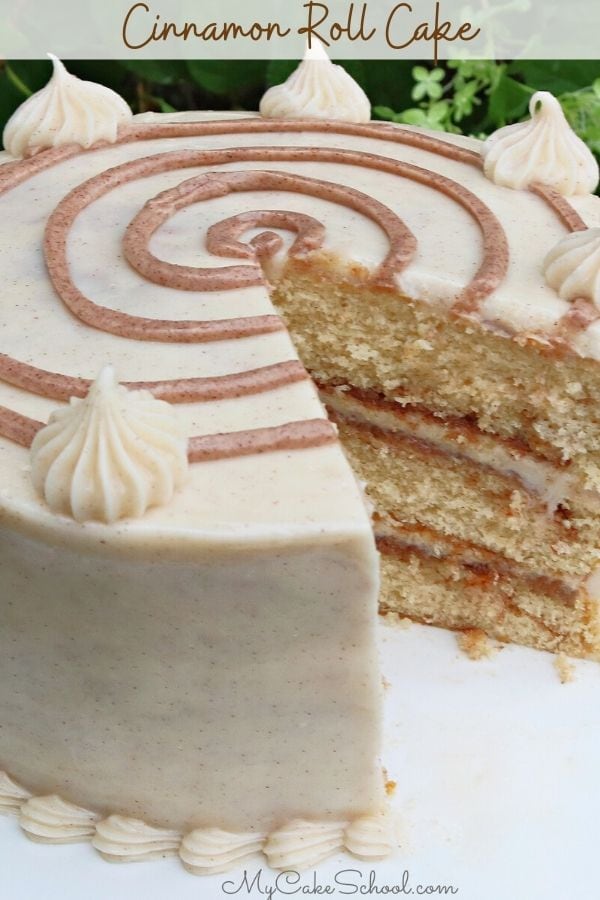 How to Make a Cinnamon Roll Layer Cake
This delicious layer cake is based on our Vanilla Buttermilk cake, but with the addition of cinnamon and brown sugar, and the layers are brushed with a cinnamon simple syrup for an added flavor boost!
When you are ready to assemble your cake layers, brush each layer with about two tablespoons of the Cinnamon and Sugar Glaze/Simple Syrup.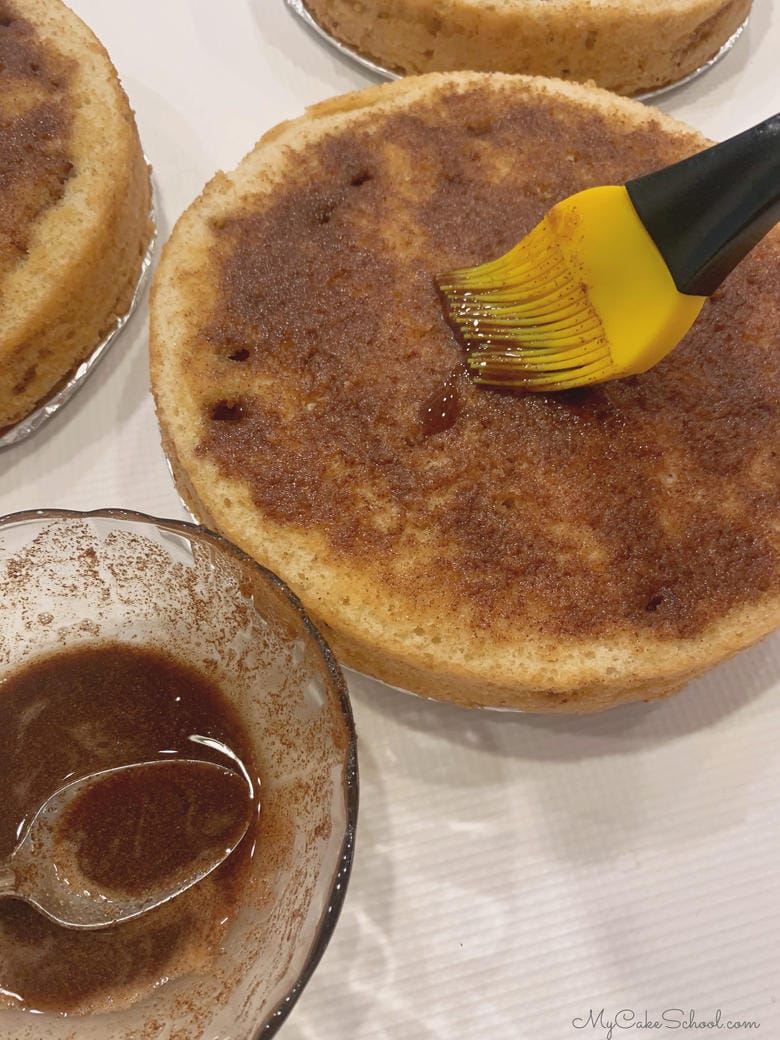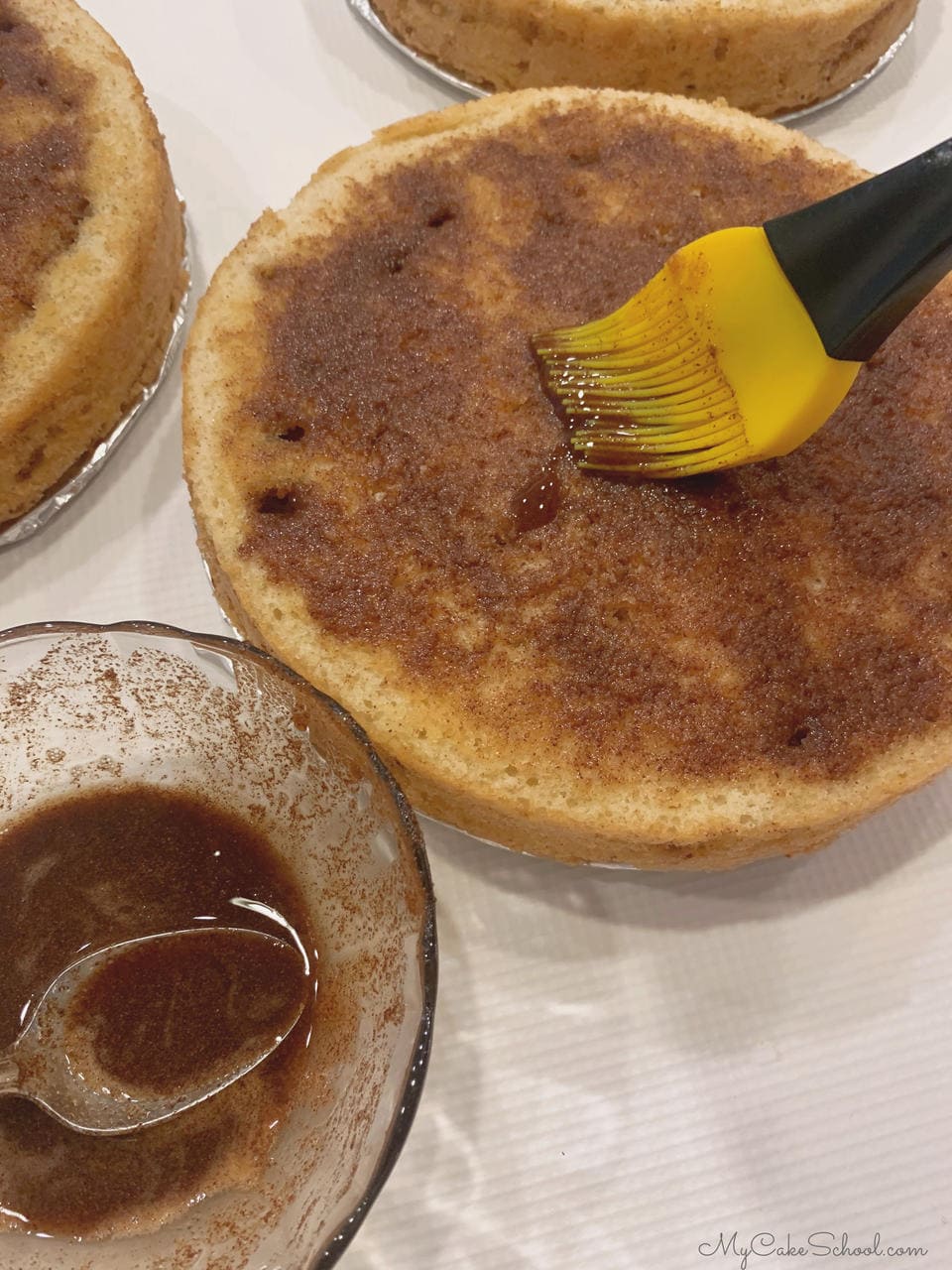 Then proceed with stacking and filling between the layers with Cinnamon Cream Cheese Frosting. This recipe is so easy to make and has a hint of tanginess that pairs wonderfully with the sweet, spiced flavors of the cake layers.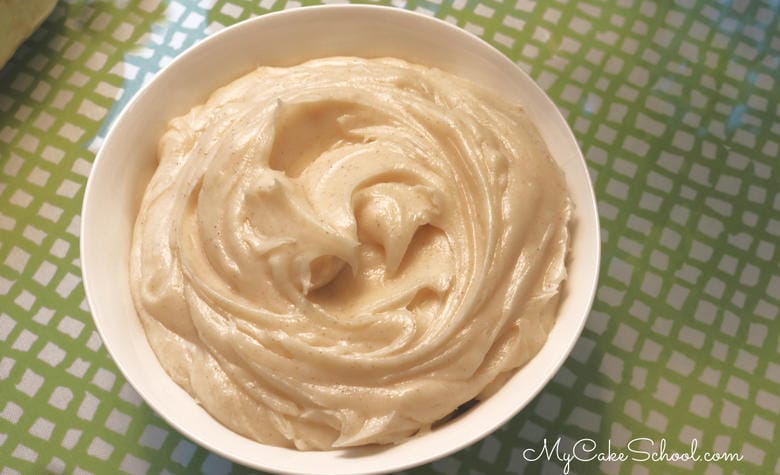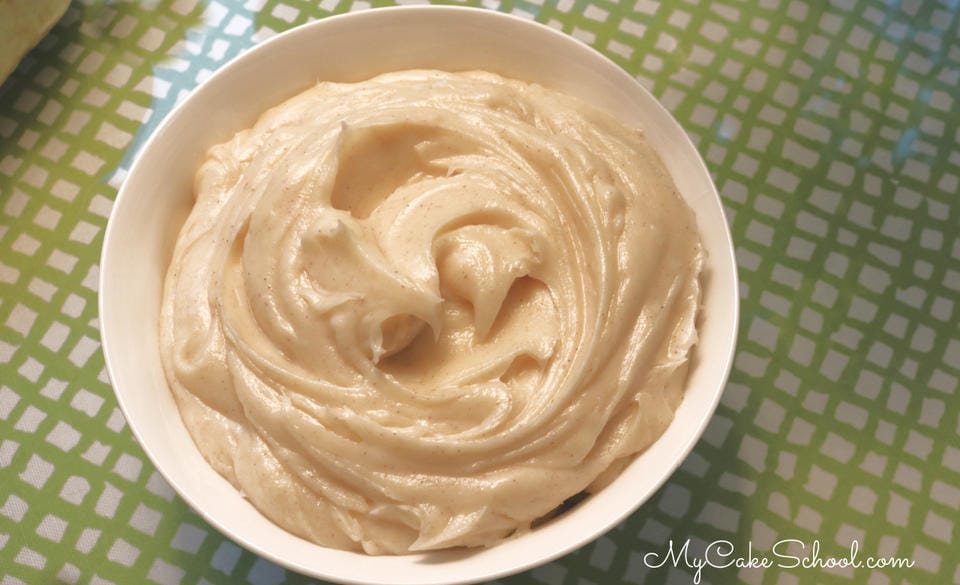 I always love to pair cream cheese frostings with cinnamony cakes and this cinnamon roll cake is no exception! Yum.
Settling the Cake
Settling the cake is a step that is optional, but one that I always try to make time for. The idea is that once assembled, all cakes will settle a little over time.
If you've already applied the final coat of frosting, settling can be frustrating as it often results in small but noticeable bulges around the sides of the cake in between cake layers.
The fix for this is to wrap your filled, unfrosted cake tier in plastic wrap and place a weight of some sort on top. We are settling the cake in advance.
The weight could be a smallish book, a couple of cake pans, or anything else that would lend a slight, steady (not crushing) pressure. Settle for a few hours or overnight–in this case, in the refrigerator since cream cheese frostings are perishable.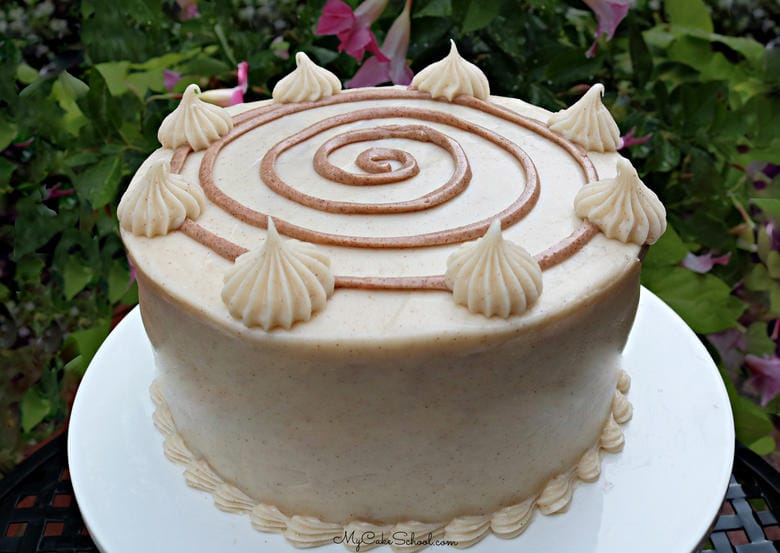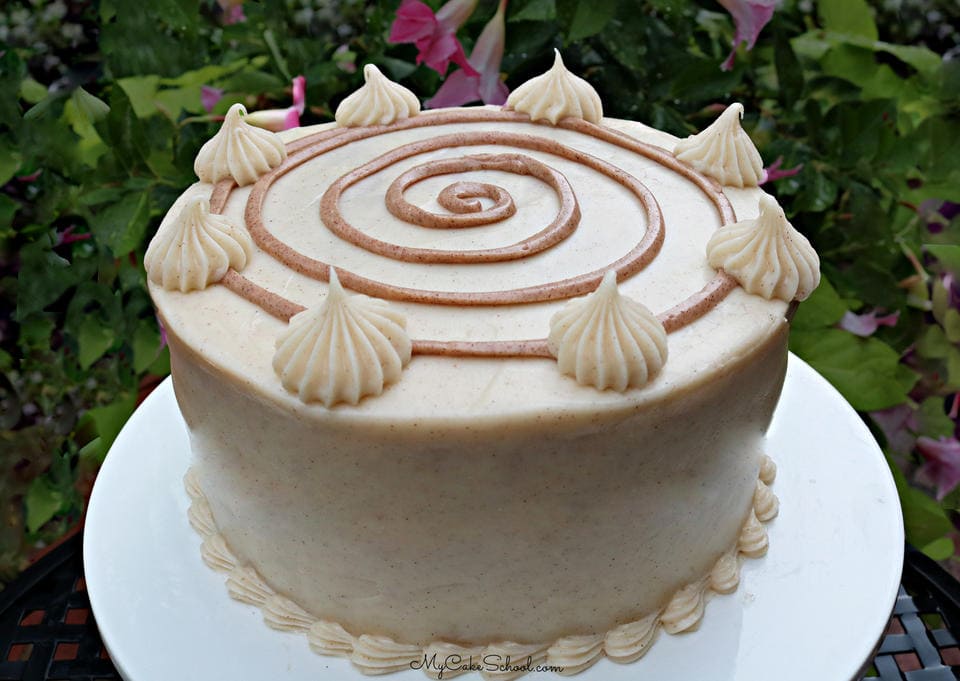 Decorating the Cinnamon Roll Cake
I reserved about 1/4-1/2 cup of my frosting to be used for the darker brown swirl on top later. I frosted the settled cake tier with a thin crumb coat, and then followed up with my final layer of frosting.
I find it helpful to use a turntable and bench scraper if you have one so that you can rotate the cake while applying the bench scraper to the sides for a smooth finish. (Chill the tier as needed in the freezer for about 15 minutes as needed and smooth over any imperfections in the frosting with a hot spatula or bench scraper).
Finally for the cinnamon swirl on top, I added additional cinnamon to the reserved frosting to darken it, loaded it into my piping bag and snipped the end away.
Then, starting in the center, I spiraled out with my piping and added a french tip border around the top, and a small shell border around the base.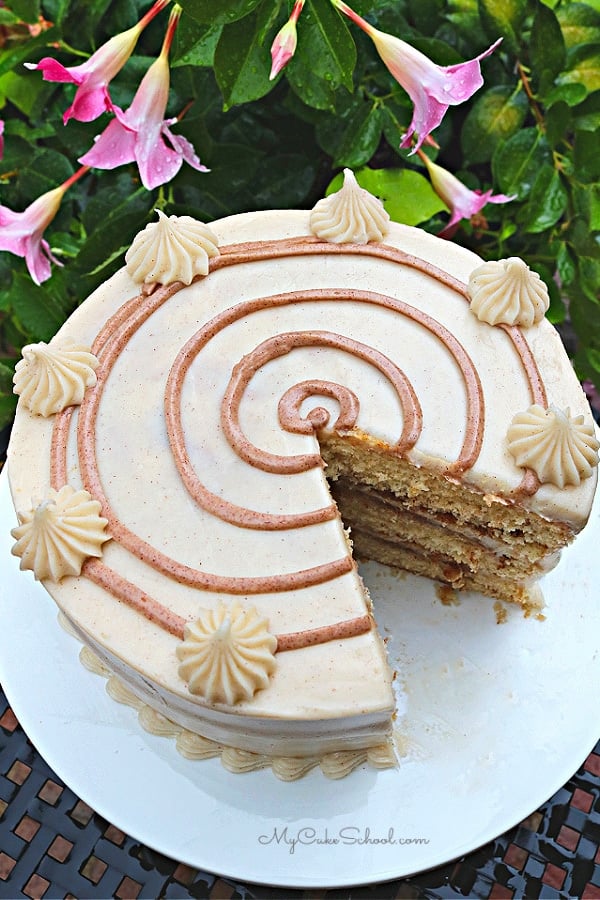 Love Cinnamon and Spice? Here are a few more Favorite Cake Recipes to Try!
We live cinnamon cakes and spice cakes! We've added several of these recipes to our Recipes Section over the years- give them a try! You won't be disappointed ;0)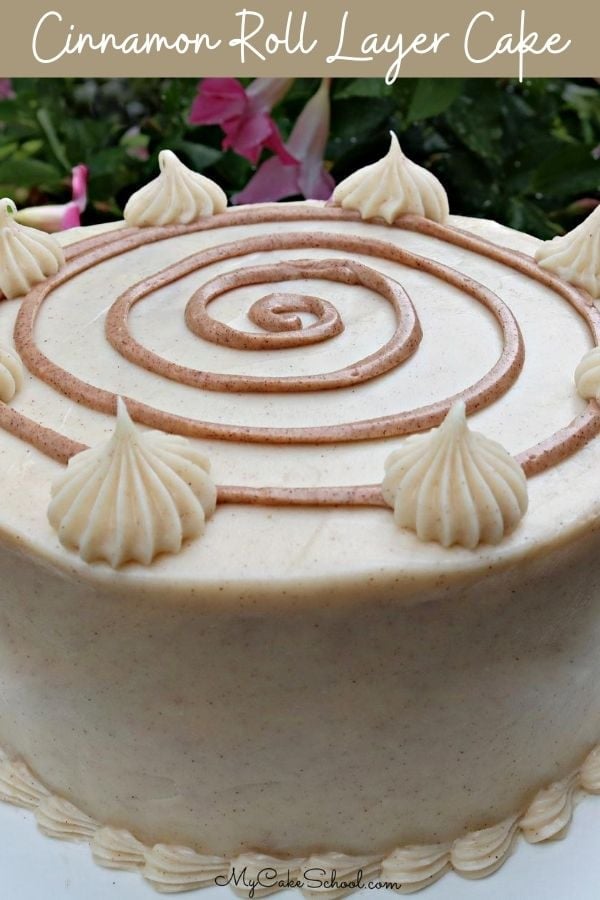 Cinnamon Roll Cake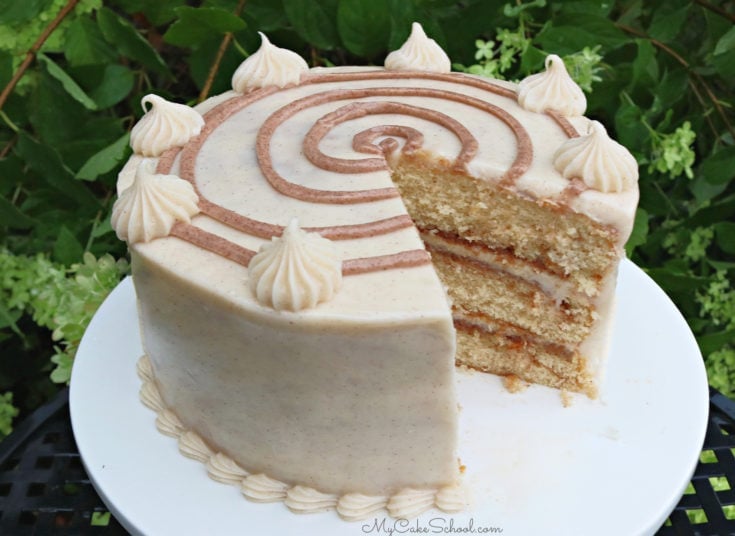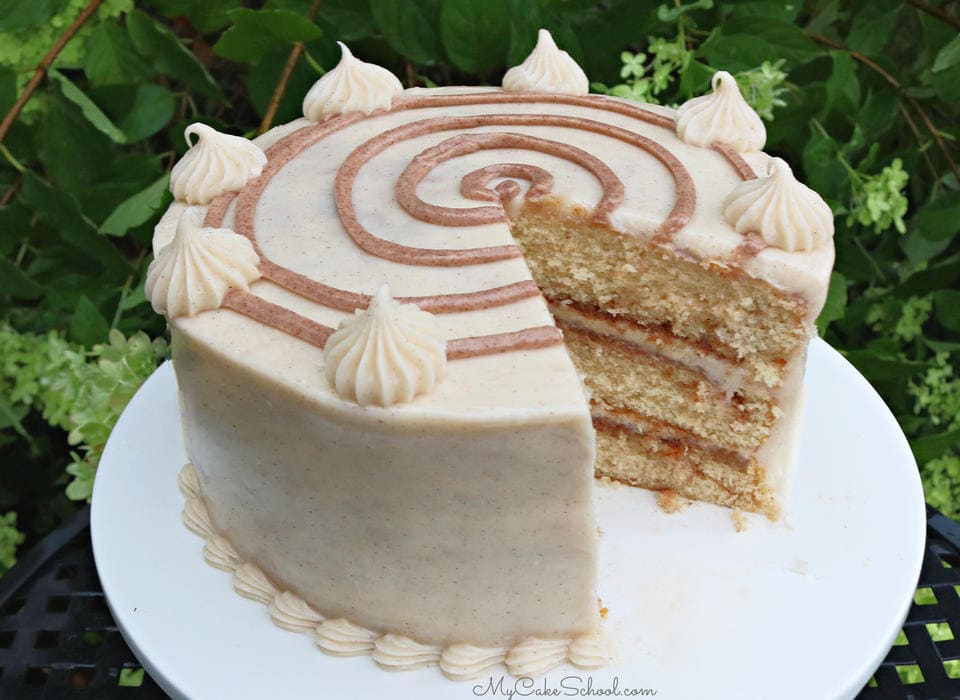 This Cinnamon Roll Cake has wonderful cinnamon flavor combined with a dreamy cinnamon cream cheese frosting!
Ingredients
For the Cake
1 1/2 sticks (170g) unsalted butter, softened ( holds it shape but dents when pressed)
2 cups (400g) sugar
4 eggs
3 cups (342g) cake flour (spooned into measuring cup and leveled off) If you do not have cake flour see substitution in Notes below.
2 teaspoons (8g) baking powder
1/2 teaspoon (3g) baking soda
1 teaspoon (3g) cinnamon
1/2 teaspoon (3g) salt
1 1/4 cups (296g) buttermilk — if you do not have buttermilk, see substitution below
1/4 cup (54g) vegetable oil
1 Tablespoon (12g) vanilla extract
For Sprinkling over Batter
1/2 cup (108g) light brown sugar, packed
1 teaspoon (3g) cinnamon
For the Cinnamon Sugar Glaze to Brush on top of each Baked Layer
5 Tablespoons (30g) powdered sugar
2 Tablespoons (28g) light brown sugar, packed
1 Tablespoon (8g) ground cinnamon
1 teaspoon (4g) vanilla extract
1 Tablespoon plus 2 teaspoons (15g) very hot water (hot water to dissolve the sugar)
Cinnamon Cream Cheese Frosting
2 sticks ,1 cup, (226g) unsalted butter, slightly softened
2 (8oz) packages cream cheese (total weight 452g) I use full fat cream cheese. Using reduced fat or the spreadable cream cheese will cause the frosting to be too soft. Soften very slightly.
2 teaspoons (8 g) vanilla extract
1/2 teaspoon salt (2g) optional - it will cut the sweetness, popcorn salt is best to use because it is fine and dissolves faster
6 to 6 1/2 cups (690g to 747g) powdered sugar
1 teaspoon (3g) cinnamon
The Darker Brown Cinnamon Swirl of Frosting on top of the Cake (optional)
1/4 cup of Cinnamon Cream Cheese Frosting
1/2 teaspoon (1.5g) cinnamon
Piping Tips (Optional): French Tip 8B for piping around the top, Star tip 21 for shell border.
Instructions
For the Cake
Preheat the oven to 350 degrees, grease and flour three 8×2 inch round pans.
In a medium bowl, whisk the flour, baking powder, baking soda, cinnamon, and salt for 30 seconds. Set aside
In another bowl, add the buttermilk, oil and vanilla. Set aside..
In the bowl of your mixer, add the butter and mix at medium speed until smooth. Gradually add the sugar and continue to mix on medium speed for 3 to 5 minutes until lightened in color and fluffy. Add the eggs one at a time mixing until the yellow of the yolk disappears.
Alternately add the flour mixture and buttermilk mixture, beginning and ending with the dry ingredients (3 additions of dry ingredients and 2 of liquid).
Do not mix above medium speed or over mix the cake batter.
Combine the brown sugar and cinnamon (for sprinkling as listed above). Divide cake batter between the three prepared 8 inch pans and sprinkle the mixture over the tops of cake batter before putting into the oven. I found it easier to sprinkle over the batter using my fingers.
Bake at 350 degrees for 25-30 minutes or until a toothpick inserted in the center comes out clean or with just few crumbs attached. Let cool 10 minutes and turn out.

For the Cinnamon Sugar Glaze for top of each Baked Layer
Mix together and set aside. This will be used to brush approximately 2 Tablespoons on the tops of each layer as you stack the cake.
This is used as a simple syrup on the layers.
For the Cinnamon Cream Cheese Frosting
Cut the butter into slices and add to the bowl of your mixer. Beat on low to medium speed until the butter is softened and smooth.
Cut the cold cream cheese into pieces and add to the butter, beating at low to medium speed until incorporated. If you are using a hand mixer you may need to soften the cream cheese a bit more.
Add the vanilla. Gradually add the powdered sugar and cinnamon beating on low speed until blended. Cover the bowl with a towel to keep down the cloud of powdered sugar.
Increase mixing speed and beat until fluffy. Don't over beat or it will become too soft. If it becomes too soft, just refrigerate a short while to firm it up a bit.
**If you are making a dark brown swirl of frosting on top of the cake as we did, reserve 1/4 cup of frosting as set aside.
This frosting will pipe best if used while still chilled. You can make it in advance, refrigerate and when ready to use let it soften slightly (do not microwave) and remix.
Will frost a 3 layer 8 or 9 inch cake.
For the Swirl of Cinnamon Frosting on Top of the Cake (optional)
Mix the cinnamon into the reserved 1/4 cup of frosting. Adjust cinnamon amount to your liking, this amount gave us a nice darker color (and flavor).
Load into a piping bag with the tip snipped away (or you can use a small round tip) and pipe the swirl onto the top of the cake.
Assembly of Cake
After baking the cake layers, brush with the cinnamon sugar glaze (as instructed above), and fill and frost with the Cinnamon Cream Cheese Frosting. If the frosting becomes too soft to easily frost with, chill in the refrigerator. I also like to chill my crumb coated cake in the freezer for about 15 minutes or so to firm things up before applying the final coat of frosting.
Optional: I then piped a swirl of the darker Cinnamon Cream Cheese Frosting for added decoration. I held the piping bag (tip snipped away) vertically and started piping in the center of the cake and spiraled outward.
I finished things off with french tip piping around the edges (using a tip 8B)- You can use any large star tip for this. I also piped a bottom shell border using a star tip 21.

Notes
Substitute for Buttermilk: No Buttermilk? Here is a substitution: To a measuring cup, add 1 Tablespoons vinegar or lemon juice. Add milk to the 1 1/4 mark, stir. Wait 5 minutes and it is ready to use.
Substitution for Cake Flour: Using all purpose flour (plain in UK) to make Cake Flour: For each cup of flour in a recipe, remove 2 Tablespoons of flour and replace with 2 Tablespoons cornstarch (cornflour in the UK). This recipe has 3 cups of flour so you will measure out 3 cups of all purpose flour, remove 6 Tablespoons and replace with 6 Tablespoons cornstarch, whisk to blend
My Cake School Online Cake Tutorials, Recipes, and More!
Thanks for stopping by! We hope that you enjoy this Cinnamon Roll Cake! Also, don't miss our full collection of tried and true cake and frosting recipes from our Recipes Section!
You can also find lots of creative cake decorating projects in our Free Tutorials Section. Or, if you are interested in accessing our entire collection of hundreds of cake decorating tutorials, you should consider becoming a member of My Cake School!
Memberships are $30/year and will give you access to every video we've made for as long as you are a member. You can find additional details here: Joining Information for My Cake School. We would love to have you!