I'm so excited to share this new scratch Chocolate Sour Cream Cake recipe with you!
You may have tried a couple of our other treasured chocolate cake recipes including our scratch Classic Chocolate Cake , Chocolate Buttermilk Cake, and our homemade Devil's Food Cake, but let me assure you that there is always room for another fantastic recipe- especially when chocolate is involved!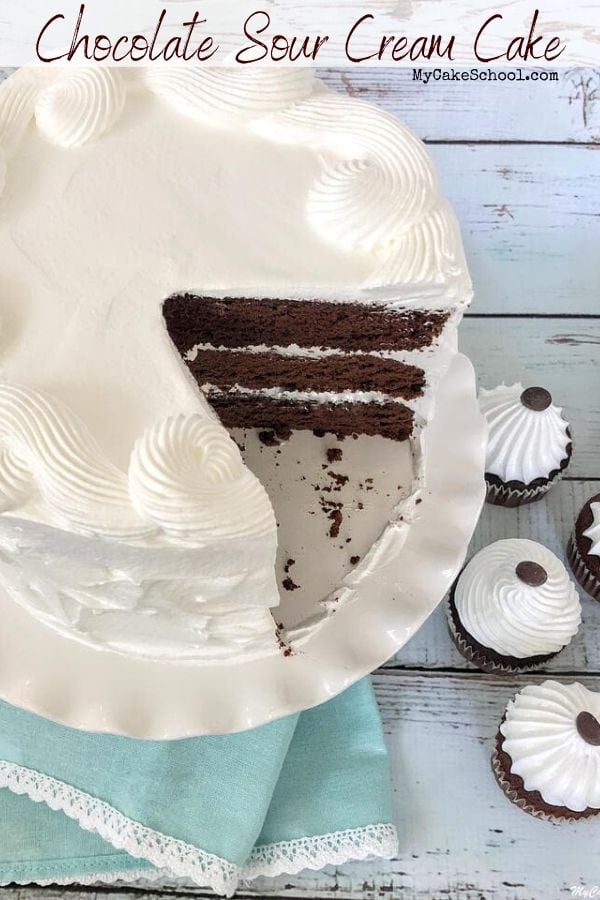 While we still love our other homemade chocolate recipes, this new Chocolate Sour Cream Cake is ultra moist, flavorful, and has a wonderfully soft texture.
My favorite chocolate doctored cake mix recipe is a Chocolate Sour Cream Cake, and I've wanted to make a scratch version of this recipe for the longest time.
We also receive requests often about how to turn our popular scratch White Almond Sour Cream Cake Recipe into a chocolate cake.
After lots of trial and error, I'm happy to say that we've found THE ONE!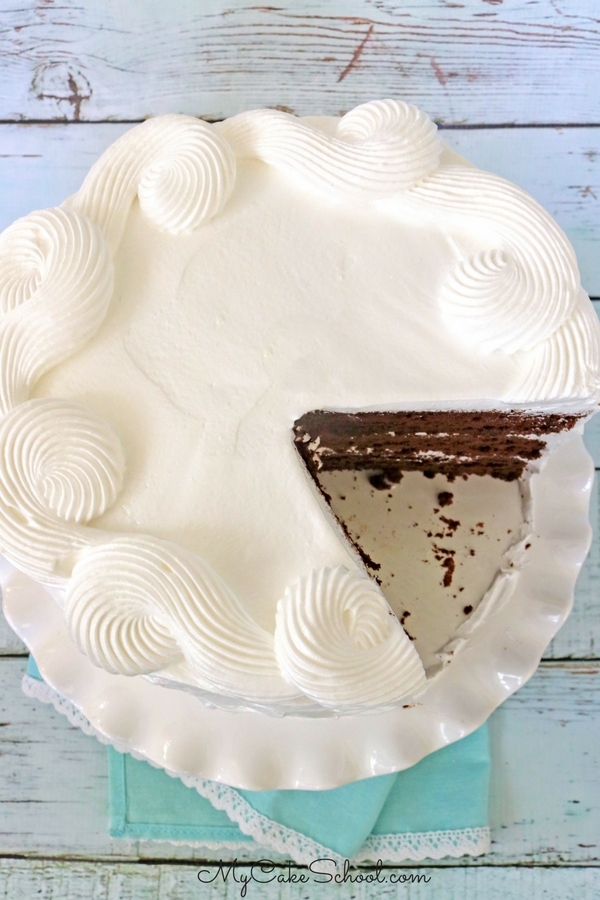 How Does this Chocolate Sour Cream Cake Compare to our Classic Recipe?
This Chocolate Sour Cream Cake is similar to our scratch classic chocolate cake in some ways, as they both have the same amount of cocoa and coffee, giving it a decadent chocolate flavor, but the sour cream also adds a softness that we were happily surprised by.
We thought that this sour cream version of chocolate cake would be slightly more dense than our other chocolate recipe but the opposite is true. It truly melts in your mouth.
Versatility of the Recipe
This recipe works perfectly for chocolate sour cream cupcakes as well! In addition, despite the soft texture of the cake, it holds up well to fondant also. In other words, it is the perfect chocolate cake ;0)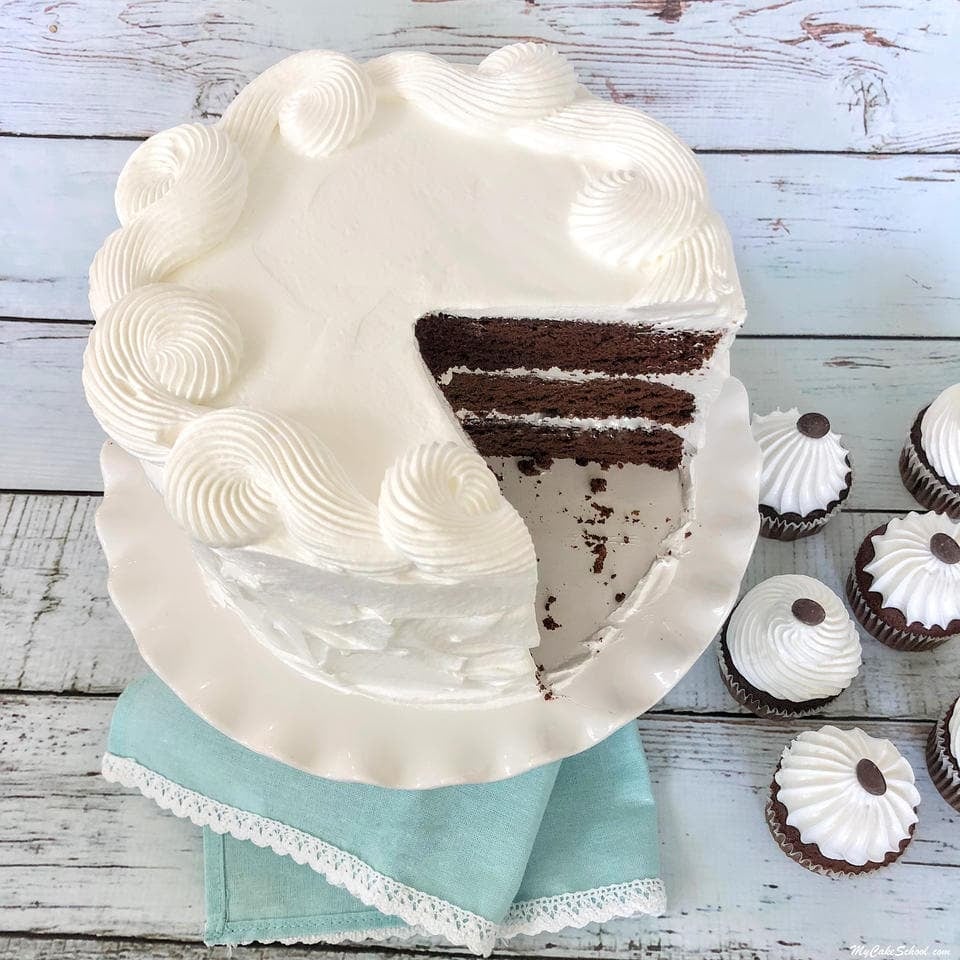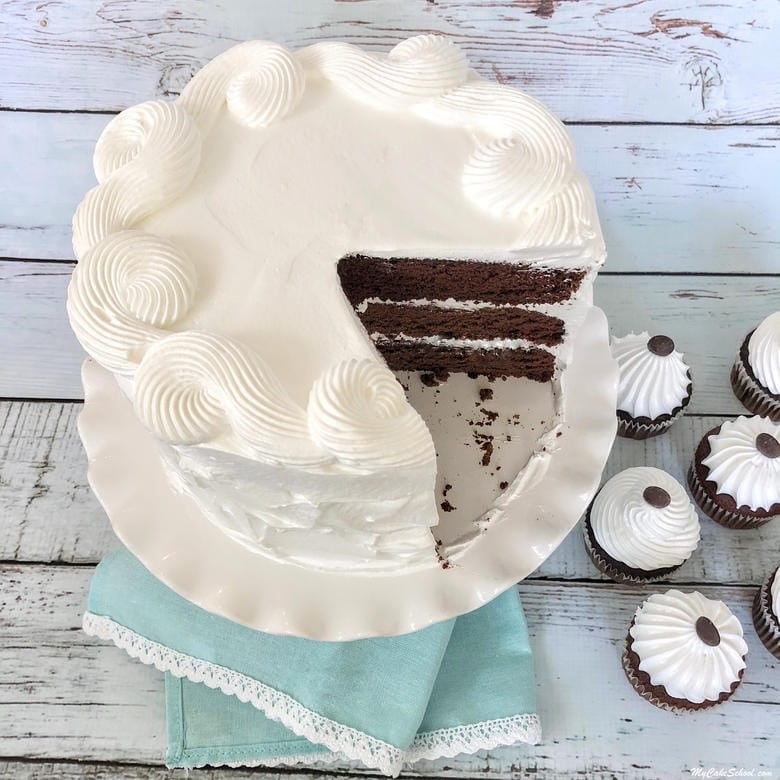 Reverse Creaming Method of Mixing
Sometimes our reverse creaming method cake recipes have a slightly denser texture that makes them better for layer cakes but not ideal for cupcakes.
However, in this case, we found this recipe to be fantastic for cupcakes as well. Love the versatility of this cake!
While you can make this recipe using the traditional method of mixing, we tried the cake both ways and the reverse creaming method for this recipe was the clear winner.
It's amazing how two cakes that contain the same ingredients can turn out so differently just based on the order and mixing technique of ingredients!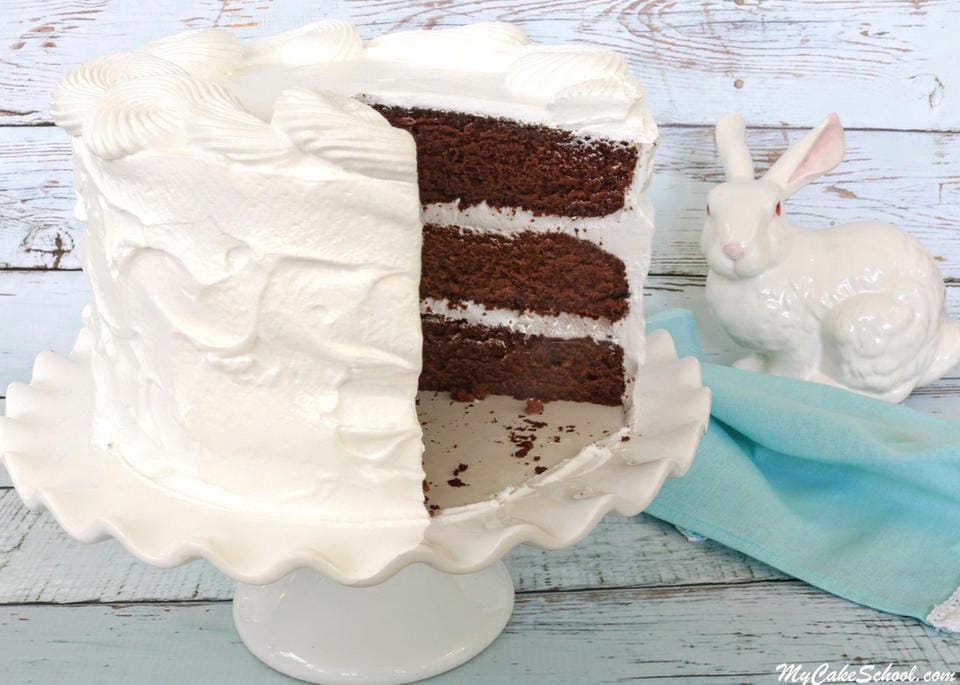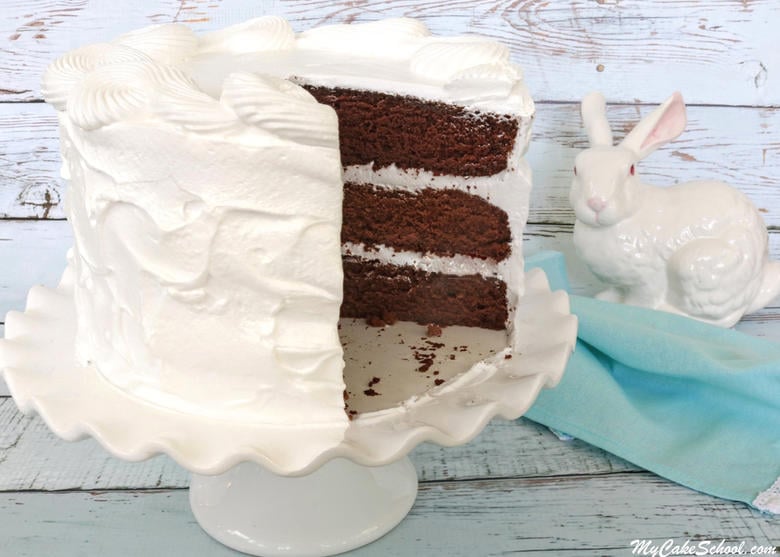 All of the steps are fully explained in our recipe below, but if you would like more information on the Reverse Creaming of Method of mixing, hop over to this post for additional details and a video: The Reverse Creaming Method of Mixing.
Our Chocolate Sour Cream recipe makes a bit more batter than usual…closer to 9 1/2 or 10 cups. This is perfect for three 9 inch cake layers, but if you'd like you can also make three 8 inch layers and just pour a few additional cupcakes to sample.
At my house, extra cupcakes for sampling is always reason to celebrate ;0)
What Frostings Pair well with Chocolate Sour Cream Cake?
There are so many frosting and filling recipes that would be amazing with this Chocolate Sour Cream Cake recipe. Here are a few favorite options:
I love them all! Today we decided to pair our chocolate sour cream cake with a fairly new addition to our Recipes section for Seven Minute Frosting.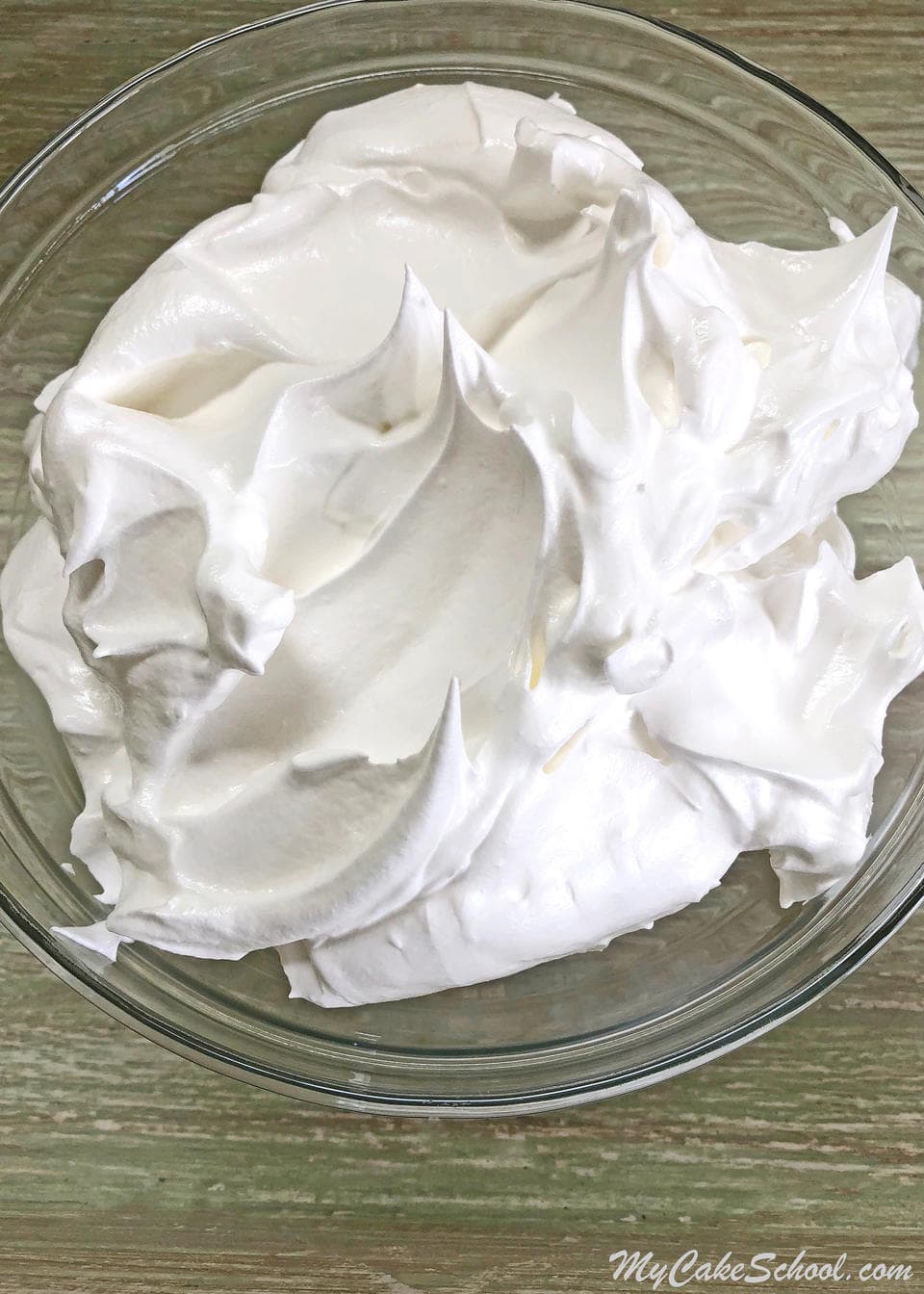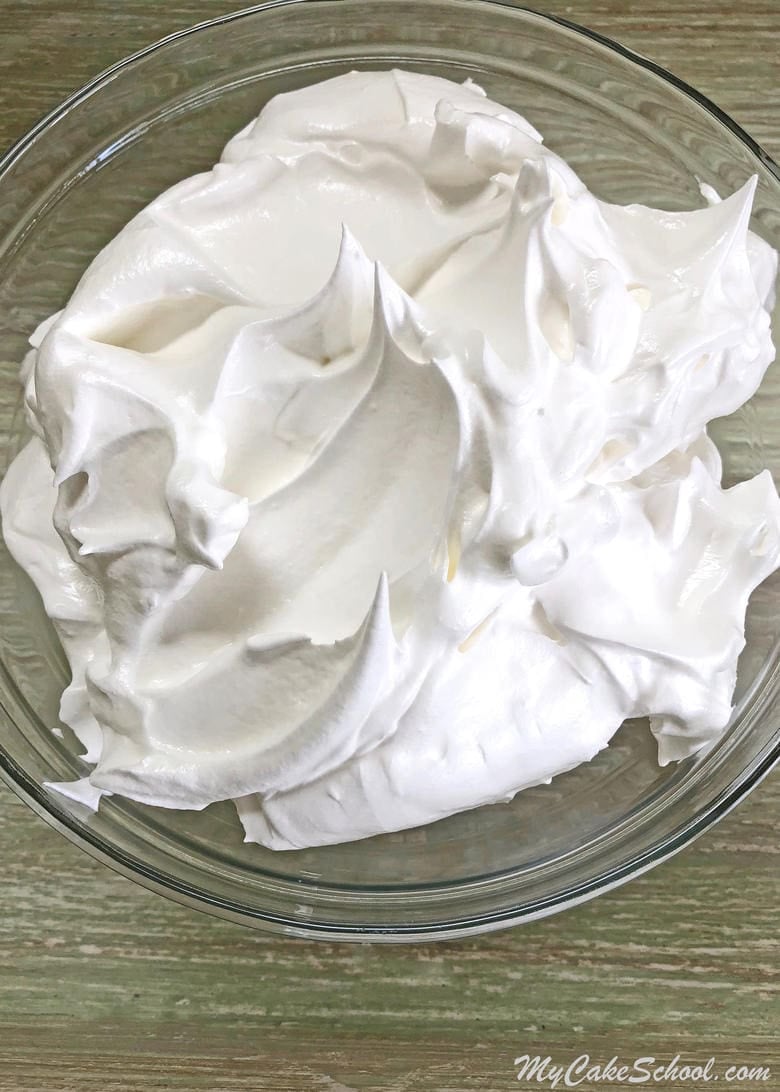 Seven Minute Frosting
For this recipe, we used a delicious Seven Minute Frosting which is delightfully airy and not overly sweet.
This luscious cloud-like frosting is light, yet holds stiff peaks very well, making it simpler to frost and pipe with. We used this same Seven Minute Frosting recipe in our homemade S'mores Cake!
The marshmallowy flavor works perfectly with this recipe! It pipes great too. We hope that you enjoy it!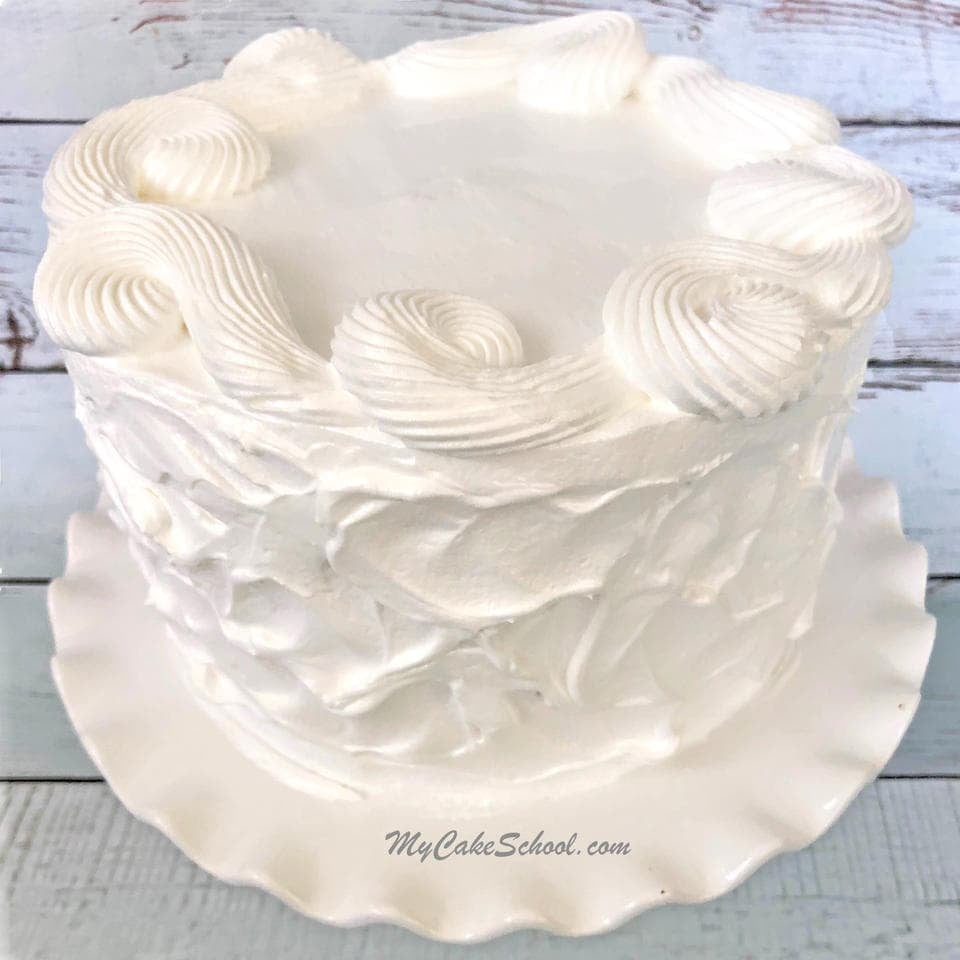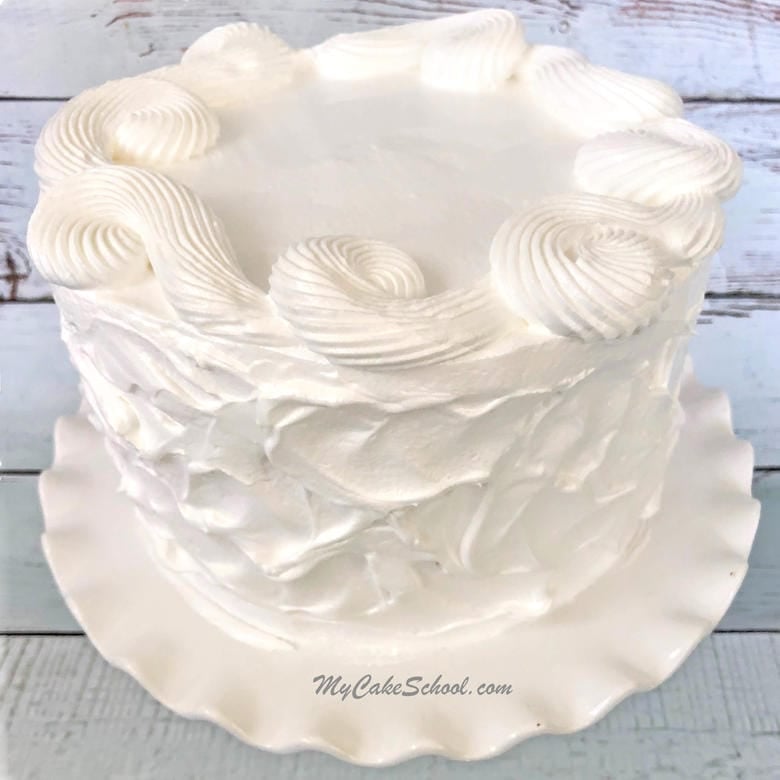 We hope that you enjoy this recipe as much as we have! It's hard to pick a favorite when it comes to the scratch chocolate cakes in our Recipes section, but this definitely gives the others a run for their money.
We think you're going to love it!
Chocolate Sour Cream Cake- Scratch Recipe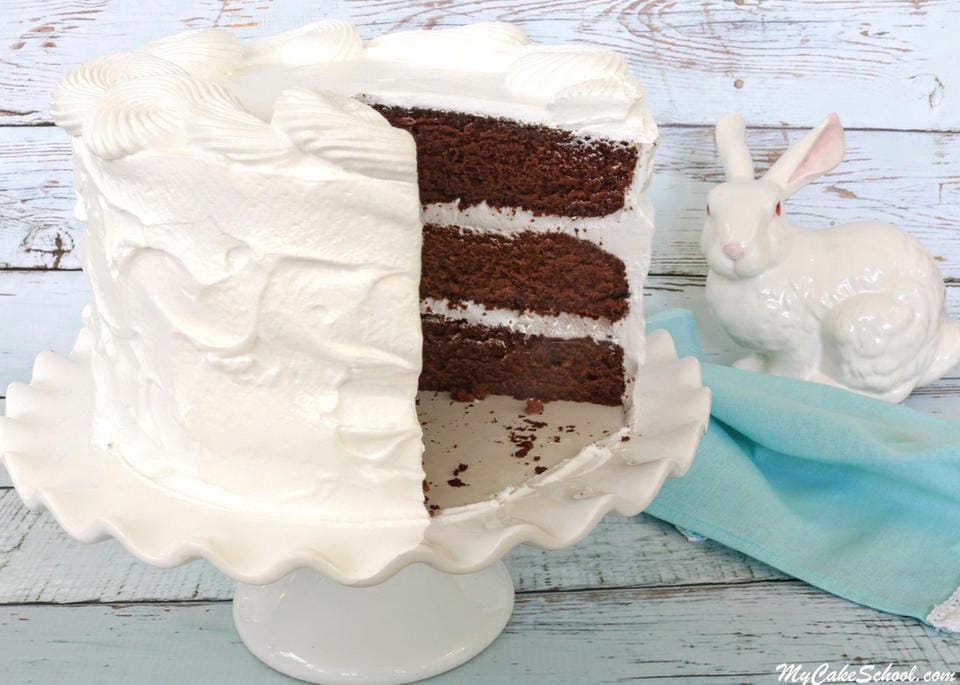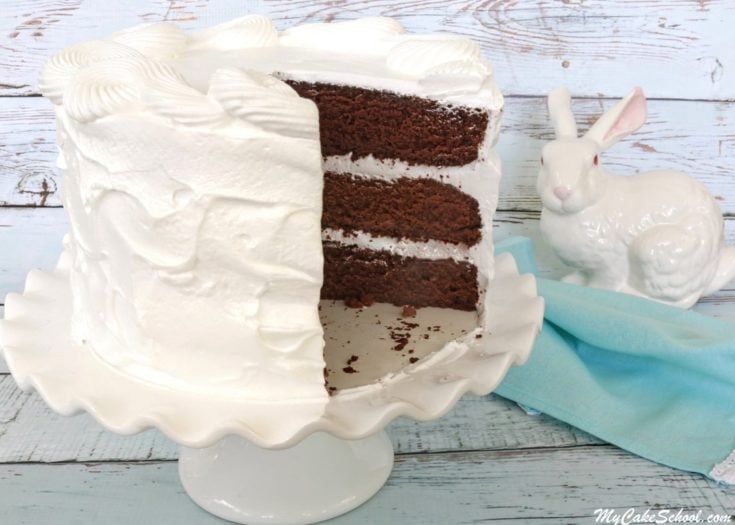 This moist, decadent Chocolate Sour Cream Cake is the perfect scratch chocolate layer cake!
Ingredients
For the Cake
2 cups (400g) granulated sugar
2 3/4 cups (322g) All Purpose Flour
1 cup (82g) unsweetened cocoa
2 teaspoons (10g) Baking Soda
1/2 teaspoon (2g) Baking Powder
1/2 teaspoon (2g) Salt
1 stick + 5 Tablespoons (185g) Unsalted Butter (I sliced the butter into 1 inch pieces onto waxed paper leaving on the countertop for 8 to 10 minutes. It will still be quite cool when adding to the dry ingredients. You should be able to make a fingerprint when you press the butter. If it becomes too soft, just refrigerate for a few minutes.)
1 cup (242g) Sour Cream
1 c. (220g) Milk
4 eggs room temperature
1 teaspoon (4g) vanilla
1 cup (220g) Hot Coffee
For the Seven Minute Frosting
2/3 cup (150g) water
2 cup (400g) granulated sugar
1/2 teaspoon (2g) Cream of Tartar or 2 Tablespoon (30g) white corn syrup
4 egg whites
2 teaspoons (8g) vanilla extract
Instructions
For the Cake
Preheat oven to 325 degrees. Grease and flour three 9 inch pans. This recipe uses the Reverse Creaming Method of Mixing.
Add dry ingredients to the bowl of your mixer and mix for one minute to blend (sugar, flour, cocoa, baking soda, baking powder, and salt)
Add butter a few slices at a time and mix until it reaches a crumbly, sandy texture. Be careful not to over-mix beyond "sandy" consistency.
In another bowl, combine sour cream, eggs, milk, and vanilla. Using a fork, mix together. This is all of your wet ingredients except for the coffee, it will be added to the batter later.
Set a timer for 1 ½ minutes and SLOWLY add half of your egg mixture to your butter/flour mixture while mixing. Start mixer on low speed then increase to medium for the remainder of the 1 ½ minutes. Do Not Mix Above Medium Speed.
Stop mixer, scrape the sides and bottom of bowl, and add half of the remaining egg mixture. Mix on medium speed for 20 seconds.
Stop mixer, scrape down the sides if necessary, and add the last of the egg mixture. Mix for 20 more seconds on medium speed.
Slowly add HOT coffee and mixing for 30 seconds to blend. Batter will be runny but that is okay!
This recipe makes about 9 1/2 cups of batter. Pour into 3 prepared 9" pans and bake at 325 degrees for 25 to 30 minutes or until the center of the cake springs back to the touch and a toothpick comes out clean.
For the Frosting
Make sure the mixing bowl and beaters are clean without a trace of grease. Any grease will keep the egg whites from increasing to full volume.
Use a separate bowl to separate the eggs. You will be using only the whites and if a yolk happens to break and gets mixed in, the recipe will not work. Place the egg whites into the bowl of your mixer and add the vanilla. Set aside until time to beat the whites.
In a saucepan, add the water, sugar, cream of tartar (or white corn syrup). Cook on medium/high heat. Do not stir, or stir just enough to distribute the sugar. You don't want sugar crystals sticking to the sides of the pan. The mixture will begin to boil and become clear. After it boils for a minute or so, remove from the heat, you will be able to see that the sugar has dissolved.
Beat the egg whites and vanilla to the soft peak stage. This happens rather quickly. At soft peak stage, the egg whites will not form peaks but will just fall over, cloud like. At this time, with the mixer beating on low speed slowly pour in a small stream of the hot sugar syrup into the egg whites. Avoid hitting the beaters as you pour because the hot syrup could splash onto you. Increase the mixer to high speed and beat approximately 7 minutes ( it could be longer if using a hand mixer) until stiff peaks form (stiff peaks stand straight up).
The frosting should be used right away as it sets up rather quickly. The cake can be kept at room temperature or refrigerated. Leftover frosting can be refrigerated or frozen. We found that we did not need to rewhip, but instead just used a fork to lightly stir.
Makes 10 cups frosting
(This recipe can be halved. The recipe posted is doubled so that I would have plenty for filling, frosting, and decorative piping).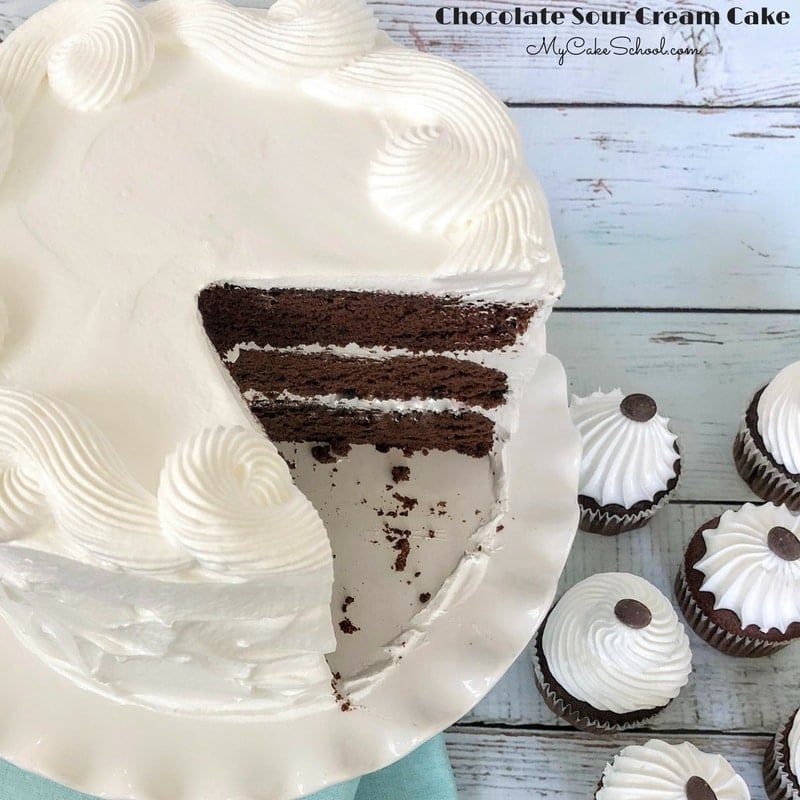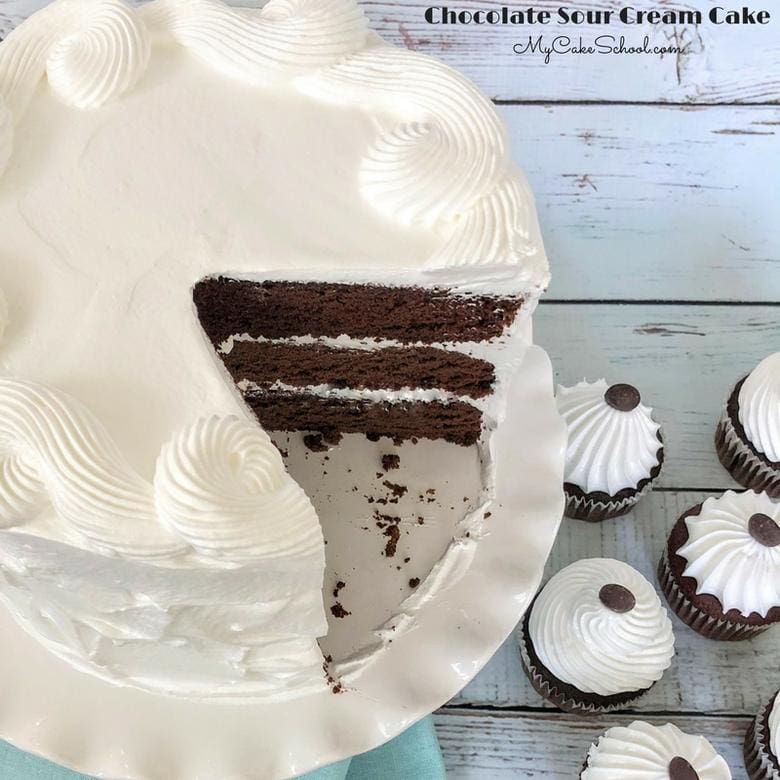 My Cake School Online Cake Tutorials and Recipes
Thanks so much for stopping by- If you make this Chocolate Sour Cream Cake recipe, we'd love for you to leave a comment and photo below!
Also, makes sure to scroll through our full collection of favorite cake and frosting recipes in our Recipes Section!
If you are interested in learning more about cake decorating, don't miss our Free Cake Tutorials section, which includes a Free Cake Videos Section!
Finally, if you'd like to have full online access to EVERY cake video tutorial that we've made over the last 10+ years, you should consider becoming a member of our site!
You can find all of the details here: Learn Cake Decorating Online with My Cake School! We would love to have you!