If you like cherry desserts, you are going to fall in love with this moist and flavorful homemade Cherry Chocolate Chip Cake!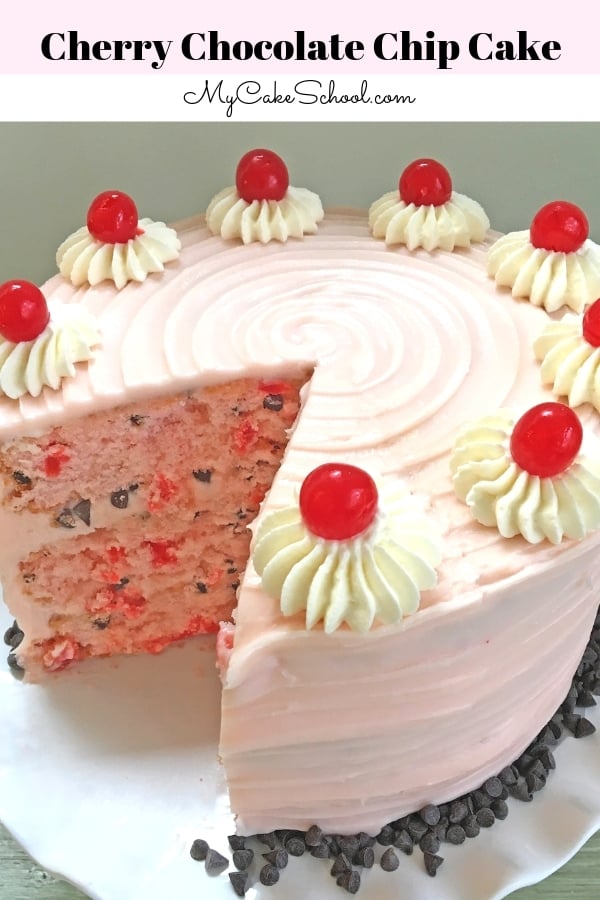 Maraschino Cherries add so much flavor to our cherry cake!
Not only does this cherry cake taste amazing, but it is beautiful too! Maraschino cherry juice is stirred into the batter, lending a wonderful cherry flavor and lovely shade of pink.
The addition of maraschino cherry pieces and mini chocolate chips gives a great texture and flavor boost to the cake as well.
As much as I love our original scratch Cherry Cake Recipe, the addition of mini chocolate chips and Cherry Cream Cheese Frosting takes this cake to a new level.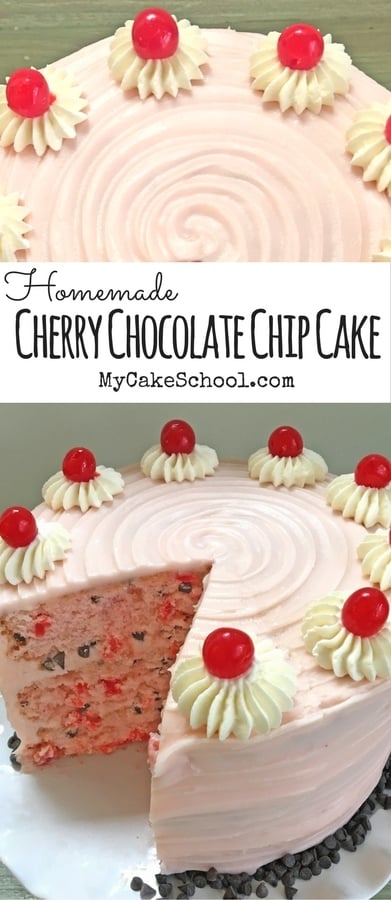 Putting our Cherry Chocolate Chip Cake Together
This Cherry Chocolate Chip Cake is very moist, but sturdy enough to hold the weight of fondant, and it works well as a cupcake recipe also. I love a versatile recipe!
Mini Chocolate Chips mean Less Sinking!
Mini chocolate chips add just the right amount of chocolate flavor without being overpowering.
I prefer the look of mini chocolate chips to the regular size, but more importantly, these lightweight chips are less likely to sink to the bottom of the pan.
Adding the Chips and Cherry Pieces…
As we mention in the recipe below, we divided the cake batter between three prepared 8 inch pans, and once filled, we sprinkled additional cherry pieces and mini chips on top of the batter and just barely tapped them in.
Doing this step helps to ensure that the cherry pieces and mini chips will be evenly dispersed throughout the cake layer.
Once our Cherry Chocolate Chip Layers were baked, I assembled the layers with a cherry cream cheese filling topped with a sprinkling of mini chocolate chips.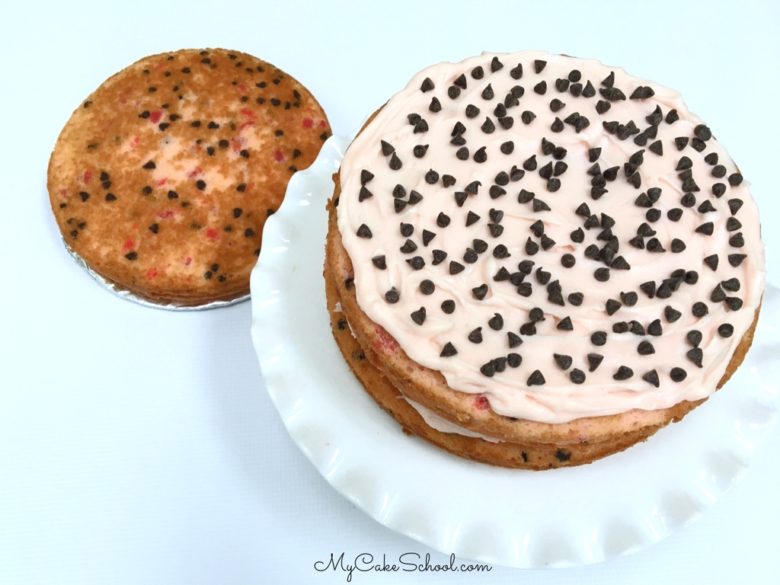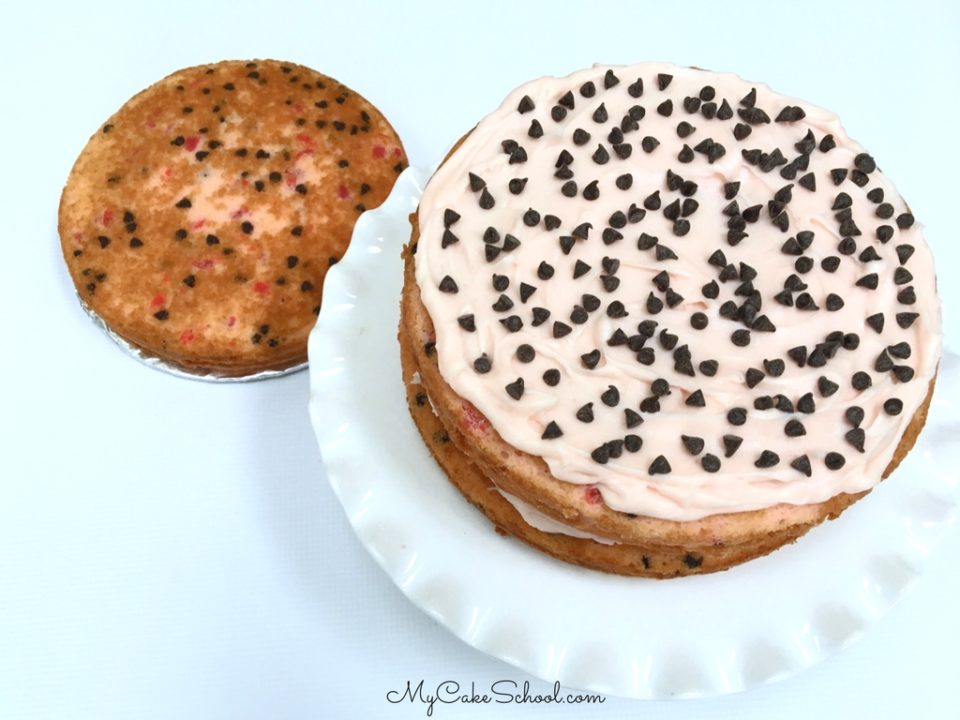 Decorating with delicious cherry cream cheese frosting…
I frosted the cherry chocolate chip cake with a layer of our Cherry Cream Cheese Frosting, and then applied a small angled spatula to it to create a ridged effect as I rotated the cake on a turntable.
You can work from the top edge of the cake to the bottom, or vice versa. This frosting technique is such a simple and easy one, I use it all the time. We just love the look of textured frostings, and it's such a forgiving decorative technique too!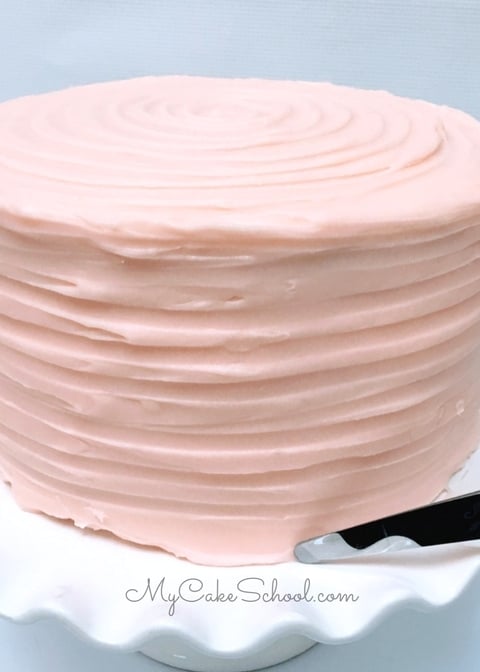 After texturing our cherry cream cheese frosting, I finished off the cake with a border of mini chips, and used a french tip to pipe our whipped cream around the cake. The maraschino cherries add a great pop of color!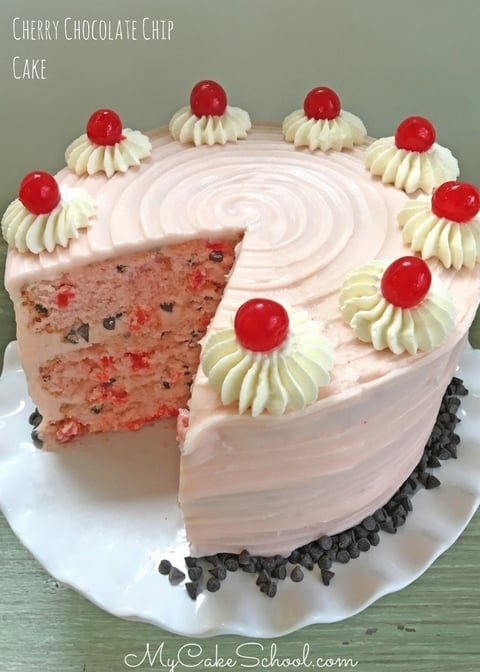 We hope that you enjoy this cake recipe as much as we have! My husband and daughter have both declared that this will be their birthday cake, haha. Enjoy!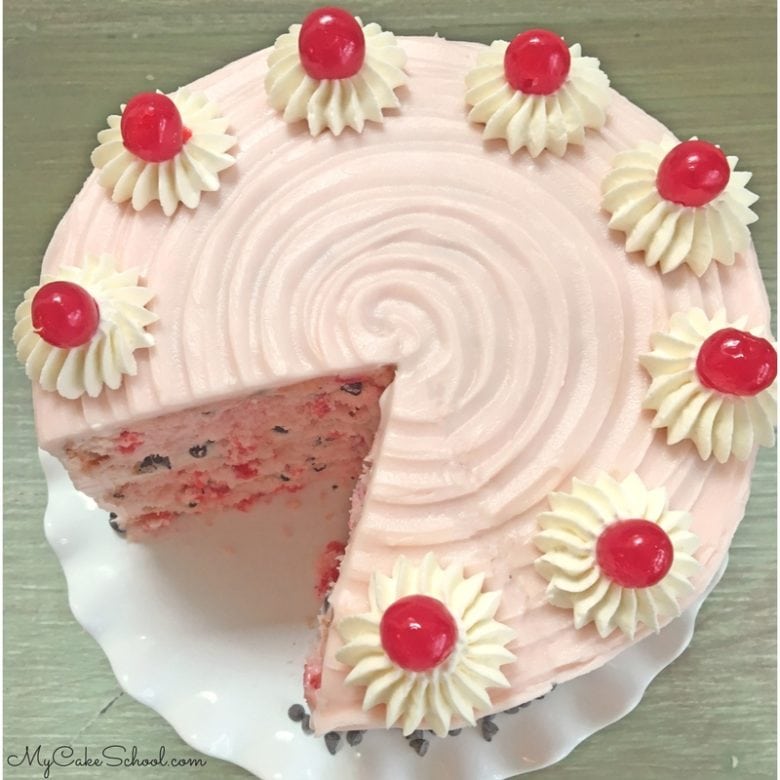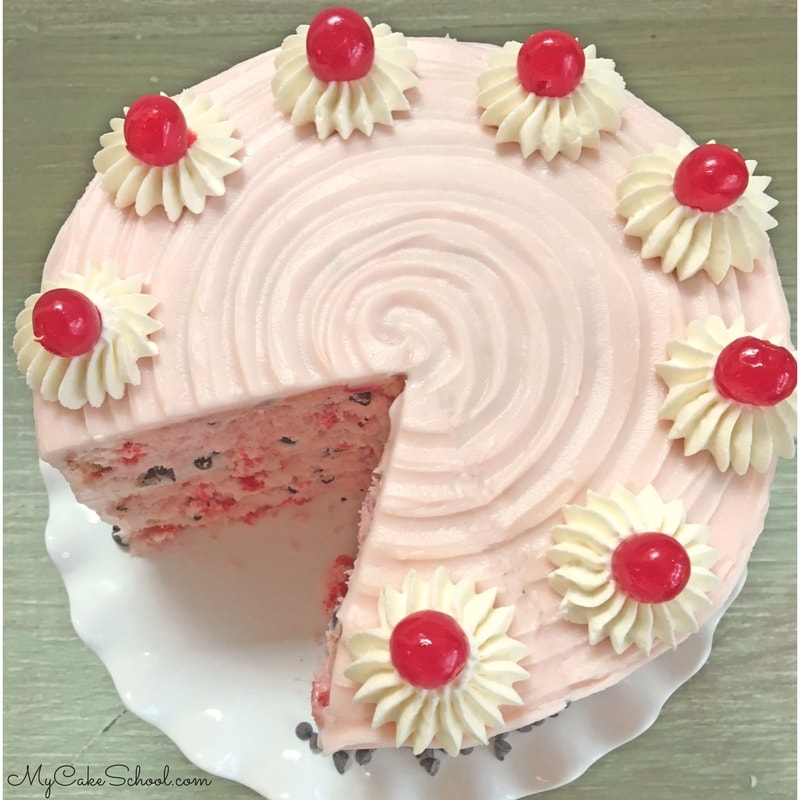 Love Cherry Cakes? We Have More to Share!
If you love cherry cakes, don't miss these fabulous recipes from our Recipes Section:
Cherry Chocolate Chip Cake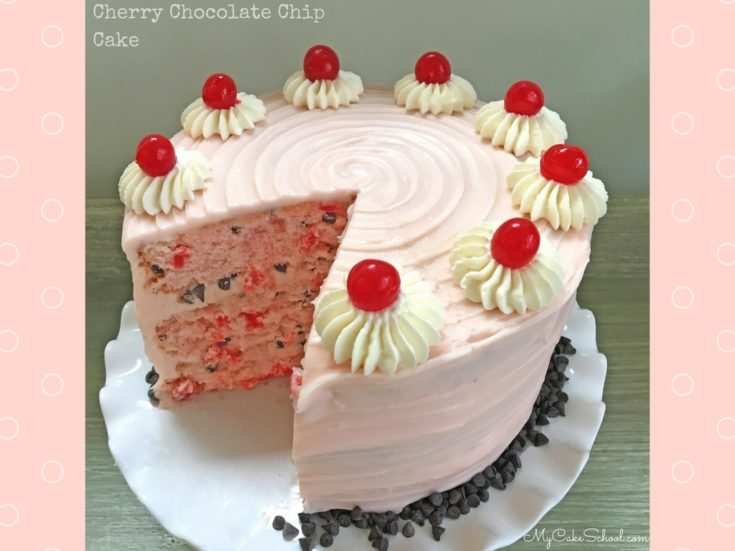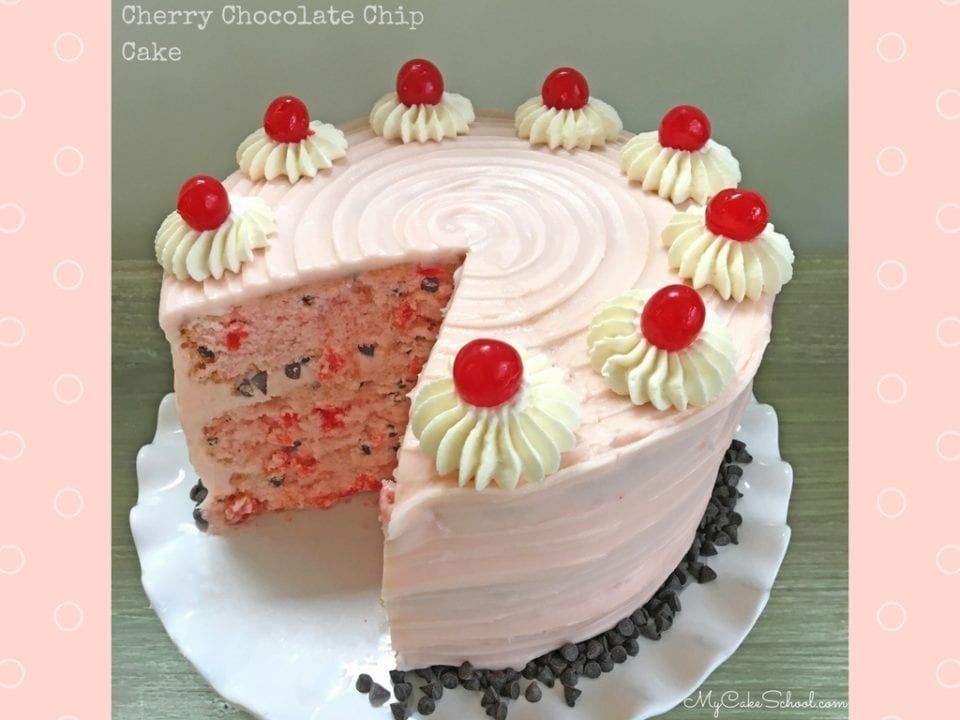 Moist and Delicious Cherry Chocolate Chip Cake- this moist layer cake has so much flavor!
Ingredients
For the Cherry Chocolate Chip Cake Layers
3 cups (342g) cake flour plus 2 Tablespoons for dusting cherries
1 Tablespoon (15g) Baking Powder
1/2 teaspoon (2g) salt
6 egg whites (180g)
2/3 cup (146g) cherry juice from a 10 ounce bottle of maraschino cherries (If you don't have enough cherry juice, supplement with milk or water)
3/4 cup (172g) milk
1 teaspoon (4g) vanilla extract
1 teaspoon (4g) cherry extract (I used Watkins brand found at Walmart or online)
1/4 cup (54g) vegetable oil
2 cups (400g) granulated sugar
1 cup (2 sticks) (226g) unsalted butter, slightly softened
Maraschino Cherries from 10 oz jar (use all) chopped and dusted with 2 Tablespoons flour.
1/2 cup (92 g.) Mini Chocolate Chips (plus additional for sprinkling over filling)
Cherry Cream Cheese Filling and Frosting
2 sticks (1 cup) (226g) unsalted butter- Softened slightly
2 (8oz) packages cream cheese (total weight 452 g)- We use full fat. (Reduced fat would make a softer frosting)
1 teaspoon (4g) vanilla extract
1 teaspoon (4g) cherry extract (*Pink coloring gel optional)
6 to 6 1/2 cups (690g to 747g) powdered sugar
For the Whipped Cream Accents
1 cup (240g) heavy cream
1/4 (29g) cup confectioner's sugar
1 teaspoon (4g) Vanilla
Instructions


For the Cherry Cake
Preheat the oven to 350 degrees, grease and flour 3 (8 inch) round pans
In a medium bowl, whisk the flour, baking powder and salt for at least 30 seconds
In another bowl, add the egg whites, cherry juice, milk, vanilla and cherry extract, and vegetable oil. Blend together with a fork
In the bowl of your mixer add the butter and beat at medium speed to soften. Add the sugar and continue to beat until lightened in color and fluffy, approximately 3 minutes, longer if using a hand mixer.
Add approximately 1/2 of the flour mixture to the bowl, mixing on low speed until just blended. Add half of the wet ingredients and blend. Continue alternating the dry and wet ingredients (ending with dry) until blended. Do not over beat.
Reserve approximately 2 Tablespoons chopped cherries. Gently stir the remaining chopped cherries and mini chips into the batter.
Once the batter is in the cake pans, sprinkle the reserved cherries over the top of the batter, and using a spoon push them just slightly below the surface of the cake batter. You can also sprinkle a few mini chips over the top as well and lightly press them in. Doing this will help to insure that the cherries and chocolate chips will be more evenly dispersed.
Bake for 30 - 35 minutes, when the cake springs back to the touch or a toothpick pulls out clean or with only a few crumbs attached, the cake is done.
7 1/2 cups cake batter
Works well for cupcakes
Will hold up to fondant
For the Cherry Cream Cheese Frosting
Cut the butter into slices and add to the bowl of your mixer. Beat on low to medium speed until the butter is softened and smooth.
Cut the cold cream cheese into pieces and add to the butter, beating at low to medium speed until incorporated.
Add the vanilla and cherry extract. Gradually add the powdered sugar beating on low speed until blended (cover bowl with
a towel to keep a cloud of powdered sugar from floating over your kitchen).
Add the gel color at this point, increase mixing speed and beat until fluffy, approximately 1 minute, don't over beat.
This frosting will pipe best when chilled. You can make it in advance, refrigerate and when ready to use, let it soften slightly (do not microwave) and remix.
Will frost a 3 layer 8 or 9 inch cake.
For the Whipped Cream (You will have leftover-- you can half if you like)
Chill the mixing bowl and beaters or whisk attachment in the freezer for 10 minutes.
Pour the whipping cream, powdered sugar and vanilla into the chilled mixing bowl, begin beating on low speed gradually increasing to medium high speed.
The cream begins to thicken (approx. 1 1/2 minutes) and soft peaks form….peaks that slightly bend over. Watch closely as this happens quickly. Do not over beat or it will turn into butter.
To Assemble the Cake
Place first layer of cake onto your cake base (or cake board) of choice. Spread first layer with Cherry Cream Cheese Frosting, sprinkle with mini chocolate chips, and repeat.
Frost the entire cake with Cherry Cream Cheese Frosting. I had just enough to frost our 8 inch cake. I then piped whipped cream with a french piping tip and added maraschino cherries.
Recommended Products
As an Amazon Associate and member of other affiliate programs, I earn from qualifying purchases.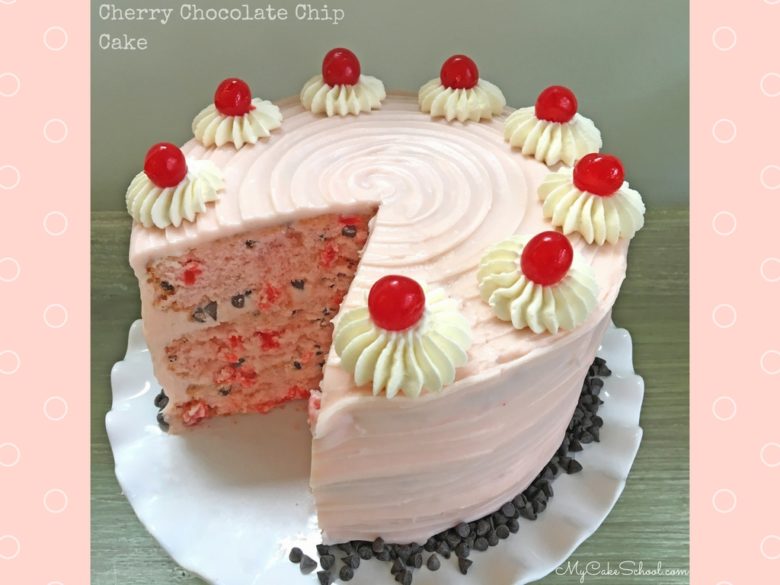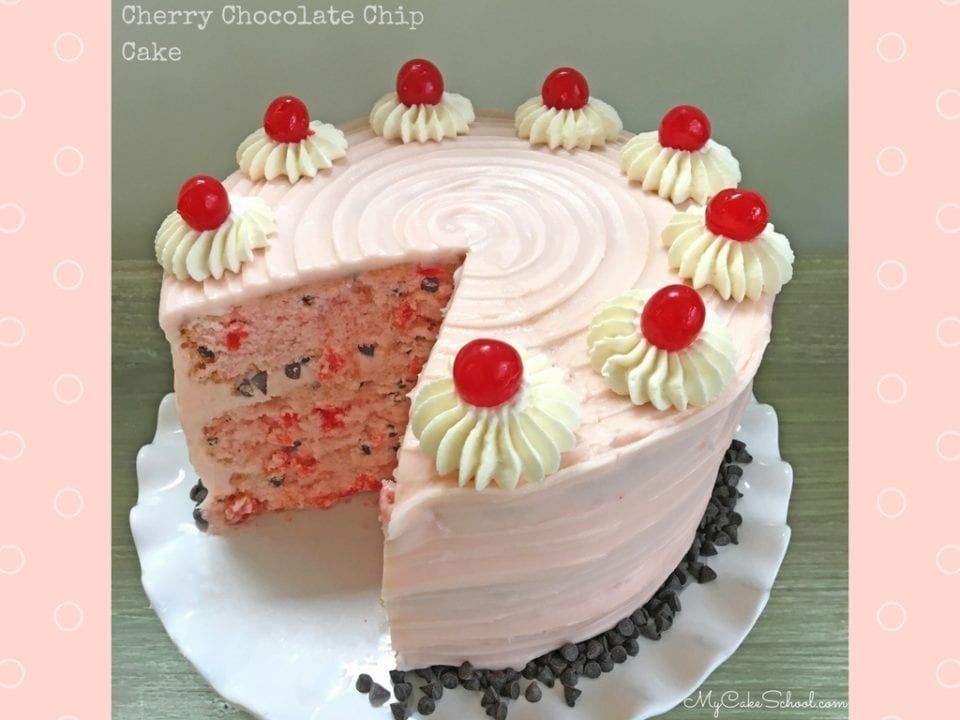 MY CAKE SCHOOL ONLINE CAKE recipes, cake tutorials, AND MORE!
Thanks so much for stopping by! If you give our Cherry Chocolate Chip Cake a try, we'd love for you to leave a comment or photo below!
Don't miss our full collection of favorite cakes and frostings in our Recipes Section. Whether you like to bake from scratch or from a doctored cake mix, we have so many delicious cake recipes to share with you!
If you would like to learn more about cake decorating, we have lots of fun and creative cake decorating tutorials in our Free Tutorials Section, which also includes a Free Video Tutorials Section.
For even more cake tutorials, you should consider joining My Cake School! Our members can access our entire collection of hundreds of cake decorating videos that we've created over the years. We would love to have you! You can find the details here: Joining Information for MyCakeSchool.com