This Cherry Cream Cheese Frosting recipe is silky smooth, extremely flavorful, and pipes beautifully! It has the perfect balance of cherry and cream cheese flavor and it can be whipped up in no time!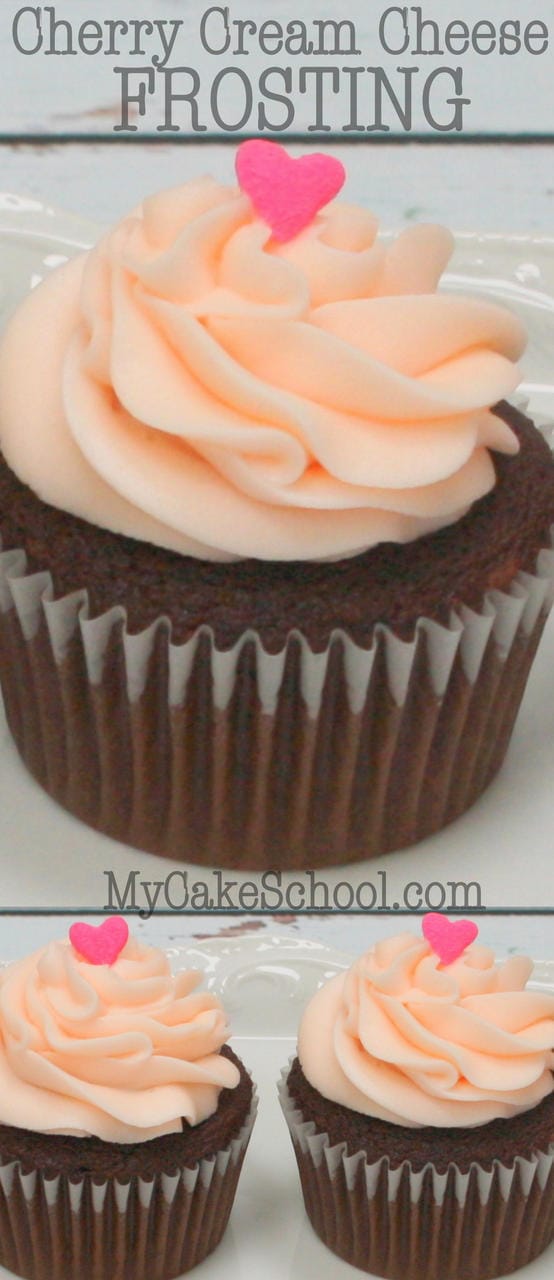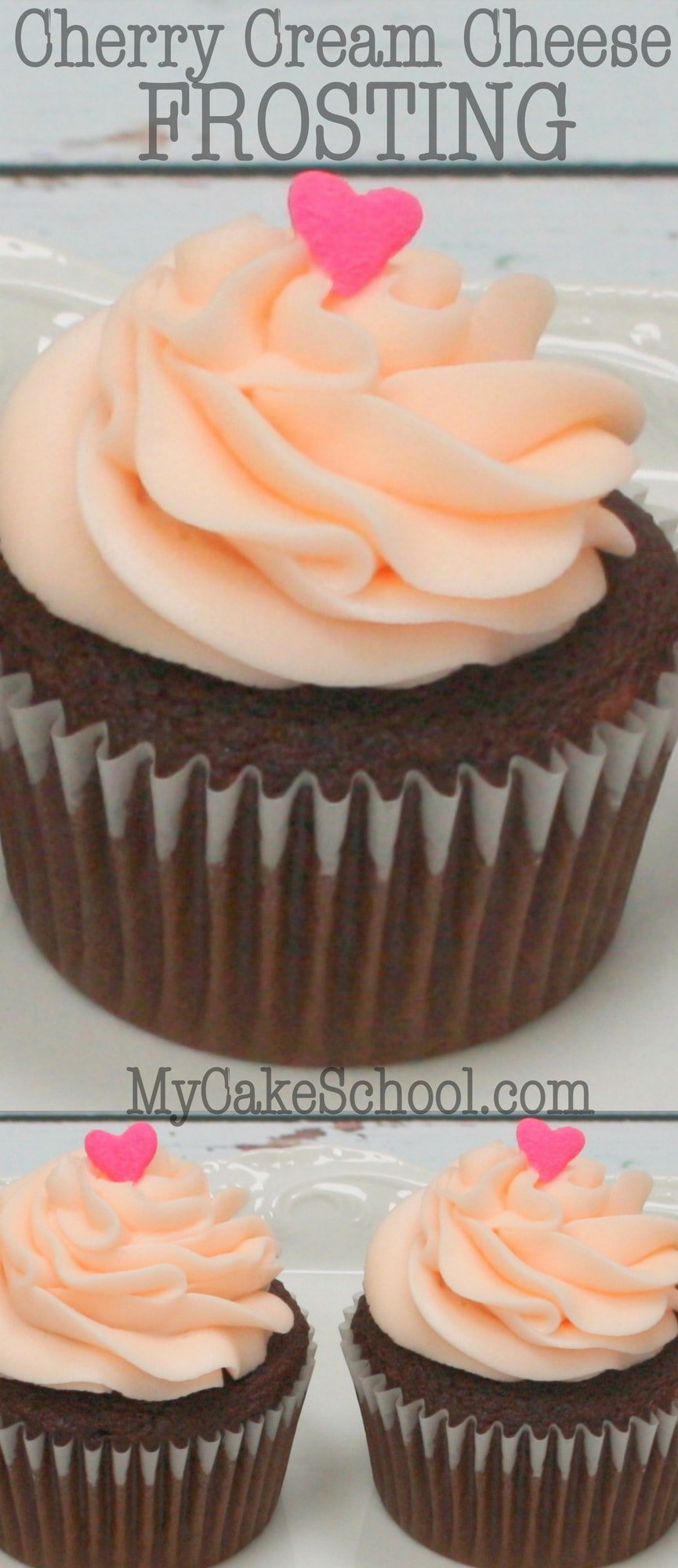 I LOVE this frosting with chocolate cakes and cupcakes, although it also pairs nicely with yellow & white cakes too! In fact, it's so good that you'll want to skip the cake & just grab a spoon!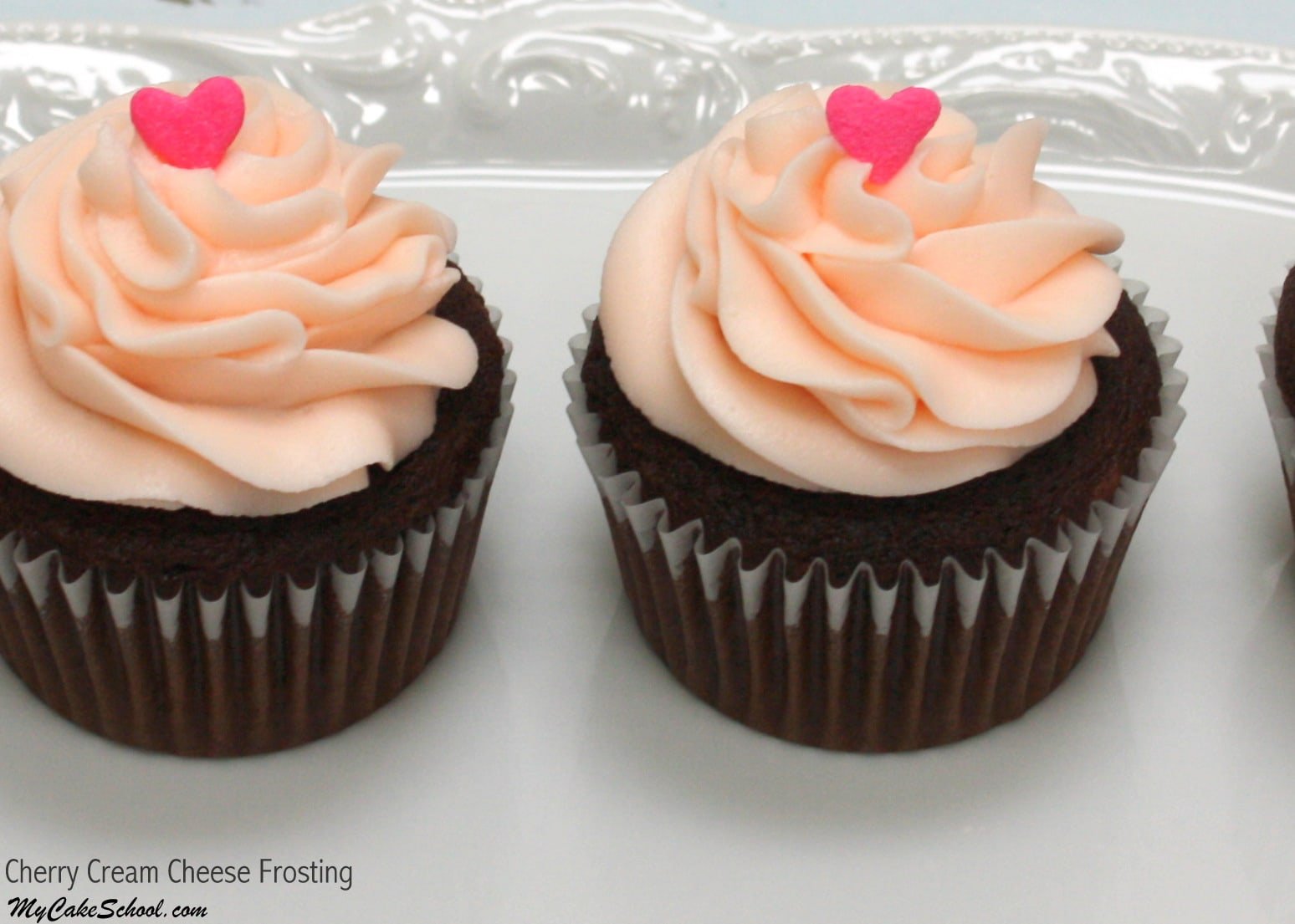 The cupcakes pictured above were made with our scratch Chocolate Cake Recipe & swirled with a 2D piping tip.
How to Fill a Cupcake: A Quick Review
We often like to use this cherry cream cheese frosting as a cupcake filling. To do this, simply insert a frosting-filled piping bag fitted with a 10 or 12 piping tip vertically into your unfrosted cupcakes (about midway down) and fill with a bit of Cherry Cream Cheese Frosting, and finish with a swirl on top!
When filling cupcakes, it's good to do a practice run just on a plate first-- simply pipe vertically onto the plate and count the seconds that it takes to get the amount of filling that you will want in your cupcakes.
When it's time to pipe the filling into the cupcakes, you'll have an idea of how much filling you are putting in. (And if you have a few extra cupcakes to spare, this is a great excuse to do a taste test!) Practice makes perfect! ;0)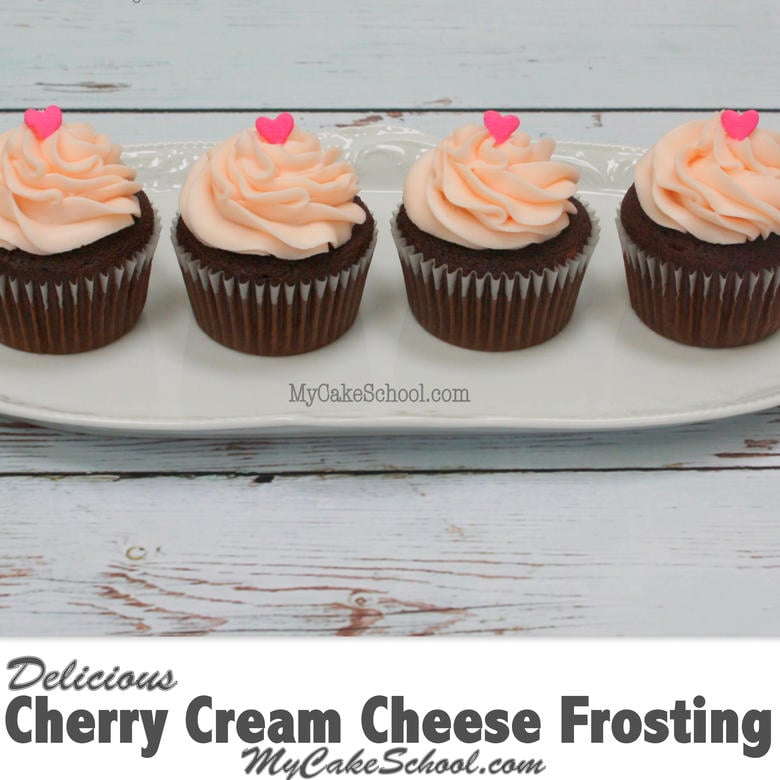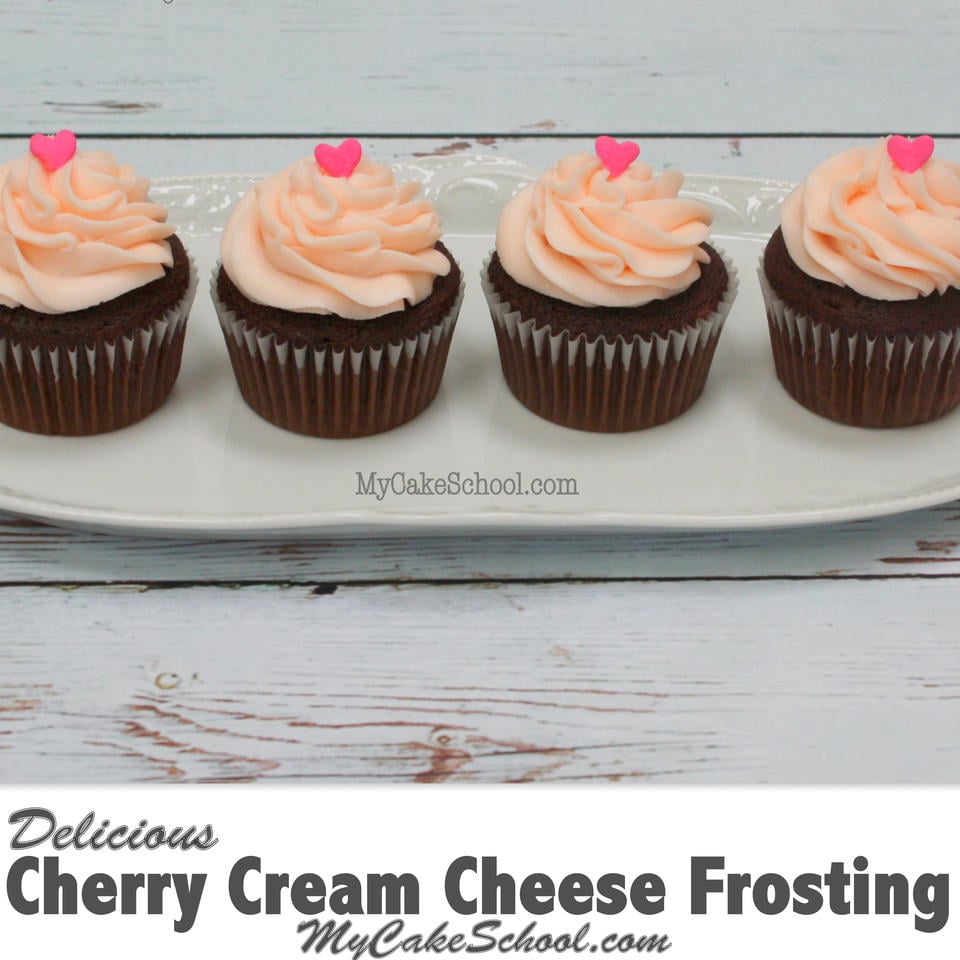 Tips for Working with Cream Cheese Frosting:
As with most cream cheese frosting recipes, this Cherry Cream Cheese Frosting is softer than usual buttercream frosting.
If it becomes too soft, the frosting will not hold it's shape nicely, and you won't get the clean ridges and details from your piping tips that you should. If you notice that your cherry cream cheese frosting is too soft, you should chill it in the refrigerator for a few minutes until it firms up a bit.
If the frosting just seems exceedingly soft, it's perfectly acceptable to stir in a bit more powdered sugar, just as you would for most buttercream frosting recipes. This will help with the consistency.
As funny as it sounds, some people just have hot hands! Holding a piping bag for an extended time can result in extra soft frosting for some decorators. A great solution is too prepare two piping bags and alternate between the two-- you could rest one on a bag of ice on in the refrigerator while working with the other.
Cream cheese frosting needs to be refrigerated. There are differing opinions on how long cream cheese frosting can safely sit at room temperature--but for me, a few hours seems to be a good rule of thumb. Because cream cheese frosting (just as with buttercream) becomes firm when chilled, it is best to remove from the refrigerator 2-3 hours before serving so that it has time to soften.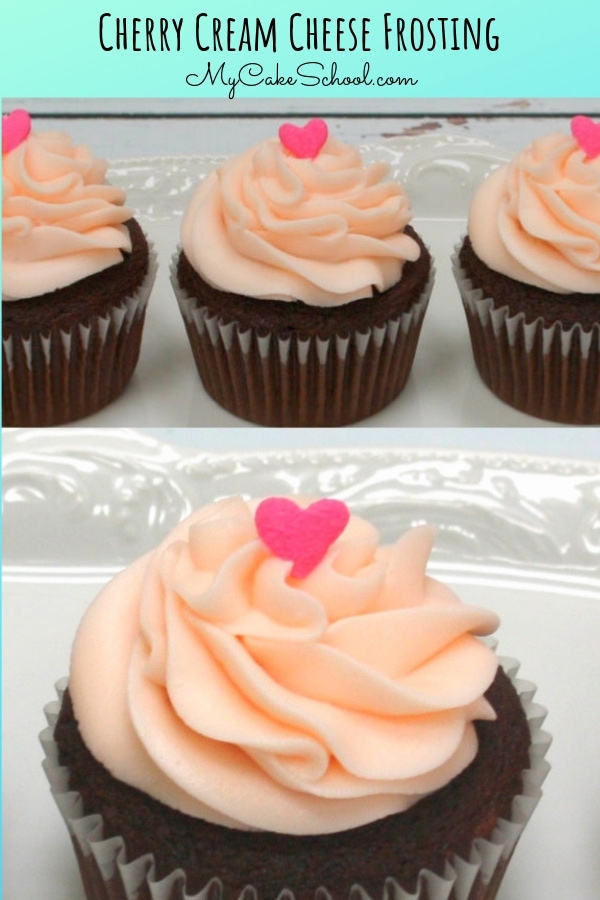 For the Cream Cheese Frosting Lovers
If you are a fan of all cream cheese frostings, we have a roundup that you are going to love!
Here is a collection of our FAVORITE cream cheese frosting recipes.
You'll find a wonderful variety of flavor options, each one of them is so delicious (and simple to make)! Roundup of our BEST Cream Cheese Frosting Recipes!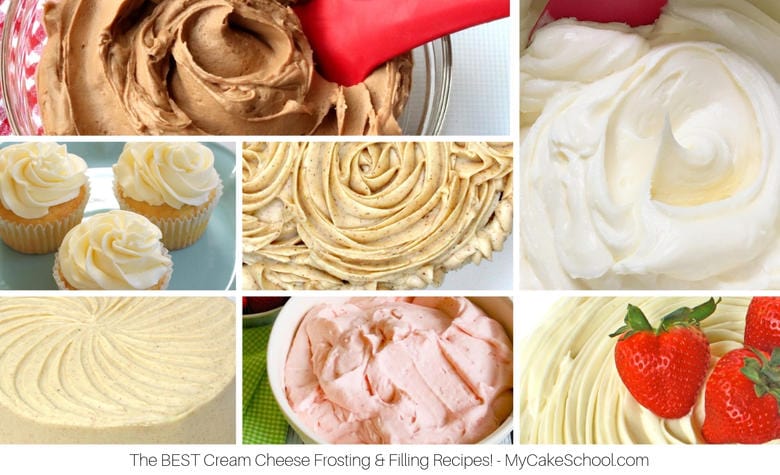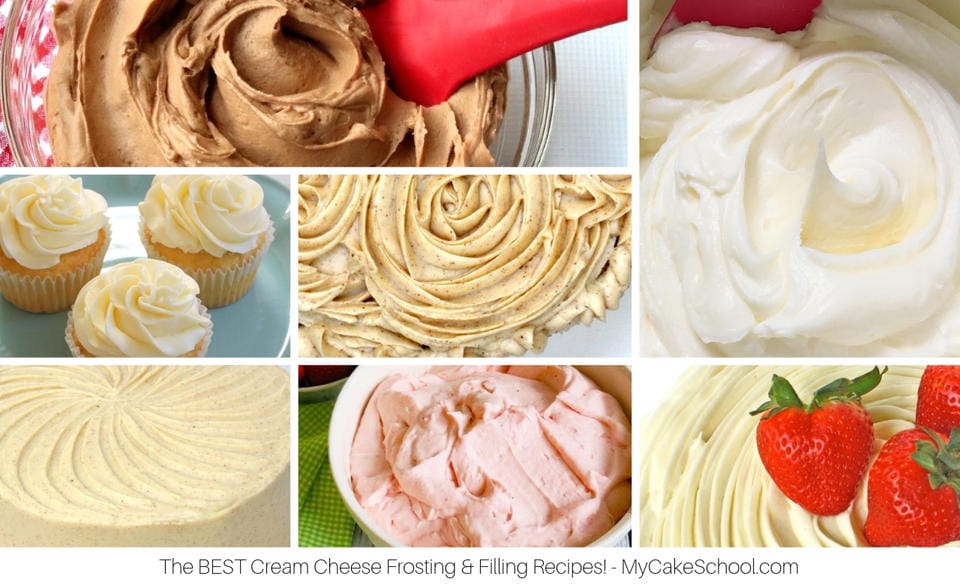 Love Cherries? Try these Delicious Cherry Flavored Cakes!
Cherry Layer Cake from Scratch
Cherry Cream Cheese Frosting Recipe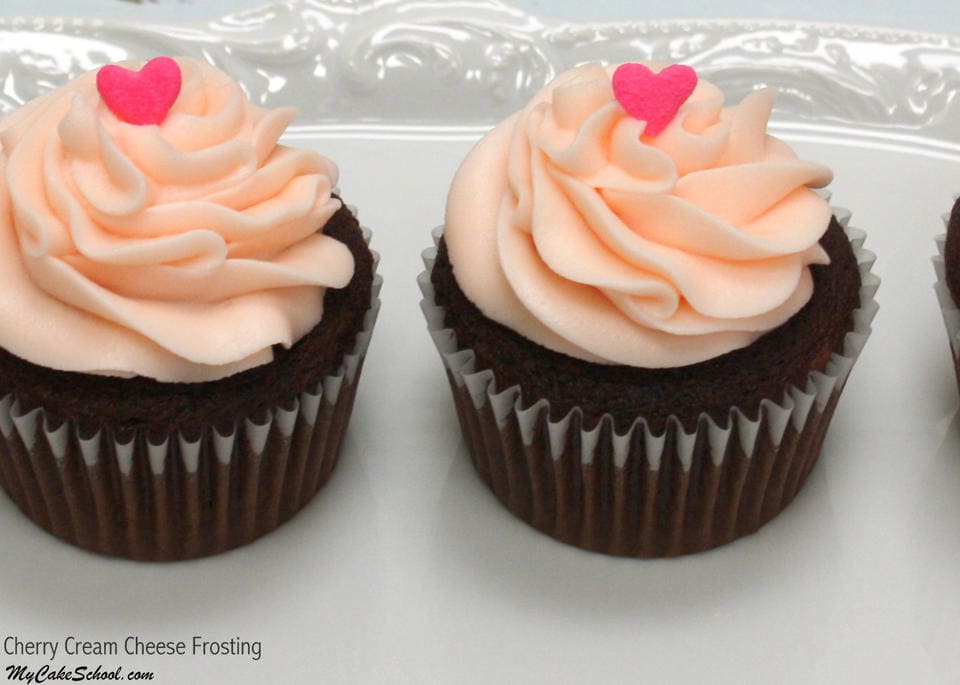 This Cherry Cream Cheese Frosting has the perfect balance of cream cheese and cherry flavor! So silky smooth and tastes fantastic with cherry cakes and chocolate cakes!
Ingredients
2 sticks (1 cup) (226g) unsalted butter (slightly softened)
2( 8oz.) packages cream cheese (total weight 452g) slightly softened --
use fat cream cheese. Using reduced fat or the spreadable cream
cheese will cause the frosting to be too soft. Do not soften the cream
cheese in the microwave
1 teaspoon (4g) vanilla extract
1 teaspoon (4g) cherry extract
6 to 61/2 cups (690g to 747g) powdered sugar
Wilton Rose Gel Color, optional - I used a very small amount, putting the color on a toothpick to add to the frosting.
Instructions
Cut the butter into slices and add to the bowl of your mixer. Beat on low to medium speed until the butter is softened and smooth.
Cut the softened cream cheese into pieces and add to the butter, beating at low to medium speed until incorporated.
Add the vanilla and cherry extract. Gradually add the powdered sugar beating on low speed until blended (cover bowl with a towel to keep a cloud of powdered sugar from floating over your kitchen).
Add the gel color at this point, increase mixing speed to low to medium and beat until fluffy, don't over beat. You may need to chill the frosting until it is the spreading consistency you like.
If piping with the frosting, you will need to chill a short while. You can make it in advance, refrigerate and when ready to use, let it soften slightly then remix. Do Not Soften in the Microwave.
Will frost a 3 layer 8 or 9 inch cake.