Today I'm sharing a Puffed Buttercream Rainbow Cake design that is perfect for birthdays, baby showers, and even St. Patrick's Day celebrations!
You'll learn a quick and easy piped buttercream technique as well as how to make an adorable rainbow cake topper!
I just love rainbow themed cake designs and over the years, I have made several rainbow tutorials! Bright and colorful cakes are just so cheerful.
What I love most about this cake design is the puffed look of the cake's buttercream rainbow piping. I love the fun texture of these buttercream "puffs" and I think you'll find the look to be very simple to achieve. Even those of you who are new to cake decorating will find it easy to master with a little practice!
This piped technique would also be very nice using the same color of frosting for each row. This is a great technique to keep in mind for those days when you don't feel like frosting a cake with smooth finish. This is a fun and whimsical alternative.
While the brightly colored rainbow buttercream piping would have been cute all on it's own, I love the added height and interest that the cake topper gives! Enjoy the video!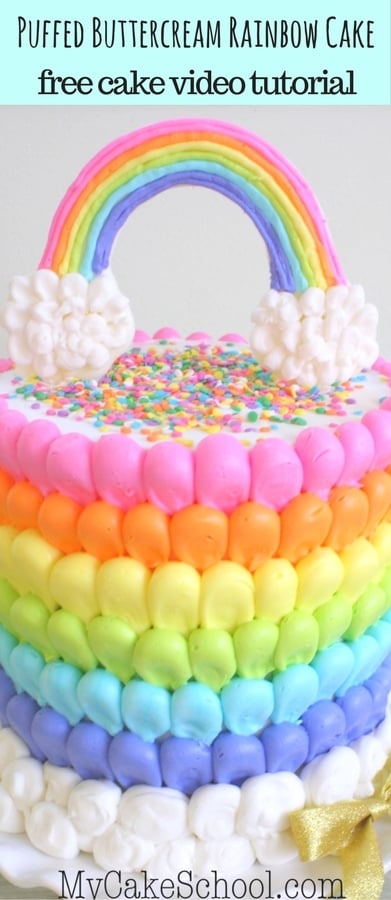 Materials for Puffed Buttercream Rainbow Cake:
In the video, I'm using a double barrel, 6" tier (4 cake layers with cake cardboard halfway up with 4 bubble tea straws beneath). If you'd like to learn more about creating a double barrel cake, we demonstrate the technique in our Free Bunny Cake Video.
However, this technique would work well no matter what the size of your cake is. If you run out of room for your puffy clouds at the bottom of the tier, the top of your cake is a great alternative (that was our original plan!) ;0) --
Buttercream: We used a double batch of our "Fluffy Vanilla Buttercream" recipe from the Recipes section but any buttercream that holds it's shape well will work!
Colors: We used Americolor Deep Pink, Orange, Lemon Yellow, Electric Green, Sky Blue, & Regal Purple.
Piping Tips: We used a Wilton Tip 12 (medium round tip) for each of our colors. If you don't have many of this size piping tip, try snipping the end off of your disposable piping bag and skip the tip altogether. See what you think! The look is very similar. Also, Small round piping tips 3 or 4 for the rainbow topper.
Confetti Sprinkles for the top
Gold Bow
Candy Coating & Lollipop Sticks for the topper (we used Ambrosia brand bark coating, but any brand is fine.)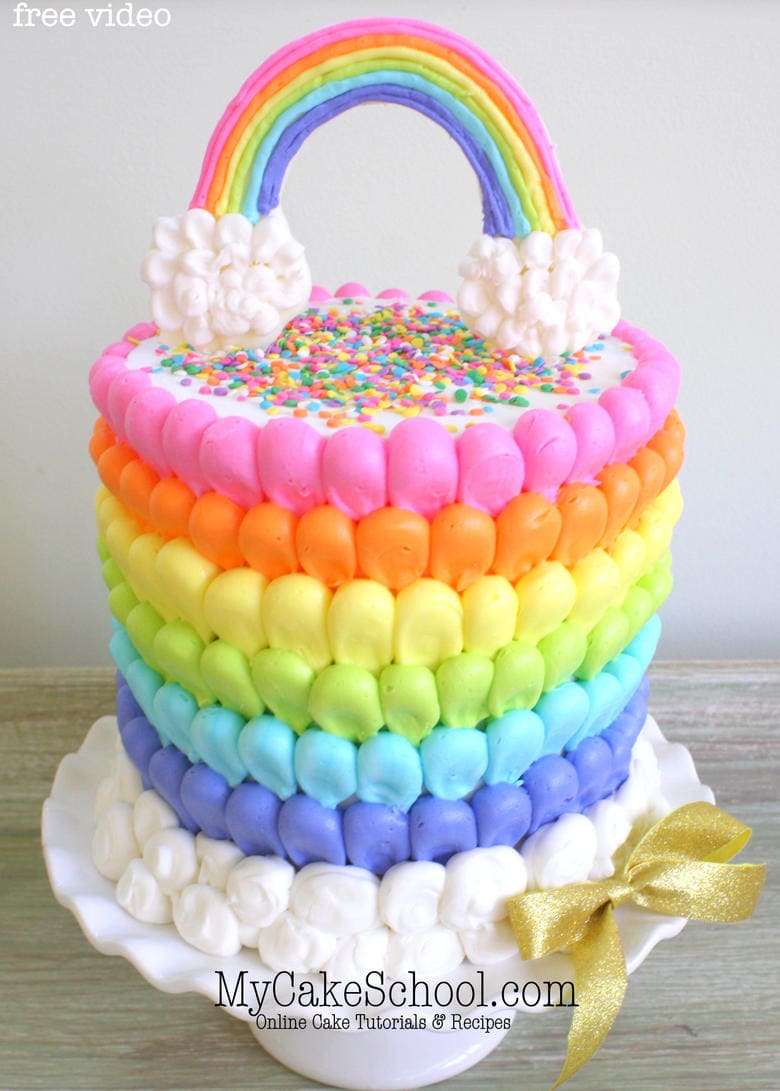 Love rainbow cake designs? Make sure to checkout our Roundup of the BEST Rainbow Cake Tutorials, Recipes, and Ideas! Rainbow Cake Roundup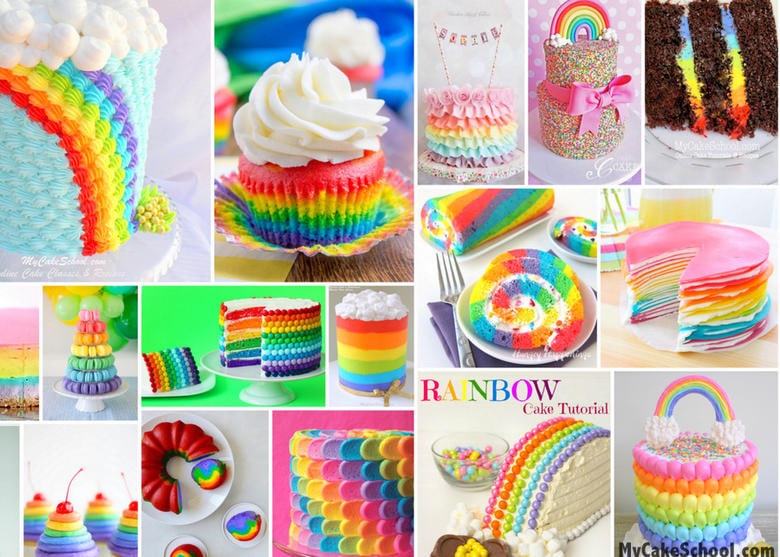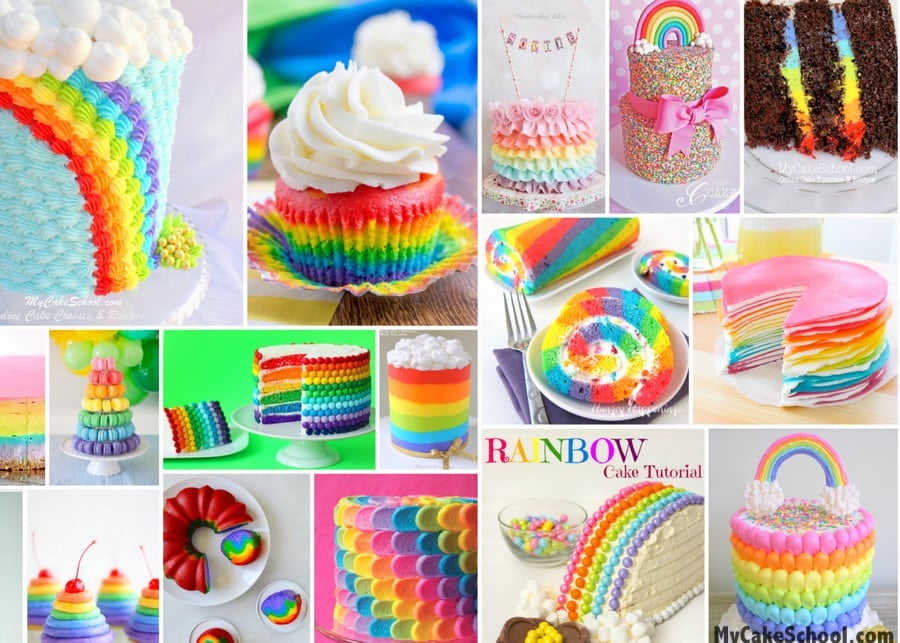 In this tutorial, we used our Fluffy Vanilla Buttercream Frosting Recipe which you can find here: Fluffy Vanilla Buttercream. (And pipeable buttercream frosting recipe will do! You can find more frosting favorites in our Frosting Section!)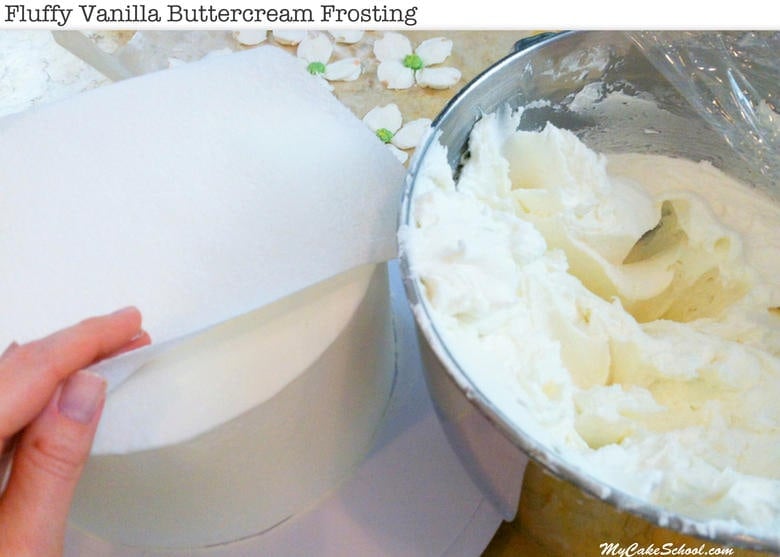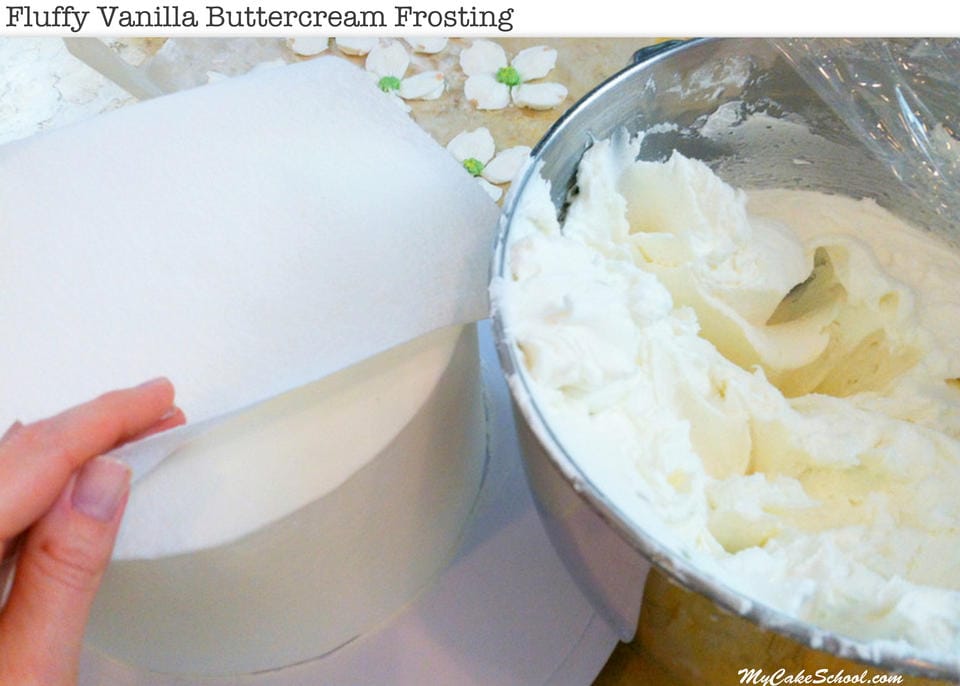 Thanks for stopping by! Make sure to check out our other Free Tutorials as well as our large collection of tried and true cake and frosting recipes in our Recipes Section!